Ladies, have you already made up your mind about which navratri dress you're going to wear? Confused between the navratri lehenga and the traditional garba dress? Our Bollywood divas will fill you in on the best navratri outfit ideas that you must try out! Read our post to know more…
Navratri is just here and for the nine-day mega-fest, you'd want to be prepared! We're looking at nine days of rituals, traditions and garbaaaaa! For those foot-tapping dandiya nights, you'd want some exclusive Navratri dressing tips.
The traditional Navratri lehenga you've see women wear in the past, present an eclectic mix of colors, rich embroidery and colors. While the mirror-work and dense stitches on a navratri lehenga choli look absolutely gorgeous, you can try a more grounded, understated look this Navratri. Learn how to wear lehenga choli in different ways and this time, look at understated styles that will help you enjoy the festive season to the fullest.
Bollywood divas have modeled traditional wear and have given us major reasons to envy their closet! While the 3-piece traditional lehenga choli is a favourite among many women, there are variations to this style that are as attractive!
These celebs experiment with different lowers- for instance- the gharara, sharara or even palazzo pants are often paired with an ornamental choli. Also, an anarkali or a saree could also be seen as special Navratri costumes this season!
Let's seek out our Bollywood idols, and learn how to dress up for navratri directly from the queens of style!
First Day- Pratipada- Royal Blue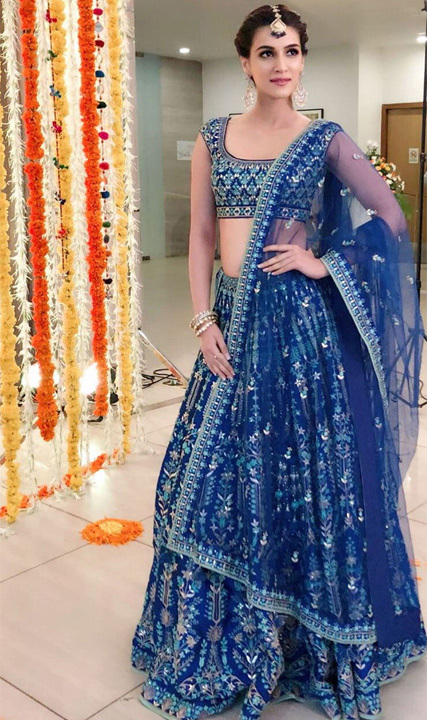 Kriti Sanon paves the way for a breathtakingly beautiful, royal blue lehenga choli which we believe would like a dream on all you fashionistas! The selection of 'royal blue' in itself is a lesson on how to wear chaniya choli for navratri in a novel way!
In contrast to a richer blue, the light blue and white stitches of embroidery stand out and create a mesmerizing pattern on the fabric. The chic dupatta and dainty jewellery only add more blue wonder to this get-up!
Second Day- Dwitiya- Yellow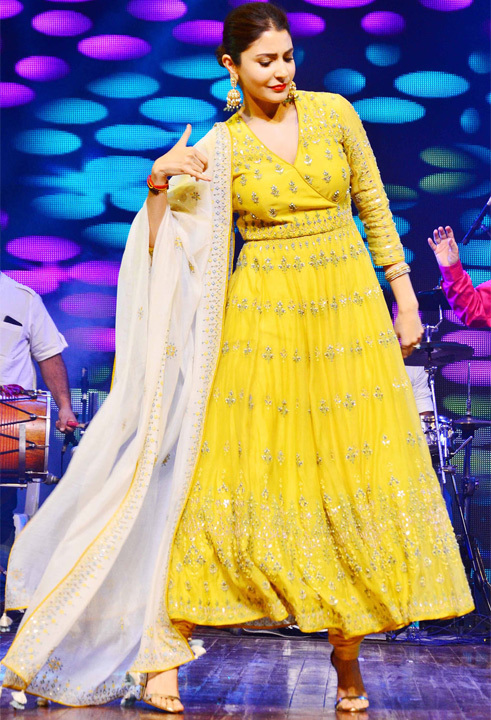 Anushka Sharma matches minimal with magnificent, and brings out the best in her yellow anarkali attire! This would make for a glittery (yet subtle!) navratri dress.
The intricate Zardosi work on the expanse of yellow fabric is definitely pleasing, and doesn't thankfully take attention away from the attractive jhumkis and the off-white dupatta that make this look so damn effective!
It's overall a clean look, but is nonetheless one that makes her shine!
Third Day- Tritiya- Green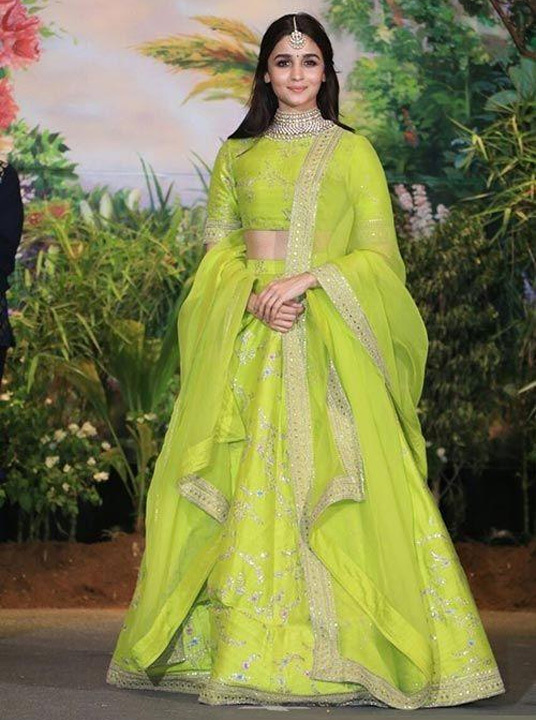 Lime green can be such a pleasing summer color, and who better to channel this refreshing vibe better than Alia Bhatt? A full-sleeved blouse is paired with a high-waist, flared lehenga skirt which carries intricate embroidery. The absolute highlight of this outfit is the sequinned work on the sleeves and the dupatta edges!
This color is a cool pick for the October heat that we're now faced with, and is a good take on new chaniya choli designs for navratri you need to try out!
Fourth Day- Chaturthi- Grey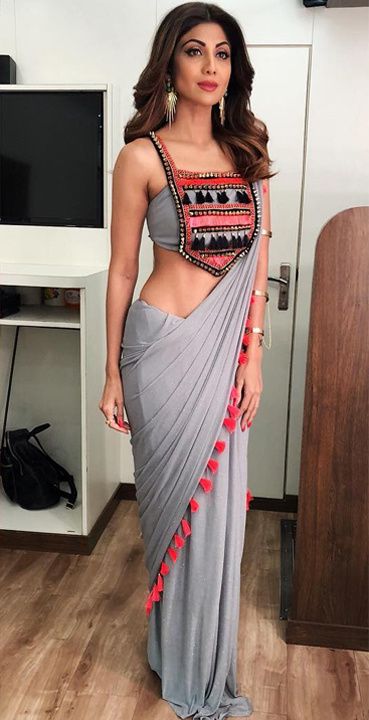 You've seen tassels before on chaniya cholis, right? Tassels on a saree are unusual, though! Not so much for Shilpa Shetty, who shows you how to combine tassels with a versatile, grey saree. The edges of her pallu are finished with striking, red tassels, and her blouse adorns detailed patchwork to give you major styling goals this festive season.
Grey, which is otherwise a dull color, is enlivened with the use of funky tassels and embroidered patch-work. Good tip for all the ladies who's wish to experiment with the conventional garba dressing style!
Fifth Day- Panchami- Orange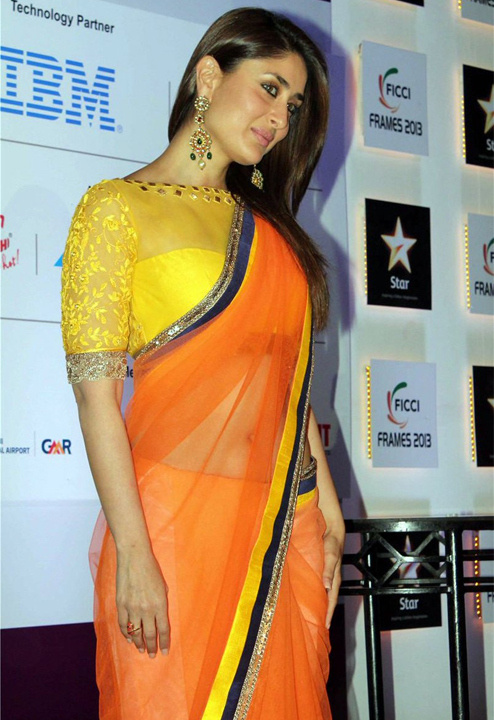 On panchami, mark the fifth day of navratri with a more vibrant color. An orange saree for the occasion could be perfect as it would add a pop of color to your overall after the grey you've worn on Chaturthi.
Kareena shows you how to work two vibrant colors with each other. Noticed how well the yellow blouse compliments the orange saree? The blouse neckline is detailed with chic mirror-work and there is a hint of lace as well.
Combine different, creative elements and see what you get!
Sixth Day- Sashti- White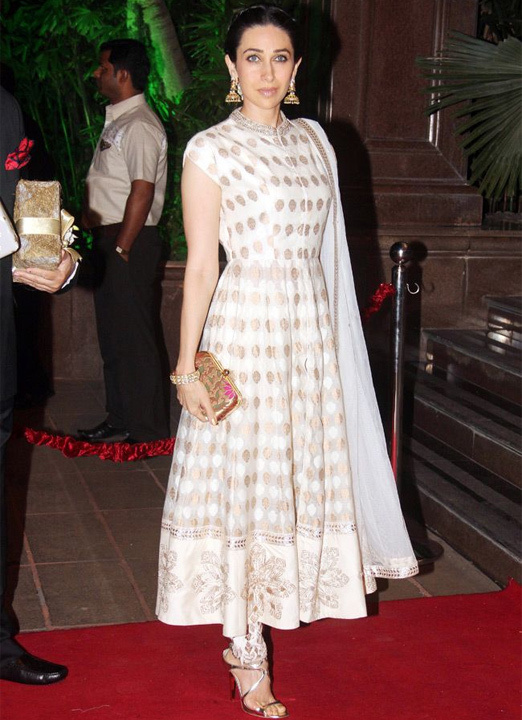 Karisma Kapoor's glamorous take on the white anarkali gives us an enticing choice over a heavy ghagra choli for dandiya nights! The subtle, gold detailed work on the anarkali stands out but the effect is definitely not in-the-face. A plain off-white dupatta acts as a classy adornment to the delicate anarkali outfit.
If you're replicating the beauty of this look, you may want to stand tall in a pair of classy heels!
Seventh Day- Saptami-  Red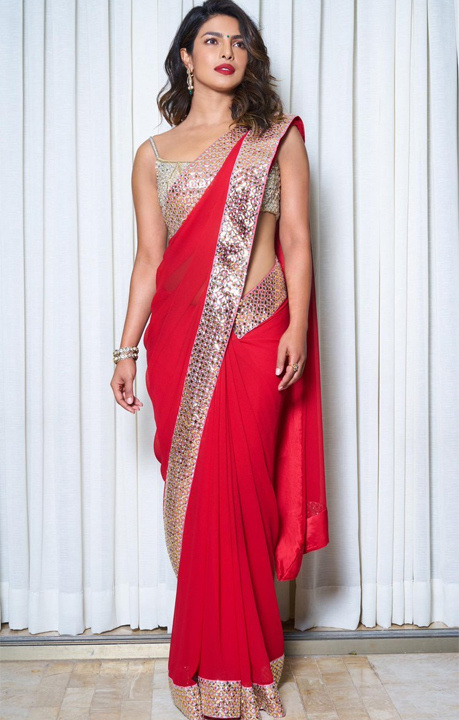 Red is certainly bold when combined with classy sequins! PC shows us how to transform the elegant saree into the perfect outfit for Saptami. The edges of the pallu and saree, carry a thick panel of mirror-work, and otherwise the saree's bold color is allowed to blossom in this outfit!
This could be an elegant choice for a garba dress over the usual lehenga-choli combination.
Eighth Day- Ashtami- Sky Blue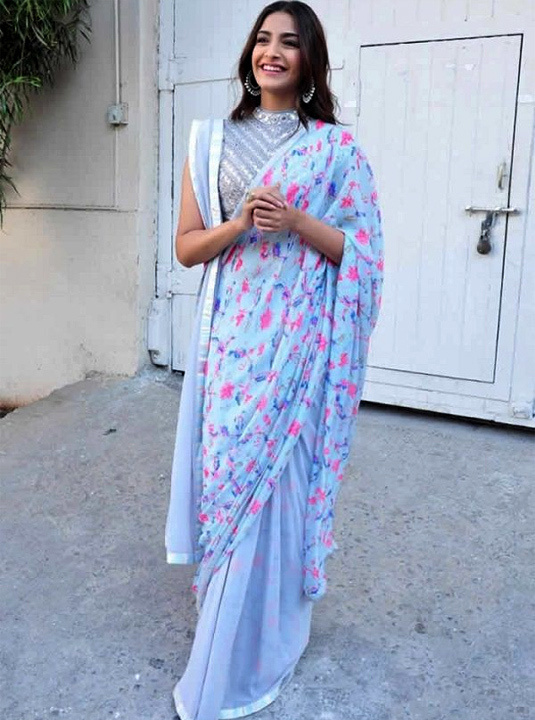 On Ashtami, kick off this auspicious day with a dreamy, sky-blue navratri saree colour. Unsure about how this color could work for you? Well, fashionista Sonam Kapoor takes the lead. The dense mirror-work on the choli combines pleasingly with a delicate, floral saree, and the ornate earrings add a lovely touch to her attire! Take notes, girlies!
Ninth Day- Navami- Pink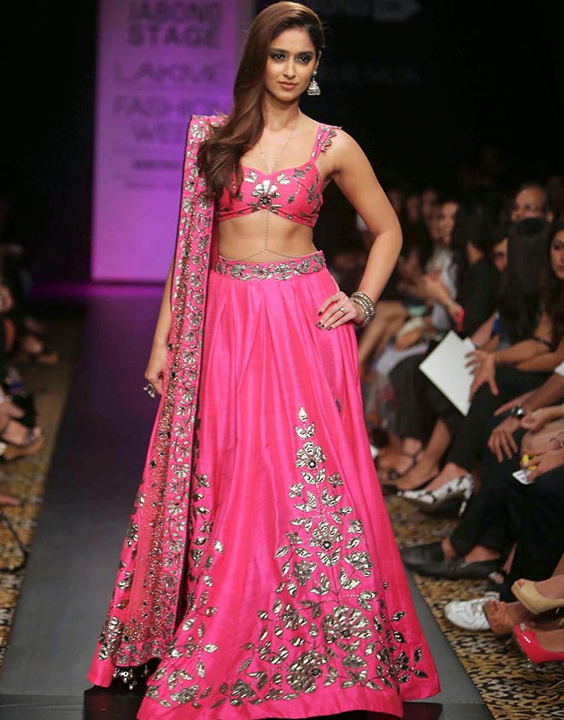 Pink can be your powerful instrument this summer! Ileana's shows how to add that punch of pink to your favourite chaniya choli styles! A flared pink ghaghra skirt with detailed silver-work embroidery matched with a provocative blouse and a heavy dupatta, is one of the sure-shot ways of making a good impression!
Image credits: The copyrights of the images used in this post belong to their respective owners. The credits where known are specified under the image - if you're the owner of an image and want it removed, please contact us.