Our obsession with jumper dresses began when we spotted celebrities and influencers all donning their own versions of it on social media, incessantly. That's why we decided to round up the most trendy and fashionista-approved ways to wear not just dresses but pullovers too because 'jumper' translates to two separate wardrobe items. Let's discuss them before we go on to the styling bits! 
What is the difference between a dresses and a jumper dresses?  
Before you pick a side, it's essential to know the difference between the two. While a jumper dress means a sleeveless, collarless dress that is layered over a blouse or a t-shirt, a jumper by itself means a knitted or crocheted sweater with sleeves. The latter is also known as a pullover. If you're wondering what is a jumper dress called, it also goes by the name 'pinafore', a familiar term for girls who were required to wear uniforms in school. 
1) Denim Jumper Dress with High Neck T-shirt
To actually give this look a shot, it will be great if you can get your hands on not just a denim jumper dress but one that has a plunging or deep V-neck. We're aware that denim and t-shirts both are absolute classics which when put together, can work wonders. The same rule applies to this ever-trending outfit idea too, and all you have to do is search your closet for a high neck, white t-shirt to pair with this pinafore. 
Also, if your dress has pockets, it instantly ups the 'cool' factor, so you might want to look for something that fits this description. The sleeves of your chosen tee can vary from short to 3/4th to long, but we prefer the latter options.
2) Midi Jumper Dresses 
On some days, we all have a lot of errands to run but also a lot of social commitments to follow through with. Such days call for comfy yet stylish dressing, so you can't ignore the details of your look, but you can definitely ensure it's laidback. A midi jumper dress will keep you easy all while looking like an icon all day long! 
Paired with your favourite white shoes and a striped t-shirt, you'll be nailing the cool-girl look in no time. This fits in with the casual lunch dress code, the grocery shopping dress code, the breakfast date dress code and even the coffee run dress code! What else could one want? Slip on your sunglasses and seize the day. 
3) Jumper Dresses With Shirt
We've already nailed the do-it-all jumper dress outfit for the daytime, and now it's time to touch upon this wardrobe icon with, well, another wardrobe icon in the picture. We're talking about bringing together a jumper dress and a crisp button-down shirt for the dressier days. With the ability to make a swift transition from the boardroom to the bar, this look is definitely at the top of our must-try list. 
It's as versatile as it is polished and put-together, and you can pair it with pumps to add another dose of classiness to it. Even pointed-toe shoes will look just as great, and up the quotient instantly. Give this a shot and walk into the room exuding confidence and poise! 
4) Jumper Dresses With Off Shoulder Top
Wondering when can you wear jumper dresses? While heading to lunch with the girls and when  you need a cute outfit that is equal parts laidback and on-trend! Just wear your denim jumper dress with an off-shoulder top! Despite all odds, they are still very much the talk of the town in the fashion world, and all of us have a few lying around in our wardrobes, just waiting for the right occasion. It's time to bring them out and experiment with your styling. The best part about off-shoulder tops is that they are flattering on most people, making them an easy pick. 
You can finish your look with a pair of hoops and a sling bag. Slip into sliders or platform heels and you'll be ready to go.
5) Quirky Women's Jumper Dress Outfit
Women dresses are all about the fun! So why not add a little more to it? A simple addition like a shirt, a t-shirt or a top can do wonders for your look. This will be loved by a lot of college students as well as young adults who wish to leave a lasting impression wherever they go. 
If your jumper dress is in denim, up the ante with a colourful shirt or one that is both colour-splashed and has funky motifs. It could be anything that resonates with you as long as it's playful and grabs attention instantly. Top it off with a hat and finish with brogues & a messenger bag.
6) Jumper Dresses With Booties
Any fashion enthusiast knows that while high knee boots are the champions, it's really booties, aka their shorter, more chic versions that are the most versatile. Booties hit the runways like a storm and then took over each of our closets. We don't see their appeal ever fading, and we don't wish for it either. If a fancy brunch with the squad is on your calendar, then we've got just the outfit for you: a lace top worn under a jumper dress, a mini box sling and tote bags or a handbag and a pair of booties, of course! 
Finish this off with dangler earrings and watch as the compliments keep coming your way. If you want to take things up a notch, follow a colour scheme. Our all-time favourite? Good ol' black & white!
7) Jumper Skirt Outfit
One way to femininely flaunt this cold-weather staple is to pair it with a skirt! Jumper dresses are a delight but so are jumpers, also known as pullovers, especially when the outdoors get a little chilly. It might be a good idea to plan your look according to where you're headed, but if you want something transitionary, then a jumper with a pleated skirt might just be what you need. To make it more AM to PM worthy, choose metallic hues and midi length. 
The jumper can be kept neutral and SHOULD be kept neutral, for the simple reason that it becomes more versatile that way. To finish off the jumper and skirt outfit, you can wear strappy, pointed-toe heels, gladiators, or your best pair of kitten heels. If none of this sounds like 'you', then white sneakers do the job well too.
8) Jumper Jeans
A lot of times, our day demands us to be dressed cute but casual, while also preventing us from catching a cold from the breezy weather. Jumpers are as stylish as they are functional, so instead of stepping out in one of your t-shirts, you can choose to layer with them. Pairing jumpers with jeans is a versatile option and you can explore it to the fullest with fun accessories. 
Layered necklaces, even the chunky kind, would look stunning with this outfit and so will dainty jewellery that is all about thin chains and hoops. Your footwear choices matter too, so choose between nude heels or sneakers. Our bets are placed on both, depending upon the occasion!
Bewakoof's casual shoes are designed especially with good grip, perfect fit, and comfort.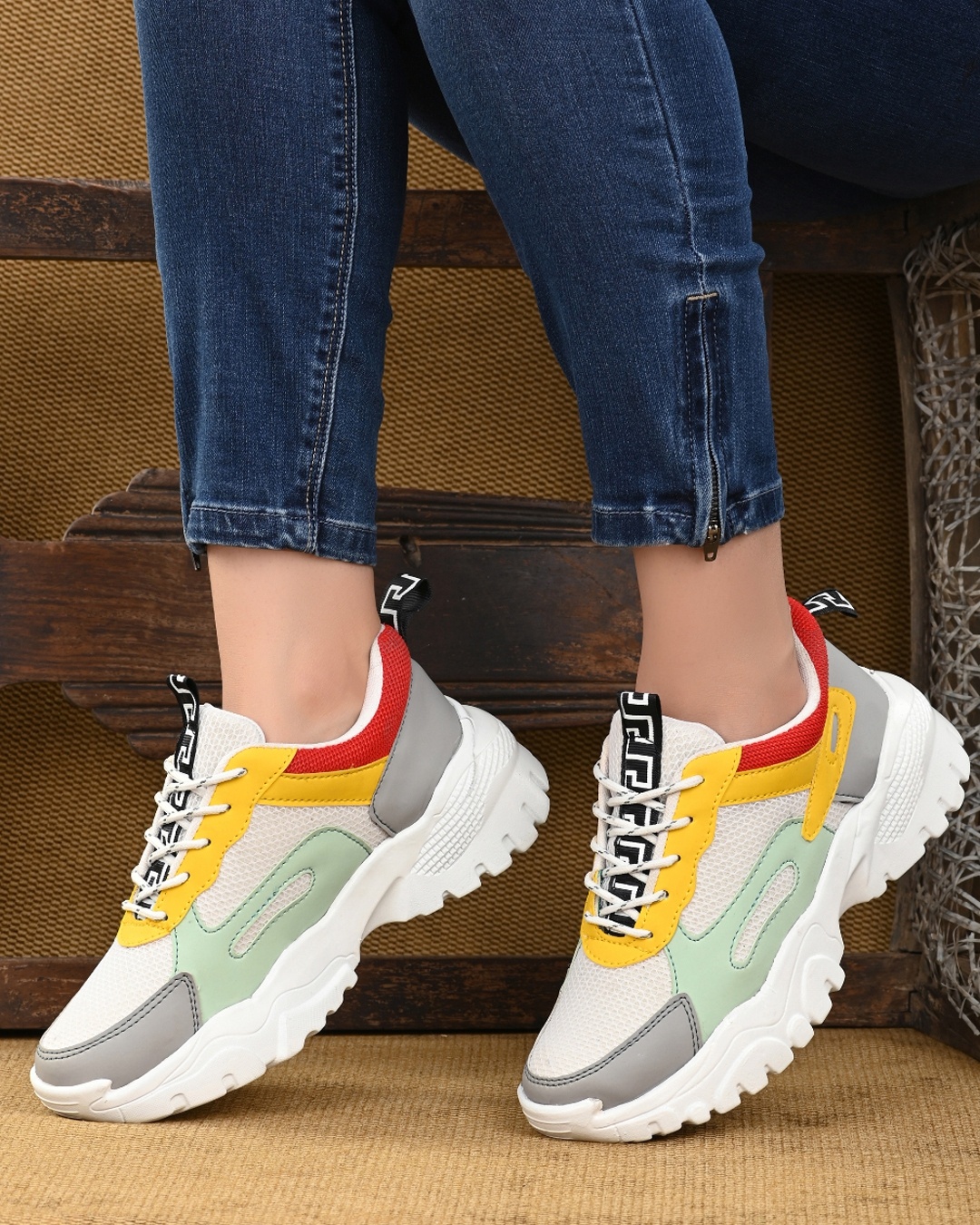 9) Jumper Pants Outfit
Here's an outfit idea for when making a lasting impression is on your agenda! The right pair of pants can take your jumper to a whole new level, provided you choose carefully and keep your body type in mind. There are tons of trouser options available on any website for online shopping in India but once you identify what is the most flattering one for you, making the purchase and then styling becomes way easier. 
Personally, we prefer high waist or at least mid-waist options for jumpers as opposed to jumper dresses. Tucked in or tucked out is again an individual preference. Choose wisely and you'll be set. 
10) Black Jumper Dress Outfit
You'd be lying if you said your love for black didn't surpass your love for any other colour! It's the most flattering shade just by itself or even when paired with another hue on the spectrum. It blends in while still standing out, and it's extremely versatile, meaning there is no occasion or place you can't wear it to. Black also serves as a canvas for all your accessorising or styling experimentation. A black jumper outfit is anything but boring! We suggest wearing it for the night time but the day works just fine too if you're up for bearing a little heat that is. 
All you gotta do is find an oversized jumper on an online shopping app, define it with a chunky belt and slip into a pair of boots. Then, keep the jewellery minimal or overstated, depending on what aligns most with your personal style. Apply a perfect nude or perfect bold lipstick before you hit the town! 
11) Jumper Dresses With Sweatshirt
Sweatshirts may have been considered strictly at-home pieces in the past but with the surge of athleisure, this is not the case anymore (and we couldn't be happier)! If you feel like you need an extra layer of cool and cozy to beat the weather, then give in to a jumper dress layered over your favourite oversized sweatshirt! 
If you're heading out to a social event, it'll be best to slip into a pair of black stockings and booties. Add a beret for extra effect, and let your hair down, tie it into a bun or a ponytail, complementing it with chunky hoops or oversized ones. 
12) Jumper Shorts Outfit
When duty DOESN'T call, you need an outfit that aligns with your relaxed mood. Whether you're on vacay or simply lounging at home, ditch the oversized clothing and trade it for a jumper clothes outfit. It's a myth that jumpers are only for the colder days. 
The heavily knitted ones definitely are, but there are lighter versions too and more open knits which make it possible to wear these anywhere from a chilled out day spent shopping or an evening spent watching the sunset. Be sure to go for shorts that aren't skin-tight or form-fitting for max comfort. 
13) Flared Jumper Dresses Outfit
Adding a feminine touch to your look doesn't require heavy jewellery or accessories. It includes choosing the right silhouette, and in this case, a flared jumper dress does the job perfectly! Defined at the waist and then voluminous below it, this outfit demands attention as it is not just ladylike but also playful! 
It gives off a carefree vibe no matter where you're headed and that is reason enough to give it a shot. There are a lot of separates you can pair with this, one of our favourites being long sleeved tees which have a high neckline. 
14) Oversized Jumper Outfits
One might think that just because a jumper isn't form-fitting, it can't be flattering. But we have news for all of you who love flaunting oversized pieces from time to time! You can easily compensate for their lack of definition with a skin-tight piece of clothing, and in this case, skinny jeans or leggings are your best friends! Slipping into them will ensure a cleaner look, instead of just pairing these floaty favourites with equally loose items. 
To take things to a different level, look towards a pair of heels to elevate your game even further.
15) Jumper Outfit For Lounging
The weekends or staycations demand being cozy, and what's better than a jumper outfit to stay curled up on the couch in! This is when you can put your oversized clothing to use and actually wear a huge jumper with equally huge pants for top-notch comfort. Thrown in your favourite food and a bottle of wine & you'll be in heaven! 
The soft feel of the pullover against your skin will help in putting you at ease, and your hair can be up in a bun for no one to see. We suggest putting a sheet mask too while you're at it. This jumper look is made for leisure days. 
Go ahead and ace your jumper dresses now, you've got all the tips you'll ever need! 
Latest Articles-
Image credits: The copyrights of the images used in this post belong to their respective owners. The credits where known are specified under the image - if you're the owner of an image and want it removed, please contact us.