All those "Life isn't perfect but your hair can be!" posts on Instagram inspired us to dig into Google, trying to see how we can indeed up our hair game! While letting your hair down is surely fun, you can't do it every day of the week. So instead of just giving in to a messy bun, we realised that with just a little more time spent on our mane, we can nail the perfect hairstyle that doesn't seem laid back. Yes, we're talking about ponytails, if you haven't guessed it already! There are lots of different types of ponytails that deserve your attention, and today we'll let you in on the ones we loved most. 
What are some cute ponytails?
If an impromptu date comes up, or if your friends make last-minute lunch plans at that cute cafe, you don't really have to worry about figuring out how to fit in a hair wash and a getting-ready session into just a couple of hours. With the cutest, most chic types of pony hairstyles, you'll be ready to step out in no time, all while looking prim, proper and pretty. Wave goodbye to buns, and say hello to tying your hair up in a different way! 
Different types of ponytails for short hair
1) High Ponytail For Short Hair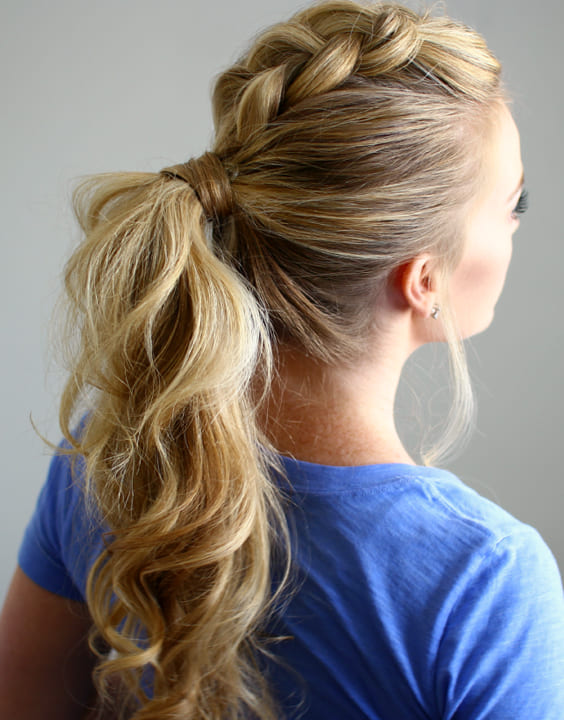 If you've thought that cutting your hair short translated to not being able to do a ponytail, you're not alone – but you're also not right. With the cutest accessories and the right hair volume, you can successfully tie your hair up high! 
Bring the 80s and the 90s back with bows, scrunchies, etc. Just plop your hair forward, and tie it while flipping it back. You can also make use of those hair clips and hairpins that you bought and never utilised. You can also consider this your cue to shop new ones on an online shopping app. 
2) Side Ponytail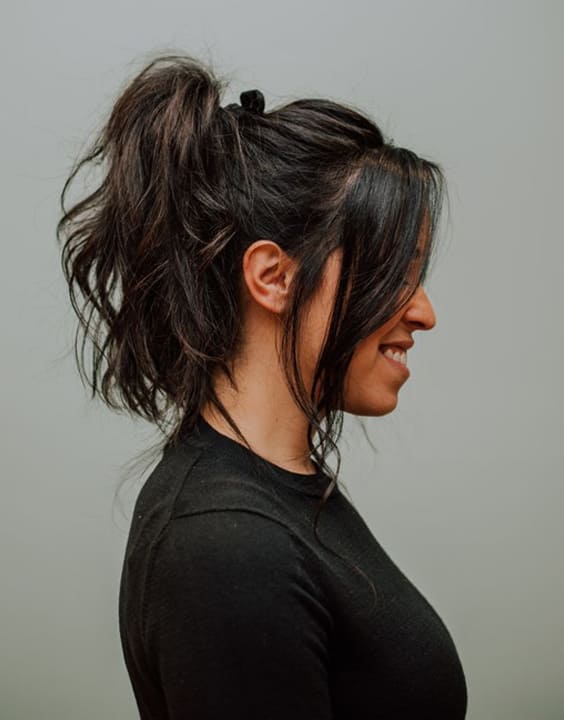 Finally got asked out by that cute guy but your hair wash day doesn't align with the big date? It's time for a cute side ponytail that only requires 5 minutes of your time if your hair is already wavy, but if it's not, just spend 15 minutes doing beach waves. Later, gather most of your hair at one side and let a few strands frame your face. 
By doing these types of ponytails, you'll be paving the way for an evening that leaves him in awe of you! Besides, you still get to tuck a stray strand behind your ear without the hassle of all-open hair. 
3) Braided Ponytail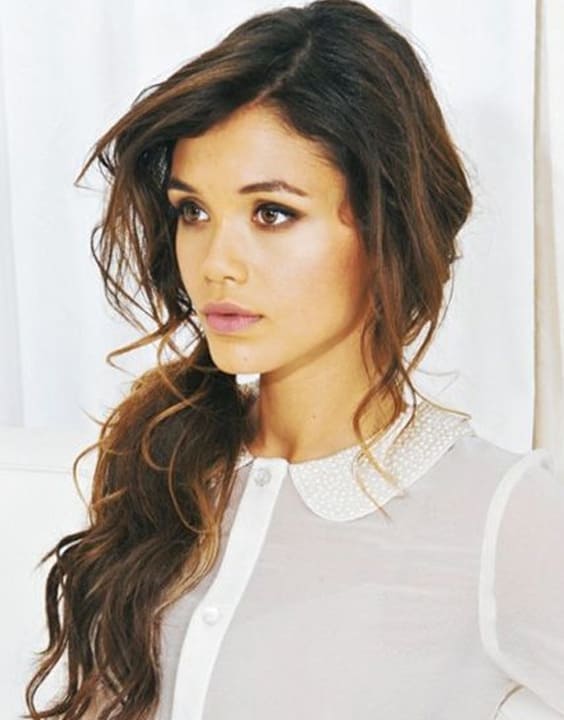 We can't help but dream about days by the beach, wind in our hair and a cocktail in our hand. But with this idea of unwinding, the fear of ruining and damaging our much-loved mane also sets in. No matter how much we love beach waves, we need to take a step back and reconsider the frizziness and the tangles they will invite. If you're thinking about putting your hair up in a ponytail – hold up! 
We know something better and much more feminine, and that's a braided ponytail. This can be done at either sides or just at the back, but should you choose to do two, you must know that they're called pigtails. We've all wondered what 2 ponytails are called at some point right? Just take the time to make a loose braid and then combine it with a loose ponytail to achieve a winning vacay hairstyle! 
4) Pineapple Ponytail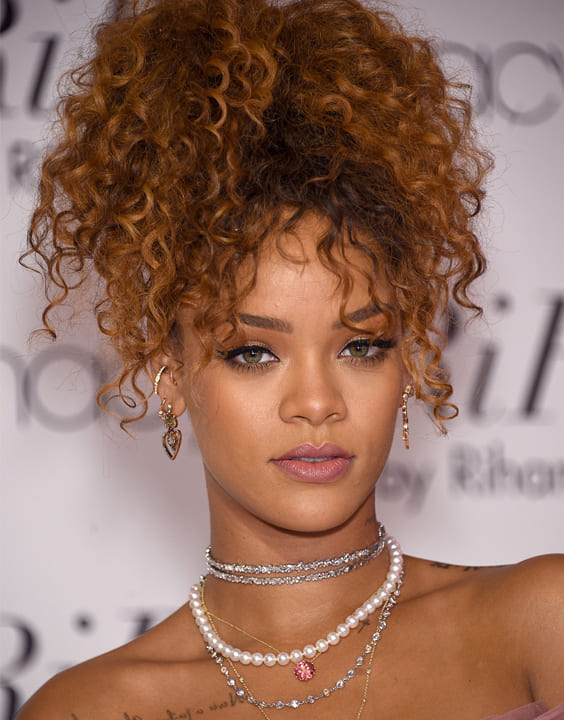 If you've got curls or coils, this is the perfect ponytail for when you want to experiment with them! Just plop your hair fully at the top of your head, namely the crown, and tie it with a rubber band. You can let a couple of locks frame your forehead to add a dose of fun to this ponytail that will look like an updo. Or, you can fully secure each strand. 
Another great part about these types of ponytails is that you can also use a square silk scarf, starting from the base of your neck and going all the way up! 
5) High Wavy Ponytail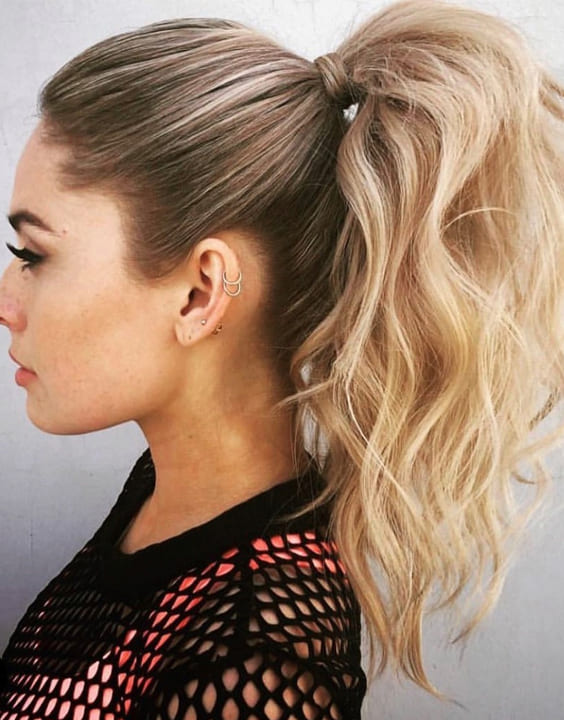 Cute meets minimalism in this ponytail that may not be done at a moment's notice but is not far from it. All you need are a few minutes and you'll be ready for casual outings. Begin by dampening your hair just enough to work some gel or conditioner in. Check out any hair care for women brand like Cosmos to find one best suited to your hair type. 
Make sure to coat most strands for the best outcome, but don't overdo it. Next, plug in your blow dryer and use a round brush to give it a wavy effect, curling ever-so-slightly at the bottom. This will also help build volume and ensure your hair doesn't fall flat. Now, just pull it all into a hair tie! Easy-peasy, right?
6) Low Wavy Ponytail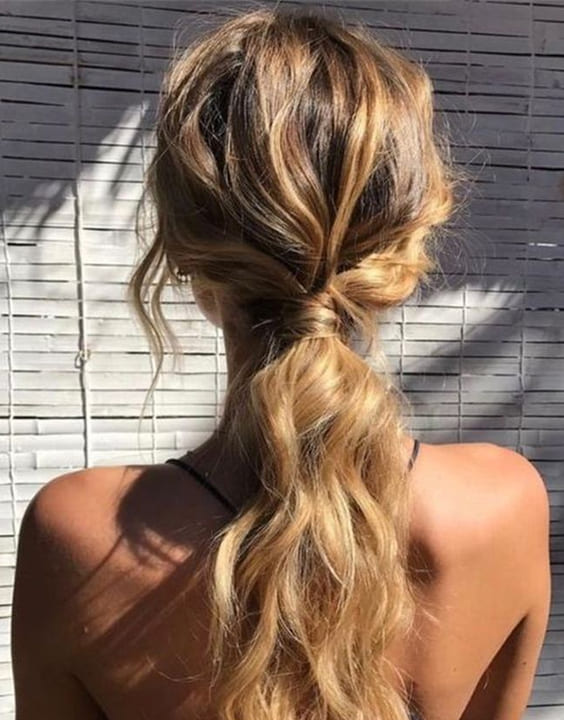 A close cousin of the high wavy ponytail, this one is as feminine as it is elegant. Oh and not to forget – absolutely adorable if done right! Seriously, trust us when we say this will keep your crush's eyes hooked on you. Once again, begin by applying or spraying some water onto your hair, and make sure to detangle properly before applying the product. When you do get to the part where you need to work it all in, use a comb to properly reach every strand. 
Continue blow-drying as you would in the high wavy ponytail, finishing by pulling your hair into the hair tie at the nape of your neck. A great way to make these types of ponytails all the more pretty is to use a satin ribbon over them! 
7) Textured Ponytail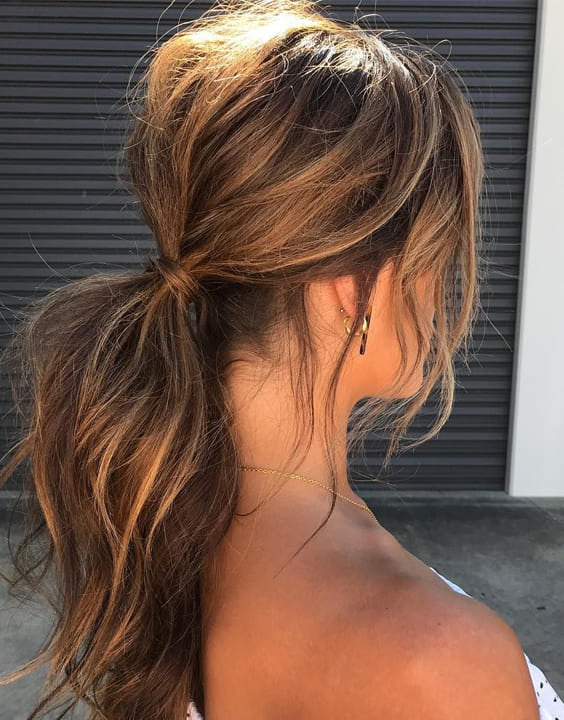 Sporting second or third-day hair but want a cute hairstyle regardless? Then this one's for you! The textured ponytail is for every woman who doesn't mind a little messiness, and loves to stand out but casually. For this, you need not dampen your hair but start with dry strands. Apply a setting spray in minimum amounts, just enough to tuck away a few flyaways. Don't spray it at the crown area! Use your fingers as a comb and pull it all together loosely in a hair tie. Add a headband for finishing touches! 
8) Bubble Ponytail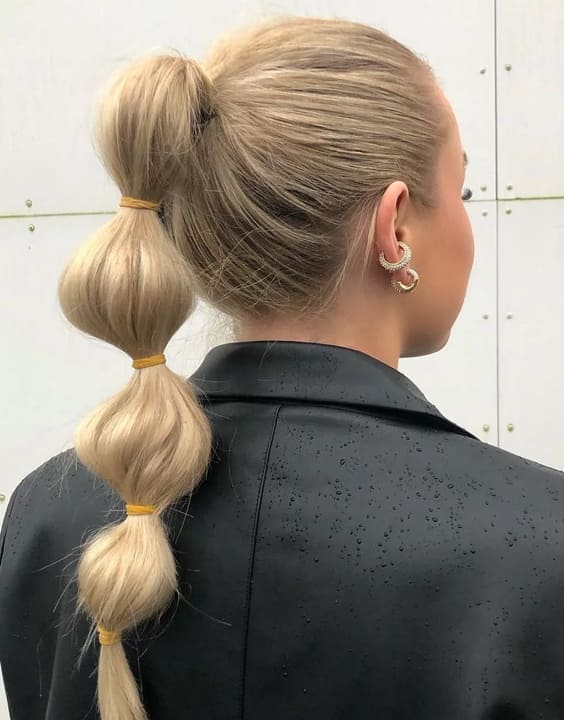 On days when you're feeling extra playful, let the bubble types of ponytails complement your mood! Bear in mind though that for this one, you're gonna need multiple hair ties and we know you (as well as us) keep losing them every single day. First, pull your hair up into a normal ponytail. The real deal starts after that. Twist and tie another rubber band at a 2-inch distance. 
You can increase the distance based on the length of your hair too, but the minimum needs to be just 2! Repeat this until your hair ends are also equidistant. Now, fluff up all the sections and you're done.
What are some ponytails that you can wear to the office? 
Different types of ponytails have a reputation for being casual hairstyles, but it's nothing more than a myth. In fact, women nowadays prefer ponytails over fussy hairdos and buns, due to their simple and versatile nature. The ones who do believe this are the people who don't really have the answer to "How do you style your hair in a ponytail?". 
Well, we're here to answer it for you when this dilemma comes down to your 9-5 styles. Be sure to bookmark these easy ponytail names you can flaunt at work. 
1) Sleek Low Ponytail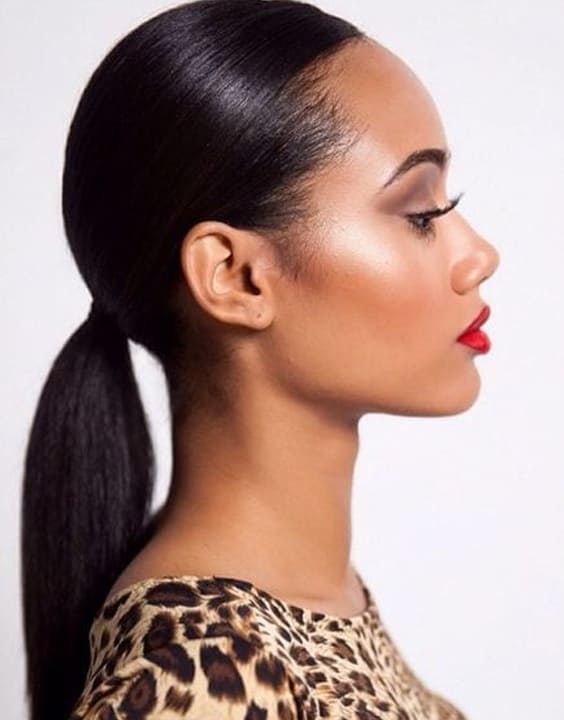 This one works best for women with poker straight, silky hair! The sleek low ponytail is one of the most work-appropriate hairstyles there is and with good reason. It gives off a serious vibe as well as one that says you can be laid back from time to time. If you can get your hands on a metallic headband – even better. Put it on top of your regular black hair tie and you've got yourself a professional winner.
2) Sleek High Ponytail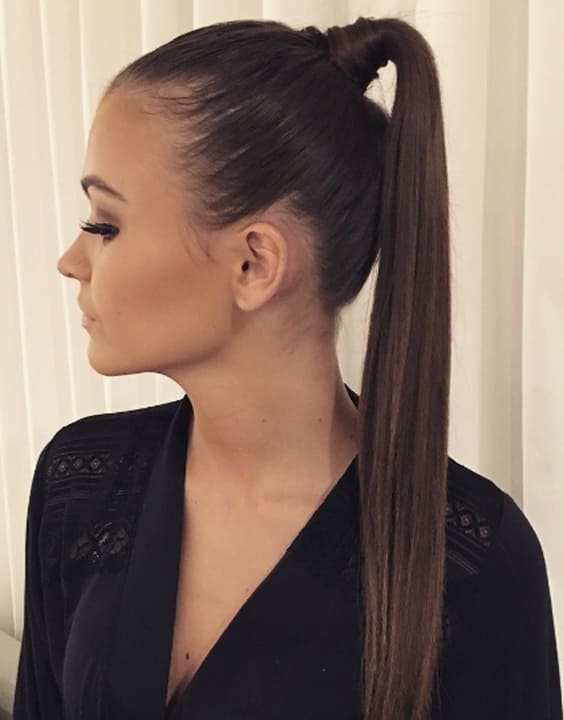 If low ponytails are not your thing, then give this one a shot instead. Unlike the sleek low ponytail though, this is not laid back at all and will establish who's boss (aka YOU!) From interviews to important meetings, you can count on this hairstyle to take you through it all looking like a diva. 
These types of ponytails are sure to command attention in every room, and even intimidate a few. Straighten out your hair and do away with those pesky flyaways or baby hair by using a serum or non-sticky hair oil. Then, pull all your hair up high and secure it with a hair tie.
3) Twisted Side Ponytail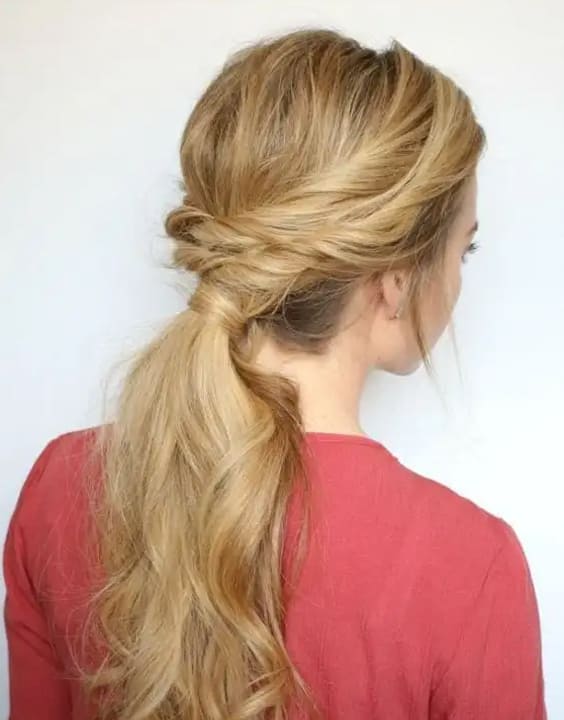 Got a date night with your main man right after work, and no time to run to your house to prepare for it? In addition to wearing an outfit that can transition from AM to PM seamlessly, you're also going to need a hairstyle that does it. Start by taking a few strands of your hair and twisting them, not wounding too tightly. Gather all the remaining hair at the base of your neck, and bring the twisted part around it to pull them all in. Repeat the loop, and secure the rest of the hair below the ponytail with a few bobby pins. 
4) High Curled Ponytail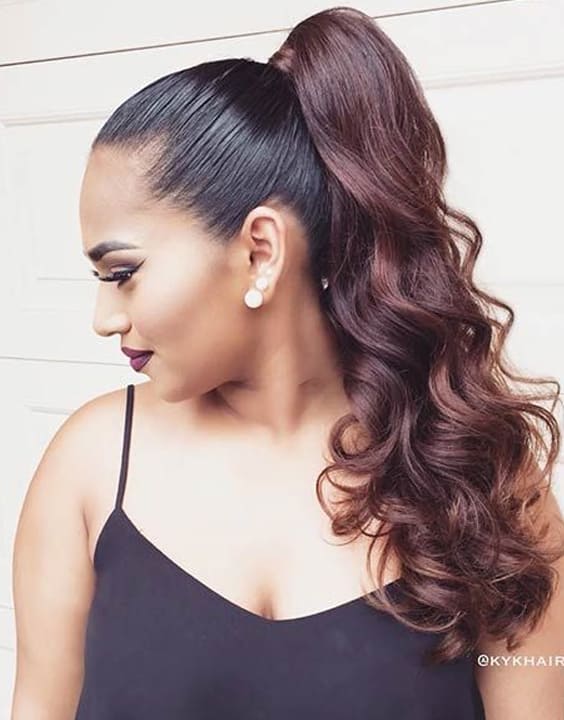 We can personally vouch for the charm of the curled types of ponytails! Plugin your curling tong, and then put your hair up in a regular high ponytail. Make sure you're tucking in all strands, as we don't want this to be messy. You're going to wear it to work after all! By now, your curling iron should be hot enough to use. There is no need to curl in more than 2 sections! Take larger sections and start curling loosely. 
5) Half Fishtail Ponytail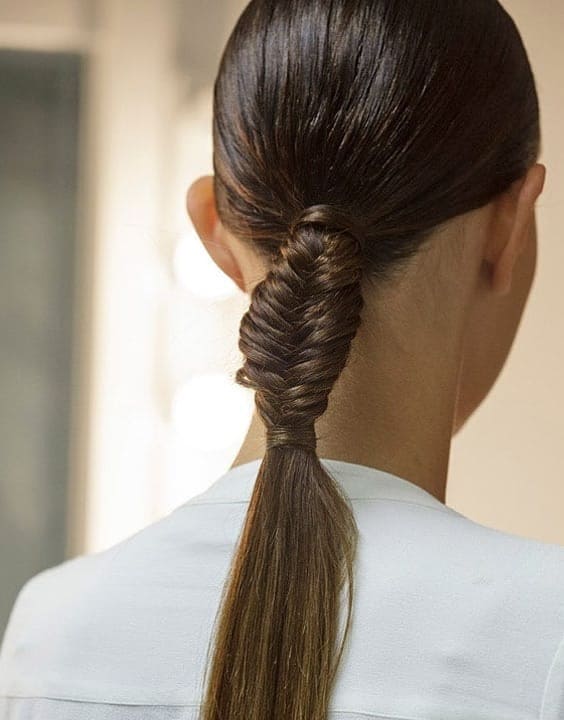 You may have seen the more voluminous and feminine versions of this ponytail taking your social media feeds by storm. You may even have thought to yourself that you'll never be able to pull those off at work. That's why, we looked up another great alternative to the cute version of this ponytail, and it's much, much sleeker! 
Straight hair will work best for this one, and all you gotta do is make a tight, fishtail braid, leaving about one & a half inches of hair at the end. Secure it with a hair tie and you're done. 
6) Criss-Cross Ponytail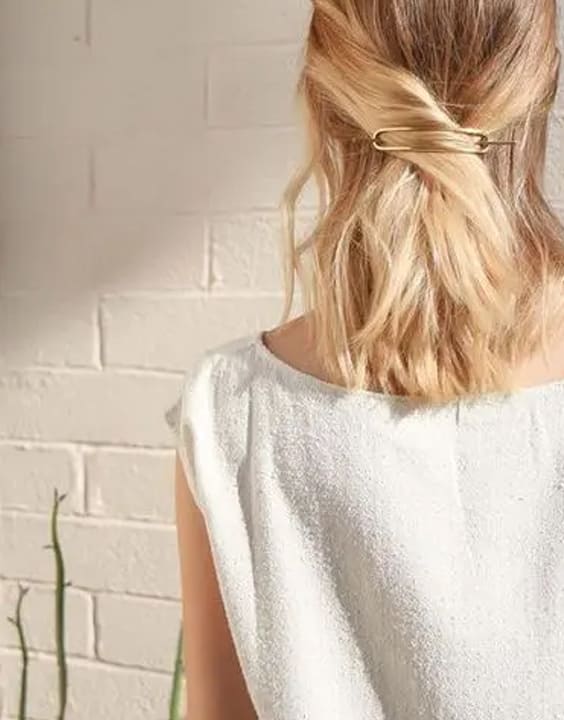 Running late with absolutely no time to indulge in a hair straightening or curling sesh? We've got you covered! The criss-cross types of ponytails need nothing more than detangled hair, a minimalistic barette and well, your fingers. Just pick one section each from both sides, taking it to the back of your head and placing one on top of the other. Hold it in place with one hand and use the other to clip on the barette that you can find while online shopping in India. 
7) Side Swept Ponytail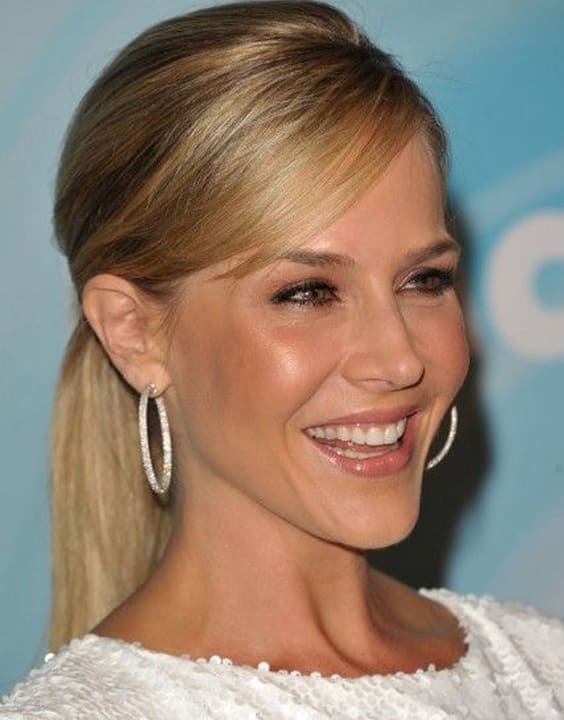 If you have bangs and find it difficult to style them for the office, settling for the usual pin-up look, the side-swept ponytail might be just what you need. Sleek, clean and put-together, this one is extremely easy & quick. Just part your bangs either at the left or the right, pinning up the longer ends with a bobby pin. The rest of your hair can be secured with a hair tie into a low ponytail.
Now that you're familiar with a plethora of types of ponytails, it's time to try them out and find new favourites. 
Image credits: The copyrights of the images used in this post belong to their respective owners. The credits where known are specified under the image - if you're the owner of an image and want it removed, please contact us.