Wedding bells are ringing and we're sure you'd be interested in buying wedding dress for men. It doesn't matter if they are ringing for you or your best buddy! You should look your best this wedding season! Read this guide and explore a whole world of opportunities.  
"Wedding bells are ringing, celebration's waiting, new beginnings are coming your way, dress up in your best and slay…slay all the way!"
All the grooms and best men in the house, this is a serious game and dressing your best is a vital play. The pressures of the wedding season can be overwhelming, we feel you! We can't promise about anything else but we can surely help you choose the perfect dress out of this forest of wedding dress for men. There's a potpourri of Indian and western outfits to choose from.
Read ahead and see what's waiting for you!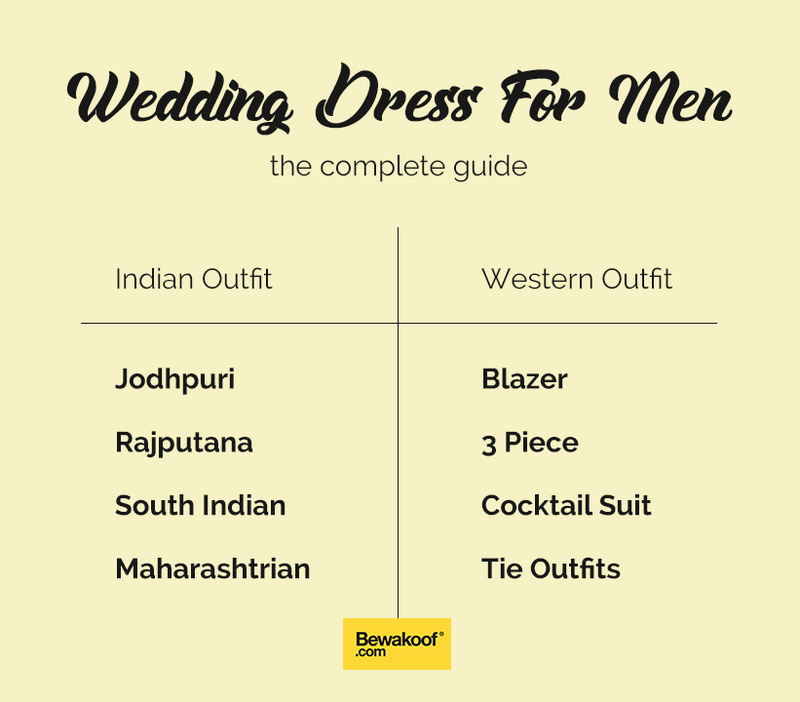 A Royal Affair: Indian Wedding Dress for Men That'll Make You Shine!
Nobody can deny the royal appeal of Desi outfits. Their versatility makes them perfect to be worn either as casual wedding outfits for men during the minor functions or even as show stopping pieces for the main event.
The Classy Jodhpuri Wedding Dress For Mens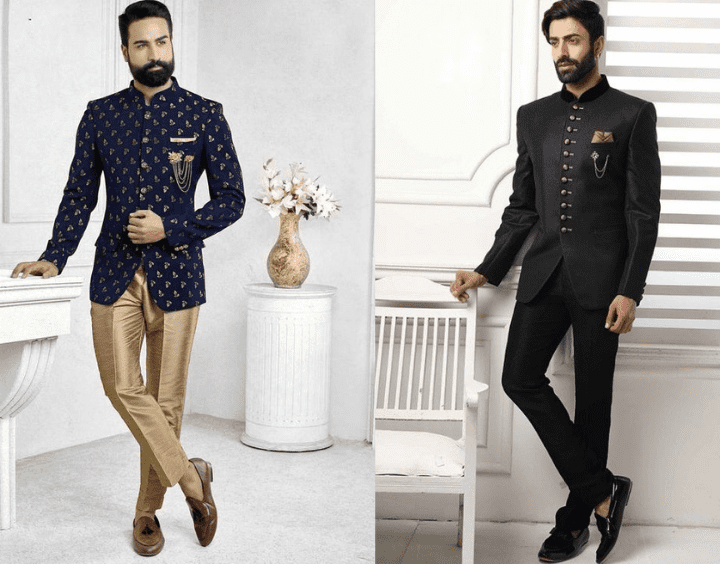 If you want to bring the west and east together then this dress is your best bet. The jodhpuri dress for mens is a great option if you're looking to achieve an extra dose of finesse.
The jodhpuri is available in many different designs ranging from the traditional gold printed to the  modern sharp cut, crisp jodhpuri suits with modern prints and patterns.
There are many different ways you can style a jodhpuri suit, the jacket style being the most popular.  
The jodhpuri suit latest design worn by Ranveer Singh will have you be an epitome of sophistication.
Style Tip- Wear funky sunglasses to amp up your desi swag!
The Rich Rajputana Dress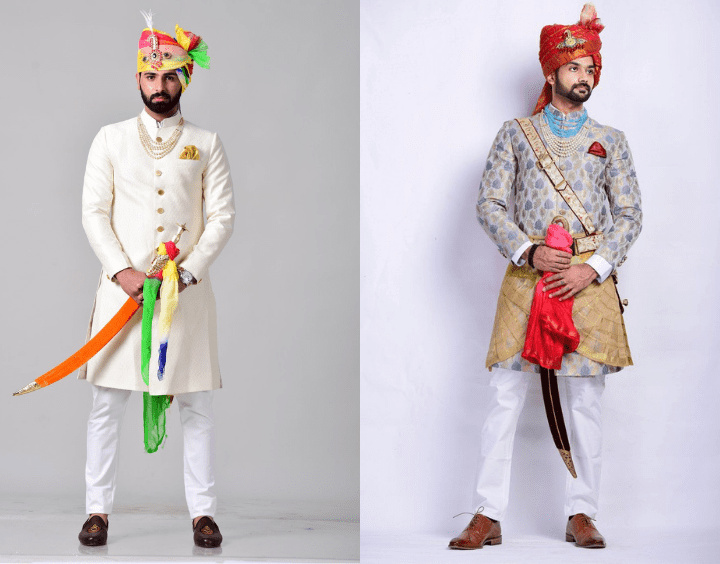 A lot similar to the jodhpuri this one is also a royal variety of Indian wear. Another fine example of richness,class and sophistication the Rajputana dress is a favourite with royals and nobles. These are great to be worn for a high class, expensive wedding.
Two popular styles of the rajputi dress for man are the kurta with churidar for the ultimate Indian look or the sleek pants with rajputi kurta for a contemporary look.
Style Tip- For a more sophisticated look choose a rajputana dress in solids like black, white or beige.  
The rajputi and jodhpuri are not only classy but also make great wedding dress for men in winter.
2. South Indian Men's Wedding Dresses For the Groom and His Friends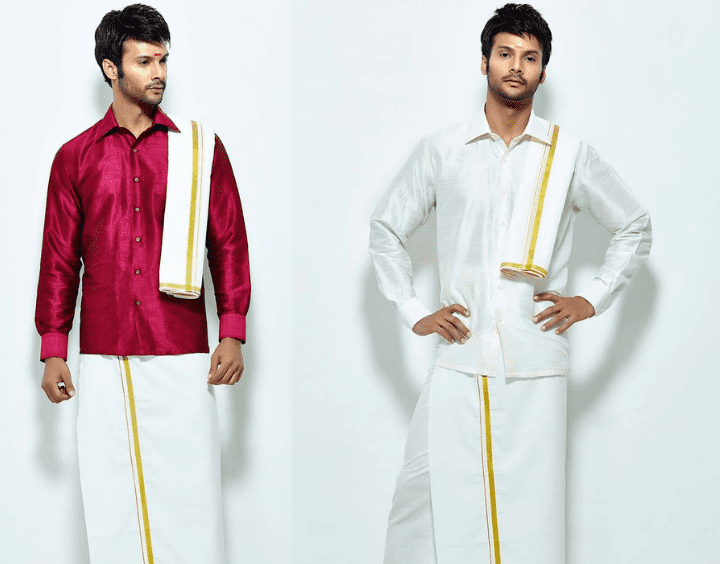 If you thought a Lungi couldn't be worn for celebrations, then brother, you stand corrected.
Contrary to common belief the classic white lungi with golden borders makes for a very popular wedding outfit.
There isn't a wide collection of south indian men's wedding dresses, most of the outfits are different combinations of lungi with shirts or kurtas.  A lot of the guests and the groom himself opt for this classic combination.
Style Tip- Don't over do with gold rings and chains. The lungi has enough gold already.
3. Supremely Desi Maharashtrian Wedding Dress For Men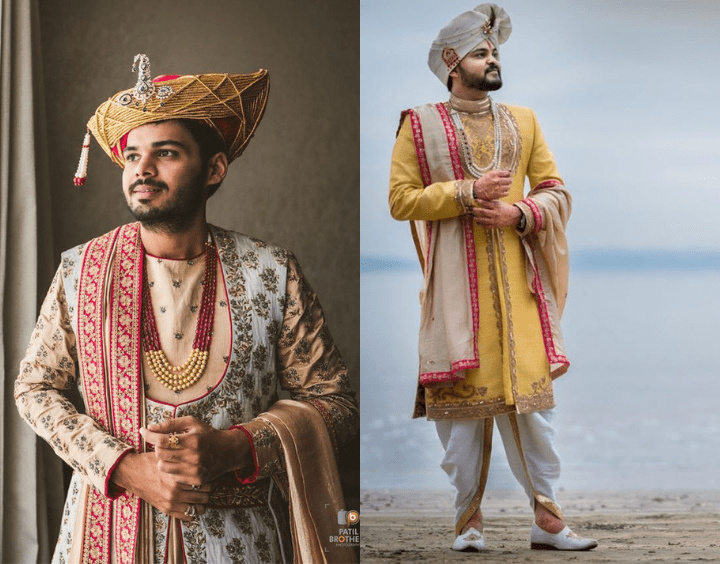 The Marathi man's go to festive outfit is the desi Dhoti pant. You'll find many men including the groom, sporting the traditional dhoti pants with kurti at a typical marathi wedding.  
This outfit is casual, windy and practical. It fits well for a traditional marathi wedding which is not too fancy.
Sometimes you'll see the young marathi boys jazzing this outfit up by adding another layer and absolutely rocking the dhoti kurta with jacket.
Style Tip-  Wear a printed jacket for a festive look. Or replace the jacket with a printed, embroidered stole.
If you prefer a western style then you'll love what's about to come!
Western Wedding Outfits That Never Fail To Impress!
If the traditional outfits are not for you then we won't judge you! We understand every man has a individual preferences and if videsi is something that you prefer better then we've certainly have something you would love.
Blazer For The Dapper Dude
What's hotter than a blazer suit? Hardly anything! This super charming suit is a favourite amongst actors,bloggers and influencers but that alone isn't what makes a blazer flaming at Indian weddings. The sleek cuts, the rich fabric and the way it gives dimension to a man's body is what makes blazers for mens in indian wedding a very popular outfit.
Style Tip-  Go for a modern design in colours like rich blue, charcoal gray or earthy brown for a casual chic. Wear a blazer with jeans for wedding, if you want to look dapper without trying too hard.
Find some cool blazer suits with jeans combination here.
2. Hot Wedding Suit Styles For The Fancy Man
Hello!! Boys get your wedding suits out, it's time to rock in a suit.
a) 3 Piece Suits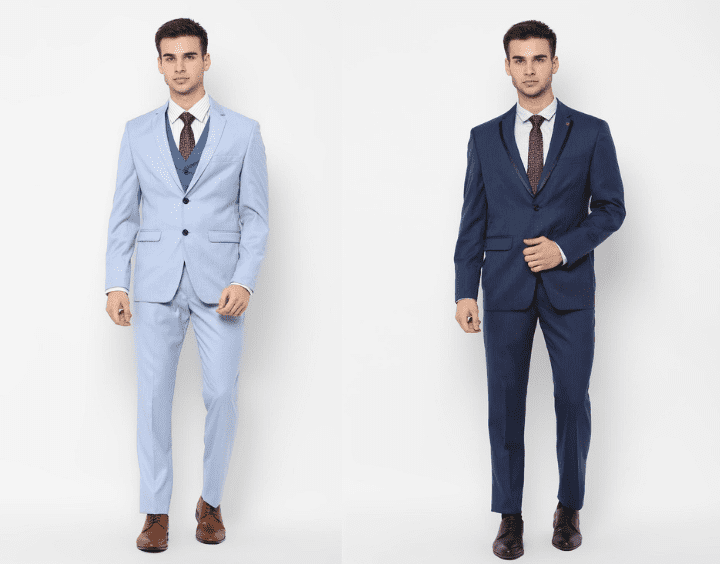 You know 3 piece suits might seem a little OTT for a casual occasion on an odd day but there are no restrictions with a handsome 3 piece suit wedding outfit. We personally think there are only 2 legit occasions where you can flaunt this set- A wedding (even if it's not your wedding) and if you're going for a conglomerate meet.
Winter is here and these Suits make good wedding dresses for mens in winter, especially in the northern part of the country. So don't miss this opportunity.
Style Tip- For a polished look opt for a navy blue suit or black suit.
b) Cocktail suits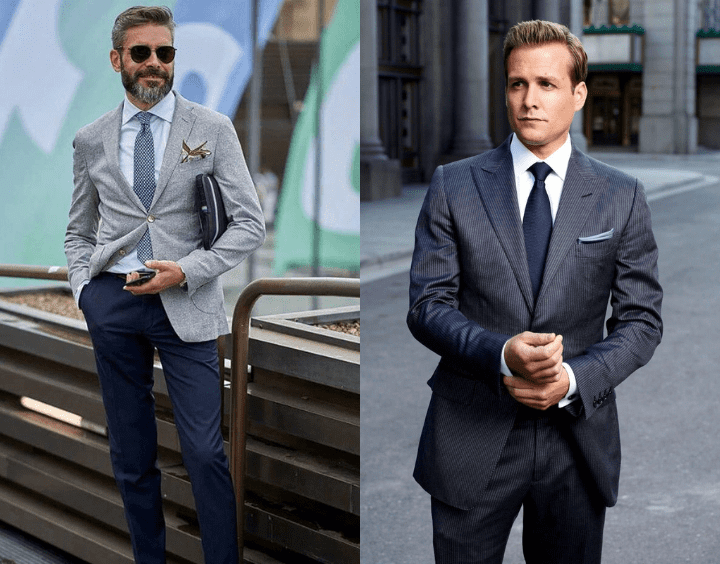 If looking like a classy gent with an old world charm is what you're aiming for then there's very little besides the wedding coat for men that could help you achieve that.
Coat pant for wedding cocktail parties work very well, silk coat pant sets in modern prints are a great way to jazz up the party style.
Style Tip- Go Vintage for a standout look. Take inspiration from Harry Styles and M.J, rock in printed suits.
There are many different types of wedding suits to choose from besides the cocktail and 3 piece variety, keep an open mind and don't shy away from trying something different.
3. Pick a Fly Tie For The Big Occasion!
a) Bow down to the Bow-tie wedding dress for men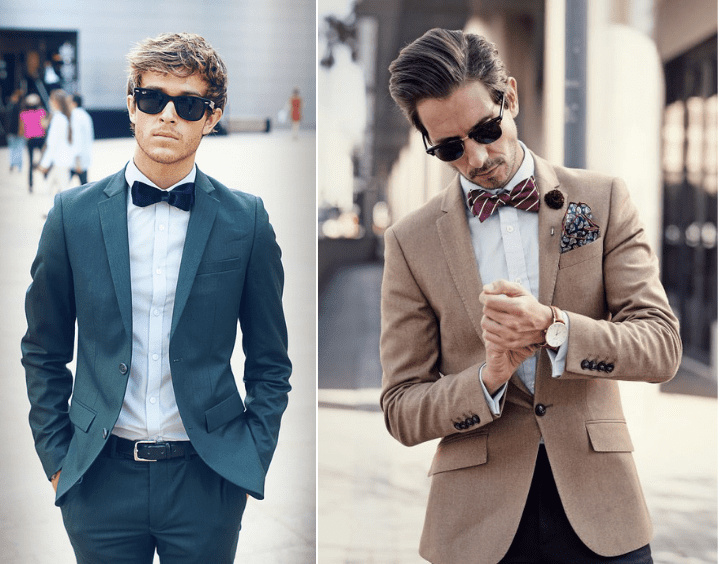 A black tux + a black bow-tie + Sharp Oxford shoes = The most eligible bachelor
According to us this outfit makes for a great bachelor nights out attire. If you're a bachelor living your last few days  of sweet freedom or if you're a ladies man with no hurry being tied down, this sexy tie outfit is for you.
Black  is not the only way, play with different colours and color coordinate your bow with your suit cleverly.
Style Tip- Don't worry about making the perfect knots, dress up hassle free and buy a clip on bow tie.
b) Black tie for sizzling nights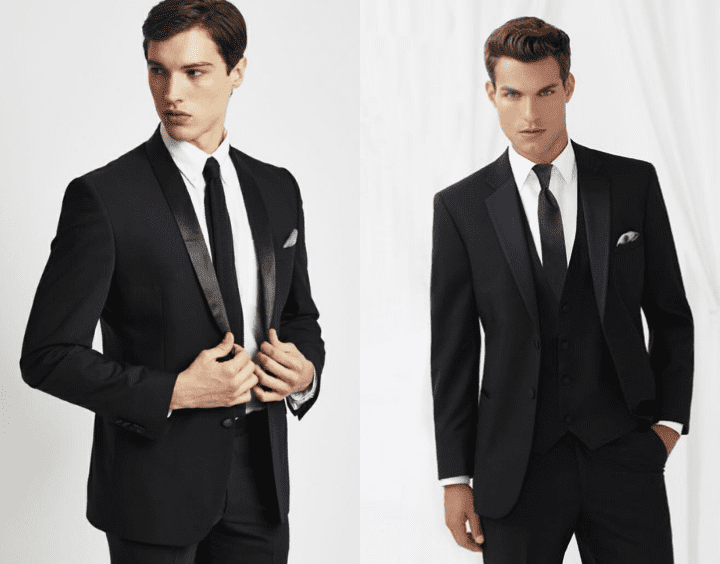 Whoa! Black tie outfits are a hard choice, they are not as easy to carry as they look.  This is a very formal outfit so don't experiment too much with colours. Choose suits in dull blues, greys and blacks to pair your black-tie with.
Style Tip- Place a crisp and elegant silk kerchief in your coat's pocket for that expensive look.
We think we've provided quite a large spread of wedding dress for men for you to rock this wedding season.  Follow this guide and make no mistakes!
Remember, always choose outfits that suit the mood and fit you like a magnet. Especially suits need to be tailored perfectly to fit you well. Clumsy Clothes are a big NO!
Good Luck!
Image credits: The copyrights of the images used in this post belong to their respective owners. The credits where known are specified under the image - if you're the owner of an image and want it removed, please contact us.