We're so excited to share with you an awesome new article on new mehandi design. Especially since the wedding season is right here, you could try some unique mehendi designs! We're sure this exclusive piece on mehendi designs will help!  
The festive and the bridal season is here ladies, so get yourself ready for some really amazing and beautiful new mehandi designs that you can flaunt on your special day.
Mehendi or henna is a very popular custom in India and is considered to be a sign of good luck for the bride. No weddings or festivals can be complete without the auspicious touch of the henna designs on the ladies' palms and feet.
Moreover, from defining a contemporary bride to adding glamour to her looks and standing true to traditions, mehendi art is doing it all. So keeping that in mind, let's have a look at some amazing, refreshing and new mehandi designs that will give you some major Mehendi inspo for your special event! Also check out types of mehndi design guide.
Trendy New Mehandi Designs: 
1. The Oh-So-Elegant Black Mehendi Design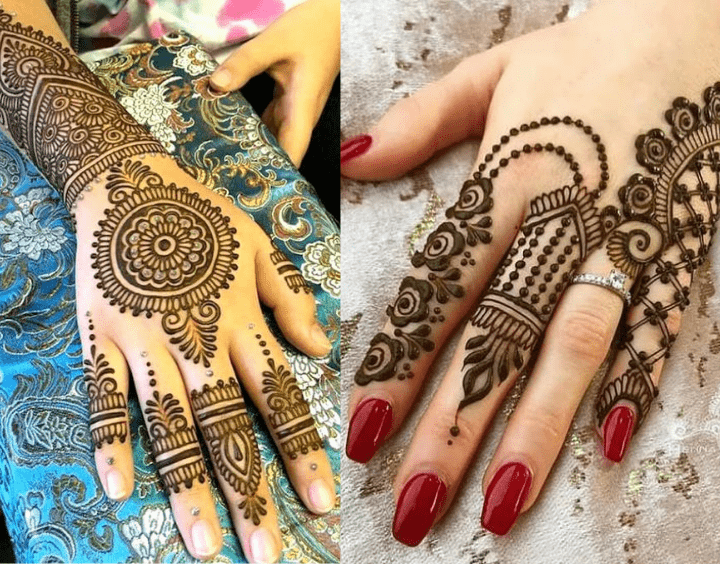 Starting with the latest and the hottest, the black mehendi design is comparatively a new mehandi design and is a top pick among the young lot. Though it is a chemical mehendi, we're sure, once applied it looks absolutely elegant and totally picture perfect!
The black mehendi design is commonly used for outlining and shading, but you can always break rules if you wish to. You can also use it on your arms like a flawless temporary tattoo. Moreover, there are so many amazing ways to flaunt the black mehendi design – using thick lines and big floral patterns, with colored henna designs, glitter mehndi, star mehndi designs and also with some embellishments and more.   
2. Shine Bright with the Glitter Mehndi – New Mehandi Design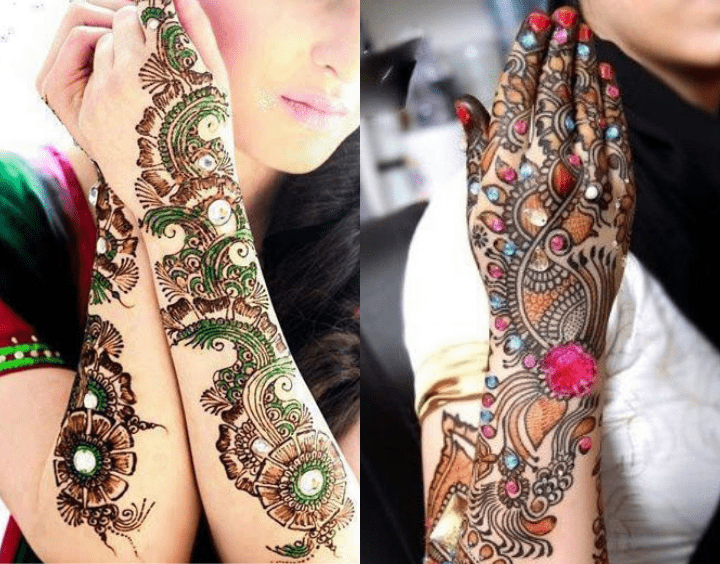 Accentuate your classic mehendi with this beautiful contemporary and uber stylish glitter mehndi. Glitter mehndi is a great alternative to traditional henna designs. It only lasts for about 6-8 hours, so it's great for a night out. You can totally glam up your look with the glitter mehndi instead of amping your look with accessories.
Use some colored glitters to match it up with your mehandi outfit and give an altogether different look and feel to your mehendi. These unique mehendi designs are just perfect for weddings – for the brides and even for the bridesmaids, to grab some attention 😉 You can either go for a modern look with some minimal chic and easy mehndi designs or go for the intricate one with florals, paisley and more – we think both would look absolutely mind-blowing!
3. Go Light with the Bangle Mehendi Design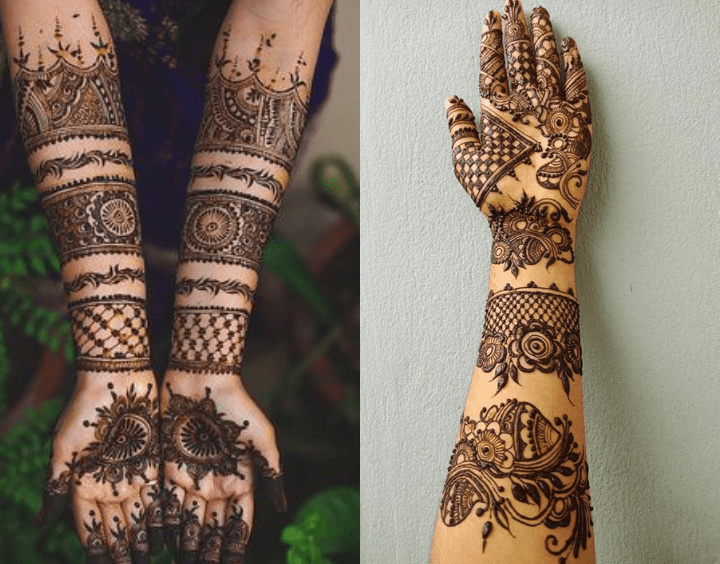 What if you don't have to wear heavy, glistening bangles while looking absolutely stunning? Try out this latest and unique mehendi design for hands and make your wish come true. Bangle mehendi designs, also called as chudi mehndi design or kangan mehendi design are another new mehandi designs that are buzzing on the top these days.
These are the henna designs which have the design like a bangle on the wrist. Some chudi mehndi designs can be simple and chic while others can be very elaborate and beautiful. It is traditional yet contemporary at the same time and is meant for the modern age women who like to experiment with their looks. Such bangle style mehendi design were originated in the Middle East have now taken the country by storm. Do try it out once!
4. Star Mehendi Designs to Make you Shine Like a Diamond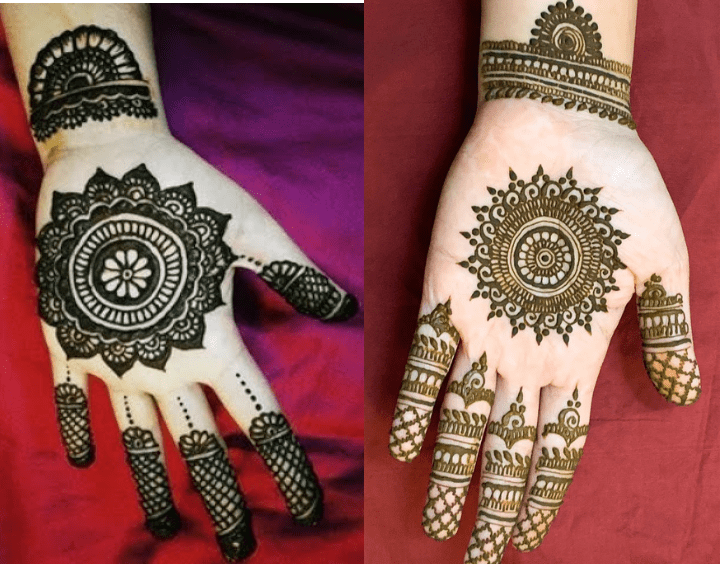 Star mehndi designs – one of the easy mehndi designs, are the ones that include the cute and simple star designs. These are most appropriate for the kids or teenage girls who don't like the traditional Indian henna designs.
And, stars are so easy to draw. Use them with small circular patterns and dots. Voila! You have  simple mehndi designs ready! Also, to make the star mehndi designs look more attractive and impressive, you can try it out with glitter mehndi designs or colored ones or black mehendi design with some dots here and there teamed with some other really cool patterns and designs. Or you could mix it up with traditional bridal mehandi designs for a cool contemporary look.
This design can also be made on the back, the shoulder or legs, and can also be used as a tattoo. And, you don't really need to go overboard with this one, just a few stars would do the job for your special occasion.
5. Glam it Up with the Bracelet Style Mehendi Designs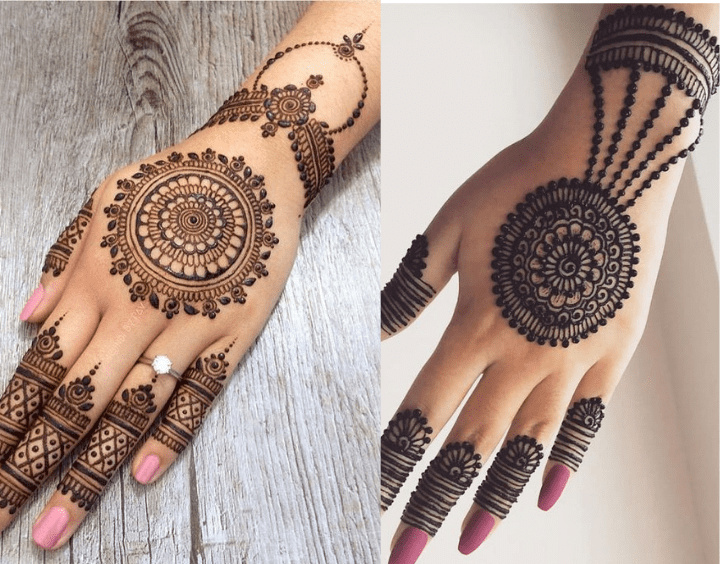 The glamorous bracelet style mehndi designs are the talk of the town these days. And truly, nothing adds more grace to your palms than the bracelet-inspired designs. Substitute your hand accessories with this unique mehendi design.
They simply look extremely elegant and fabulous. Further, these make for quite  easy mehndi designs, yet the end result looks stunning and worth appreciating! The bracelet style mehndi designs are the perfect amalgamation of a modern and traditional design and it can be easily done at home. Just start by making a V design on your wrist and take it forward by making some elegant floral motifs or geometric mehndi designs or whatever you like!
6. Classic Floral Mehendi Designs You'll Love To Flaunt- New Mehandi Design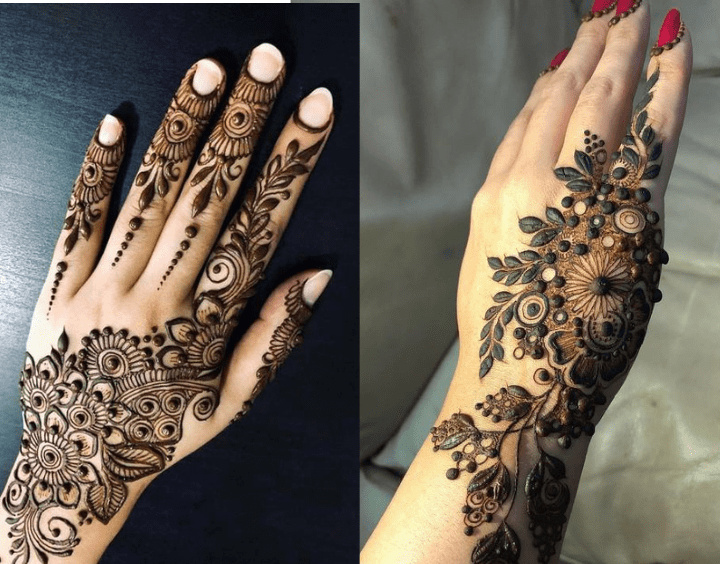 One thing that the women around the world seem to have in common is a love for flowers and floral motifs. The floral mehndi designs are the most common yet the most beautiful designs that one can have on their hands. These floral mehndi designs have been in the game for quite some years and are still very much in trend.
The brides love them the most! You can opt for the classic floral mehendi design or you can also try revamping those evergreen classics with just playing around with new lines, silhouettes, and placements. Different types of henna flower designs like a lotus, rose and many more can be drawn along with leaves and other designs. You can also try out this amazing floral mehendi design that has small flower patterns all over. Looks beautiful, right?
So, go ahead and try these new mehandi design. You can always add your own style and twist to the suggested patterns and rock it up for your occasion. All the best for you mehendi sessions!
Check out all our latest blogs here Bewakoof Blogs.
Image credits: The copyrights of the images used in this post belong to their respective owners. The credits where known are specified under the image - if you're the owner of an image and want it removed, please contact us.