There's no denying it – #NoShaveNovember just hits differently this year. The #NoShaveNovember wave has found its soulmate in 2020. With the trend's origins being from a charity movement, and the good ol' WFH life still going strong, this is the right month of the right year to forgo a shave, get your beard in shape and donate the money you would otherwise spend on shaving supplies to a worthy cause.
Factoid time! Here's what you need to know about #NoShaveNovember –
Some take part in No Shave November just for fun, but many take the monthly commitment to heart. Often sparking conversation about health issues that affect men, this is an important trend globally.
No Shave November refers to an annual charity event where men don't shave off their facial hair for an entire month, to raise awareness and money to fight cancer.
This digital movement started all the way back in 2009. No Shave November began as a Facebook campaign to raise awareness and money for cancer research and charities.
The goal of this movement is also to provide men an opportunity to embrace their natural hair, which many cancer patients lose, and to let the facial hair grow wild and free.
The Movember Foundation, founded in 2003 in Melbourne, Australia, is focused on #noshavenovember and uses fundraising to target prostate cancer.
Women love taking part in this yearly event of 'un-grooming' by not shaving their body hair as well and going completely natural. In fact, considering it's almost 2021, we think women should do exactly as they please with their body hair all year long – and #noshavenovember can be a powerful statement for ladies who are focused on breaking stereotypes and rejecting toxic beauty standards.
Following the rules of No Shave November is easy-breezy. Just put your razor down for a month and donate your hair-maintenance expenses for November to a cause. If you are working & need to maintain a certain neatness in appearance for the office or video calls, worry not! All kinds of participation are welcomed in this online movement, even if that means you need to periodically groom or trim your coiffure.
Let's get to it. This month is the perfect opportunity for men to participate in a meaningful challenge online, have some fun with it, raise awareness, support charities, and also get the chance to grow & maintain the beard style of their dreams.
So, for those gentlemen who are participating in this awesome challenge, or are just looking to groom a beard of their own; we've got some great insights and the 10 best beard styles that are fashion-forward and trending this season. Look out for footnotes on the personality traits that suit each type of beard. Scroll on!
1) The Full Beard:
Full-grown & fully immersed in its own natural glory, a full beard sans any type of cutting, trimming, or grooming, is what #noshavenovember is really about. If you would like to go ahead and grow a full mane for some laughs, or would just like to give yourself a good foundation to trim a perfect beard shape of your choice once the month ends – this style is perfect for those whose lifestyle would permit.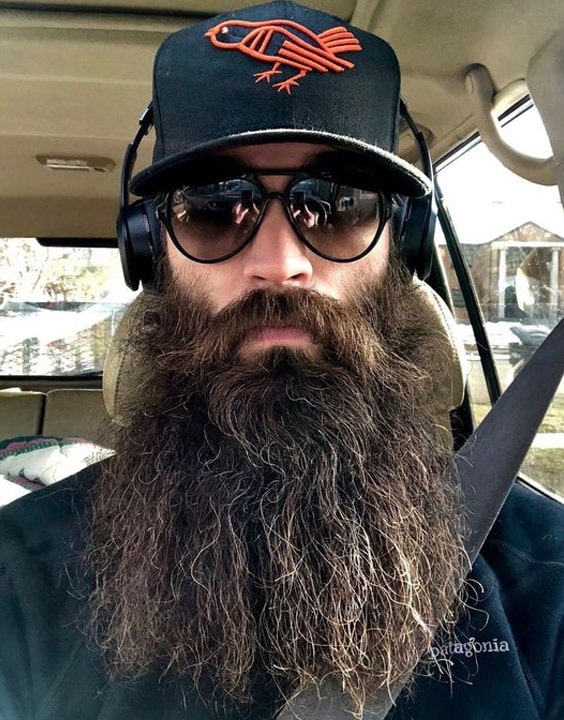 Pros:
This style of beard is super low on maintenance. Obviously.
You get to show off a truly majestic, lion-like mane.
Cons:
Although it is November, if you live in the kind of climate that is humid, or hot during the day, this is not the best option for you from a comfort and hygiene point of view (unless you are perpetually at home, like some of us).
It is most certainly not work or corporate-friendly unless your entire team is participating with you on the same level & it can also lead to a few potentially awkward social moments.
Even your closest friends and acquaintances might have a little trouble recognizing you for the first few times. Be prepared with a quickfire round of answers to their many questions!
Personality Type: Chiller, Low-key, A Natural Beauty.
2) The Long Beard:
The long beard is a version of the full beard that does retain the length of the full beard at times but is more neatly shaped and slightly trimmed than a full and natural mane. Usually shaped to drop down into a wide 'U' shape, this one of the more traditional and charming beard styles for men in India.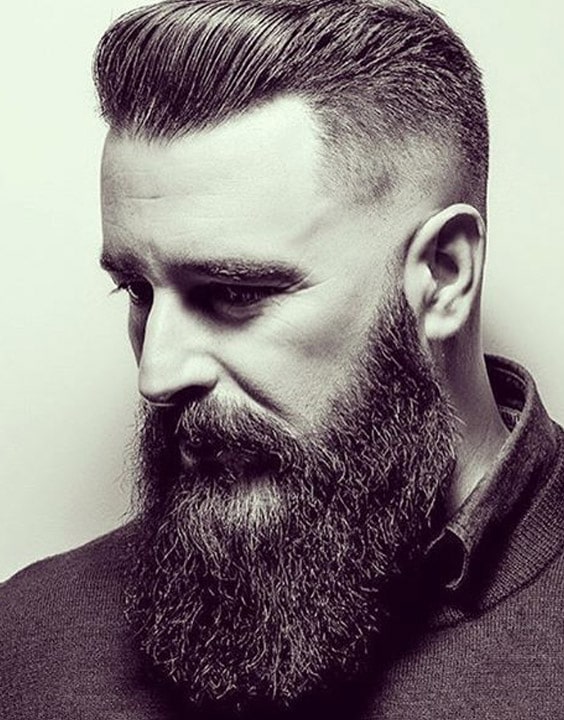 Pros:
A proud and voluminous statement, this beard style is high on the fashion radar.
This beard can be more smooth with added shaping or can be just lightly shaped for a more rugged appeal.
Any ethnic Indian menswear is an amazing match for this beard style.
Cons:
Not ideal for humid climates.
The trimming involved in shaping a full beard into a long one, involves time, patience and skill. This is not the easiest style to maintain.
Personality Type: Suave, Cultured, Dexterous.
3) The Short Beard:
Another derivative; a full beard style can be maintained in a much more lightweight and decently groomed manner, in the form of a short beard. Shorter and crisper than a long beard, and yet still maintaining that full-face style, this type of beard is suave and macho at the same time.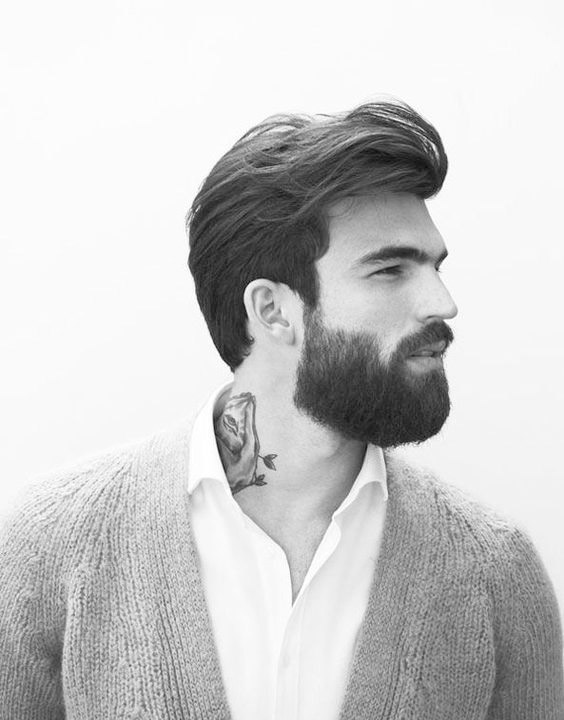 Pros:
Messy, or neat – this is a beard style for boys and men, that is guaranteed to -go well with almost any hairstyle.
From CEOs to artists – this is one of the short beard styles that can flatter and elevate anyone.
Great for oval and heart-shaped faces.
This beard is the only corporate-friendly derivative of the full natural beard.
Cons:
Not ideal for a hot & humid climate.
The time & work involved in shaping, grooming & trimming this beard, make it high maintenance.
Personality Type: Ambitious, Dapper, OTT.
4) The Ducktail Beard:
Heavily popularised by celebrities like Jason Momoa and Leonardo DiCaprio, 'ducktail' beard styles for men are sleek, suave and loved by men internationally. The beard style is named as such because it comes in a sharp & sophisticated shape – which also resembles the shape of a duck's tail.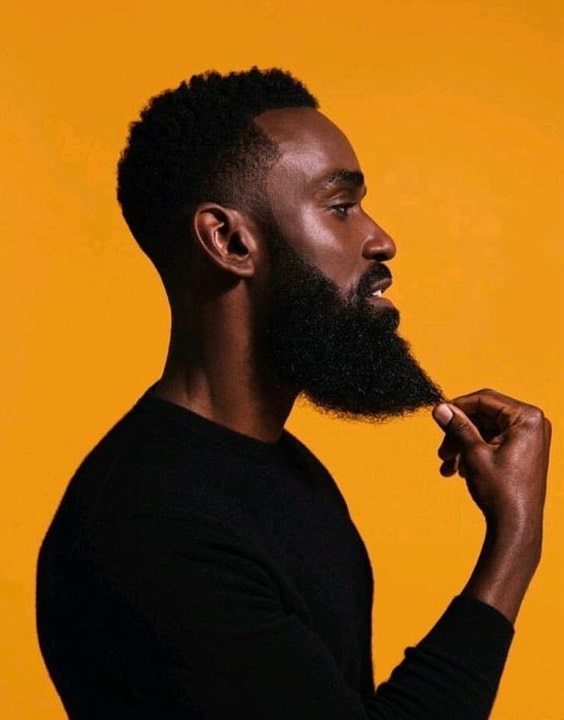 Pros:
Square, round and heart-shaped faces can don this style as the pros do.
This style is uber-manly and rugged. But it can also clean up nicely when required with simple trimming on the edges.
The sharp angled shape of this beard elongates the face pleasantly and lends daring biker vibes to the wearer.
Cons:
Not suitable for hot & humid climates.
It is not the most work-appropriate or corporate-friendly style.
Takes daily maintenance & care to maintain the shape.
Personality Type: Baddie, Magnetic, Controlled.
Looking for a way to match the cool quotient of your style with your mobile phone? Well check out Bewakoof's trendy and artistic range of mobile covers.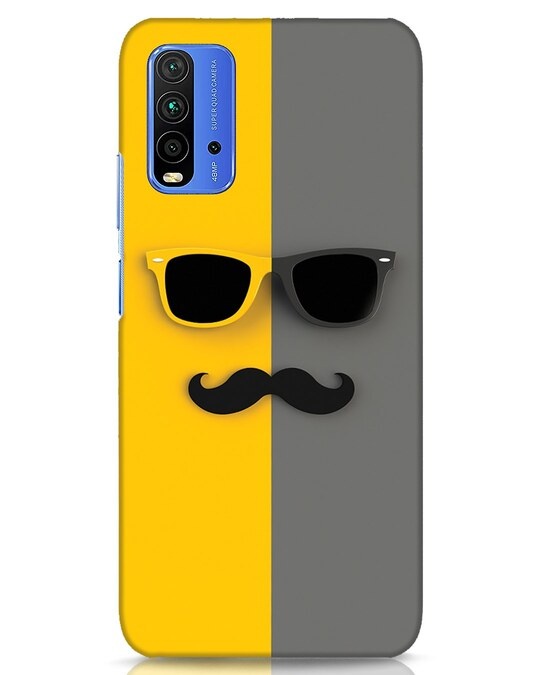 5) The Chin-Strap Beard:
The Chin-strap beard is a revolution in beard styles for men. Featuring a light, well-groomed beard line running along the contours of the chin & jaw-line – this one is a fave with jocks, athletes and those who work in physically taxing environments. The chin-strap beard can also be featured alongside other elements such as a moustache or an under-lip patch.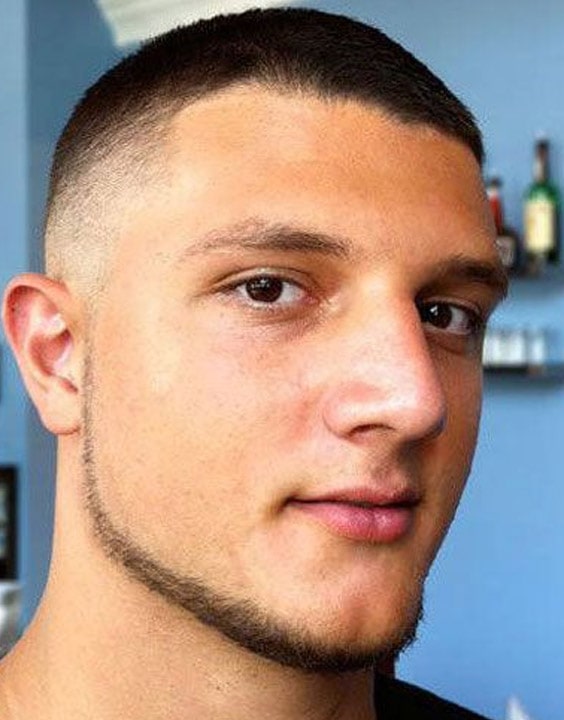 Pros:
Light, neat and great for more tropical climate conditions.
Sleek in style and visual appeal, this beard style for boys pairs well with athleisure and comfort wear.
Very good for work & is corporate-friendly.
Cons:
Needs daily maintenance and careful beard trimming skills.
Personality Type: Optimistic, Energetic, Gregarious.
6) The Beard Fade:
The beard fade is one of the most popular beard styles in black culture and fashion. Adopted by many across the globe for its sharp suaveness and precise geometry, the beard fade is a style that is well connected to hair styling. In order to get it right, begin with a taper fade haircut, and then blend your beard into it.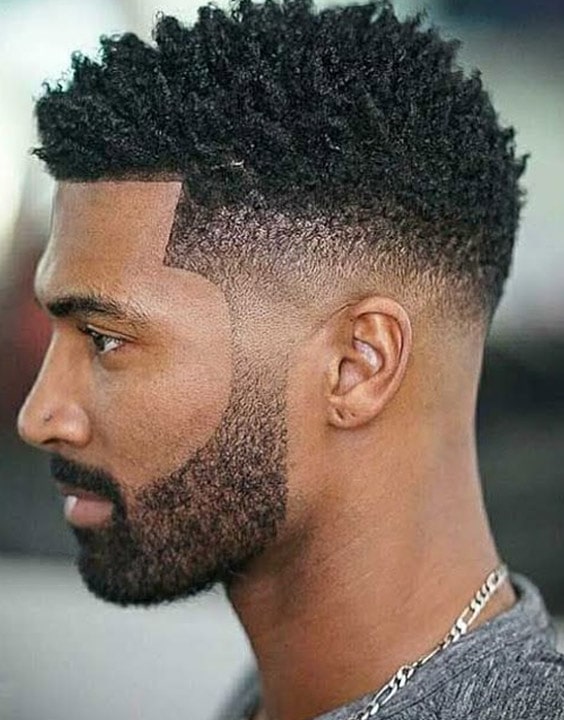 Pros:
A very crisp and neat style – great for work and public events.
Versatile in its appeal, it works with a range of clothing – from formal to athletic wear.
Helps contour the face in a very customized way.
Cons:
Is very high maintenance – unless you are extremely skilled in hair-styling, you would probably need a professional for this one.
Does not look good with any other hairstyle than a neat & tapered coiffure.
Personality Type: Steady, Stylish, Grounded.
7) The Light Stubble:
A light stubble is highly popular, and beautiful in its simplicity. To get the 'light stubble' look, all you have to do is miss any kind of shaving or grooming for a couple of days. A light raze of stubble on your face helps add a masculine definition to it, while still being light and airy as a feather.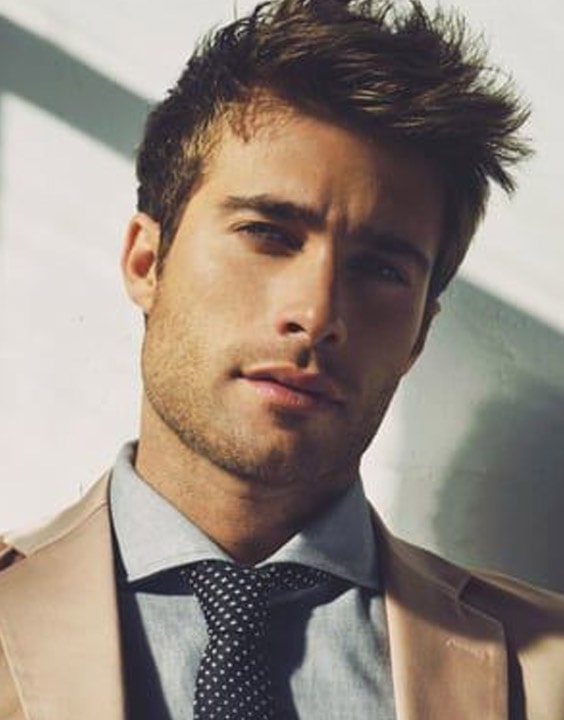 Pros:
Great for climates with high heat and humidity.
Super easy to maintain.
Chic, suave and stylish with almost any kind of attire. Most popular in fashion spreads and the catalogue of any mens online shopping app, this style is a keeper.
Cons:
A bit of a wall-flower, this short beard style is the most understated in terms of showing off facial hair.
Not the best option for chilly and cold climates.
Personality Type: Boyish, Charming, Nonchalant.
8) The Verdi Beard:
Verdi beard style shot to enormous popularity in India since actor Ranveer Singh has regularly sported the style IRL and in big-ticket movies. It is a rounded beard style, which is overlapped by the handlebars of a curve-ended moustache. The mustache is disconnected from the beard. Originally inspired by Giuseppe Verdi during the 18th century AD, this style is an absolute classic.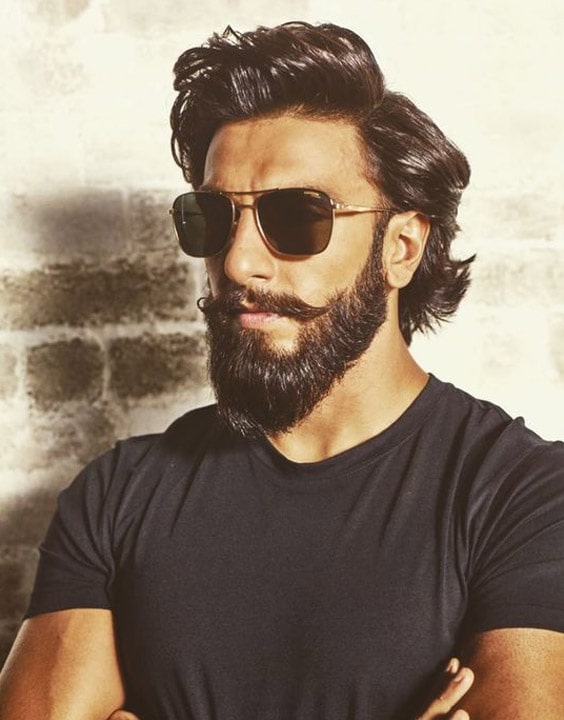 Pros:
Iconic & stylish, this is one of the most fashionable beard styles for men in India.
Pairs beautifully with a sherwani and other formal, ceremonial and traditional garb.
Cons:
Not ideal for hot and humid climate conditions.
Not work-appropriate and can be too heavy for the corporate world.
Personality Type: Regal, Iconic, Unmissable.
9) The Scruff Beard:
The scruff beard is a step ahead of the light stubble. It is more grown in than a stubble but has not quite reached the full beard level yet. A more natural look, this is a popular style for men with both thick & sparse facial hair. Get this look by letting your facial hair grow for more than 3 days. Shave once a week (on average) to maintain.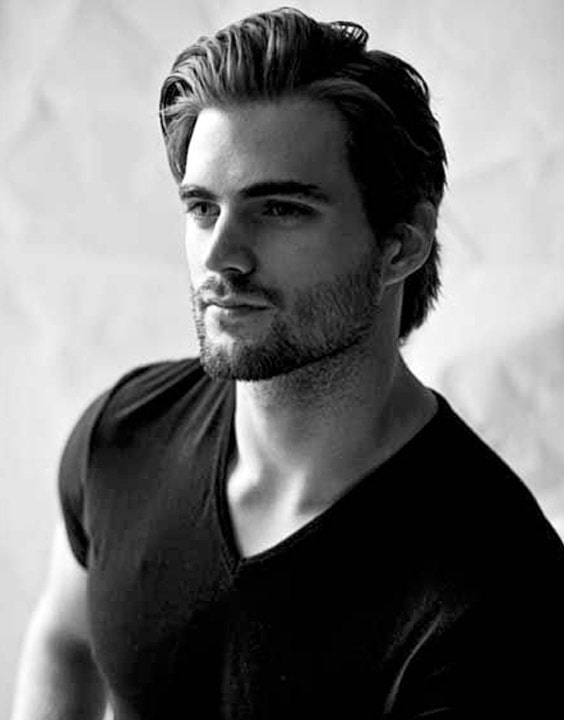 Pros:
Regardless of the thickness of your facial hair, this beard style for boys and men can add texture and grit to a patchy hair growth, as well as a dense one.
When maintained well, this beard style can be great for the workplace.
This style works well with square shape faces, lightening the edges with some texture.
A comfortable style for any climate- and low maintenance, this is one of the best beard styles for men.
Cons:
Can look too 'scruffy', as the name suggests, without any grooming. Needs minimal, but consistent attention to look neat and sleek.
Personality Type: Friendly, Relaxed, Boy-next-door.
10) The Triangle Beard:
The triangle beard features a triangle-shaped beard patch right under the lips. This can come in a variety of styles – with a goatee, a circular beard, etc – but the defining feature is always the triangular beard patch in the under-lip area.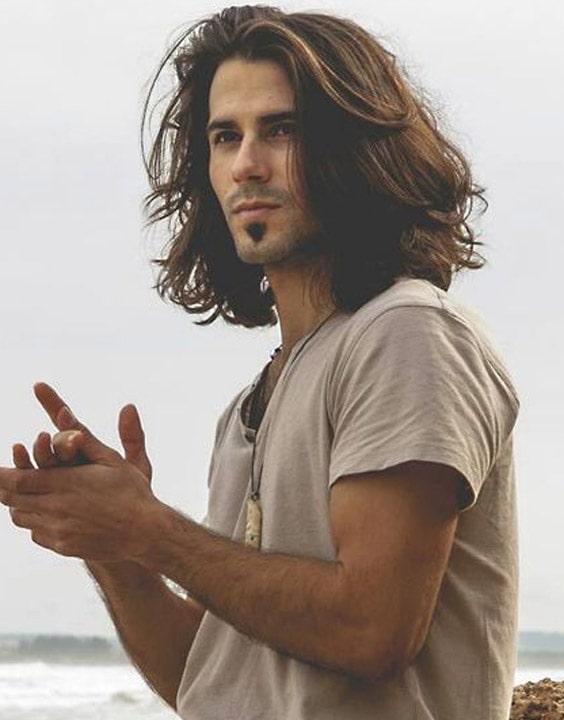 Pros:
Minimal, chic and on-point with the aesthetic, this is a very versatile and youthful beard style.
If the rest of the face is kept clean and the triangle beard is only accompanied by a light stubble or fade, this can be a style that is very smart and suitable for the office.
Works well with any face shape & is great for more humid & tropical temperatures.
Cons:
Not the best choice for wintry and freezing locations.
Not too difficult to maintain – but does need clear grooming skills and minimal everyday maintenance.
Personality Type: Artistic, Prospective, Expansive.
Beard styles for men are all about style, definition, comfort and skill. It takes some effort and patience to grow and maintain a neat and stunning beard. If you are just embarking on this journey, take it slow, do your research, pick the right beard to go with your lifestyle and personality, and enjoy your #NoShaveNovember wholeheartedly!
Image credits: The copyrights of the images used in this post belong to their respective owners. The credits where known are specified under the image - if you're the owner of an image and want it removed, please contact us.