Honeymoon holidays are always a special time and an experience that every couple must-have. There's a lot that can go right on a honeymoon trip – from chilling with your significant other in romantic settings, to going for a refreshing hike in the winter hills.
Always a romantic time, honeymoons can be intense bonding experiences for couples and can truly help couples rewind and rekindle their spark. Reflecting the importance of this trip and its potential to create life-long memories; a little effort into looking as happy as you feel goes a long way!
The good news? We've already done most of the leg-work for you with our fabulous list of honeymoon outfit fundamentals.
Whichever your vacay preference may be – sunny beaches or wintery cities; we've got the perfect list for honeymoon fashion must-haves. Just pack the ones that resonate with you & you'll be ready as ever for a romantic getaway!
The Summer Getaway:
The Beach Hat:
Big, rustic and ultra grammable, a 'beach hat' is an absolute essential for any honeymoon vacationer with a tropical destination. Chic, relaxed and perfect for blue & green back-drops, these hats are usually woven out of wicker and designed to be soothing to the face under high temperatures.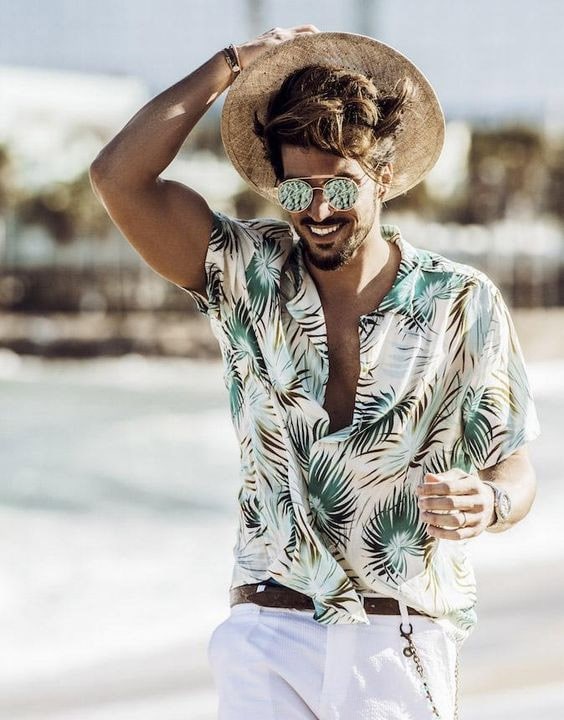 Wear your beach hat with a graphic-printed shirt for a vibrant effect.
A great companion to honeymoon dresses for couples, the beach hat goes with almost anything – for men & for women.
Get your 'Mr & Mrs' names printed or embroidered on your big floppy beach hat to show off your newly-wed glow.
Pairs best with: Sundresses, flip-flops, chinos, printed shirts, floaters, beachwear, swimsuits, wrap-dresses, crochet cover-ups, minimal sunglasses.
Creative Cover – Ups:
Cover-ups for swimming and down-time are absolute necessities if your honeymoon is by the beach or at a resort of any kind. An opportunity to elevate your entire look with the addition of just one element, this is a must-have when it comes to honeymoon dresses for women.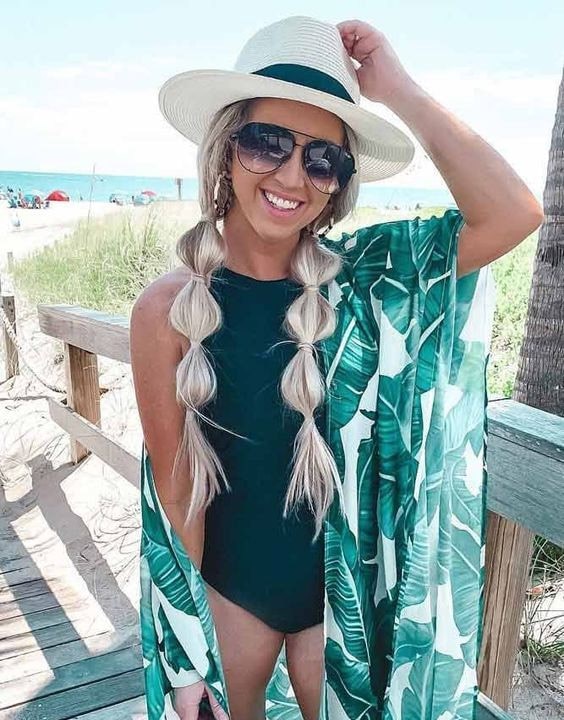 Crochet cover-ups are chic, durable & high-fashion AF.
Go for something light and fluid to keep your outfit breezy and stylish.
Pairs best with: Bejeweled tongs, Wicker-woven hats, beachwear, tote-bags and charm bracelets.
Graphically Aligned:
Get graphically aligned with your outfits and honeymoon dresses for couples on your romantic getaway. Showcase your couple-coordination by wearing co-ordinated graphic printed outfits.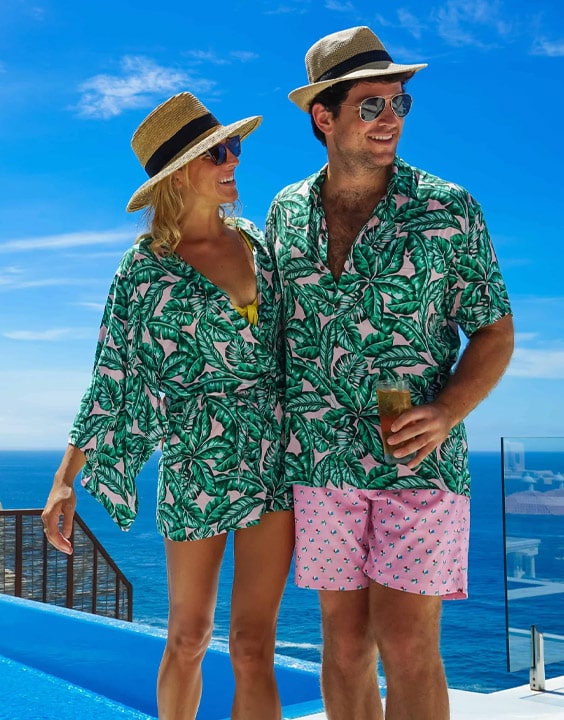 For men: Opt for a tropical printed shirt instead of a t-shirt to update your look.
For women: Shop for shirts, pants, culottes and skirts with patchwork elements and a mixed bag effect for a quirky honeymoon outfit.
Opt for a dress and shirt with the same print, to twin & win in your honeymoon clothes.
Pairs best with: Sneakers, scarves, wedge heels, minimal jewellery.
Boxy Boy Boxers:
Boy boxers are a menswear essential for a summery honeymoon outfit. Usually made in thin cotton, boxy boy shorts are available in a huge variety of prints online. Choose one that matches your personality, boys – this one's a lazy win.
A great boy short comes in a cool print with a personality. Team it up with your fave t-shirt for a chilled-out lounge look.
Your boy boxers can be great for indoor chilling, with a loose men's vest or sleeveless t-shirt.
Pairs best with: Barefeet, a can of beer, and a sunning bed.
The Vacay Sari:
Any honeymoon is incomplete without a big and fancy date at an exotic locale. Inject a good dose of glamor into your date with this honeymoon dress idea for women in the 'Vacay sari'.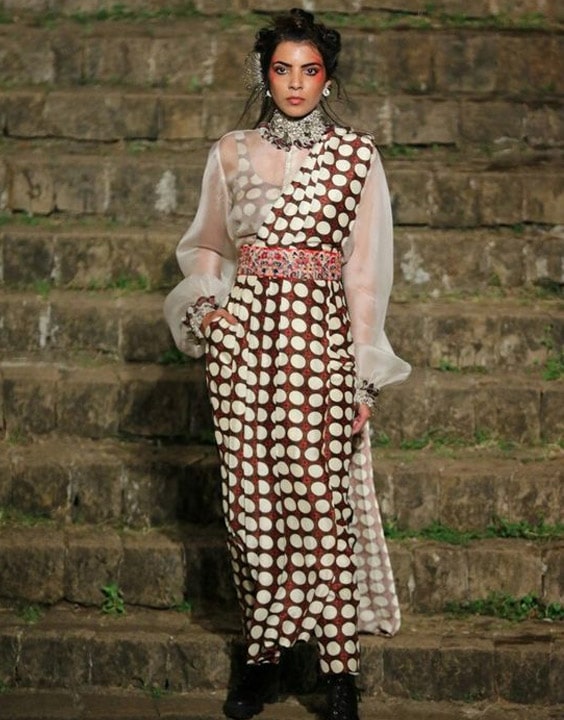 Wear a light muslin saree with fun colors over your bikini top instead of a blouse to exude a sultry feel for your honeymoon date.
Always pick super light, almost sheer fabrics like light muslins, light cottons, organza, chiffon, georgette, thin silk, etc.
A retro printed sari – in a polka print or a neon print – can be a bold & memorable vacay sari for your honeymoon trip.
Pairs best with: Fancy flats, big hoops, sling bags/clutches, messy bun, swimwear, light but glowy make-up.
Rose-tinted Sunglasses:
There's something undeniably romantic about looking at the world through rose-tinted glasses for your honeymoon experience. Get rose-tinted sunglasses for you & your beau and enjoy unforgettable sunsets, pictures and memories.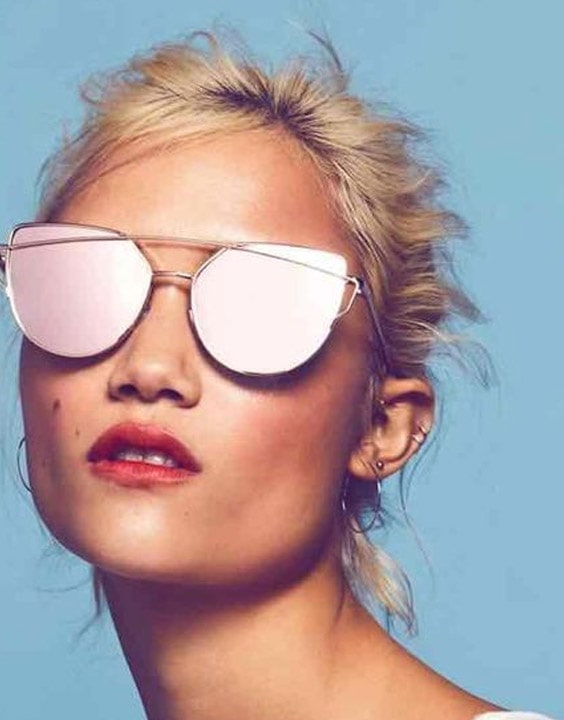 Go for a strong rose tint or a very light one based on your preferences and sensitivity to light.
This is a great accessory, that will go well with your casual vacay outfits, as well as your more glam date looks.
Pairs best with: Everything that screams 'tropical'!
The Loose Button-Down:
Very few garments are as dapper as they are comfortable; than the loose, open-neck button-down shirt. A vacay classic for men, this honeymoon outfit makes for some special moments under the sun.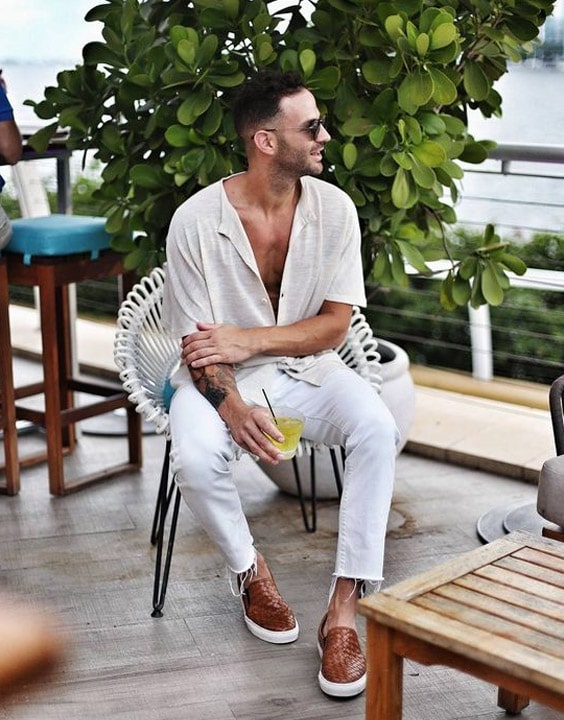 Use a button-down shirt as an open cover-up for a great honeymoon beach experience.
Go printed with your button-down for a subtle flair.
Go all white and summery in white muslin or cotton button-downs that are paired with relaxed white chinos for a posh appeal.
Pairs best with: Loafers, flip-flops, denim pants, denim shorts, chinos, trouser-shorts.
Ocean Accessories:
What better way to elevate your sea-side vacation outfits than shell and ocean-inspired trinkets? Wear them as necklaces, earrings, or in the form of other accessories to show off your affinity for the ocean. Add a punch to any tropical outfit with this must-have element.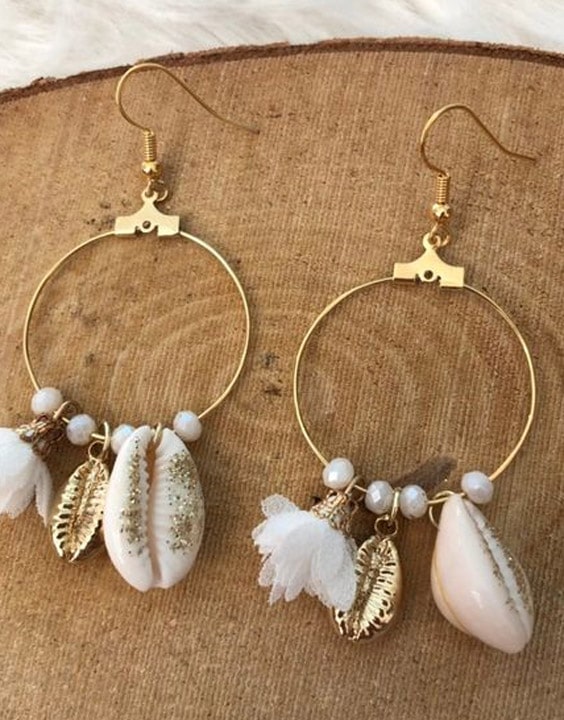 For women: Go for chunky gold necklaces with an ocean-inspired design as a statement piece for your beachwear outfits.
For Men: Pick a minimal shell bracelet or go for a sleek understated pendant on a thread, with your relaxed button-down vacay looks.
Pairs best with: Sundresses, flip-flops, loose button-downs, oversized tops, solid-colored outfits, tan accessories, neutral and earthy hues.
Sunny Sarong Scarf:
A sunny sarong scarf that can be used as a cover-up, is an unmissable honeymoon dress for womens essentials. Chic, classic and a cosy option – always carry a scarf big enough to be your sarong and your beach spread.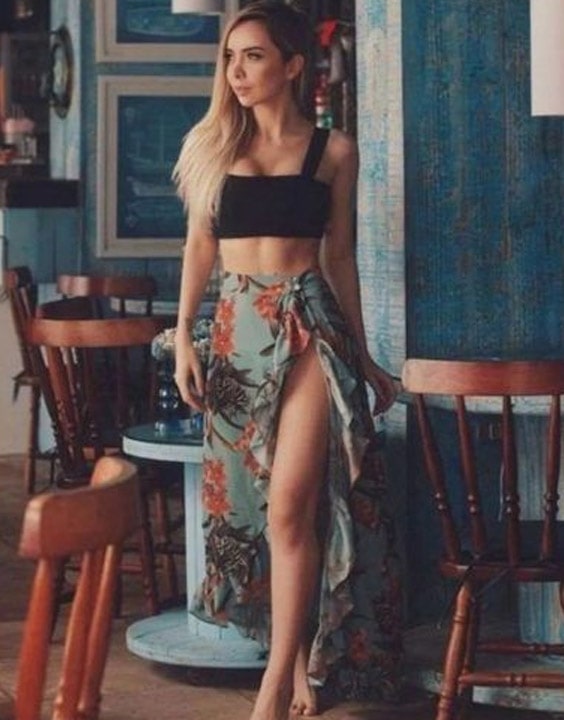 A classic resort pool-side option, this is an extra that will elevate your swimwear to the next level.
Go for a floral, printed scarf that brightens up your honeymoon dress and looks fresh by the water.
Pairs best with: Sandals, flats, earrings, sunglasses, pony-tails, bold & waterproof lip-colors.
The Winter Getaway:
Sight-seeing In A Sweater:
Sightseeing needs equal amounts of comfort and style. What better way to blend some style into oodles of comfort, than a sweater? Cosy, relaxed and great for the outdoors – a few good sweaters are a must for your winter getaway suitcase.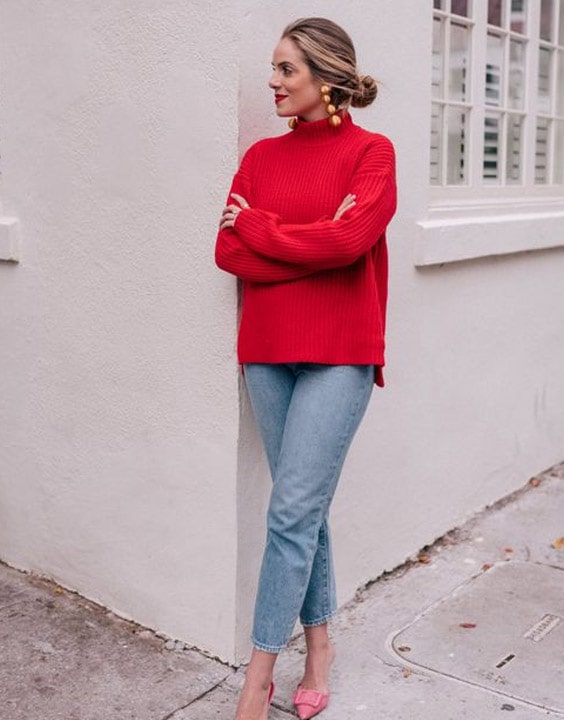 Wear a bright or neon colored sweater, with blue jeans and kitten heels for an effortless European charm.
Go neutral with your sweater color and accessory pairings for an understated, yet classic sweater look.
Earthy & blue-toned sweaters for men spell honeymoon romance like no other.
Pairs best with: Loafers, uggs, boots, high-top sneakers, kitten heels, backpacks, earmuffs, beanies, scrunchies, loafers, leg warmers, handbags.
The Man Scarf:
The man scarf is bigger, wider and thicker than the usual scarf. Often adding a wintry flair to any honeymoon outfit, this scarf also adds impromptu functionality to any country outing.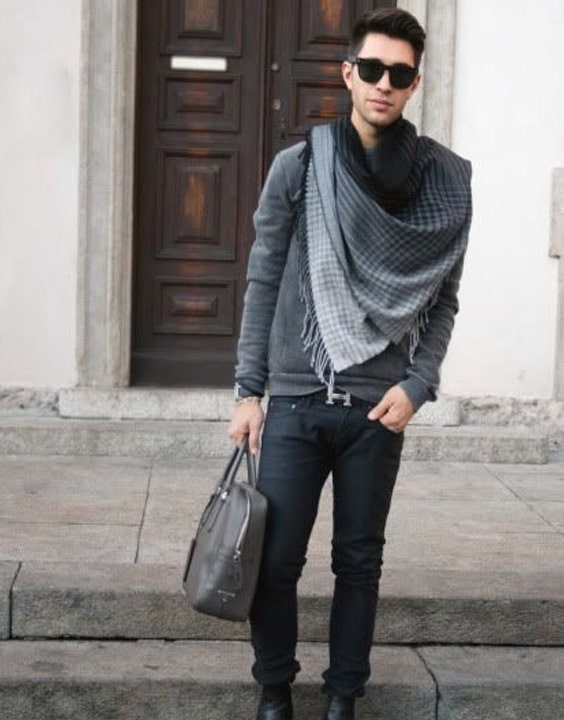 Color coordinate your scarf to either blend in or contrast well with the rest of your honeymoon clothes.
Picking a scarf with an ombre or striped pattern can add something special to chilly day trips in the winter countryside.
Go for funky prints and patterns with fringe finishes to add a sophisticated touch.
Pairs best with: Jackets, totes, boots, messenger bags.
Fancy In Jackets:
A classic jacket that comes with a touch of glam, is a winter honeymoon classic. Honeymoon dress – up memories in wintery destinations often include a warm-spirited and chic jacket. Out of the plethora of jacket styles available, pick the one that makes you feel fancy & cosy – all at once!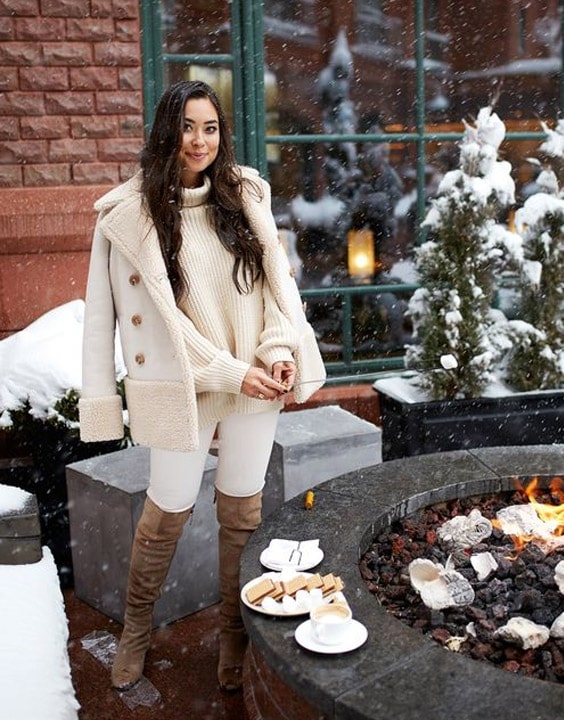 For men: Dress it up in a chic puffer jacket and a turtleneck sweater on your next winter trip for an effortless style statement.
For women: Color block and layer your jackets with colors that belong to the same color family, and are complementary to each other.
A chic double-breasted blazer-coat or a trench coat is a classic option for a winter city outing.
Pairs best with: Stilettos, boots, belts, brooches, jewelry pins, turtleneck t-shirts, high-waisted bottoms, statement accessories.
Oversize Kurta Set:
A stunning honeymoon dress option for colder climates would be an oversized kurta-pant set. Adding an ethnic flavor to your vacation wardrobe, as well as bringing a cosy, yet sophisticated vibe with it – this is a womenswear essential when it comes to honeymoon clothes.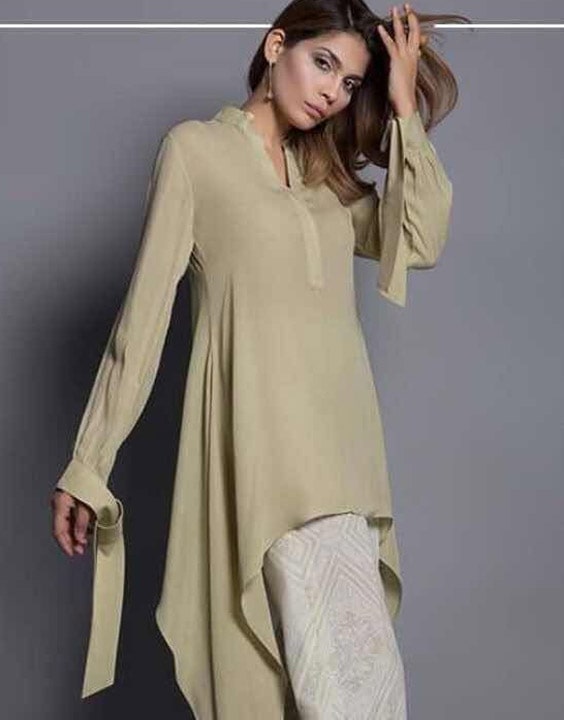 Go asymmetric with your oversize kurta, and look for drapes that flatter your body best.
A kimono/batwing sleeved oversize kurta over equally oversized cotton pajamas is a suave, yet relaxed look for wintry evenings.
A simple white oversized straight kurta with oversized palazzos is a sophisticated touch to your wardrobe for your romantic trip.
Pairs best with: Juttis, heels, nude make-up, oxidised silver jewellery, watches, loafers, hair clips.
A Knitted Dream:
Textural, luxe, and always an iconic winter statement, knitted pieces are the perfect kind of honeymoon dress for couples who go the winter vacation route. Perfect for snowy ski trips, or a visit to the foggy mountains; knitted woolen sweaters, fabrics, textures and designs are a classic honeymoon choice.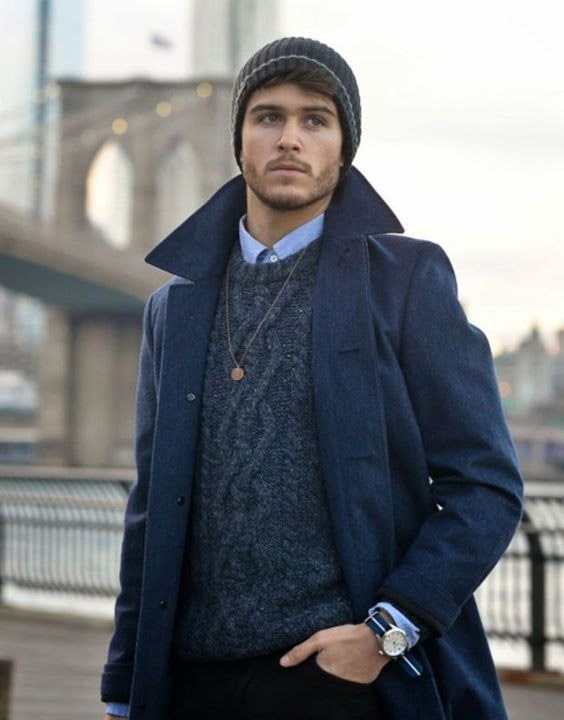 Go bold and rustic with the color of your knitted sweater and pair it with classic items like jeans and beanies to exude a traditional Christmas appeal.
You can go for softer knits, like cashmere and textured jersey if your vacation climate is chilly but pleasant.
Go monochromatic in either a dark tone like navy, or go classic and understated in whites and pastels for a co-ordinated outfit choice.
Pick bold textures in your knits and make the 3-D knits the star of your look.
Pairs best with: Denim, watches, minimalistic jewellery, watches, sunnies, beanies, hats, shirts, trousers, belts, loafers, boots, heels.
Color-Shock Dresses:
Go big with your maxi – pick one in a stand out color scheme that moves the eye with its vibrancy. Be it warm-toned, cool-toned, or psychedelic; unique colored maxis can be rocked on date-nights in the winter. Allowing for the use of a trench-coat or jacket on top if required, this is a glamorous winter wear choice.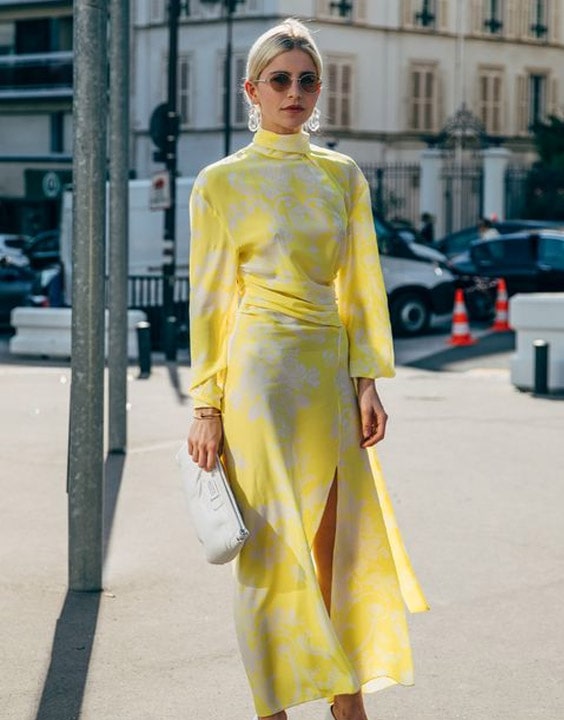 Pick one star color that is to be the unique and stand-out element in your outfit. Center your styling around that. If you have a printed honeymoon dress, ensure that a unique color dominates that print.
Since you cannot wear a short dress for honeymoon outings in the winter, go for an ankle length or a full length one, that is also in a lush and stand-out solid color.
Keep your makeup, accessories, footwear and jewellery minimal as well as complimentary. Do not go overboard with the hairstyle either. It is better to focus all attention on the flamboyant dress, rather than confuse the eye with additional stand-out elements. Thus the styling around this honeymoon dress must blend in well with the rest of it.
Pairs best with: Miniature pendants and jewels, nude lipstick, holographic highlighter and eyeshadow, flesh-toned accessories and shoes.
There you go – a comprehensive list of must-haves, essentials and trends for packing a fantastic honeymoon suitcase. We made sure we got our ABCs right – now, it's time for you to go honeymooning in style!
Image credits: The copyrights of the images used in this post belong to their respective owners. The credits where known are specified under the image - if you're the owner of an image and want it removed, please contact us.