In the era of plunging Sabyasachi necklines and Jacquemus' short-shorts, a conservative style is often regarded as the opposite of the latest fashion trends. However, 'modest fashion' has become a movement in its own right internationally. No longer relegated only to the Islamic world, modest fashion designers are making waves on the global stage with their elegant designs.
With designers like Hana Tajima in the UK, making different hijab styles ultra-modern and stylish, while also making them more accessible through her collaboration with Uniqlo; and Vivi Zubedi of Indonesia, who is on a mission to support female entrepreneurs locally through her craft – modest fashion is on the rise.
At the center of this fashion movement, is the 'hijab'. The hijab is described by the Oxford Lexico dictionary as a 'head covering worn in public by some Muslim women'. As is common knowledge, the tradition of wearing a hijab is deeply rooted in Islamic history and culture. Refreshingly, despite many socio-cultural debates around it, the hijab has found a new lease in modest fashion.
Modest fashion has embraced the historic hijab with an ultra-stylish, modern, and original approach that heralds in invigoratingly new, yet respectfully conservative style ideas for Muslim women.
Let's be clear. The hijab is not a fashion trend. It is a choice, a way of life and a symbol of deep religious sentiment for many. The ways in which women are embracing this tradition in modern times are proving to be transformative and evolutionary for global fashion.
With that in mind, we'd like to discuss some stunning style ideas for hijab outfits and elegant ways in which it is being adopted by women all over the world. Read on for some major style inspo!
1) Cosy hijab looks for the sweater season:
Winter is in the air, and the sweater season is upon us. It's prime time to dig out those warm, knitted cardigans, cool hoodies, and sweater vests from the recesses of our closets. Already covered-up to the hilt, this is an ideal style and season for those who love modest fashion.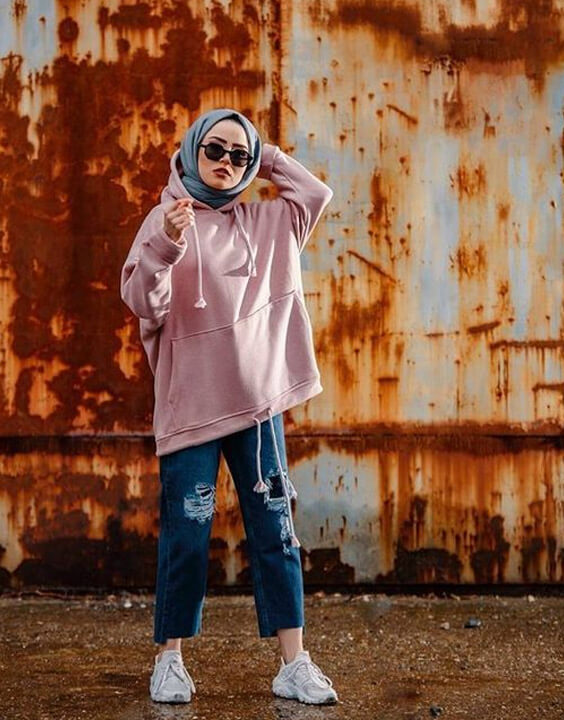 Here are some contemporary ways to wear sweaters and hoodies with the latest hijab styles:
Go monochromatic. Pick a sweet and sober color like eggshell or pastel pink and wear the color head to toe, matching your hijab with the rest of your layered sweater outfit.
If you would like to go the cool street-wear route, wear your hijab design with a hoodie, distressed denim and a pair of sneakers.
Staying earthy, yet colorful with your sweater choice; and pairing it with neutral tan accessories, separates and an earthy toned hijab will have you feeling those wonderful fall-winter vibes in your bones.
Recommended hijab style: The simple scarf-twist hijab.
2) Elegant vintage hijab style for the modern woman:
Stunningly elegant, this vintage look is just what every stylish hijab girl needs to add a touch of glam to her modestly fashionable day looks. Perfect for a stylish brunch with the ladies, this style oozes sophistication and class.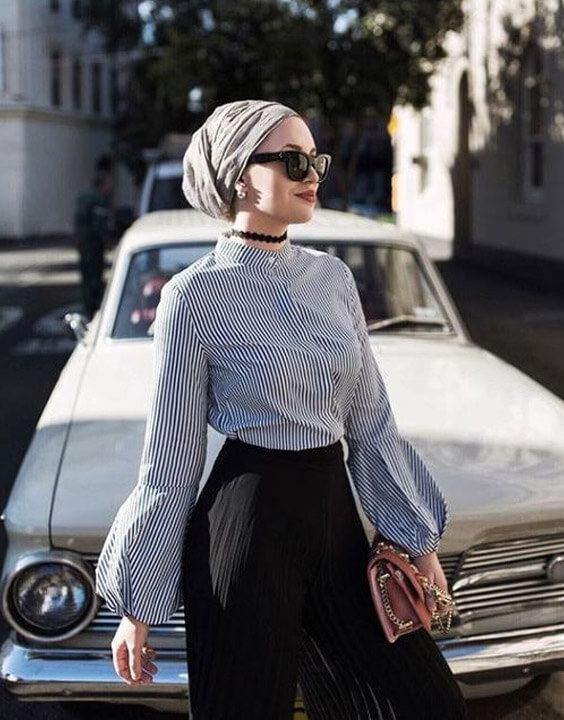 Here are some modern ways to adopt a vintage retro vibe with a new hijab style:
Vintage prints like tiny polkas, thin stripes, and houndstooth, in soft and slated hues are your best friends when aiming for this ultra-chic look.
A classic pair of oversized sunglasses and a chic oversized clutch or designer handbag is the way to go when it comes to accessorizing this vintage style.
A cool-toned nude lip or muted red lipstick completes the Parisian charm of this styling idea.
Recommended hijab style: The sophisticated parisian knot hijab.
3) Vibrant hijab looks for maxi dress lovers:
What's not to love about a radiant printed maxi dress? Ultra-chic, accessible and just the right amount of conservative, this is a must-have look for every hijab wearing fashionista.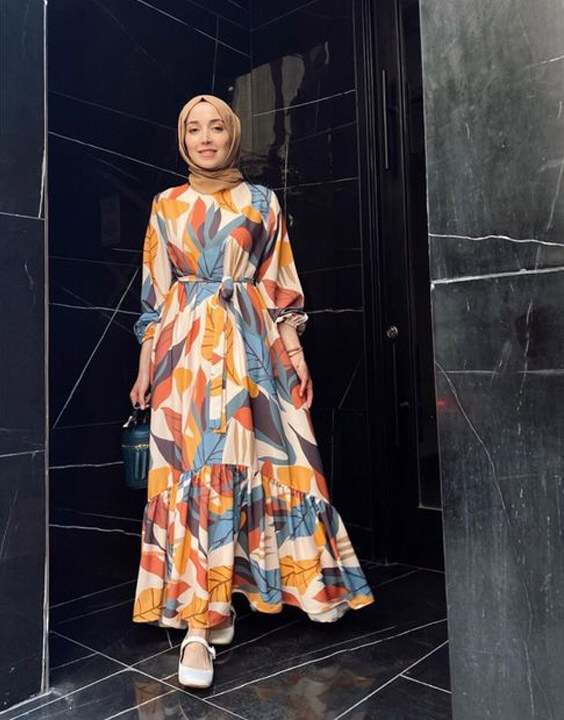 Here are some stunning ways to wear a printed maxi dress with a hijab design:
Go big and bold with your print, but ensure that the dress you pick is sufficiently modest, with long sleeves and a higher neck for that modish appeal.
Based on your style sensibilities, opt for a print on a more neutral base, or go for a subtle tonal print, or simply go all out in a riot of pattern and color – they're all fabulous options!
Do color coordinate your hijab with your dress. If your printed dress has multiple colors, pick an accent color that suits you best and match the color of your hijab with it.
Recommended hijab style: The delicate side-drape hijab.
4) Street-cred denim hijab style for the cool-sters:
It's time for some denim and sneaker's glory! Nonchalant, casual and relaxed, with an undeniable coolness factor, the hijab worn with ultra-modern denim jackets, is a stand-out look for gen-zers who love their athleisure.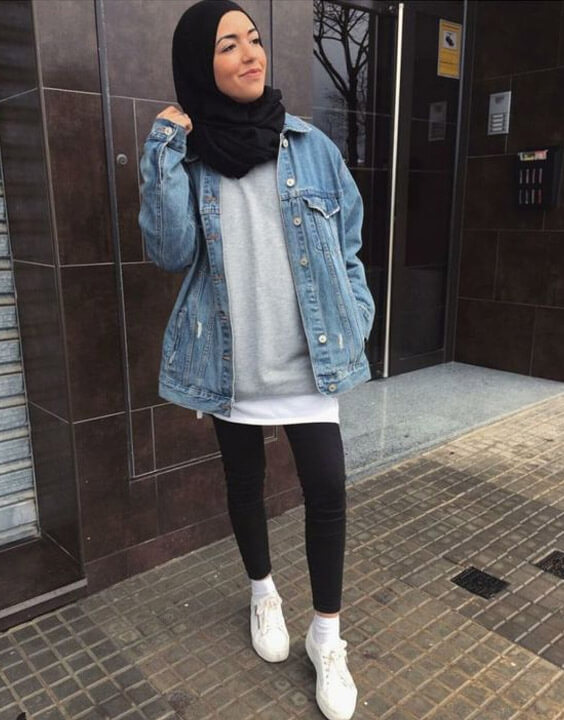 Here are some chilled out ways to include denim jackets in your hijab outfits:
A black hijab, or one in a grayscale color, is the way to go when it comes to putting this look together. Pairing this hijab fashion style with black separates underneath the denim jacket elevates the casual-cool appeal of this outfit idea.
White sneakers, grey hoodies, backpacks and satchels are all stylish companions to this look.
Recommended hijab style: The easy wrap-around hijab.
5) Chic hijab style for wrappers and coats:
A hijab looks amazing with winter wear. So it is no surprise that cloaks, coats and wrappers made it on our list. Classic, chic and a great way to show off modest fashion, these over-garments make for some seriously chic hijab looks.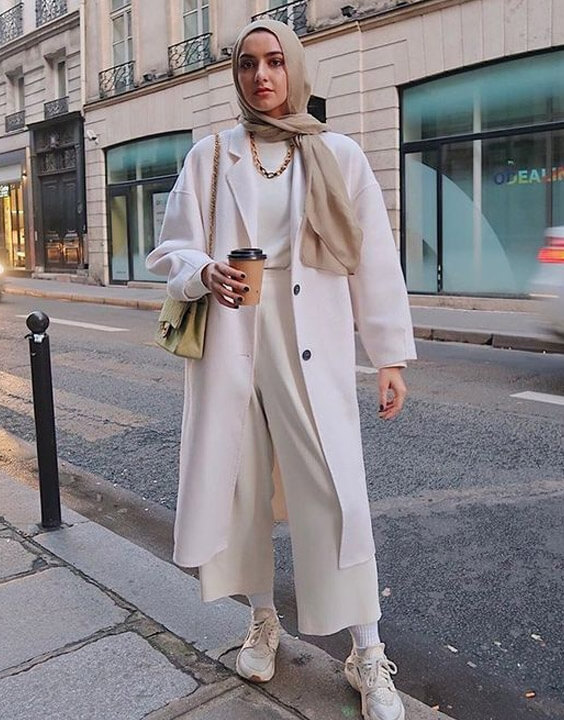 Here are some sleek ways to wear coats and wrappers with the latest hijab styles:
Pick a hijab that visually color blocks your outfit, if you tend to go for more beige and neutral coats. If you are not fond of colorful hijabs, a soft grey or pastel one will work like a charm.
Go for an all-neutral monochromatic look for your cloaked outfit, and then wear a hijab that is at least two to three shades darker, but in the same color scheme.
Wearing a deep hued hijab design with a nude coat that is layered over a printed top or dress, lends the wearer an elevated sophistication.
Recommended hijab style: The sleek tucked-in hijab.
6) Feminine hijab style for skirt wearers:
Let's not skirt around the fact that maxi skirts are awesome! When paired with appropriate topwear, they can be great outfit pairings with different hijab styles. Be it pleated or bias-draped, there is no denying the unapologetic femininity of a skirt!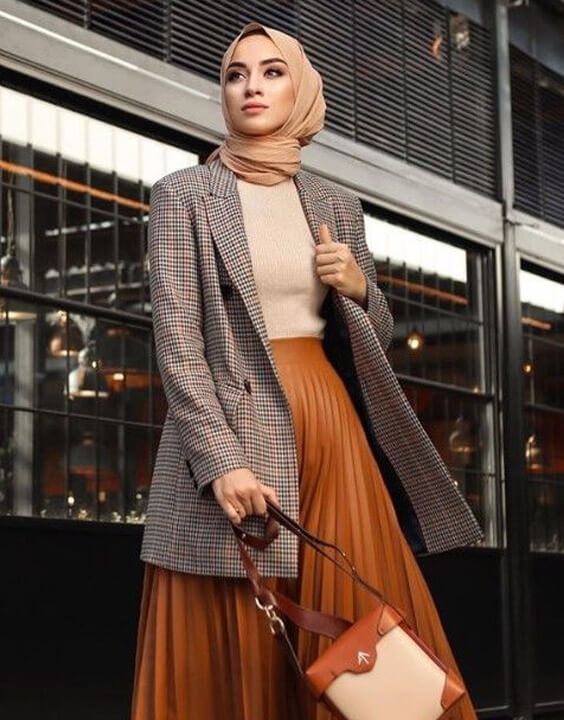 Here are some pretty ways to wear skirts with a hijab design:
Wear a blazer over your top and skirt separates and take over the world with a look that's an absolute stunner!
A statement sweater casually worn over or tucked into a light beige maxi skirt adds just the right amount of charm to this conservative fashion affair.
Boots, boots, boots. There's just nothing better to go with this style idea than a chic pair of boots that complement the rest of your outfit.
Recommended hijab style: The delicate side-drape hijab.
7) Sharp and sleek hijab looks for the working woman:
Boss babe vibes are simply amplified with a striking hijab. Lending the wearer a crisp and sleek profile, workwear is always preferred by women who have to look sharp and presentable at the office. With a clever pairing of shirts and complimentary trousers, you'll own every boardroom and every meeting with your sleek hijab looks.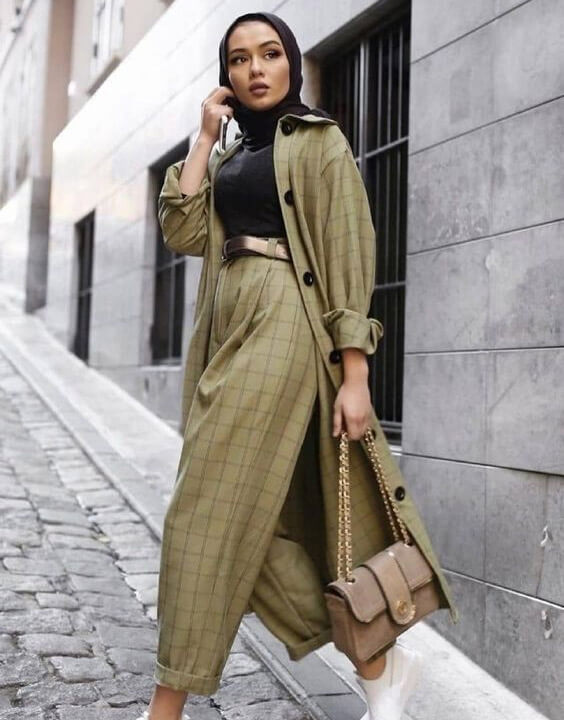 Here are some sharp ways to wear a shirt and a pair of trousers with a hijab:
Go for a classic work shirt and tuck it into high-waisted trousers for a modern, yet traditional workwear appeal. Team this up with a hijab made in a luxe fabric and keep the draping either tucked in or ultra simple.
Remember that comfort always comes first with workwear. A big part of staying comfy through a busy day is the choice of footwear. Wear what is most comfortable for you. If you do not wish to wear anything other than sneakers, opt for more formal attire to balance it.
To amp up the modest factor, wear a turtleneck t-shirt tucked into high waist trousers, and throw on a co-ordinated or complimentary shirt on top like a jacket. Keep the front of the shirt free & tuck your hijab into the neckline for a smooth look.
Recommended hijab style: The sleek tucked-in hijab.
8) Casual-chic hijab style for the anti-fit trendsetters:
There's no denying that the 'anti-fit' trend has completely taken over thanks to the WFH life that's been introduced to us all in 2020. We've simply lost patience for fits, and would very much like to lounge around in t-shirts and oversized garments for the rest of the year, thanks.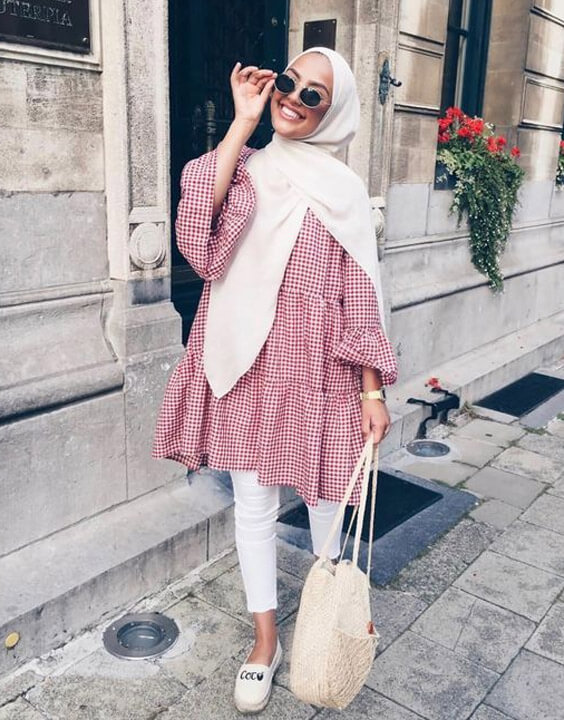 Here are some comfy ways to team up oversized tops with a hijab:
Your hijab drape should be at least as easy-going as your super cosy oversized top. Choose a top that you can freely move in and that also helps you stay conservative-chic at the same time.
Modernize the appeal of this look by going for style elements like puff sleeves, ruffles, sliders, tote bags, white cropped pants, and sunnies.
Recommended hijab style: The simple scarf-twist hijab.
9) Ethnic hijab style for a heritage flair:
Ethnic hijab dress styles are just what the glam brigades crave! The hijab is in its element when worn with ethnic kurtas and long tunics. The kaftan being a favorite throughout the Islamic world, it's no surprise that this is an immensely popular style.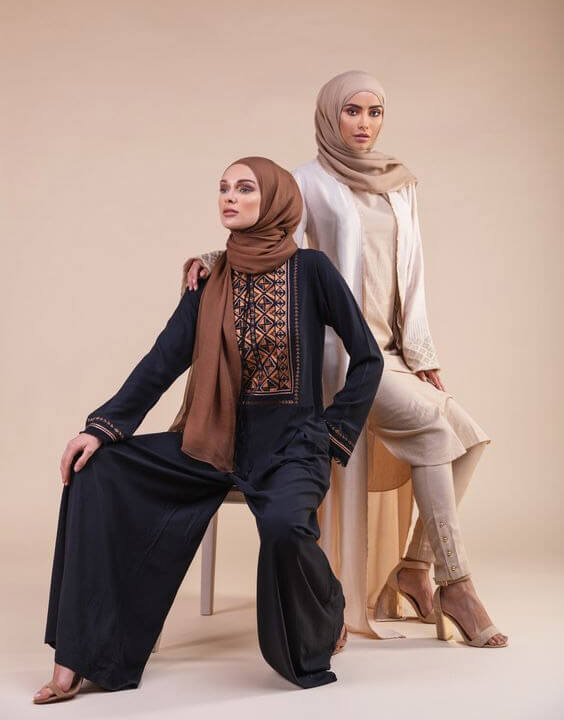 Here are some gorgeous ways to style ethnic wear with hijab fashion style:
Go fresh or go earthy with your color palettes for this one. The dull and bright colors should not clash, or it would give the outfit an outdated feel. Keep well within specific color stories to avoid such pairings.
Display the traditional crafts, prints and ethnic styles of your culture and community through embroidered kurta/kaftan and hijab pairings. A lovely evening look, this is one of the best hijab styles for parties.
Wear traditional jewellery, juttis and rings to elevate this style to a festive level.
Recommended hijab style: The charming dupatta style hijab.
10) Layered hijab style for the experimental connoisseurs:
Get extra experimental and chic with this outfit idea. Ditch the two-piece separates for a one-piece separate over your modest top to layer like a pro!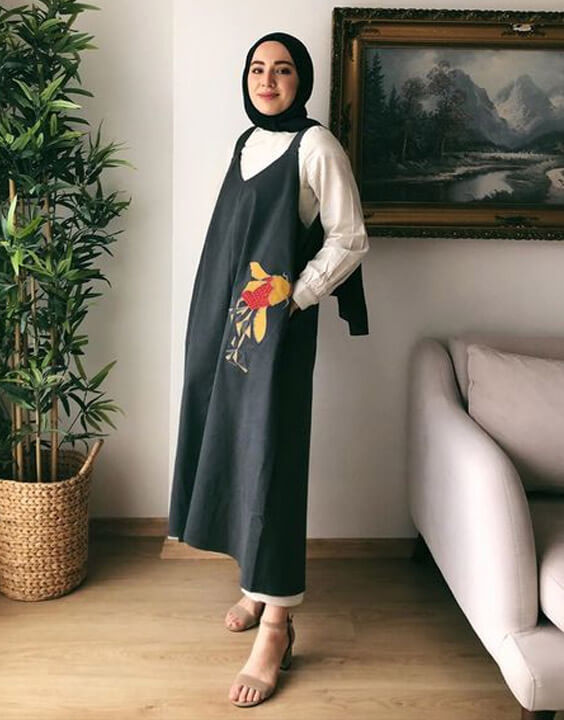 Here are some stand-out ways to wear an overall dress or jumpsuit with a hijab:
Wearing overalls is not limited to just denim styles. Go all out in other materials like habotai silk, chiffon, georgette, canvas, muslin and more. The options are endless.
You can layer maxi dresses that have a slip or spaghetti straps over a high-neck, full sleeve blouse for a truly unique modest look.
Experiment with mixing and matching different colors in this hijab outfit for a quirky appeal. It's all about being a connoisseur of the original style!
Recommended hijab style: The front twist turban style hijab
While the above looks and outfit ideas are all centered around the hijab, we're sure there's tons of style inspiration in modest fashion trends, regardless of whether you wear a hijab or not. The ultimate wearability and inclusivity of this fashion movement is sure to flatter every woman out there – and that's the beauty of its universal appeal!
Image credits: The copyrights of the images used in this post belong to their respective owners. The credits where known are specified under the image - if you're the owner of an image and want it removed, please contact us.