Ah, college. Chilling with friends, staying up all night working on assignments, and making memories for life, are rites of passage for a fulfilling college experience. College days are often remembered fondly by so many of us as the best years of our life, let's talk about college outfits ideas in this blog.
College life is a phase where you can reposition yourself – get to know yourself better, and use your new-found freedom to shape yourself into who you would like to be as an adult. While we're all going through our own learnings and life lessons in the course of our college experience, a great way to shape your personality – or rather the expression of it – is through fashion.
Great style is the gateway to college popularity and the perfect medium to hone your personal image as you get ready for the real world. Women's college fashion is often most talked about, but men's fashion can be equally interesting and exciting. Building a well-curated men's wardrobe has become all the more easier with the availability of high-quality online shopping for men.
Read on gentlemen, as we list 10 incredible men's fashion ideas for college outfits that will get you all the brownie points with your homies, while also making a grown-up style statement in class and presentations. Let the games begin!
College Outfits for Men : 
1) Score big in athleisure:
'Athleisure' is a fashion subculture that combines athletic wear with leisure and lounge elements. It's got a sporty look but is also cooler, more luxe and the kind of vibe you can carry on hangouts with friends and your daily classes, with equal ease. An athleisure outfit has a relaxed, nonchalant vibe that will have you looking and feeling your best.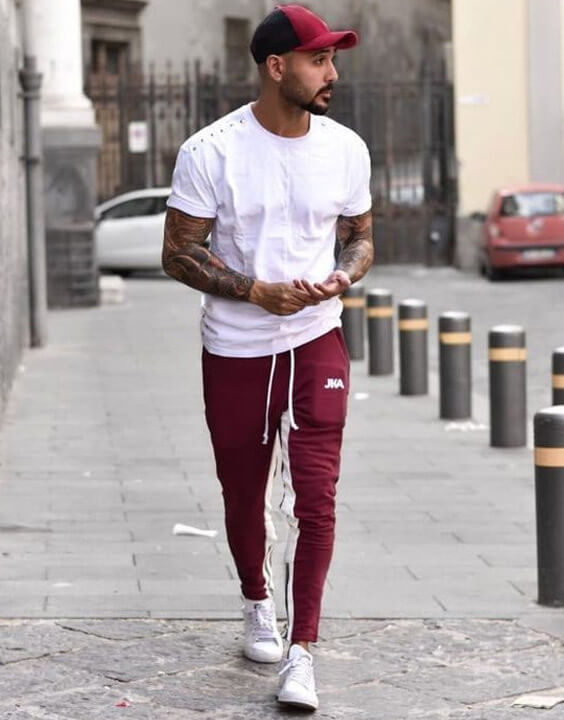 While great athleisure outfit ideas consist of pretty simple clothing – joggers, hoodies and men's designer t-shirts – the accessories involved up the ante on the 'leisure' factor. A great pair of headphones, classic sneakers, canvas shoes, sporty watches and baseball caps are the accessories you need to take it to the next level.
Another chilled out and super casual way to wear athleisure is to don sporty soccer shorts that are high quality and feature a sports brand or a spunky design. Worn with a chic activewear t-shirt, leg-warmers and other accessories, this can be a stand-out look to chill in on an easy college day.
2) All dapper for the sweater season:
Sweaters and cardigans may seem like a choice that older men make, but it can be injected with just the right amount of youthful exuberance for a dapper college-going outfit. These suave and put-together outfit ideas for college are sure to turn heads and impress the authority figures.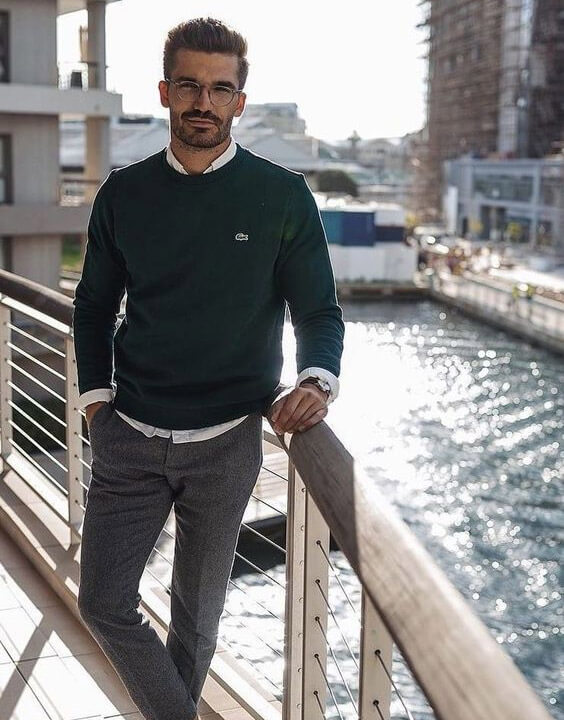 A sweater-vest worn over an untucked shirt and trouser combo looks great and college-appropriate when paired with canvas or converse shoes. The casual, yet steady appeal of the shoes help balance out the rest of this menswear outfit. Put on a pair of glasses if you need them, and you're uber presentable for any jury or presentation that comes your way.
You can also go for a sweater or sweatshirt that is in a brighter, more colorful fabric. Vibrant colors like cobalt blue, cranberry red, mustard yellow, forest green and burnt orange are sure to make a stylish statement. This is a look worth showing off!
3) Blue denim for the win:
What can we say about blue denim, that hasn't been said already? An absolute classic, blue denim fabric is available in an abundance of styles, patterns and designs in every online shopping store today. The menswear life-line of college fashion, blue denim is an element that cannot be ignored.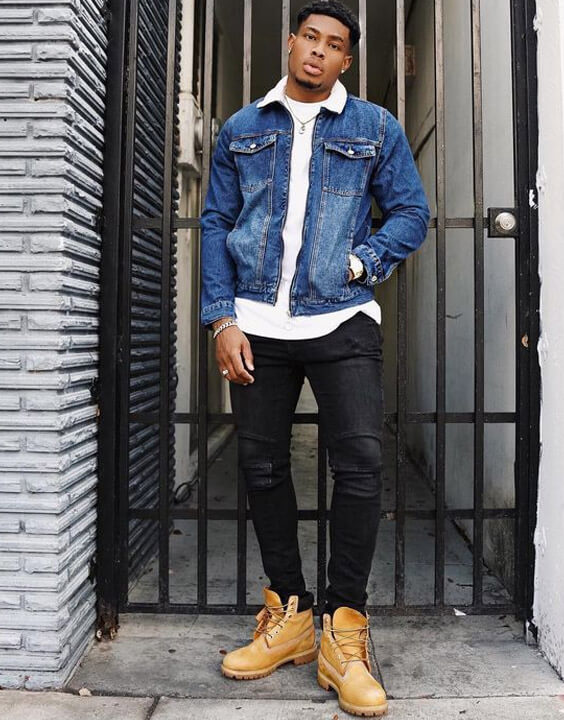 A great companion to men's designer t-shirts, ripped blue denims looks are the way to go for a cool college outfit. Elevate this look with a classic pair of sunnies and vans loafers for the perfect casual-chic assertion.
Blue denim jackets are also an amazing men's fashion choice for college outfits. Layered over a white t-shirt or a hoodie, and a pair of dark denim pants, this type of jacket can make for a dapper look.
Opt for a soft denim fabric shirt for your big days at college to make an unforgettable impression. Styled with neutral chinos or trousers, this blue denim menswear outfit idea is exactly what you need to show that you mean business.
Blue denim can be styled with white tshirt having your favorite design on it, check out our customized tshirt collection and get a tshirt with your favorite print on it.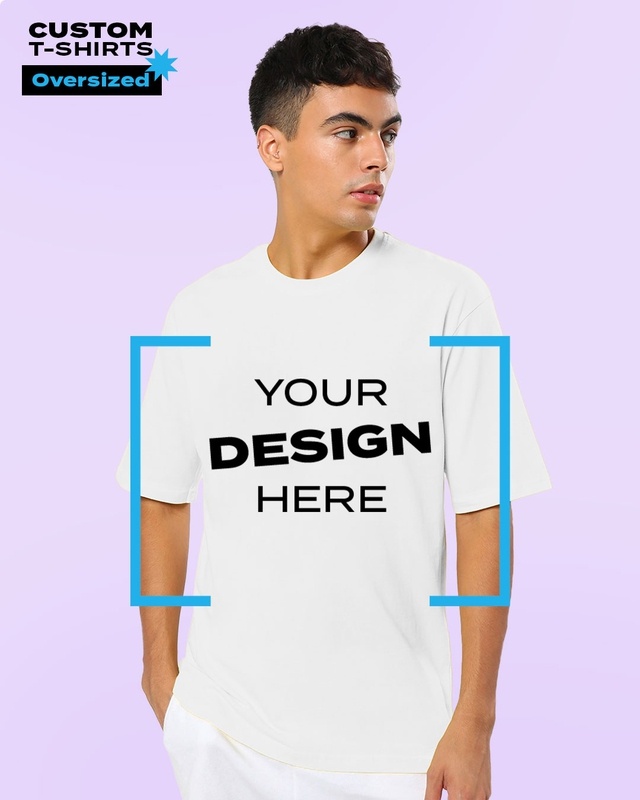 4) Rooted and suave in ethnic casual:
A casual cotton kurta is not only suave, entrenched in desi charm and a super stylish men's fashion statement – it is also extremely comfortable. A cotton kurta will ensure that you stand out in a sea of t-shirts and jeans with panache while staying relaxed throughout your busy day at college. The great impression this outfit is guaranteed to make with your faculty is a huge added bonus.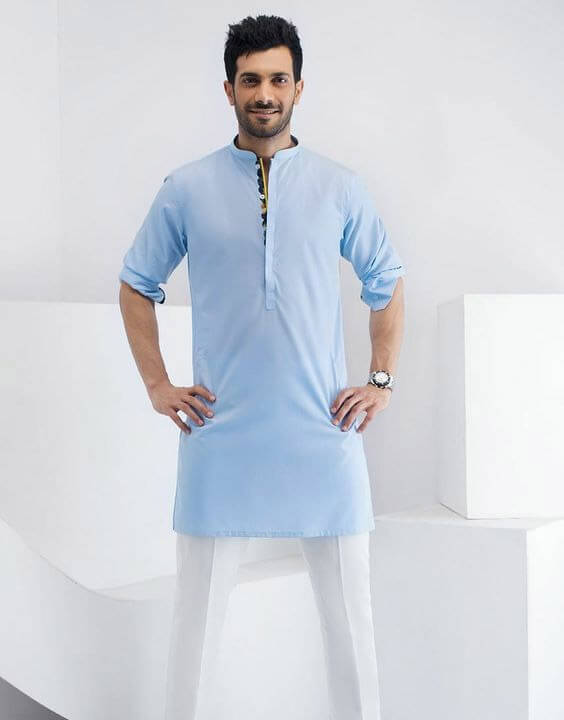 Team up your cotton kurta with crisp trousers and soft loafers to exude a carefree, yet extremely put-together charm. If you are opting for a longer cotton kurta, ensure that you pick an understated one in a solid color. Do not go overboard with prints or bright colors if you want your look to be appropriate for everyday classes. Wear a classic watch, and groom your facial hair impeccably to score brownie points as you walk into college.
If you want the ethnic touch to be super understated, pick a kurta-shirt hybrid instead. Go for one that features a subtle mandarin collar, half sleeves and a lighter color. A pair of chinos can complete this outfit idea beautifully.
5) There's something about chinos:
Just the right amount of casual and the right amount of crisp, chinos are an excellent bottom-wear choice for college outfit ideas. Striking in chic neutral hues like black, beige, tan and khaki; they're also super stylish in more colorful options like coral and sage green.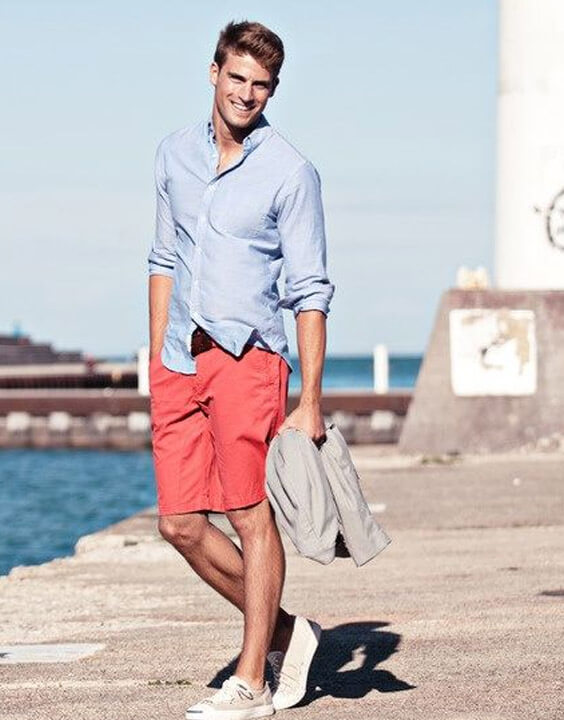 Pair colorful chino half-pants with a simple shirt, preferably in a complementary pastel hue, to express your youthful vibrancy. Styled with canvas shoes, a light jacket and an easy smile, this menswear look is an absolute charmer!
Team a pair of khaki chino trousers with a relaxed t shirt in a darker hue for a sleek, contrasting combo. Ray-bans and loafers complete this outfit idea flawlessly. Get those files under your arm and you're ready to conquer your college day!
6) Bad boy vibes in moto jackets:
If you'd like to have that bad-boy appeal all the college gals gush about, we've got just the thing for you. A classic moto jacket in black or tan color makes for the perfect cool guy outfit.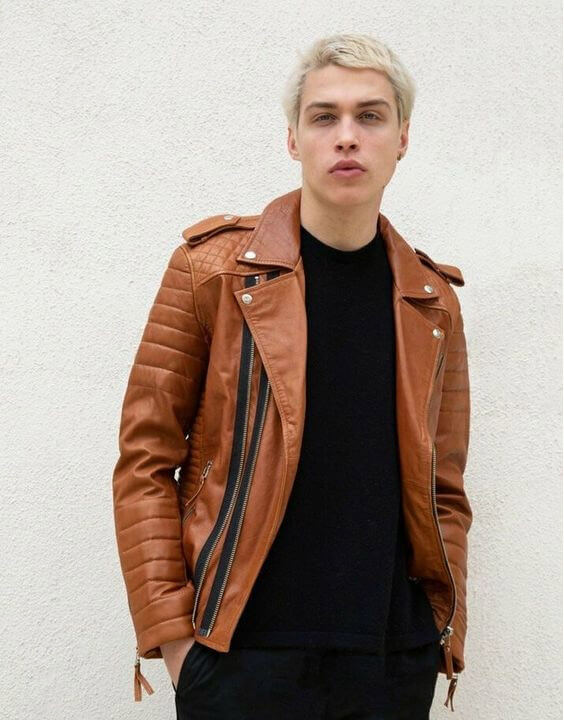 Stunning when worn with a pair of dark denim and a casual t-shirt, this pairing only gets better with a black college backpack. Team this monochromatic look with contrasting all-white sneakers and you are good to go.
A more striking choice over an all black t-shirt and jeans combo is a tan colored moto jacket. Suave, dapper and positively dripping with 'bad boy' appeal, this outfit idea will have you fitting right in with the biker gang.
7) Get emo in distressed grey denim:
A more hard-core version of the biker inspiration, distressed grey denim is exactly what you need for an emo flair. These go best with band t shirts, heavy metal music and a mysterious loner vibe!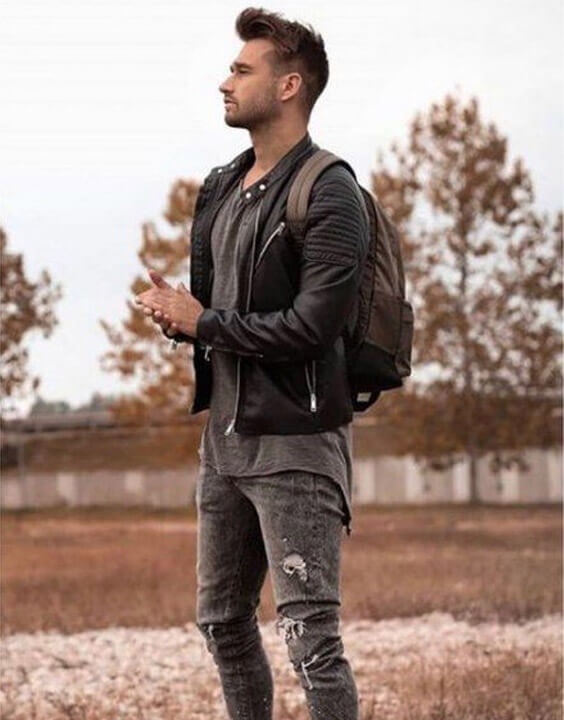 Keeping in theme with the emo vibe, distressed and ripped grey denims work best with black & white accessories and separates for a stylish achromatic look. Style this outfit with a metallic watch, an oxidised silver chain and some punk rock elements like rivets or spikes, to look like you've just walked out of the vampire diaries.
Moto jackets are also a great companion to distressed denim pants. However, to allow the jeans to be the star of your college outfit, opt for a more understated leather jacket. This is one menswear look that will have hearts beating faster and eyes following your every move.
8) Preppy chic in colorful flannel:
If you like to look friendly, approachable and fashion-forward, look no further than flannel and plaid patterned shirts. These are a classic menswear choice and make for outfit ideas that exude an endearing boyish charm.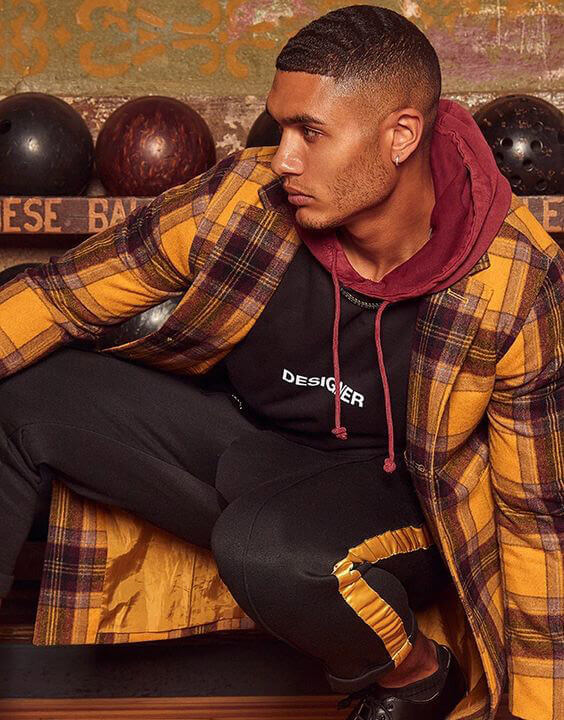 Cool and casual over polo t shirts or men's designer t-shirts, colorful plaid prints are awesome for layering. Fun and vibrant, ensure that you go for more colorful patterns rather than neutral ones, to have that super approachable vibe.
These prints can be worn as shirts or layered over a hoodie for an urbane and casual appeal. Dress it up with laced-up shoes and a guitar. You'll be ready in no time to build a following of admirers at your college with this impeccable style.
9) Collegiate cool in varsity jackets:
A varsity jacket is an obvious choice for a cool collegiate experience. Literally created to show off that college spirit, this is a super popular style this season. A uniform for cool jocks and those with a sportsman spirit, this one's a college classic.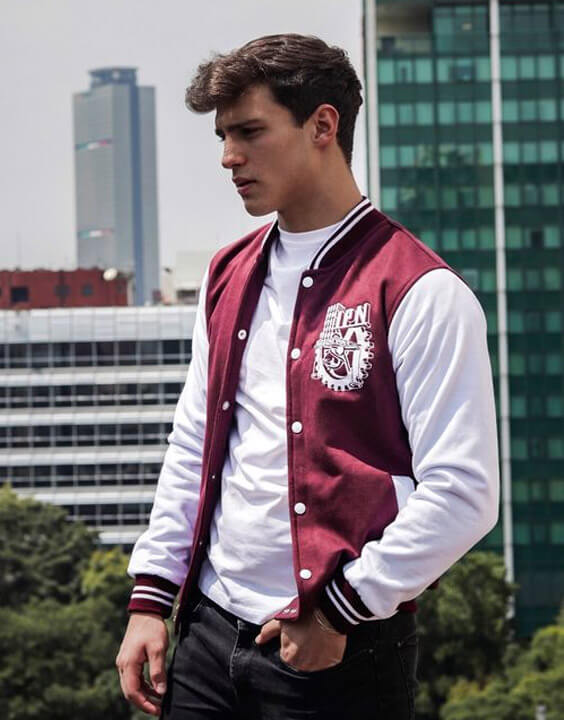 A varsity jacket looks even better over a striped t-shirt, when it features classic varsity elements like an embroidered letter, striped rib on the cuffs and collar, and contrast buttons. Throw on a baseball cap and you're ready to manifest great things.
A menswear magnum opus for college-goers, get your own college to create a varsity jacket with its emblem, or get the letters or logo of your college embroidered over a plain one to express your sense of belonging. A varsity jacket at college says 'I've got a tribe' – and a tribe is what best college experiences are all about. Go, varsity!
10) Chilled out BnW mojo:
In men's fashion, neutrals are popular but common. They don't have to be boring and blended in, however. A black and white contrast has all the advantages of a neutral palette, like being universally wearable and flattering, without disappearing into the crowd. Black & white is striking, statement-making and timeless. No matter which of the above outfit ideas tickle your bone, just remember, they will all look super cool and modern in a black and white color combination.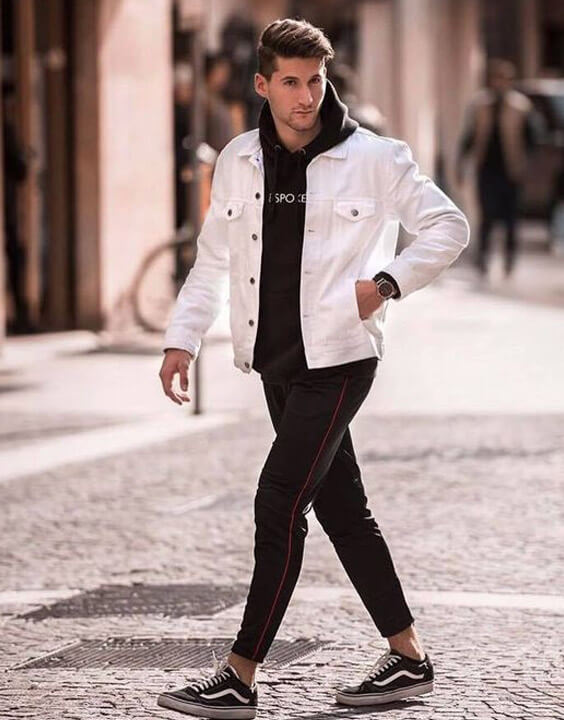 Instead of going for a denim blue jacket, go for a white denim jacket over a pair of black jeans and team this up with black & white converse or vans shoes for a chequered effect. Suave and compelling, this combination is perfect for radiating a quiet confidence.
Outfit ideas that include black & white color blocking in key garments, smartly chosen black & white accessories and balanced pairings, are the way to go for a stand out college outfit. This is a style in men's fashion that will never go out of style. When in doubt, go for black and white.
In college, you have the opportunity to try on many second skins and personalities. Men's fashion is a great tool to aid you in doing just that. Try various moods, styles and personas through your college fashion, so that when you graduate, you will know your unique fashion signature and will be ready to take the world head-on by putting your best foot forward. Enjoy your college days in style!
Image credits: The copyrights of the images used in this post belong to their respective owners. The credits where known are specified under the image - if you're the owner of an image and want it removed, please contact us.