There are a lot of things in life that you can't have 'too much' of, the most important ones being friends, degrees, food (most times) and of course – clothes! Since forever, men have been taught that living out of the same two pairs of clothing for DAYS in a row is alright, and the women dare not be spotted in the dress they wore more than a week ago. Thanks to social media, the narrative around menswear has taken a different direction, one that we definitely love. With ever-changing trends, booming influencer culture and outfit ideas almost everywhere, menswear is now just as essential a subject as womenswear.
Among the sea of fancy #OOTDs though, a few pieces are common and we know them as 'basics'! Now, 'basic' doesn't mean 'not good enough'; it means 'essential'. The casual clothes that you often tend to overlook are the real wardrobe heroes because let's face it, they lay the foundation for most of your outfits. We want to let you in on our list of 'casuals'. More precisely – on the pieces that top it. So, take a few minutes out of your busy schedule to scroll through 9 of our favorites (that should be yours too) along with our 2 cents on styling them.
1) The Unbeatable Classic T-shirts.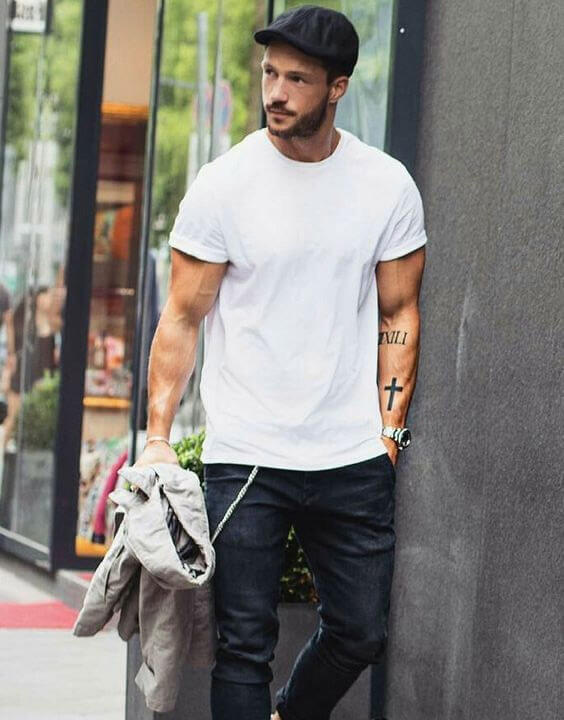 In the world of fashion, classics are the equivalent of fine wine; always a delight and age really well. The classic t-shirt is still as sexy as ever. If you don't believe us, wear one and step out. Then, ask any of your female friends to confirm this for you. They'll tell you the same thing that we are! There are ways to elevate this men's clothing essential, and we're going to tell you what they are – so take notes.
Style Tips
Aiming for that 'clean' look? Firstly, groom your beard. Second, pair a white t shirt with all-black denims and finish with white sneakers. You can also add stacked metal bracelets and a watch to the mix.
For a casual dress for men that promises to be remembered by every onlooker, wear suspenders with a classic white t-shirt, beige chinos and tasseled loafers. Add the final touch with a straw hat!
Get that grunge look right with a faded tee, a chain around your neck, rugged jeans and suede shoes.
You can even look for classic printed t-shirts with quirky prints, we have introduced customized T-shirt collection where we can print your own favorite design on our premium quality t-shirts. Click the below image now.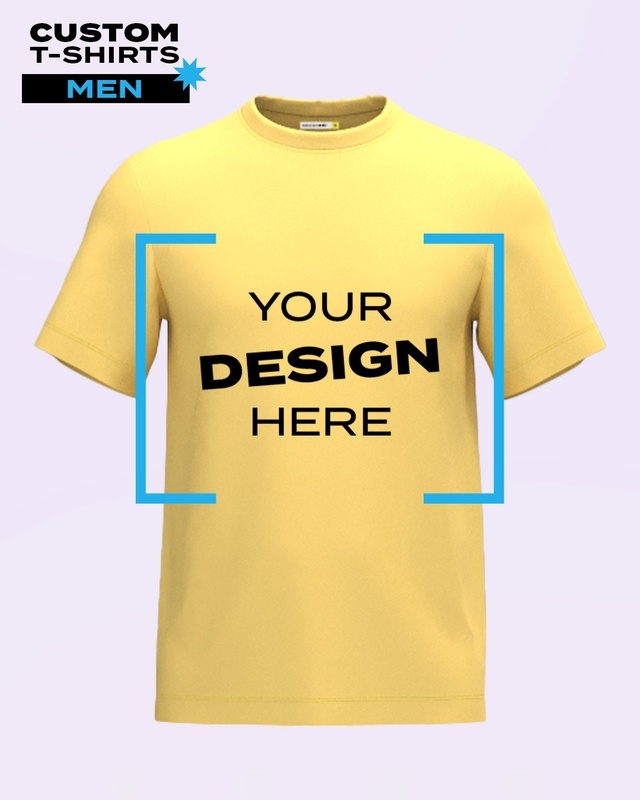 2) Rock Those Jeans, Endlessly.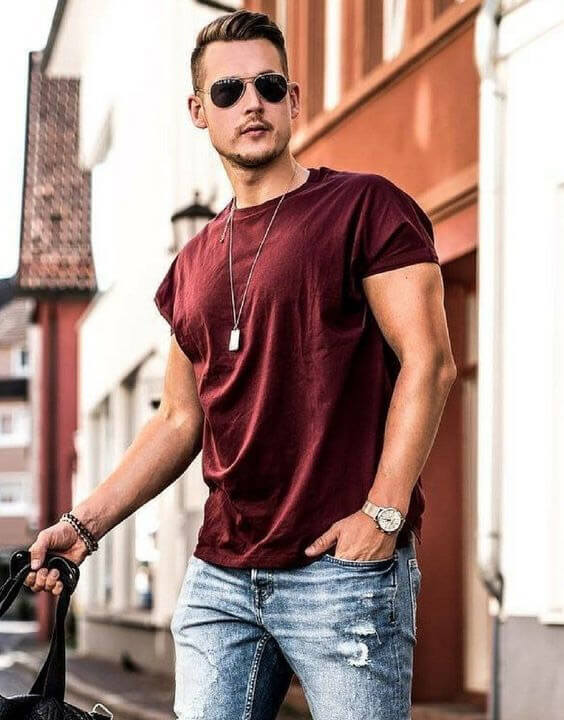 While we're still on the topic of classics, another one that is inevitably a men's clothing essential is a pair of jeans. The good ones are expensive, but they're so worth it! Considering buying a new pair? Go ahead and do it, because they're very unlikely to sit unused in your wardrobe. From distressed to dark-washed, embellished to accessorized; there's something for everyone! Looking for new ways to style them? Here they are!
Style Tips
You can't go wrong in cropped and ripped denims paired with Converse shoes and a tee if you're on the muscular side. Accessorize with a chain.
To achieve the 'bad boy' look, go with a long tee, distressed denims and a baseball cap. Again, finish with canvas sneakers.
When in doubt, layer a plaid shirt over a plain tee and choose a pair of clean jeans for a put-together look. No rips, no crops.
3) Suave Casual Shirts For Men.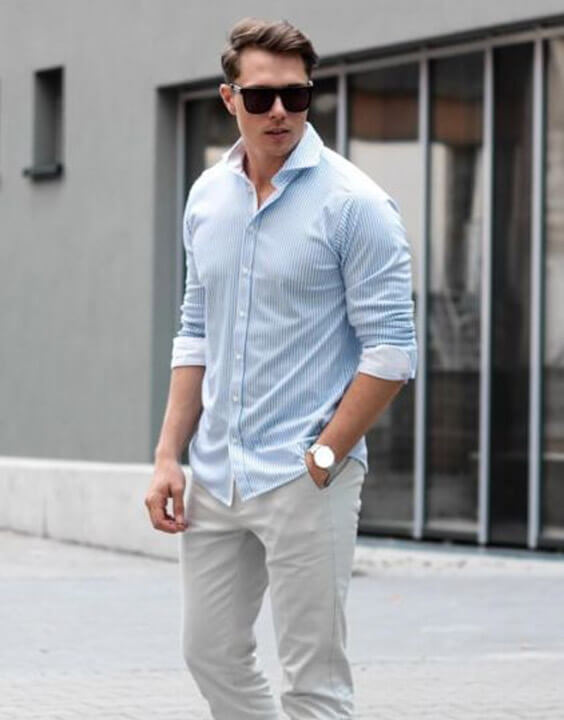 There's nothing that a well-fitted, tasteful shirt can't do. From being your best bet for date nights to making a statement no matter the occasion or venue, casual shirts for men are quite the wardrobe-essentials. If you're among the ones who've got this figured out already, then you will have hoarded a LOT of shirts while also saturating them with the same styling over and over again. Let's change that; shall we?
Style Tips
Put together a light blue shirt, folded-up chinos in a muted hue, white sneakers and a pair of sunnies – what do you get? A winning casual dress for men! Flaunt it during the day for max effect.
You can also pair a classic button-down shirt with a not-so-classic pair of skinny jeans that have a rip at the knee (since they look more casual) and a pair of Vans to go with. Casual clothes are a good idea for lunch at a small cafe or a trip to the mall, and this one is our top recommendation.
Our bets (and the ladies' hearts) are pinned on printed shirts! Brownie points for leaving the top button open, blow-drying your hair and nailing the nonchalant vibe. High-waisted trousers in the same color family usually look great here.
4) Kick Back In Track Pants.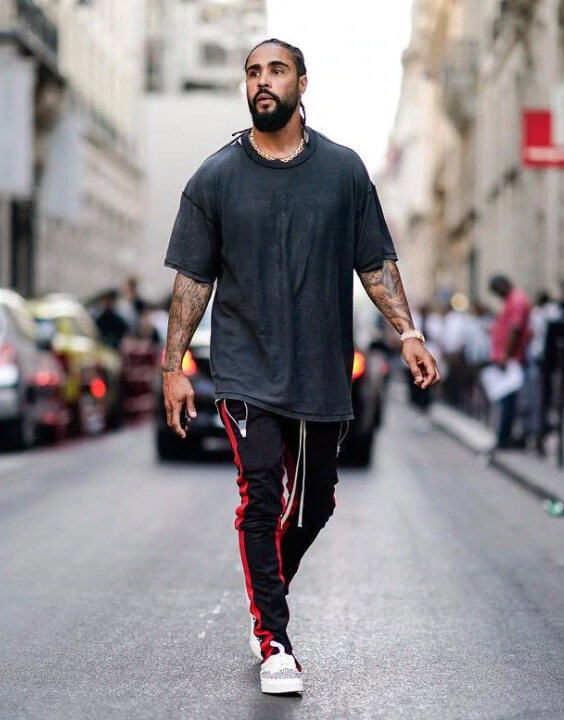 That pair of pants you save for the gym, grocery runs or game night with the gang? Yeah, it's time to hit the streets with it! Track pants feel like a dream, and keep you comfortable all day long! (Definitely don't wear them to work though.) They're also a crucial part of the street style genre, so nothing is stopping you from wearing them wherever you possibly can. From casual outings with your friends to a mellow date night; sporting track pants off the treadmill will prove to be good for you. Use our tips to style them effectively!
Style Tips
Aiming for a more 'hip' appeal? Track pants men with a graphic tee, a pair of sunnies and a bucket hat will keep you company.
If looking like you just made a great rap song is what's on your mind, don a long solid tee which is baggy with a chunky chain and a pair of track pants.
If you're heading out of town on a road trip, keep it easy with casual clothes. A polo t-shirt, loose track pants and a pair of trainers are what we think you should don. You'll definitely need the extra comfort, so pick fabrics that are just as breathable.
5) The Humble Hoodie.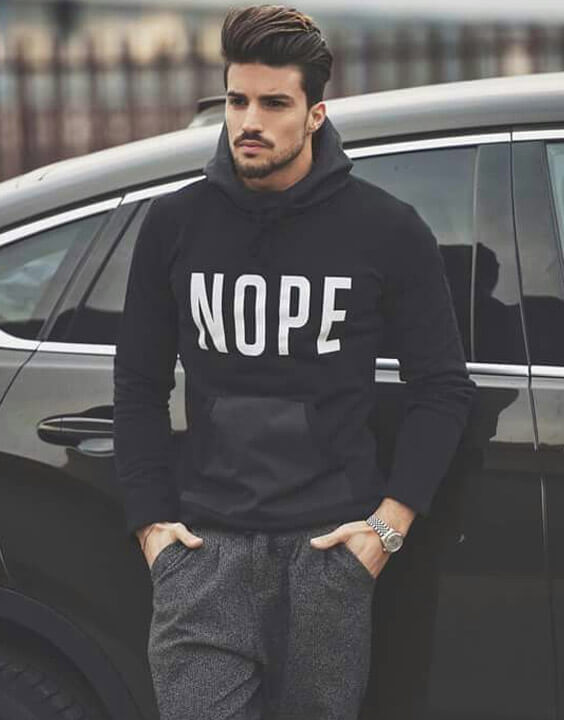 The urge to blend in instead of standing out is stronger than ever on some days! When that happens, let a hoodie aid you in disappearing (but not really) for a while. The coziness of it is just the cherry on the top, but the real reason we love it is of course the 'hood'! Hoodies, undoubtedly, feel exactly like a warm hug, and we're all for it. Now, if you're wondering how to style them then read below for the answer (or 3).
Style Tips
To add a little more warmth to your overall look, along with an extra dose of style, layer your hoodie with a denim jacket.
If you're picking a drawstring hoodie as the newest addition for your casual clothes collection, might we also suggest a baseball cap to go with it? Trust us, you'll be the coolest person on the block with this one.
If you want to portray your mood, make it fashion! Pick an edgy hoodie with a quote or a word on it and pair it with joggers.
6) Slip Into A Sweater.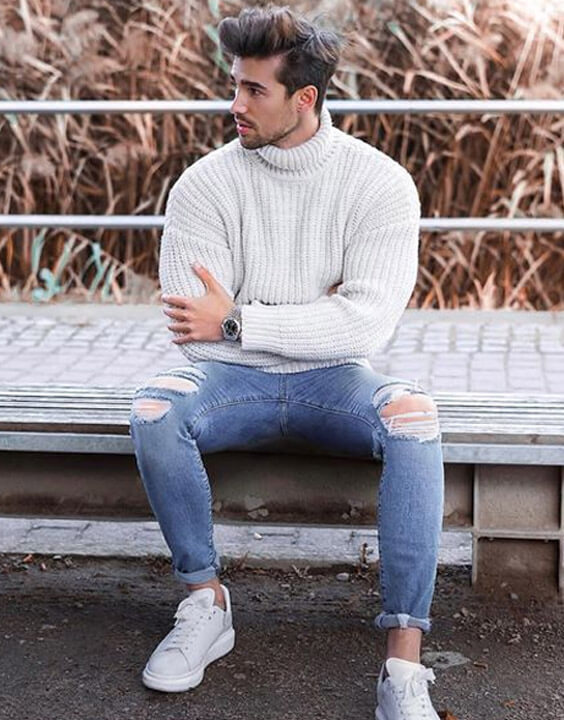 Ah, our streak of 'cozy' and 'comfy' continues! Next up, we're talking about sweaters, because sweater weather is just 'round the corner. While this one's more of a seasonal delight, we ARE into November now so it's the perfect time to consider buying a few from an online shopping app! We love sweaters for a couple of reasons; one, they look great on every body type & two, they're a no-brainer when it comes to styling. Still, if you're out of ideas for this season, then we have winning combinations for you to try out for the outdoors as well as the indoors!
Style Tips
Grey is one of the most aesthetically pleasing colors, and there's no better time than winters to try it on. Go all-grey with a sweater, wool pants, and white sneakers for a standout casual dress for men.
Aren't turtleneck sweaters just the cutest? Invest in one this season and pair it with plaid trousers or jeans, the fit of which can be to your liking.
Recreate a British guy look with a patterned sweater and layer it over a crisp shirt, along with straight leg trousers in a neutral palette. Then, strike a pose for the gram!
7) Stay Cool On Warmer Days With Shorts.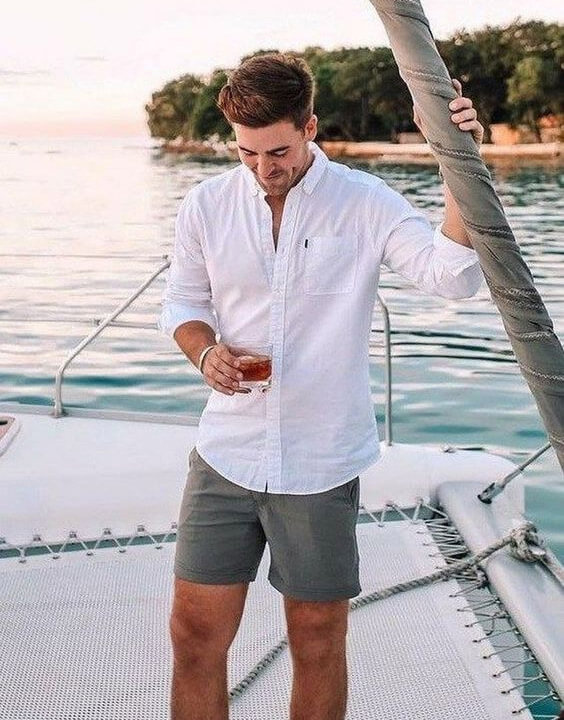 Okay then, let's fast forward to summer – a great time to have legs that are chiseled and ready-to-tan. Whether you're heading out to vacay or staycation-ing it, shorts are a great idea regardless! All you have to do is find the right fit because you don't want them riding up with every step you take. They're also super easy to style, and there's nothing that you could do wrong while you're pairing them up. Below are 3 ways we love to style our shorts!
Style Tips
To chill by the pool or on a yacht, choose a white plain white shirt to wear with shorts in a contrasting tone. Keep those buttons open if you're planning to woo your special lady!
*Casually* strolling in the market? Tuck a crisp shirt into a pair of shorts and belt it up! Finish with sharp loafers.
If you've only left your house to finish some chores, then slip into a relaxed t-shirt, shorts and flip flops. Don't forget your backpack (and your shopping list!)
8) Breathe Easy In Sleeveless T-shirts.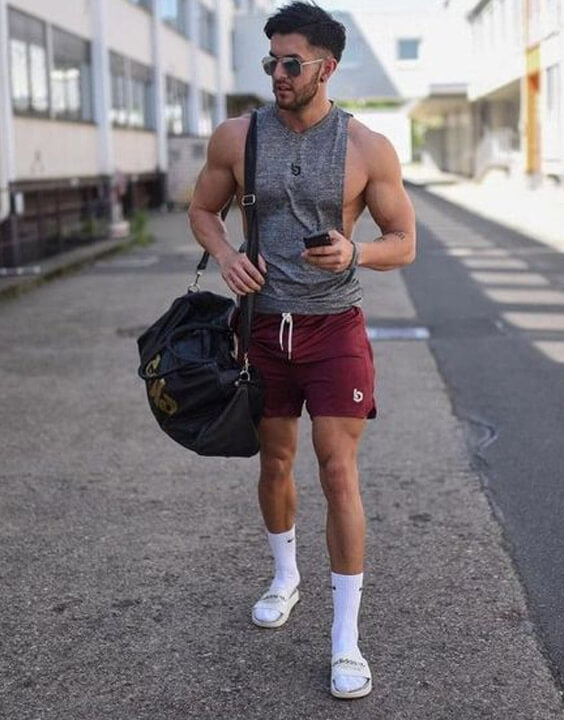 No, you don't need a Ryan Gosling-like body to flaunt sleeveless tees outside the gym; you just need to step out of your comfort zone! If you love street style just as much as we do, then you will have no problem flaunting a sleeveless t-shirt and even mastering its styling. But in case you're completely lost, don't know how to go about it, harboring the question, "Will it even look good on me?" in your mind, then the tips below are especially for you!
Style Tips
A badass #OOTD is never a bad idea! Let your sleeveless tee be one with graphics, possibly from your favorite band, and complete the look with ripped jeans in a contrasting shade.
If your weekend plans include hitting the club, then don a sleeveless tee, tuck it into joggers of a more outgoing nature and finish with trainers. Add a chain to your pants if you're feeling experimental.
If working out is the main thing on your agenda today, then hit the gym in style. Pick contrasting and fun colors for your gym look, and if you can, trade your boring black duffle bag for something with a little more color.
9) Cargo Pants For The Win.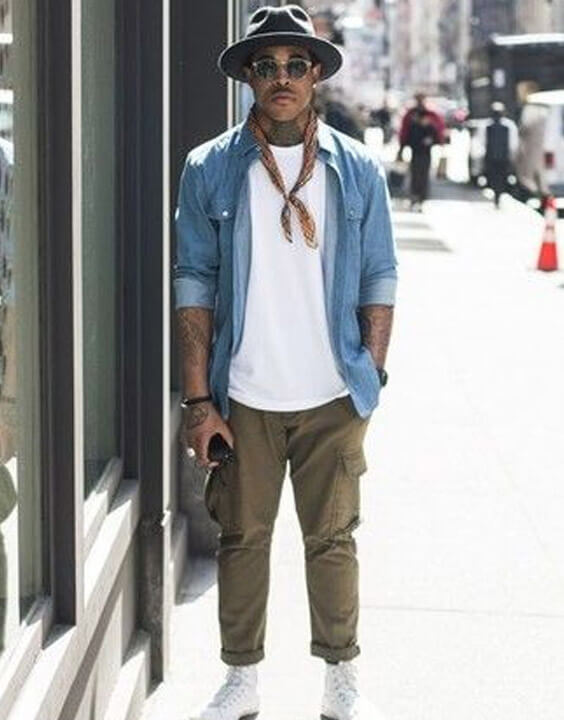 Consider this a go-ahead for the cargo pants that you bought in the early 2000s but wore only once, and now they're eating dust in some corner of your closet. You already have them, so you've got this 'basic' nailed. But you don't know what to do with them, so they're basically going to waste (since someone once told you that they're a less flattering choice.) If you're not ready to give them away just yet, it's time to take them out for a stylish revamp with trendsetting pairings!
Style Tips
If you're looking to impress your friends (even more) with your amazing fashion sense, then here's an idea: Get your best hat off the rack, knot a skinny scarf around your neck, slip into a pair of lace-up sneakers, wear a plain tee and layer it with a denim jacket and add the final touch with straight fit cargo pants!
Again, the 'bad boy' look comes into play with combat boots and dark-hued cargo pants!
Want a new look for uni? Turn to skinny cargo pants, a checkered shirt, the quintessential backpack and suede shoes.
For the ones who've reached the end of this article – y'all are now on the way to acing your style and becoming a pro at dressing up for your daily routine! Isn't that something?
Go on; give your wardrobe that upgrade it's been asking for all along.
Image credits: The copyrights of the images used in this post belong to their respective owners. The credits where known are specified under the image - if you're the owner of an image and want it removed, please contact us.