It's that time of the year again when we can hear the festive AND the wedding bells ringing! It's also that time of the year when our ethnic wardrobe demands an upgrade. No, this isn't something that only the ladies need to be mindful about, but men need to ace it too.
While elaborate sherwanis and custom-tailored suits are one of the first things that come to your mind, we'd say – don't overlook the humble kurta-pyjama. It is versatile, it is classy, it is timeless and it is easy! Let's walk you through the most-coveted types of the age-old wardrobe item, and also how you can style each one effectively.
All White Kurta Pajama? Neat!
We're well aware that in the fashion world, white-on-white is as classic as it gets – and we love that! It's always the women who are encouraged to sport an all-white ensemble in order to appear put-together and chic, but we're going to go ahead and favour the men on this one. For daytime events and celebrations, white on white can prove to be effortless and elegant, while also not trapping heat if you'll be spending the day outdoors. Doesn't it sound like a win-win situation? You can't go wrong with a white kurta pajama look!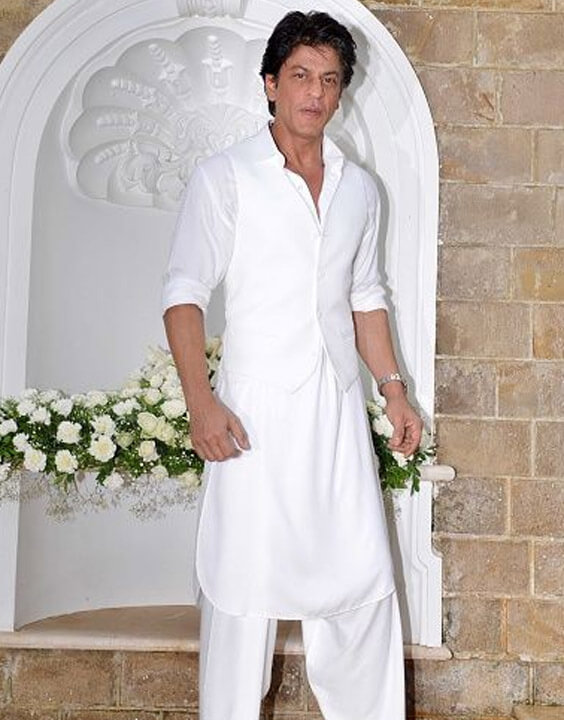 Style tips:
When we say white-on-white, you're bound to think that no other color is allowed for this pairing! Take a step back and think again – do you really want to follow the rules? If not, then all-white kurta pyjamas for men with colorful details might be something you'd love to consider.
Got an open-front cardigan just sitting at the back of your closet, waiting for the wintery days? Bring it out, because a white kurta pajama will prove to be the perfect companion for it. Finish the look with funky black sunnies!
Feeling too cool to care? Then your all-white kurta pajama will look just as cool but only if worn with color-splashed sneakers. Combine street with desi and you have a surefire winner.
Layering Lessons: Kurta Pajama With Koti.
There are two reasons why layering is our forever-favorite. The first one? It adds another element to a person's look; you may even call it 'the cherry on top'! Second? It allows us to take a step upwards on the style ladder! Now, men seldom have a tough time layering western silhouettes but the struggle comes in when it's a traditional Indian outfit. Layering kurtas can get tricky for sure because there's a limited number of times when the ethnic part of your wardrobe breathes free and sees the light of day. Lay that worry to rest as we tell you how to pick and style a kurta pajama with a Nehru Jacket or Koti.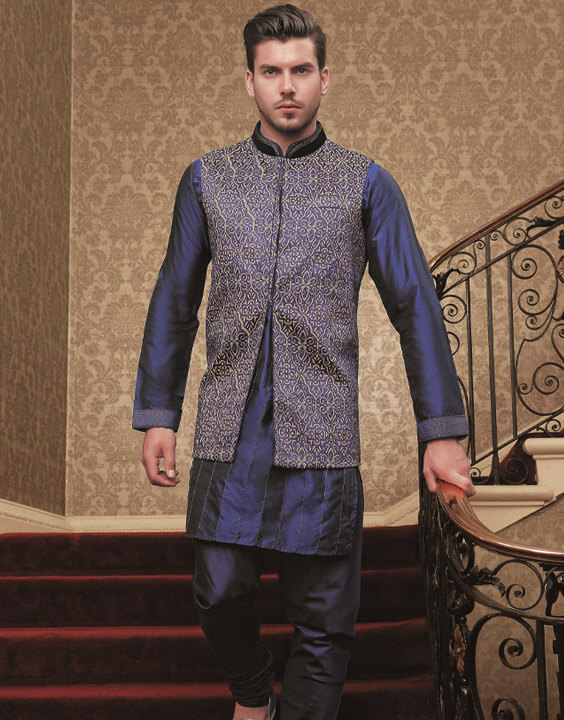 Style tips:
It is no secret that men usually shy away from embroidery and embellishments when it comes to their outfits. Be the one to change that by opting for a kurta pajama with koti where needlework takes center stage, possibly in a contrasting color.
Go monochrome with the color of your liking. We're extremely fond of regal tones so that's one idea! Once you've chosen your color, layer it with a koti (in the same shade, of course) and you can have one specially made with light embroidery too.
If you're looking to add some extra oomph to your outfit, how about opting for a kurta pajama with a Nehru Jacket that has just three buttons, allowing you to leave the rest open?
Kurta Pajama Blue? Chart-topping!
At the beginning of 2020, when Pantone announced that the Colour Of The Year would be Classic Blue, we were elated. We also knew that we'll be seeing not just Classic Blue but more than just one blue hue taking runways and streets by storm (peacefully.) Blue – a unique and serene color – is a favorite among many people for a lot of reasons. When it comes to us though, we love how blue fits into any wardrobe, any event, and any taste. You might not own an outfit in another primary color, but you're sure to own something in blue. We also love the blues for the festive and wedding season, so we're going to let you in on a few pro styling tips for blue kurta pyjamas.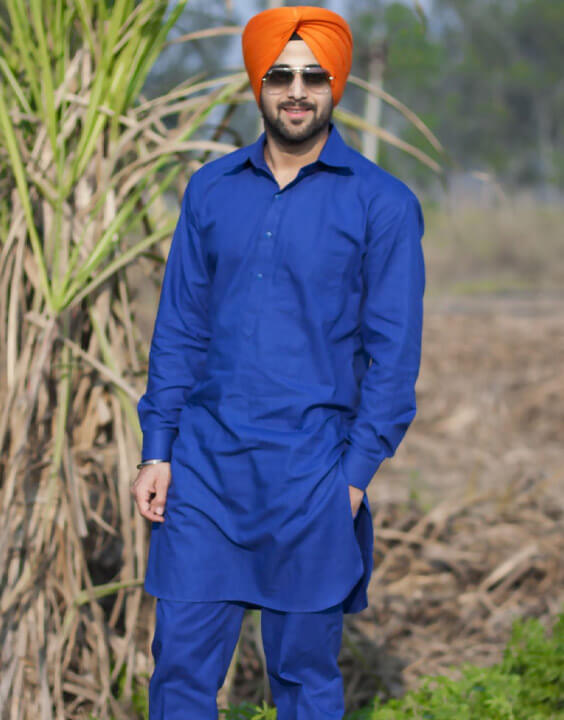 Style tips:
Find the brightest blue on the spectrum! Got it? Then, buy a bright orange turban to go with it. The result will be a standout look that can be your go-to for festive occasions! For this one, we suggest stay away from prints and pick solids instead.
Let's mellow down now. Intimate celebrations are a need of the hour, but underdressing isn't an option. Understated is what you should aim for, and hence, pick a shimmery blue kurta to flaunt with one of plain white pajamas for men.
We have a great feeling about cobalt blue and yellow! So trust our instincts and go with this pairing. Layer with a Nehru jacket and insert a neatly folded pocket square in it.
Sunshine-Ready: Yellow Kurta Pajama
The sunshine will have nothing on you when you decide to don a yellow kurta pajama and step out! Whether it's a wedding you're attending, a pre-wedding celebration that is on your agenda or a festive occasion on the calendar – this is one color and one combination that will do it all and do it well! Yellow is one of the happiest colors to exist and with good reason. The warm hue makes you seem approachable at the very first glance and is bright enough to also set you apart from the rest of the crowd. So if you're looking to make new friends and connections wherever you are, yellow's the one for you.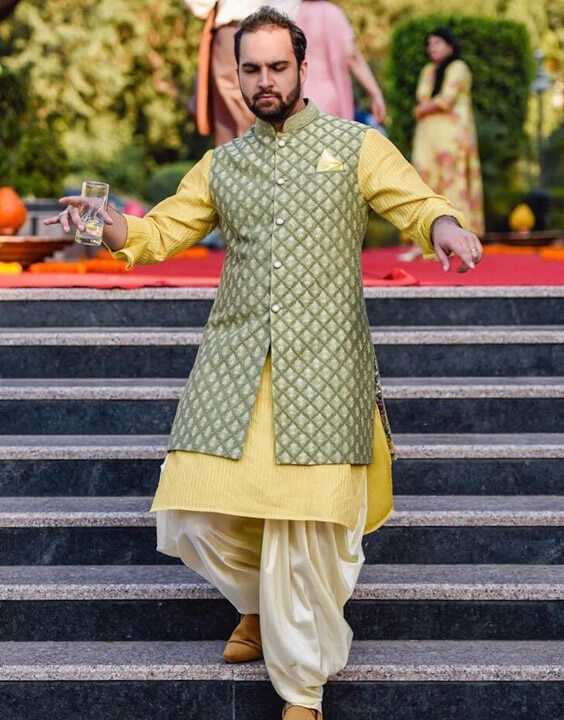 Style tips:
Attending a Haldi function soon? Don't forget to bring your A-game and abide by the dress code which is usually an all-yellow look. The pyjamas for men can be off-white or pale yellow.
Another great idea for a Haldi look is wearing a jacket on top of your yellow kurta and trading the typical pyjama for dhoti pants. The jacket can either have geometric prints or embroidered motifs; the choice is yours.
For a modern appeal, pick sharp and yellow kurta designs with cowl neck detailing. An asymmetric hem will just be an added bonus!
Innovative As Hell: Kurta Pajama New Looks
For decades in a row, the visionaries of the Indian fashion industry have tried to deconstruct and recreate the typical kurta pyjamas for men into something that is in line with the current times. Whether it's making it more contemporary, fusing it with modern influences, deriving inspiration from western trends, or recognising the market demand for a particular detail, kurta pajamas have seen multiple transformations. We may not be in awe of every single one of them, but there are many that never fail to grab our attention. While buying a new-age kurta pyjama for men, the most important thing to keep in mind is the outfit's versatility. If you can wear it more than once, then your wardrobe definitely deserves to meet it.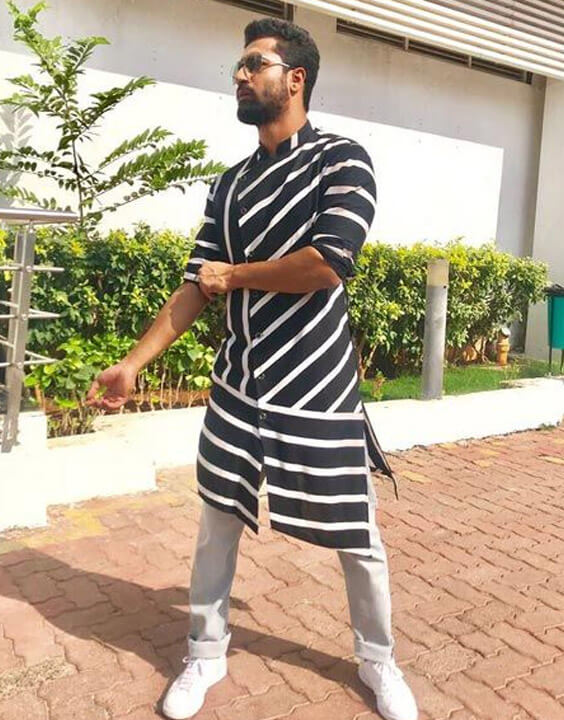 Style tips:
A kurta pyjama for men that is just a little longer than a t-shirt? Yes, please! The 'pajama' part of this can be sharp and suave, just like you are. Trade the bagginess for something that is more snug, and layers the look with an open jacket.
We love the street style angle too, and our reasons for this are plenty. The one that tops our list though is the fact that it changes the rules and the game. Second, it leaves us a lot of room to play and figure what works best with it – from white sneakers to folded trousers.
Say yes to kurta pajama with boots! While this may not be a rendition of the kurta itself, it definitely is 'new' and we think it'll look great on you.
Investment Piece: Designer Kurta Pajama For Mens
If you wish to be treated differently, then you gotta dress like it – these are the words that we have all heard at least once in our lives. If you're struggling with building your personal style, then we strongly recommend giving designer kurta pajama for men a go! Weddings and festivities are all about making a statement, and anything that is 'designer' instantly translates to 'stand out'. Besides, designer clothing is all about luxury and made with extreme precision + attention to detail. So why not pick your kurta designs from a budding or leading designer label? Apart from the hefty price tag (which delivers what it promises), there's literally nothing not to love.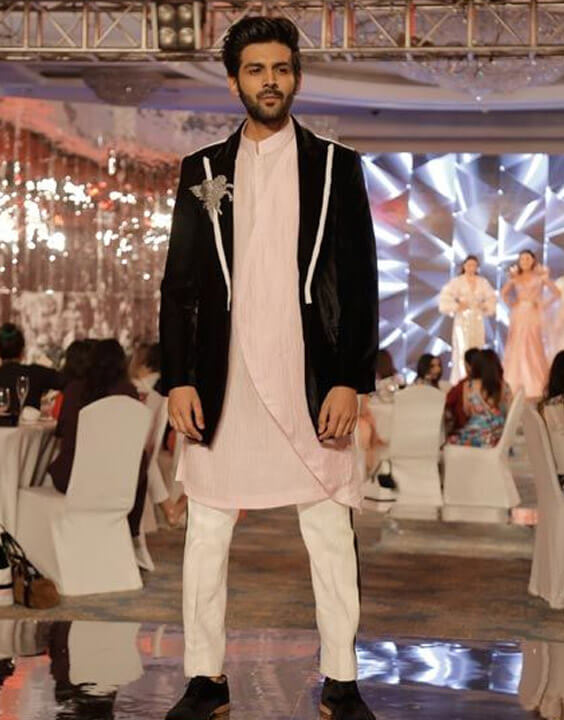 Style tips:
Don an Angrakha kurta – but one with a contemporary twist! It is one of the most popular styles of kurta pajama among men, and the fashion police approves it too.
An all-white kurta that establishes you as the boss but subtly? Who could say no to that! Let your chosen one be sharp, sexy and every bit charming. Pair it with tan-colored juttis.
Layer your kurta pyjamas for men with perfectly crafted ethnic blazers to nail that first impression! Finish off with a pair of suede boots.
Kurta Pajama Red – A Bold Choice
Take the bolder route to reach your style goals by opting for a red kurta pajama for the celebratory season. With the color signifying many things right from passion to confidence, it's up to you which version of yourself you want to flaunt. From impressing that special lady to showing 'em who you really are, being in the spotlight to commanding attention of the entire room; a red kurta pajama will aid you in doing it all and more. It is also the color of love, so you never know; you might just start a new story for yourself! Let's see how you can create killer combinations with it now, shall we?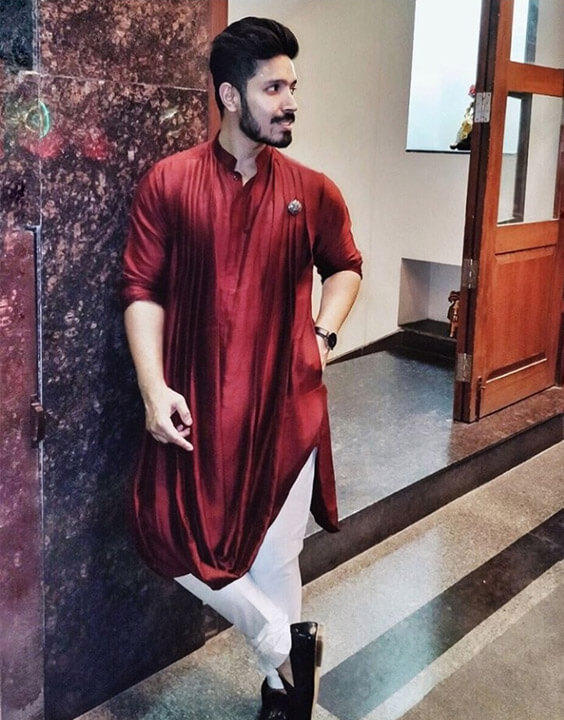 Style tips:
Add a touch of royalty to your wedding #OOTD by adding a luxe shawl to your already bold combination of an all-red kurta pyjama. Drape it well!
There's no point in time when draped or cowl kurta designs are not a statement-making piece. That, combined with red, you know it's gonna be too hot to handle! To mellow it down a little, go for white trousers.
Take a fashion risk by choosing print-on-print. Plus points for layering! Don't be afraid of tinted glasses to add that new-age touch.
Be Serene With Green Kurta Pajama
Don't just eat your greens but wear them too! No, we don't mean literally but we're leaning more towards the color. One of the 'safest' shades on the spectrum, green has earned a great reputation for its calming nature. It's also the color of the environment and Christian Dior did once say, "You can never go wrong if you take nature as an example," (although in this case, it's more of an inspiration.) Along with the many soothing qualities that green possesses, it also instills a feeling of safety among observers and that is its best psychological trait. It goes without saying that this is one color we really don't have to convince you about. Paired with something as classic as a kurta-pajama, it weaves a dream!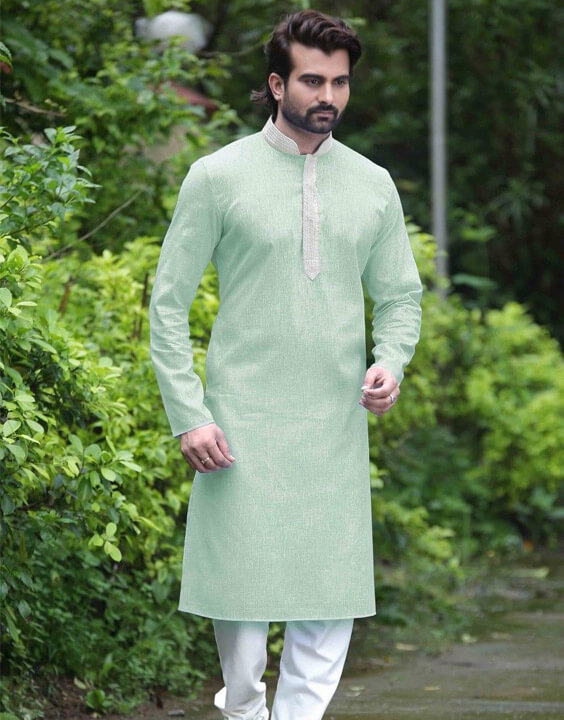 Style tips:
For intimate celebrations, give in to a shimmery and minty fresh green kurta pajama. Pair it with white bottoms and you'll be more than good to go.
An embroidered green jacket over a bright-colored kurta-pyjama set makes for a great combination for the wedding season, even if you're the groom.
To look refined and ravishing, don a green Bandhgala with white pyjamas and drape a shawl or stole for max appeal.
Now, all that's left for you to do is follow our tips to a T, and enter the festive season looking your best. Let the celebrations begin!
Image credits: The copyrights of the images used in this post belong to their respective owners. The credits where known are specified under the image - if you're the owner of an image and want it removed, please contact us.