Menswear can be just as sharp and tailored in plus size, as it is for regular sizes. The idea is to pick the size that's right for you, choose separates that complement each other in shape, proportion, and color, and strut your style with confidence.
Plus size clothing for men can actually bring a refreshing change to outfit choices and bring a new perspective on much-needed representation for fat people on the fashion stage. When talking about body-positivity and plus size movements, the focus is very often on the female form, and there is a dearth of acknowledgment that fat-representation is sorely needed for men as well.
While it is statistically and historically true, that women are judged and shamed much more for their bodies than men; there is absolutely no denying that the kind of representation men get in fashion is woefully unrealistic and invites a host of problematic misconceptions and social issues.
With that in mind, we would like to curate 10 dapper and unique plus size outfit ideas for men, and give their wardrobes a fun, spirited, and ultra-stylish spin! Read on, you don't want to miss this one.
Top 10 Plus Size Outfit Ideas for Men:
1) The Chiller Style:
Want to exude effortless summer vibes and keep your style as light as a feather? This outfit idea is for you! Stay trendy and breezy in a printed shirt and comfy cotton shorts for the upcoming spring-summer season.
You can go with a simpler print like vertical stripes or opt for a more flamboyant, maximalist print with florals or tropicals based on your personal aesthetic. This is one of the plus-size outfit ideas that you can easily rock for a chill staycation or a hang-out scene at your favorite bar.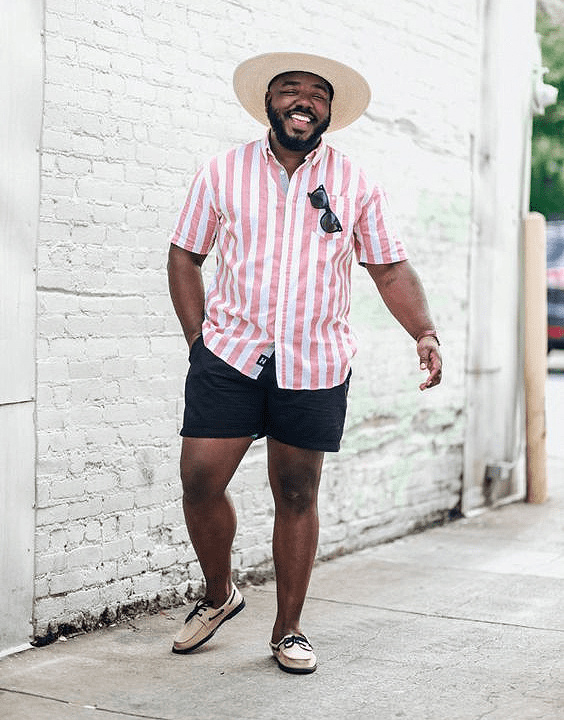 Accessorize this outfit with:
A straw or wicker hat.
A chic pair of sunglasses.
Comfortable floaters, flip-flops, or loafers.
Plus Tip: Opt for a pair of shorts with a length that is aligned to just an inch or two below the widest part of your mid-thigh for a sleek profile. You can alter an existing pair of shorts to this optimum length to improve its appearance.
Check out plus size men's shirt by Bewakoof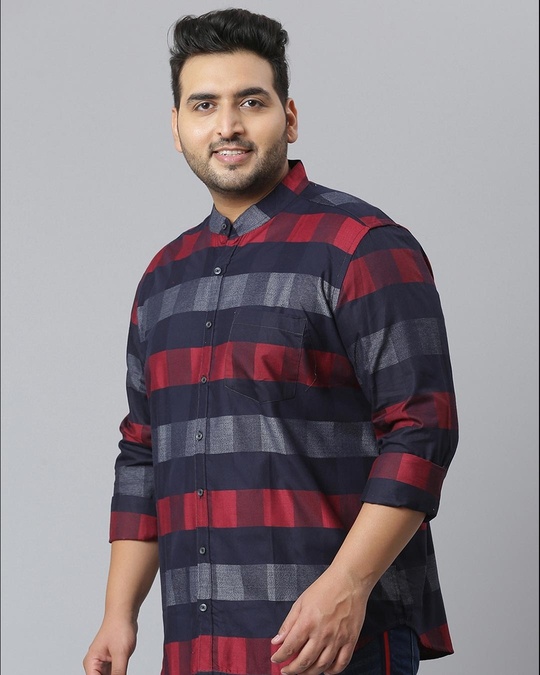 2) The Dapper Style:
This is one of the plus size outfit ideas that is the perfect combination of function and style for those who are concerned with making a great impression within formal or professional spaces.
A suave dressing style for a fat man in the fashion space, there is nothing more dapper than a chic 3-piece suit. For an added flair, opt for a blazer in a chic work-appropriate color other than black or brown – such as deep olive green, maroon, or grey.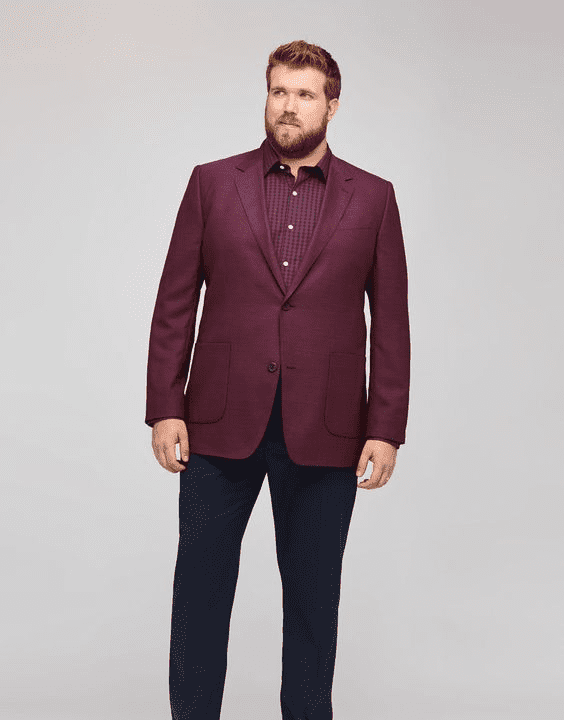 Accessorize this outfit with:
A statement tie.
A sleek watch.
Shiny lace-up patent/faux leather shoes.
Plus Tip: Plus size outfit ideas sometimes need a level of customization for achieving a sleek finish. You don't have to go with a store-bought suit necessarily as those can be difficult to find in the desired size. Instead, you can buy your shirt and trouser off the rack, and get your blazer tailor-made to suit your size. This will ensure the best fit and a long-lasting garment for a crisp and structured formal look.
3) The Brighter Style:
Looking to make a serious statement in color? Un-afraid to experiment and stand-out from the crowd with your sartorial choices? Get in line! We've got one of the best plus size outfit ideas to help you achieve your style goals with panache. This outfit needs nothing but a pair of your favorite jeans and a sweatshirt or hoodie in a vibrant rainbow pattern.
You can go ultra-bright and opt for neon block-printing or you can take a more elegant approach with slated, but bright-hued ice-cream colors. Either way, you are sure to make a splash in style!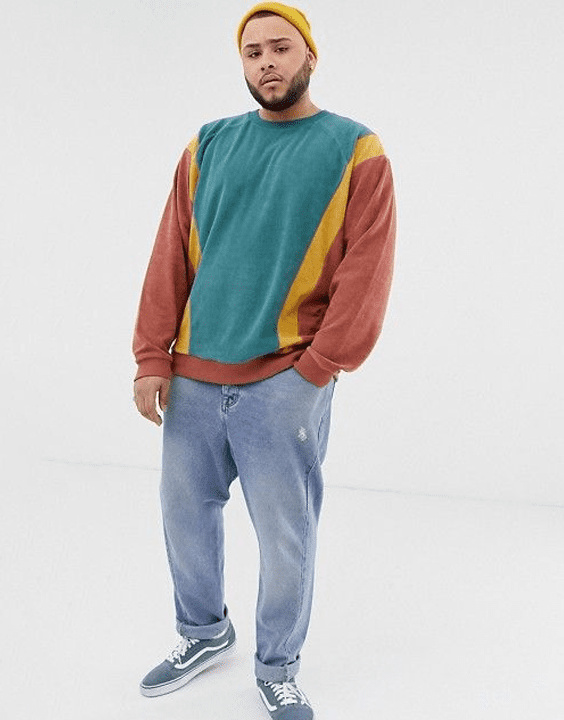 Accessorize this outfit with:
A colorful beanie.Trendy sneakers.
Plus Tip: Pay attention to shoulder measurements when picking an oversized sweatshirt or hoodie. Since your sizing is already larger, oversize trends run the risk of making you look frumpy rather than stylish if the shoulder measurements are not a good match. Excessive drooping of the shoulder seam can have that effect.
4) The Swagger Style:
Who says plus size outfit ideas are boring? We've got one for you that exudes ultimate swagger and a ton of attitude! Wear street-style on your sleeve with an outfit that incorporates a classic denim jacket. Jeans for men don't always have to be a pair of pants! Get with the latest trends and don a chic denim jacket that expresses your penchant for cool and timeless style.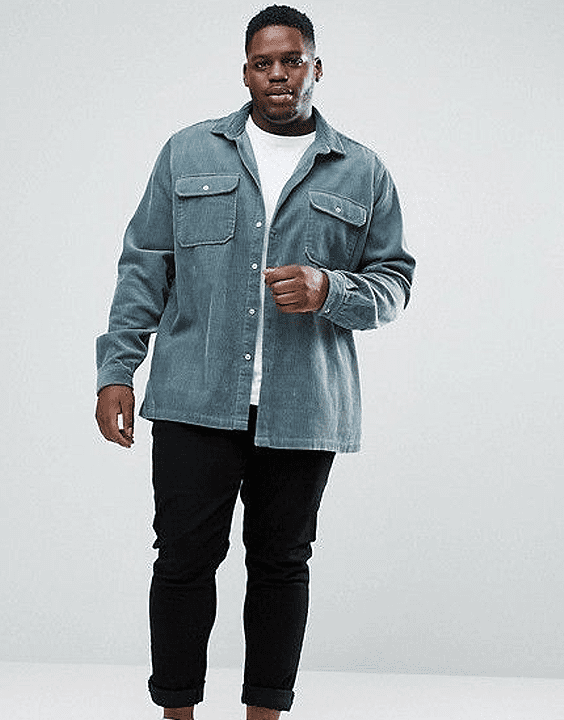 Accessorize this outfit with:
Plain T-shirts in white, black, or neutral shades.
Converse sneakers.
Dark denim pants to pair with light denim jackets & vice-versa.
Chinos in colors like jade & coral.
A sleek pair of muffler headphones.
Plus Tip: While you ensure that your denim jacket is a large and comfortable fit, go for skinnier, and closer fitting pants on the bottom for a chic and put-together look. Your jacket should ideally end at the base of your hips, but not too below it to give you the best profile.
We at Bewakoof offers custom T-shirt collection even for plus size, where we can print your design on our high-quality premium Tshirt, do not miss to check the below product.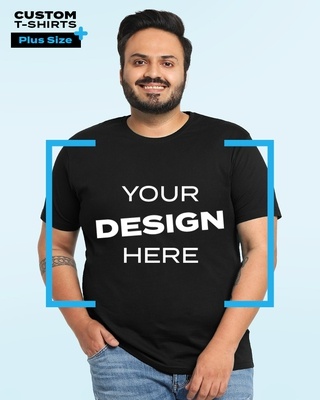 5) The Player Style:
Any list of plus size outfit ideas for men cannot be complete without including the polo t-shirt! A classic and ultra-wearable style in fashion for fat guys – this one is unmissable!
Go for a polo t-shirt in a print, solid-tone, or color-blocked style and pair it with a complimentary shade of bottoms that give you an elevated look all-round. Very country club yet preppy, this is a fat man dress style that can be incorporated into your wardrobe at any age!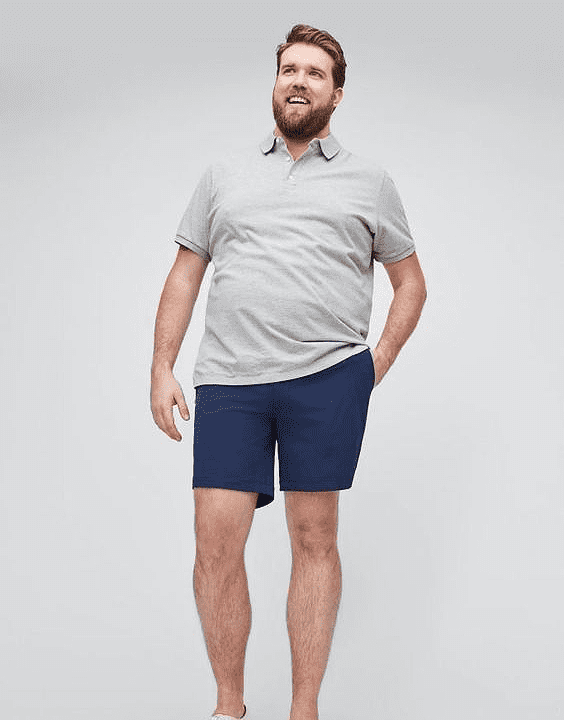 Accessorize this outfit with:
Half-pant chinos or half-trousers in jewel-tone colors like navy, maroon, and deep-green.
Tennis sneakers or sports shoes.
Full-size chino trousers or khaki pants.
A classic watch.
A timeless pair of aviators or wayfarer sunglasses.
Plus Tip: Ensure that your polo t-shirt comes in a light and ultra-stretchy knit or jersey fabric to ensure maximum comfort. This will allow for easier movements and breezy wearability for lesser sweating or patching on the fabric.
6) The Diner Style:
Plus size outfit ideas often require simplicity and classic styling. One such idea that provides maximum style with minimum effort is the classic shirts for men and denim pants combo. Team a button-up shirt in your favorite color with your preferred pair of denim and leave it un-tucked to achieve a smart-casual look that can be worn almost anywhere.
A perfect look for date-night or for a chill work-day, this is a style that every man needs in his wardrobe!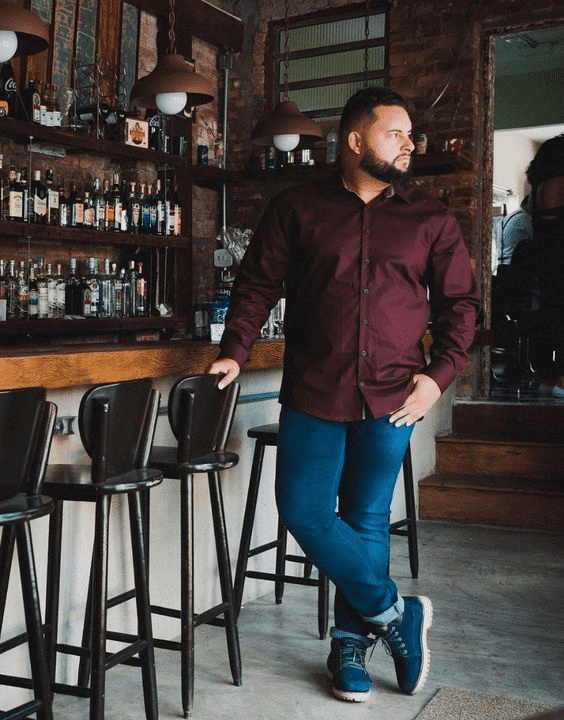 Accessorize this outfit with:
Stylish loafers or sneakers.
An apple or digital watch.
Classic pair of spectacles or sunglasses.
Plus Tip: Since this is one of the plus size outfit ideas that involve leaving your shirt untucked, be sure to choose a shirt that is not too loose, but fits you well. Also, ensure that it buttons properly all the way down and is not left unbuttoned for more than 2-3 inches at the bottom. If your shirt has a longer length that is left without any buttons attached at the bottom, use your extra button to close it up. This will help you achieve a more stylish and put-together look. Ensure that there is no gaping between buttons.
7) The Winner Style:
Need another outfit idea for work or formal events that is sure to have people sit up and take notice of your flair for fashion? We've got one of the most dapper plus size outfit ideas out there, courtesy of famous American Master-Chef judge, Graham Elliot! Graham is often seen sporting striking bow-ties with a structured waistcoat that is worn over a smart-casual shirt with sleeves rolled up.
You can imitate this outfit idea without the bow-tie and a waistcoat in faux-leather or denim if you would like a more casual appeal to your look.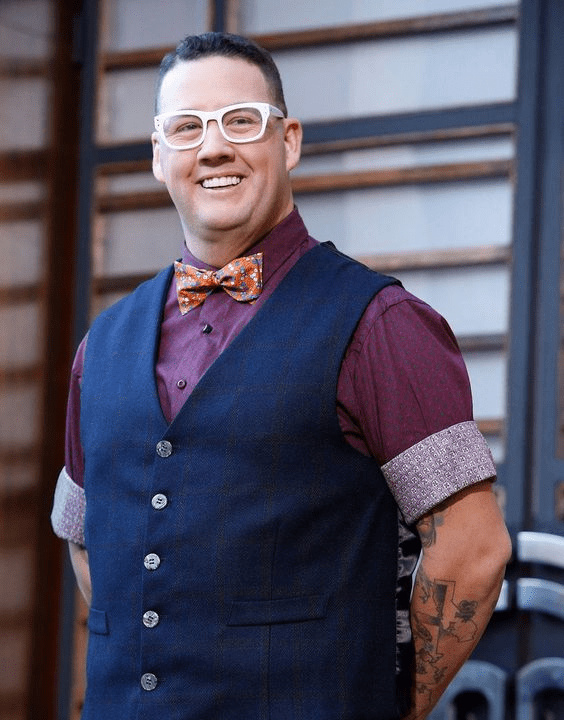 Accessorize this outfit with:
A striking pair of eyeglasses.
A bracelet or a watch.
Oxford shoes or loafers.
Plus Tip: Get your waistcoat tailor-made or customized in the signature Graham-style to rock this look in your measurements. You can also size up slightly for your under-shirt as it is tucked in and mostly hidden behind the waistcoat to maximise comfort and breathability. This is a men's fashion for fat guys that is sure to impress!
8) The Winter Style:
We've got one of the coolest plus size outfit ideas for your winter-time fashion needs! A classic style that is sure to give you a look that walks the fine line between classic and contemporary, a chic duster jacket or overcoat is an absolute winter must-have.
Go for one in a dapper black or nude shade to bring out the best in this look. Modernise your outfit with a turtle neck sweater underneath and a baseball cap to beat the chill with panache.
Accessorize this outfit with:
A cool baseball cap or a beanie
Loafers, warmers, boots, sports shoes.
A polo t-shirt or turtleneck sweater based on the degree of cold.
Plus Tip: Chubby guy fashion is replete without a layered winter look! However, it is important to ensure that your layers are in the right proportions to achieve a sleek profile and a put-together look. Your overcoat or jacket should be a lower-thigh length and not too long or too short. Your inner layer if untucked, should be 3/4th the length of your outer jacket. Try not to wear trousers or pants that are too long. Opt for a cool just-below-ankle length for the correct proportions.
9) The Cooler Style:
Plus size outfit ideas are the perfect place to include cropped cargo pants! Go for an urban appeal and chic look with this one. Layer for summer like a boss and stay cool as ever in a pair of cropped cargos and a t-shirt combination. Play with color and prints with this look to make it fun and unique!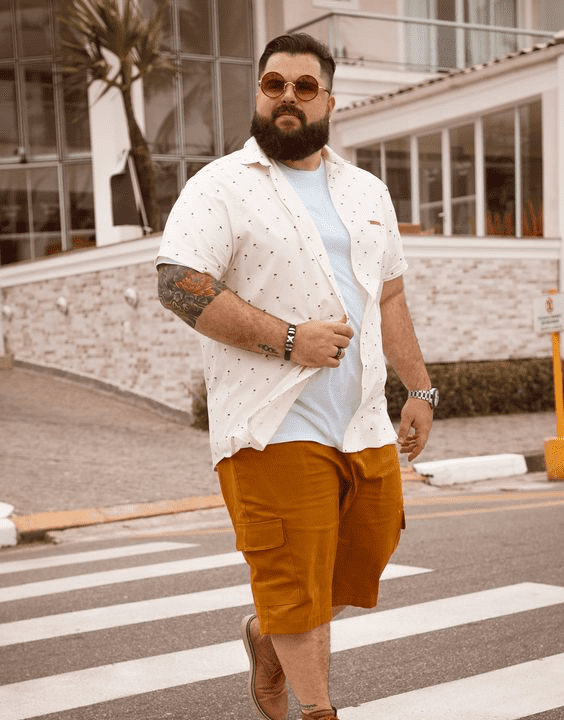 Accessorize this outfit with:
Colorful cargo pants
A trendy pair of sunnies.
Stylish oxford shoes or lace-up booties.
Plus Tip: You can opt for full-size cargo pants instead of cropped ones if you are more comfortable this way. The same look with full-size cargo pants can also be fun outdoors look or a great option for chilly weather. Beat the monsoon by adding on a wind-cheater.
10) The Rapper Style:
Plus size outfit ideas can be as trendy and on-point as ever with the fashion zeitgeist, thanks to the variety of printed t-shirts for men available on the best online shopping sites in India. Go for a cool rapper-inspired look by pairing your printed or graphic t-shirt with a pair of ripped denim pants and rule the streets in style!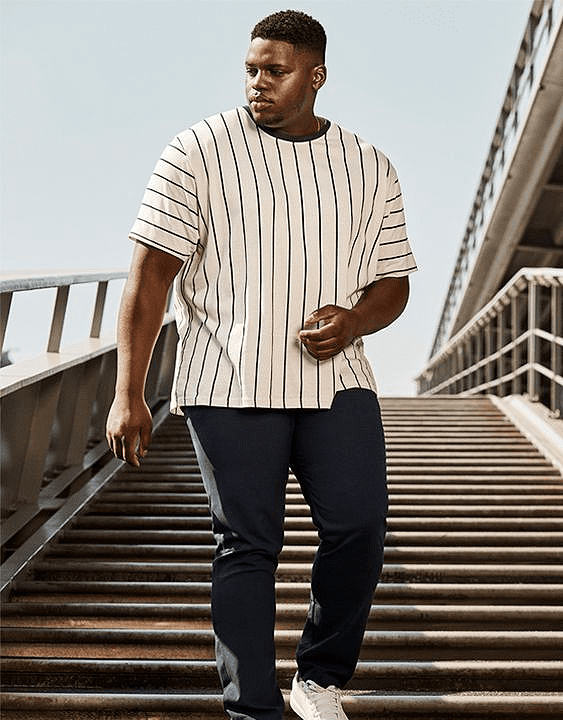 Accessorize this outfit with:
A baseball cap.
Statement Sunglasses.
High-top sneakers.
Plus Tip: Go for a half-sleeve length for your t-shirt that reached the widest part of your upper-arms to give yourself chic proportions and a stylish fit. Ensure that the shoulder points of the t-shirt match yours to avoid looking frumpy. You can also opt for baggy jeans to achieve a swagger appeal, but ensure that you secure them with a belt.
Our plus size outfit ideas are sure to give you a plethora of options to curate a men's wardrobe that is filled with wearable separates and chic accessories. A smaller size is absolutely not the necessity for stylish fashion and you can always put your best foot forward in trendsetting outfits. Happy styling!
Image credits: The copyrights of the images used in this post belong to their respective owners. The credits where known are specified under the image - if you're the owner of an image and want it removed, please contact us.