A good night's beauty sleep is one of the most beautiful and essential things. You can have the most comfortable mattress, snuggly blanket, and fluffy pillow but it won't amount to much if you don't have the right types of nightwear. Sweet Dreams is one such family nightwear brand that allows you to sleep well and have sweet dreams.
Nightwear for women is often that item of clothing that is often neglected on a shopping spree. Your entire day is set based on how well you slept the night before.
Choosing the right types of nightwear will make your sleep experience more relaxed. Open your closet and make a special room for all the different types of nightwear that deserve that space.
Let's add some fun to fashion as we trek through one of the closet essentials. Take style to bed and end the day on the same trendy note you started it with.
Find the perfect match with the type of nightwear that takes your stress away and keeps you comfy and cuddly. (Honestly, who even needs a partner?)
Types of Nightwear for Women
1. PJ Sets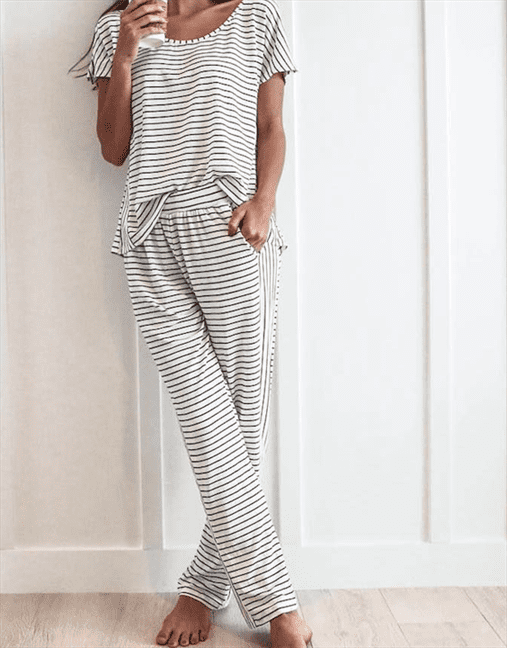 We know you yawned just reading that. A comfy pair of pajamas for women is a good night's sleep staple. These types of nightwear for ladies are equal to comfort food, perfect for lazing around and having a party with yourself.
Lounging in pajamas and a t-shirt is a great way to unwind and relax after a long day. Pajamas style for women is the best comfort staple.
Pajama styles come in different colors, prints, and patterns making them not only comfortable but also snazzy. Pajama sets are pretty versatile allowing you to mix and match and create your own night style statement.
Cute, quirky, and functional – your basic PJ set has it all! Don't shy away from stepping out in your pajamas – it is the new trendsetter!
2. Sleep Shirts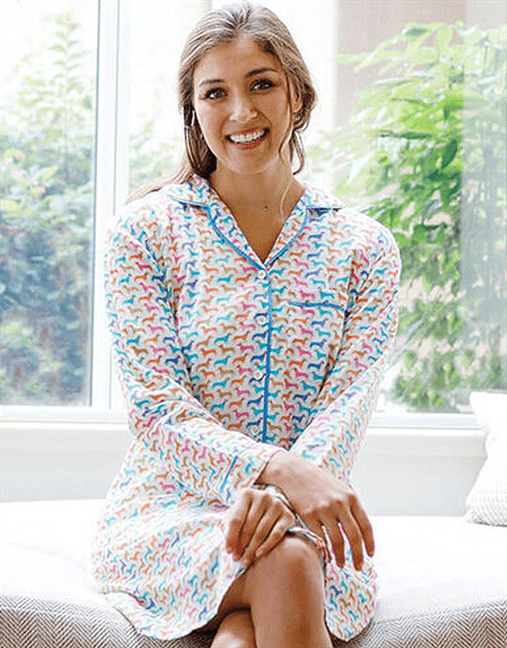 Too spent to change into nightwear? A Sleep Shirt is all you need! These types of nightwear are easy, breezy, lemon squeezy to have a peaceful sleep.
Putting on a sleep shirt, unwind and let your skin breathe. These types of nightwear for ladies are a delight on hot summer nights.
With funky prints and vibrant prints, you can accentuate your night look with a single sleep shirt. Matching eye masks would facilitate a more restful sleep and also take your style up a notch. Sleepshirts for women are a stylish accessory to add to your night care routine.
3. Playsuits / Jumpsuits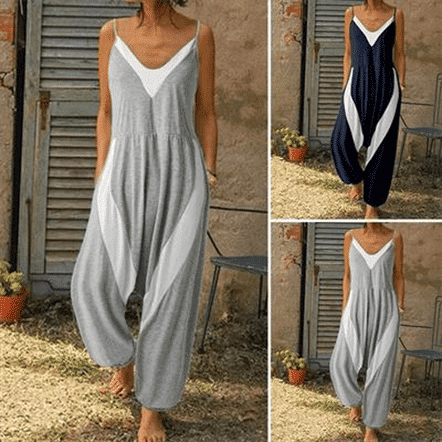 Jumpsuits for nightsuits open a myriad of options for your bedtime fashion and we are here for it! Be it a girls' night in or a calm night by yourself, these types of nightwear will definitely add texture to your closet.
You have plenty of options to choose from starting with a short playsuit to a longer one based on your comfort. The one-piece nightsuits in vibrant prints are a summer season style staple. That said, we cannot ignore the versatile nature of these types of nightwear. From satin to fleece, you can never have enough of these jumpsuits.
4. Night Dress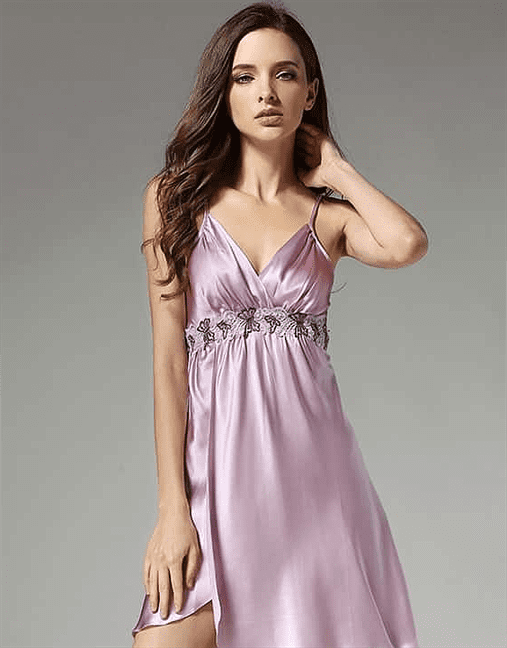 Set the mood of the night with a sultry yet sophisticated Nightdress. Nightdress comes in a wide range of styles – from cute to raunchy, you can pick the one that is right for you. The materials of the nightdress play an important role in deciding the occasion you can wear it on. You can find designs from lace appliques to cotton comfort wear in the same type of nightwear.
Usually, with minimal print, the nightdresses throw off a very mature look. With choosing a cotton nightdress, you also choose a good sleep. Nightdresses are highly accessible to every body type and look effortlessly good on each individual.
5. Shorts and Tees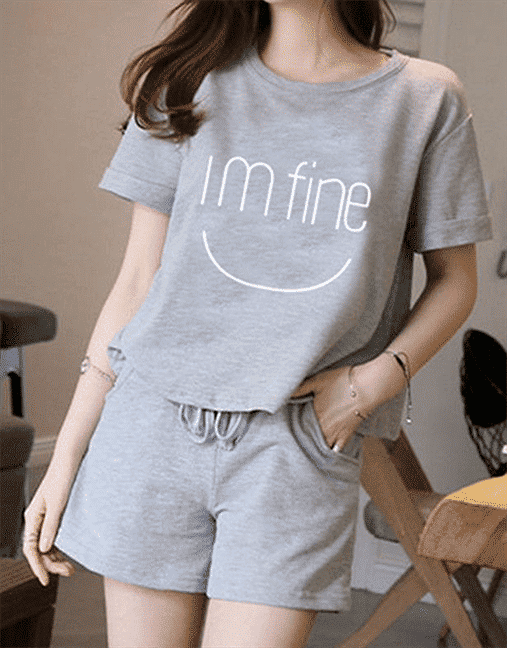 Relaxed muscle and droopy eyes need the added comfort of a calm summer breeze and your go-to shorts for women and t-shirt night set. A tasteful combination of comfy and sensual, these types of nightwear are a must-have.
Cute prints and sassy designs provide a huge variety to choose from. Along with being incredibly comfortable to sleep in, these types of nightwear can easily work while taking a stroll outside your house. You can buy t-shirts for women and shorts separately and do a fun mix and match too.
Get on your favorite online shopping apps and start scrolling for complimenting shorts and tees. Even fashion mavericks swear by the timeless piece of nightwear. (we, we are the fashion mavericks!)
6. Camisoles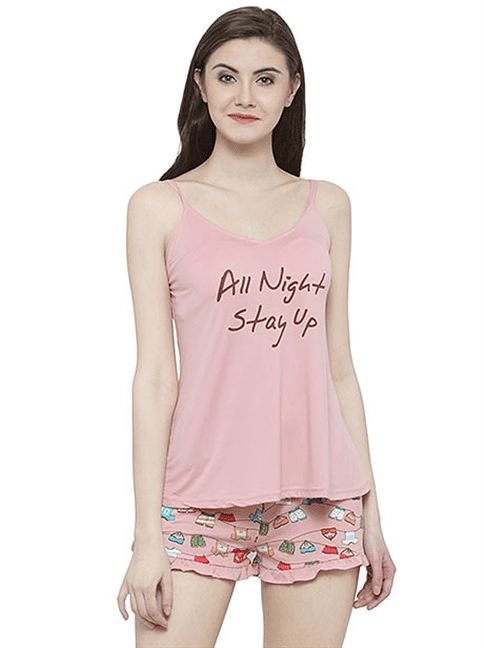 Along with your shorts, you can pair any color camisole for a no effort night look. Camisoles are a multi-functional item of clothing that saves the day many times. During the night-time, let your camisoles shine. These strappy additions to your nightwear routine are very handy and comfortable.
Easy to pair, these camisoles can be worn with shorts, pajamas, or even under your nightdress. With such versatility, it is practical to purchase a variety of colorful camisoles.
With such a variety of styling options, you will never get bored of wearing different camisoles. There is variation in the fabric of these camisoles and you can experiment with different kinds of laces and fabrics.
Camisoles are a classic nightdress, giving you the comfort you need for a peaceful night.
7. Night Robe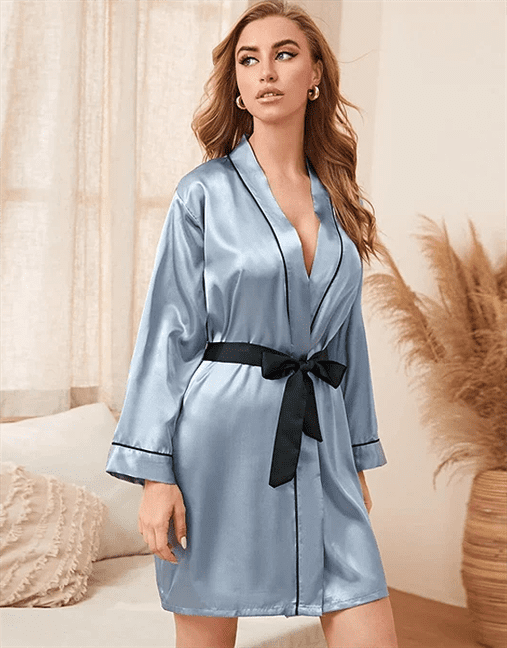 One of the most functional types of nightwear is the nightrobe! After a rejuvenating shower, just putting on a robe feels like no work at all. Nightrobes are a self-care essential. You can easily moisturize and pamper your body in a nightrobe without any hassles.
Give yourself some me-time with your favorite robe and have a chill night. Underneath the robe, you can wear a simple nightdress and voila, you are ready for the night.
Robes also give you leverage in the morning. Just tie it around and you can carry on with your chores without having to change or take a bath (such a relief).
As with other different types of nightwear, night robes also come with generous options about their look and feel. From chill to cozy, the robe got it all.
8. Maxi Dresses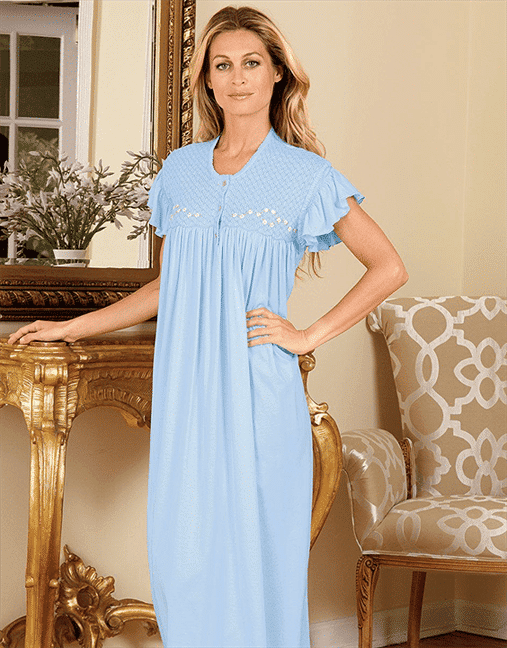 Long and comfortable, cotton maxi dresses are one of the most favored nightwear for women. These types of nightwear for ladies are ideal for sweltering summer days. The different prints and patterns of a maxi dress make these dresses very eye-catching.
These types of night dresses allow your body to breathe as they are airy and have a snug fit. You can also opt for satin maxi dresses for more finesse in your closet.
These pieces of functional fashion are evergreen and can be worn even during a self-care day-in. The relaxing fit of maxi nightwear is extremely helpful to de-stress after a long day of work.
9. Capri Set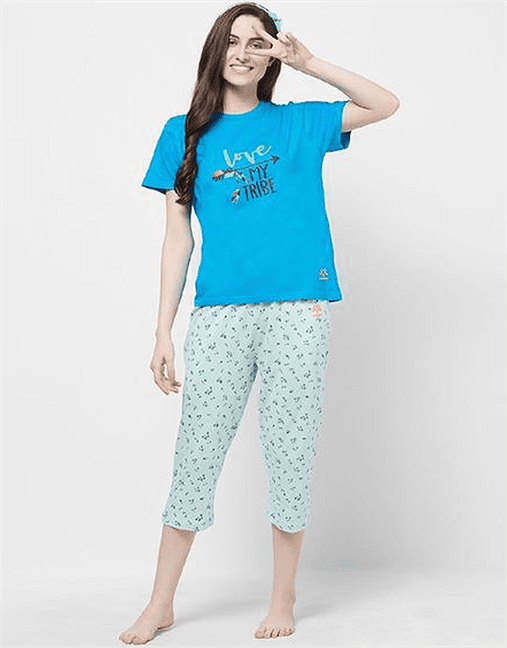 Too cold for shorts and too hot for pajamas? Capris are the ideal compromise. Capri with t-shirts is a laidback look for the night. For a post-dinner ice cream grab or a games night – these kinds of nightwear are very accessible.
You can style these with a pair of cute flip flops and get your snuggly look on fleek.
Capri bottoms and tops with their complementing colors and patterns are an interesting and fun look for the night.
With sleepy quotes and soft material, these types of nightwear are accessorized with a good night's sleep. You can always mix and match with your different Capri sets and serve looks after dinner 🙂
10. Babydolls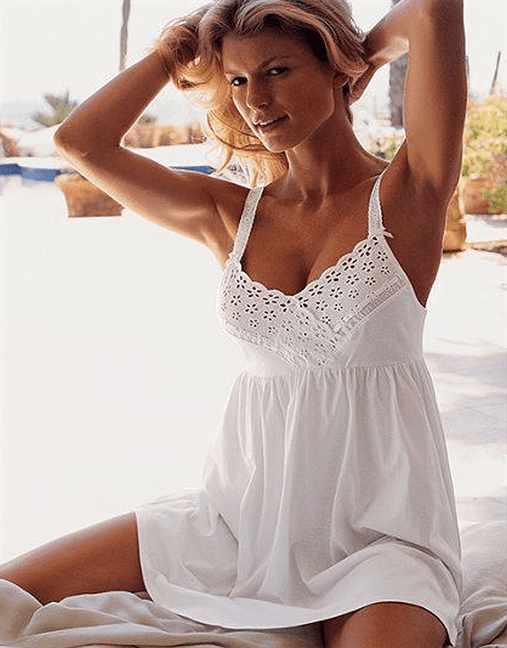 Candles lit. Music set. And mood? Well, that is on you! With Babydolls you have all the reasons you need to spice up your night. Be it the first night after the wedding or a special anniversary, make it memorable with these sheer types of nightwear.
Babydolls are a bridal favorite as it exudes temptation in a very tasteful manner. Babydolls come in various designs and you can choose the one that suits you best. It is undeniably alluring and fashionable.
Your wardrobe definitely needs a babydoll for flirtatious times. Reds and blacks exude a bold connotation making you feel more confident.
11. Full Sleeve Nightwear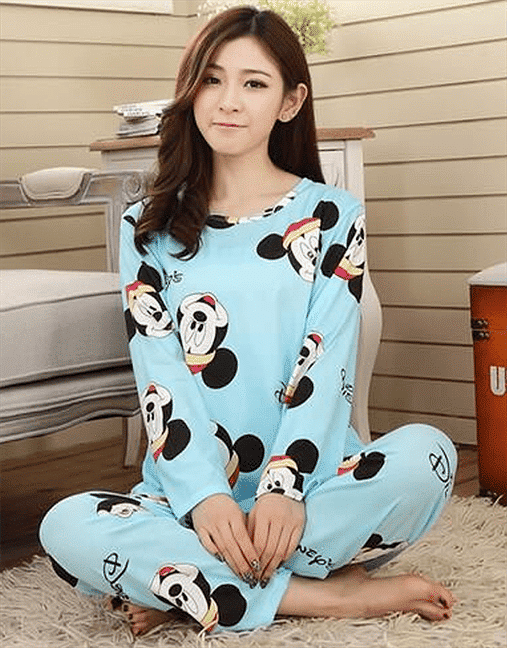 For the nights when the winds are as restless as you, snuggly nightwear is all you need. Full sleeve nightwear sets keep you insulated and ensure a cozy night. These types of nightwear keep the chills at bay and provide you the rest you need.
Stitched with materials like fleece or fur, these nightwear are perfect for cold days. Buying darker colors would help to further absorb heat and keep you toasty warm. With these types of nightwear, there is no hurry to change. You can get to your morning exercise, have your breakfast or even go for a walk in them. Nestle in your comfy nightwear and welcome a good rest.
Who thought choosing the right nightwear is such a task! There are many more different types of nightwear combinations that you can try and find the one that fits your comfort zone. Hoodies, sweatpants, joggers and the list is endless for the products that can be used for a fashionable night.
Sleep tight with nightwear that makes you comfortable and restful. You deserve to gift yourself a tranquil sleep. Experiment with different types of nightwear to make your nights fun and exciting.
Image credits: The copyrights of the images used in this post belong to their respective owners. The credits where known are specified under the image - if you're the owner of an image and want it removed, please contact us.