Normcore and low-key fashion are ruling the style landscape in the post-2020 world – and we're here for it! Chic hoodies, joggers, t-shirts, and cosy dresses for women have become absolute must-haves in the WFH era. However, any cosy fashion list would be woefully incomplete without the mention of leggings.
Sleek, comfortable and versatile – leggings are a fashion essential for women and they come in a variety of styles, sizes and variations. Complementing every wardrobe and fitting into virtually any aesthetic, types of leggings are as pervasive and universal as t-shirts are.
Fashion cycles have evolved and regurgitated many different styles of leggings over the years, but there are some types that have passed the test of time.
However, choosing the right kind of leggings for the right occasion is important to avoid a fashion faux pas and knowing how to wear leggings is important to ensure a good fit.
Here are some things to keep in mind when purchasing leggings on shopping apps:
Ensure that you know the kind of material you are buying. Leggings come in many different fabrics – some super soft and some specialty ones that fit like a glove. Be sure of the kind of fabric you want and investigate the types of leggings you are actually purchasing.
Pay attention to the length of the leggings. Check the length in the product descriptions and pick one that suits you. The kind of waist-rise the legging is made in, is also important to note when understanding lengths.
Consider elasticity when selecting your size. All leggings are made in highly stretchable fabrics, and selecting your sizing the same way for leggings as you do for trousers or denims is a mistake. You can consider sizing down slightly for a snug and contoured fit.
So, are you ready to get yourself a varied and chic collection of leggings? Read on for some major inspo, style tips and 10 classy types of leggings every fashionista would love to have in her closet!
1) Crazy For Camo:
Legging in a subtle camouflage print is on-point and super trendy for 2021. A Camo legging is usually made in a soft knit or hosiery and looks great as a part of a chill and casual #OOTD.
Available in a plethora of light, dark and pastel shades, this is a style that is universally fashion forward, and capable of being the highlight of any normcore outfit. Stand out in the best way possible for your next yoga class in camo leggings.
Style your camo leggings with:
An oversized hoodie
Running shoes or sneakers
A Baseball cap
A grungy racerback cami
Wear Diaries: Wear these types of leggings to the gym or for an outdoors workout session. You can also don these for a hike or a long trek, provided that they are made in a thicker, more durable knit.
2) It's The Time To Disco:
Sleek and eye-catching, disco leggings are back in style! A derivative of the shiny nylon leggings of the 80s era in fashion, these are called 'disco' leggings for their gleaming appeal and high-shine look.
Usually made in high-end nylon or slim neoprene, these types of leggings are famous for giving the 'wet look' – a trend that has been taking the fashion world by storm for over a year. Be the center of attention in glistening disco leggings!
Style your disco leggings with:
Athleisure staples: high-tops, sports bralettes, luxe zipper jacket
A high ponytail for maximum power
A chic pair of cat-eye shaped sunglasses
Wear Diaries: Types of leggings with names like this one are quite straightforward – wear this one to the club! You can also wear it for a hangout with friends for some chic instagrammable moments.
3) Stirrup Some Trouble:
This one is for all the movers, shakers, and dancers out there! If you would like a pair of leggings that offers maximum comfort in your range of movement, go for stirrup types of leggings. A fave with ballerinas and dancers, this one is sure to catch your fancy.
Style your stirrup leggings with:
An oversized tee
A sports bra with chic detailing
Ballet shoes for lowkey style
Stilettos for highkey drama.
Wear Diaries: Wear your stirrups at home, while doing yoga or HIT workouts for a lowkey, burt chic look. Wear them with eye-catching fashion tops or dresses and get your game on for a night out. These types of leggings will have you dancing the night away in no time – the choice is yours!
4) Go Abstract In Style:
In the age of uncertainty,l we have all adapted and developed a taste for the abstract aspects of life. This is reflected in fashion choices of course, and is also represented in striking patterns.
The ultimate style accessory for any fashion-forward closet, high-quality leggings made in good fabric are all the rage.
Style your abstract printed leggings with:
Separates in complementary colors.
Converse or Vans
Statement tech accessories – AirPods, Bluetooth, oversize headphones.
Wear Diaries: Flaunt these types of leggings on zoom calls for work & pair them with smart glasses and a statement white zoom shirt for an added touch. Go for prints in neutral tones or black and white for this occasion.
5) Jaunty In Jeggings:
What's better than jeans on a casual day? A pair of jeggings, of course! A smart-casual favorite, this legging style combines the comfort of a legging with the raw style appeal of denim.
Made in thinner, ultra-elastic denim material, jeggings give an unmissable kind of comfort and fit. Get on board with these cool types of leggings now!
Style your jeggings with:
A graphic t-shirt.
Simple Sneakers or flats
A cute belt that compliments your outfit.
Smart shirts and casual tops for women
Wear Diaries: A staple addition to your wardrobe, your jeggings are for everyday use! Wear them to every occasion – from grocery shopping to parties by pairing them with the right tops and accessories. Jeggings are forever.
Check out our coolest customised tshirt collection, where we can print tshirt with your selected design, click on the below image to get your own custom tee today.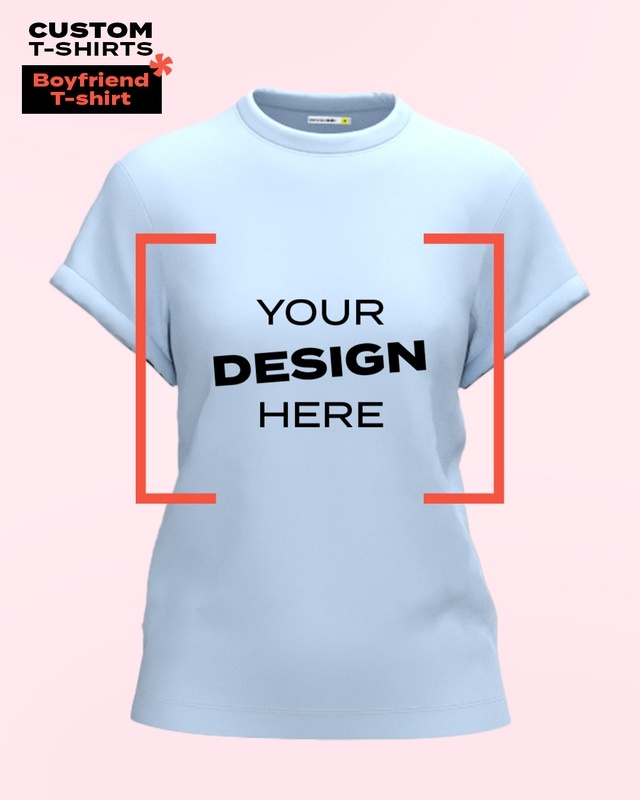 6) That Wet Leather Look:
Grungy & sleek with an attitude – faux leather leggings add an edge to any look and give an everyday spin on the famous 'wet look' that all fashionistas and influencers are currently obsessed with.
Made in rexine, thin PVC or faux leather that has great elasticity, this is one 'wet leather' trend you can rock in style. Get your edgy style needs fulfilled with these types of leggings!
Style your faux leather leggings with:
Edgy boots or booties.
Messenger and cross-body bags.
Long, loose, grungy topwear Distressed separates
Wear Diaries: Wear these leggings to college, hangouts with friends, house parties and other socializing events. Style it down for more lowkey occasions and kick it up a notch with edgy accessories for upbeat events. These types of leggings for ladies are well loved by the young & free!
7) Awesome In Ombre:
Many different types of leggings come in dreamy gradients and soft ombre that are not only soothing to look at, but also a major style statement.
These types of leggings are very popular among gym-goers as ombre patterns usually come in a variety of work-out friendly polyester fabrics. Go bold or go home in unique ombre leggings.
Style your ombre leggings with:
Tie-dye printed separates for an OTT look
Work out gear
Equally colorful and complimentary sports shoes.
A high pony-tail or a tied-up hairstyle like cute double buns.
Wear Diaries: The gym is the natural spot of choice to wear ombre leggings. You can also stand out in your virtual training or yoga sessions in these stunning colors and styles. Leggings for women don't need to always be boring – and ombre leggings are a prime example of that!
8) The Sheer Contour:
Uber-chic and fashion forward, types of leggings with sheer paneling are a fan-fave! Don these as a style statement and go bold with your casual looks.
Sheer paneled leggings usually come in light knits and stretch-jersey fabrics, with elastic netting used in the sheer areas.
Subtle, yet daring – sheer paneled leggings are the ones to go for if you would like to set yourself apart from the crowd with your fashion.
Style your sheer paneled leggings with:
Delicate, minimal jewellery
Fancy sneakers, oxfords, loafers & brogues
Sleek topwear, crop tops.
Wear Diaries: Sheer paneled leggings are absolutely timeless. You can wear these types of leggings as a part of your casual outfit or even pair it with a sleek kurta in a matching color for a fun fusion look. Get classy in sheer paneled leggings!
9) The Churidar Fit:
This is a kind of legging that is familiar to every woman in India. A sleeker, more work appropriate option to the voluminous salwar, 'churidar' leggings are extremely popular in Indian as well as a fusion wear.
These leggings are constructed in a light jersey with a high stretch factor and are made much longer than the normal full length; so that they gather at the ankles to form the 'churi'.
These types of leggings are available in a plethora of colors and are an essential part of every Indian woman's wardrobe.
Style your churidar leggings with:
Stylish kurtas, tunics, long tops and dresses
Antique or oxidized jhumkas and other junk indie jewellery
Formal shoes, chappals, stilettos, sandals.
Wear Diaries: These leggings are an everyday staple in our country. Worn at home, at work and everything in between, these leggings are the ones to go for if you are looking for a chic and sophisticated accompaniment to your Indian kurtas, kurtis and suits.
You can also pair these types of leggings with long t-shirts and shirts for a more fusion everyday style for casual events like dates, WFH and brunch.
10) Rock The Color-Block:
Usually high-rise and always undeniably stylish, color blocked leggings are the ultimate eye candy. Striking in their appeal, these leggings are shaped to follow the natural curves of your body with more than one color sewn into a flattering pattern.
Curve oriented panels are cut into the pattern of a contoured legging in complementary and contrasting colors to give the wearer a stylish edge.
Sometimes details like piping, tucks and trims are used to define the panels. Sporty and eye-catching – these types of leggings are a must-have!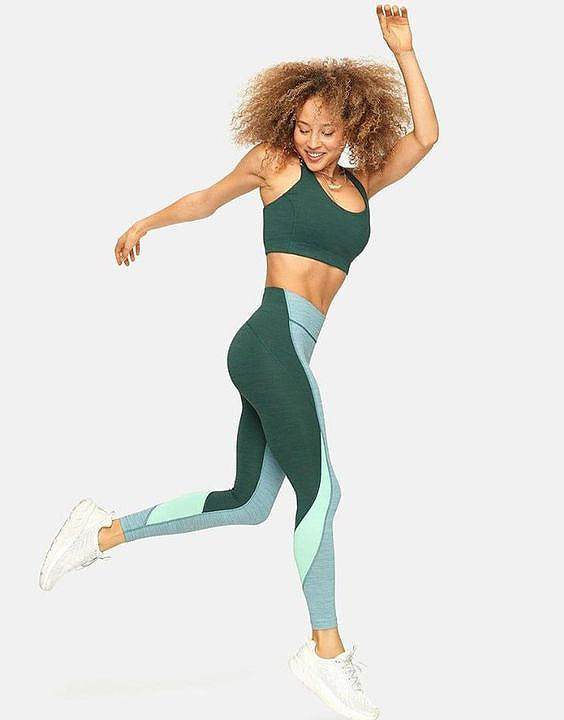 Style your color-locked leggings with:
Minimal sneakers in black or white
Matching crop tops or sports bras
A chic bum-bag or cross-body gym bag
On A Nostalgic Note: These leggings are a workout option through & through. Sturdy & reliable, these can be worn for all outdoor and indoor activities that require movement, energy & agility.
A popular option for those who play sports and practice athletics, these leggings will have you living your best life and adding a dash of color to your fitness journey.
Leggings of all kinds are a wonderful addition to any closet. Every woman's secret fashion obsession, these provide unmatched comfort with a side of style. Don't wait – go on and explore these options to give your wardrobe a chic update with new types of leggings!
Image credits: The copyrights of the images used in this post belong to their respective owners. The credits where known are specified under the image - if you're the owner of an image and want it removed, please contact us.