You know it's summer when you start craving ice-cold, refreshing drinks instead of hot chocolate, or when you'd rather step out in the least possible layers than pile on one clothing item over another! Clear skies, longer days and lighter air – these are just three of the many things that we all adore about summer. Apart from nature coming to life though, we also love summer fashion. It's the best time to bare some skin and experiment with various colors, separates and of course, fabrics. So whether you're out and about to find yourself that uninhibited summer romance, going on a road trip with your friends, or simply spending each day doing something new; you ought to be at the top of your style game at all times! That's why, we've put together a list of summer outfit for men to skim through and pre-plan each look for a winning effect on the girl you're trying to impress – or the mirror!
Striking Summer Outfits For Men
Take your summertime serotonin to whole new levels with these stellar styling ideas for men! The best part? It consists of pieces that you can take with you into monsoon as well as the winter.
1) Floral Shirts With Shorts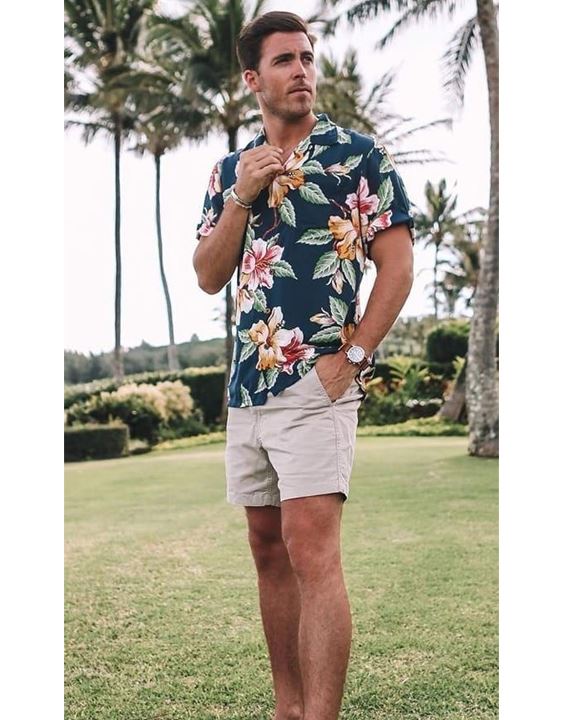 Blooming flowers is one of the best things about summer, whether they're in an open field or on your shirt! For a casual yet standout look, pair a half-sleeved floral shirt with cotton shorts for men. The flower motifs can range from micro-sized designs to oversized patterns that spread across the shirt. This look will work exceptionally well for vacays too. For the shorts, our go-to color remains beige/khaki.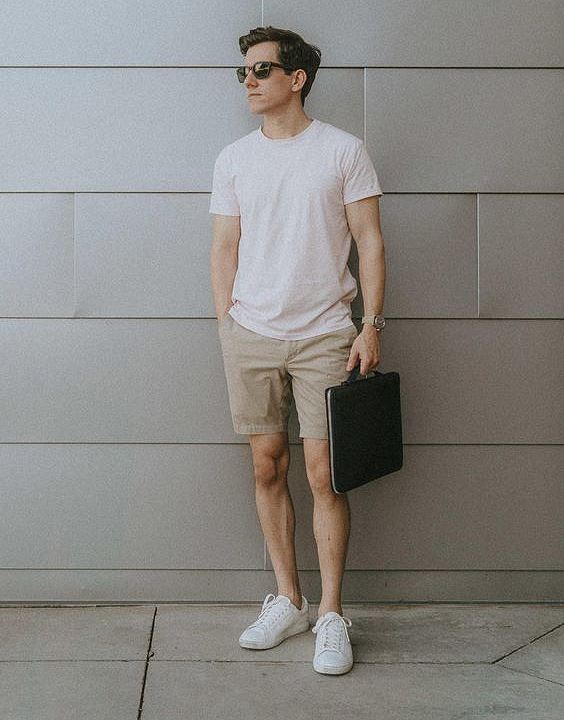 Make neutrals your best friend for the season if you're not into earthy or bright palettes. An off-white or white tee worn over a pair of light-hued shorts along with white sneakers and a black laptop bag will make for a great smart casual summer outfit for men. You can choose some of the brands like Joven to do this for meetings held in an informal setting, or simply to work out of a Starbucks while still seeming down for business!
3) Baseball Cap With Vest/ T-Shirt & Shorts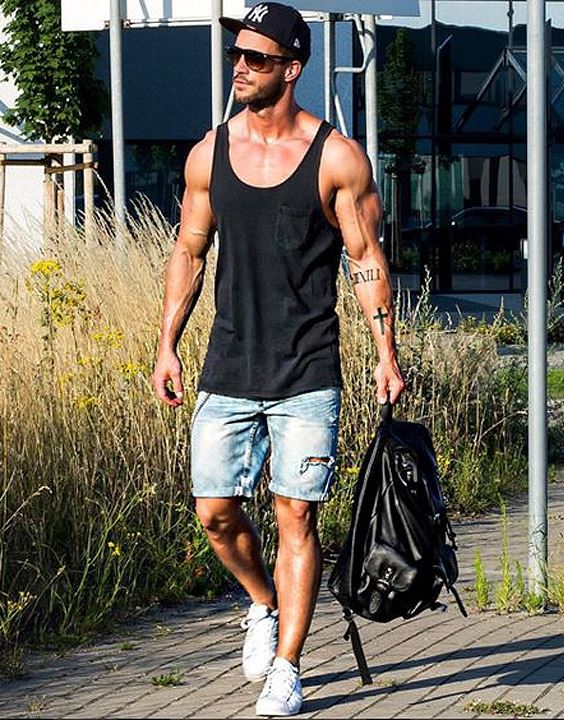 The one accessory that is always the savior no matter the season has got to be the baseball cap! Both practical and fashionable, baseball caps are super smart and go with almost every casual look. Paired with a basic tee or a vest, they're a surefire winner. Trade your chinos for shorts, since they're among the more summer-y types of shorts for men. Add sunglasses to the mix and you're done!
Spring season is not complete without the best white sneakers for men by Bewakoof. Have a look..!
4) Linen Co-Ords Best Summer Casual Outfit for Men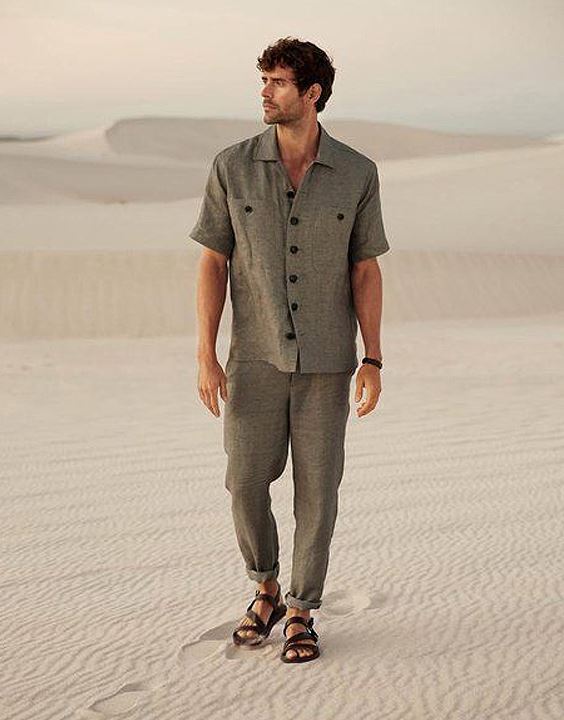 If your workplace deems it okay for you to skip the suit and switch to something else that is just as sharp for the 9-5, then linen co-ords are something you should seriously consider. Get yourself a well-tailored pair and make sure it fits you just right – not too loose, not too tight. Always go for neutral hues like brown or beige, and make sure to have some texture on them.
5) Shirt Over T-Shirt & Jeans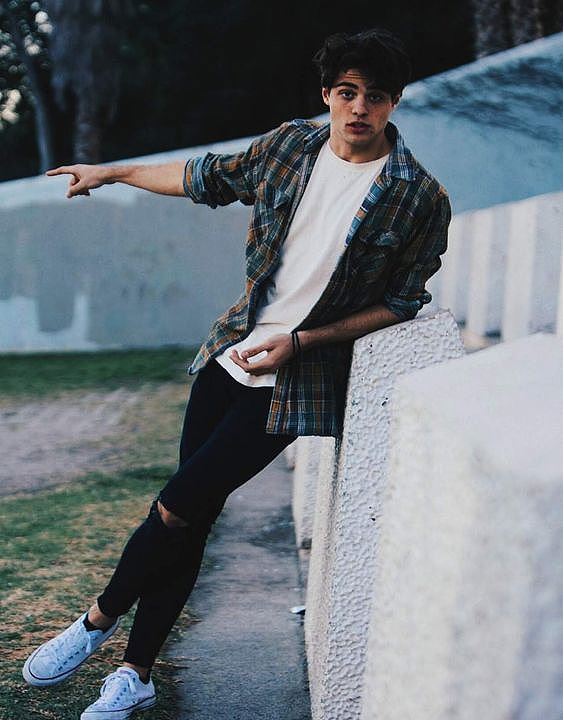 Summer layering can be aced if you do it the right way. It is most definitely not out of the picture. With a relaxed cotton shirt worn over a t-shirt in a contrasting shade, you can achieve a great summer outfit for men! Finish the look with a pair of baggy jeans and sneakers, along with a backpack to stay easy through the day.
6) Artsy Tee With Cigarette Pants & Sandals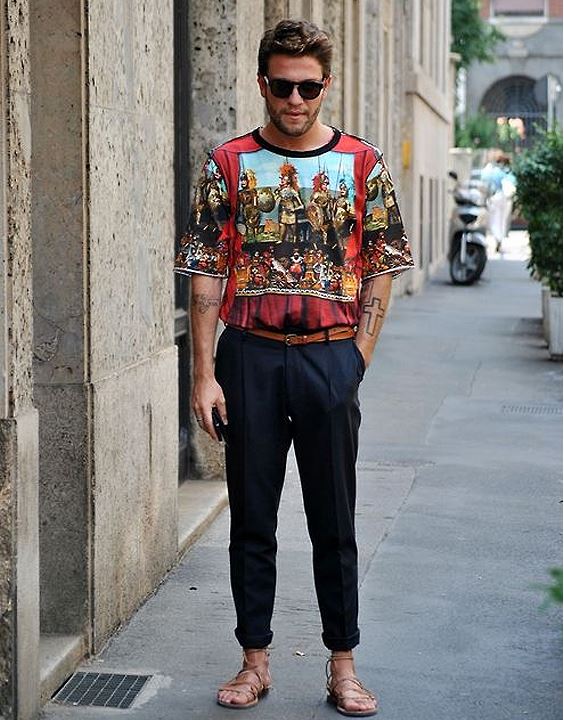 For all you experimental souls out there, here's an idea that will set eyeballs rolling the minute you walk through the door! Get your hands on an art-inspired t-shirt which you'll be able to find easy while online shopping India. Wear it with cigarette pants in a contrasting color. To finish off, slip into strappy sandals made especially for men!
7) Baggy Tee With Joggers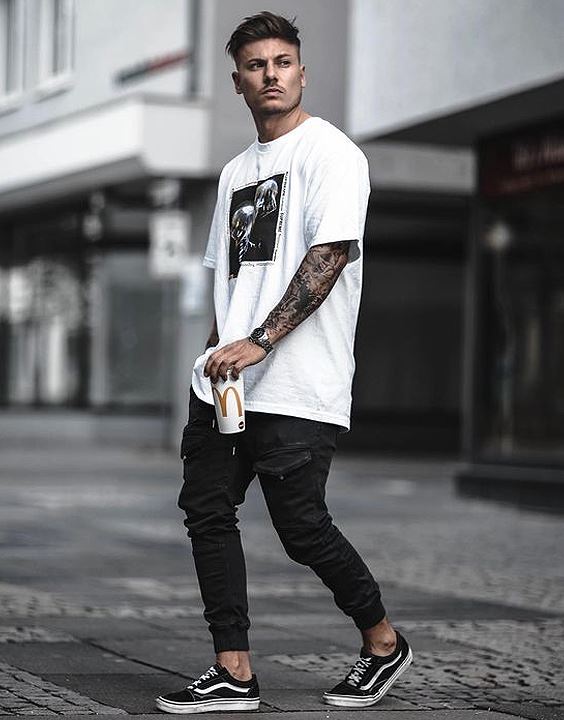 To stay max level comfortable, slip into your favorite pair of joggers and couple them up with a baggy tee that falls over your body effortlessly! This can also make for a great hip-hop inspired look if it's paired with high tops and chunky chains. Give it a shot and stay relaxed throughout the day! This summer outfit for men is fail-proof.
8) Color Blocking With Prints & Solids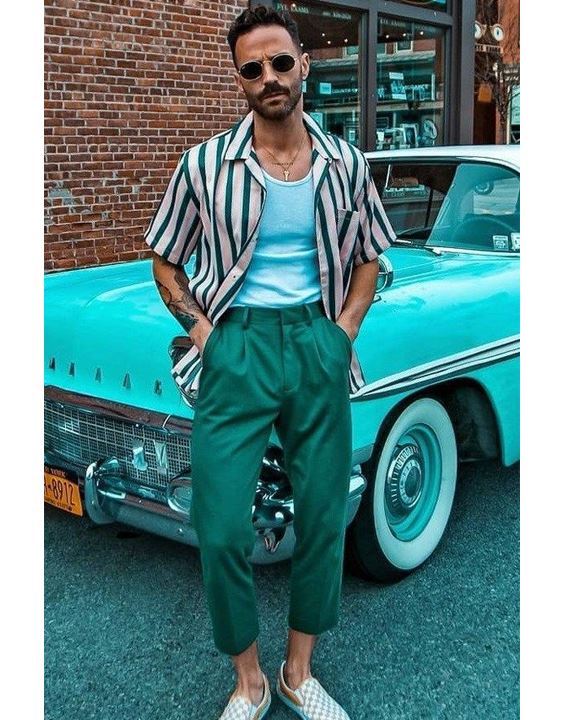 Summer's for colors! That doesn't mean you go ahead and mix up all the random ones in your closet, but we're hinting towards following a certain palette. Balance out shades of blue with a neutral addition, and give in to prints like stripes, mini-florals, etc. The best way to master summer clothing for men is to not overdo it!
9) White Shirt With Espadrilles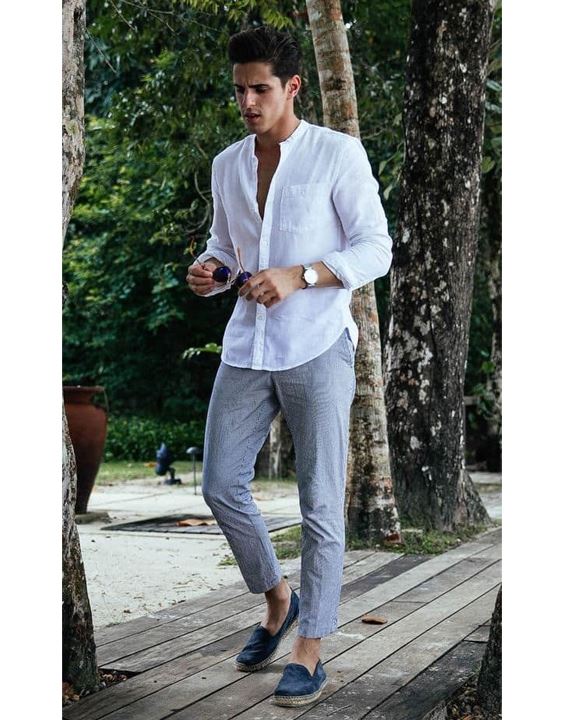 Canvas sneakers aren't the only heroes among summer footwear! One of the most underrated pairs of shoes is most definitely espadrilles. Made with cloth instead of other typical materials, they go with most of your outfits. We recommend pairing them with a relaxed white shirt and slim-fit cotton pants for a holiday or for a lunch date this season. You could leave the top button open if you wish!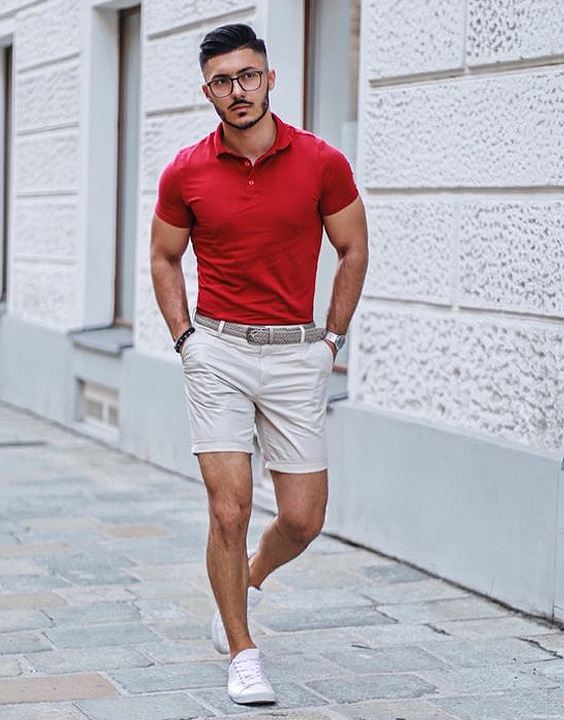 Trade your basic crew neck t-shirt for a polo tee this season! It's the one thing you need to hit 'refresh' on your summer closet. Again, pairing it with shorts will ensure all possible comfort, and they're considered to be one of the sharpest additions to one's casual wardrobe. Wear this summer outfit for men with tasseled loafers or canvas sneakers for a runway-like appeal. You can either tuck it in or keep it out.
11) Kurta With Churidaar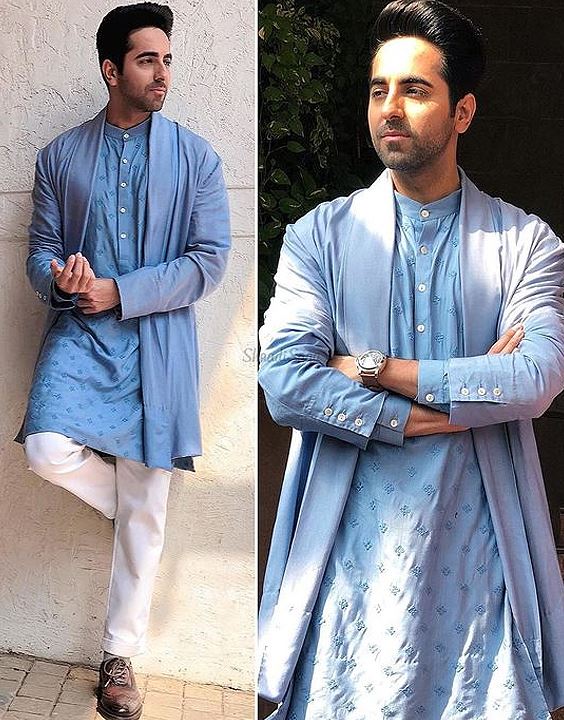 The summer wedding season doesn't just demand being dressed to the nines but also staying easy through the celebrations. We think kurtas for men would make for a great choice of outfit for warm-weather nuptials. Choose to go for pastel tones, instead of deeper hues. Cotton or other lightweight fabrics must be your go-to!
12) Graphic Shirt With Ripped Denim Shorts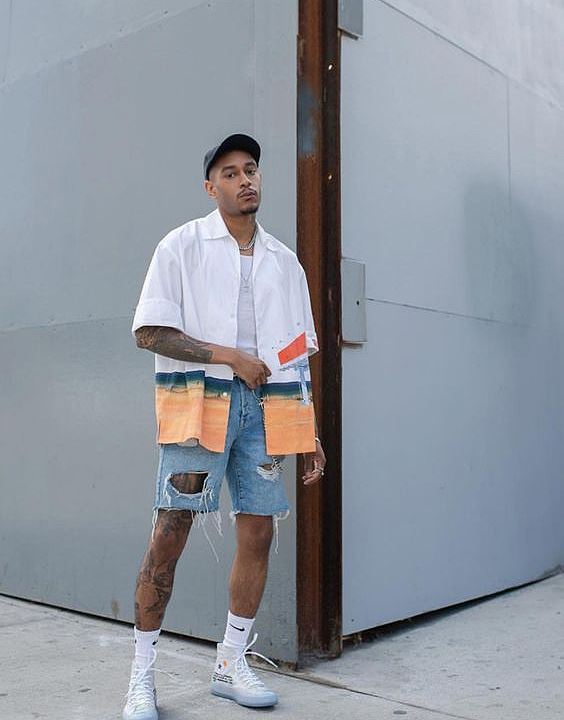 Get funky and replace distressed, full-length jeans with distressed shorts! Pair it with a graphic shirt in summer colors. If you have a chain or a cap, add them to the mix. Finish this look with a pair of white sneakers along with long socks.
13) Cargo Trousers With T-Shirt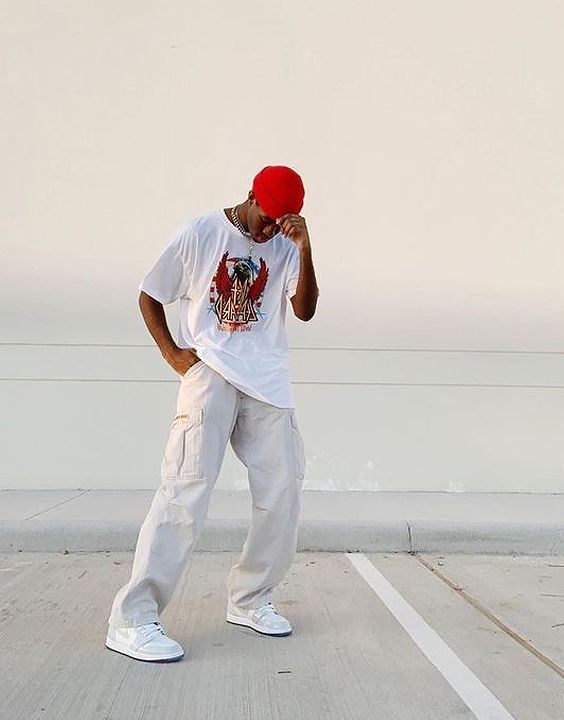 If you want to establish the perfect balance between comfort and style on your off-days, then cargo pants will aid you with it. They're super easy to pair, and just the addition of an oversized tee will make it a summer outfit for men to remember! Once again, let neutrals or pastels rescue you.
14) Neck Tie With Shirt & Chinos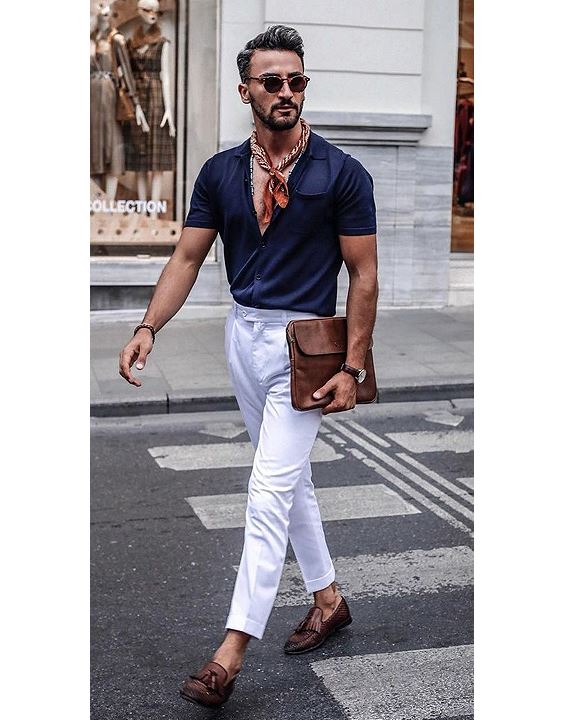 Skip the scarves and mufflers, it's time for neckties to be in the limelight. For dressier events, it's best to pair them with a luxe satin shirt you can find on a shopping app of your choice. You might already own a pair of chinos, so add them to the mix.
15) Printed Shorts With Solid Shirt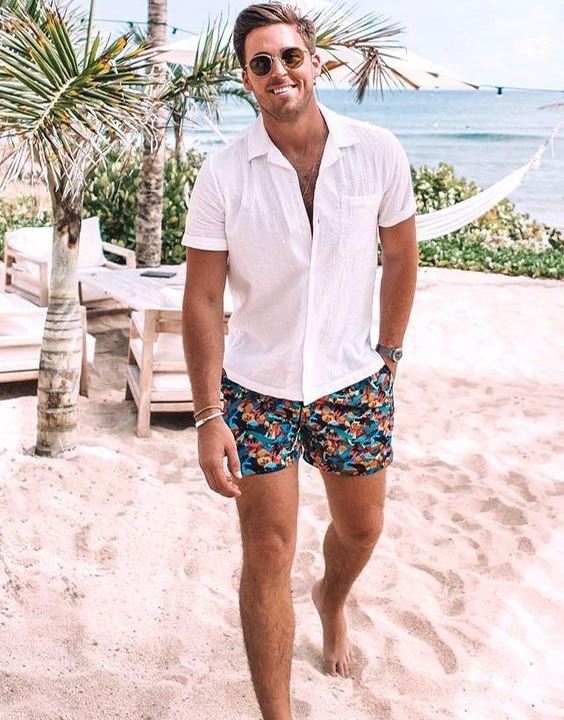 Pool party or beach party on your calendar? There's no better way to dress for it than in a cotton shirt and a pair of printed shorts! They can either be in perfect contrast, or you could keep things monotoned.
Dos & Don'ts Of Summer Fashion For Men
There are some rules that are meant to be broken – and some meant to be followed. While there is no bar on how you choose to style your outfits for the season, it's important to establish a few ground rules before you go ahead and put two and two together.
Experts and experiences suggest staying away from certain fabrics and fit to make summer outfit for men not just bearable, but also pleasant. There are also colors that you'd be better off without, like darker hues, especially black, but we're sure you already knew that! Now, let's take a quick look at the other dos and don'ts.
Do: Wear easy-breezy styles.
Summer is all about adventure, but while you're embarking on one, you'd definitely want to stay easy and not have your chosen garment stick to your skin, damp with your own sweat. This is why it's extremely important to let anything that is a slim or a skinny fit take a backseat, and effortless pieces like oversized shirts for men and loose-fitting pants lead the way. Besides, this also ensures the pesky odor is always at bay.
Don't: Forget the deodorant!
Have a signature scent of your own? Well, we do too! But come summer, we'd rather switch to deodorant than spritz expensive perfume on our body. The sole reason for this is that perfume, no matter how amazing it is, only makes you smell good for a little while and does nothing to stop your sweat glands from over-producing.
On the other hand, a good deo takes care of the stench all day, and if you live in a humid area, then you know how important this is in the summer!
Do: Choose both practical and stylish pieces.
Strike the right balance between function and fashion by choosing well! Hats, caps, sunglasses, lighter stoles, all make up for great accessory options when it comes to summer outfit for men. It's best to save the heavy accessorizing for winter days, as they will definitely hinder your comfort levels, leaving you with general discomfort all day while you're out and about.
Don't: Wear synthetics.
There's a reason why cotton is king when it comes to the summer season; it's organically made and doesn't trap moisture. Polyester and similar synthetic fabrics are a big no-no for warm weather. They're bad for your skin, and they're bad for the summer sweat too. Invest in organic or cooling types of fabrics for summer like cotton, linen, etc. and watch how you spend the season in a breeze.
Do: Apply sunscreen even when you're indoors!
You might think that just because you haven't stepped out, or because you're wearing long sleeve t-shirts for men, the sun's got nothing on you – but this is where we're all mistaken. Choosing the right fabrics and fit is only a small part of summer dos and don'ts; the maximum credit goes to a good sunscreen that is vital no matter what your outfit comprises.
Put a generous amount of it even when you're staying in! After all, it's just as important to care about your skin as you would about your body – and social media feed! Treat sunscreen as a part of your summer outfit for men, and not as a separate entity. This way, you'll never forget to apply it!
Don't: Be careless about your footwear!
Step into those canvas shoes or other cloth-based footwear, wearing patent leather or suede will do you no good and invite feet odour! Shoes like loafers are fine since they're usually lighter than dress shoes. Also, make sure your socks have good breathability. Don't compromise on quality to save a few bucks. Avoid football socks at all costs unless you're going out to play with the squad.
Someone on the internet once said, "Go outside and get some sunshine!" We don't have to obey everything netizens tell us to do – but this seems like great advice, of course, with your masks on! Flaunt a distinguishable summer outfit for men and take to the street – away from a crowd and while adhering to safety measures. We hope you have a happy summer!
Image credits: The copyrights of the images used in this post belong to their respective owners. The credits where known are specified under the image - if you're the owner of an image and want it removed, please contact us.