Summer is in the air! The advent of brighter days and hotter temperatures call for a stock-up on summer essentials and breezy summer outfits for women. Spring-Summer styles are essentially light, flirty, fluid, breathable and ultra-comfy. Taking a cue from the coolest summer fashions in 2021, you can curate a stunning wardrobe with several trends that work interchangeably and give you versatile options all season long.
To begin with, let's take a look at some of this summer season's most relevant and popular trends:
Retro: A revival of noteworthy and classic silhouettes, prints and colors is on the cards!
Whites: Clean, sleek and minimal whites are all set to take center stage this season.
Denim: Get ready for a denim daze that will help you curate the best casual summer outfit for women!
Swimwear: Thanks to the rise in staycations post-pandemic, expect summer styles to be ruled by swim-wear elements.
Graphic Prints: Prints are no longer shy and conventional. They take on a new and eye-catching avatar this season.
Oversize: What better way to stay breezy during the hottest months of summer than a stylish oversized summer outfit for women?
Colour Blocking: Colour blocking within a family of monochromatic shades is a stunning and stand-out look this summer.
Now that we have a grasp on the trends of summer fashion for women, let's dive into 20 stunning outfit ideas that will help you put together a wardrobe that's bound to be everyone's summer envy.
20 Awesome Summer Outfit For Women
1) The Graphic Shirt Phase: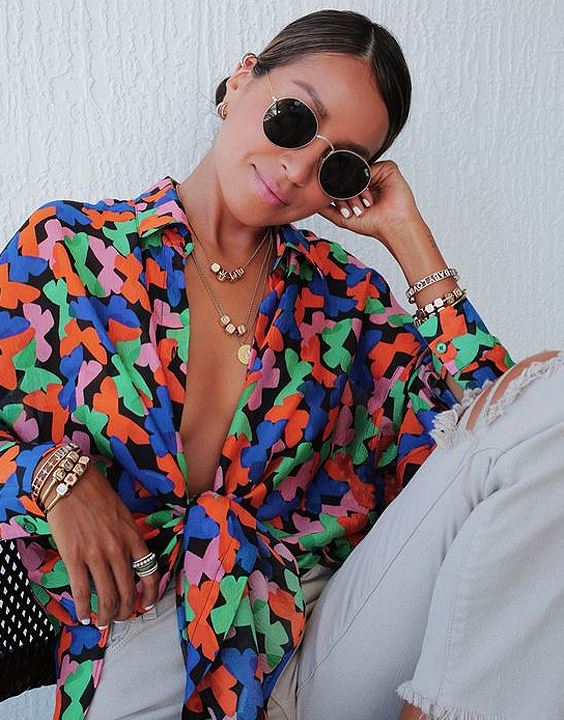 A graphic printed shirt is the perfect separate to flaunt a bold and vibrant summer style. You can go for a shirt that speaks volumes with its pattern with either the colors or the motifs to make an impact. Style this with simple but statement jewellery that has loads of personality and a pair of chic and classic sunglasses.
2) The Oversized Nostalgia: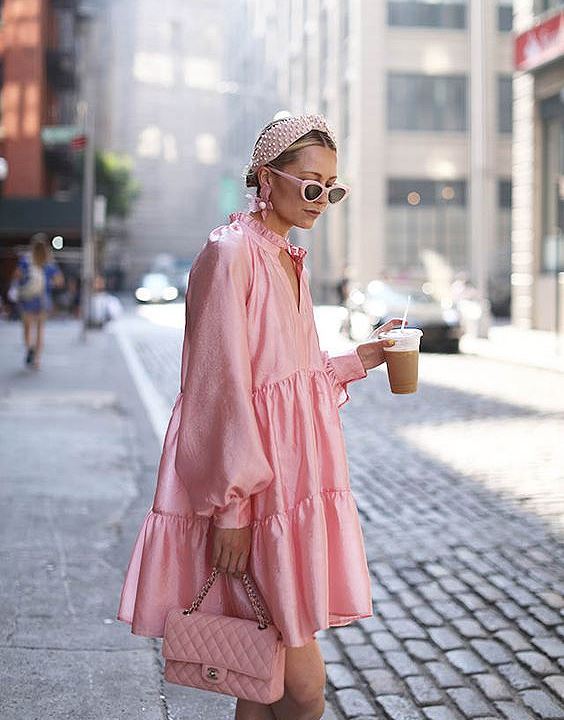 Very few garments spell summer style like the flowy, short and stylish oversized dress. A summer outfit for women that is easy to slip on and wear when you're on-the-go, this is one of the easiest looks to incorporate retro and vintage accessories into. Just add a classic vintage handbag, a headscarf and a pair of tortoiseshell or white framed eyewear and you are good to go!
3) The Cropped Coordinates: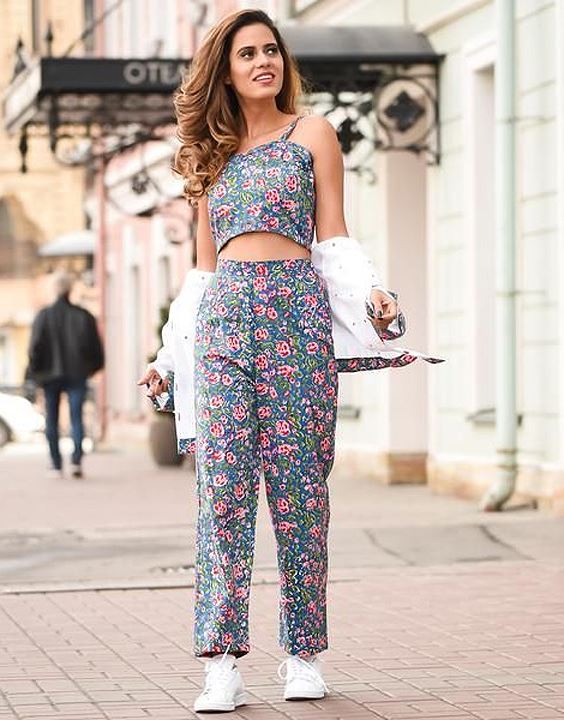 Want to flaunt a chic outfit that is on-par with the latest trends? Just don a stylish coordinate set that features vintage style crop tops for women and high-waisted trousers. You can go minimal with this look by foregoing any accessories or add straw or wicker-based accessories to give yourself a summer resort look that oozes with panache. Opt for fresh and natural make-up and a messy bun to take this summer outfit for women to the next level!
4) The Paperbag Palazzo: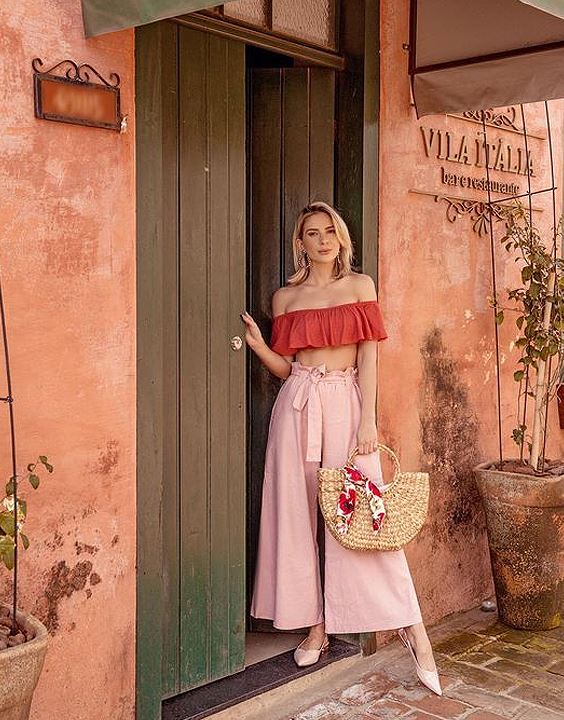 Paper-bag waisted palazzos are not only stunning and diaphanous, but they are also ideal for inclusive sizing thanks to their high waist and fluid structure. Great with a summery crop top, bikini top or even an off-shoulder number, an airy, high-waisted palazzo pant is just what you need to rock the summer in easy and breezy style. Style these up with a chic neck-tie, a stylish hard-shell handbag and a pair of pumps.
5) The Vintage Pin-Up Look: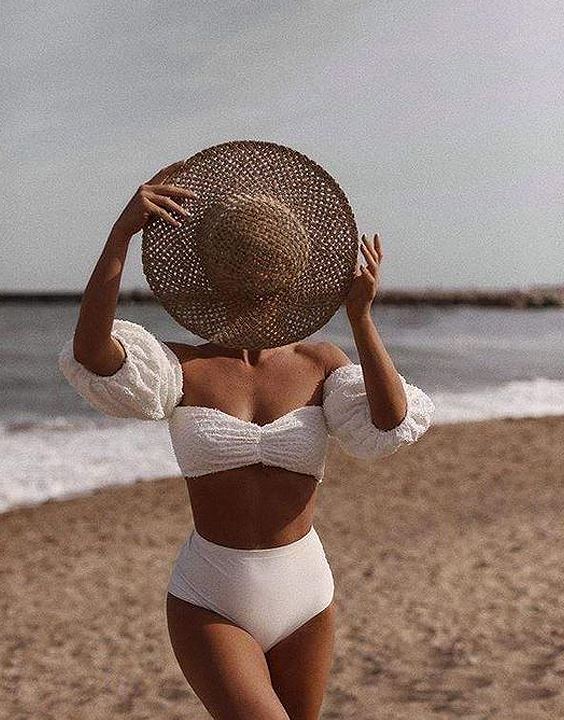 Nothing spells summer like swimwear! Riding on the nostalgic vintage trend, opt for a Marilyn Monroe-esque swim set, with a high-waisted bottom and a stylish ruched, textured or embellished top. Worn with a straw hat and a pair of retro style tortoiseshell sunglasses, this is a summer outfit for women that is sure to charm and dazzle at the beach or a relaxing staycation.
6) The OTT Accessorise: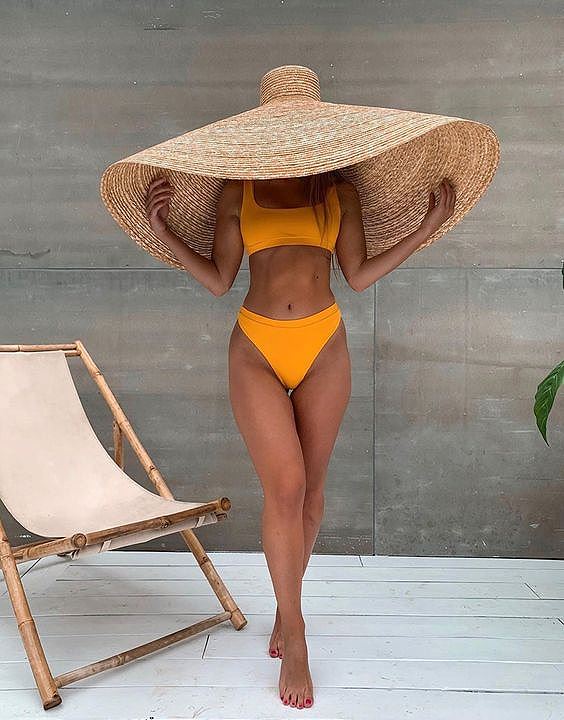 Make a summer statement in stylish oversized accessories like an oversized hat or an oversized clutch. You can wear these with swimsuits or a floral dress for women to exude a sultry panache. Express your style in ultimate OTT style and get ready for truly summery Instagrammable moments. To kick your style quotient up a notch, wear bright and vivacious clothing with neutral, or beige oversized accessories for a chic and balanced look.
7) The Head-To-Toe Stripes: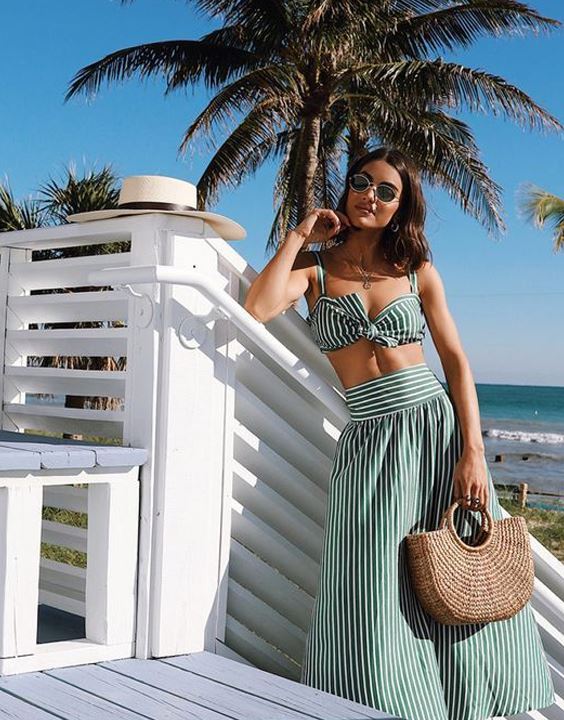 A summer outfit for women that is as classic as it is gorgeous, a head-to-toe coordinated outfit in a stripes print is just what you need for a chic and nostalgic vibe. Perfect for resort-wear, you can opt for an a-line skirt or a palazzo with a top in a matching striped fabric and accessorize this look with a pair of chic wayfarer sunnies and a basket handbag.
8) The Maximalist Print Feel: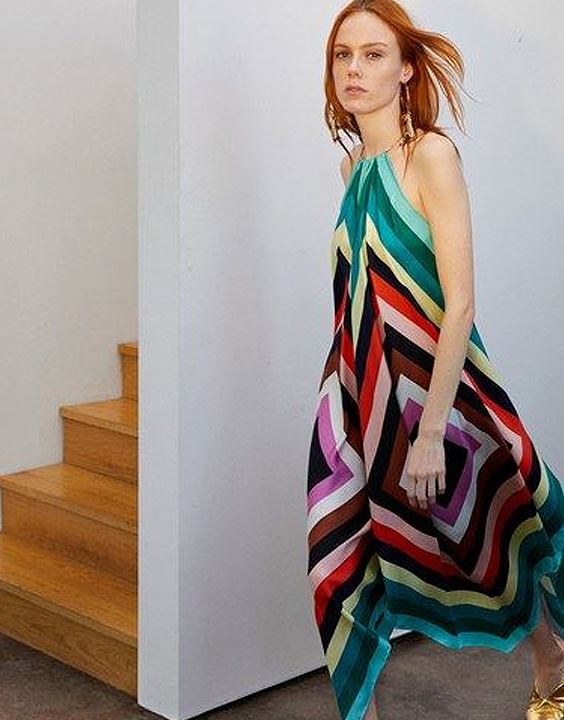 Emulate striking looks from the runway, of designers like Diane Von Furstenberg, Anna Sui or Donatella Versace by opting for a chic maxi dress in an OTT, maximalist print. The key to looking chic and well put-together is to go for dresses for women that feature a minimalist silhouette, but a flamboyant, larger-than-life print.
Balancing these two elements of your style will ensure that your summer outfit for women looks stunning as ever! Go minimal with the rest of your appearance and styling as well, with simple hair & makeup, along with clean and minimalistic accessories.
9) The Button-Down Skirt: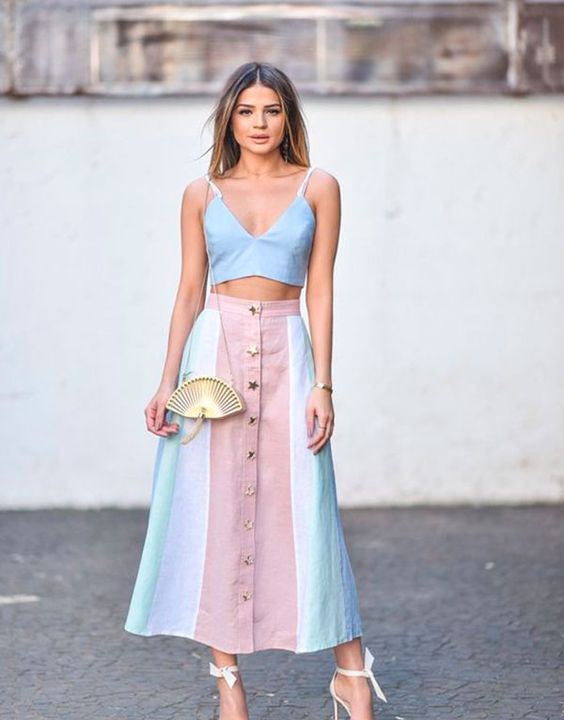 A button-down skirt is usually a calf-length A-line skirt that features buttons down the frontside for closure, like a typical shirt. A popular style in the 60s, this chic silhouette is having a major revival at the moment. Pair your button-down skirt with a crop-top or spaghetti cami top for a casual summer look that is sure to impress. Style this up with strappy heels, boots if the climate where you live allows it and a sling or messenger bag for maximum appeal.
10) The 90s Mini-Skirt: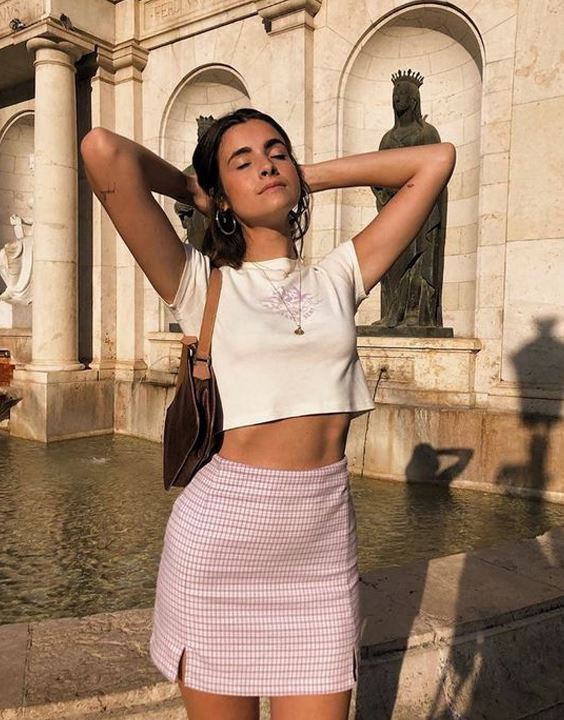 The 90s mini-skirt is an icon when it comes to summer wear for women even today! Chic, stylish and the hottest look in town, the mini-skirt is just what's needed to beat the heat and stay fresh all summer long. This is also a versatile summer outfit for women – you can pair your mini skirt up with a t-shirt tucked in, a crop tee, a blouse, or a shirt, depending on the occasion you are dressing for!
11) The Short & Chic Style: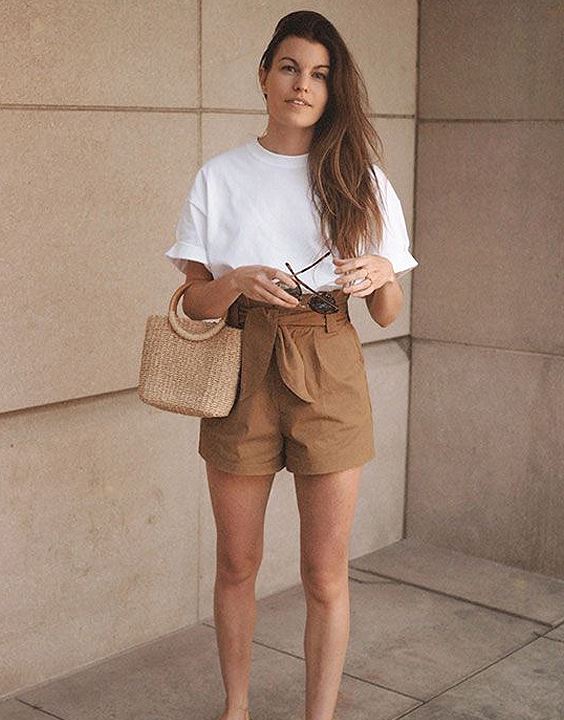 Is there any separate as perfect for this season as summer shorts for women? Chic and airy, the addition of a versatile pair of shorts to your closet can add the right amount of summer aesthetic and go with several other separates from your collection such as t-shirts, blouses, flats and sneakers.
If you're wondering how to style sneakers in summer for an uber-stylish casual vibe, shorts are your best bet! Get a pair in tan, black or denim to give your wardrobe maximum mix-and-match bandwidth!
12) The Ripped Denim Effect: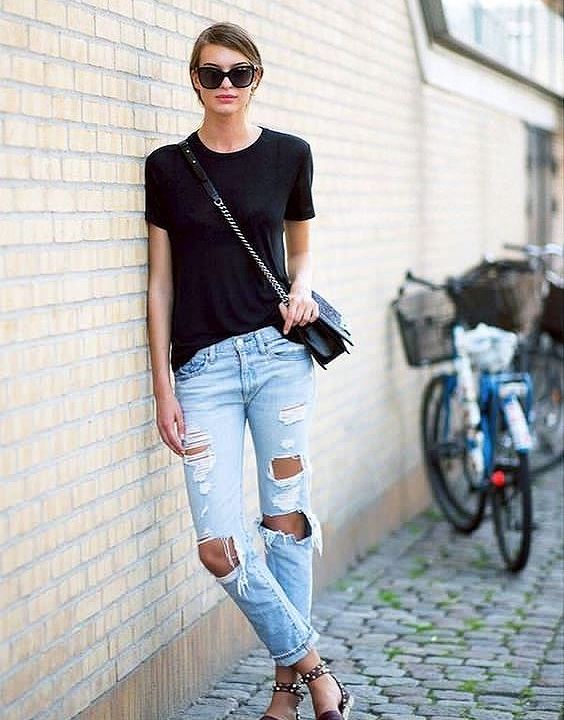 If you are looking for an edgy, goth-chic look for the hottest months of the year, look no further! Ripped denim pants are stylish, nonchalant and filled to the brim with a too-cool-for-school vibe. Styling these into an easy summer outfit for women is super easy, as they go well with most casual tops and tees for women.
Wondering how to get a pair without breaking the bank? Log on to your YT and figure out how to DIY one of your older jeans for women into an artfully ripped pair! No time? Just log onto any fashion app and find yourself a plethora of pre-ripped options.
Pair your denim with quirky prints t-shirts, check out our customized T-shirt collection by clicking the below image and get your own customized T-shirt today!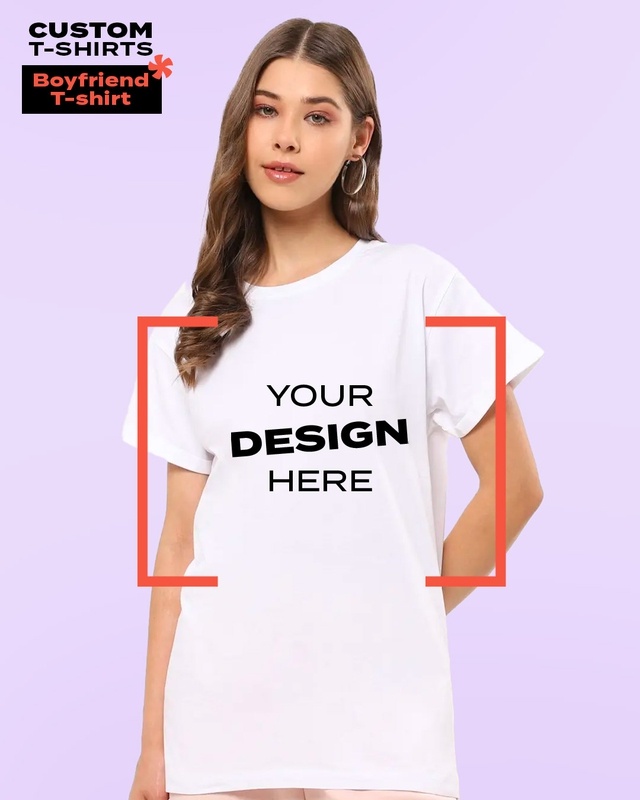 13) The Cropped Culotte: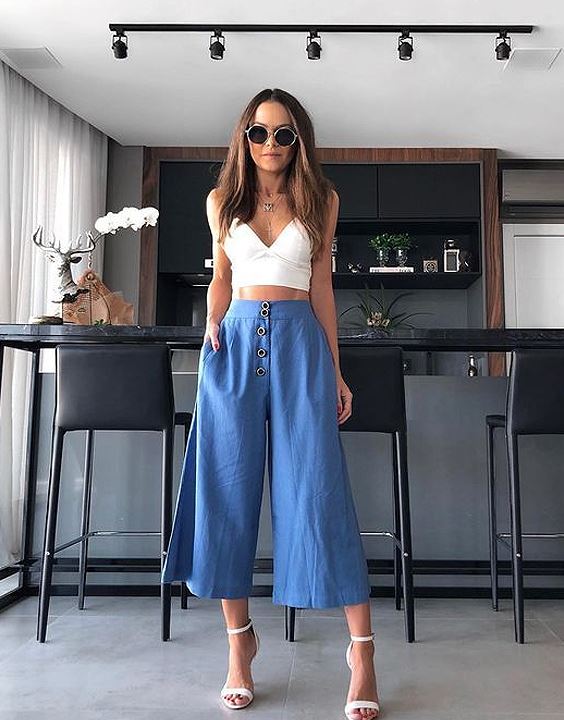 Want smart-casual summer clothing for women without constantly resorting to a dress? The culotte pants are the best option for you! Go for one with a wide flare and high waist for a chic, put-together look! All you have to do is pop on a tube or spaghetti top, a choker necklace, a pair of strappy sandals and sunglasses for a summer outfit for women that is on-point with the aesthetic.
14) The Lace Maxi: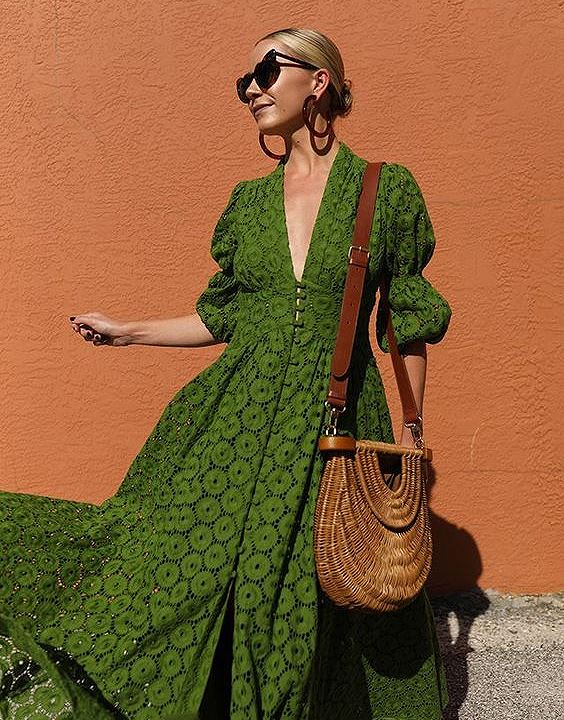 Looking for glam yet casual summer dresses this season? Go for a flared and breezy silhouette and bold color to exude vibrancy and sun-kissed beauty. If you are a fan of floral summer dresses, you can opt for a lace pattern with a floral motif to give this style a new spin. Pair these with a chic bun and messenger bag to look like you've just walked out of a magazine cover with the least effort!
15) The Denim-Clad Bikini: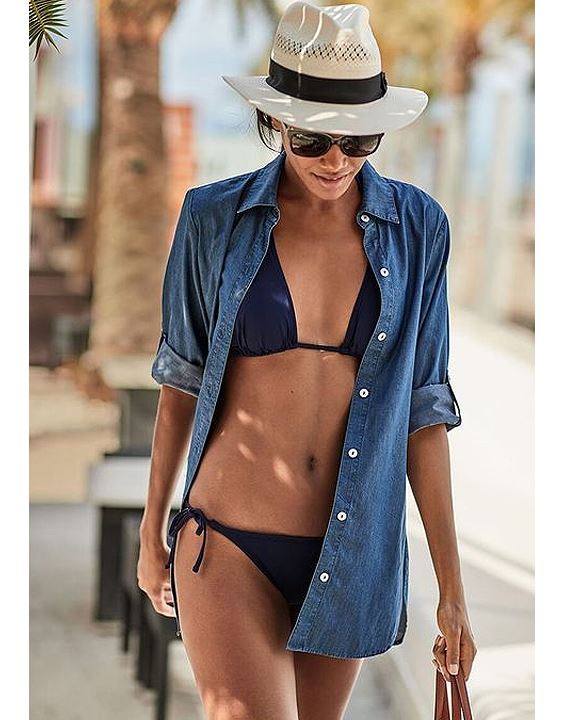 A way to spruce up your swimwear and take it up a notch with suave styling is to pair your simple solid colored bikini with a long and crisp denim shirt. Add a leather tote and a fedora to this dapper summer outfit for women to complete the smart-casual resort wear aesthetic. One of the best types of fabrics for summer, a light cotton denim works as the perfect cover-up for a staycation that involves WFH. Just button up your shirt to get zoom ready by the poolside!
16) The Little White Dress: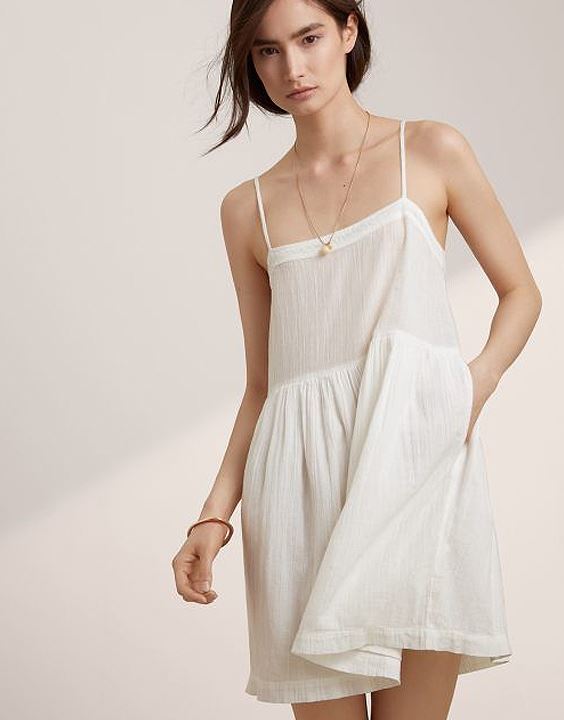 Dresses for women worn during summer are best in white, due to the color's heat expelling properties. So instead of a cocktail LBD, go for a chic and casual LWD – the little white dress! You can also put a desi spin to this stylish look by opting for white kurtis for women belted up and worn as a dress for an indie-chic look.
A few minimal accessories like a locket chain or a charm bracelet add just the right amount of bling to this fashion-forward and trendy summer outfit for women.
17) The Denim Jumpsuit: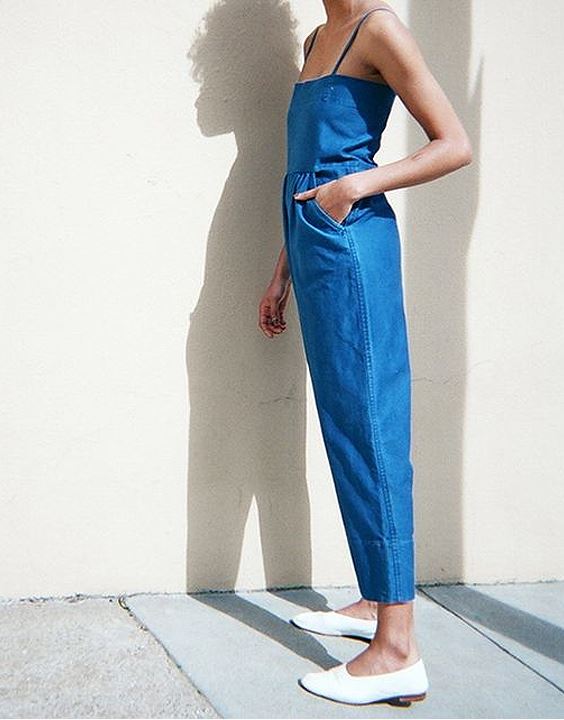 Bored of simple denim pants and want to incorporate denim fabric into your wardrobe in a more interesting way? Wear a denim jumper! This stylish look can work for summer if the denim used is light and cotton-based. The silhouette can be an anti-fit or a straight fit that allows for breathability and a chic minimalist look. Pair this up with white ballet flats and a coin-crossbody to exude an elegantly millennial appeal.
18) The Retro Prints Look: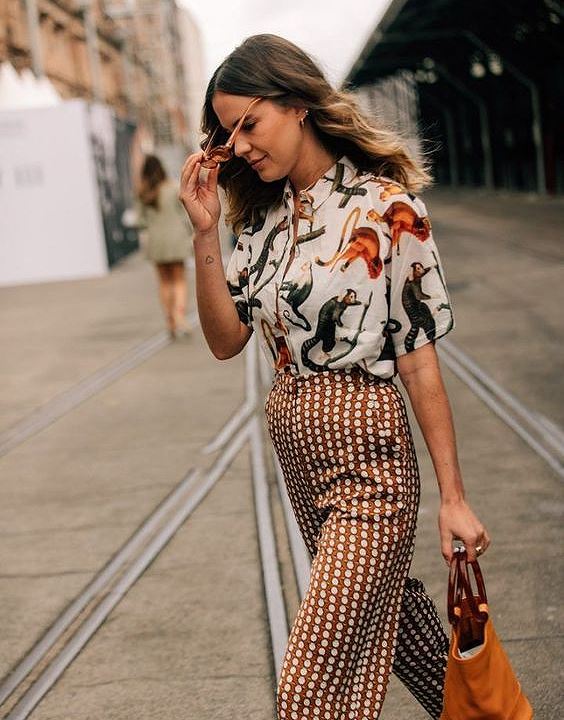 Take a cue from Elsa Schiaparelli's stunning vintage runway shows and put together a high-editorial look together for summer mixing up retro prints! Go for polkas, florals, script prints and mix and match them on the basis of color. A colorful tote or handbag and a fresh tint to your sunglasses are sure to add the retro vibe on high for this eye-catching summer outfit for women.
19) The Oversized Tee: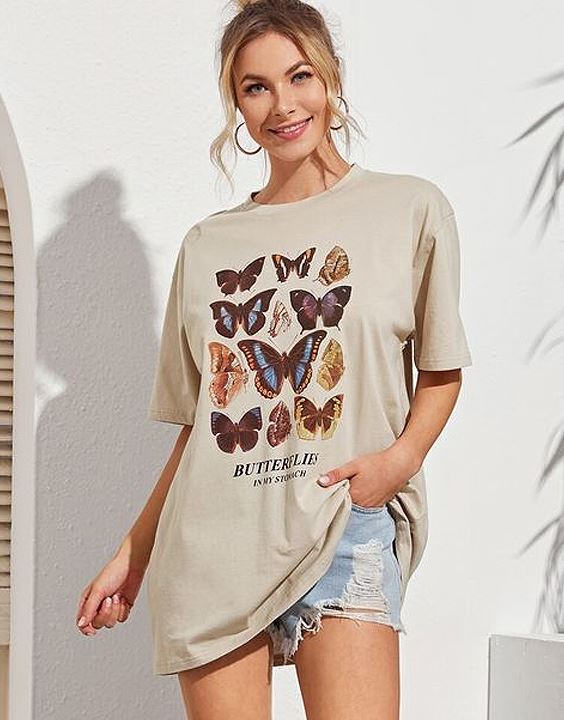 Go trendy with your t-shirt style this summer! Log on to websites that offer the best online shopping in India and size up majorly when you add t-shirts for women to the cart. Going oversized with your t-shirts is not only super comfy but also on-point with the fashion trends this summer! Pair your oversize tee with leggings, shorts or wear it as is like a dress – the choice is yours.
20) The Stylish Shift: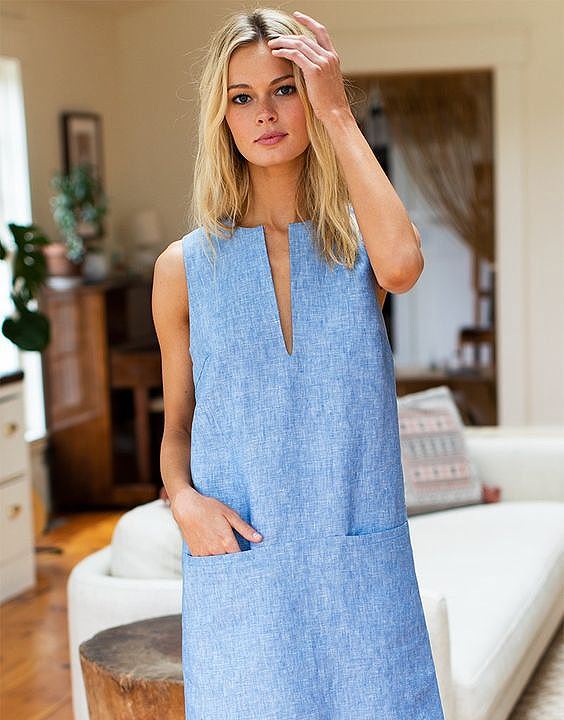 A simple and comfy remedy for summer is a simple, straight shift dress. Ideal for versatile occasions and crisp in structure, this easy slip-on in cotton or linen is all you need whether you are working from home, on a staycation at a remote destination, or going for important meetings. Size-friendly and breezy, we cannot think of a better summer outfit for women – this one's a wardrobe must-have! Pssst – get one with pockets. Dresses with pockets are so much fun!
Whew! As the temperature goes higher, so does your style quotient – and with just a few of these summer outfits for women in your wardrobe, you are sure to take on the season with ultimate style and panache. Sync up the heatwave with the fashion wave & get to curating your perfect summer closet now!
Image credits: The copyrights of the images used in this post belong to their respective owners. The credits where known are specified under the image - if you're the owner of an image and want it removed, please contact us.