Been admiring bollywood actresses in salwar kameez all along? Here we have put together all the famous fashion icons for you. Go ahead and read the bollywood salwar kameez guide to one up your salwar kameez game!
It's time to take a break from the denims, skirts, t-shirts and shorts, as the ethnic route beckons. The festive season will soon be upon us, so get ready to bring out the bold colours, gorgeous locally inspired prints, traditional and modern Indian embroideries, and quirky accessories. Indian women have long considered the traditional salwar kameez as a piece of comfort clothing. So, what is salwar kameez? Originally a traditional dress from the region of Punjab, the salwar kameez is a two-piece outfit with a long or short top and pleated, slightly flared bottoms. It is usually accompanied by a dupatta or a long patterned or printed scarf. The basic style is such that it gives you a curvy, full look, allows easy movement because of breathable designs and fabrics, and can be worn with or without a dupatta depending on the occasion. Every region has a different interpretation of the salwar kameez, leading to the availability of a plethora of different styles to choose from.
Bollywood actresses in salwar kameez – Find your match!
Bollywood has grown to become the one-stop shop for inspiration for different styles of salwar kameez. Bollywood actresses in salwar kameez are popularly seen not only in films, but also at movie promotions, meetings and events. Whether it's for a casual, semi-formal or the formal salwar suit, you can find your match from these leading ladies who have always been one step ahead of the crowd.
Shraddha Kapoor in salwar kameez – elegance on point!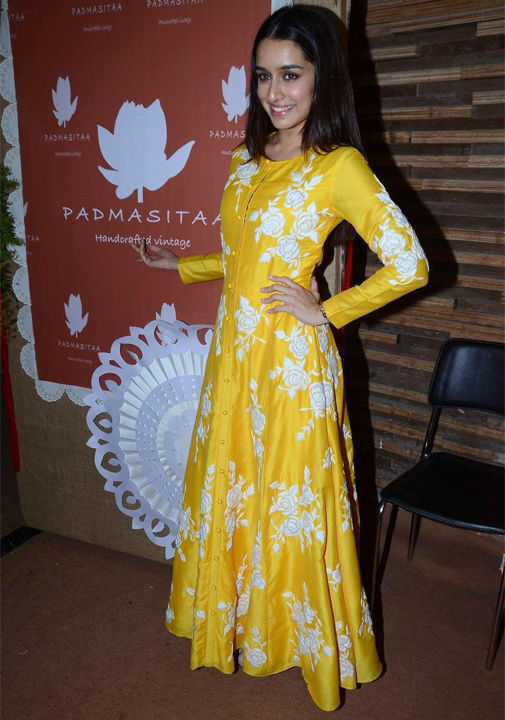 Petite and elegant, Shraddha Kapoor is known to work the full-length salwar kameez suit unlike any other woman in Bollywood. Think about Shraddha Kapoor salwar kameez and you have beautiful A-line or flared kurtas, bodices in rich prints, graceful embroidered necklines and borders of the most varied colours and patterns. Go ahead and take your pick!
Alia Bhatt in yellow salwar kameez – keeping it simple!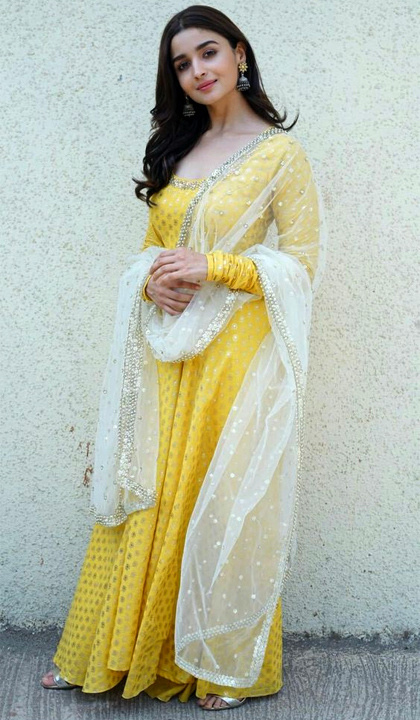 Her debut in Student of the Year was applauded by critics around the country, with her powerful performance gaining as much mileage as her stylish outfits. Primarily seen in a number of beautiful dresses, Alia Bhatt in yellow salwar kameez in student of the year broke out of the mould with the perky Indian outfit, pairing a bright yellow kameez with a peach salwar. The length of the kameez works nicely as a salwar kameez style for short height. Her accessories are kept minimal, to let the cheerful colour do all the talking.
Urvashi Rautela in salwar kameez- a style statement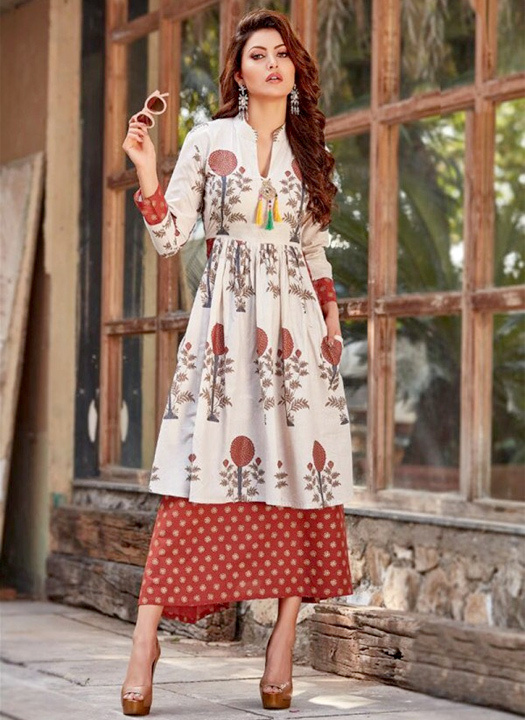 Fashion trends have never been actress and model Urvashi Rautela's inspiration, but she isn't one to disregard the changing style scenario either. Urvashi Rautela in salwar kameez is the mark of femininity – ruffles, hues like pink, gold and peach and a volley of prints and patterns. Her striking ethnic choices make a strong statement while pushing the style standards a little higher.
Sonakshi Sinha in salwar kameez – sassy, like always.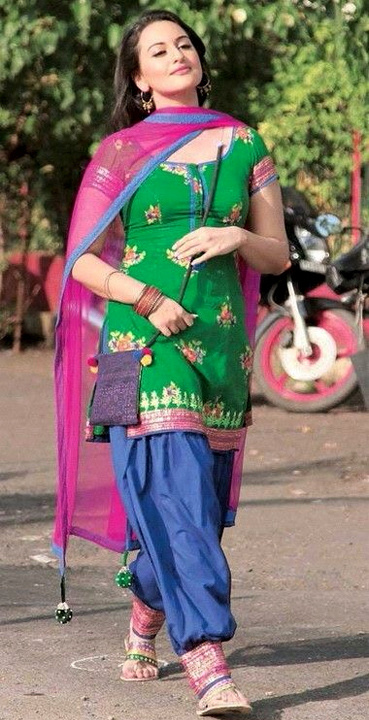 Her fashionable attires have been as much a topic of discussion as her body confidence and her sassy appeal. Irrespective of the style, Sonakshi Sinha in salwar kameez is the perfect example of making your fashion choices for nobody but yourself. She's outgoing, straightforward and unflinching with her words, and that reflects well in her choice of outfits as well. Her curves are perfect for those form fitting salwar suits that only accentuate her best features.
Yami Gautam in salwar kameez- the girl-next-door.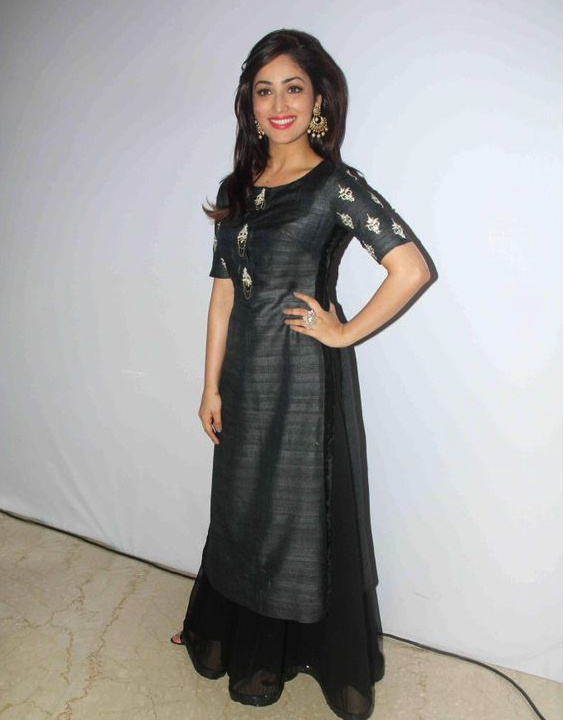 Yami Gautam is the girl-next-door. A slender frame, a charming smile and quiet confidence both in front of the camera and on the ramp has put her at the top of her style game. Catch a glimpse of Yami Gautam in salwar kameez and you'll know that she isn't afraid to experiment with her ethnic looks. Take her advice – go for street style rather than high-end designer to give your look a distinctive edge.
Jennifer Winget in salwar kameez – prim and proper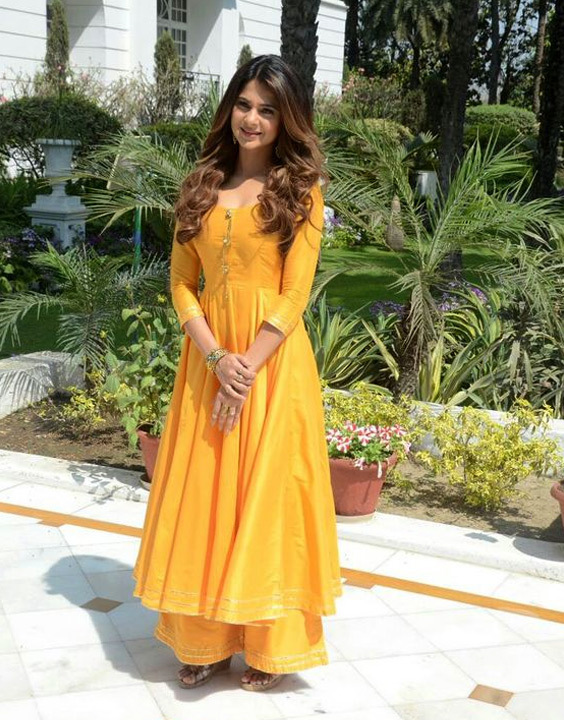 There may be certain styles that don't work for you or days when you're just not feeling confident enough to pull off that risqué look. It's times like these that fashionistas like Jennifer Winget rely on soft, feminine hues and clean cuts to keep the look prim and proper. Jennifer Winget in white salwar kameez and the natural way in which she carries this stark look is one of our favorite ethnic picks of the season.
Neha Dhupia in green salwar kameez- ever vibrant.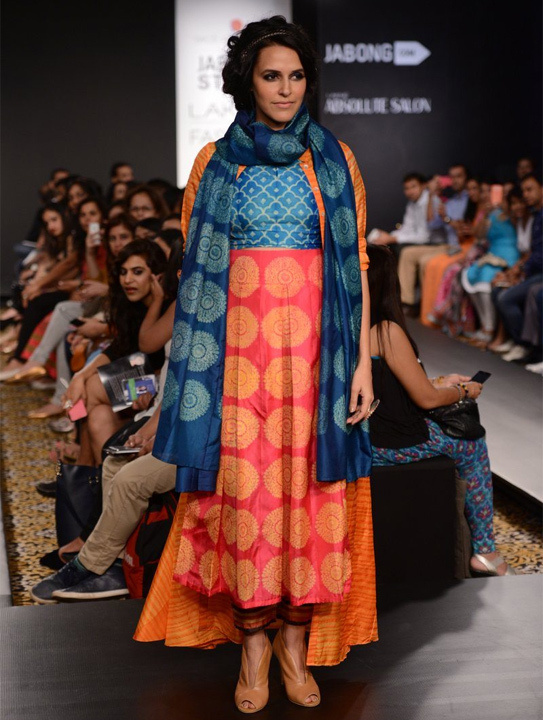 Neha Dhupia's run in Bollywood, ever since she bagged the Miss India crown over 15 years ago, has been long and satisfyingly successful. You're most likely to find her in easy ethnic wear with billowy or straight silhouettes, but you're unlikely to find her out of her fashion element. Neha Dhupia in green salwar kameez is the perfect lesson on how to use your quirkiness to your advantage.
Jacqueline Fernandez in salwar kameez – high-spirited inside out.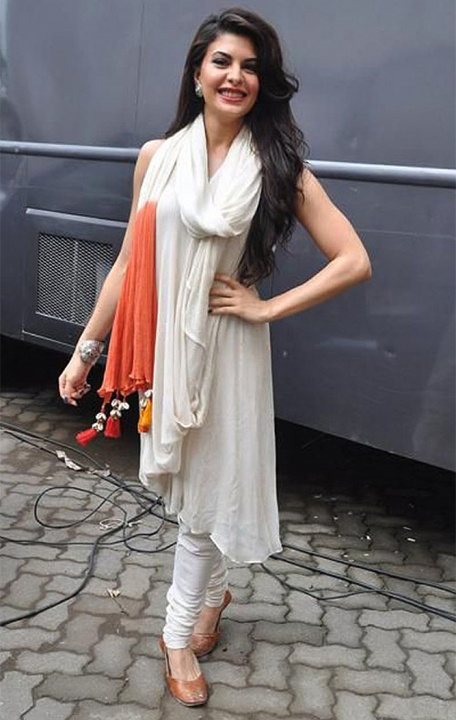 She turns heads wherever she goes, not only because of her style, but her effervescent personality. There is no doubt that Jacqueline Fernandez is one of the most fashionable women in Bollywood – think fitted silhouettes, cinched waists, flattering necklines and flowy cuts. If you asked us to name our favorites from the leading Bollywood actresses in salwar kameez, then Jacqueline Fernandez in salwar kameez would most definitely feature on that list.
Nargis Fakhri in salwar kameez -dynamic as ever.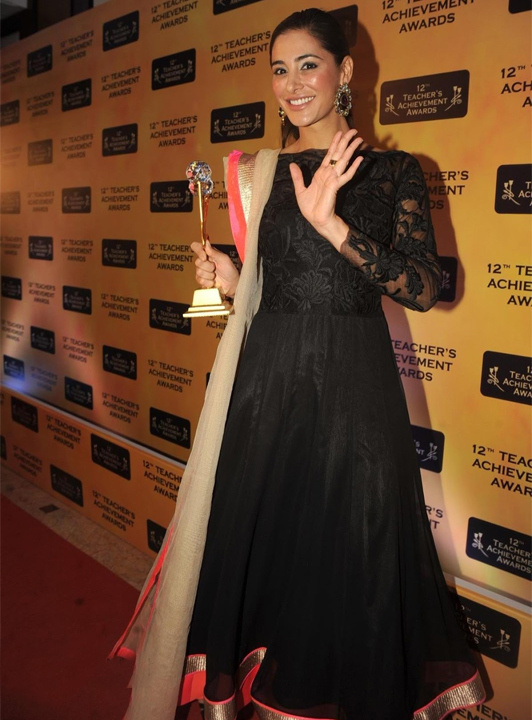 She found her feet in Bollywood with Rockstar, but her innate fashion sense has seen her through a successful modeling career back in the US. She has the uncanny ability to take something simple and unadorned, and make it look edgy and contemporary, simply by putting it on! You can get some serious style inspiration from Nargis Fakhri in salwar kameez – all you need is a streamlined silhouette, some bright colours and a devil-may-care attitude to pack it all in.
Kangana Ranaut in salwar kameez- be bold!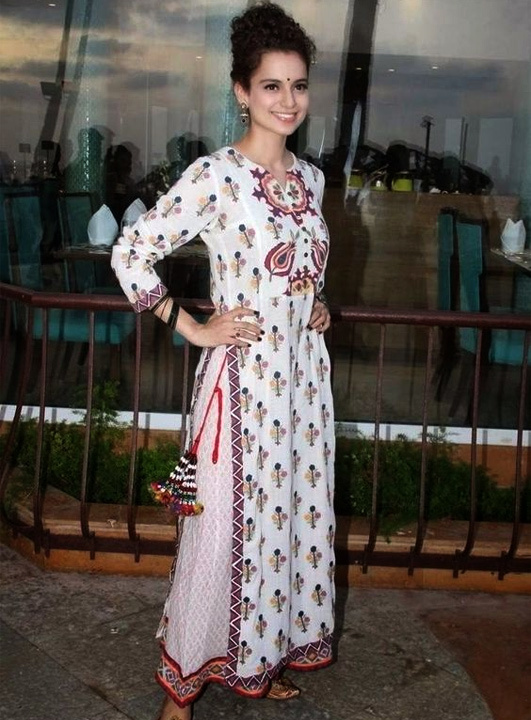 Her style evolution has been the talk of the town not only amongst her loyal fan following, but also in India's fashion circles. Just like her roles, she carries her clothes with élan, adding her own little twist to what is sometimes just a regular outfit. One of these looks is Kangana Ranaut in salwar kameez in Tanu weds Manu. She plays a woman who breaks societal norms, and her costumes do justice to her fiery character. Her contemporary Indian outfits are bold and punchy with their colours, accompanied unapologetically with heavy accessories and make-up. Draw inspiration from her look by mixing complementary patterns and colours that suit your own personality.
Kajal Agarwal in Salwar Kameez – comfort is the key.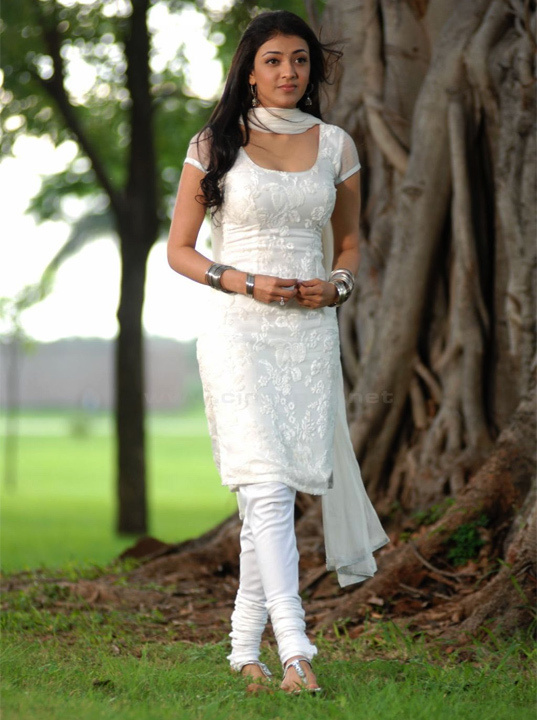 Easy breezy and comfortable defines actress Kajal Agarwal's style. Her tall frame suits just about any type of salwar kameez, especially long kurtas with thick borders. She's been known to find her comfort zone with outfits that she picks and chooses herself, and she's careful never to go too over-the-top. In fact, Kajal Agarwal in salwar kameez is the epitome of comfort clothing.
Mahira Khan in salwar kameez- effortlessly exquisite.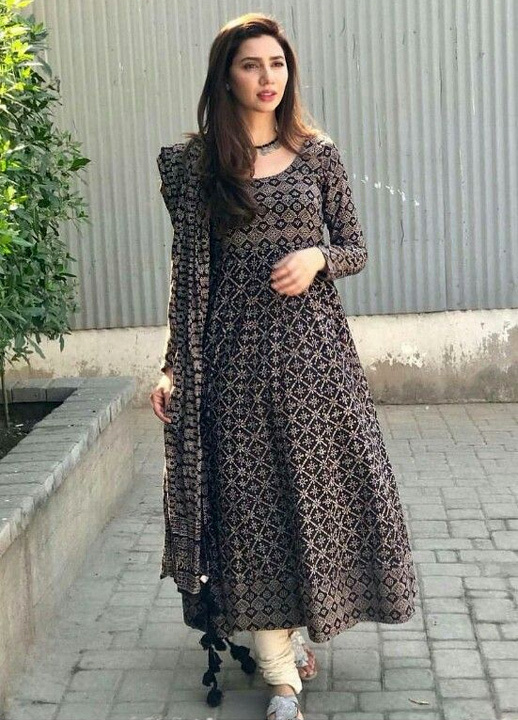 We distinctly remember her entry into Bollywood opposite Shahrukh Khan in Raees, but Mahira Khan is one of the most well established, popular faces in Pakistani cinema. She has a flair for both western and Indian looks but take one look at Mahira Khan in salwar kameez, and you're sure to be blown away. Her understanding of fashion is reinforced in her ethnic choices, which exude a rather alluring appeal. Most importantly, her style is simple and accessible, making her one of the biggest inspirations in Indian cinema.
Parineeti Chopra in salwar kameez in Ishaqzaade – with a bubbly demeanor.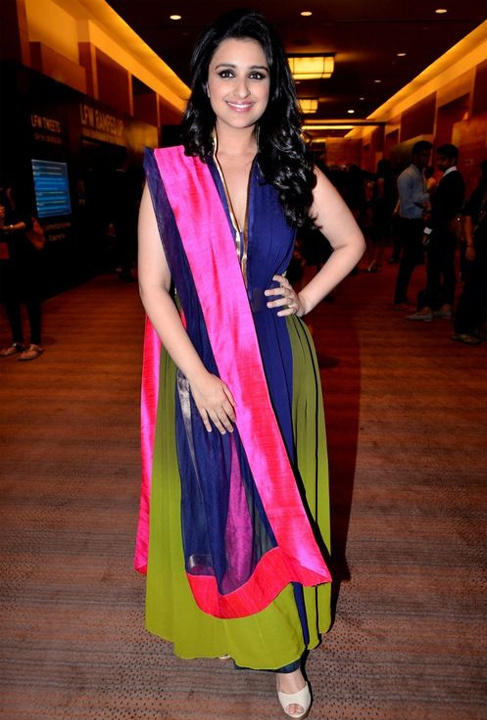 In her debut, Parineeti Chopra in salwar kameez in Ishaqzaade stole hearts with her bubbly demeanor. Her fresh young take on the simple salwar kameez is highlighted by a well-fitted black waistcoat that she dons over her long-sleeved kameez, which became an inspiration for many young girls. Another piece, a sugary pink satin suit which she repeats multiple times in the film, projects a girlishness that provides the perfect supplement to her zesty personality in the film.
Amy Jackson in salwar kameez – an edge over the contemporaries.
She may be a Bollywood newbie, but that doesn't mean she hasn't embraced Indian fashion in all its glory. She mixes fun clothes with smart choices when it comes to the trimmings, giving her a distinct edge over the contemporaries. She may be a sari lover, but Amy Jackson in salwar kameez is all about layers, colour and bling – something she carries off with grace.
Anushka Sharma in salwar kameez- a refreshing persona.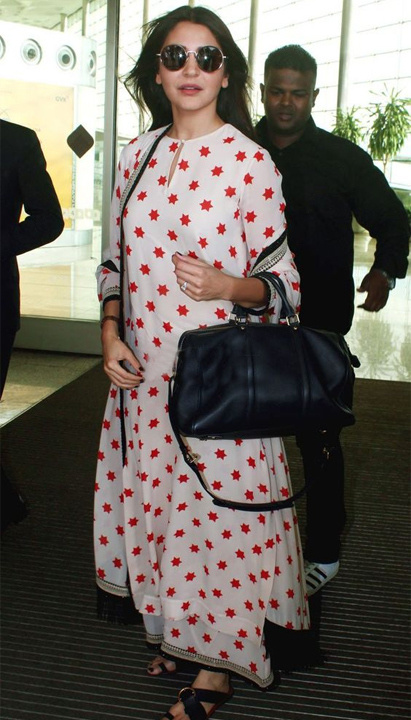 The quintessential salwar kameez needs nothing more than a fun personality to go with it. And Bollywood's leading actress Anushka Sharma is a powerhouse of talent with a refreshing persona to boot. She encapsulated audiences with her beautiful outfits in Band Baaja Baaraat, including vibrant hues, patterned dupattas, and even traditional jackets. From reel to real, Anushka Sharma in salwar kameez is quite simply effortless, keeping the focus on a minimally made up face and charming accessories.
Huma Qureshi in salwar kameez – exuding confidence.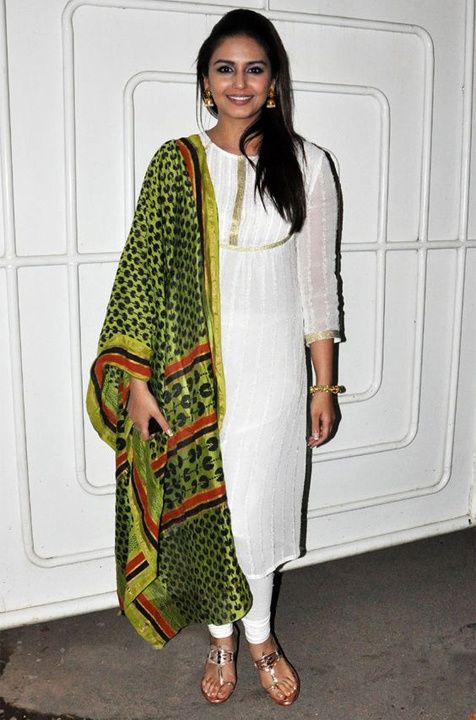 She celebrates her body and encourages other women to do so, making Huma Qureshi one of the most confident actresses in Bollywood today. Not one to follow trends or compromise on what she chooses to wear based on what is considered the ideal body type, Qureshi completely embraces her voluptuousness. In fact, Huma Qureshi in salwar kameez has become a style inspiration for millions of women across the country, with her sartorial choices and tasteful ensembles.
Sonam Kapoor in salwar kameez – dainty inside out.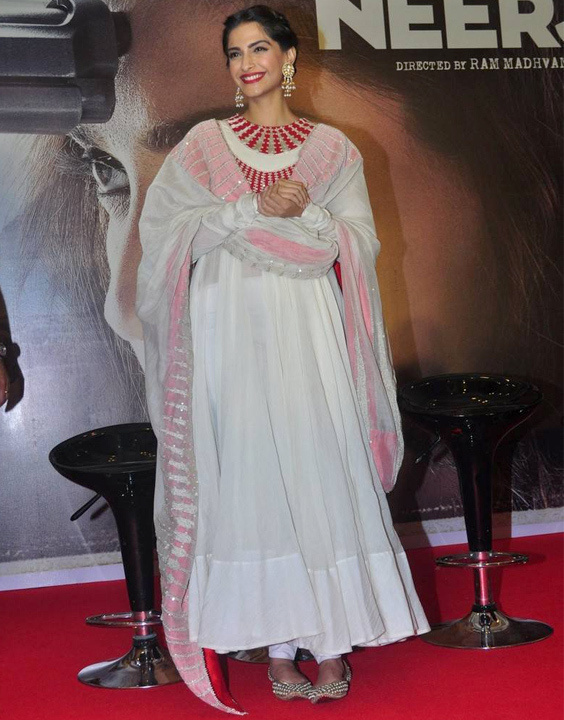 Our list of the best Bollywood actresses in salwar kameez will be incomplete without her. She was commended for her ability to go makeup free to suit her genteel role, making Sonam Kapoor in salwar kameez in Mausam a much-talked-about look. Simple, demure and modest, the colours and patterns of her salwar kameezes were reserved to the bare minimum. Although the look may be too humble for a day-to-day look, you can dress it up with polished silver accessories and embellished mojris or chappals.
Aditi Rao Hydari in salwar kameez- pure finesse.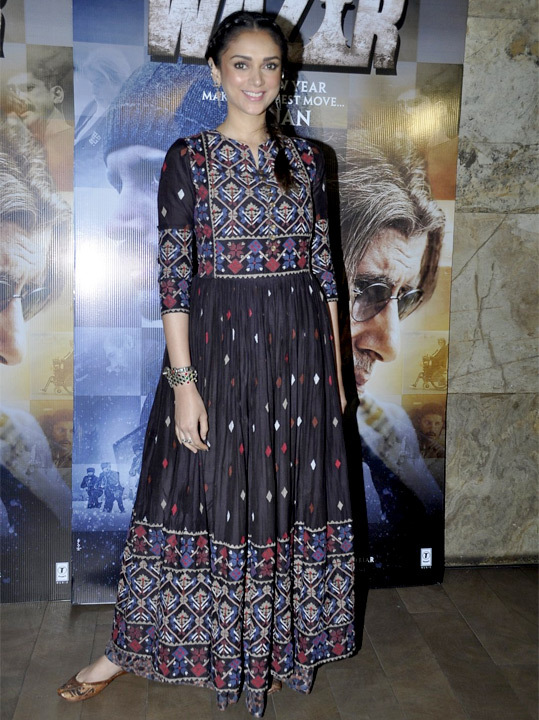 Aditi Rao Hydari dazzles in almost anything she wears. She's unafraid to try out new styles that flatter her body type, and has an eye for teaming up modern and traditional pieces to create a well-balanced look. Most recently noticed for her role as an ethereal princess in Padmaavat, Aditi Rao Hydari in salwar kameez has a graceful, regal look with a brilliant fusion of colours and cuts.
Priyanka Chopra in white salwar kameez – redefining grace!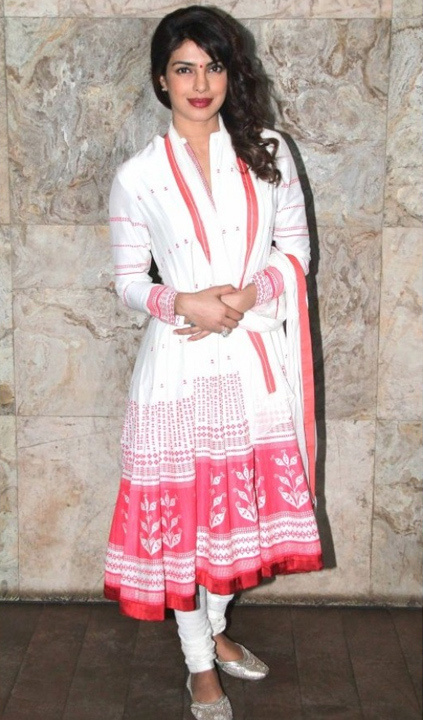 The undisputed powerhouse of style, she has taken Indian-inspired style across the seven seas. Here, Priyanka Chopra in white salwar kameez creates a pristine look that is unhampered by audacious trimmings. She creates her own niche with a colour that not many would confidently wear on a daily basis. When worn with minimal make up and just one chunky necklace, this look can tag you way up on the style bar.
Deepika Padukone in salwar kameez – sheer grandeur!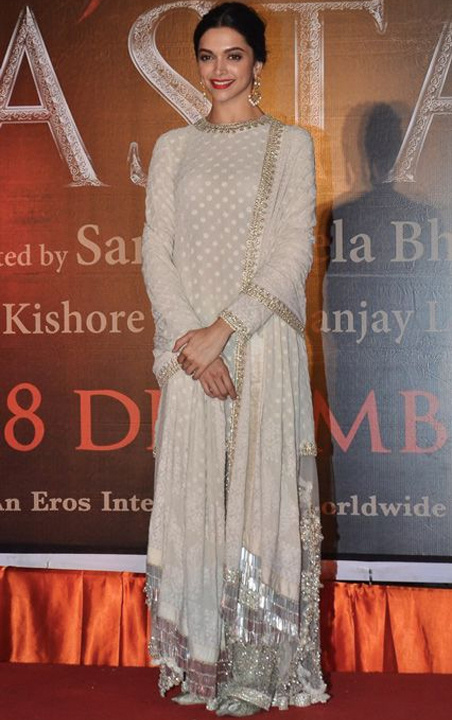 Undoubtedly one of the most stylish women in India, Deepika Padukone is amongst the few actresses who can carry off almost anything with panache. Her tall, slender frame works with almost any style of salwar kameez. Fitted kurtas, casually worn dupattas, pulled-back hair and shoulder duster earrings define Deepika Padukone in salwar kameez.
A go-to ethnic style that allows you the freedom to dress up or down, the salwar kameez ensures that you look impeccably put together at all times. The above styles of bollywood actresses in salwar kameez is a guide for you to carry the traditional wear with elegance and confidence.
Image credits: The copyrights of the images used in this post belong to their respective owners. The credits where known are specified under the image - if you're the owner of an image and want it removed, please contact us.