Learn some exclusive tips about  wearing skater skirt outfits from our style post.   If paired with the right separates your skater skirt look will cause  jaws to drop! Skater skirt with top combinations are pretty much everything you need this season!  What's your favourite skater skirt?
If you are trying to get rid of that old shirt, or a top that doesn't fit into any attire, you need to wait. Skater skirt fashion is still not out of style and you could pair up your skater skirt with top to come up with a cute outfit. Additionally, this trend works wonders in case of tees and sorority tanks. Skater skirts come in almost every colour and thus sky is the limit. So if you are in no mood to snuggle into a pant, you can make do with cute skater skirt outfits. This blog will brief you about the different skater skirt outfits that you could try on yourself to look as adorable as you can.
What Is A Skater Skirt? Know Your Wardrobe!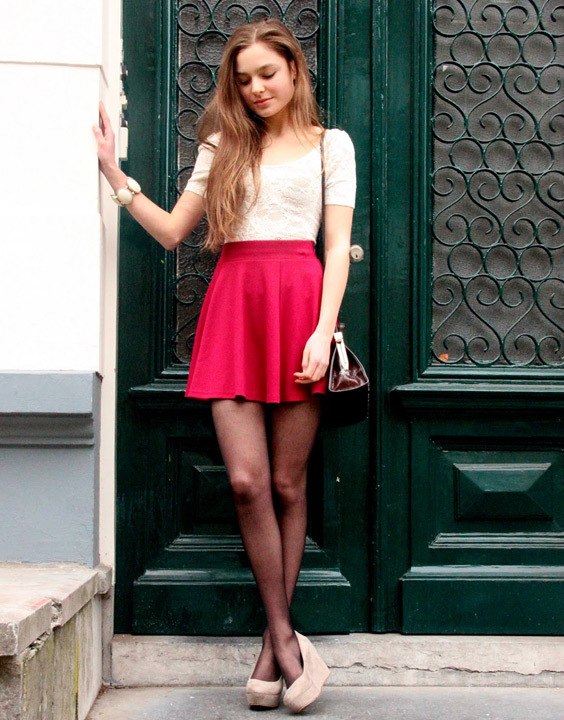 Probably, most of you or at least some of you girls might be wondering as of what really is a skater skirt? So, let us tell you, from all types of skirts there are two different skirt types that make a woman's wardrobe – circle skirts and skater skirts. Skater style skirt got its name due to its appearance. They are short and high-waisted with their hemline resting just above the knees.
Normally, skater skirts are made from lighter materials which make them comfortable to wear during summers. The lightness of the material even provides the skirt with a flowing effect that imitates the skirts worn by skaters. Thus, they came to be known as skater skirts.
There are various statements that you can make with the trustworthy skater skirt. Crop top outfits with skater skirt look really appealing, which is why we've touched upon that as well. The black skater skirt is clearly a classic, but there are other skater skirts that you'd love to try on, we're sure. Even for winter skirt outfits, the skater skirt is a must-have separate in your closet.
How To Wear A Skater Skirt – Looks That You'll Love!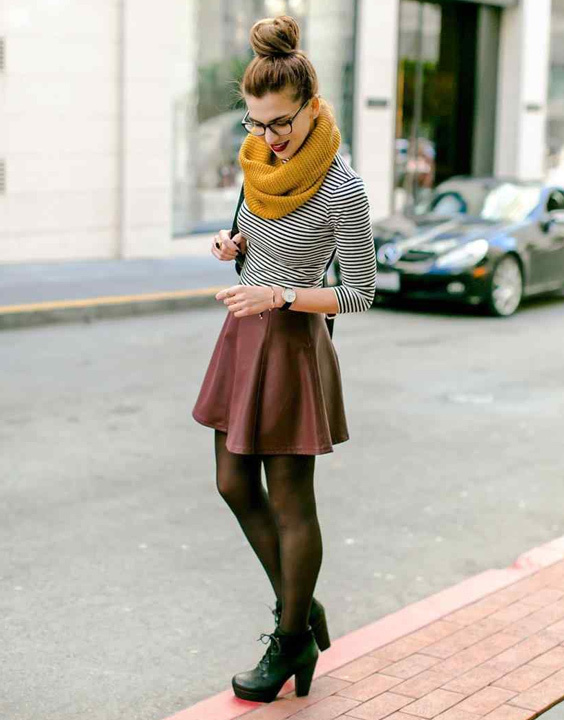 There are always a great lot of things going on in every lady's mind when they stand in front of their wardrobe to choose an outfit for the day. Especially when it comes to skirt, there is always a question that lingers in our mind – how to create the best skater skirt outfits? You may even wonder what skirt with top should you choose for your day out with friends. We have brought together all the tips that will make the job easier for you. Womens skater skirt is always a good option for every lady. It could be a seasonal pick for every fashionable girl out there. Not just for the summers,skirt outfits for winter are absolutely stylish.
Floral skater skirts look flattering and suit almost all body type. If you're glued to the net for style inspirations, do check out floral skater skirt outfits tumblr photos. You'll understand that skater skirts are pretty versatile. You just need to know which one to wear and for what occasion.
If you are in hunt of a layered look, pair your midi skater skirt with a crop top and a cardigan. To relieve the summer heat, slip into a skater skirt, and then opt for a loose tank top. A flower crown on your hair will add a fun edge to your outfit.
You can put on your long skater skirt in winters too! Pair it with a knitted sweater, a scarf, tights, and boots. Make the best winter skirt outfits with your skater skirt. Do you have a chambray shirt that is tired of being paired up with jeans and pants? Then tuck it into you skater skirt to rock that perfect look. An off-shoulder top would look great over a fancy skater skirt.
Skater Skirt Outfits-  Bring out the chic in you!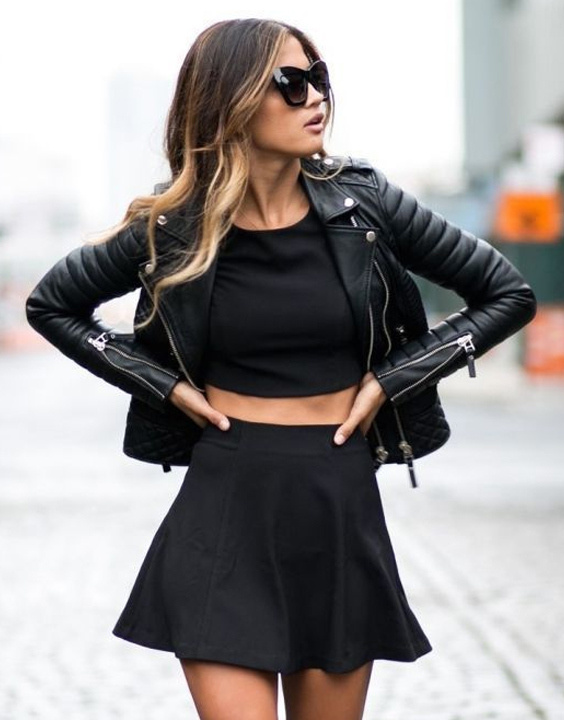 The skater skirt with top combination is a preferred attire for women across all age groups; bei it, runaway models or working moms. Due to the stitching pattern the attire suits almost everyone.
Learn how to choose the best crop top outfits with skater skirt and put your best foot forward. For the perfect shoe-addition try your favorite skater skirt outfits with converse shoes.
If you are looking for ways to make your outfit more memorable, you ought to style it with utmost care.  Here are a few ways as to how you can pair your skater skirt to look stunning.
Black Skater Skirt Outfit- Opt for a classy look!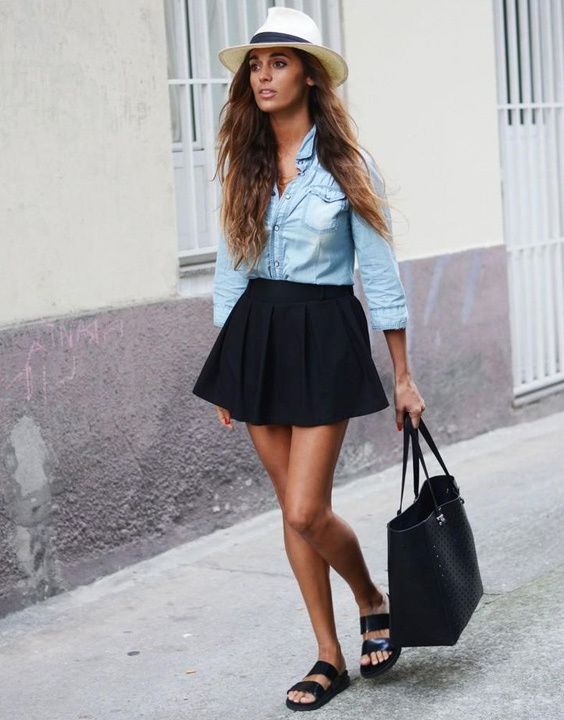 Black is a versatile colour so is the skater skirt. So what else do you need to weave the perfect black skirt outfit? If you are trying to adapt to a street style wear, then you could refer to some of the model-off-duty skater skirt outfits. They are a great way to get some inspiration.
Out of the many black skater skirt outfit ideas we always wonder what to wear with a black skater skirt. One of the best ways to pair a black skater skirt is with a maroon sweater. If the skirt is made of tweed, you could even wear it in the winter season.
Additionally, if you put on an emerald green colour blazer over the black skirt outfit, it can give you a quite luxurious and elegant lift. Ankle boots and a printed scarf would add to the level of exquisiteness. A denim shirt with black skater skirt is also a very classy skirt with top combination.
White Skater Skirt Outfit – Cynosure Of All Eyes!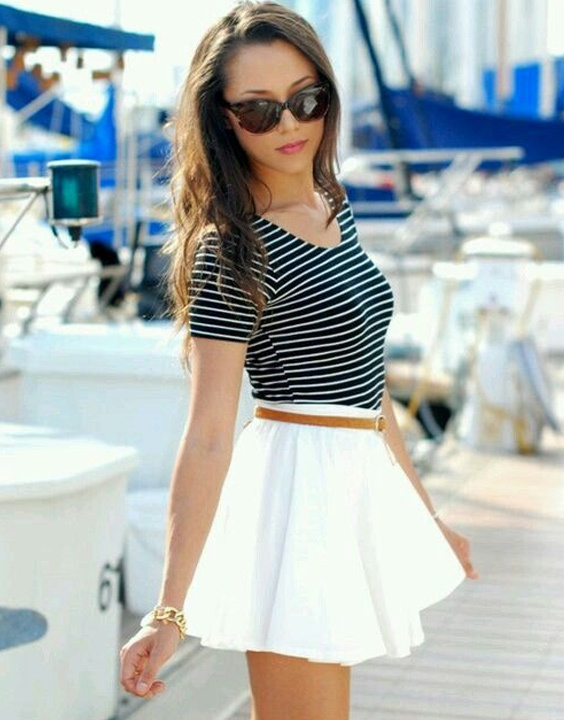 For a white skater skirt outfit during summers, you could go for a black and white striped t shirt and tuck it into the skirt. This looks better when it is left simple without any accessories or flashy footwear. You can leave a couple of buttons open and fold your sleeves up till your elbow to give it a chic look. As for sandals, choose simple black high-heels. White skater skirt outfits with converse shoes might be a very effective combination.
An off-shoulder floral top is also a great option when you are spending your day out with your friends or family. Wearing a white skater skirt will always give you an edge over the others.
You can style your skater skirt with a quirky T-shirt having your favorite print on it with our customized t-shirt collection, send us the design and we'll print it for you. Click on the below image and get your own custom tshirt.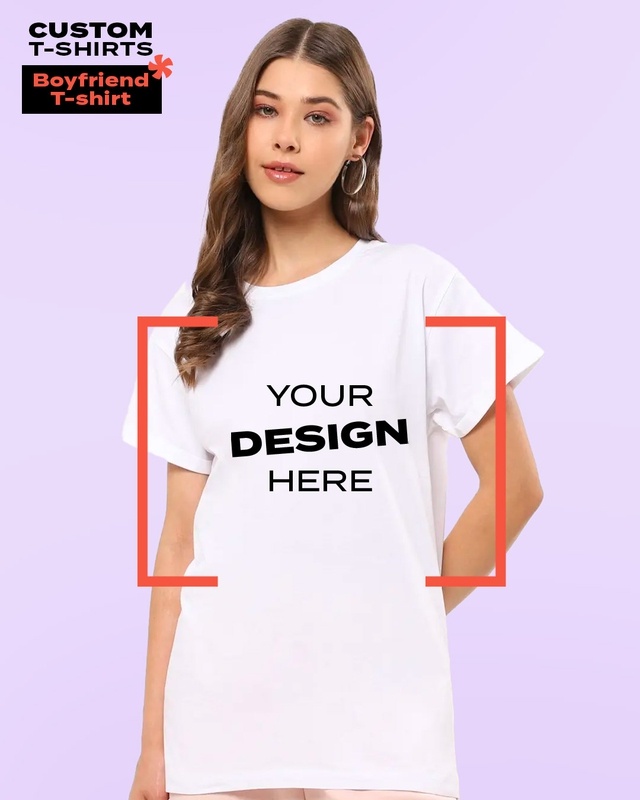 Purple Skater Skirt Outfit – Be sure to stand out!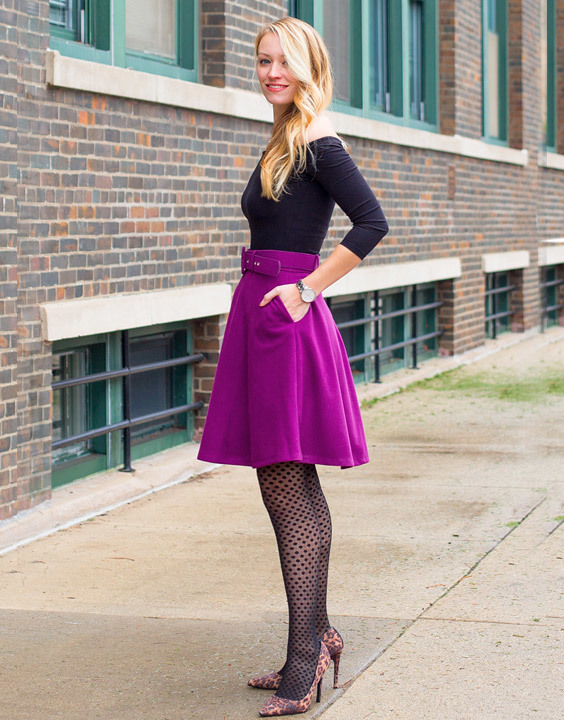 Purple may not be every lady's favourite colour but some have a special spot for this unusual, yet plush color. Purple skirts are especially great to wear on your night out as they always stand out. For a purple skater skirt outfit, you can pair your high waisted skater skirt with a solid black top to give more attention to a long skater skirt or midi skater skirt. On the other hand, you can go for an orange crop top to equalise the look. Brown ankle wedges and black tights add to this outfit. Keep the accessories to a minimum, and you are all set to rock the party!
That was all about skater skirts. Hope that you guys have learned more about the skater skirt fashion and skater skirt outfits. Wish you all the success with your skater skirt adventure.
Red Skater Skirt- Look like a Siren!
The color red is fiery, isn't it? Indulge in the boldness of red by opting for a red skater skirt. a lovely lace-patterned top. You could tuck the top in, leave it out loose, or wear a crop top with skater skirt. It is really boils down to what suits your fancy and curves.
If red pops up too much on you, go for a more subdued hue. Maybe you're made for maroon!  Pair your maroon skater skirt with a sequined spaghetti top. If you fit into the plus size category, flaunt your curves to the best of your advantage by going for a full-sleeve, see through top. Belt your maroon or red skater up at the waist with a slim belt, and swirl around in gleaming high heels. Carry a smart clutch and your skater skirt outfit will shine!
Pink Skater Skirt-Joining the Pinkathon?
Pink is a common favorite among women. What's great about the pink skater skirt? Just this, that it makes you look super-bright and peppy on a sunny summer day, and that it go really well with almost every shirt that's in your closet. Whether it's a black shirt or a basic blue shirt, the pink skater skirt will surely brighten things up for you!
You may have come across pink skater skirt outfits tumblr photos, while discovering the inspirational pink skater skirt. For those who haven't, you should really try this out. Whip out a pink long skater skirt and pair it with a cool graphic tee. Match your pink skater skirt outfits with converse shoes, or better still, cool sneakers.
Denim Skater Skirt- Get Down To Denims
Denim skater skirts are wonderful because anything crafted from denim fabric is delightful! No, Really! Casual yet sassy, the denim skater skirt can go really well with your bold red pumps and tucked-in camisole. You could probably add on a smart checkered shirt over this combo to make it look like a million dollars.
For a rocker-chic look, you could choose a floral shirt and team it with block-heeled boots and gleaming accessories. Of course, the denim skater skirt would be the shining feature of this attire.
Skater skirt with crop top- This simply clicks!
The crop top in itself is such a sassy separate, but when throw it in with a skater skirt there is pure magic! Your skater skirt with crop top will stand out in the crowd if you make some wise fashion choices.
If you want to emphasize your willowy figure, a high waisted skater skirt might just be the pick for you. Crop tops and high waisted skater skirts match each other, especially if we're talking about a an off-shoulder crop top with a box pleated skater skirt. For a cool outerwear look, you may like to add on a hat.
Crop top and skater skirt combinations look really awesome when you've got the right color combinations going among other things. You could also try wearing a floral crop tee emblazoned with graphics teamed with a skater skirt. Add a pair of gleaming stilettos to this look and you'll be good to go!
Among crop top outfits with skater skirt, you could also try other flattering combinations for plus size women. There is something pretty for everyone! Which is your favorite combo? Wear only the best!
Image credits: The copyrights of the images used in this post belong to their respective owners. The credits where known are specified under the image - if you're the owner of an image and want it removed, please contact us.