Looking to ace the cargo pants for men style? Cargo pants fashion can never go out of style. Men's cargo pants look tough and rustic, and that's exactly why you love them! Learn about the types of cargo pants so that you can learn about the inimitable green pant combination that works so well for men.
Here is your guide to know everything about cargo pants for men. For guys, right from the time, you were kids, flaunting a cargo khaki pant was one of the early ways of fulfilling the fantasy of being a commando. The Status Quo as a brand has identified a niche and are providing the best quality cargo pants one could hope for. The unforgettable look of bodybuilder and actor Arnold Schwarzenegger not just inspired bodybuilders but also encouraged a lot towards accepting male cargo pants fashion. The unforgettable look of bodybuilder and actor Arnold Schwarzenegger not just inspired bodybuilders but also encouraged a lot towards accepting male cargo pants fashion. Over a period of time, you see various other celebrities like Leonardo DiCaprio, Bruno Mars, Shahrukh Khan, Hrithik Roshan, Tiger Shroff and many more flaunting this style at various occasions. The male cargo pants are now available in a variety of styles, colors and sizes. Simple and minimalistic trends are the biggest reasons for having this in your capsule wardrobe. The easy-to-wear, light to carry and quick to dry features makes the cargo pants for men style desirable for men across the world. So, are you considering to buy a cargo pants outfit for yourself? How do you choose the one that suits your style? And what are the various options to choose from? Let's find out.
But before that, here's a quick look of what are cargo pants if you are still oblivious about it.
What are cargo pants? Know more about your favorite fashion staple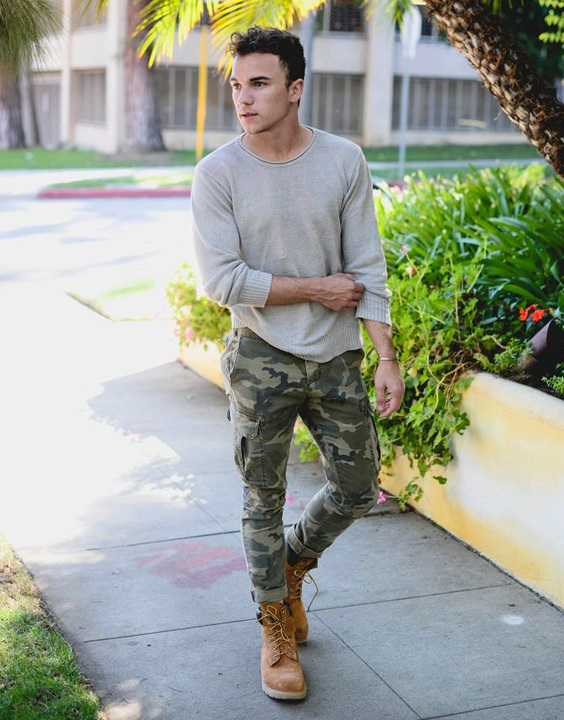 Cargo pants for mens evolved from combat trousers, which were a part of military uniform. Loosely cut silhouette with multiple pockets provides ease and comfort. They aim to provide a trendy escape for men from their usual fashion routine. Apart from its trendy look, the mens cargo pants provide a heaven of comfort to all wearing it. This makes it ideal for all seasons and locations.
The utility benefit of  cargo pants outfit also helps store a lot of things while you are on the move. Which is why cargo pants outfit is popular in today's time for the convenience they provide. Not just the millennial group but also the older generation prefers wearing cargo pants outfit for the ease and functionality they provide. Cargo pockets are patch pockets with accordion chords and flaps. Sports and adventure loving people make sure they have more than a pair of cargo pants outfit in their closet.
You must be wondering about how to wear cargo pants? Male cargo pants form an important part of the capsule wardrobe. Therefore, It's essential to know what to wear with cargo pants. From Friday dressing to picnic wear, male cargo pants are part of different occasional ensembles in male pants types and need to be styled differently. Here are a few ways to create fun ensembles with types of male pants.
Top 3 Types of cargo pants for men
Despite their practical uses, cargo pants for men have slowly become more and more popular as a fashion piece. Although they may have had a bad reputation, as street and skatewear clothing becomes more fashionable, men's cargo pants fit right in. The comfort quotient of cargo pants outfit has made an instant place in the wardrobe must-have section. This obviously made cargo fashion sustain through all these years and underwent different designs.
With changing times different brands and designers have added new creative aspects to types of cargo pants. The right pair of male cargo pants can be the most quiet yet powerful item you wear, but get it wrong and you'll instantly dull the shine of the trending pieces you spent so long chasing. Here we tell you what are cargo pants and the top three colour outfits in cargo pants for men that will never go out of style!
Men's Blue cargo pants – to get ready for the weekend!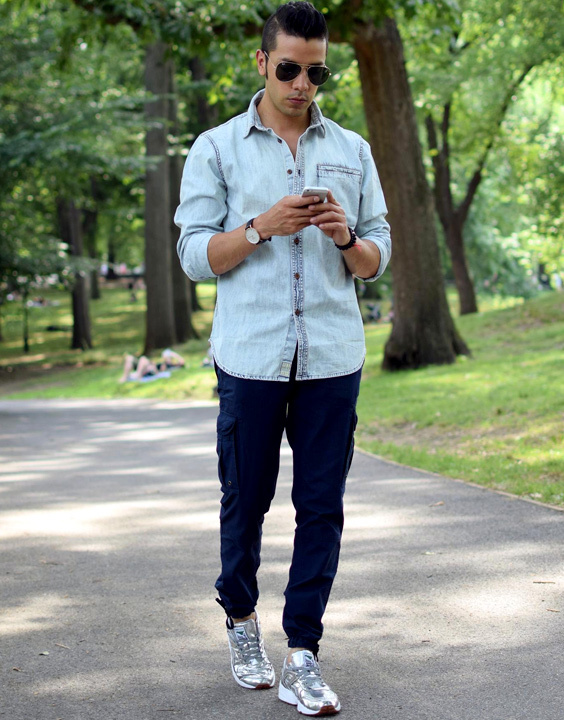 Learn how to wear cargo pants the cool way with navy blue cargos. Men's blue cargo pants are apt for Friday dressing as the color creates a formal dressing appeal and the easy structure compliments the laidback Friday mood. Team it up with white linen shirts or in shades of grey to complete the Friday dressing ensemble. Navy blue cargos fit right to create a base for semi formals. For an airport look or travelling attire, blue cargos make a great choice. Pair them with a crew neck t-shirt and layer it with a complementing shirt. A pair of loafers would complete the ensemble leaving no space for a dull fashion moment.
Green cargos – for the adventurous lot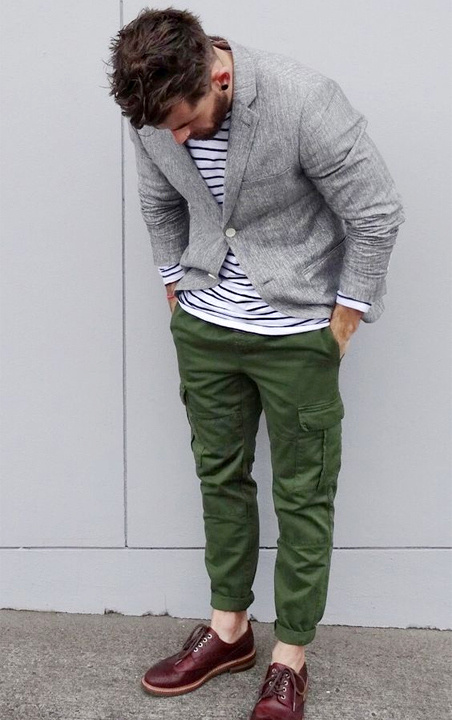 Are you thinking what to wear with green cargo pants? The cargo pants style fits best for trekking, sports and other such outdoor activities. Keeping that in mind the green pant combination would effortlessly complement the ensemble whilst keeping up with the mood. In case you are planning to spend your day playing your favorite sport a pair of emerald green cargo pants outfit for men makes a great option for adventurous activities like trekking, opt for green cargo pants men's sporting all over camouflage print.
Now the question remains about what to wear with green cargo pants? Team it with bright yellow shirt or any graphic printed round neck t-shirt. A pair of smart sport shoes and cap will complement the sporty attire. The military pants fashion is a downright favorite with a lot of people.
Khaki colored cargos – A True Savior
Khaki colored cargos make a must-have for all season. Be it a monsoon bike ride or a summer game party at home, mens khaki cargo pants have a perfect balance of sophistication and charm. To don a classic dapper look team a cargo khaki pant with crisp white shirt. Complete the cargo pants fashion appeal, choose a super-cool khaki colored pant and pair it with loafers and a classy wrist watch. To don an urban city look, pair the mens khaki cargo pants with grey t-shirt and jacket in any solid shade. For a weekend getaway or a beach party, team the khaki cargo with men's short kurta.
These were some of the easy style tips to bring the best out of your favorite pair of khaki cargo pants for men. Cargo pants will remain to be the basics of men's fashion in the coming years too. All you need to do to keep up with the pace of changing fashion is to add the complementing elements to the attire as per the current trends.
Difference between cargo and khaki pants – Know the facts!
| | |
| --- | --- |
| Source – pantne.com | Source – jacquard.com |
Often people confuse cargo pants for men's style with khaki pants. Let's discuss what exactly is a khaki pant. Khaki pants give more of a formal look. Khaki color is combination of light brown and olive-green color. The major difference between cargo and khaki pants is that cargo pants can come in different colors with more pockets and are baggy compared to khaki pants. Whereas khaki pants come only in khaki colors and give a more formal look.
Image credits: The copyrights of the images used in this post belong to their respective owners. The credits where known are specified under the image - if you're the owner of an image and want it removed, please contact us.