Looking for some good ideas for men leather jacket styles? Read on to know more about how to wear a leather jacket and some of the combinations like jeans and brown leather jacket.
The epitome of classic men's outerwear, mens leather jacket styles come in a host of variety and colours that give you the opportunity to stay ahead in the fashion game. It's a piece of clothing that has the uncanny ability to turn your look around in seconds, is very easy to pull off, and is undoubtedly one of the most stylish ways to keep warm – the leather jacket is so much more than just a throw-on. No matter what you're wearing, you always have the option of pulling on a leather jacket to take your look a step further. Mens leather jacket styles have evolved by leaps and bounds over the last decade, owing to a plethora of iconic personalities who have been sporting them everywhere, from casual night outs to live concerts, and from business meetings to long flights. One of the most preferred look, is the pairing of jeans and leather jackets. But that's not all. Couple it with a hoodie, a t-shirt, cotton trousers, and even chinos, and you're sure to be the cynosure of all eyes.
A properly fitted jacket is the mark of a well-dressed man, much like a clean-cut suit or a prim tuxedo. Everything from the colour to the cut is of vital importance to how your outfit turns out, but at the same time, you have the freedom to keep your look carefree yet edgy. The jacket fashion options for mens leather jacket styles are endless and picking one that is just right for you can be quite a task. To help you out, we've put together a comprehensive guide on how to wear a leather jacket, picking the correct one, pairing it with jeans and other bottoms, and most importantly, making it work for you.
How to wear a leather jacket in style?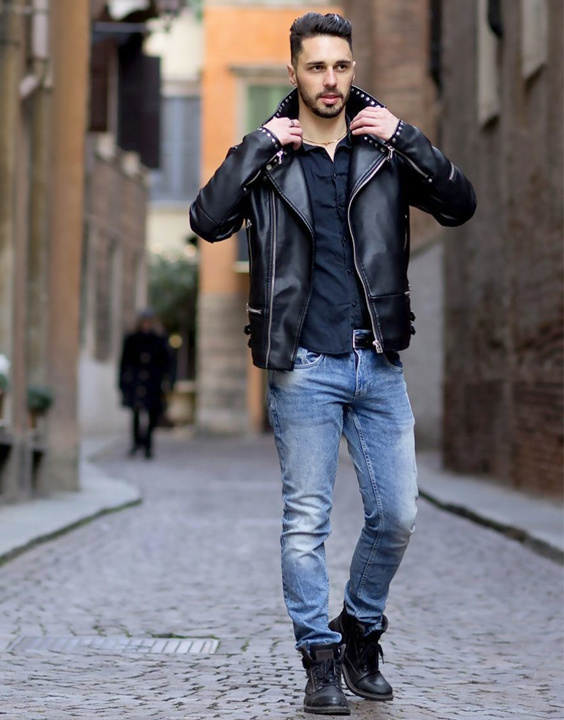 Let's face it, the leather jacket is an investment, but a pretty good one. It's a timeless piece that will always find a place in your wardrobe and will last long if you take good care of it. Leather jacket looks are bound to be stylish and contemporary, and become those reliable staples that you can always fall back on in times of need. Different types of leather jackets offer different looks, but at the end of the day, it is a powerful piece that needs to be the hero of your outfit. When donning one, follow the simple philosophy of less is more – keep the rest of your look muted, basic and unadorned. Here's another easy tip to up the ante, keep the colours on the down low.  Jeans and leather jackets are the ultimate combo. The ruggedness of denims with the finesse of leather is the classic contrast that works brilliantly every time you put it together. Jeans work with all kinds of leather jacket styles, so while on your hunt for the perfect leather jacket, you don't need to worry about what to pair it with. Go for any colour, style or fit of denims, and the combination will be a winner.
Types of leather jackets – for every mood
There are a host of different mens leather jacket styles available, covering the bomber, racer, rider and the flight jacket. Although each has its own design, pattern and purpose, they are all equally adaptable, sleek and easy-to-wear.  The quality of leather is the basis of a classic jacket, whereas the men jacket style is the make of the classy man. It will do you well to choose the right style for your body type and personality, to ensure that the jacket makes the right impact. In most instances, even the colour defines the jacket, so opt for one that suits your persona and is easy to mix and match with the rest of your outfit.
Black leather jackets – to give you an edge over the others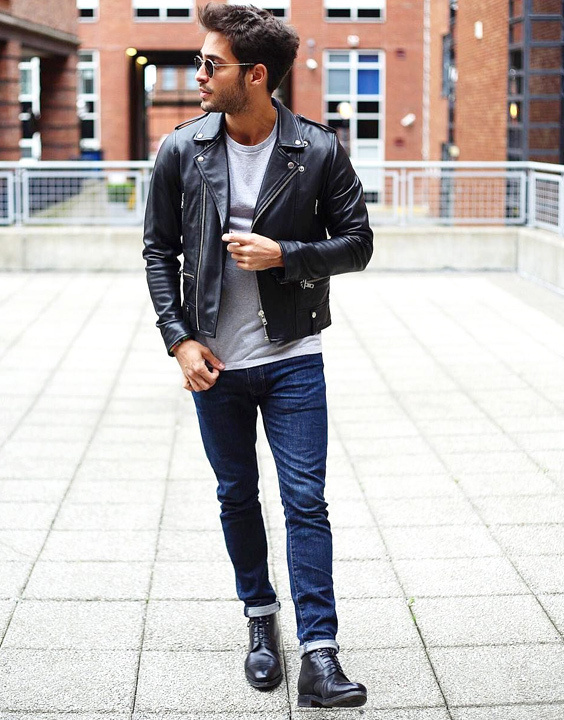 For a polished look, black leather jacket outfits are the way to go. It's a colour that men have been wearing for years, and has never left the runways, or the streets. Black creates a lean silhouette, and when accentuated with rich leather, the result is a refined vibe that only comes with the right outfit. The black biker jacket is one of the most popular leather jackets, owing to its knack of giving you a dressed-up look without making much of an effort. Its detailing is what gives it a rebellious, somewhat street-style appeal, which is a stylish way to create a timeless look. Another one in the list of black leather jacket mens, is the nifty bomber jacket that has been ruling the roost for decades now. A covetable wardrobe essential, this jacket is demarcation of the stylish urban man and works perfectly for the winters. With this one, you have the freedom to put on only a plain t-shirt and jeans, and let the jacket do the rest.
Brown leather jacket – to stand out among the ordinary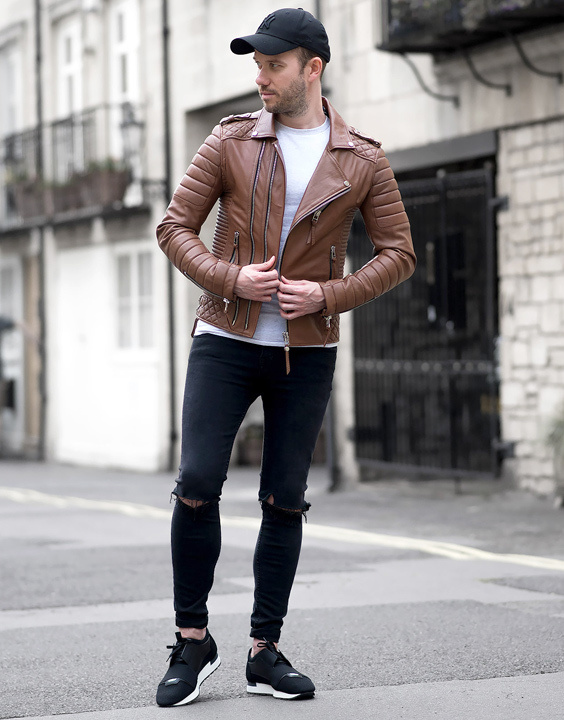 If you're bored of the brooding black, then a brown leather jacket is the next best thing. It offers the perfect balance between a dark, earthy colour and a soft, easy-on-the-eye one. However, what to wear with brown leather jacket is relatively harder to figure out than with the ole black one. It is something that stumps a lot of men, but we're here to break it down for you in the simplest way we know how. All you have to do is make sure you don't pair brown with brown! Brown leather jackets for men work best when paired with the most neutral shades like white, black, beige, grey and navy blue. A smooth and streamlined look also comes with the right shade of brown. Lighter shades like tan work best for more casual, day settings, whereas dark shades like chocolate should be an evening wear choice. The choices in mens brown leather jacket fashion may not be easy, especially when pitted against the classic black, but when you do find the right piece, it's guaranteed to make you stand out.
Navy blue leather jacket – beat the blues!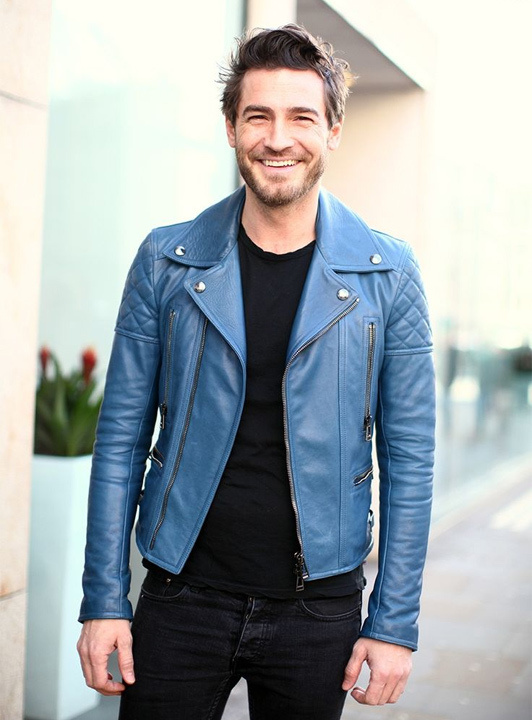 Usually, leather jackets look best with casual outfits. But if a formal look is more of your style, then we recommend the navy blue leather jacket and the experimental streak that comes with it. The jacket on shirt look is not one that is pulled off with ease, but with the navy blue leather jacket, you're one step closer to elevating your style standard. It works brilliantly with jeans in a similar blue shade, and you can then play up your look with brown shoes. If you want to tone down your look a little more, go for black jeans and black shoes, so your jacket can be the focus. For you style-conscious lot out there, even grey and brown pants can seamlessly wrap up your look.
So, what are you waiting for? Zip up and strut the streets in style!
Image credits: The copyrights of the images used in this post belong to their respective owners. The credits where known are specified under the image - if you're the owner of an image and want it removed, please contact us.