Your hair woes can be gone with the wind! There is no need to stress over finding new and creative hairstyles for short hair. Read on to know more about the various short hairstyles! You'll be sure to love some easy hairstyles for short hair that we've covered in this piece.
What's the one thing that can make or break any look within minutes of stepping out? Yes, your hairstyle! Finding the perfect hairstyle for every occasion is a task, and we're here to make it easier. Remember those gorgeous, long flowy hair photos of your favourite bloggers on Instagram? They're perfect and they seem almost ethereal, but what they hugely miss out on is short hairstyles! Women with short hair are really the ones who go through a dilemma like this from time to time, and that's exactly why they deserve a curated list of styles! Hairstyles for short hair are easier to do than most long hairstyles, and as you scroll down you'll see the reason we're saying this! Get your hairstyling kits out, because we're sure you're going to be tempted to try out everything on list when you reach the end of it!
Easy hairstyles for short hair based on hair type
Whether you have curly hair or wavy, straight or frizzy; there's something for everyone! Buns to braids, open to tied; the list of hairstyle for short hair is endless. Your bad hair days can be taken care of with just a few sprays, hacks, and styles you can master to perfection. There are innumerable easy hairstyles for short hair to do at home, so you can say goodbye to those never-ending salon appointments. Just a few tips and tricks will get you started on a simple hair style for short hair! For beginners, keep your shelves stocked with anti-frizz hair sprays or creams and metal combs. These two are the handiest items especially when you want to do simple hairstyles for short curly hair. Let's take a look at the kind of short hairstyles. These are easy hairstyles for short hair you can achieve for every hair type.
Hairstyles for short curly hair- not a hassle anymore!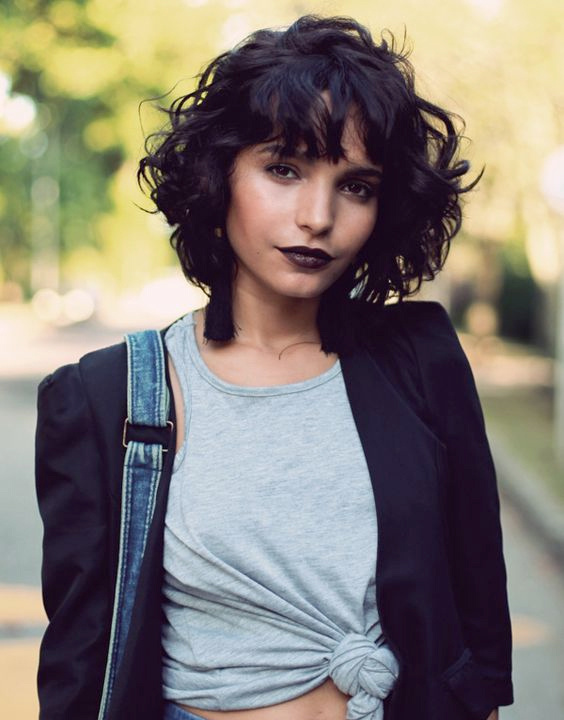 Among simple hairstyles for short hair, there are plenty of options for curlyheads! If you have a curly mane, then dry shampoo is NOT your friend. Rather, a good hair oil, possibly olive can do wonders for your hair nourishment. Hairstyles for short curly hair seem like a task to many, and they are. But it shouldn't be something you need be ashamed about. Get your hands on a volumizing mousse for our first pick in hairstyles for curly short hair.  Rub in the mousse in damp, partly towel dried hair before stepping out to give your locks an extra bounce. Set them to frame your face, making sure to cover your ears and allowing them to fall over your cheekbones. Second in line for short hairstyles for curly hair, we have the absolute favourite of curly haired ladies this year; the baby bangs. Distinct looking and not fly-aways at all, this hairstyle gives you an overall innocent-eclectic look.
Hairstyles for short straight hair- let it flow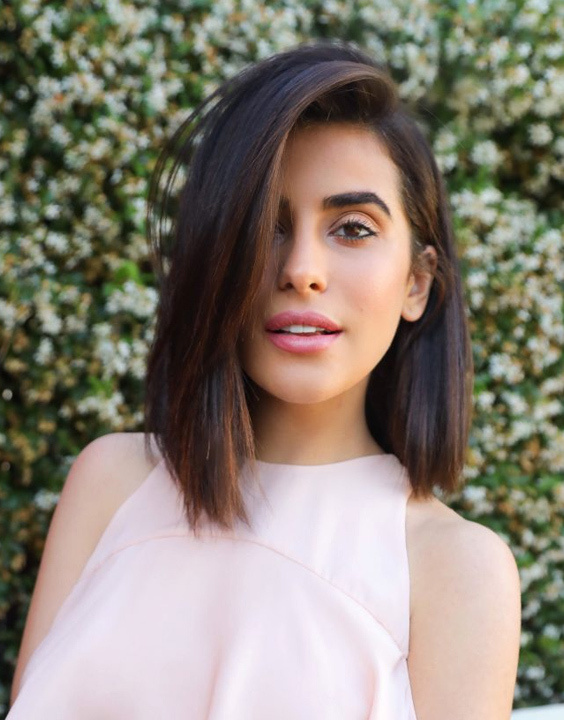 For some, it is a blessing to have poker straight short hair but for some, it is simply a curse! On top of being short, they are also always absolutely straight and refuse to set into any updo. For all of you facing this same issue, make a curling tong your best friend for whenever you have someplace informal but important to be. Curly hairstyles for short hair are sure to make you look like a darling! Side parting, rather than middle parting is the way to go for informal occasions. Give your hair some bounce with different kinds of sprays and make dry shampoo your dearest companion to eliminate greasiness while doing a hairstyle for short straight hair. There are many hairstyles for short straight hair but these are the best picks to help you ace the look.
Short hairstyles for wavy hair- let your fingers do the magic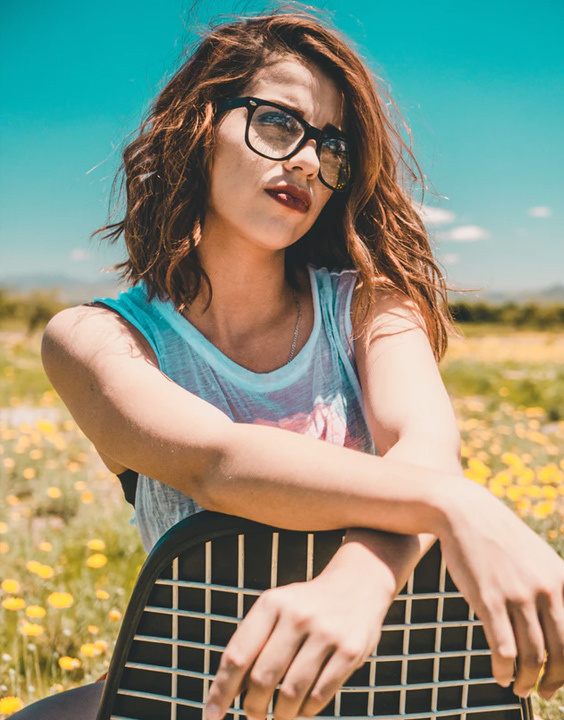 Wavy short hair is the most common hair type among girls, and it is one of the easiest to style. It doesn't have the same problems as curly hair, and it also doesn't look as bland as straight hair. So, when all of this is already naturally present, what else should one do with it? Surprisingly, a lot can be done with this hair type. Short hairstyles for wavy hair can be achieved with some setting sprays and your fingers weaving magic. Spray some setting spray over your hair and finger comb it to achieve perfect hairstyles for short wavy hair!
Different hairstyles for short hair
Now that we've touched upon the subject of different hairstyle for short hair according to hair type, let's talk about the different types of hairstyles for short hair that anyone and everyone can do. You don't necessarily need to have a particular hair type for these, because they are as versatile as it gets. Scroll down for some different hairstyles for short hair.
Bun hairstyles for short hair- the most popular of the lot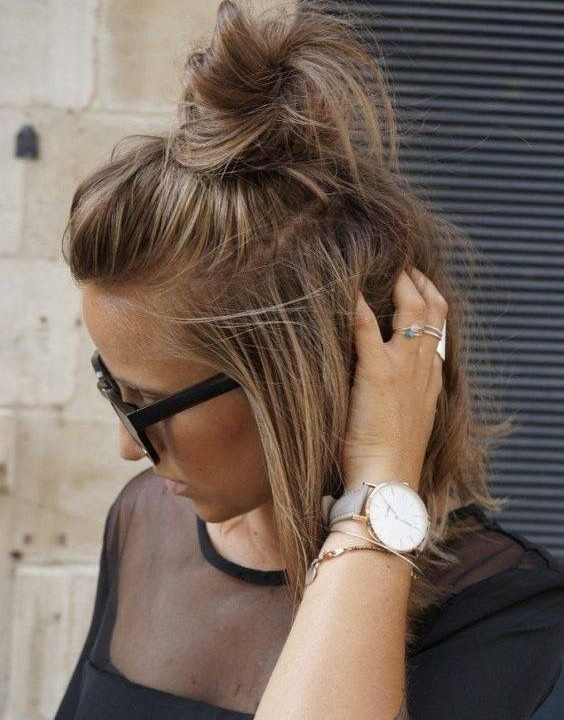 Buns are the new it thing in the hairstyling industry. The most simple bun hairstyles for short hair is the messy bun. Let's take a quick glance at bun hairstyles for short hair step by step ways. Gather all your hair at the top of your head, right beside the crown area and tie it into a ponytail. Make sure to use a thick rubber band for maximum bun volume. Tuck all your hair in this ponytail to form a doughnut like shape and pin it up with bob pins. Pull a few strands out carefully from the bun. Don't worry about flyaways, they're the main element of this hairstyle. There you go with bun hairstyles for short hair.
Ponytail hairstyles for short hair – versatile of all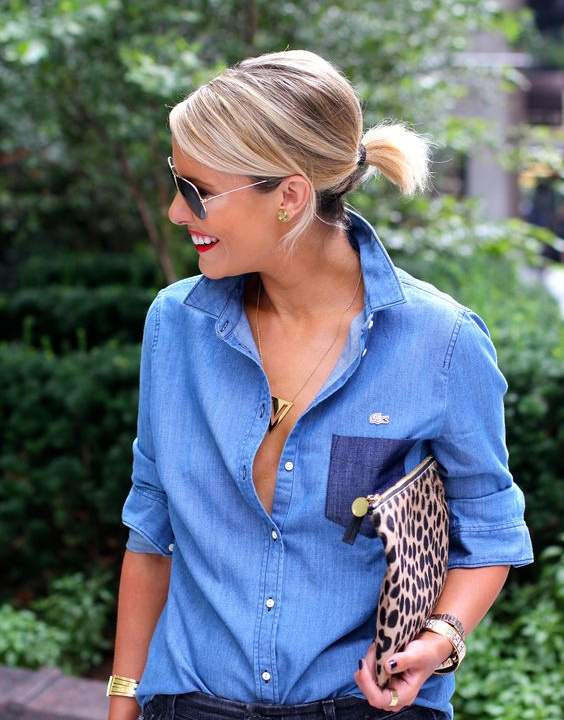 Ponytails are another most common and effortless hairstyles ever. They're versatile, sporty, and great for casual events. There are 3 really basic types of pony hairstyles for short hair; side ponytails, back ponytails and half ponytails. Side ponytails consist of middle parting and dividing your hair into two equal parts. Then, take a thin black rubber band and tie both sides from the top. Next in line is the back ponytail which consists of gathering all your hair either at the crown for a high pony, or at the neck/midway for a low pony. Third is the half ponytail which is made by taking only the crown hair from both sides of your head and pinning/tying it up behind your head. All of these ponytail hairstyles for short hair work best when you don't want to put too much time into it.
Braided hairstyles for short hair- elegant all the way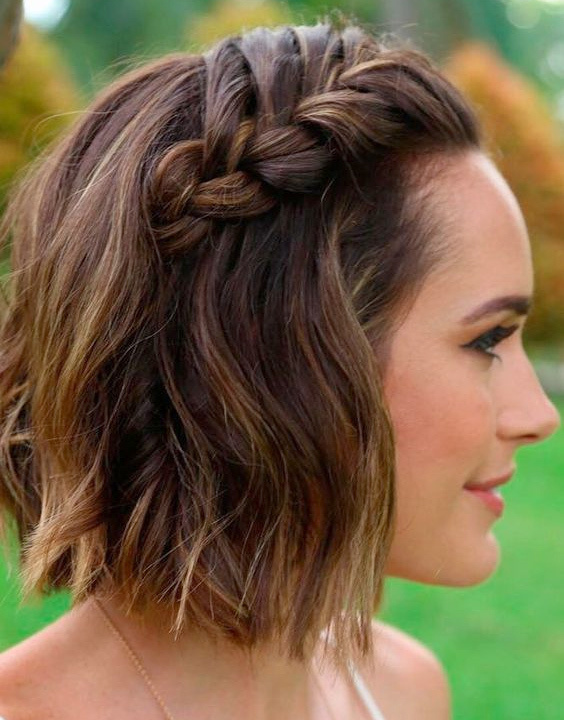 Braid hairstyles for short hair are time consuming and messy if you don't get them right. That's why, always start with the most basic braided hairstyles for short hair step by step . Messy braided crown is a really cute hairstyle and it is also super easy to do. Our second favourite is a braid updo which is a tad bit difficult but with the right tools and techniques, it shouldn't be too hard.
Wedding hairstyles for short hair- Bridal Magic!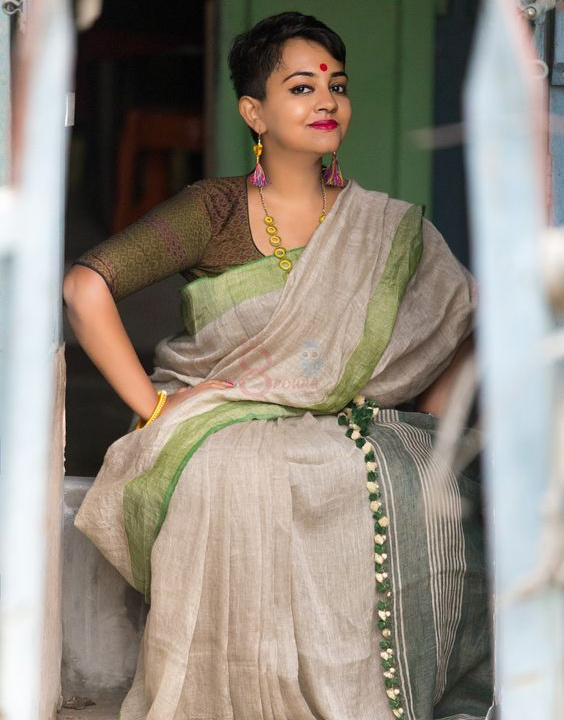 The thing we all love the most about being Indians is the fact that we have festivities throughout the year, all grander than the previous ones. The biggest event however, is a wedding. With several functions to look forward to, and your wardrobe picked out months in advance for the same, the only thing that matters most is your makeup and hair. You need to be sure that your hair properly done up! Which is why, all that you know about Indian hairstyles for short hair will keep you ready for the wedding bash!
Wedding hairstyles for short hair can include tight curls or poker straight hair, braided at the crown. These are simple Indian hairstyles for short hair and can also be pulled off among Indian party hairstyles for short hair. One can also experiment with updos, which make for really traditional and elegant Indian wedding hairstyles for short hair. Braided buns, side braids, etc. worn with maang tikas are the most stunning hairstyles for short hair for wedding. There are many Indian bridal hairstyles for short hair that you can explore and experiment with.
No matter how unessential you feel hairstyles are, other people definitely take notice of your hair first. Hence, it is important to keep them done well in order to not come off as shabby. Just like there's an outfit designated for every occasion, there are hairstyles for short hair for every occasion as well. So try these short hairstyles out and make the best suit your go-to style till you come across the next big thing!
Image credits: The copyrights of the images used in this post belong to their respective owners. The credits where known are specified under the image - if you're the owner of an image and want it removed, please contact us.