All men wonder how to wear loafers?  Being the most versatile type of footwear loafers complement almost any kind of outfit. Read on to know more about loafers for men style.
Men's footwear has gone through an impressive journey from being solely utilitarian in purpose to adding a level aestheticism to one's fashion game. Come to think of it, men's footwear is as diverse, if not more, than women's. From the formal Oxfords to Derbies and Brogues that were known to be a gentleman's shoe, the fashion etiquette has become more relaxed to include slip-ons like loafers and moccasins that can take your casual outfit to the next level.
Then, we have sneakers that have made a comeback with a bang! Funkfeets is one such brand that has made sneakers even more fun and personal. They complement the personality of their owner and no matter what shoes you end up choosing it is going to be a reflection of you. 
Loafers are one such type of shoes that can quickly switch from being entirely conventional in appearance to having a casual vibe. While choosing loafers for men style is never too far away as there are so many variants to choose from. But getting your loafer game on point is sometimes easier said than done. With the many choices of dressing up with the latest loafer shoes from the multitude of variants, it is essential to get your basics right. Therefore, let's understand how to wear loafers the right way.
What are Loafers? 
Loafers for men style are undoubtedly the dressier and more comfortable variant in footwear. Commonly known as slip on shoes meaning the absence of lace and other fastenings, loafers have achieved versatility as the perfect footwear no matter if you are dressing up or dressing down. Materials like leather and suede are synonymous with the meaning of loafer shoes.
The difference between loafers and sneakers
| | |
| --- | --- |
| Source – Pinterest | Source – Pinterest |
The difference between sneakers and loafers is that sneakers scream casual and are made up of rubber and canvas materials. Loafers can be dressed as casuals as well as formals depending on the types of loafers. Another visible difference in sneakers vs loafers is the laces that adorn the sneakers as opposed to loafers meaning the laceless slip-on shoes.
What is the essential difference between moccasins and loafers?
Source – Pinterest

 

Source – Bewakoof

 
The moccasins vs loafers debate have many confused as both are relatively new type of shoes and have a similar look. Below are some of the basic differences that will help you tell your loafers apart from your moccasins. Loafers are famous as open shoes without any lace and moccasins have laces and are made from soft leather or deerskin. Another point of differentiation is their origin, loafer made its first appearance in Norway in the 1930's and was used mainly for casual purposes by aristocrats. Moccasins, on the other hand, were developed by the Native Americans like hunters and traders and had a prominent feel of aesthetics attached to it.
Types of Loafers for every outfit
Loafers, which were initially restricted in use as a casual shoe, quickly grew in popularity and became more mainstream when the different types of loafers were introduced. With the vast variety available to men, you can find a loafer style for every occasion and dress code.
Horsebit Loafers – the classic style statement!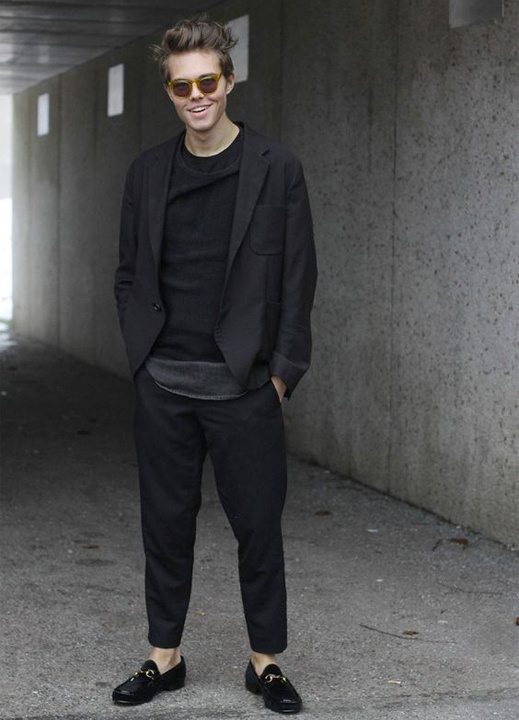 Horsebit loafers, otherwise known as Gucci loafers, have added a metal clasp at the front of the shoe to create a distinct design that sets it apart. Gucci has been among the top loafers brands since generations due to the popularity of the horsebit loafers which has become a classic style statement on its own. Knowing how to wear loafers like the horsebit variant will give you plenty of options when going for the business casual dress code.
Tassel Loafers- synonymous to versatility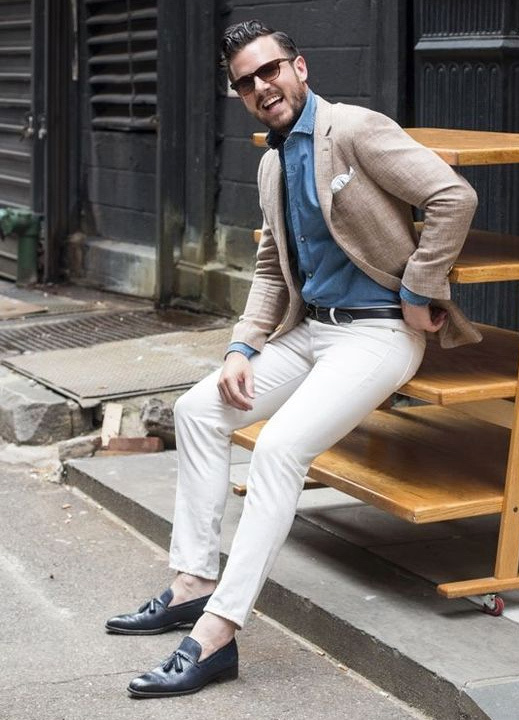 Famed star Paul Lukas introduced the American population to this particular loafer style after picking up a similar design overseas during World War II. Wearing black loafers for men style will play right into creating a business casual look with an outer stitch detail adding an embellished appeal. Almost all tassel loafers men style are on point as these types of loafers are versatile to the hilt. It was created in leather in the 1950's and has not departed much from that tradition but have also been upgraded using suede. Take your pick from traditional colored loafers for men fashion like black, brown, beige, and navy blue for a smart casual look.
Penny Loafers- sophistication to the hilt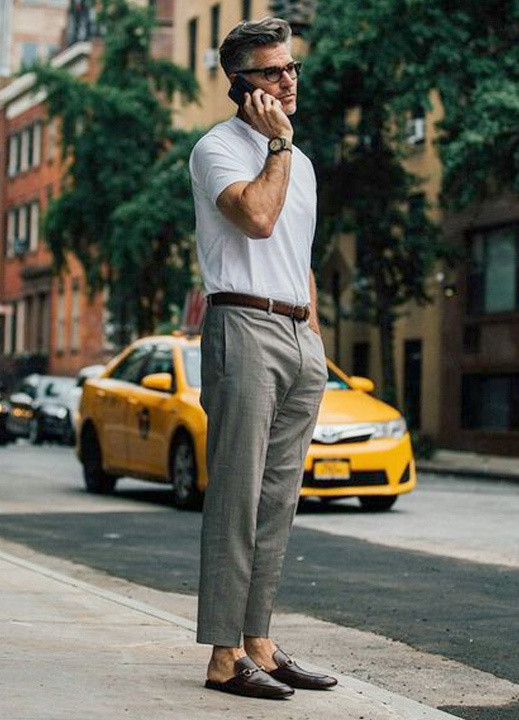 Penny loafers are another classic style statement that warrants a place in every gents' shoe collection. Penny loafer shoes came to be known as such during its prime use in the 1930's when college kids would stuff coins/pennies into the visible slit on the strap at the front. This move was considered a bold fashion statement in loafers for men style at the time and the name stuck around for generations. This type of shoe is one of the best loafers around for it can instantly add a level of sophistication to your overall look and can work well when you transition from workwear to a less formal setting.
Slip-on Loafers- for a casual look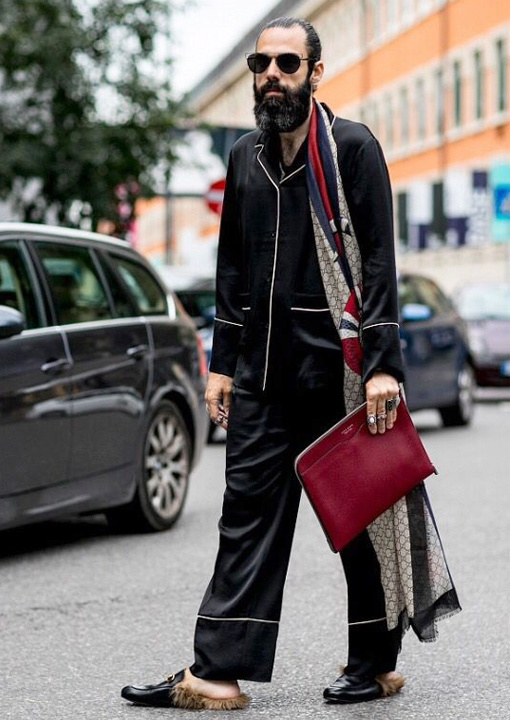 There are many ways that you can style slip-on loafers and make it work in your favor. If you are going for a more casual appeal, you can switch it up with brighter colors like red loafers for men style but pay attention to synchronize it with the rest of your outfit. Casual loafers with jeans also complement each other surprisingly well. Additionally, suede loafers are definitely in vogue right now and go perfectly well with a summery attire.
Snaffle Loafers- as posh as they get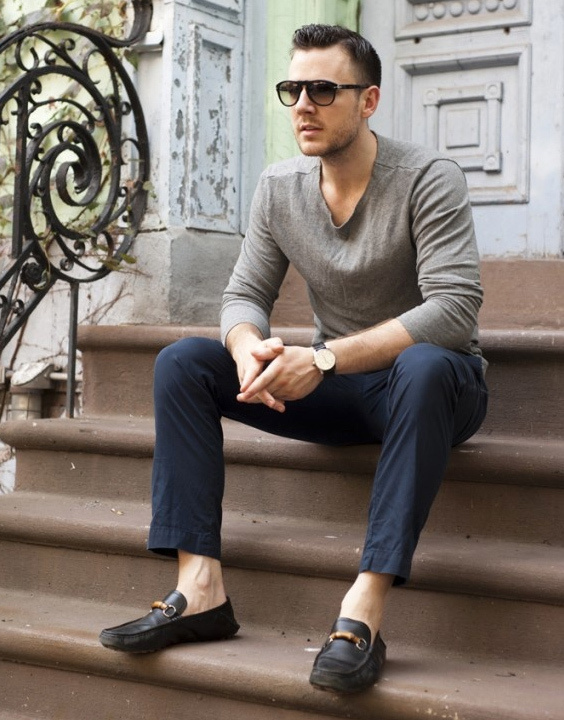 Snaffle loafers are synonymous with the Gucci brand and incorporate a horse's snaffle as an adorning piece at the front of the shoe. It was made famous by former US President John F. Kennedy, and it seeped into the consciousness of the American citizens. While opting for the best loafer shoes in this design, stick to a traditional approach in colors and materials. The leather is your best bet in such cases and can be teamed with slim-fitting chinos and a dress shirt to complete your ensemble.
How to wear loafers?
The versatility of loafers is undisputed. However, knowing the right combinations and pairings can make a world's difference to your overall look. Below are some of the ways that you can style it – loafers with jeans, with socks, and without socks.
Tips on how to wear loafers with jeans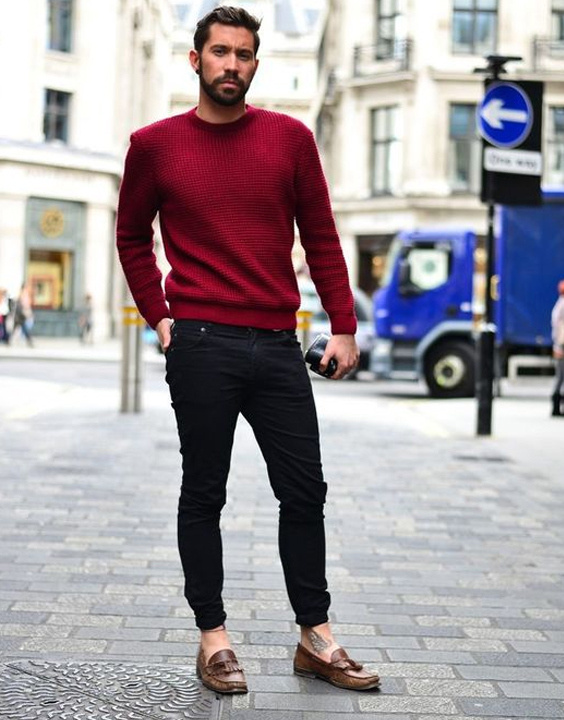 Blue denim is a staple in every man's wardrobe because of its versatility as a garment. When it comes to pairing it with an apt footwear, there is no one right answer. Loafers walk the tightrope between formal and casual wear with ease making the transition look seamless. Loafers with jeans for men can give you a polished look provided you follow specific guidelines. Tassel loafers, penny loafers complement the ruggedness of the jeans and make the best loafer shoes with jeans. Furthermore, blue loafers with jeans and a checked blazer or a jumper can take your style quotient to new heights.
Did you say socks for loafers?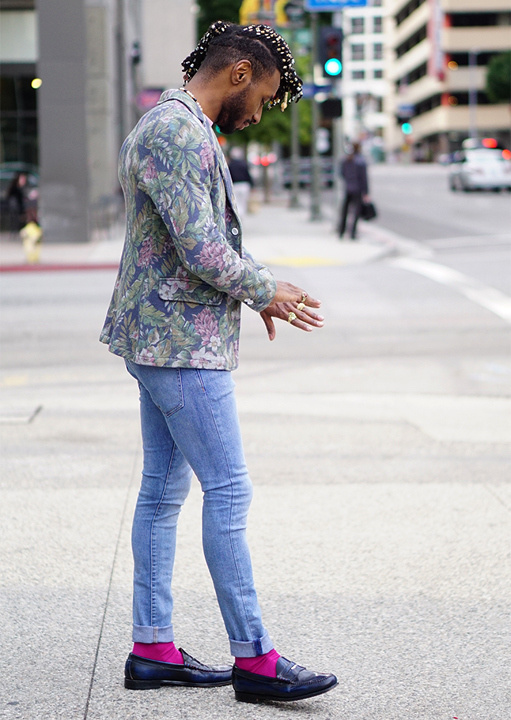 Loafers with socks speak of a more traditional look and hence investing in a good quality material like wool will hold you in good stead. Ditch your flashy patterned socks for a monochrome color, and try to coordinate the color of your trousers or jeans with loafers and socks, for a uniform appearance.
How to wear loafers without socks and look good?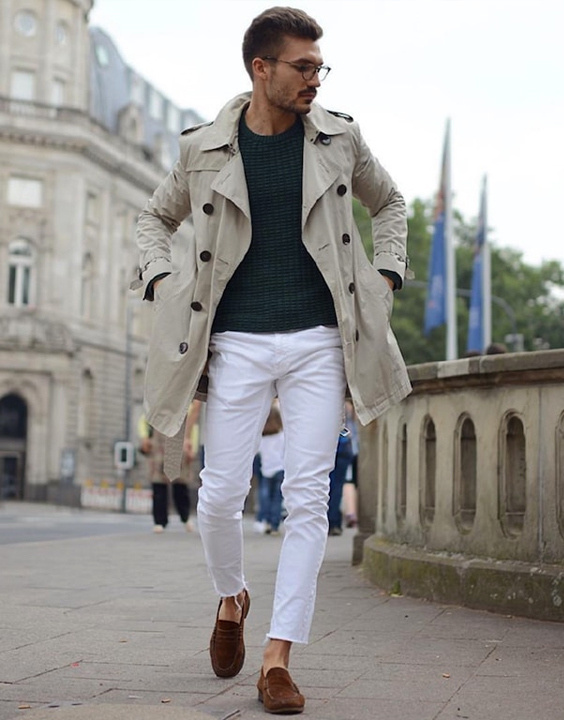 The appeal of loafers instantly shifts when you opt for a sockless look. Learning when to wear loafers without socks will take you a long way in your fashion game. Slim-fitting chinos with loafers carry a relaxed yet formal appeal. For those summery days, pick up chino shorts in beige, any crisp shirt or t-shirt and combine it with your favorite pair of loafers without socks and you can practically do no wrong. Brown loafers are signature shoes that you can fall back on when wanting to rock the quintessential summer casual look. Additionally, if wearing loafers without socks sounds like a bad idea to you, fret not, choose invisible socks, and you can kill two birds with one stone!
The best way to define loafer shoes is by understanding its functionality for most occasions and dress codes. Gents should stock up on the best loafer brands and try different combinations with their dress wear. Loafers for men style are the quintessential footwear that you simply cannot do without. Now that you have understood all there is to know about how to wear loafers, channel your inner fashionista and let the compliments come in!
Image credits: The copyrights of the images used in this post belong to their respective owners. The credits where known are specified under the image - if you're the owner of an image and want it removed, please contact us.