Find the white shirt blue jeans duo boring? Not anymore! Go ahead and read all about white shirt and blue jeans and how to make the outfit look more interesting!
Summers are extremely hot this year so it will be a safe option to stay away from dark colored outfits whenever possible as they might make you sweat. Light shaded attire goes well in summers and white shirt blue jeans is an essential classic look. You might have already witnessed and admired various versions of white shirt and blue jeans outfits.
This combination has endless potential and is rather versatile. White shirts can be layered with simple denim jeans or a distressed pair of denim, you can also match them with a cool jumper or a trendy blazer to smarten up the look.
White shirt blue jeans offer various options depending upon how you match them with shoes, blazers, and accessories. You can never go wrong with blue jeans white shirt and they go hand in hand for men as well as women. This combination is gender neutral and can make you look like a breath of fresh air on a hot summer day. Also, do not forget the sunscreen and sunglasses to stay safe in the sun! Let us discuss few of the popular white shirt with blue jeans outfit ideas for men and women.
White shirt and blue jeans for men outfit ideas
Most of us are familiar with the struggle of finding an appropriate outfit while getting ready for work or party. Just add a white shirt to your collection, and you will always be good to go.  It offers timeless, effortless sophistication in all seasons without going ever out of style. With white shirt blue jeans men can always flaunt sheer elegance while attending a casual work meeting or a romantic date night. By adding a stylish blazer and leather boots with blue jeans white shirt men can rock this versatile style on any occasion.
You will be completely wrong if you assume that there are only a few options for a white shirt with blue jeans for men to match and mix. You need to use your imagination a little bit and you will find a large range of fashion options irrespective of your personality, preferences, and occasions. If you are still wondering about how blue jeans and white shirt can prove to be the ultimate investment then stay tuned.
White shirt blue jeans brown shoes – absolute finesse!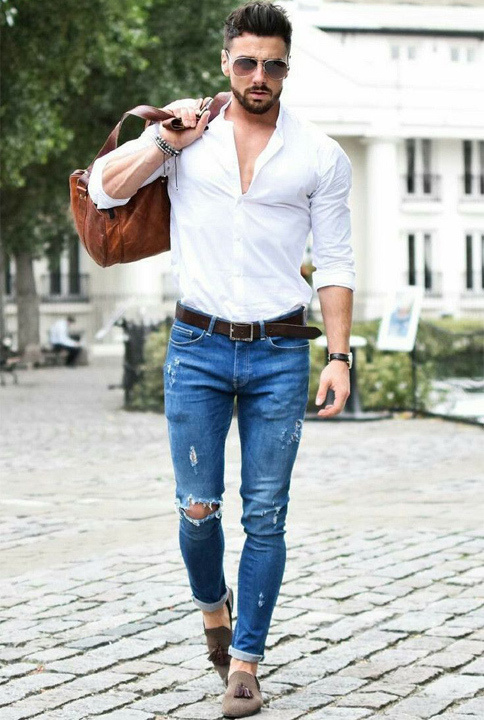 No look is complete with proper footwear and just like a white shirt, a pair of brown shoes is kind of an essential item in men's wardrobe. For a casual outing, add an extra flair to your 'white shirt blue jeans brown shoes' outfit by keeping the shirt unbuttoned. Same shirt, when buttoned up will be a perfect fit for an alternative and preppy look. Rolled up sleeves should be given due credit as it gives the sense of carefree attitude. In relation to footwear choices, brown shoes go perfectly with any leather Chelsea boots or wide laced boots.
Blue jeans white shirt grey blazer- so posh!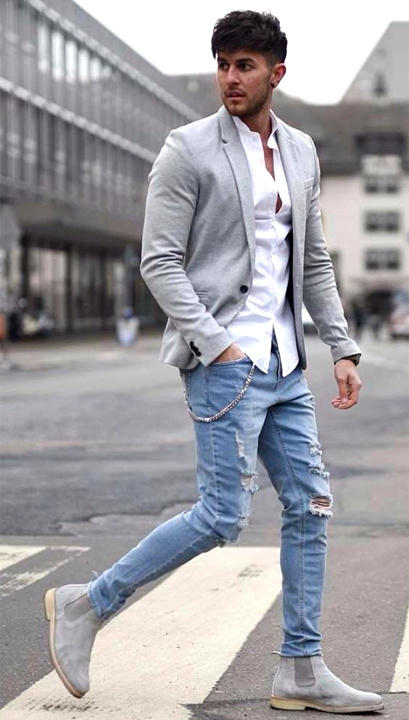 The white Oxford shirt being indispensable can be matched with almost any style. The best part is it suits everyone. To add extra spice to this attire, try to rock blue jeans white shirt and blazer look. Jacket or blazers are best for comparatively colder weather. Also, they make an alternative version of formal suits when blue jeans white shirt and grey blazer are matched together.
White shirt blue jeans women outfit ideas
Trust us when we say that you can plan your entire summer vacation around a classic white shirt and blue jeans attire. Traveling light is anyway more fun. Add trendy jeans or denim shorts, with comfortable loafers or light sandals for casual outings. You can opt among various sleeve length shirts to pair them with skinny or tailored denim. Choose your jewellery wisely based on the outfit as well as the weather. A statement piece but lightweight necklace when paired with a buttoned white shirt and blue jeans for women offers an extra classy look in contrast to the party look you get when matched with tiger print heels and a loose shirt.
White shirt blue jeans white shoes – the classic casual look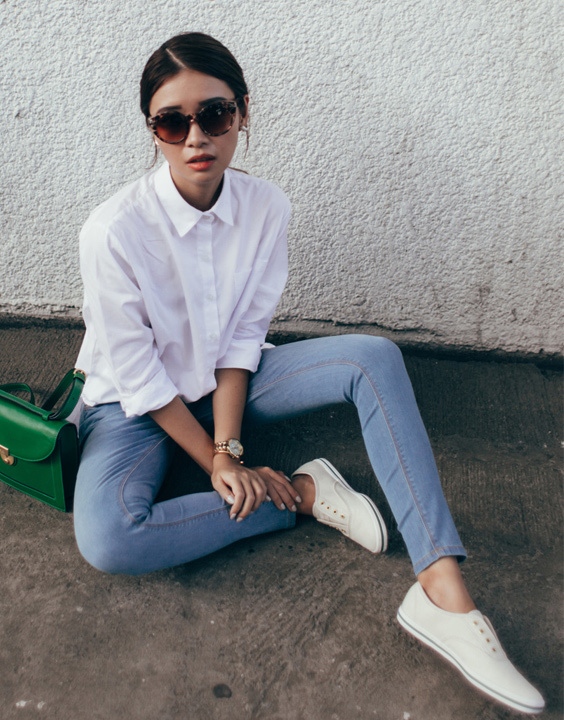 Similar to jewellery and other accessories, shoes also offer a diverse look to you. You might have faced the dilemma while choosing with white shirt blue jeans what color shoes can match perfectly. As a general rule, white shirt blue jeans and white shoes are a no-brainer option for a casual outing. You can opt for a white sneaker for a comfortable walk, or tan or brown colored platform or pencil heels for a semi-formal or formal ensemble.
Blue jeans white shirt black blazer- most popular of the look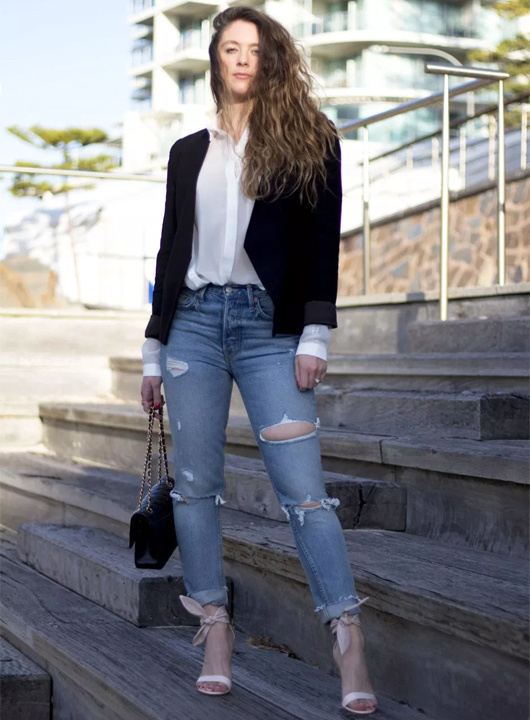 There is no competition for a blue jeans white shirt black blazer outfit depending on the weather. The idea is to match a dark-colored blazer with white shirt and jeans where the shirt can be either plain, lightly printed or striped. One of the popular ideas for black blazer white shirt blue jeans combination is to try blue jeans with black shoes and a trendy black cross-body purse.
A neutral checked white shirt light blue jeans outfit is a classic casual look to wear. The shirt print and pattern, however, can give you a better idea which one to choose. Dark jeans give a sleeker figure appearance and hence black or dark blue are very common choices. If you want to be noticed, combine high rise boots to the dark blue jeans and white shirt look.
White t shirt and blue jeans- the perfect match
Jeans are flexible with the trends. Various fashion may come and go but you can always experiment with a new look which includes denim. You choose from any color without being wrong but white t shirt blue jeans always match perfectly. For a more sporty look, pair white t shirt and blue jeans with black or blue joggers and for a more sleeker look, you may choose plimsolls. For a party look, add a trendy cardigan necklace with high heels but if you want to go for a simple and casual outdoor outing, pair the white t shirt with blue jeans look with a simple dark cap. With a white shirt or t-shirt, both light and dark jeans look great. The shirt print and pattern, however, can give you a better idea which one to choose.
For men outfit ideas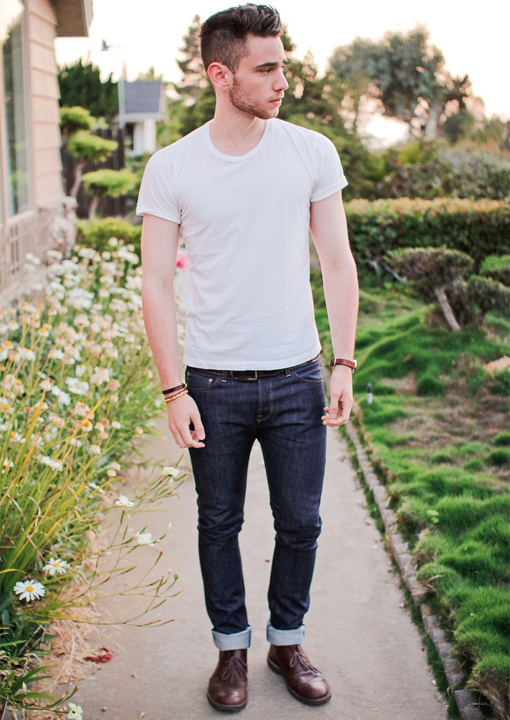 As a bonus tip for men, add smart accessories to your outfits such as a watch and a comfortable footwear to upgrade the look. Keep experimenting and don't forget to pair fashionable sunglasses on sunny days and fitted blazer on colder days with this classic white shirt and jeans look. Focus more on various details like patterns, designs fitting to get a  crisp appearance and a lean but casual look.
For women outfit ideas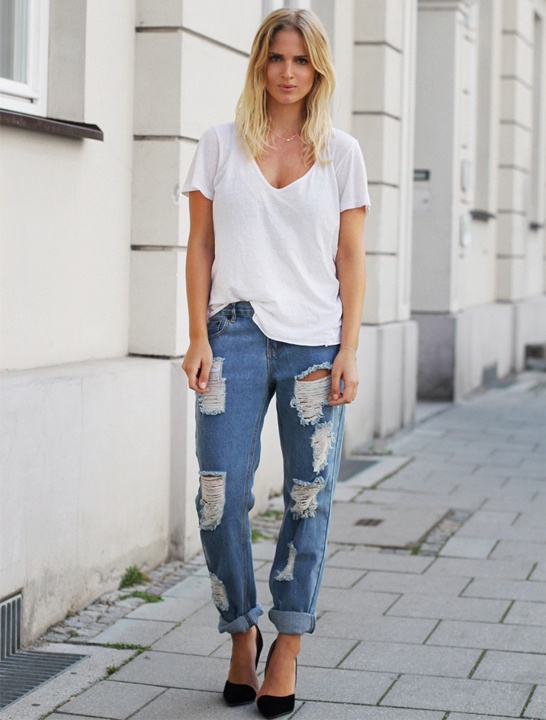 When it comes to women outfits, the sky's the limit. You can pair the white t-shirt with either light or dark jeans. Blazers give a more sophisticated look to this outfit and hence the design of a blazer should be selected carefully. Also, slim jeans will help you better by giving a flattering figure when matched with a fitted blazer.
After reading this article we are sure you know how quintessential the white shirt blue jeans combinations is and how it goes well for every event and occasion. So, now that you know everything about the white shirt and blue jeans outfit, keep trying different combinations and keep experimenting!
Image credits: The copyrights of the images used in this post belong to their respective owners. The credits where known are specified under the image - if you're the owner of an image and want it removed, please contact us.