The summer season is just around the corner, and we can't help but dream about white sand beaches and sunkissed selfies!
We're sure you share the feeling and are already planning a holiday or a staycation in your head. Even if traveling to an exotic destination isn't on your agenda this season, you can still flaunt your summer dresses and your #OOTDs for your everyday look.
From work to the weekend and everything in between, depending on where you live, don't shy away from donning your best summer gear and making a statement!
Along with rising temperatures comes the need for comfort too. We don't just mean choosing breezy silhouettes instead of skin-tight pieces, but also the different types of fabric your outfits are made of.
After all, they play a huge role in keeping the sweat at bay while you're going about your day and reduce the risk of skin allergies or summer rashes if chosen right.
Most of us don't realize until later that while prepping a sunshine-ready wardrobe, the base material of every outfit wasn't taken into consideration.
Let's all be smarter this time around, and look at the different types of fabrics that are best friends with summers before making our buys!
1) Stay Cool For The Summer In Cotton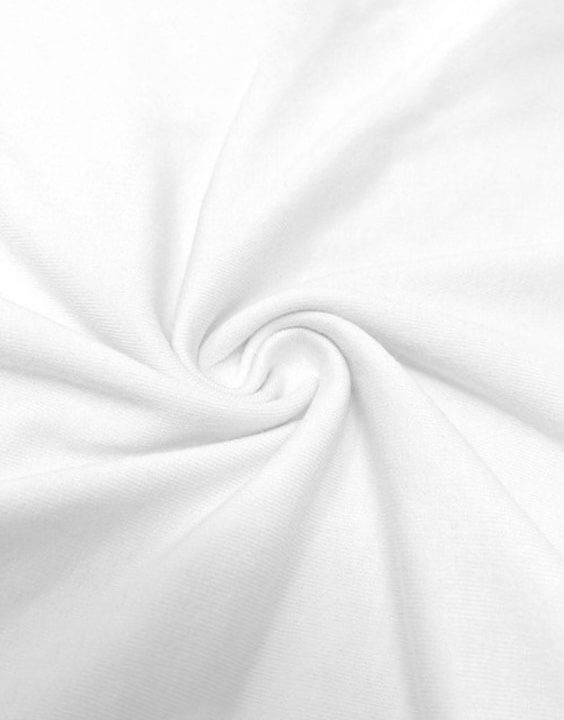 When the subject of the conversation is the types of cloth material for summer, it's impossible for cotton to not be the first one mentioned!
You must have seen your mother start hunting for cotton clothing right when the air feels warmer, or your father trade the sleekest satin shirts for men for a cotton shirt when dressing up for office! All of this is just another proof of the fact that cotton is king. But this isn't without good reason.
One of the top reasons for its popularity in the summers is its characteristic of letting air move freely between its fibers, which are all-natural by the way!
So when your body is producing sweat as a result of the humidity outside, your cotton clothing is not absorbing it – but drying it out in record time. That's why you'll notice that even odour doesn't stay behind.
This doesn't mean you should put the deodorants in the back drawer, but it just means that cotton will be an added aid for keeping you away from the moisture and the problems it brings.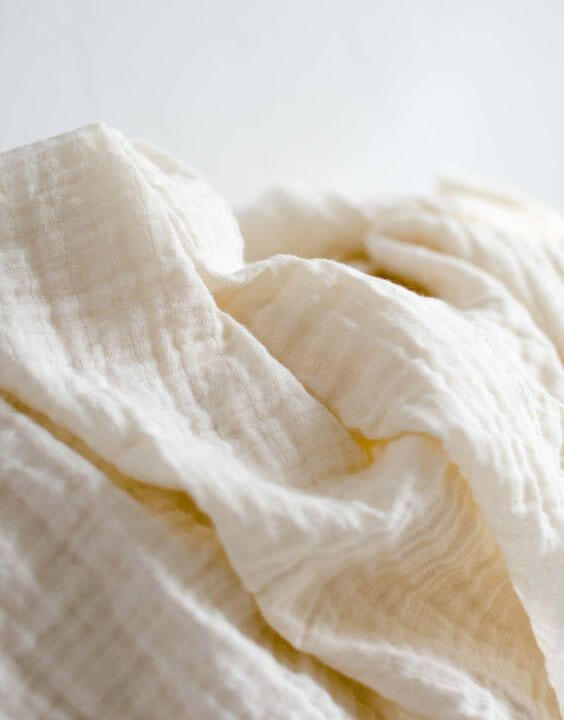 Care Tips For Cotton
Among various types of fabrics, cotton is the one that tends to shrink after the first wash, be sure to hang dry it rather than leaving it in the machine for hours. Find a sunny spot and let the heat do the trick!
Always use cold water to wash cotton clothes!
Stretch your cotton tee, top or trousers gently when you pull them out of the washing machine. This will help them to get back in shape.
Ensure you go for a comfortable fit rather than a skinny fit because if you choose the latter, you might not fit into it once it is washed and dried.
Never forget to refer to the care tag on your clothing item to know what temperature you should be ironing it at, especially when it is cotton.
2) Let Linen Rule Your Wardrobe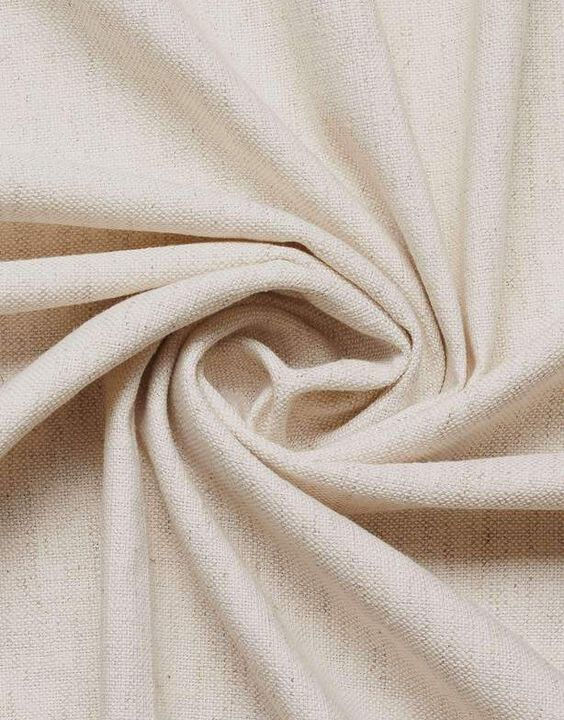 Linen has undoubtedly made its way to every sustainable wardrobe, and we're welcoming it into ours too. It's refined, it's trendy and it's natural – which means, it's one of the most pleasant types of fabrics to don in the summers!
Even though the price points on pure linen are higher than cotton, it is still a fabric that is preferred over much else because of its versatility and minimalistic appeal.
Made essentially with flax fibers, linen just like cotton allows air to flow through it thus making it super breathable and comfortable for higher temperatures.
Another best part about it is that instead of clinging to your body, even when you're sweaty, it stays a good inch away from the skin without looking too stiff. It is also quite popular for holidays in humid areas and can establish you as the style guru of your squad instantly!
Since linen not just allows air to move freely between its fibers but also absorbs sweat or water, you can be rest assured that while wearing something made from it, you will not face clamminess of any kind! This is why a lot of types of linen fabric are also known as magical fabrics, as they absorb as well as help in evaporation even before you know it.
Isn't it worth it to spend a little more money when what you get is this good?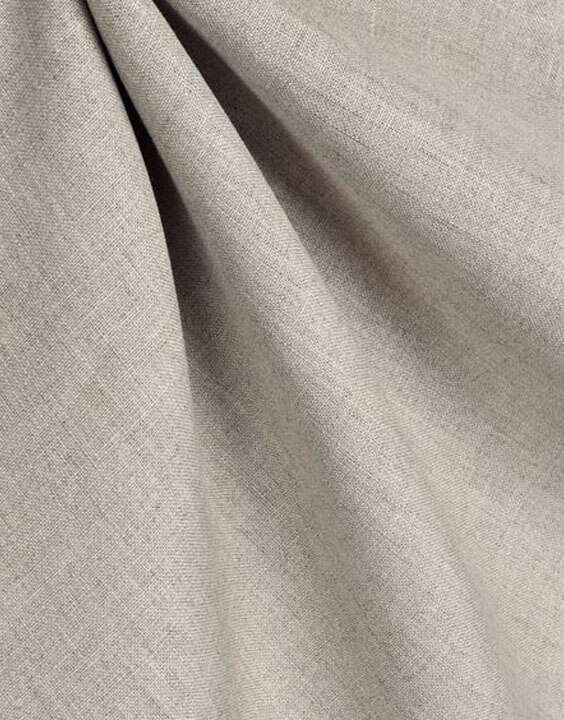 Care Tips For Linen
It is always best to wash linen clothing in either lukewarm water or cold water, and you need not use a fabric softener as linen softens regardless after a few washes.
You can tumble dry linen and then take it out of the machine when it's a little damp to air dry it and avoid crumbling or stiffening.
You don't, and in most cases, shouldn't iron linen. It straightens itself out, and light crunches add texture.
When storing clothing made of these types of fabrics, make sure it is done in a cool and dry place! Check out for types of cloth material names with pictures to know more about linen clothing and its care.
3) Ditch The Denims For Chambray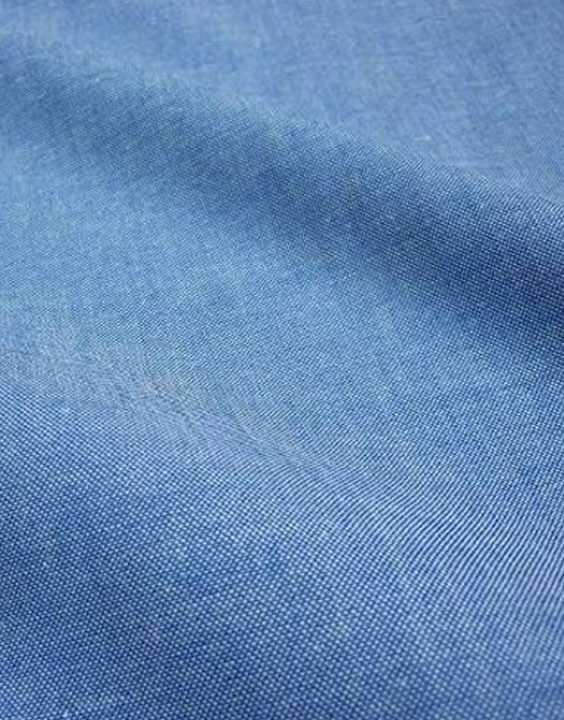 Even your most-loved, loose-fitting jeans can't save you from the onslaught of sweat, courtesy of the sun shining right above your head at all times. You might end up feeling itchy or uncomfortable in seconds, and even several trips to the restroom will be of no help.
Yet, you aren't willing to give up your denims because they're the obvious choice every day, right? Wrong! At least for the summers, denim fabric is one of the worst types of clothes fabric you can choose. You'll be drenched in seconds, and since denim isn't absorbent, it will also weigh you down.
Don't let the lightweight wardrobe dream escape you just yet; because chambray is among the types of fabrics that will replace your beloved denim in the warmer months. How? It looks exactly like denim, and offers the same comfort and characteristics that cotton or linen do.
Chambray is also just as versatile and offers that 'casual edginess' that every man and woman wants when it comes to their off-duty closet. Whether it's a crisp shirt or a breezy yet structured pant, in chambray, we trust!
Give these types of fabric material a shot and watch as your summer season wardrobe transforms into something only dreams are made up of.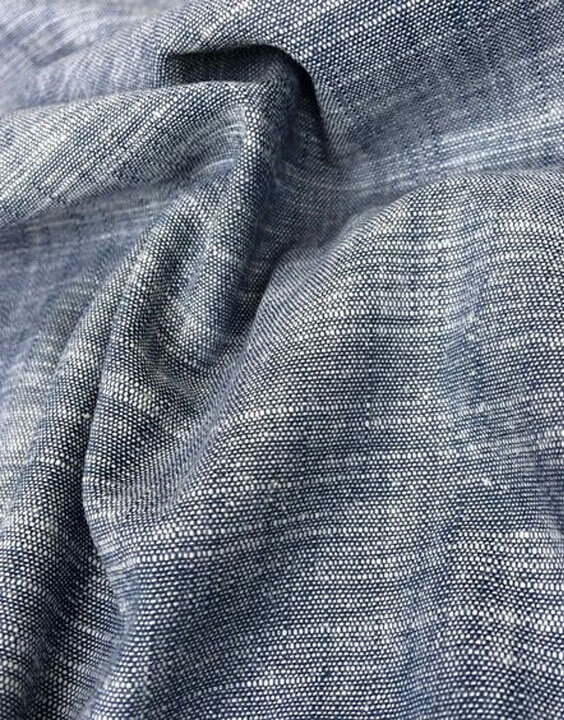 Care Tips For Chambray
A lesser-known fact about chambray is that it really is cotton, and so, shrinkage is inevitable. To prevent this from going overboard, care for it as you would for cotton – wash it in cold water and hang dry. You can also choose to tumble dry!
These types of fabrics wrinkle very easily, because of the fine weave. To get rid of creases, set your flat iron to 'cotton' and don't let it get too hot. Steam ironing is another great option.
You can add fabric softeners and fragrances to the machine while washing, but chambray tends to soften up and release odour regardless. Find chambray in a guide that says types of fabrics with pictures and you'll know how it looks.
4) Rayon For The Win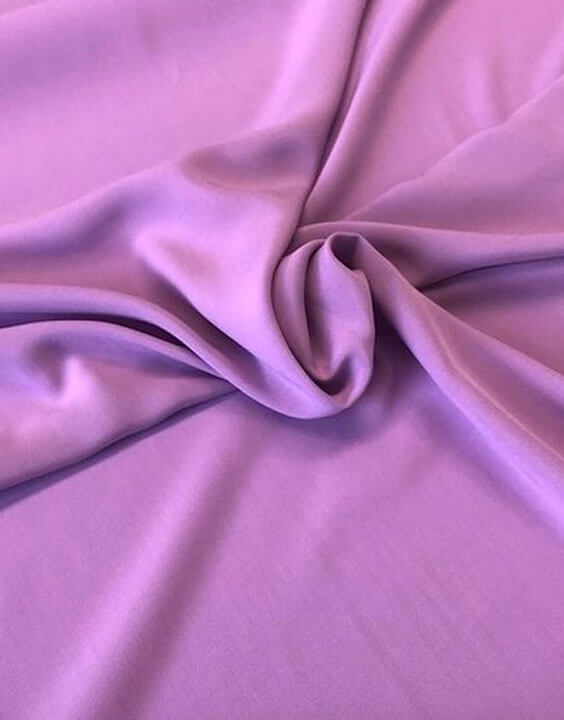 A general rule of thumb for summers is to stay away from man-made fabrics and opt for natural fabrics instead. But as all rules have an exception, so does this one.
If there is one man-made fabric among various types of fabrics that you can not just do away with but is also summer appropriate, it's got to be rayon! It is a seamless blend of cotton, wood pulp along with other natural and synthetic fibers. Since silk is a costly fabric, rayon was designed to replace it in a way that offered similar benefits yet didn't dig a hole in your wallet.
Just like other fabrics on our list, rayon too has really fine fibers which once again, allow air to move freely from between. Rayon will refrain from sticking to your body, thus giving you added comfort!
When it comes to the fall of the fabric, it's not as flowy as silk but can definitely be draped. This property is unlike that of other fabrics on our list.
Depending on what it is blended with, it can visually mimic the qualities of other summer fabrics like cotton, wool, silk, etc. thus making it versatile enough to wear anywhere, and you can also find it easily on online shopping India websites!
Most commonly, it's blended with viscose but always go for clothing that has an overpowering percentage of rayon.
You'll be happy to know that rayon is also athletic-appropriate, which means you can don it for light exercise. Modal rayon and lyocell are also other types of fabrics or blends of rayon that are extremely popular.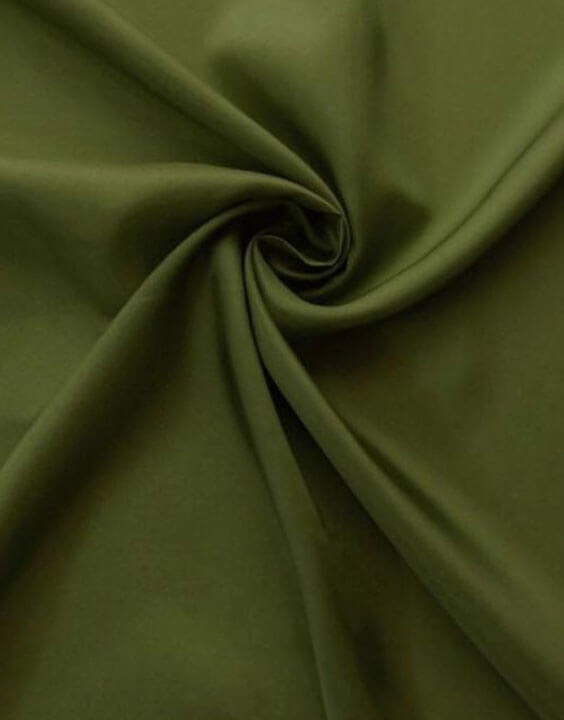 Care Tips For Rayon
Rayon might be apt for summers, but it isn't among the most durable types of clothing material. So the laundering has to be done very carefully. It can stretch, shrink or develop holes too. You should consider hand-washing rayon instead of putting it in the machine.
It can also bleed colour, so it's best to wash it alone.
Since rayon is a blend of other materials, ALWAYS check the care tag that comes with it to understand how to care for your item of clothing in a more specific way – because 'one size fits all' idea won't help. Also, check out types of fabrics with names to get a better idea about rayon.
5) Breathe Easy In Jersey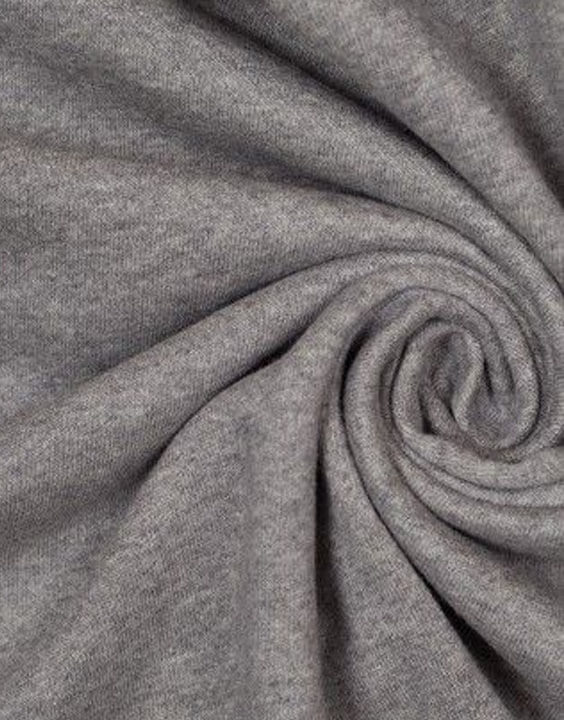 Summers mean staying away from anything that clings to your body, but in case you want snug fitting kinds of fabric, make sure they are jersey.
With loose weaves and fine threads, jersey is a blend of cotton and synthetic fabrics. The knit fabric is soft, stretchy and flexible, so it will be anything but stiff on your body!
Jersey can also make your summer layering dream come true. Just look for a cardigan, pullover or shrug in this fabric and you'll be set!
For the warm weather though, stay away from jersey with a mix of spandex and always look for cotton blend. It is more absorbent and dries faster, unlike its synthetic counterparts. You can also go for a silk blend which will be smoother and feel more breezy when worn. It is also a durable fabric, so if you need to spend some extra bucks on it, it's all worth it.
Dresses, coats, etc. can be found in these types of fabrics, and not just t-shirts for men. Give it a try and see for yourself what we're raving about!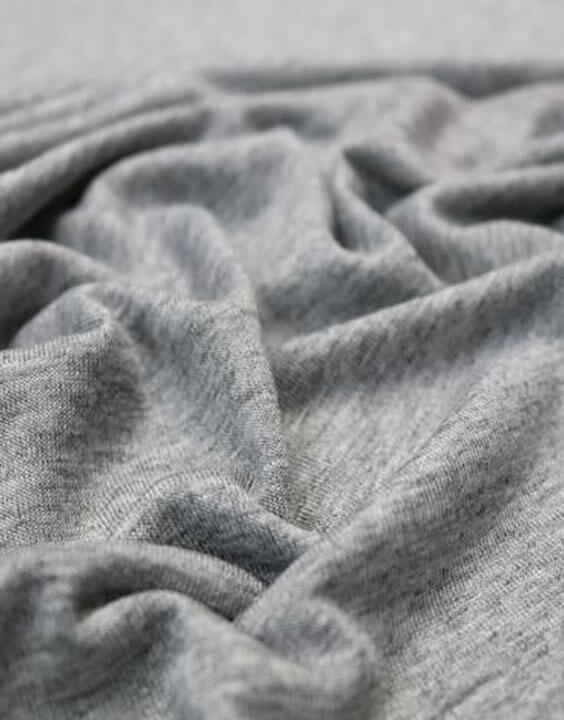 Care Tips For Jersey
Make sure the water is lukewarm or cold if you're hand or machine washing jersey.
Most knit fabrics don't need ironing if you don't leave them crumpled up in the dryer for too long!
If your clothes have embellishments, turn them inside out before hitting the start button on your washing machine.
Do not tumble dry these types of cloth! Pull it out gently and lay it on a flat surface. Let it air dry and don't stretch it.
Jersey tees can be put on a clothes hanger and line-dried, as this will retain their shape. Also, check out types of cloth materials with pictures to know more about jersey fabric.
We hope this article has triggered you to go hunt for summer fabrics on a clothing app right away – because the rise in temperatures is just 'round the corner.
Image credits: The copyrights of the images used in this post belong to their respective owners. The credits where known are specified under the image - if you're the owner of an image and want it removed, please contact us.