An important work meeting coming up, your friend is finally getting married or dreamt about walking the red carpet again? Keep handy your different types of ties for the festival that is life.
A statement staple since the 20th century the right tie at the right moment can elevate your style.
Wearing a tie gives you an edge over others and defines that you have put in the effort for the occasion. To carry yourself with finesse and utmost professionalism in a formal setting, a tie is a must.
Different events warrant different types of ties. Step-up your fashion game and forego the single tie you have used for every occasion till now. Add spice to your closet with some interesting and fun types of ties. Suit up folks because we are going to learn all about the world of ties.
A gentleperson should never leave their manners or ties behind – help us to help you choose the right ties!
1. The Necktie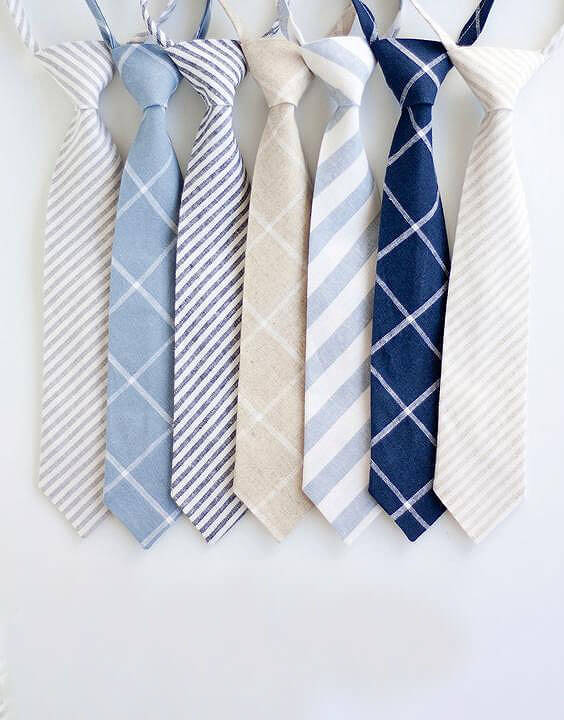 One of the most popular types of men's ties is the classic necktie. It can work for both professional and personal events.
There is a myriad of styles and trends surrounding the necktie and you can experiment with different knots and patterns for acing a refined look. With a little tweak in the design of the tie, the whole look can be transformed.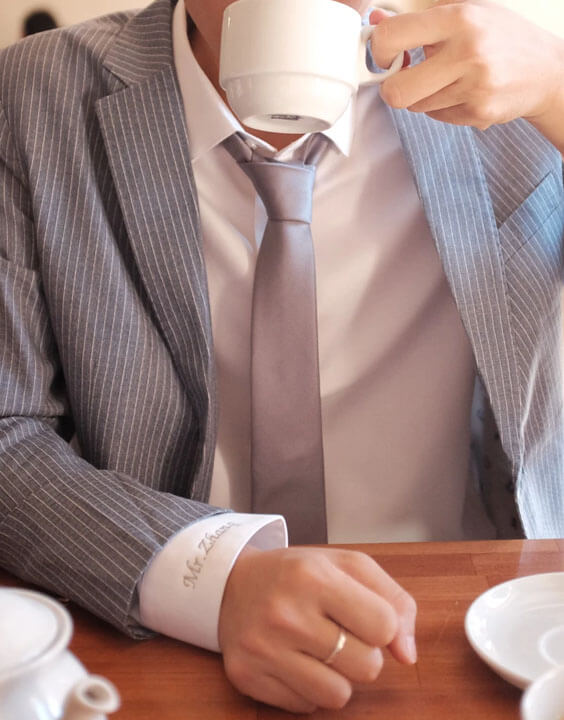 This plain and professional necktie works best for meetings and official work. These ties are stitched with sophistication and makes you look sorted.
Pro Tip: Choose different colors of ties based on the suit and shirt you are wearing. Let your tie blend with the outfit and not stick out like a sore thumb.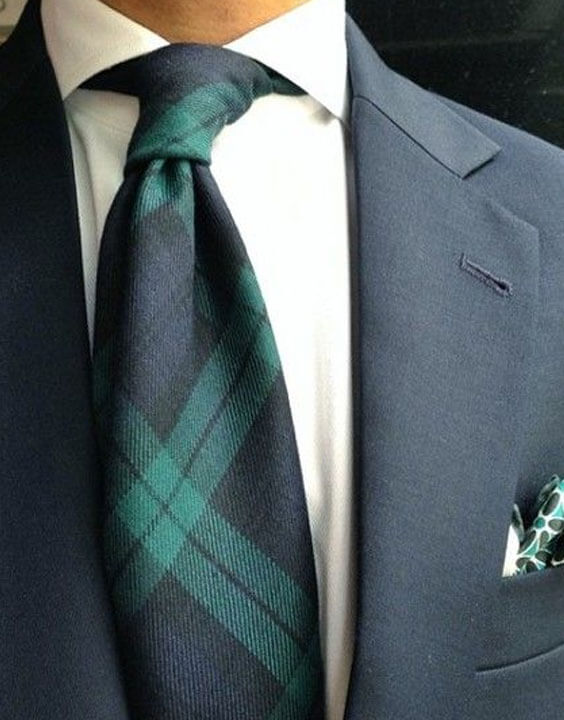 Tartans, diagonal stripes, polka dots, or paisley .. phew… the options are endless for patterned ties. Before you get overwhelmed, we'll break down the uses of different patterned ties.
Patterned ties are usually reserved for informal or casual settings. In a formal professional environment, you can wear a diagonally striped tie but preferably in darker shades with extremely thin lines.
For weddings and receptions, take out your paisley prints and add vibrancy to your outfit. Wear your checks considerably over otherwise plain attire to add texture to your #OOTD.
Pro Tip: Patterned ties with quirky designs can be very charming and should be only worn on casual occasions.
How to tie a tie knot
There are several ways you can tie the necktie depending on how fancy you are feeling. From basic knots to intricate styles – there are different ways of fashioning a tie.
We are here to help you teach how to wear a tie and different types of neckties and knots. Select one of your ties and start practicing!
Basic Knot
Put the tie around your neck with the seam facing inward. The broad end should be towards the left and a couple of inches lower than the narrow end of the tie.
Keep the broad end of the tie before the tail and then take it around the back horizontally.
Cross the thick end of the tie once again from the front of the knot from left to right.
Pass the thick end again behind the knot horizontally from right to left.
Pass the thick end one more time across the front of the knot from left to right.
Bring the tip of the thick end up from below the loop and put it up behind the knot, down over the front of the knot, and through that third horizontal loop.
Tug on the thick end through the horizontal loop and pull it down.
Adjust the tie as you like by holding the knot in one place and pulling the tail of the tie. Tighten it properly for a formal look.
Full Windsor Tie
Drape the tie around your shoulder with the thin end kept short. The broader end (blade) will be used, so it should be kept longer.
Take the thick end of the tie over the thin and then round the back.
From the right, tuck the thicker end through the middle and pull it down. After that, it is taken to the other side and again tucked through the middle – creating 2 shoulders of the tie.
Hold the tie from the opposite side (right side) and take it around the front and once again tuck it from behind through the loop and pull it down from the knot.
Press the knot in place and pull it up slowly. Adjust the placement of the knot and you are ready!
Easy, Peasy, Lemon Squeezy!
Have fun with your types of neckties and remember the cardinal rules of tie fashion. A put-together look makes you feel more confident and your tie exuding sophistication can help you be more sure of yourself!
2. The Bowtie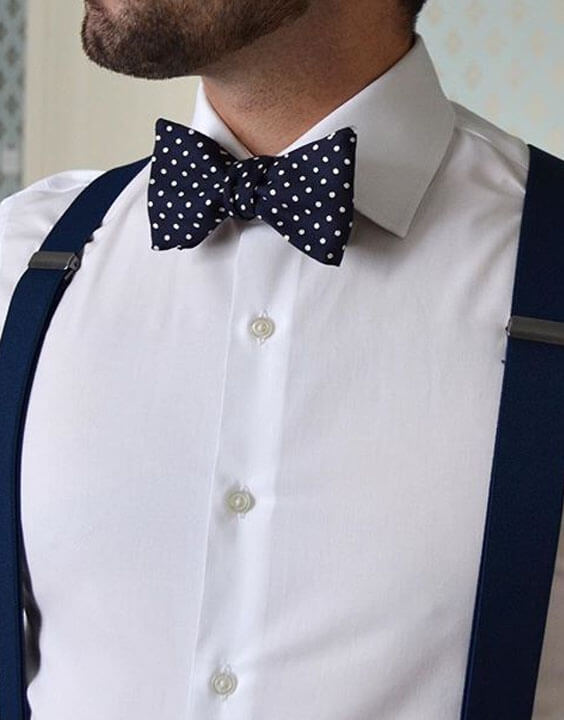 Your tuxedo is incomplete without a bowtie. A respite from all the neckties, these types of ties can be your partner-in-suit at formal events.
Bowties are especially recommended when you are the focus of an event. A seersucker suit and bowtie are also a great combination for your next calendar event.
Pro Tip: Bowties rank high for the different types of ties for weddings. You can accentuate the look of a simple 3-piece suit with a bowtie.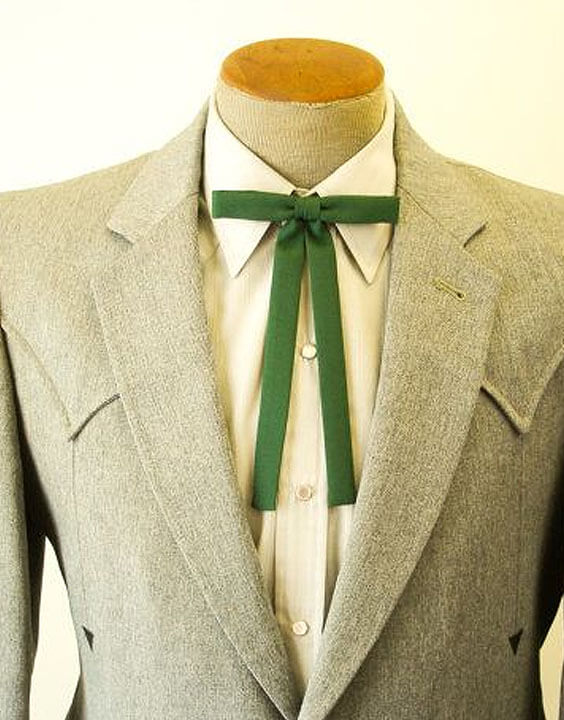 Just when you thought choosing a bowtie will be easy, it gets interesting. A western bowtie is a casual type of tie. It harks back an image of Colonel Sanders.
A vivacious and fun trend, a western bowtie should be for very informal and worn on casual events with friends and family.
How to tie a bowtie
Place the bowtie around your collar with one end longer than the other, depending on your dominant hand.
Bring the long end over the short end of the tie. After that bring the long end under and through the hole, pulling it tight.
Fold the shorter end of the bowtie and put it in the center. Now, bring down the longer end and place it on top of the folded shorter end.
Take both the ends of the tie and hold them together, forming a hole at the back.
Take the end of the tie which is hanging down, fold it, and push it through the hole.
Adjust the bow from both ends, tugging on opposite ends till the tie is in the desired shape.
3. The Cravat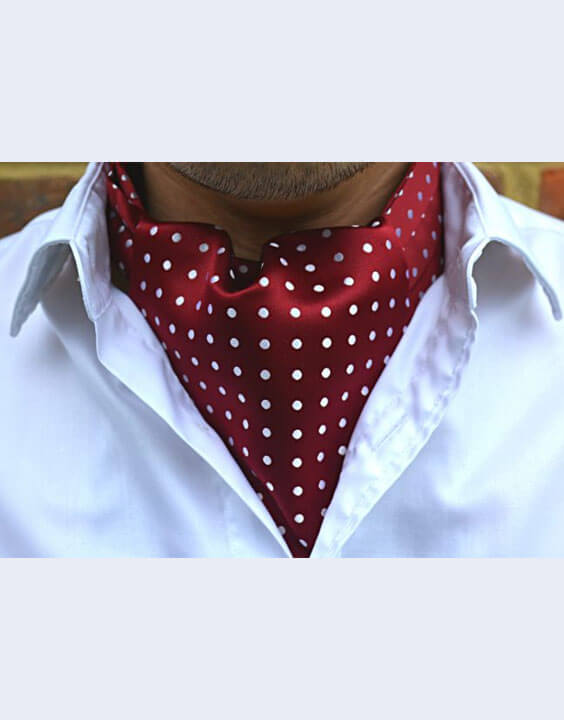 One of the most grandeur types of ties for suits, the cravat is very dressy and worn on formal occasions. The cravat is usually worn by militia as it was originated by the 17th-century regiment – The Croats.
Cravats come under luxury fashion accessories and can be styled with velvet jackets, smart blazers, or tweed suits.
Pro Tip: A cravat should be avoided in a business setting and can be carried well on a wedding or reception. Always wear a Cravat with a dress shirt and impress everyone with your impeccable style.
4. Bolo Tie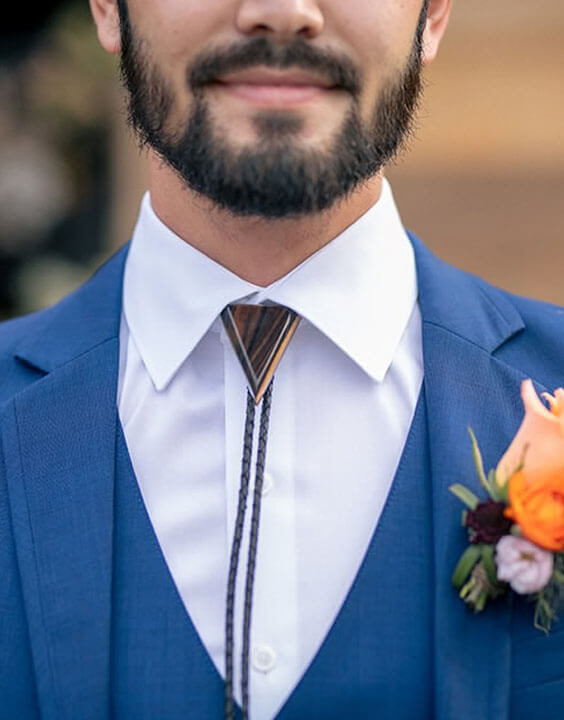 We can't have formal ties and have all the fun! These extremely unique and different types of ties, make your outfit stand out in the crowd.
Bolo ties have become a trendsetter in pop culture with famous icons fashioning them on the red carpet.
A more eclectic and quirky look, these types of ties are made out of braided leather. It is secured with a distinct metal buckle that comes in every shape and design.
From an animal motif to as simple as a bottle cap as a clasp, bolo ties are great experiments with fashion.
Pro Tip: This simple yet profound piece of neck jewelry suited with shirts for men will certainly turn heads at celebratory occasions. Though they have been popularised, they still can't be worn in a professional setting 🙁
5. Neckerchief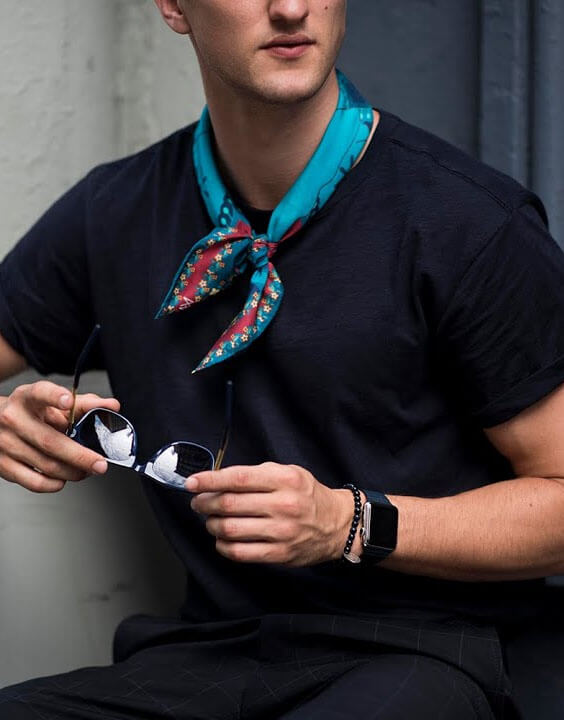 They are cool, they are hip and they are trendy! Neckerchiefs are a hassle-free way to accentuate your everyday look.
Going bar hopping with friends or for a road trip, these types of ties wrapped around your neck give off an edgy look.
Pro Tip: Neckerchiefs can be styled with a round neck t-shirt and a blazer for a casual yet stylish #OOTD. Easy to procure & easier to secure, a neckerchief in your closet would definitely do a big favor to your fashion game!
6. Skinny Necktie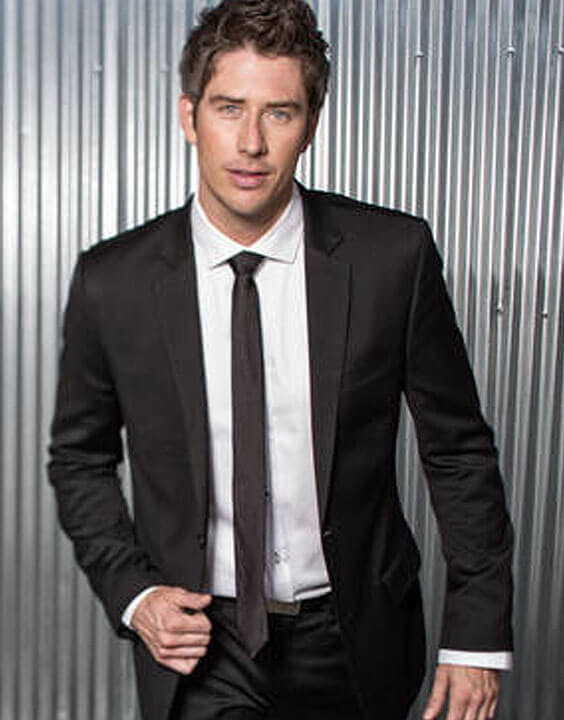 With the blade or the broader end of the tie significantly thinner than the usual necktie, skinny neckties look dapper at celebratory events. Fashion mavericks swear by these types of ties to highlight your outfit.
Skinny neckties throw off a very young vibe and are usually kept away from business meetings. For an after-party or reception, wearing a skinny necktie is a dapper fashion statement.
Pro Tip: Hailing from a casual stream of fashion, the skinny necktie can be paired with jeans, jazz this modish outfit up with confidence and a straight back!
7. Clip-On Tie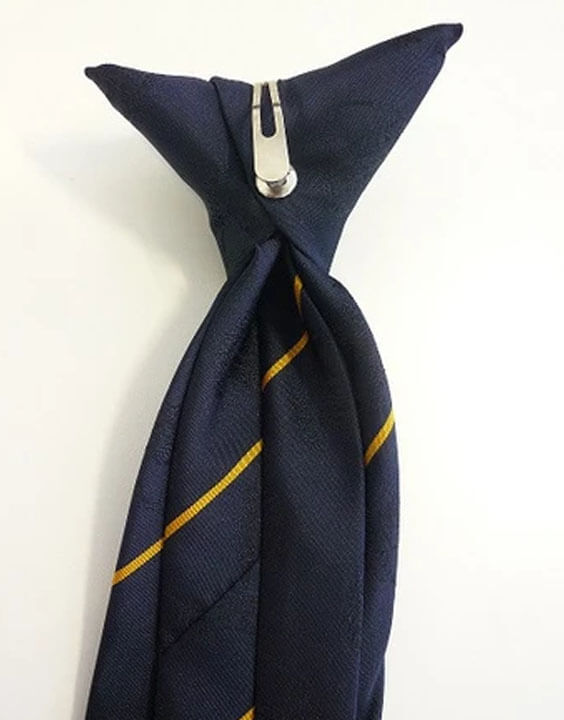 No time to watch how to wear a tie tutorial? Well, clip-on ties are the perfect solution for you! The pre-tied accessory looks just as good as a normal tie but we would recommend wearing it in a place you don't mind looking lazy 😛
These ties are no effort to put on and help you spruce up your outfit just the same. Even bowties come with ready-made bands which you can just fix and voila, in no time you are ready for your party.
Pro Tip: Always keep a clip-on tie handy in an emergence (Of course there are emergencies when you need a tie immediately).
8. Kipper Tie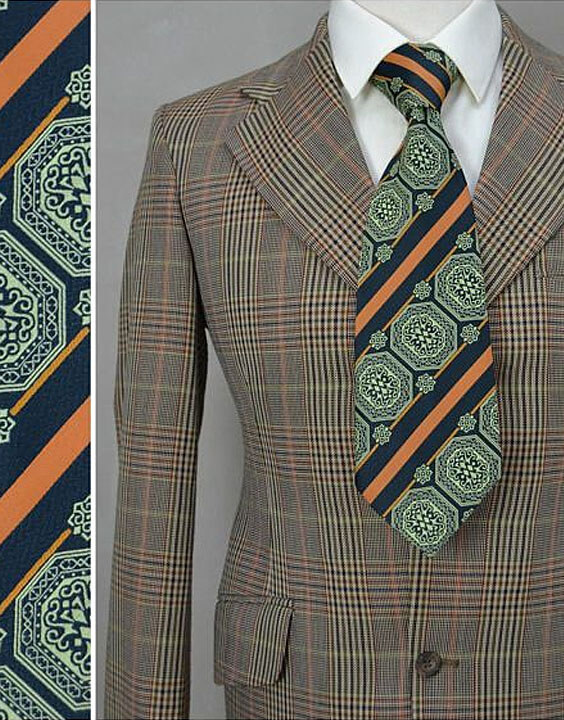 Hailing from the fashion streets of Britain, the kipper tie has a distinctive width that sets it apart from the rest. These types of ties are credited with bold colors and over-the-top designs.
This tie was a fierce statement in the 1940s worn by World War II Veterans.
Kipper ties are unique and poignant, sure to pull eyeballs.
Why Wear Ties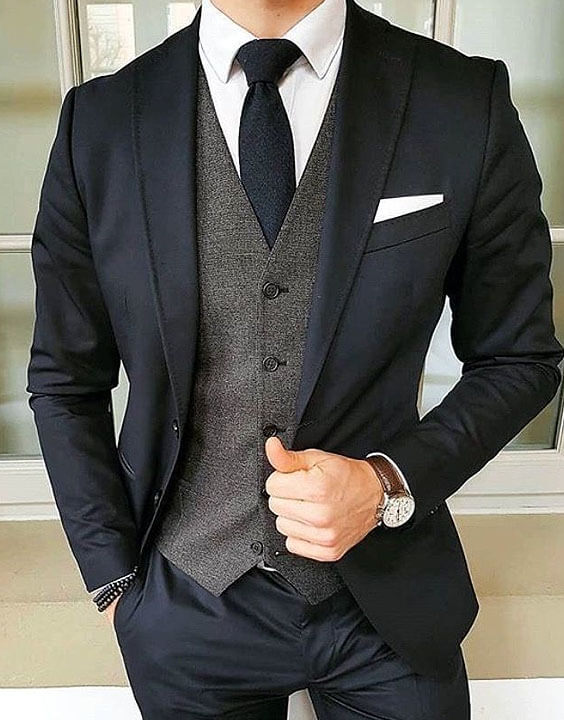 More than a style statement, wearing a tie is an expression of professional attitude, a put-together personality, and a gentleperson's appearance.
Wearing a tie in a professional environment will help you fit-in and feel more confident and assertive. Accessorize your tie with pins and brooches for a more suave outlook.
Know the occasion and choose an appropriate tie for making a lasting first impression. It is time you give a little more attention to your tie collection. Accentuate your presence in a room with a well-groomed look, you can walk around with an air of influence and authority.
Just a tie can do all this magic. So what are you waiting for, get online shopping apps and start scrolling for some wonderful ties.
Image credits: The copyrights of the images used in this post belong to their respective owners. The credits where known are specified under the image - if you're the owner of an image and want it removed, please contact us.