There are several things that your wardrobe can't survive without, like perfectly-fitted tees, versatile jackets and great loungewear. But the one thing that easily tops the list has got to be jeans! The right pair of denim can really take you places, and we'd be lying if we said that owning only one is enough. Let's talk about different types of jeans for girls.
You need to move beyond your favorite skinny jeans and pave the way to experimentation. We know how you can get started on it, and that's by knowing more about the plethora of options available to you.
Read on as we list the different types of jeans for girls –
1) Skinny Jeans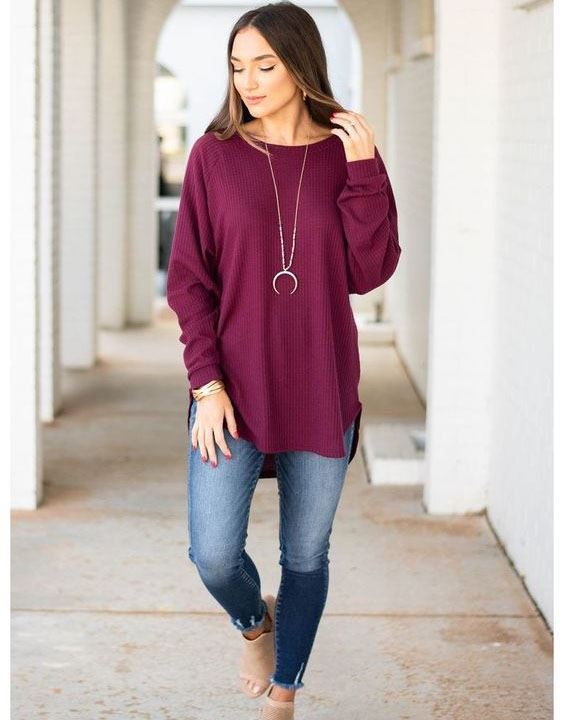 'Fit like a glove' is an expression that one can definitely use while describing skinny types of jeans for girls! They hug your curves perfectly, and are practically all-rounders. Whether it's a shirt or a t-shirt, a blouse or a kurti and everything in between; skinny jeans do it all and do it well!
They are one of the very few pairs of jeans that can go from work to weekend without even trying, and not a single soul will bat an eye if you turn up in them at your workplace on a Monday morning. Let's see how you can style them effortlessly!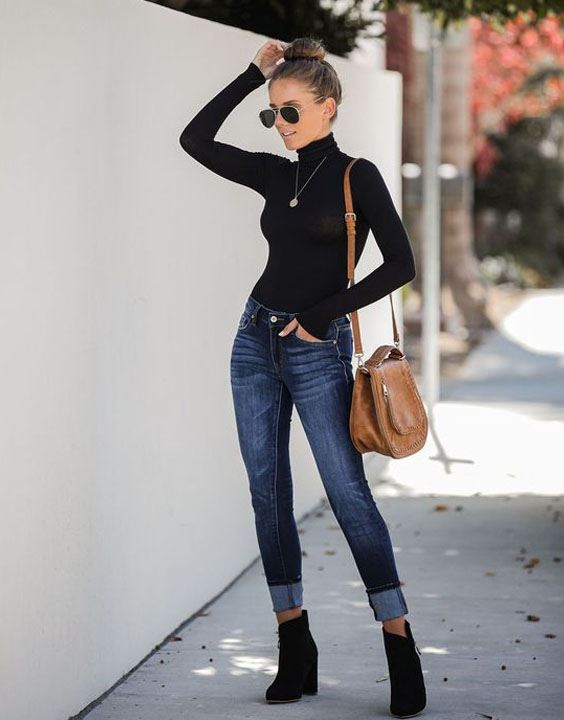 Get out your favorite turtleneck tee and tuck it into your jeans. Choose a pair of booties for your feet and tie your hair up in a high bun. Accessorize with a dainty chain and a hobo.
Long shrugs look stunning with skinny jeans. You can add a pair of knee-high boots and a high neck t-shirt to the mix, along with a statement bag and a pair of sunnies during the day.
Here's answering 'how to wear kurtis with jeans': by adding wedges and a lightweight necklace. Flaunt this #OOTD for casual outings with the girls.
2) Low Waist Jeans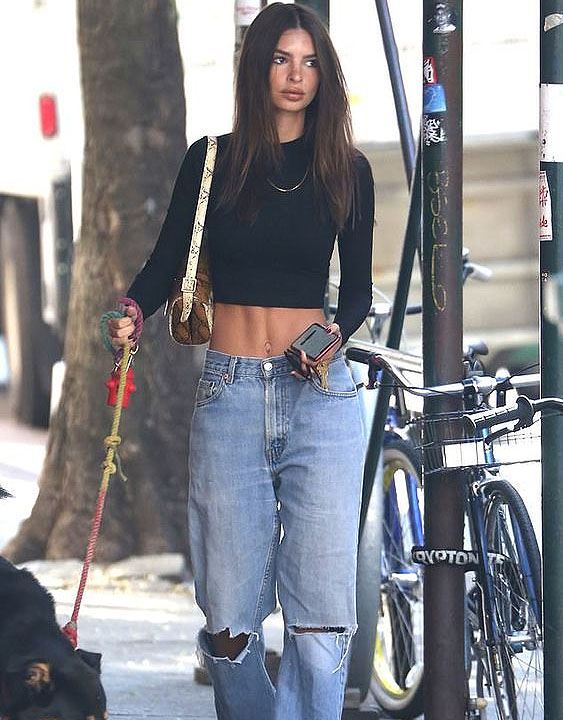 Low-slung denims are back in fashion, as you may have noticed by now! This doesn't go to say that high-waisted ones aren't the 'it thing' anymore, but it just means that in the world of all types of jeans, each one is a hero and takes center stage.
These denims sit just below the hip and are being chosen by more and more influencers and enthusiasts these days because of their comfort-casual appeal. You can also give them a shot with our ace styling tips!
Be sure to bookmark them for later if you're not convinced by low-rise jeans yet.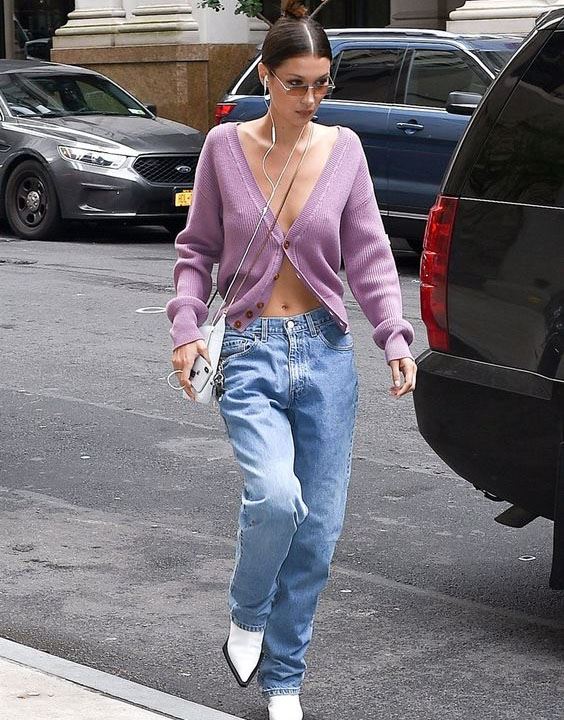 Level-up your street style by wearing a half-open cardigan in a pastel tone with really low-slung, baggy types of jeans for girls! You can choose to team it with boots or go for pointed-toe shoes and finish with sleek shades.
To turn up the heat, give in to low-rise jeans and a sports bra. Be sure to wear a pair of mid-length boots and strike a pose!
Another trendsetting way to wear these jeans is with a high neck crop top and a statement necklace to go with! Finish with white sneakers.
3) Boyfriend Jeans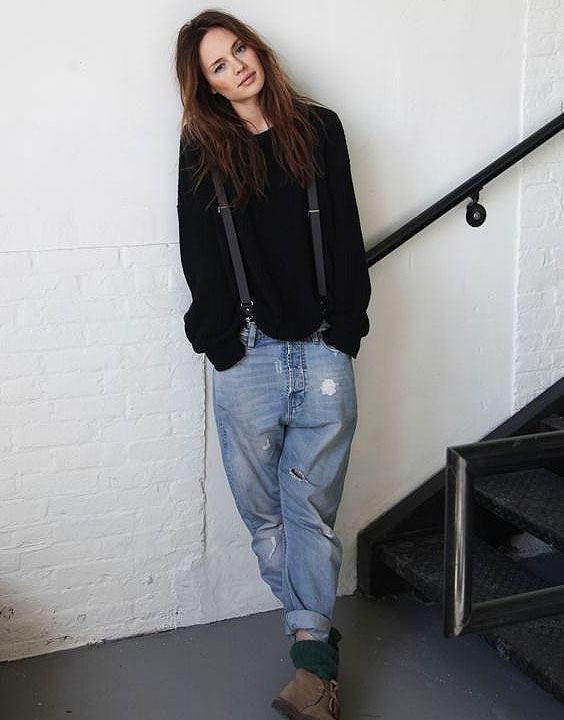 When boyfriend jeans hit us, we couldn't believe that denims could offer the same comfort as our favorite lounge pants and be uber-stylish for the outdoors!
No, it's nothing like slipping into your boyfriend's jeans, but more about keeping it baggy yet fashionable.
They're aimed at people who love street style, and also at the ones who wish to feel less constricted.
The silhouette involves different types of jeans for women in all sorts of designs, from patchwork ones to distressed ones. Align them with your personal style and you've got yourself a winner.
Here are a few ways to wear them, as seen on fashionistas on the internet and on shopping apps!
Boyfriend jeans are perfect for running errands! So when grocery shopping or other important chores are on your to-do list, then slip into a pair of boyfriend jeans, teamed up with a boyfriend t-shirt.
To go for a proper tomboy look, wear these types of jeans for women with chunky sneakers and a sweatshirt! Refrain from accessorising.
We love wearing these types of jeans for women with a graphic tee and a denim jacket! White sneakers add the perfect finishing touch, along with super cool shades.
4) High Waisted Jeans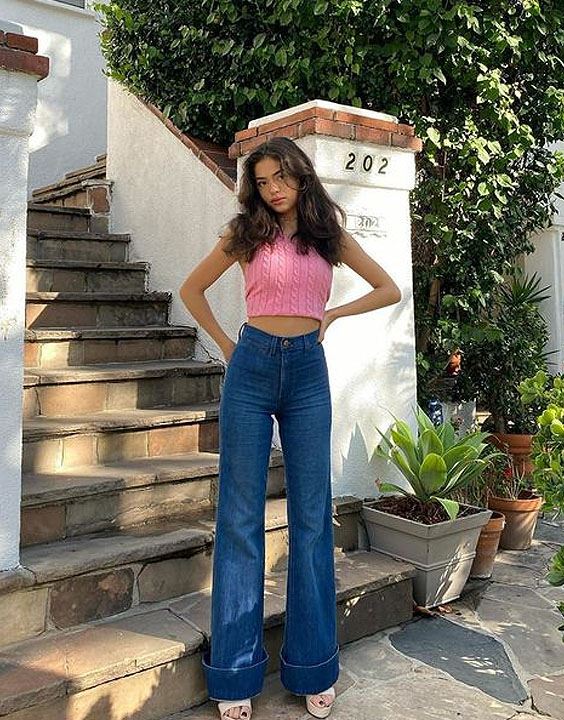 The exact opposite of everything low-hung jeans have to offer, high waisted ones are something of a sensation in the fashion world.
These types of jeans for women can be snug or they can be relaxed, they can be deconstructed or they can be colored; what remains common is how they sit just above your navel, thus giving you that much-needed confidence to flaunt a crop top or a cute bralette!
They're a curvy girl's best friend, the proof of which you will find all over your Instagram feeds. High-waisted jeans are far from being work-appropriate and also not as casual as you'd like them to be.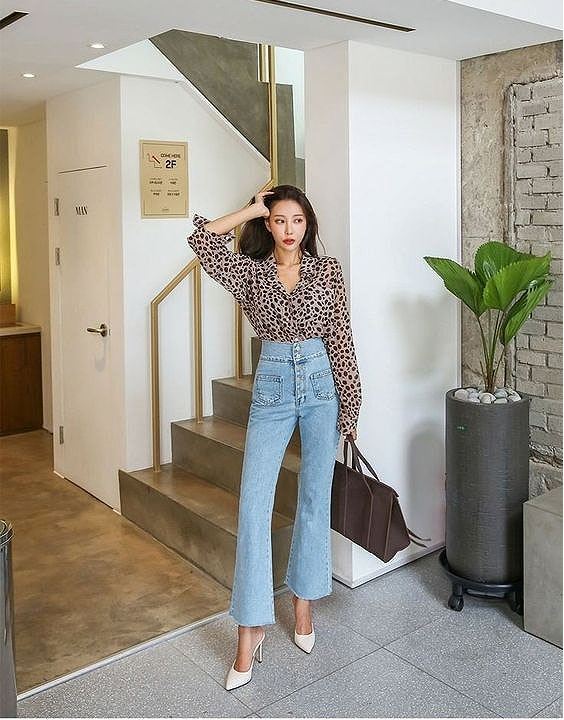 Heading out for brunch? Wearing your high-waisted jeans with a printed shirt or blouse is a great idea. Paired with pointed-toe heels and a bold shade of lipstick, there is no stopping you from looking like the ultimate diva.
For your everyday, we think crop top outfits with high waisted jeans will make some great combinations. You can choose wedges as footwear for max comfort.
High waisted jeans can be worn for parties too, with the addition of a blingy top and the sparkliest earrings you own. Don't forget an equally blingy belt and high heels!
5) Overalls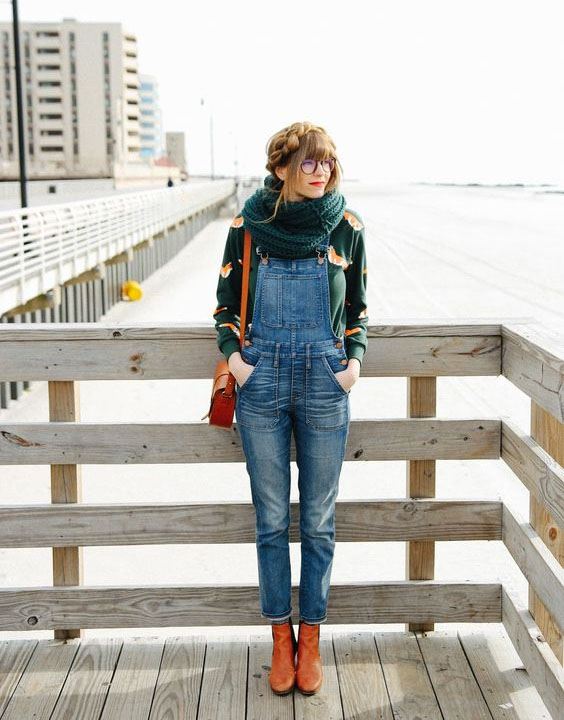 If you thought overalls were just for teens, you're absolutely wrong! These types of jeans for girls have been a huge hit for a few years now, and we don't see it going away soon.
Overalls have almost become a wardrobe staple for many people, essentially for two reasons; the first one is they're easy to style, the second spot is held by they're a twist on the same ol' jeans we know all too well now.
So, what's stopping you from going ahead and buying them for yourself? Once you do, don't forget to come back to these jeans and tops combination ideas to ace your outfit.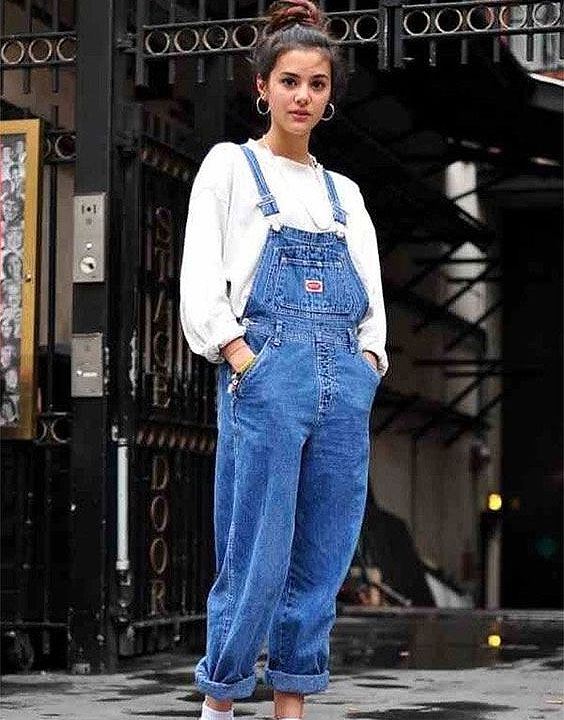 To flaunt overalls in college, all you need to do is wear them over a baggy sweatshirt and white sneakers. Add hoops to the mix and your backpack will also cover the accessorizing bit.
Exploring a new city that's also kinda chilly and windy? Turn up the style and the warmth by wearing a printed sweatshirt under your overalls and wrap yourself up in a muffler. Finish with boots!
Looking for another winter outfit inspo with overalls? Wear a long cardigan over a t-shirt + overalls combination and pair it up with a beanie. Once again, choose boots.
6) Capri Pants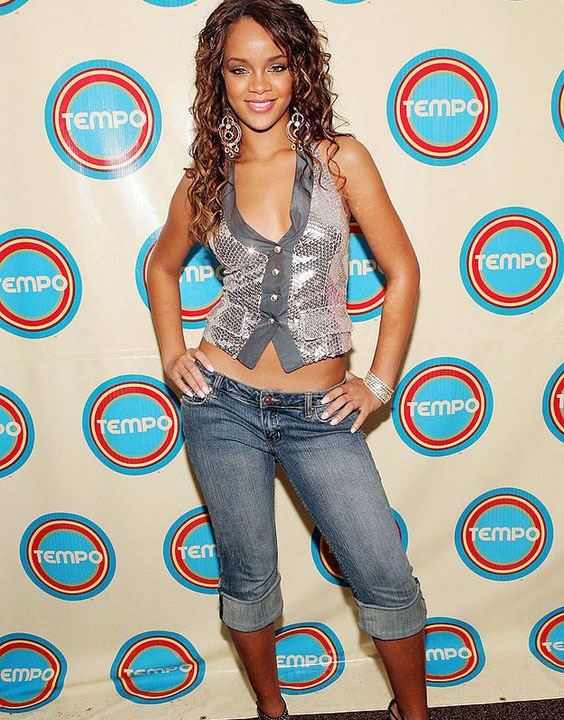 Want to establish the perfect balance between full-length jeans and shorts? Opt for capri pants that tend to settle right below your knee, thus giving you the best of both worlds.
Capris might not be flattering for all body types though, so be sure to try them out beforehand to see if they suit you, or if you should lean towards other types of jeans for girls instead.
These pants are also considered to be very summer-appropriate, as opposed to fuller lengths. Tapered towards the bottom but fairly comfy, capris are a must-try.
Style them in the 3 ways given below!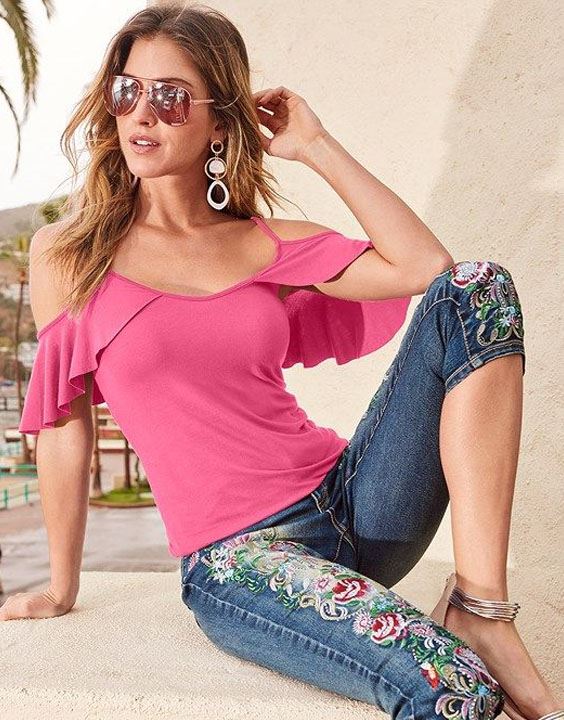 No one did capris quite like Beyonce! Take cues from her look and ace yours too, by wearing your capris with a shimmery crop top that is absolutely glamorous, and throw in a pair of high heels!
When on vacay, trade the skinny jeans for a pair of capris and give in to an off-shoulder or cold shoulder top. Finish with strappy or thong flats for a glam-casual look.
You can also wear capris to the beach, teamed with a tank top and your hair perfectly done in waves.
7) Flared Jeans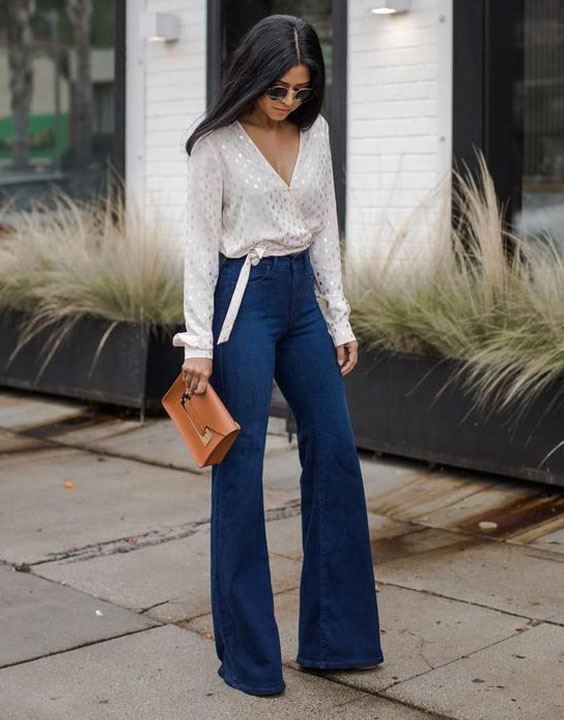 Rock those thick thighs with these types of jeans for girls, which are a personal favorite for us. We have nothing against skinny jeans, but we're more into a style that also offers endless comfort while being absolutely on-trend.
Flared jeans definitely fit the bill. With a wide opening at the bottom and a snug fit on the thighs, flared jeans make for the perfect everyday trousers to don.
Channel the vintage fashionista in you with flared jeans! Be rest assured that there is not a single body type that doesn't go with these.
We've got some styling ideas for you, with the key item being flared jeans.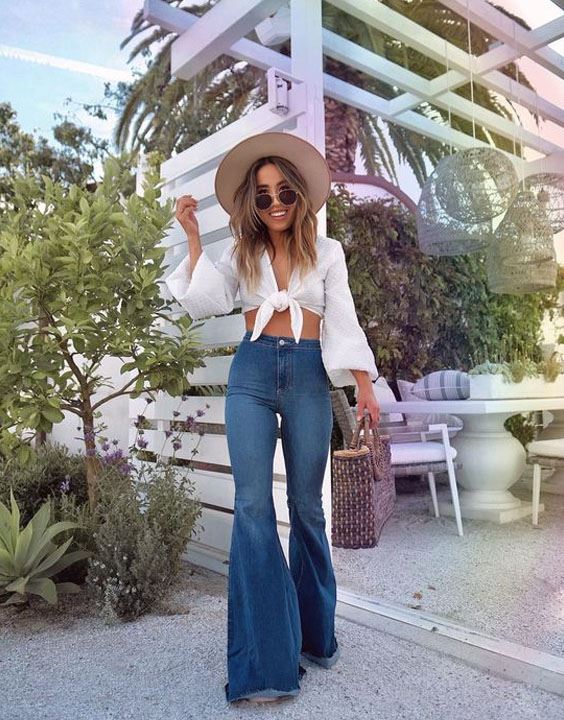 A concert #OOTD should be as stylish as it is comfy, and something with a bohemian influence can never go wrong. Team your flared jeans with an oversized hat and a tie-up shirt. Go for the coolest shades you own and a straw bag.
For a sleek lunch date look, a black or white shirt blue jeans combination will do wonders when it comes to impressing your crush! Add a statement belt to the mix and tuck your shirt in.
For your 9-5, wear a basic tee and tuck it into your flared jeans. Layer it with a long blazer or coat and finish with a sleek handbag along with flats.
8) Bootcut Jeans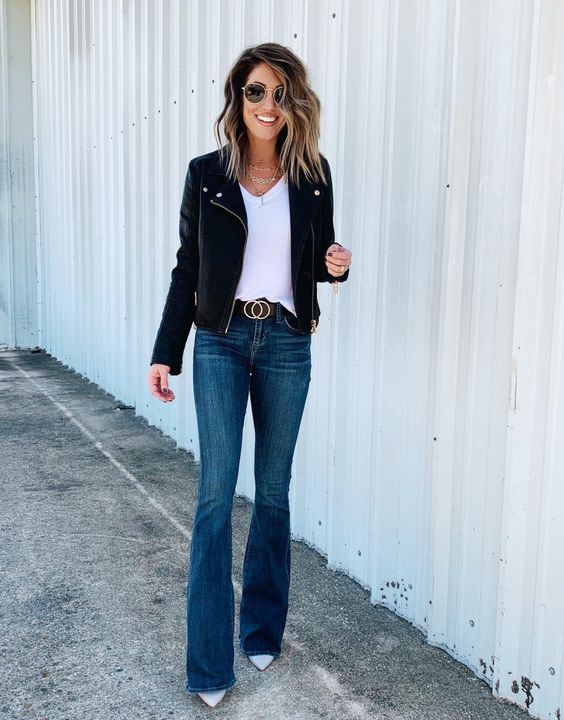 Very similar to flared jeans but still nothing like it, bootcut jeans are not just one of the top types of jeans for girls, they're also a feeling. The 90s are back in full force, whether it's home decor, art, or clothing.
Bootcut jeans, just like a lot many things from the decade, have seen a beautiful resurgence and we're all for it.
They're classics in the whole denim scene, and there's not a single reason to not love them for all that they offer – a relaxed yet sleek appeal, and the status of a fashion queen among your clique!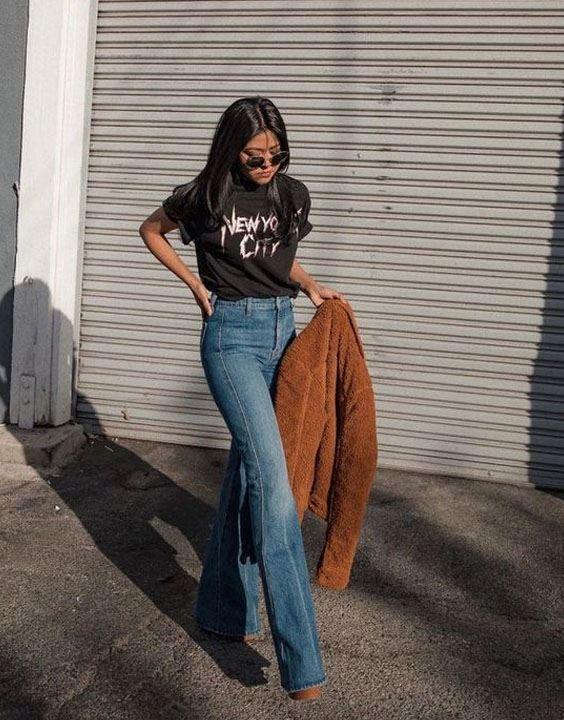 Make these types of jeans appear even sleeker with a slim fit tee worn under a skintight jacket. Finish with a crossbody bag!
Take the 90s meet 20s approach with a fur jacket and a graphic or slogan tee, tucked under bootcut denims. Then, slip into a pair of boots.
Is there really anything better than a soft white shirt worn with dark blue bootcut denims? We think not! Add a layered necklace to your #OOTD to complete the look.
9) Ripped Jeans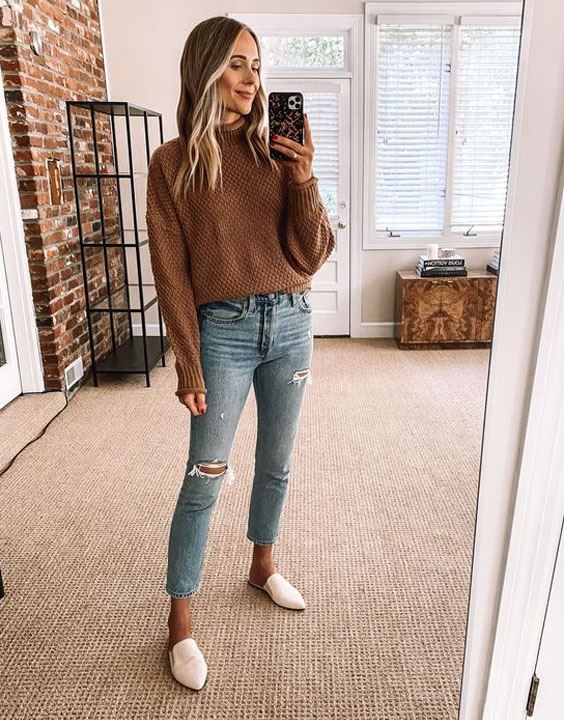 No matter how ridiculous it sounded at first to wear any types of jeans for women with multiple slits and holes, ripped jeans soon made it to every woman's wardrobe not just because they were everywhere but also because they made 'messy' look good!
If you want to appear a little rough around the edges on purpose, there is no better way to do it than with distressed denims.
Just make sure you're only wearing them on casual occasions though because they hold no spot where looking put-together is on the agenda.
Read below to know how to style them up real nice!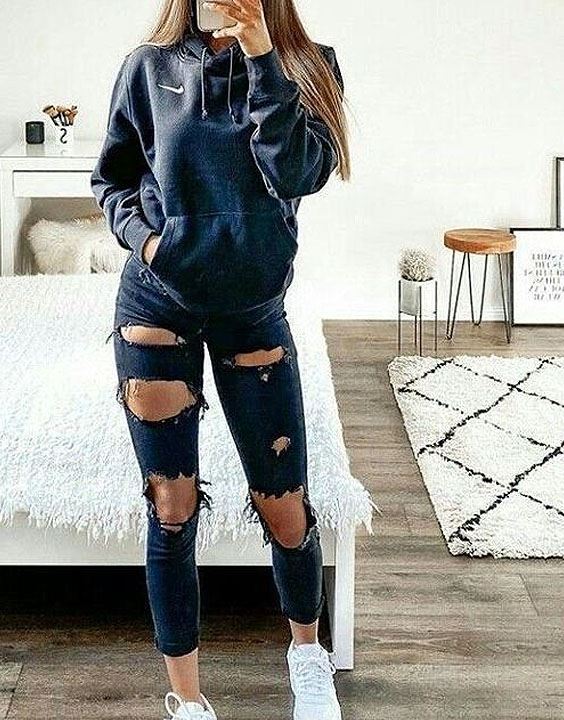 Slip into your favorite sweater and a pair of flats along with ripped denims, but ones that haven't gone overboard.
For a trendsetting college #OOTD, don a striped cami top and layer it with a distressed denim jacket. Finish the look with ripped jeans and white sneakers.
For a quick gossip sesh with your friend, wear a sweatshirt over seriously ripped jeans as opposed to other different types of jeans for girls.
Now, all that's left to do is go online shopping for the ones you loved the most. Personally, we're a fan of every single denim to ever exist!
Image credits: The copyrights of the images used in this post belong to their respective owners. The credits where known are specified under the image - if you're the owner of an image and want it removed, please contact us.