Ever wonder what is that one defining factor in a top or dress that truly defines a wearer's silhouette and profile besides the obvious bust-waist-hip dimensions? Well, yes – it's the shoulders and the sleeve.
Shaping, structuring and contouring the area closest to the face and going all the way down the torso, sleeves are such a prominent and defining aspect of any garment, and yet they fly low on the radar of most people's styling focus. To their detriment – as a special attention paid to the sleeve area can actually change the way a garment looks on the body in a major way.
Find yourself wondering what's the style hack that facilitates all the fashionistas and influencers to always make the right silhouette and fit choice & why everything they wear looks so chic and elevated on the gram? They make really cool and complimentary sleeve choices – be it in women full sleeve tops or casual active-wear sleeves and shoulders. Here are some things to keep in mind for the sleeve and shoulder areas when shopping:
Ensure that the garment's shoulder seams match well and perfectly with your highest shoulder points. Droopy shoulder seams are the worst and the surest way to look super frumpy.
There are some full sleeve tops for womens styles – especially in oversize silhouettes that feature an exaggerated drop-sleeve. In this case, ensure that the fit you pick is sufficiently oversized so that it looks as intended on you rather than just a frumpy garment.
If you have a narrow frame, opt for sharper shoulders and sleeves with a well-defined shape, be it an exaggerated puff sleeve or a sleek cap-sleeve number.
If you have extremely broad shoulders, you can go bold & sharpen them further with a power shoulder or you can soften the broadness with ruffles, flowy sleeves, and softly inclined drop sleeves – the choice is yours!
A sleeve needs to be chosen in tandem with the rest of the fit and silhouette of the garment. Ensuring that there is a balance between body and sleeve volumes is advisable in everyday style unless going for a quirky or avant-garde effect.
Sleeves have been used since medieval times to make statements – as symbols of stature, a tool to send a message, to hide and reveal armour and weaponry and in general play a very significant and functional role in medieval society.
Sleeve styles have been introduced in many permutations of pattern over the centuries and in accordance to the cycles of fashion, they have been revisited, reintroduced and re-invented many times over in modern modes of dress.
Early medieval sleeves were cut in one pattern as the garment, not set-in and stitched in with a seam. In a variety of lengths and depending on the stature, standing and occupation of the wearer, these sleeves would have a variety of shapes, lengths and embellishments.
Many of today's post-modern sleeve trends stem from interesting tid-bits in history and share a throwback with iconic figures in medieval, victorian, industrial, colonial and pre-modern eras, along with significant reprisals in the 20th century. These are incorporated today from the most chic and feminine of styles to the sportiest full, 3/4th length and half sleeve t shirt styles available.
Let's take a deep dive into 5 styles of sleeves in women's topwear that we're crushing on today – where they come from, what they look like today, how they impact the overall silhouette of the wearer and how to incorporate them into our modern wardrobes!
Delicate and dramatic – the 'flare' or 'bell' sleeve.
A key element of modern fashion trends is the 'flare' or 'bell' sleeve. Crisp and fitted well on the shoulder area, eventually flaring out wide toward the wrist – the bell sleeve has made its appearance throughout the marketplace for full sleeve tops for womens wear – from the highest of runways to the most affordable high-street sales. Just as the name suggests, the 'bell' sleeve is shaped like a bell and is soft, fluid in its appeal. Here are some things to note for this dramatic, yet delicate sleeve style: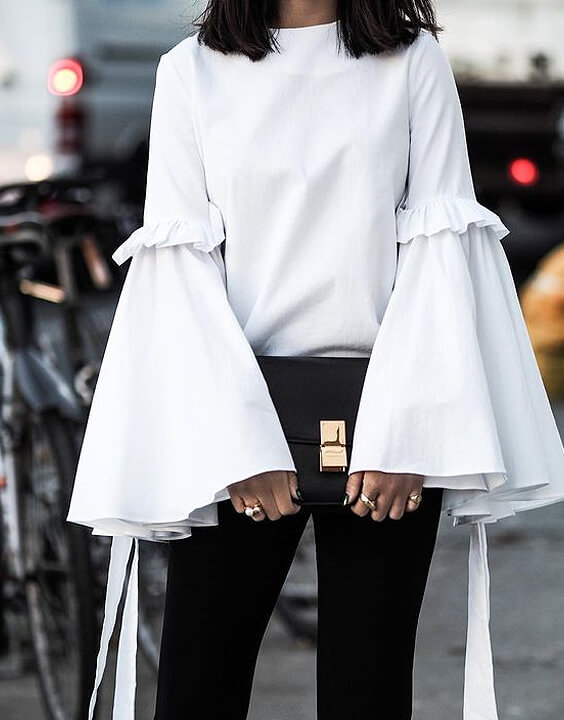 The modern bell sleeve has gone way beyond being just a part of the bohemian – hippie style & permeated into a variety of different subcultures. Bell sleeves have become ubiquitous from sleek dresses to work shirts and even in ethnic wear.
Yes, bell sleeves is a western wear trend that became quite popular around the renaissance era in history – and today have even made their way into our modern indo-western wardrobes.
A widely loved trend in kurta styles, tunics, shrugs and even topwear such as round neck full sleeves t shirts for women, bell sleeves add a unique dose of fashion to even the simplest of outfits.
The bell sleeve is super complimentary in cold-shoulder styles, where the position of the shoulder is exposed in a cut-out. Opt for a black full sleeve top in a cold shoulder style to a chic and unexpected element to your wardrobe while still keeping things wearable.
When shopping for bell sleeves go for ones with a flare that matches the level of flamboyance that you are comfortable with Go for ones that tie at the elbow or are decorated with minimal embellishments as these are popular currently.

Source – Pinimg
Styling Tip: Remember to keep the rest of your look minimal when wearing a bell sleeve top. A simple silhouette in a neutral colour palette, paired with printed pants or a scarf as an accent is the perfect outfit choice for busy work days!
Sporty and chic – the 'raglan' or 'drop' sleeve.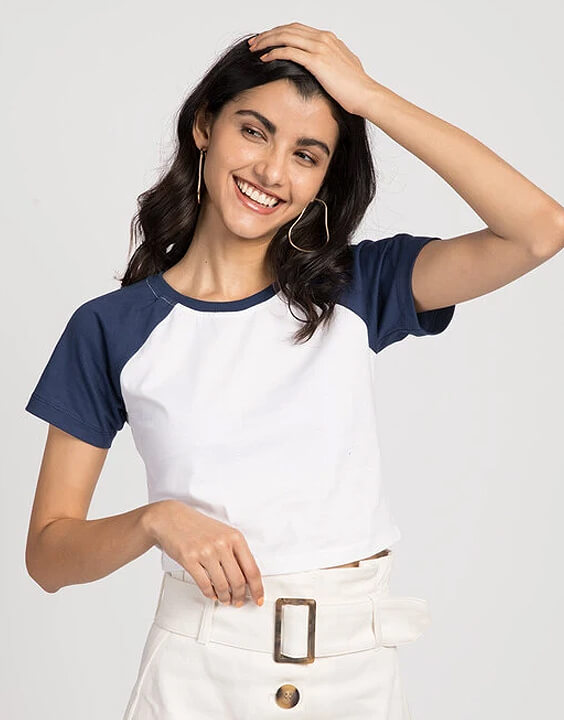 The 'raglan' and 'dolman' sleeve types are variations of the 'drop sleeve trend. These types of sleeves do not feature a shoulder seam and their patterns are either cut in as a whole with the garment such as 'dolman' or 'batwing' drop styles (these are sometimes also referred to as 'kimono' style sleeves) – or the seam is not placed at the shoulders and is set in differently, from a point much lower than the underarm to the neckline, forming a 'raglan' shape- that also give a 'drop' sleeve effect, but still maintains a tighter silhouette.
'Raglan' sleeves are extremely popular in half as well as full sleeve t-shirts for womens online and are also ubiquitous in active-wear styles as they provide a drop-silhouette that even when fitted to the body, stays optimized for easy movement and flexibility.
A 'dolman' sleeve on the other hand, is widely loved in full sleeve tops for womens wear – especially in the high-street, warmer clothing departments. We all love a luxe knit or cashmere dolman-sleeve cardigan or sweater-top after all!
Bat-wing or 'kimono' sleeves are all derivatives of the dolman sleeve and have been popular in East-Asian clothing since the middle ages. Evolving eventually into its chic modern version – the 'dolman', this is also a popular style from ancient greece and harkens back to a time when sleeves were not cut separate from the garment and formed the whole of a pattern for a loose garb.
Styling Tip: Style your chic 'Dolman' sleeved top with a pair of chinos or high waisted trousers and belt it up for a smart casual look. When it comes to a 'raglan' kind of a drop sleeve, try going super feminine and look for ones made in interesting materials to go beyond the usual fare of athleisure.
Check out our customized tshirt collection by clicking on the below image and get your own personalized tshirt.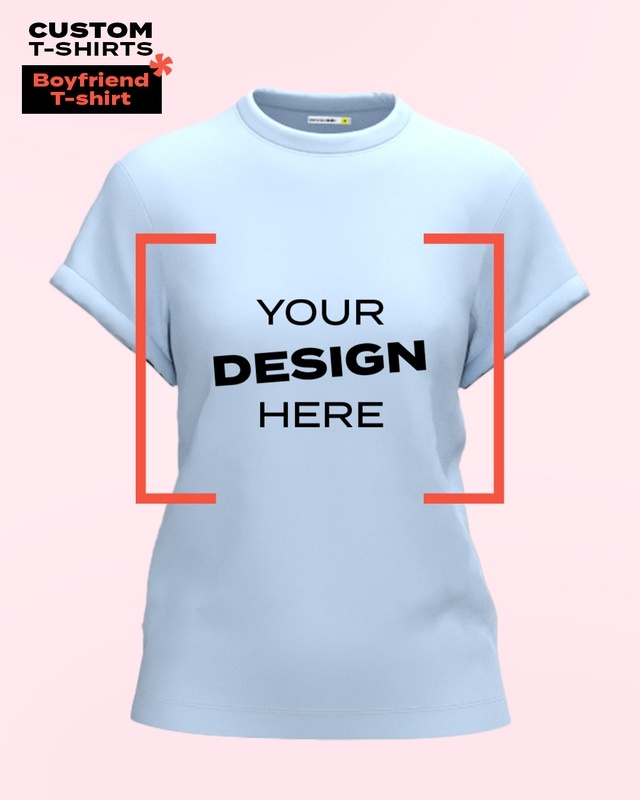 Eye-catching and suave – the 'off-shoulder' or 'cold-shoulder' sleeve.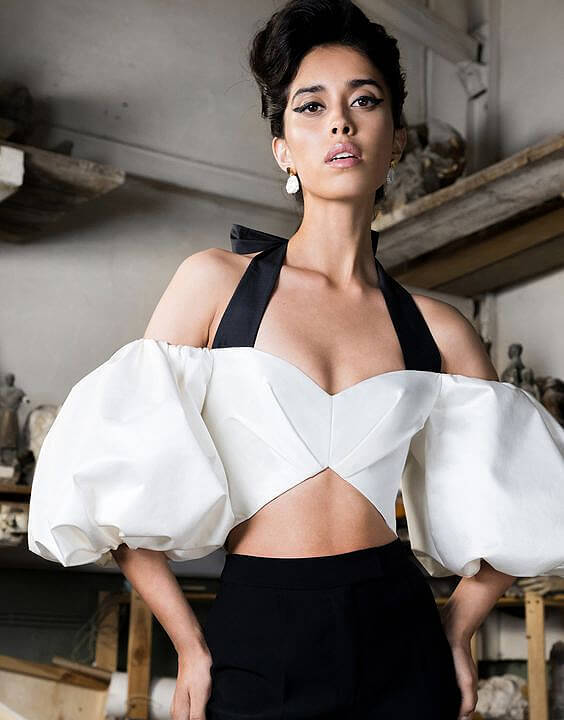 One of the most sophisticated styles available in the womenswear category, 'Off-shoulder' and 'Cold-shoulder' sleeve styles are all the rage today! These have been trending for almost half a decade now, and it looks like they're here to stay. Here are some fascinating points on this irresistible style:
An off-shoulder or cold shoulder sleeve is constructed in a variety of silhouettes, from bell to ruffle, to flouncy. The ultimate drop shoulder, these feature a shoulder cut-out, held by a strap or they are, as the name suggests, completely off the shoulder, allowing for the collarbone and shoulder areas to be highlighted naturally.
This sexy style yet daring style is as delicate as it is statement making. Often a summer favourite and always bringing a youthful charm to any outfit – these are quintessentially popular with Millennial and Gen-Z generations.
Our favorite versions of these play up femininity with soft fabrics, subtly exaggerated details, and chic patterns.
Go for the cold-shoulder version of this style, which along with looking chic in woven fabrics, is gaining steam in active and casual wear by being featured in round neck full sleeves t shirts and half sleeve t shirt designs as well.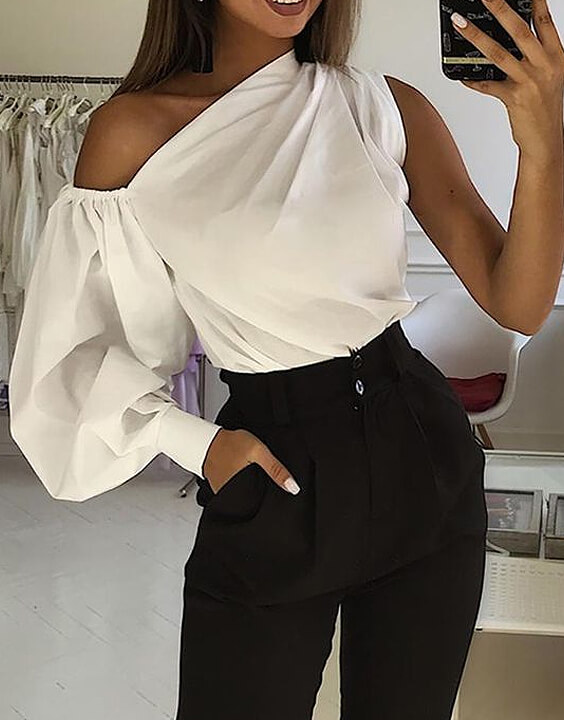 Styling Tip: Always ultra stylish and feminine, this style is not for the faint hearted. Go bold with a sleek off-shoulder top and skirt combo in a chic single solid color – such as a bold pink, classic off-white or pastel green. Pair with a sleek middle-parted bun or bob, that lets your shoulder and collar-bone area have the spotlight. Also, pro tip – don't forget to use a skin highlighted for your collarbones to ensure that they hit the sunlight in the most flattering ways possible.
Stylish and striking – the 'puff' or 'peasant' sleeve.
The 'puff' sleeve trend is also a fave with high-fashion mavericks – designers like Lacroix famously featured puffed sleeves in his designs, Vivienne Westwood, used the sleeve in her innovative gowns and trills; and closer to home – AnamIka Khanna, has often utilized this type of sleeve style in lush, diaphanous designs. This style, however is just as popular in everyday styles and is the most prominent throughout fashion history: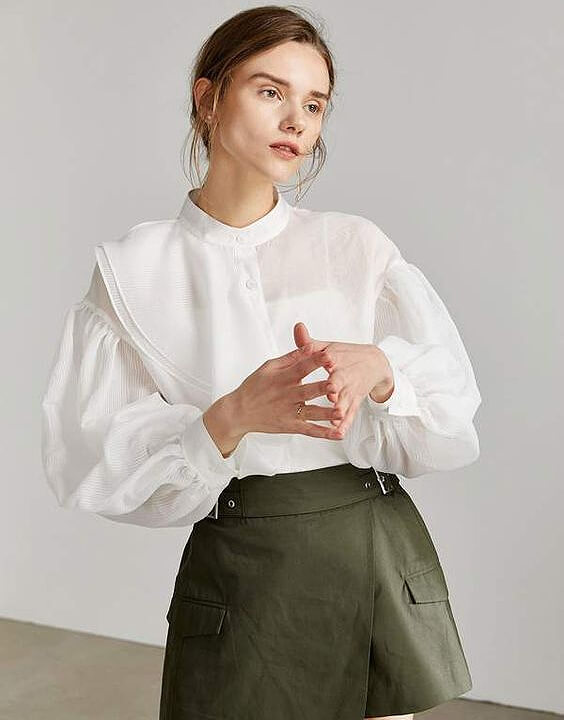 By the 1800s, women's fashions in Europe had undergone some dramatic transformations. While still exaggerated and in some cases ornate, it had shed the clownish excesses of the Renaissance era and transitioned into more utilitarian patterns.
These changes were most prominent in the way women's sleeve styles had transitioned. While slashed sleeves had lost their modernity by the 19th century, the element of puffiness was still in vogue. No longer stuffed their sleeves with multiple layers of gauzy fabrics, commonplace European women now wore these long, loose styles – thus gaining the moniker 'peasant' or 'bishop' sleeves.
In the early 20th century, these types of sleeves became popular as 'puffed' sleeves and are one of the most enduring and well-loved styles for women full sleeve tops, well into the 21st century.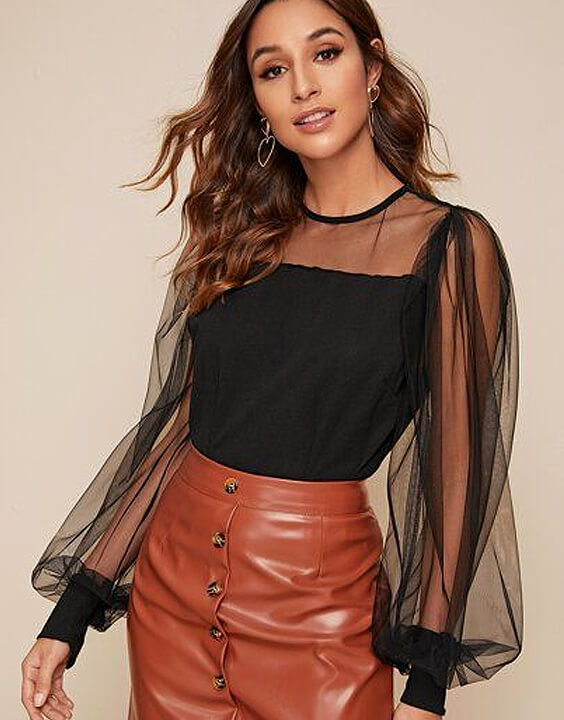 Styling Tip: Pretty, classic and in many cases exaggerated, this sleeve is chic and striking and deserves to be the centerpiece of the outfit – balance the rest of the elements out by opting straighter, classic bottoms in chic, unassuming colors. Go for a classic v-neck peasant sleeve blouse and accentuate your style by adding delicate layered neck-chains with whimsical charms.
Pretty and feminine – the 'flounce' or 'ruffle' sleeve.
Girly, unapologetically feminine and with a slightly more subtle appeal than 'bell' or 'peasant' sleeves, this type of a sleeve makes a minimal statement without losing any flair. Popular ever since they appeared on various runways during S/S 17, these were back in style with a bang. Here are a few things to note for this whimsical and elegant sleeve style: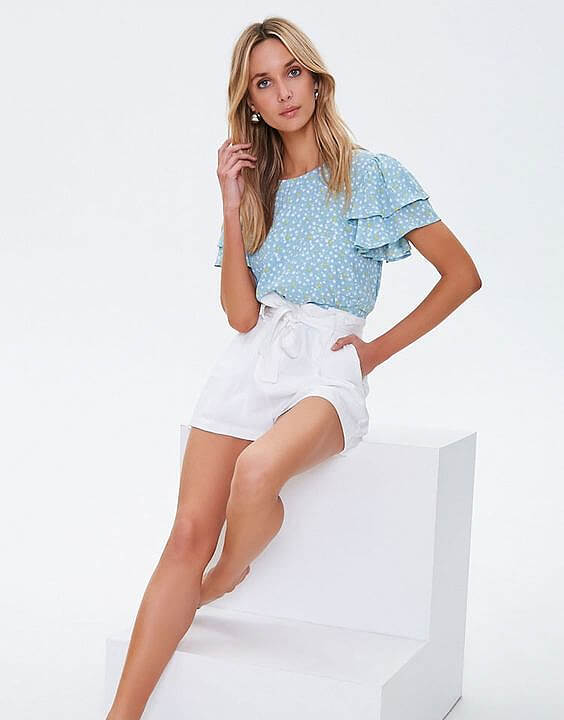 Created by attaching a separate piece of circular-cut fabric to the sleeve seam, ruffles and gathers are used to form a 'flounced' effect. This creates a ruffle effect that gives flounce sleeves their flare.
From small and simple designs that lightly flared out toward the wrist to the dramatic styles that feature longer flounces – these types are statement-making in a quietly confident way.
A derivative hybrid of the bishop & bell sleeves,. But taken down a notch, with the exaggeration played down, these are ideal for simpler, more casual styles.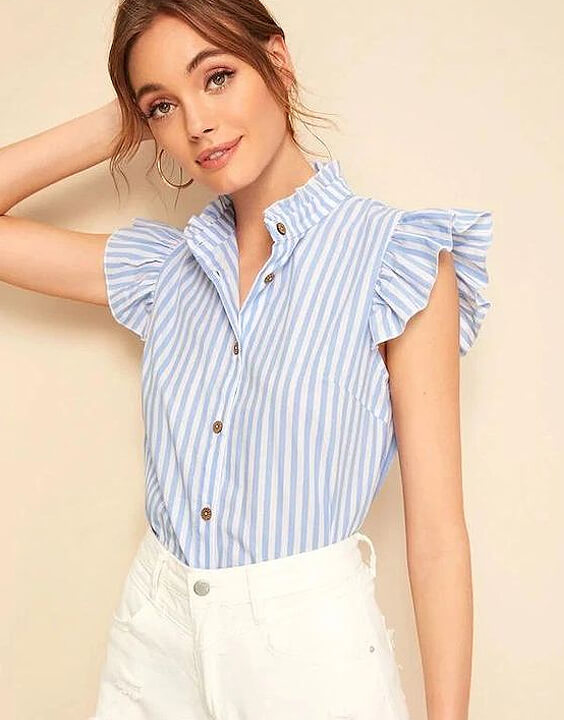 Styling Tip: Tuck your flounce sleeved top into a pair of jeans or denim skirt for the charming girl-next-door look. Give it a youthful spin with fun accessories, headbands, and a backpack. We love this one in preppy back-to-school styles as well.
A sleeve is to women's topwear, what quiet yellow lighting is to mellow jazz nights – an important and defining element that isn't loud or abrasive in signifying its own importance. Yet choosing the right sleeve most certainly can make or break any outfit – choose wisely!
Image credits: The copyrights of the images used in this post belong to their respective owners. The credits where known are specified under the image - if you're the owner of an image and want it removed, please contact us.