Missing the days when you didn't have to think twice before submitting your leave applications, packing a bag and jumping on a plane? Join the club! From touring one city after another, chilling on the beach or trekking your way to a mountain top, partying with strangers and nursing a vacation hangover (yes, it's a thing) right after coming back home – we can't help but be nostalgic about it all. But just like the rest of the world, we're hopeful that the good times are just 'round the corner. While none of us prepared for the pandemic days in advance, we sure as hell can be ready to take over the post-pandemic life! This doesn't just mean endless scrolling on Instagram, looking for your next travel destination, but it also has a lot to do with the technical bits – like your wardrobe.
Remember how we'd always pack a little (or a LOT) extra every time a holiday was in the works? Well, that is one thing that will not be changing in The New Normal. In fact, we think that in terms of luggage, we might even go way overboard the next time we're heading out of town. So naturally, the first thing that needs to be done is investing in more travel bags. We don't mean to exaggerate, but you're going to need the extra space even if you don't know where you're gonna go (yet). This isn't just for leisure, but also for safety reasons because now, your list of 'essentials' is bound to increase. Before you go on and hoard on some of them though, allow us to tell you how to go about it, and make them last. From quality to utility and everything in between, read on as we list out 5 questions you need to ask yourself before you go ahead and put your money into new bags.
1) How long are you planning to be away for?
We know what you're thinking – we just spoke about the habit of packing extra regardless of the trip duration. But there's more to it than meets the eye. Even if you're stuffing in extra clothes or accessories, you have to do it smartly or you'll be tired from lugging everything around, and that's anything but fun.
Less is definitely more.

Carry whatever you want to, but play by the rules. To do this the right way, invest in a sturdy duffle bag that you can use as carry-on luggage, and always choose size-adjustable options for this one. Look for the most innovative listings, as they are usually the ones that can multitask when you refuse to. Also, since this is the bag that will be with you all the time (as opposed to the trolley bags), you're allowed to indulge in something a little more luxurious. Y'know, for those airport mirror selfies.

Weight isn't just a number.

Generally speaking, the longer the trip, the more the weight of your luggage. By the time of your return, you will have a lot more to bring back than you brought with you, thanks to several shopping sprees and impulse buys. Evidently, you will need a bag that can carry the holiday weight but also one that isn't too heavy by itself. Always make sure that even when the bag is sturdy, it doesn't weigh too much because your belongings will just tip the scales in the direction you don't want or need.

It's all in the details.

Picture this – you're in a new city. You've been invited to a party and you think, "Sure, one final hoorah. But first, let me pack my bags for the return flight tomorrow in order to feel more accomplished." Your night was great, and you even had time to catch up on sleep since you planned it all out beforehand. Now you're at the airport, and one wheel of your bag has suddenly come off, making it difficult to drag it around from one terminal to another, your tired self proving to be highly unhelpful. Your holiday was long, but since you didn't really pay attention to the details, the journey back home seems much longer.

Not an ideal scenario now is it? To avoid this from happening to you, ALWAYS make sure you perform a thorough quality check on not just the fabric & stitch of your new bag but also other things like the zipper, handles, wheels, etc. especially for longer vacays.
2) How can you prevent your luggage from being confused for someone else's?
Someone else walking away with your luggage thinking it's theirs? Happens to the best of us when everyone from the flight is gathered around the luggage belt. You can prevent this from happening by buying a bag that stands out, and one that also matches your personality while proving to be an apt identification in the worst-case scenarios.
Choose an uncommon color.

Source – Behance

With so many brands in the market and so many variations of the classic luggage bag now in the picture, it's fairly easy to get one in your favorite color. From sunshine yellows, bold reds, serene blues and sophisticated beige – there's something for everyone! If you don't wanna give a new brand a try, you're sure to find something you like from your go-to brand's collection too, so don't sweat it.

Add a luggage tag to the cart too.

Source – Made in China

One of the best, most affordable ways to distinguish your luggage bag from the rest – luggage tags! What's better is that you don't have to settle for the boring ones anymore; they are now quirkier than ever! You can pick one with an illustration of your favorite character, or choose something with a standout quote cutout. A plethora of choices are only a click away! Besides, this is also a great way to jazz up your kids' luggage, especially when they're being a tad bit difficult about leaving home for a few days.

Get it customized.

Source – Amazon

If you have a little extra money to spare, why not put in a request to have your travel bag customized so it fits your taste? Almost every brand now offers this service, and all you need to do is tell them how you'd like it. From having your name etched into the bag or a certain design on one of the pockets, there's a lot you can do so don't forget to consider the possibility!
3) What kind of bags should I buy if I want them to provide utility along with style?
If you ask us, there are two main things that the bag you choose as your travel companion should be – useful and stylish. Isn't it great to know that you don't have to compromise on either? We're not just talking about the luggage here, but 3 other types of bags that are just as important, so pick them wisely. Let's find out which ones they are.
Backpack Bags For Travel

Source – Blogspot

If you're the type of person who likes keeping their hands and arms free while traveling, then backpacks are the right match for you. Super easy to carry and quite generous about space, they are as trendy as they are ideal. If you're looking for a lot of extra space to store your belongings and have them on-the-go, then ditch the 'cute' and go for 'cool'.

What we mean is, get yourself dedicated backpack bags for travel, just like the ones you must have seen on the adventure-seeking lot. They're designed to evenly distribute weight around your back, and leave you much less tired by the end of the day. Besides, the kind of fabric they are made with is pretty much immune to all sorts of bad weather, so you don't have to keep looking at the forecast every hour.

Laptop Bag

Source – Pinterest

All work and no play? Make them both happen by carrying your laptop with you on your holiday. To get into the vacay mood though, you're going to need a laptop bag that is uber-stylish so don't mind a little splurging. This will play out especially well if your boss gives you a tough time about going away for a little too long. Working while on your vacation leaves zero room for complaining – trust us on that. Just like luggage, the construction rules apply here too – your laptop bag needs to be sturdy, waterproof, and stitched well. It should preferably come with an extra pocket to store your charger and adaptors too.

Duffle Bags

Source – BlogSpot

Duffles are great carry-ons but don't forget to keep the appropriate and overhead compartment dimensions of the airline in mind. Most duffle bags will fit anywhere, and can even be placed below the seats in trains. But sometimes, the length gets difficult to accommodate. Needless to say, go for a small bag that looks just as good! High-quality faux leather bags are a super fashionable choice.
4) What should I look for in a travel bag?
Technically speaking, when it comes to luggage, a few details matter more than most. Their priority might be subjective but they'll always be on the list. For us, it's the presence of a telescopic handle, the cost of the bags and the quality + build of the zippers.
Telescopic handle

Suitcases with the telescopic handle are also known as trolley bags in a general scenario and make it easy for you to walk longer distances with your baggage. Whether you're trying to get from Point A to Point B or changing hotels, these bags make it super convenient for you regardless of how much you packed.

Cost

When making a choice, always read reviews to know if what you're buying is worth the price. Have a set budget in mind and never exceed it, but always aim to buy value-for-money items. To make it easy, just type in 'travel bags online shopping low price' into the search bar of your browser and you'll instantly have a lot to choose from.

ZippersZippers break or stop working far too often, so of course, they need to be taken into consideration. We love closed-end zippers as they open at opposite ends, giving us a backup in case one gives up on us. Ensure they're made of metal and not plastic.
5) Will you be able to use your travel bags again?
Versatility is key to making every purchase worth the money. And let's face it – luggage isn't exactly cheap. You can't keep buying fresh suitcases for every holiday, and that's why it's essential to buy bags that can be used for more than just one vacation. 'Hybrid' is the word and quality you're required to be looking for in this case. That means bags that can do it all – from business-turned-leisure trips, monsoon getaways, winter breaks and so on.
Another thing that will answer the plaguing question, "What is the best luggage to buy for traveling?" is deciding the kind of sizes you need on average. Don't go for an extra large bag if it's not really important, and don't go for a small bag if you know it won't suffice. While it's essential to have bags in all sizes if you're a frequent traveller, you still need to arrive at some sort of middle ground.
Buying travel bags might seem easy, and sometimes it actually is. But for the wanderlusters, it's nothing short of a game-changing decision. Let our notes and a little bit of personal research help you streamline your options. Don't forget to bookmark this article for a trustworthy reference!
The Wanderlust Man is a minimalistic and modern phone case that will not only keep your phone safe, but also make you feel like you're on an adventure. This phone case is made from polycarbonate hard plastic and it's the perfect gift for any globetrotter who wants to show off their passion for travel!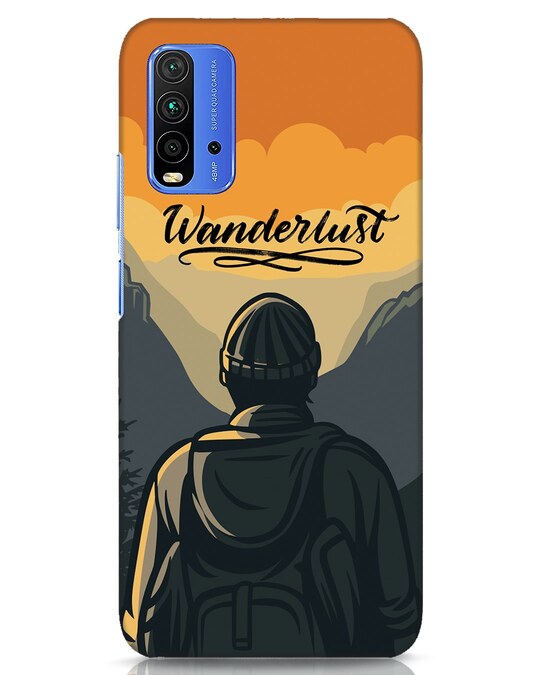 Image credits: The copyrights of the images used in this post belong to their respective owners. The credits where known are specified under the image - if you're the owner of an image and want it removed, please contact us.