It's the time of the year for sweets, thanksgiving and celebrations! With a number of festivities upon us, we're all determined to make the best of things despite the difficult year we've all had. Although we may dig into our closets for our traditional kundan jewellery and embroidered juttis like every year, there's no denying that Diwali this year just won't be the same nation-wide. Just as the celebrations will be different, so will your shopping experience for the festive season in 2020.
Shopping for clothing online can be a task – however, if approached with a pre-determined game-plan, it can be fun and exciting! In keeping with the stay-at-home theme that has dominated trends and fashion choices globally this year – a more comfort-oriented approach to festive season shopping is on the cards. In the Indian wear category, nothing spells celebration and comfort in one go like pant suit style and designs.
Your shopping and styling plan for a fashion-forward pant style suit design, that perfectly expresses your vibe and personality for festive 2020, must include:
A preferred color scheme that is aligned with contemporary trends and fashion.
A well-researched set of reference pant style suit design images that are sure to guide you through your styling experience.
For online shopping, measuring yourself or getting your measurements from a local darzi (if safe and available) is vital. Well-taken measurements will ensure that you pick the most accurate fit and sizes when shopping online and won't get stuck in any return and exchange procedures.
A good idea of what your budget is and a game plan for accessories and styling accompaniments is a must. No festive outfit is complete without the right styling accessories, so make a list of what you do have in your wardrobe already. If you are missing items for your ideal look, then look for online options and adjust your budget accordingly.
The good news? We have so much of the above already laid out for you in this article! Read on as we give you some amazing pant suit style ideas, pro tips on fabrics, suggestions for trending color stories, styling pointers and more.
Multi-florals on a bed of off-white:
Pretty and sophisticated in a soothing low-key manner, white pant style suit designs with luxurious multi-colored floral embroidery are an on-point and great festive-season choice for 2020.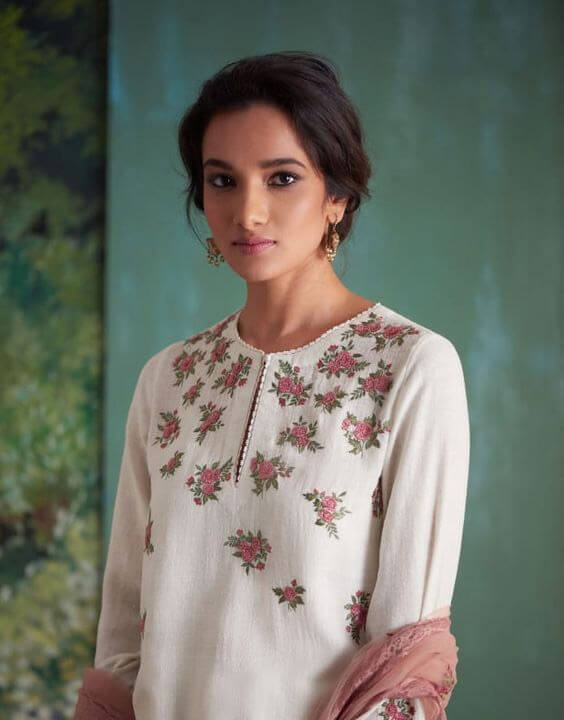 Bright and fresh with an understated charm, this pant suit style feels luxe in a light cotton or chanderi material. Pair it up with a colorful dupatta and straight pant that matches one of the colors in the florals – be it the color of the embroidered flower, the leaf or other parts of the embroidered motif.
Styling cue: Pearl jewellery or faux-pearl accessories are a great combination with this look. You can even go for light pearl embellished juttis or a clutch and opt for small golden studs and a delicate chain instead, if you would like to keep it light and low-key for a private family function.
Enchanting all over buti designs:
A pant suit design that is bound to inject a little more drama and flair into your festive look, is one that features all-over embellishments. If you wish to go for a heavier look, you can opt for bigger, stone embellishments. If you would like to be more sober with this style, then go for more textural butis and delicate embellishments.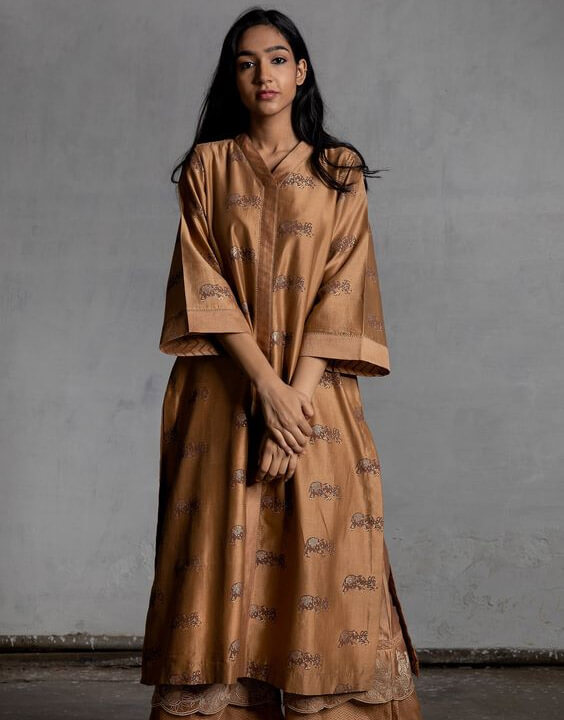 Go tonal with this pant style suit design for a luxe and well put-together appeal. Opt for slated and lush winter colors like burnt orange, navy, deep forest green and wine.
Styling cue: Bronzy make-up and a well highlighted glow look great with this outfit idea. Easy flowing hair or a messy bun with a translucent or tiny gold bindi will have you living your festive 2020 dreams in no time.
Mustard and gold gota-patti glow:
A ubiquitous hue in Indian wear – especially festive wear – is a deep, rich shade of mustard. A mustard pant suit style looks sleek and celebratory in just the right amount. Also,the fact that gota patti gold embellishments and trims go seamlessly with this color, adds to its festive flavor beautifully.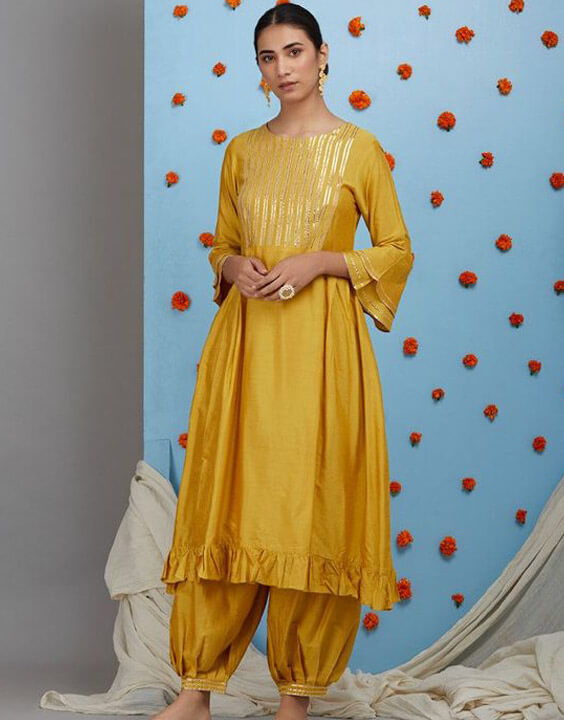 When choosing a pant design for suit styles in this shade, try taking a more traditional approach to elevate the ethnic appeal of this outfit. This will bring out the glow of the gota-patti embellishments and give you a bright, Diwali-worthy look for 2020.
Styling cue: A bold red lip will add to the Indian-ness of this outfit in an effortless and classic way. Go for a shade that best enhances your skin-tone and turns up the volume by wearing big gold jhumkas with this pant suit style.
Diaphanous and sophisticated in organza:
Nothing spells contemporary sophistication and luxury in Indian wear like the fabric Organza. Diaphanous, sheer and delicate, this is the perfect fabric for a lush looking dupatta or a slinky, pretty pant style suit design. This one's a winner for a quiet dinner party indoors with your loved ones, stunning Instagram photos and zoom-ready celebrations with your friends.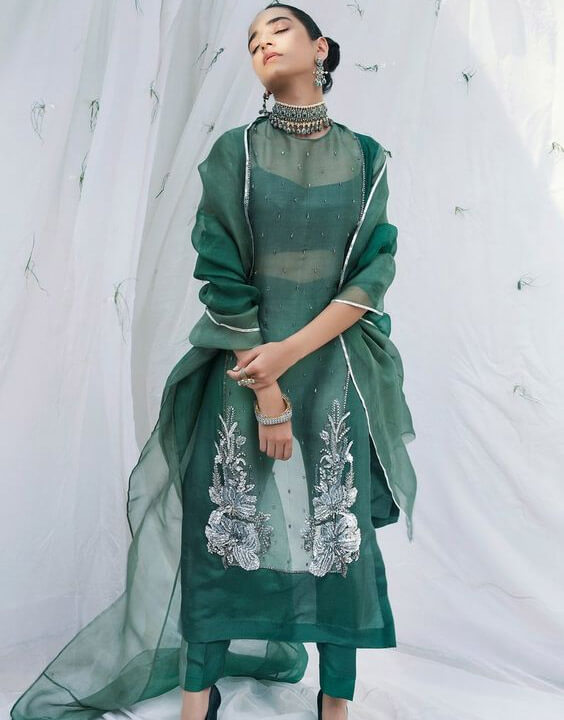 Choose an organza look in a stunning jewel tone shade – such as emerald, ruby, sapphire or amethyst, for a chic and cosmopolitan style. Perfect for Diwali parties or Christmas wine nights, an organza pant suit design can be minimally embellished or simply trimmed. It doesn't take much to shine in this stunner!
Styling cue: A sleek pair of stilettos and an antique choker look beautiful when paired with this outfit. Draping the dupatta around the high neck area, scarf-style is a striking way to put this look together.
Feminine charm in gathered pant-suit sets:
Wearing a gathered kurta or one with gathered elements with a pant, instead of the usual straight pants with kurta combo, is a great way to amp up your fashion choices for the festive season.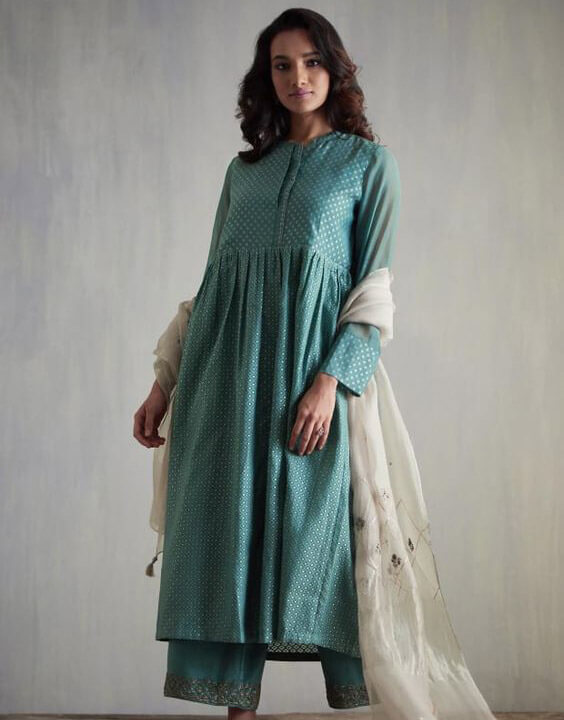 An all over print or light brocade with a gathered waist is a great option to go for, when shopping for this look. This is also a great variation of the popular Pakistani pant suit styles that are in vogue this season. Mint-green and mint-blue shades with a contrasting off-white or silvery dupatta are stunning color schemes for a fresh and celebratory style.
Styling cue: Pick a pair of metallic kolhapuris to go with this look. Precious-stone jewellery, with a statement bracelet or watch, are great accompaniments to this ethnic outfit.
Lush brocade accents and weaves:
Brocade is a style of weave that is steeped in Indian history and tradition. Well respected and beloved in Indian fashion, there is no other style choice that is more fit for the festivities than brocade accents and weaves.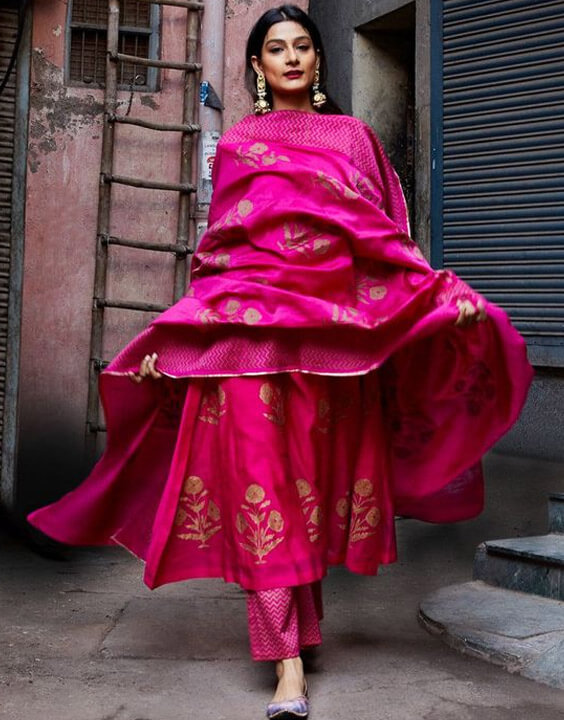 Instead of going for a simple off-white or pastel brocade, go bold and bright with your color choices for festive 2020. Instead of picking all-over brocades, choose more minimal and placement brocade motifs weaved in zari, so that the head-to-toe look is well-balanced. Sleek and modern silhouette shapes like straight pants with kurta and dupatta styles is a good way to go when shopping for this look. If you have access to a tailor who can stitch simple and modern pant suit style silhouettes for you – purchase the right dress material or fabric and get the outfit stitched to your personalized measurements instead.
Styling cue: This look is excellent when paired with striking gold or silver jewelry – depending on the color of the zari in your brocade. Metallic shoes and a metallic eye-makeup also go great with this festive outfit style.
Classic and vibrant bandhani styles:
Another heritage Indian craft you can opt for when picking your festive look, is a pant style suit design in a classic and vibrant bandhani print. Bandhani is an old and traditional tie & dye technique that gives the fabric an intricate surface design.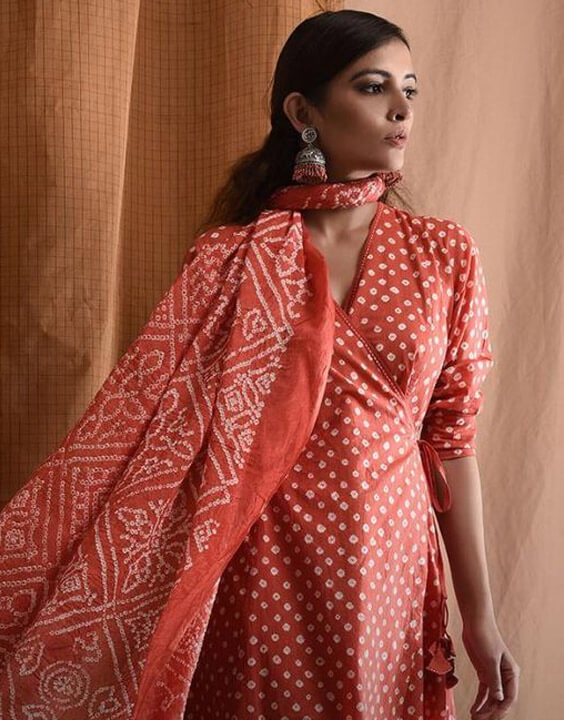 A bandhani suit is traditionally in a bright color to bring out the contrast of the white-space that creates its print design. Stylish and striking – this is the best way to go about it. Choose your bandhani design in bright and fresh colors. Coral orange and pink shades are popular hues for this craft, and are also on-point for the festive season.
Styling cue: Fresh makeup with antique silver jewellery or junk oxidised jewellery – especially jhumkas, bangles and chokers – is the perfect way to style this look. Let the bandhani be the star of your look, keeping the rest more understated.
Cosy, oversized and ultra-modern:
2020 is the year of cosy lounging and in-home celebrations. What better way to do that this festive season, than in comfortable, oversized pant suit style outfits? Chic, modern, yet an elevated ethnic version of your lounging clothes, this is the perfect festive choice when having low-key celebrations at home with your loved ones.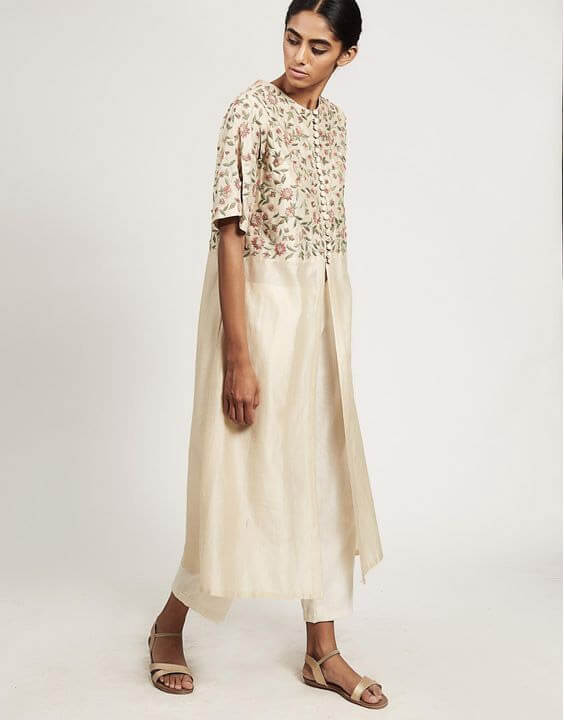 Look for equal looseness in the pant design for suit options that are oversized, and stay comfortable as ever. Try to go for ones with some embellishment in the yoke area or a textured fabric to tie-in the festive vibe.
Styling cue: A pair of sandals, or slippers that match the color of your oversized pant suit design is the way to go for a complete head-to-toe. Keep jewellery minimal, with a diamante pair of studs, or a light chain bracelet for a sophisticated look, and stand out for your evening zoom celebrations or Netflix parties with friends and relatives.
Intricate block-printed drama:
The internet is inundated with stunning pant style suit design images in floral block printed fabrics – for a good reason. One of the most popular suit styles for festivities and otherwise, block printed designs add just the right amount of flair to your look.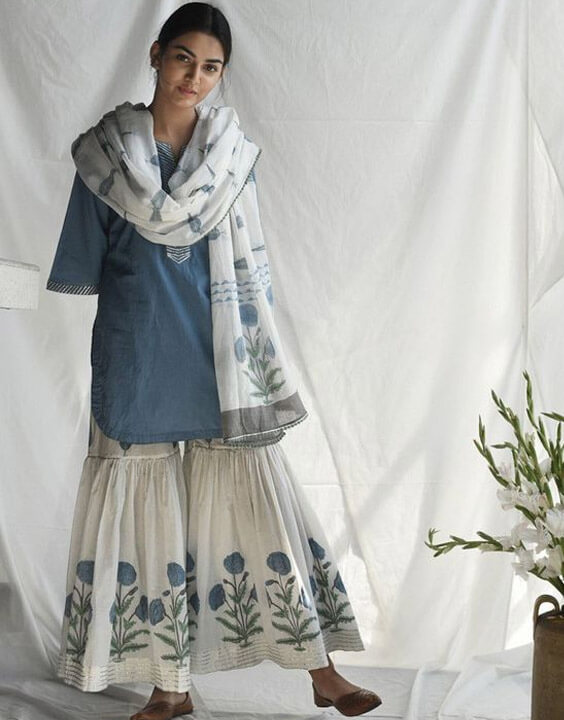 Instead of going for Pakistani pant style suits – go for a sharara pant to have a fresh take on this commonly worn suit style. Slated pastels, light ice-cream colors and off-white color schemes work best with this design idea.
Styling cue: A soft glam make-up look, with bright and embellished juttis are the perfect companions to this sophisticated style.
Contemporary in draped silhouettes:
In-keeping with the at-home theme of 2020 celebrations so far, this pant suit style idea is great for those who would like to stay comfy in an ethnic-fusion way. Statement making and not quite as low-key as a simple oversized kurta, this is the ideal option for the modern, millennial Indian woman.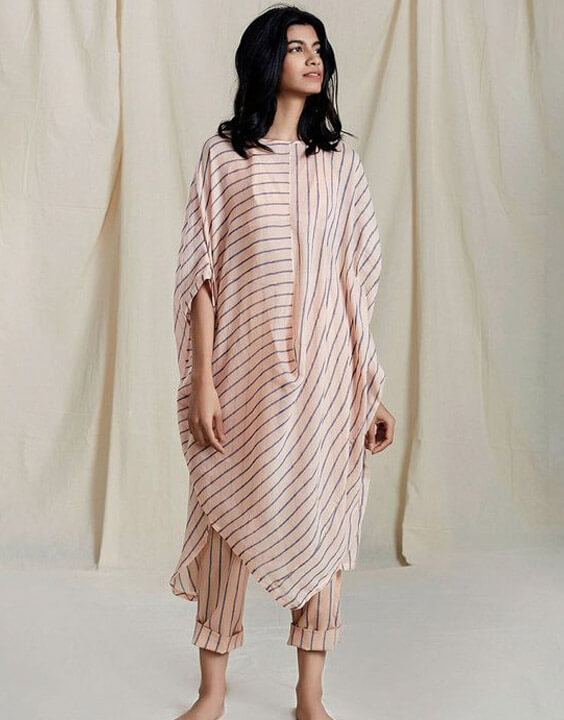 This type of kurta is defined by a characteristic and innovative draped silhouette, that is as loose and cosy as it is unique. The pant design for suit styles of this kind, is generally more modern, sharper and at a sleek length; to lend a unique western-eastern fusion appeal.
Styling cue: Drape a watch over your wrist to elevate this look and add a pair of blingy footwear to bring in the festive feel. Wear minimal, yet fresh make-up to add to the youthfulness of this outfit idea.
The tips and tricks mentioned above are sure to give you a head-start in picking and styling an amazing look for the festive season. Through our guide, you can choose the color scheme, fabric and silhouette that goes best with your personal style, while staying on trend with the fashion scene. Style away, and make the most of upcoming celebrations – you deserve to have a few thumpin' good days as a welcome respite from 2020 worries. See you next time!
Image credits: The copyrights of the images used in this post belong to their respective owners. The credits where known are specified under the image - if you're the owner of an image and want it removed, please contact us.