Someone once said, "Dress how you want to be addressed!" We can't help agreeing to this seemingly difficult but rather important advice. Our clothes say more about us than we could possibly fathom, and that's exactly why we need to direct & align them with who we really are.
Sounds daunting? Well, it isn't. Because with just a few things out of your closet, you can up your style game considerably! Men, there's one piece of clothing that is grounded yet a winner in every aspect. If you guessed a t-shirt, then you're absolutely right! Although half-sleeved t-shirts are a no-brainer addition to everyone's closet, it's the long-sleeved ones that play a bigger role. Let's decode them, one step at a time.
Key points to keep in mind while buying men's t shirts!
While t-shirts are one of the most basic wardrobe items for men, they still need to be chosen with precision. Here are some things you need to consider before hitting the checkout button.
Your personal style.
Are you the kind of person who loves picking comfort over style? Or are you the kind who loves staying up-to-date with current trends and adapting to them too? Ask yourself these questions so that the t-shirt you pick is a direct reflection of you, and you don't feel out of place wearing it. If you can't seem to figure out what you really like, give one of your female friends a ring (trust us, women are naturals at this!) Try on a few styles you already own and figure out what really works for you.
Your body type.
The biggest mistake men make while choosing a piece of clothing is not paying heed to how their bodies are constructed. Fashion is never one-size-fits-all, literally and figuratively. So why pick something just for the sake of it? Body types aren't just for girls, y' know. Look up the various types that exist with a simple Google search and give yourself a head-start. If you need some extra help, don't shy away from asking the fashionista of your group for it. (We suggest keeping a measuring tape handy.)
Your preferred fabric.
There are certain fabrics you want to stay away from if you're a specific body type, mainly because of how they take shape around you. The next thing that matters when it comes to fabrics is the time of the year. Different seasons demand different materials, and you sure as hell can't be caught dead wearing a non-absorbent t-shirt on the hotter days. You might want to consider building a t-shirt collection that is well suited for every season. Pick pure cotton or linen for summers, knitted fabrics for winters and synthetic materials for monsoon.
Your routine and social calendar.
Mens t shirts are extremely versatile and are useful in building a stellar outfit from the ground up. Due to their versatility, they can be flaunted wherever you'd like. But the right styling isn't the only thing that plays a key role in making your t-shirts all-rounders, you also have to keep your lifestyle in the picture. Do you spend most of your time in formals because your job demands it? Or do you have a fully-booked calendar with a mix of meetings in and out of the office, with friends as well as colleagues? Align your buys around these things to prove to your closet that these tees were a good decision.
Your preferred palette.
A lot of people love neutrals and nothing else, so you'll mostly spot them in these shades. On the other hand, some are constantly experimenting in order to find a color they love, or simply follow new trends throughout the year. There is no right or wrong when it comes to either, but only a matter of choice. You don't want to see your reflection one day and realise that a really expensive t-shirt you bought was in a color that either makes you stand out too much or dulls down your persona.
Now that you know what you have to do in terms of buying, let's take a look at the styling bit! If the question on your mind is, "What can I wear with a long sleeve t-shirt?" then you best believe we have the answer!
1) Casual Comfort: Long Sleeve Under T Shirt Outfit
On the road to becoming a fashion expert, there's nothing more fun than layering! So, of course, we're in favor of two t-shirts with different sleeve lengths worn together. Wondering how to style them? Here's what we think!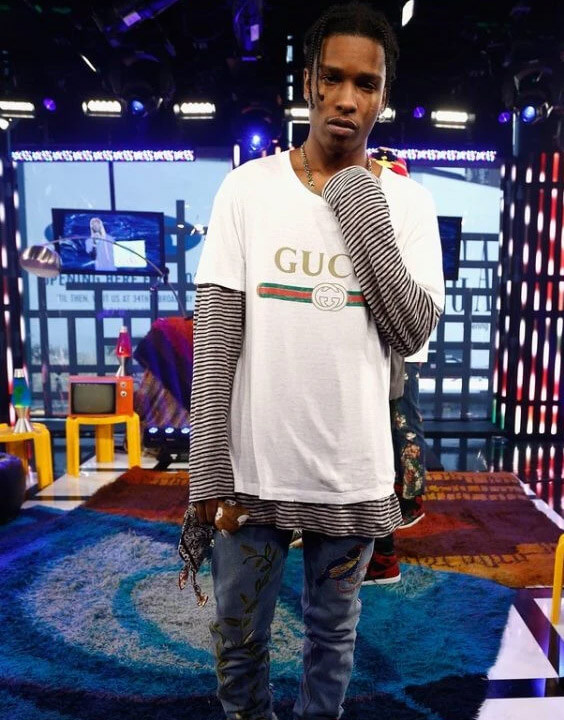 Let the inner layer comprise a long-sleeved t-shirt and pants in the same color. Then, slip on a half-sleeved t-shirt in a contrasting hue and what you'll have is an outfit that can be flaunted on your days-off! Finish with a shopper's tote.
For a super comfy and lounge-friendly look, choose two baggy t-shirts – one with full sleeves and one with half sleeves. Pair them with baggy trousers and sneakers.
Take your style game up a notch by wearing a full-sleeved t-shirt (preferably printed) under a really long half-sleeved t-shirt. Jordans will look fabulous with this – and you'll instantly be sporting that 'too-cool-for-you' vibe!
You can opt for customized t-shirts, with our customized T-shirt collection, click on the below image to get your own t-shirt today.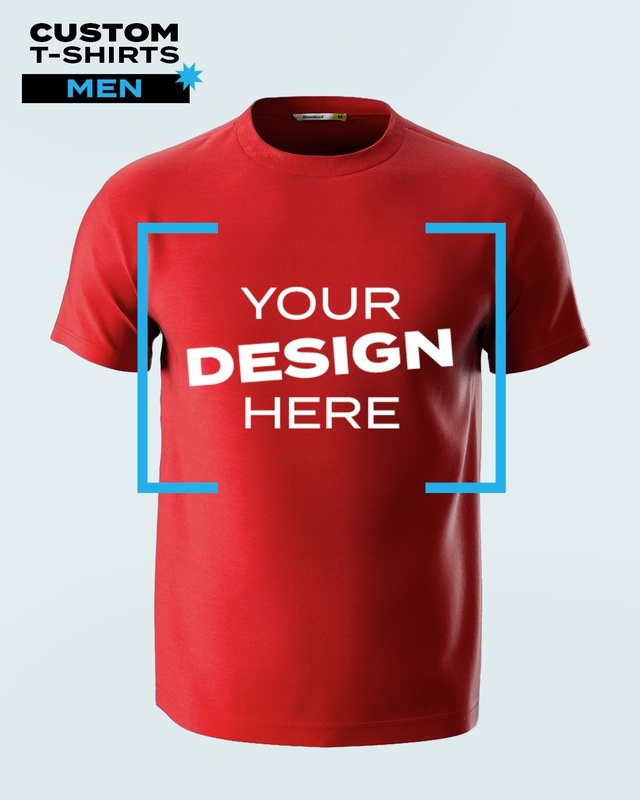 2) Cool Classics: Long Sleeve With Jean
Seriously though, is there anything that a pair of jeans doesn't look good with? Classic blue denims for men are our all-time favorites and with good reason. Let's see how they can be styled with long-sleeved tees.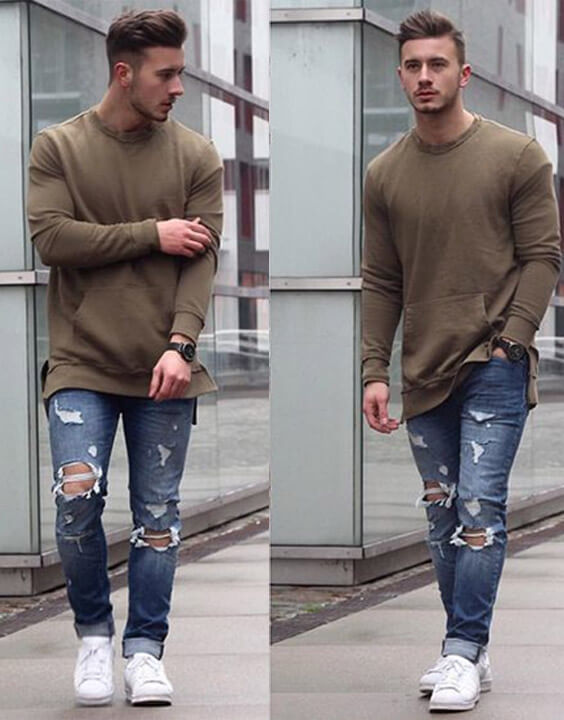 Put those distressed denims for men to good use with a pair of white sneakers and a long-sleeved t-shirt! We love ours with pockets so that we can appear a little more nonchalant while we're walking down the street.
Even if it's not cold outside, ain't nobody stopping you from wearing that muffler or woolen scarf! Flaunt it with confidence and don't let the confused stares bother you. Nothing like a pair of suede boots to finish the look.
Heading out to meet the boys? Wear a long-sleeved t-shirt in a subtle color, add a classy watch to the mix, a pair of sunnies to throw some shade and of course – loafers!
3) Trendsetting & Tantalizing: Long Sleeve T Shirts With Dark Denim
Yes, we're still on denims but we're making it grunge this time. Dark-washed jeans are the ultimate heroes and with the right t-shirt, they cross new levels of 'fashionable'. Read on to know how you can style them!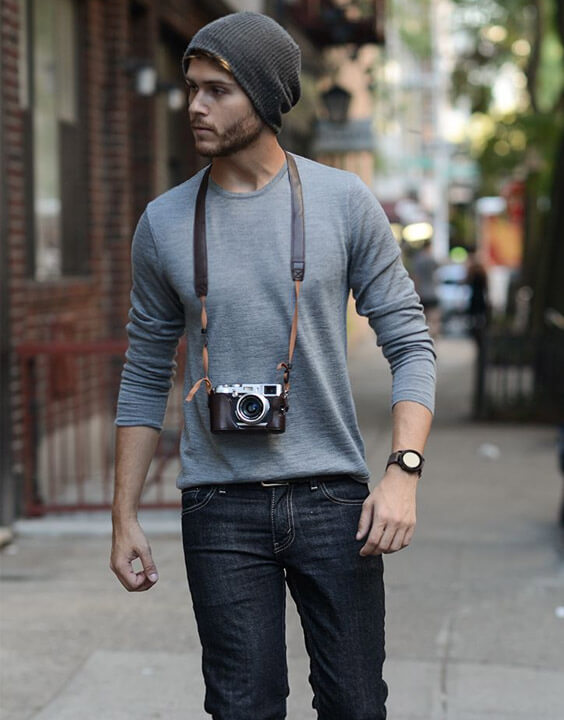 If you trust us, then trust this – women love guys in beanies! They say so themselves. All the time. To all their girlfriends. Take the hint and put on a beanie the next time you head out in a long-sleeved tee. Keep it classy with denims for men. (The darker the better!)
Okay, since we do know a thing or two about women, we know this too. They also love it when men wear pink, mostly because it breaks the stereotype. And everyone loves a rebel, right? If not pink, then any other pastel hue will do too. Don't forget the white sneakers and dark denims to create contrast though!
Stripes and low-waist jeans are always in fashion. Give them a shot by getting yourself striped long sleeve t shirts for men. Add a leather belt with an oversized buckle to complete the look!
4) Acing Athleisure: Long Sleeve T Shirts With Joggers
Apart from tees, there's one other closet piece that has been all the rage lately, and that's men's joggers! From being loungewear favorites to then taking over global runways, joggers have seen and done it all. To style them perfectly for long sleeve t shirt outfits, read below.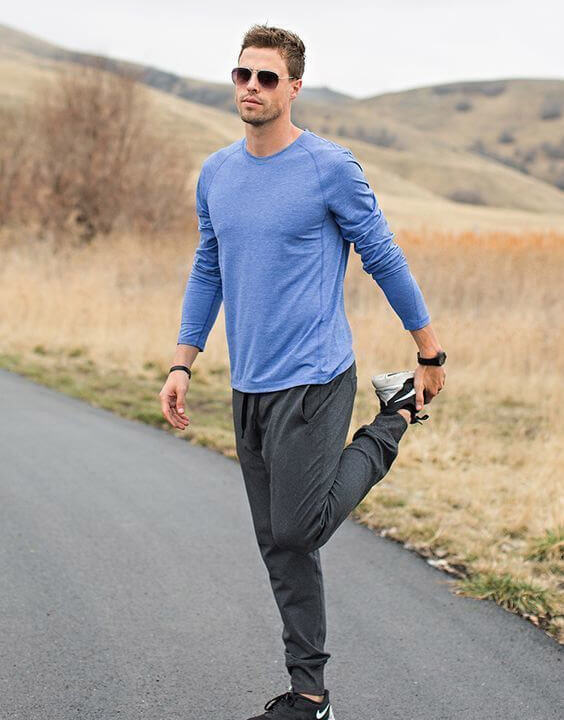 Men are naturally more inclined towards fitness and can keep up a routine quite effortlessly due to their love for an adrenaline rush. So if you're headed to the gym, then just slip into a pair of men's joggers with your most-loved black t-shirt, provided it's the right material. Finish your look with a cool duffle bag.
Give printed joggers a chance too; we promise they won't disappoint. You can go for camouflaged ones or maybe even pinstripes. Wear them with a long-sleeved t-shirt in a neutral color and you've got yourself a date night outfit, especially when you're choosing to stay in!
There is nothing better than men's joggers for road trips as they establish the right balance between comfort and style. All you need to finish this look is a pair of sunglasses and a long-sleeved t-shirt.
5) Picture-Perfect: Long Sleeve T Shirt With Shorts
Shorts are the number one way to stay cool, classy and comfy – but so are t-shirts. It isn't acceptable to wear them to work, but they make for great companions on leisure trips and weekend hangouts. Here's how to style them with men's t shirts having long sleeves!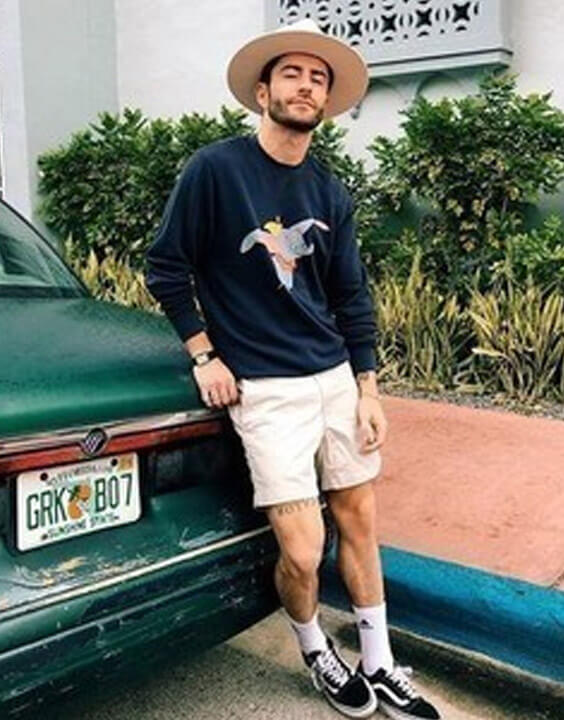 Wear a pair of white shorts with a bold-hued t-shirt, preferably with a print if you're vacationing in the outdoors or sightseeing. You can finish with trainers or sneakers, whatever's comfier.
If you're aiming for a country-meets-city look, then a hat with long sleeve t shirts for men, football socks and sneakers, along with a pair of shorts will be just right!
You can even wear shorts and long-sleeved t-shirts for a soccer game with the guys! Make sure it's jersey material or at least nylon though.
6) Work + Weekend: Long Sleeve T Shirts With Shirt
If this seems like an unlikely pairing – just hear us out. This combination enables you to sport smart AND easygoing at the same time, so really – what's not to love? If you wanna know what we mean, read below.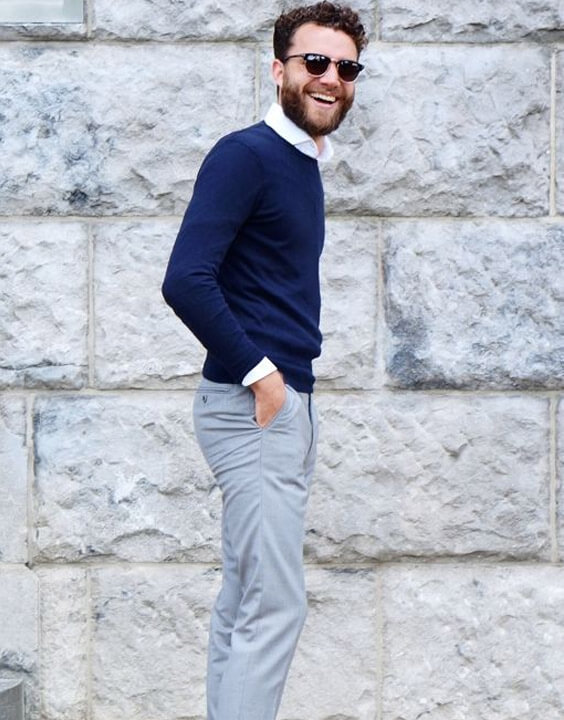 When in doubt, go out in plaid! Yes, a plaid shirt over a long-sleeved t-shirt will be an ideal #OOTD no matter where you're headed. You can choose sneakers for footwear and skinny or straight jeans for the perfect finish.
Got a date right after work? Leave the styling of your long sleeve t shirt outfits to us! Get that cool-guy look going for you from the boardroom to the dining room by wearing a shirt underneath a long-sleeved tee. Wear straight cut pants that are the right fit for you, and a pair of the cleanest white shoes you own. You're sure to win compliments not just from your date but also from your colleagues!
If you're just going to a friend's place to chill, you can always wear a half-sleeved t-shirt over a full-sleeved shirt to show him/her how much of a layering pro you are!
7) Workwear Winner: Long Sleeve T Shirts With Blazer
Did you know that if styled right, then long sleeve t shirt outfits work great for your workplace too? Dress code or no dress code, it's fairly easy to incorporate a crisp long-sleeved tee into your office-centric wardrobe. We have some ideas on how you can achieve this feat!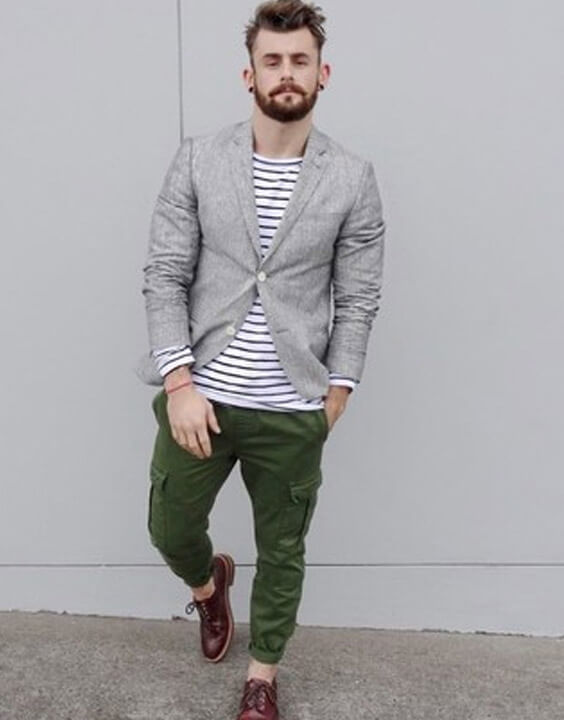 With cargo pants no longer being cringeworthy, choose to pair the fitted ones with a long-sleeved t-shirt and your blazer buttoned-up in the middle. To make it more 'work' and less 'play', go for Oxford shoes or brogues.
No, airport looks aren't just about athleisure – especially when you're expected to get down to business shortly after you land. So we say – make it sharp but make it fun! Wear a blazer with a long-sleeved tee, clean wash jeans, and dress shoes to make a lasting impression on your clients.
For the ultimate English guy look, nothing better than a monochrome #OOTD for work. We're talking high-waisted dress pants, a long-sleeved t-shirt tucked in, a blazer to top it off and Oxford shoes of course.
We can think of more ways for you to put your long-sleeved t-shirts to good use, but we'd rather let your imagination run free. So go on, experiment all you want – you can't really go wrong with this piece if you have your 'basics' right!
Image credits: The copyrights of the images used in this post belong to their respective owners. The credits where known are specified under the image - if you're the owner of an image and want it removed, please contact us.