White jeans outfits for men can either make you look like a cool, stylish individual. Soothing to the eye and on-spot with current trends in Menswear, white denim is the perfect canvas for suave and creative outfit combinations this season. Classic and elegant, white is a color that may not always be easy in terms of maintenance – but is always effortless when it comes to looking put together with no matter what. Universally flattering on every skin tone and fitting for a myriad of style sensibilities, the color white brings a crispness to even the most casual and easy-going material – denim.
Versatile in terms of outfit building, white denim can do wonders for every man's wardrobe. Certainly, it has limitless potential for putting together unique and sophisticated gent's outfits. A quality pair of white jeans is every man's style must-have this fall – and as always, we're here to spill the styling deets!
P.S: If you are apprehensive and worried about maintaining this fabulous piece of garment, then worry not – we have an exciting bonus on how to keep those white denim in sparkling clean condition at the finish line.
With the cold weather coming, it's time to get dressed in some comfy jeans. We've curated a list of the 8 best white jean outfits for men to choose from.
1) Smart Casual With Blazer Outfits –
White jeans and blazer jacket combination is an absolute winner for any semi-formal or business-casual occasion. Giving off an air of refinement and ultimate sophistication, blazers layered over shirts or polo t-shirts for men are perfect components for an outfit that'll have you looking successful and more put-together than ever.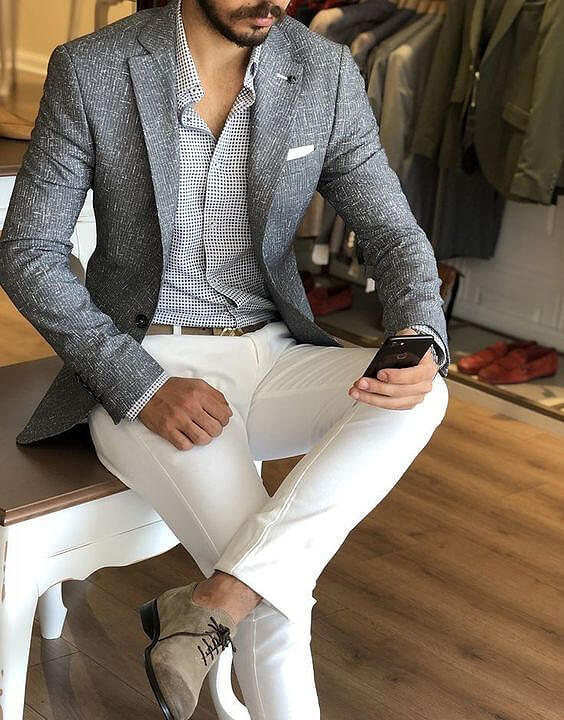 A great way to put together blazer outfits is to pair your white jeans with separates in grayscale or neutral shades that blend seamlessly with the denim. Picking textured material for the blazer and styling with formal lace-up oxfords can add extra pizzazz to this combination.
You can also go for a neutral off-white or light beige blazer and layer that over a shirt in a powdery pastel shade to bring this outfit together. Add a classic belt or a scarf (if the weather permits) for that additional flair.
2) Color Blocking With Jackets for men –
Be it a denim jacket, a sleek leather number, or any other type of casual jacket for men – you can make them work with white denim quite creatively by using color-blocking techniques when styling.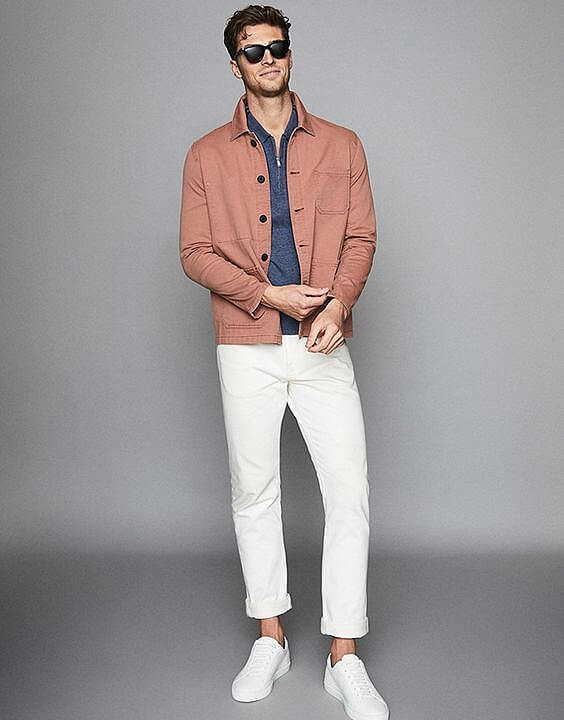 Pick a jacket in an interesting shade – such as muted peach, burnt orange, olive green, or maroon and then style with a polo shirt or t-shirt in a complementary shade underneath. Balance the bottom out by pairing white sneakers with this look.
An earthy color scheme also works very well with this white denim and white sneakers pairing. Pick either the jacket or the t-shirt underneath in a relaxed earthy tone like olive green or brownish red and keep the other separate in a rustic neutral color. This outfit idea is striking enough to set you a cut above the rest in any crowd.
3) Grungy Chic With Layered Hoodies –
Layering hoodies for men with white denim are Gen-Z and Millennial central. A more out-there approach to casual athleisure, this outfit idea is youthful, stylish, and captures the vein of current trends effectively.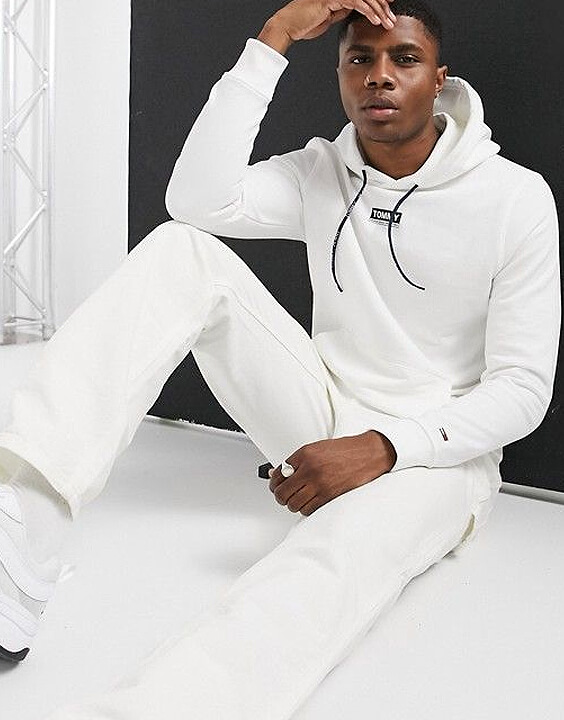 Rugged distressed or torn denim styles work extremely well for this styling – go bold with all white for a striking impact! Adding interesting prints, in minimum and thoughtful quantities is key to elevating this street style – be it on the shoes or the hoodies themselves.
Logo printed hoodies for men also would look great in this combination. Adding that aspirational element of branding to the mix is a great way to exude a level of coolness and swagger in your white denim pants.
4) Aristocratic Suave With Navy Blazers –
Nothing exudes a luxe, high-end and aristocratic suaveness like the combination of white and navy color palettes. The best part? This is an outfit idea that's super easy to execute but looks extremely thought-out and put together at the same time.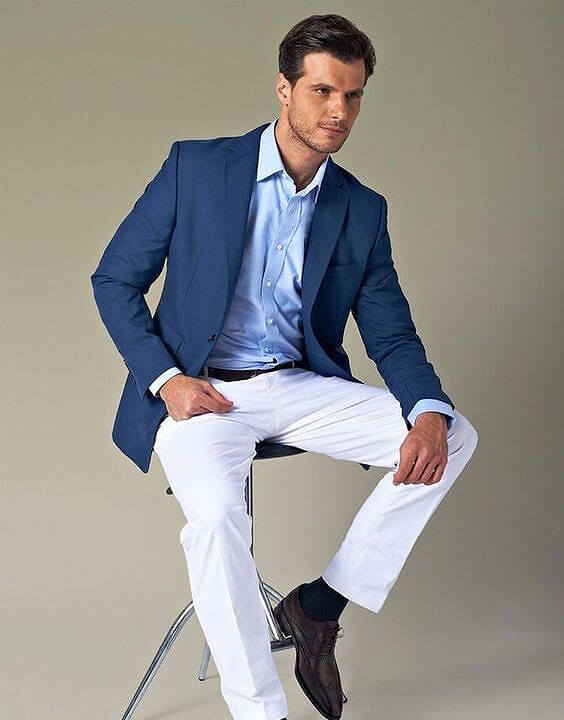 Go for a double-breasted navy blazer if you would really like to add that luxury vibe to your look. Style it up with classic loafers and a traditional watch to bring it all together.
The key to making this outfit idea work is to keep the accessories very conventional and timeless. The belt, socks, shoes, watches – all should be in classic and well-loved styles. You can also go for a monochromatic effect by pairing your navy blazer with classic powder blue formal shirts for men underneath. If you would like to impress in white denim at your next big meeting or special workday – a navy blazer combination with jeans is your ideal choice.
5) Clean Lines With White T-shirts And Jeans –
A white t-shirt and white denim pairing aren't like other usual t-shirt & jeans combinations. This one gives a special appeal due to its sleek and stylish all white profile. High-fashion, but ultra-comfortable and super affordable – we can all get on board with that.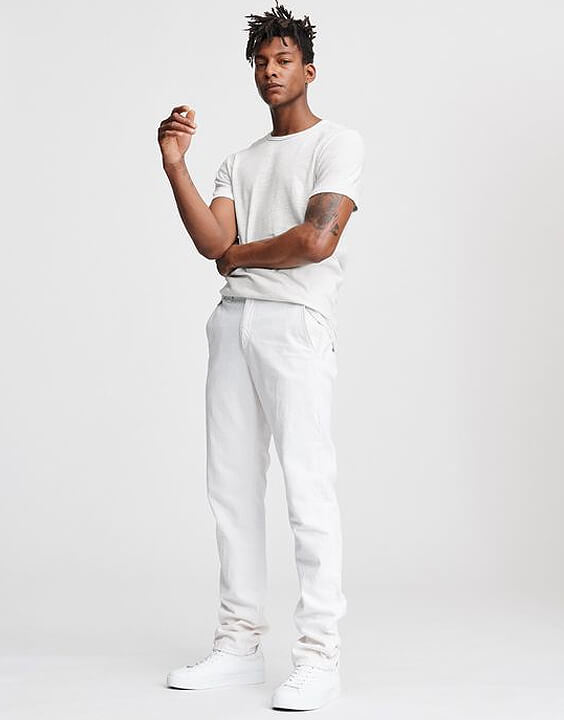 Lending the wearer a futuristic look, this is an outfit styling that turns heads for all the right reasons. Statement making in a sophisticated & pioneering way, white t shirts for men are great pairings with white denim – you will need to maintain this outfit, though!
Another groundbreaking way to team this combo is to opt for a white denim half-pant instead of a full one – and ensure that your t-shirt is not form-fitting at all. Go for a more relaxed feel, with well-fitted pants that don't cling to your body. This lends the wearer an uber-stylish and high-end vibe. Keep all accessories minimal, but choose classic and light-hued sneakers for this pairing.
You can style white plain tshirt or a white tshirt with a quirky print on it with our customised tshirt collection, send us your favorite design and we'll print it for you on our premium t-shirts. Click on the below image and get your own custom tshirt.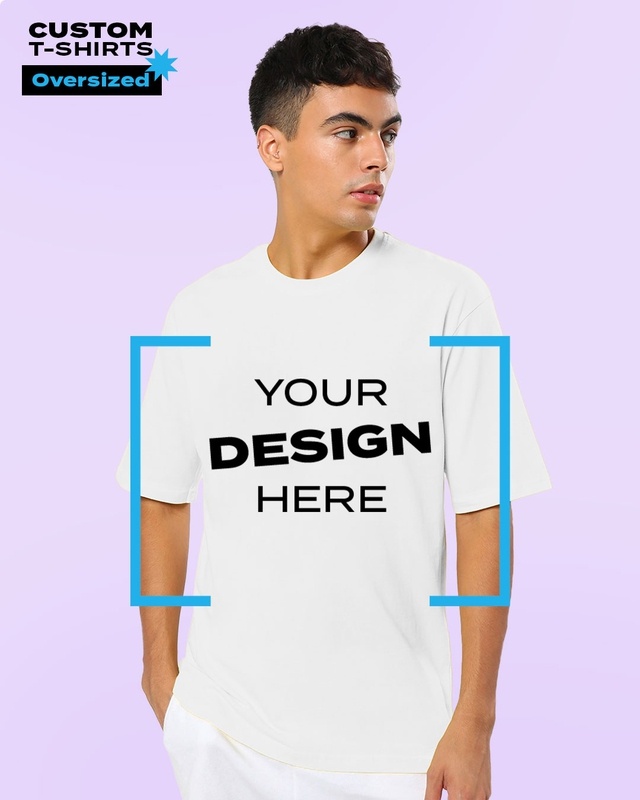 6) Rugged Sophistication With Denim Shirts –
Denim on denim is an ever enduring trend. A hit with both menswear and womenswear, this outfit idea looks extra special in a man's wardrobe when teamed up with white denim. The trick is to pick the right colors and to go minimal with everything else. Minimalism in general works really well with white denim – especially in high contrast color palettes.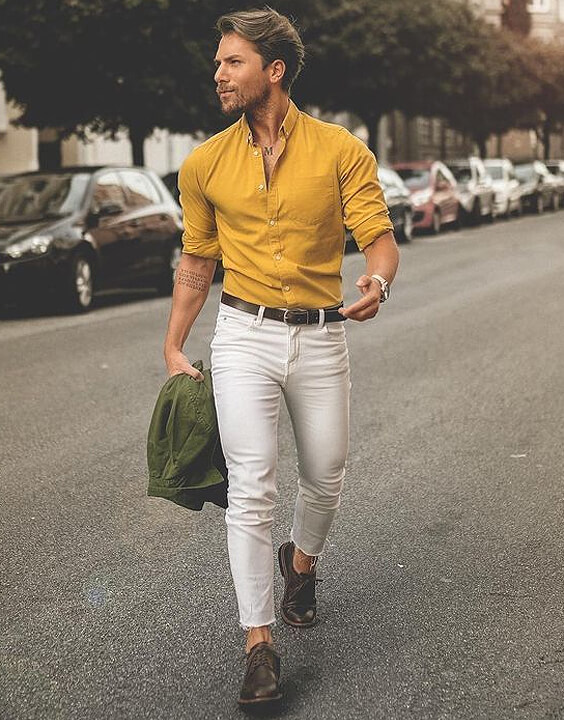 Keep in mind the undertones of your pair of white denim pants when putting together this contrasting look. If the white of your jeans has a slight off-whitish, warmer tint to it, then choose warm-toned denim shirts for men in earthy and warm colors like deep mustard, olive green, and deeper oranges. Keep accessories like belts and shoes in warmer browns, golds, and tan shades to bring this look together.
In the case of white denim fabrics with cool undertones – such as a 'stark' white denim or one with a bluish tint to it – pick cooler toned denim shirts for men in shades such as navy, royal blue, cool toned violets, or olive hues (Olive is a tone of green that's neutral on the color spectrum – works with both warm & cool toned schemes – however, be careful not to lean towards a green that's yellowish even in the slightest when styling for a cool-toned color scheme). Keep your additional accessories in hues like black, gunmetal grey, and silver. Now that's a great styling lesson we can observe from basic color theory!
7) Polished And Refined With Mandarin Shirts –
These types of shirts for men feature a 'mandarin collar' which is extremely similar in structure to a 'Nehru collar' – however, these tend to be slimmer in terms of height. Shirts with a mandarin collar are extremely sleek and suave options in Menswear and look absolutely stunning with white denim pants in several varieties.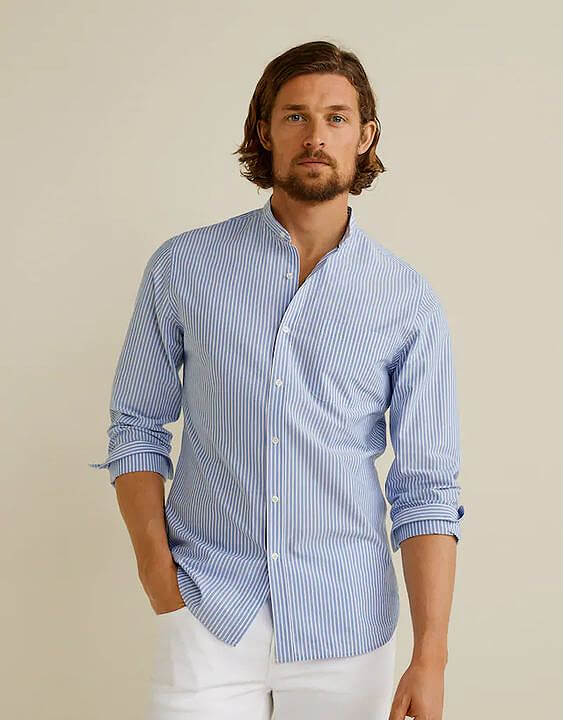 Go for minimally ripped denim to juxtapose it with a mandarin shirt that features a clean slim fit for a more youthful take on this look. You can keep the rest of the outfit – including the footwear white, but go for a very light, pastel shade for the shirt and opt for a more subtle and sophisticated swagger.
Work shirts with stripes look more refreshing and current when they feature a mandarin collar instead of a shirt collar. Wear one with white stripes on a base of color and pair it up with your white jeans for a great business casual or weekend look at work. You simply can't go wrong with this one – it's an effortless combination!
Another interesting take on this outfit idea would be fusing these types of shirts for men with a more ethnic appeal, by going for a mandarin collar shirt-kurta and teaming that up with your white denim for an easy-going desi look. Go all white or opt for a shirt-kurta in light mint or blue for a fresh take on this style!
8) Striking Footwear With White Jeans –
Footwear is an essential and indispensable element in styling any outfit. No matter how well the rest of your look is, if your choice of footwear doesn't blend well with the look, your head-to-toe will look out of place. Shoes are statement making – in Menswear styling as well. While men tend to opt for cleaner and simpler shoe styles in even the fanciest of occasions than women; this makes the need for them to go well with the rest of the look doubly important!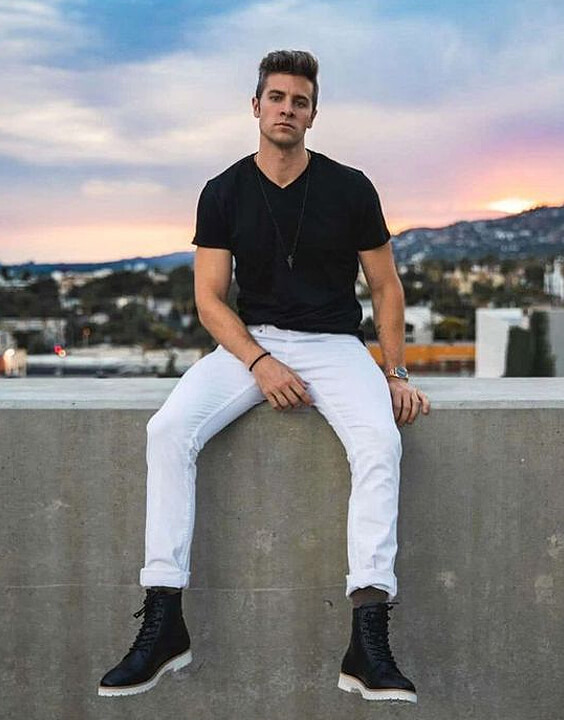 If you are going for a more casual or rugged look in your white jeans, consider high-tops sneakers and military boot style footwear to add an unmissable cool factor to your outfit. Ensure that the shoes are color-coordinated or in a neutral color like black or white that go with everything. It is vital that these compliment your outfit!
A great way to contrast with your outfit without looking out of place is pairing a classic style of shoes like oxfords, loafers or formal lace-ups in an earthy shade of tan or brown that is bound to look good with more styles than other non-neutral hues.
However, if you are a style aficionado, and you love collecting shoes – why not keep a few interesting shades of footwear on hand for styling opportunities to mix and match with your wardrobe! After all, there is a lot that works with a versatile garment such as a pair of white jeans.
Whew! – we sure enjoyed going through these unique styling ideas for you! There is so much you can do with a flattering color like white. A blank canvas just waiting for you to color your fashion persona and personal style into – any white garment is an opportunity for self-expression like no other!
However, as aforementioned, maintenance can indeed be a pain. So, as promised, we have made a list of tried & tested tips as a special bonus segment. Take a look and until next time – stay as chilled out as the color white!
BONUS: How to keep your white clothes white:
Lemon juice, a natural bleaching agent works great for regular washing of your white garments.
Bleach is your best friend when it comes to keeping white clothes white.
Remember to separate your whites when washing. Wash all your whites together, but be careful that not even a powdery light-colored garment is added to your whites.
Hydrogen peroxide is 100% natural and has the potential to remove any stain from white garments.
Image credits: The copyrights of the images used in this post belong to their respective owners. The credits where known are specified under the image - if you're the owner of an image and want it removed, please contact us.