A highly positive development in the fashion world, the body positivity and plus-size inclusive movements have been accelerating in its impact for the past few seasons. In India, and globally, many recent collections have ushered in an era of size-diversity. With so many conversations turning into discussions on self-love and self-acceptance, the fashion industry has certainly taken note. Today, there are many affordable brands from H&M to Indian fashion hubs like Westside, who carry plus size dresses and designs for curvy women.
All signs point towards a future where size is just a number. However, it is important to note that plus size clothing is a fashion movement still in its nascent stage. Shopping as a plus size woman can be hard – and putting together an effective wardrobe that is synergic in aesthetic and style can be even harder, as there are meager options for bigger sizes in the market when compared to standard ones.
We would love to contribute to this transformative era in the realm of fashion representation, with a roundup of sophisticated plus-size outfit ideas that will help every plus sized girl curate a stunning and well thought out wardrobe. Let's dive in!
1) Get rugged chic in Denim Shirts:
A durable and classic spin to a regular shirt, denim shirts are in style this season. Be it a light regular washed-out blue or a statement jewel toned denim shirt, these are available in abundance and look great for any occasion – be it a casual brunch with friends or an upbeat workday.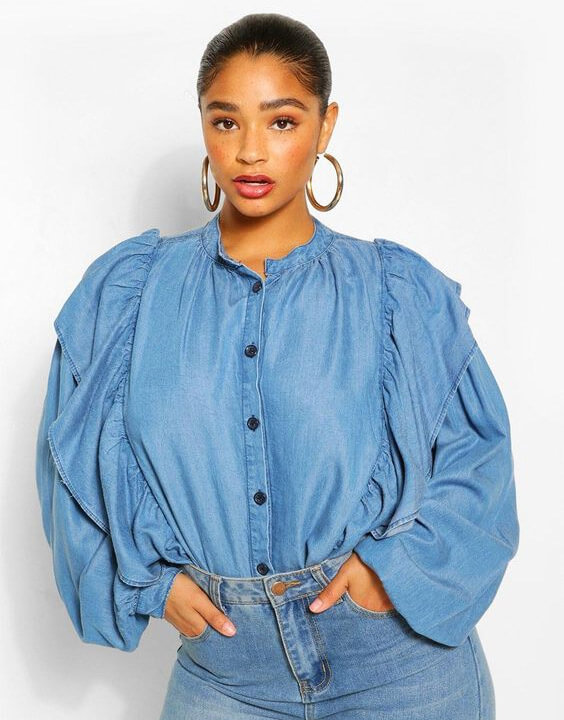 A simple way to look stylish- wear a classic blue denim shirt with black trousers and head out feeling and looking crisp. Well accessories are your best friend as a plus sized woman! Wear a classic watch and a fun pair of shoes (we love animal and floral printed shoes with this outfit idea).
Opt for the denim-on-denim look if you would like to take this outfit to the next level & look for a denim shirt with a more unique or exaggerated silhouette for the full effect.
Pro tip: Go for a more straight or boxy silhouette when picking your denim shirt and don't be afraid to go a bit oversized with this one. It's sure to give your plus size outfit a chic and effortless look.
2) Feel the rustic charm in a Denim Skirt:
Denim is so popular around the world due to its versatility, inclusivity and limitless styling potential. Another fabulous denim item you can curate for your plus sized wardrobe is a denim skirt. A denim skirt is as cozy as a pair of jeans, but its aesthetic will give your outfit a more elevated and fashion-forward appeal.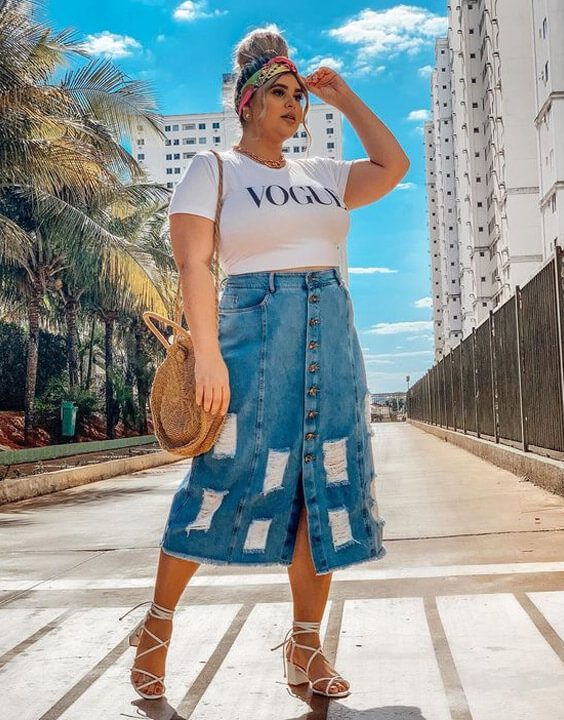 Wear bright colored top-wear tucked into a dark denim skirt for a striking look. Style with a pair of boots and you'll be on-point for fall trends this season. A denim skirt is one of the few bottom wear garments that look great with tucked-in topwear for bigger sizes, as they provide a natural body-shaping function to the figure and stunningly accentuate curves.
Easy to pull off with something as simple as a white xxxl t shirt, classic blue denim skirts are a great canvas to style your personal aesthetic. You can certainly go glam with stilettos and bling accessories – or you can carry a colorful scarf and earthy accessories for a traveler-chic vibe.
Pro tip: Do not go for denim skirts in thin and flimsy fabrics (that only look like denim) and frumpy, flared styles. Opt for a good fit, that features strategic slits and you will look sharp & put-together at any size. A good fit is everything when it comes to plus size clothing.
You can even pair your denim skirt with our customised t-shirt, click on the below image and check out our coolest customised tshirt collection.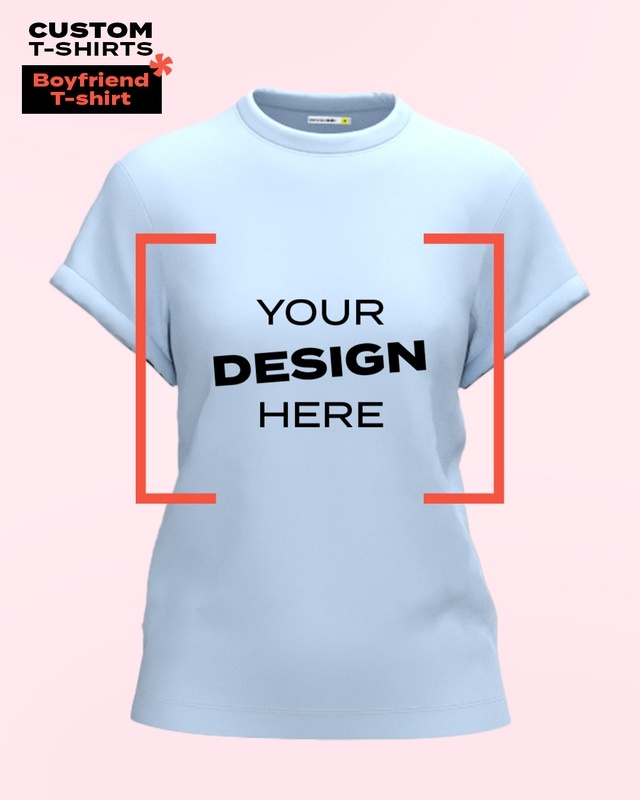 3) Stay boho-cozy in a Maxi Dress:
A maxi dress is every plus size girl's favorite go-to outfit. Comfortable, fluid, and filled with bohemian charm, these type of plus size dresses are stunning options for any season.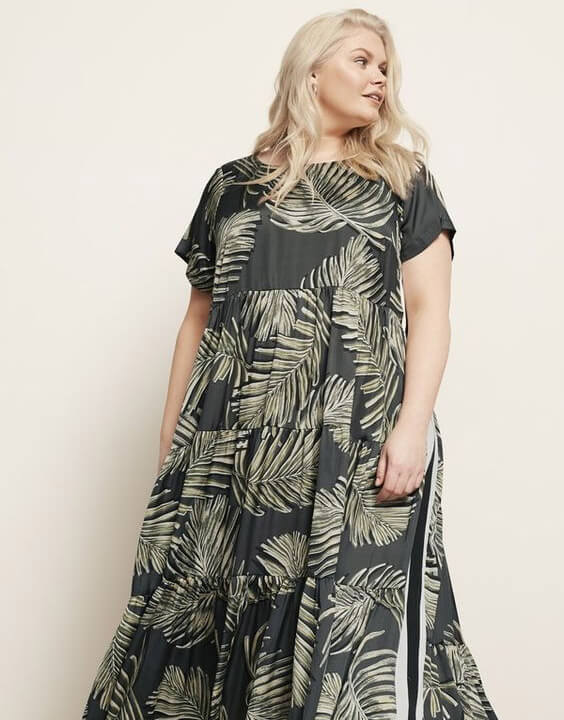 Feel beautiful as ever in an empire-line maxi dress that is sure to hug your curves in all the right places. Go for in-season colors like blush pink, mauves, and berry shades and style it up with pretty and delicate jewellery.
A stunning and sophisticated print is also a great way to go when choosing your maxi dress. Avoid typical prints in bright colors. Go for slated neutrals, pastels and mature prints for this outfit idea.
Pro tip: A great way to avoid looking like you are wearing a night-dress when you opt for this outfit idea, is to ensure its the right length (slightly below the ankle), style it with heels and go for plus size dresses with high-quality fabrics like lace, wool-blends, satin, chiffon, tulle, or georgette.
4) Grunge it up in a Leather Jacket:
Add a bit of rock 'n' roll glamour to your closet with a classic leather jacket. If you avoid leather, you can go for a faux-leather or PVC based womens jackets instead – they look just as stunning & are cruelty-free.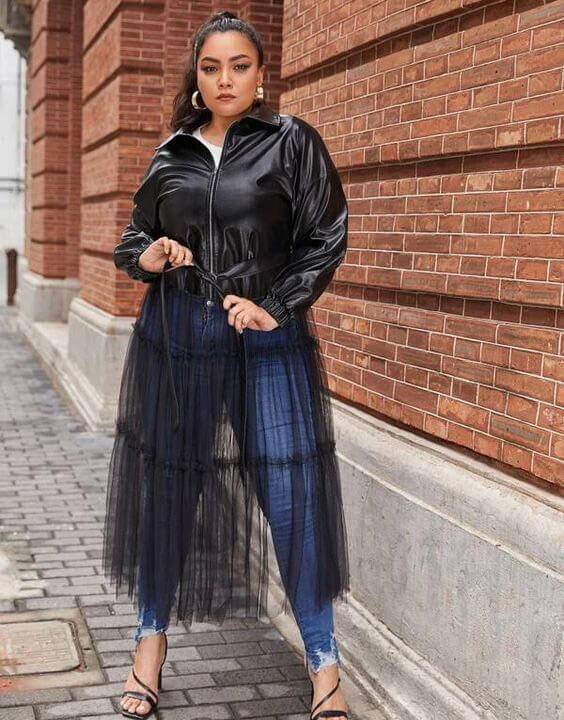 Layer a classic moto jacket with innovative pieces from your wardrobe – mix and match to have fun with it. You can style this kind of jacket over see-through pieces, denims, athleisure wear, your short or maxi dresses, and even over a kurta for some ethnic-fusion fun!
You don't have to opt for the standard black or tan moto jacket necessarily – go for one in a brighter color or a statement silhouette that suits your style and personality.
Pro tip: Do what works best for your body shape regardless of the 'trends' when wearing plus size clothing. If you have a straighter figure, opt for slim-fit, lengthier womens jackets. If you are curvier waist down and relatively smaller on top (pear shape) then go for a length and style that cuts off a little above your hip level to give your figure flattering and well-balanced shape.
5) Be unapologetically feminine in a Pleated Skirt:
Ah, the pretty charm of a pleated skirt! Modish & retro in its appeal, a softly pleated skirt can be a game-changer for any plus sized wardrobe. Flared and chic, it gives any figure a great shape when styled with the right separates.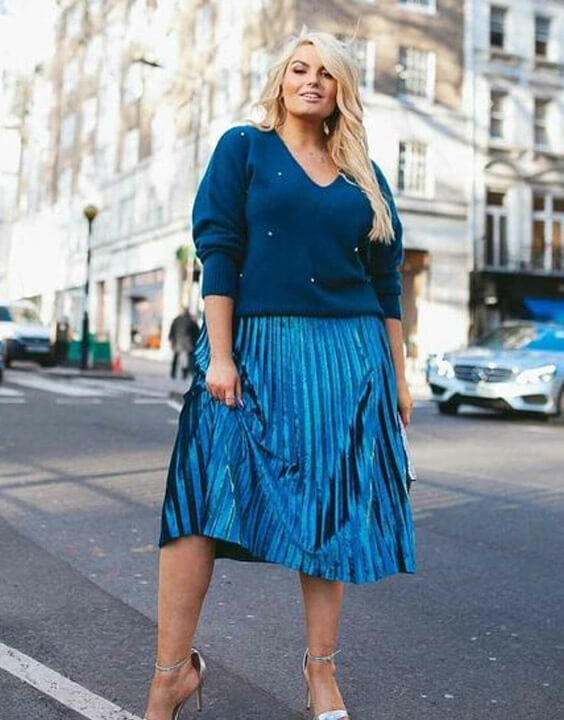 A pleated skirt is a special piece of plus size clothing that you can dress up with a beautiful tops, heels and glam makeup; or dress down with an xxxl t shirt tucked into it and a pair of easy-going flats.
If you want to make a statement with this outfit idea, choose a metallic pleated skirt. You can even style for sweater season with a cozy knitted top or cardigan. Try a monochromatic color scheme for maximum appeal.
Pro tip: Do not leave your topwear untucked for this style, unless it is cinched at the waist in some fashion. The silhouette works wonders for plus sized women when worn in an hourglass format.
6) Lounge and relax in Sweatshirts:
Sweatshirts, hot chocolate and Netflix – that's the mood we're looking forward to as winter approaches! The most sensible and comfy option for lounging around as you WFH and social distance this year, a sweatshirt is an absolute must-have for any woman's wardrobe.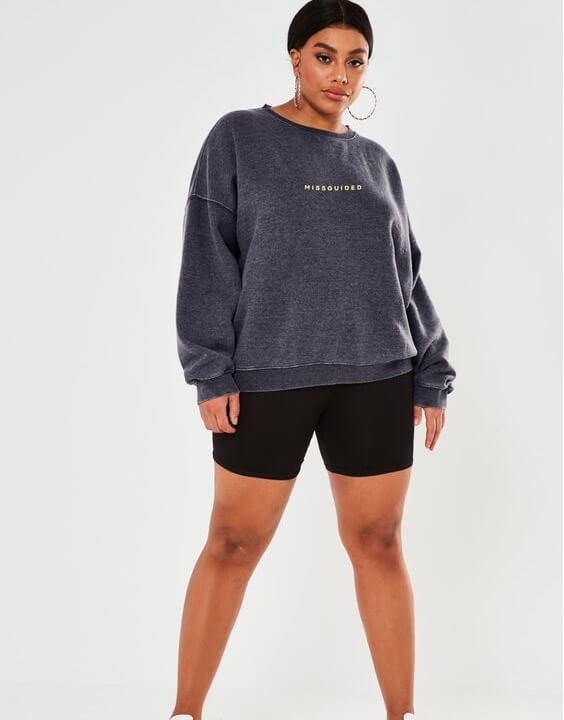 If you'd like to stay relaxed yet gram-worthy in the comfort of your home – go for a coordinated sweatshirt & joggers combo in a pretty print. Marbled & tie-dye prints are wildly popular this year and come in a plethora of color schemes that will have you vibing in no time.
Another awesome way to wear a sweatshirt is to team it up with biker shorts and sneakers. Perfect for the occasional errand running, this combo will keep you swift and cozy.
Pro tip: Go hyper oversized with a sweatshirt – after all, the cozier the better, right?
7) Make an impact in a Long Sleeve Dress:
A long sleeve dress is a great formal wear choice for plus sized women. With a wide variety of chic plus size dresses available in this category, these will have you putting your best foot forward at all times and are a plus-size wardrobe essential.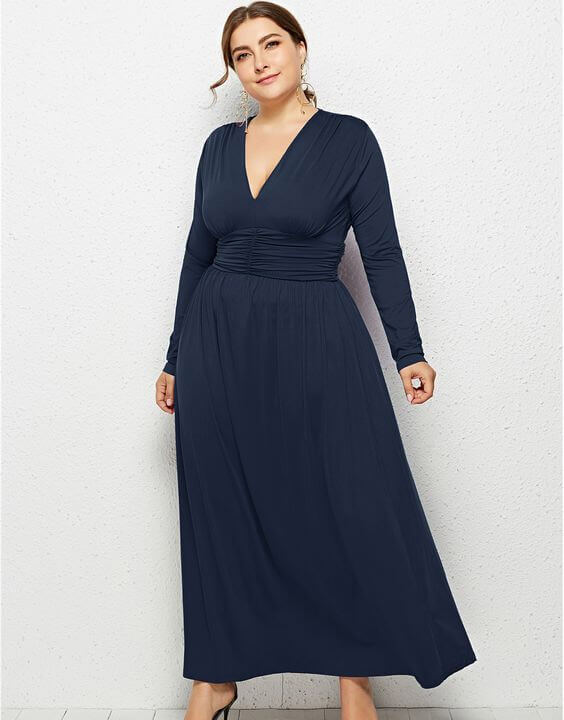 A long-sleeved fit-and-flare silhouette is the perfect dress choice for special events. Cinching in the high waist and flattering all kinds of figures, go for this outfit idea when in doubt. Opt for classic dark shades like black, navy, or wine for an elegant look.
Opting for a dress with a long peasant sleeve is great for day-time events and occasions. An ideal sundress option for plus size women, a puffed sleeve dress adds a great profile and looks stunning with a chic pair of heels.
Pro tip: Avoid printed fabrics at all costs when going for this outfit option & choose long sleeve plus size dresses in beautiful solid colors that flatter your skin's undertones to look elegant.
8) Come alive in a statement Jumpsuit:
Jumpsuits are a fan-favorite, but they're really hard to shop for in plus sizes. The pattern and fit of a jumpsuit is complicated to achieve even in standard sizes and hence it's very important to pick the right silhouette when buying one.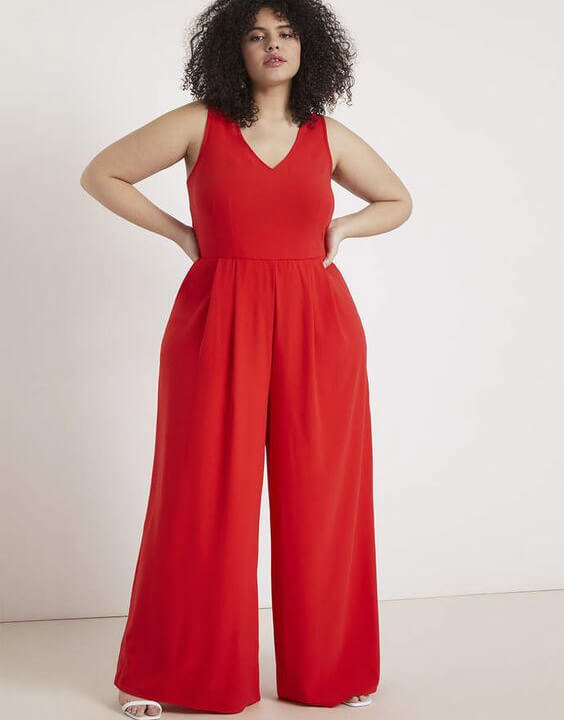 Select one in a more fluid and easy-going silhouette, with gathers and flares to avoid camel-toes and unflattering crotch fits. You can pick an off-shoulder option if you'd like to have a more charming day-time flair. Style this one with boho accessories and junk jewellery for a worldly, well-traveled vibe.
A jumpsuit is as it is a statement-making piece – so why not go for a stunning and vibrant color? Exude flamboyant appeal in striking one-color jumpsuits & keep the rest of the styling neutral and minimal.
Pro tip: Always choose a jumpsuit with a higher waistline for plus sizes, as they tend to give a more flattering shape to your figure.
9) Layer like a pro with Printed Jackets:
What's not to love about a printed jacket? Printed womens jackets can tell stories like no other & you can choose one to match your personal sensibilities – be it exuberant or simple.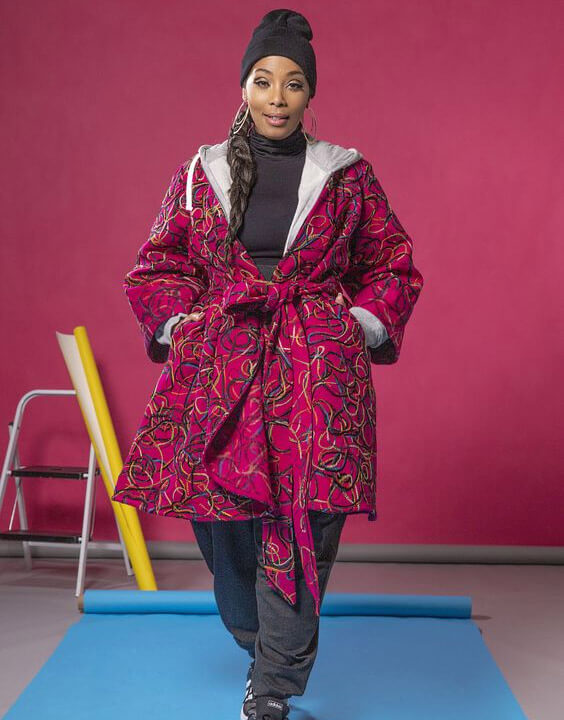 Go for a longer and knotted jacket style for a stunning and versatile addition to your wardrobe. Make sure you pick a print that goes well with other pieces in your wardrobe so that you can maximize its usage.
Pro tip: Shoulder points are very important when you pick a jacket in the plus sized category. Ensure that the shoulder-sleeve seam is not droopy and avoid looking frumpy in your outerwear with ease.
10) Say something special in Graphic t shirts:
You can always say something special with a graphic t-shirt. Be it your pop-culture preferences, your personal aesthetic or a mantra that you live by – a graphic t-shirt is for everyone and the options are plenty!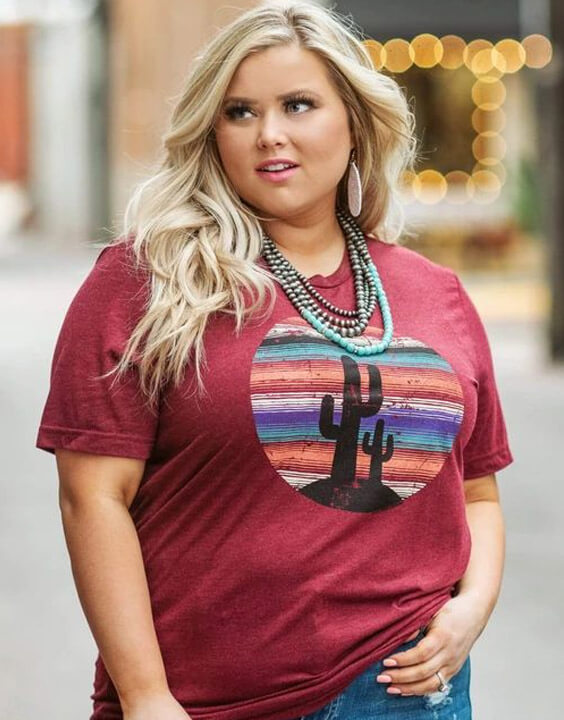 An absolute essential for any wardrobe, have a good mix of 4-5 graphic t-shirts in various styles that help you express your persona best. Layer an xxxl t shirt with casual looks, jackets and skirts. A basic is forever.
Pro tip: Try not to always size-up when you buy a t-shirt. A well-fitting t-shirt will ensure that you wear it with many more looks and #OOTD combinations. If you wear an xxxl t shirt size, don't go for a 4xl or a 5xl every time, keep to your size.
11) Get warm and sophisticated in a Cardigan:
It's the perfect season for a cardigan! A great alternative to restrictive womens jackets like blazers, a cardigan is as sophisticated as it gets & can work very well when paired with workwear.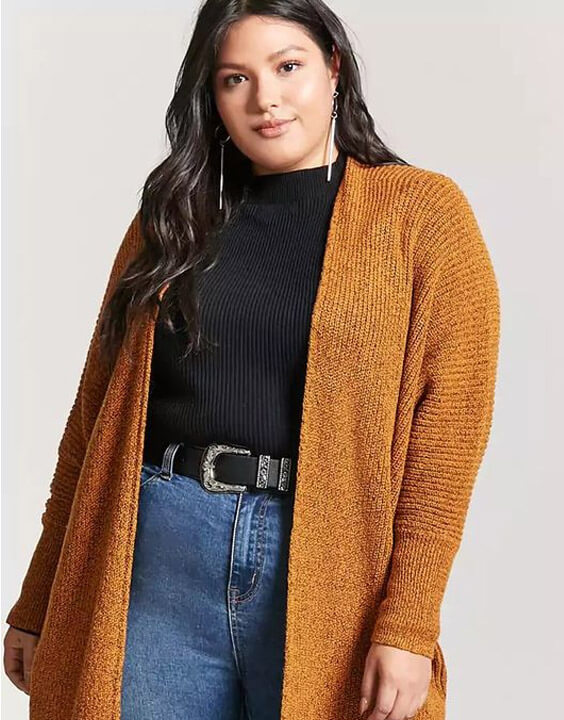 Choose classic and earthy shades of cardigans and layer them over neutral and simple separates for an effective workwear chic look. Minimal accessories with a 'less is more' approach works best with this outfit idea.
Pro tip: Go for loose cardigans that have a mid-thigh length or below for a flattering take on this look.
12) Exude boss-lady vibes in a Pantsuit:
Nothing spells 'boss-lady' like a pantsuit. A must-have option for every woman, plus-size or not, this is one outfit idea that will have you looking well-coordinated and sharper than ever.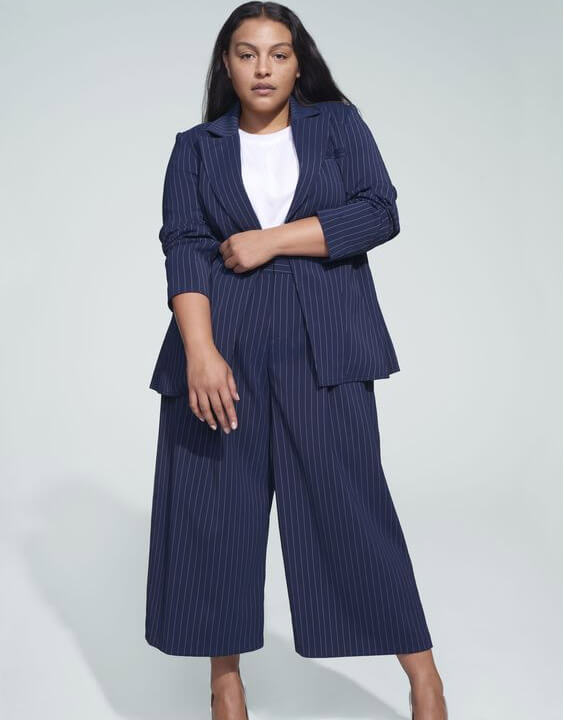 Dress head-to-toe in a matching pantsuit in a single, striking solid color for a hard-hitting visual impact. Opt for more contemporary blazer silhouettes – wrap and knotted blazer work great for plus sizes.
Go for a pantsuit with a pant that features a flare or go for culottes instead to give yourself a taller stature and unique workwear look. This outfit is an elevated essential that is sure to boost your confidence at every turn.
Pro tip: Fit is everything when it comes to a pantsuit – do not size up or down & ensure you take proper body measurements when picking your set. Also, go for a high-waist option for the pants and ensure that the jacket fits well on the shoulder areas for a sharper appeal.
13) Stay easy-going in an oversized shirt:
An easy, practical and relaxed option for plus sizes, oversized shirts are fundamental when curating a complete wardrobe. One of the more commonly available styles in plus sizes, these are all you need for stylish everyday outfit pairings.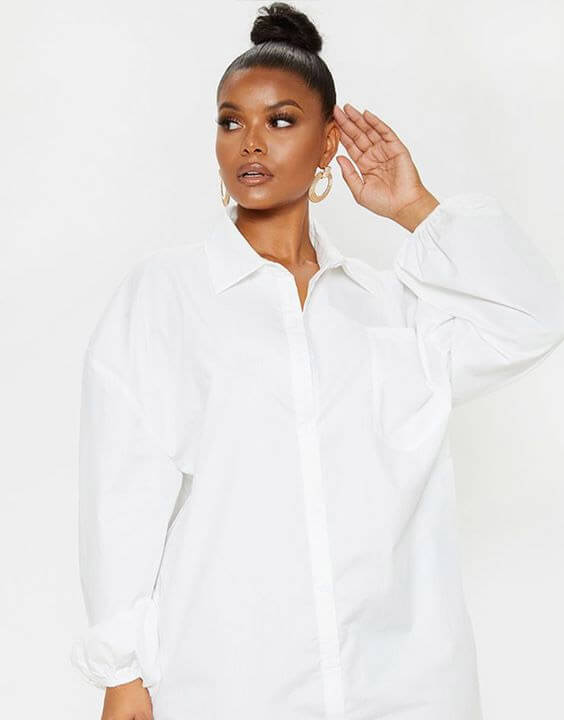 A classic white oversized shirt is an essential that every woman must have in her closet. Pick one that's in a classic, traditional pattern, so that you can layer it for stylish mix-and-match combinations.
Go for printed styles or kimono/batwing sleeve options that will have you living your anti-fit dreams to the fullest. Pair with denims or leggings of your choice.
Pro tip: Belt your oversize outfits up to give it a new & unique look. This will give you a flattering shape & make your oversize shirt more versatile.
Styling an outfit for plus size does not mean wearing tent-like fits and learning how to 'hide' so-called 'problem areas'. Why? Because all bodies are beautiful and everyone deserves to wear what makes them happy. After all, what we wear is a very substantive part of our lives, and fashion is all about expressing our inner selves.
So fret not & do your thing like the plus sized queen you most certainly are. We hope these plus size outfit ideas will help you create the best wardrobe ever!
Image credits: The copyrights of the images used in this post belong to their respective owners. The credits where known are specified under the image - if you're the owner of an image and want it removed, please contact us.