Learn about the different types of salwar to pair with your kurti. Discover the different traditional outfit ideas for types of salwar pants and wear your traditional ensemble in style.
Growing up as so-called millennials in India, trying to stay connected to our roots amidst the rapidly emerging western culture is a constant struggle. This holds true especially when it comes to clothing. The penetration of western trends in Bollywood and fashion make it relatively harder to keep up with Indian fashion trends. Leggings or denims have become a smooth replacement to age old churidar styles, tunics have replaced traditional Indian Kurtis, and scarves have become the new dupattas. While all of these are just as beautiful and appealing, they aren't the perfect 'alternatives' to Indian cultural fashion.
So, for those of you who want to rock a pair of anything 'Indian' but with the least amount of western influence, we're here to help you crack that code. Different types of salwar pants are a national favourite and originate from Northern India. They are breezy, comfortable and never go out of fashion. They have been under the eye of every Indian designer and have seen a lot of transitions while trying to stay in their purest form. Let's explore the types of salwar pants available for contemporary and experimental women!
Types of salwar pants to rock your traditional outfit
There are a lot of salwar types available in the traditional and semi-traditional silhouettes. Different types of salwars can be worn for different occasions and one needs to find appropriate styles for each one of them. Sometimes, finding the type of salwar that fits the occasion and your body type can be a difficult task. For example, some of the salwar designs to look slim are harem pants, culottes, etc. More so, there are salwar pant types that fulfil multiple purposes!
Patiala Salwar – most popular among the lot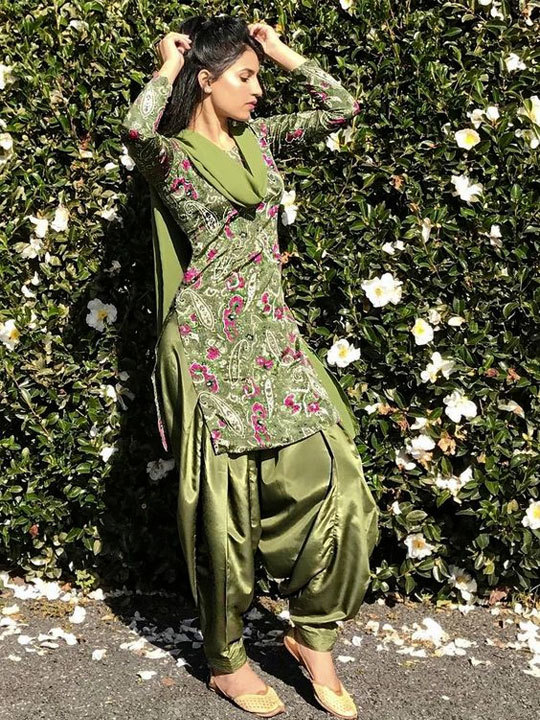 As the name clearly suggests, 'Patiala Salwar' originates from the city of Patiala in Punjab, India. This is one of the types of salwars that is really popular among Punjabi women across the globe. The distinct feature of this style is the perfect pleating. There are two types of Patiala salwar which are lightly pleated and heavily pleated. This can be customised by the wearer while getting one stitched for themselves. Traditionally, Patiala salwars are a part of a three-piece outfit consisting of a kurta, dupatta and salwar. The best combination in this type is short kurti with Patiala salwar. Whenever in doubt just put on your patiala salwar with short kurta! You can give the dupatta a miss, but don't forget to wear those beautiful jhumkas along with them!
Harem salwar- All-time favourite!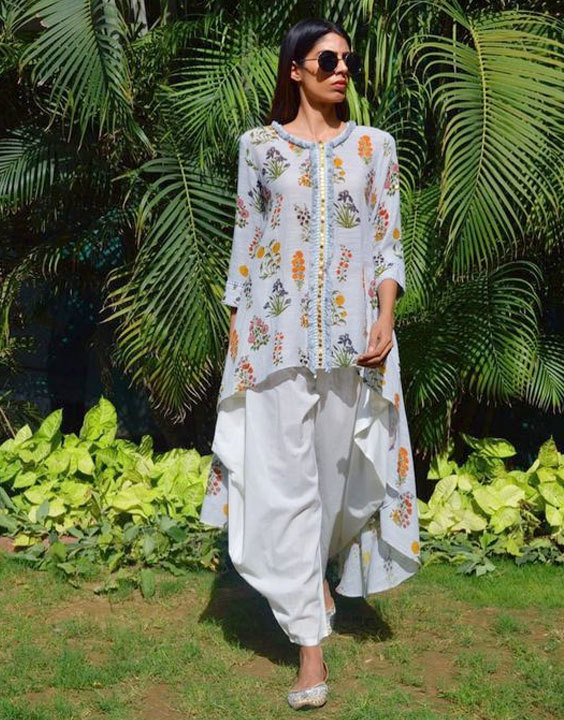 Harem pants or harem salwar came into the picture with Kareena Kapoor and Shahid Kapoor starring 'Jab We Met'. Since then, girls have adored the style to pieces!
Harem pants are baggy, with elasticated ankles to add more volume. A nicely fitted vest can make for a great harem pants women outfit. Several top wear items look good with this style, one of them being harem pants with kurta. These pants look good on almost every body type, and can seemingly slim down a person's figure.
Printed salwars – a little print harmed no one ever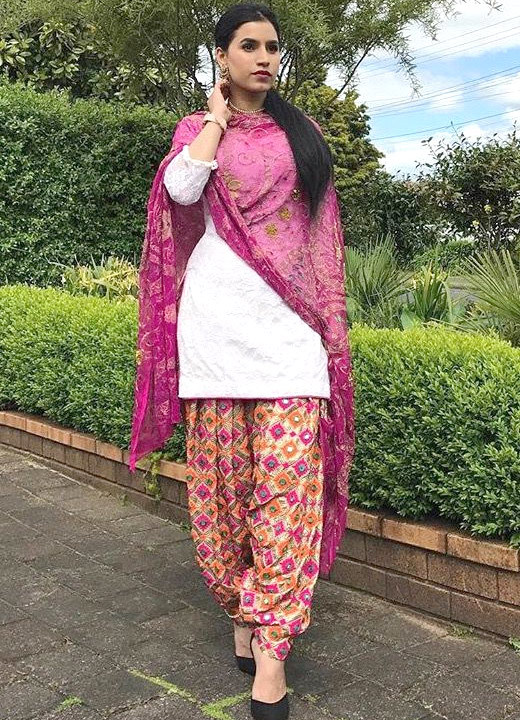 To keep up with the print on print trend, plain and different types of salwar can now be customised to the likes of a person. They can consist only of salwar bottom design or can be printed throughout with super cool motifs. Types of salwar pants with floral patterns, modern motifs, and also patchwork are always doing rounds in the markets.
Plain kurta with printed salwar is an outfit we've come to love. Salwar bottom patterns often comprise of lace and again, patches so you can mix and match it up with similar prints for top wear. So,  if you are tired of the same old plain salwars you can grab a pair of printed salwars to dress up.
Sharara salwar – bring on the retro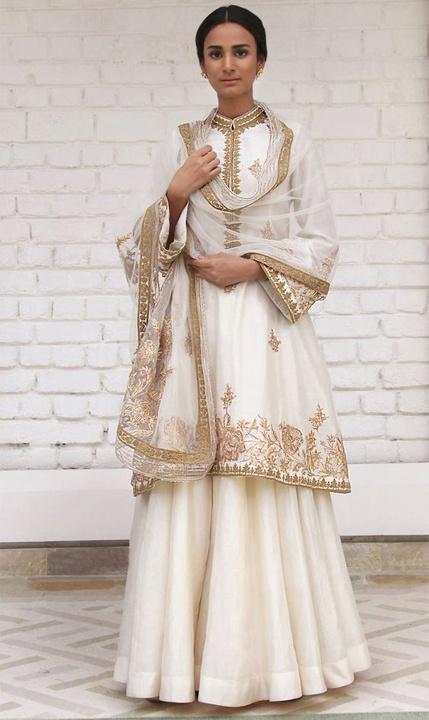 Sharara is a pair of loose fitted pants which gained fame in the 90s. They are loosely pleated and become broader from the waist down to the ankle. The drawback to these types of salwar pants are that they do not look good on every body type, as they add a lot of volume to one's outfit. Long kurti with sharara is a commonly worn outfit, provided the kurti should have a straight fit. Long shirt with sharara is also a frequently seen combination and is the perfect way to merge comfort and style.
Culottes – Looks so trendy with Kurtas!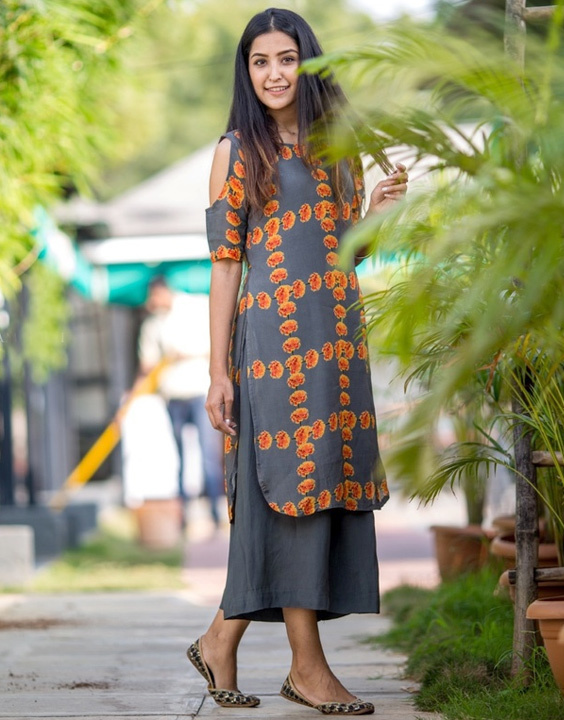 Culottes are our personal favourites for four reasons – they are versatile, they look very sleek, they appear slimming and they are comfortable as hell! Whether it's brunch, work, or a casual day out – they look and feel amazing regardless! There are a lot of ways to wear culottes, our top pick being culottes with kurta! If you've had a bit too much with the kurta, you can also wear culottes with any kind of basics that you may have in your wardrobe.
Dhoti salwar – perfect mix of north and south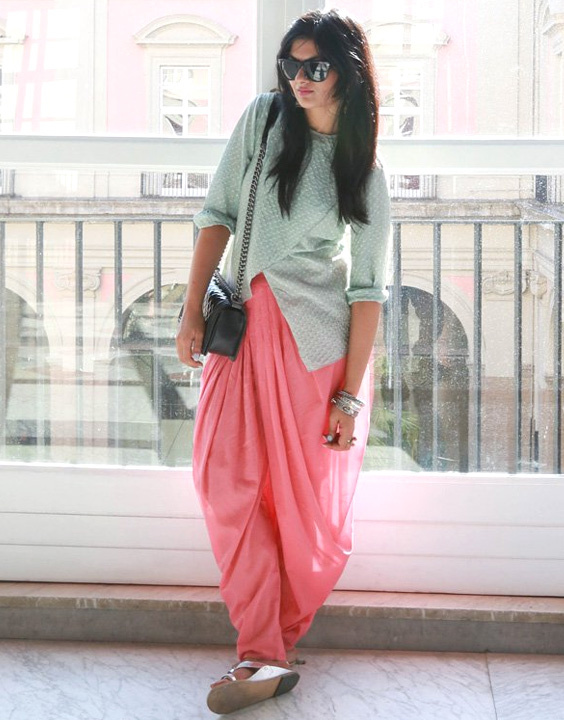 A perfect blend of North Indian and South Indian fashion, dhoti style salwar combines dhoti with salwar and still manages to retain the traditional value and gorgeousness! It is heavily pleated and encircles your legs to form two inward arcs. Dhoti salwar with kurti can be a look that seems challenging but with the right choice, it's really easy to pull off the dhoti salwar and kurti outfit.
Difference between salwar and churidar solve the confusion
| | |
| --- | --- |
| Pinterest | Source – Pinterest |
The difference between salwar and churidar is pretty evident, as salwar is loosely fitted and a churidar is skin tight. Both of them however, are widely worn among women in India. Another major difference is that while a salwar sits right above one's ankle and is cut to size, a churidar is long and has to be gathered at the ankle to form 'churis' i.e. rings with fabric.
Salwar and churidar both can be worn with a variety of things such as long and short kurtis, long and short shirts and also with or without a dupatta. While salwars have pleats for volume, churidars do not. Churidars are not as comfortable and breezy as a salwar because of their skin tight nature, but they're just as attractive and statement making.
Indian wear has a charm of its own and those who fail to recognise it will never know how elegant a pairing of kurti with salwar feels like. There's something entirely different about putting on a dupatta, and walking with an extra spring in your step because of how the salwar moves right along with you! For those of you who do love Indian traditional wear in its truest form, these types of salwar pants will make you feel like you can conquer the world while still staying grounded.
Image credits: The copyrights of the images used in this post belong to their respective owners. The credits where known are specified under the image - if you're the owner of an image and want it removed, please contact us.