Interested to know how to tie a turban? Turbans can be a marker of status, religion or could simply be a fashion choice! Get to know of many turban styles and various turban color combinations for your traditional attire.
A turban is a form of head gear which is traditionally worn by men in India and other such Asian countries. The different turban styles are what differentiate community or religion from one another.  Predominantly, the different turban styles were worn by people from different areas or regions to mark a difference, but now turbans have become a sort of fashion accessory. On the runway, we now see men and women adorning different turban styles to accentuate their outfit. A turban can be tied in many number of styles, both for men and women. If you want to know how to tie a turban or turban colour combinations, you're in for some good learning.
What is a turban? How to tie a turban step by step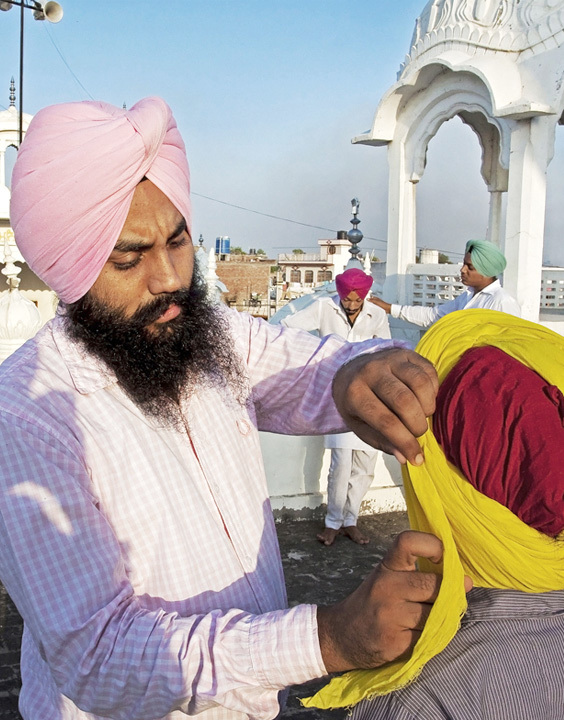 The basic meaning of turban is a long cloth which is wrapped around the head. In many countries, a turban is customary for men. In some religions and sects, even women are required to wear turbans.  Most of these people learn how to tie turban from their ancestors, so you will notice that a certain group or community will have a typical style of tying their turban. The turban meaning is different for every religion and community, but at the end of the day it is a symbol of unity and respect. Do you want to learn how to tie a turban? Instead of finding 'how to tie a turban step by step' videos on YouTube, here is your very own how to tie a Sikh turban tutorial!
Fold the fabric lengthwise, it should be around 2 inches after you have folded it four times. The thinner and more breathable the fabric, the better.
Tie your hair on the top of your head into a bun. Try not to make it too tight because your head might start to hurt.
Tie a patkha around your head – a patkha is the fabric that usually goes under a Punjabi turban. This creates a sort of layer to tie the turban on.
Start wrapping the Punjabi turban cloth around your head diagonally. Start from one side of your head, say over your ear.
Once you have wrapped the Punjabi turban three to four times around your head start creating layers on top of your head.
Once the Punjabi turban cloth is almost over, you can either tuck it in the back of your turban or open a parting in the centre of your turban and push it inside.
Now just tuck in all the remaining loose ends of the cloth, and there you have it – a picture perfect turban.
Do remember, tying a perfect turban takes years of practice so if you have been searching stuff on Google like 'how to tie a turban like Diljit', it will take some imperfect turbans till you learn to tie it perfectly! But after some practice, you too will have that stylish Diljit turban.
Turban styles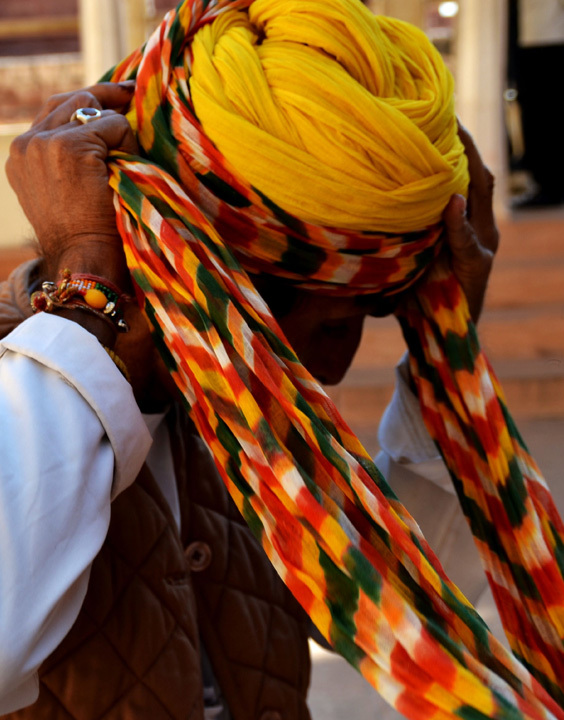 As mentioned earlier, there are many turban styles and different ways to tie a turban. A Punjabi turban will usually be round around the edges and pointed on top. A Rajasthani turban will be overall rounded. A Patiala shahi turban will have pleats around the side of your head and pointed on top. Typically, a Maharashtrian turban will have a loose pleat of cloth on top of your head with some loose cloth hanging behind your head – the hanging length of the loose cloth is totally optional. Lastly, a Maratha turban will look like a well structured beanie – so it will be fitted around the head with ovular cloth on the top of your head. Other than that, the most basic way to tie a turban is by wrapping it around your head from one side to another –  but this is not a traditional turban for any religion or community.
Punjabi Turban –  an iconic cultural look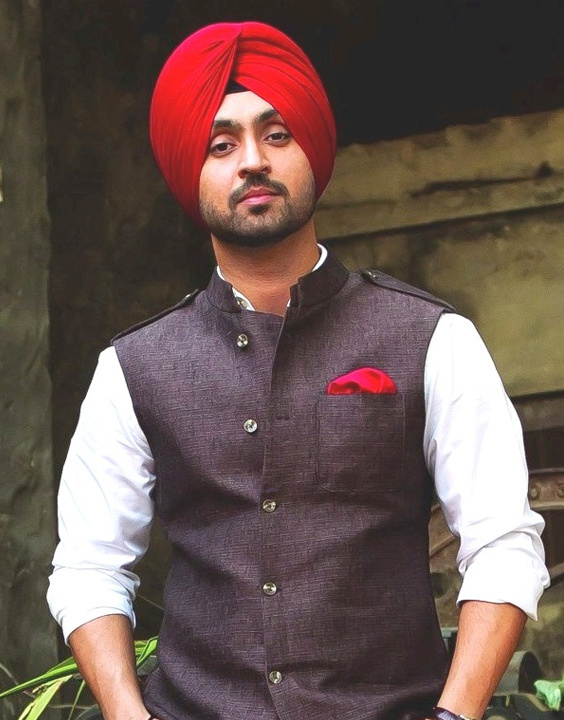 A Punjabi turban is the most common head gear that you will see on men in North India. The Punjabi turban style is basically worn by Sikhs. However, these Punjabi turban styles change with the different sects of Sikhs. For example, Punjabi turban worn by a Sikh Guru will be tied different from that of a Jatt Sikh. In fact, turban styles in Punjab can even change from village to village as well as community to community. How to tie a Punjabi turban all depends on the turban style you are going for.  Essentially, how to wear Punjabi turban is described above in the basic steps of wearing a turban. But depending on the Punjabi turban style that you want, you will have to make slight alterations when you tie the turban.
Rajasthani turban – when in Rajasthan
A Rajasthani turban is typically rounded around the head. If you go to Rajasthan, you will see a lot of men wearing the Rajasthani turban. The Rajasthan turban is basically traditional to Rajasthan. – it was introduced by the Rajput rulers. Since Rajputs were the rulers of Rajasthan before independent India, the Rajasthani turban is essentially a royal Rajasthani turban. The Rajasthani wedding turban is hence a tradition for all Rajasthani weddings, and even other formal functions and events. So, how to tie a Rajasthani turban? To tie a traditional Rajasthani turban, you hold one end of the cloth over your ear and star wrapping it around your head while twisting and turning it. Once the cloth finishes, just push in the last bit into the turban, and there you have it – the perfect Rajasthani turban!
Patiala Shahi turban for a royal look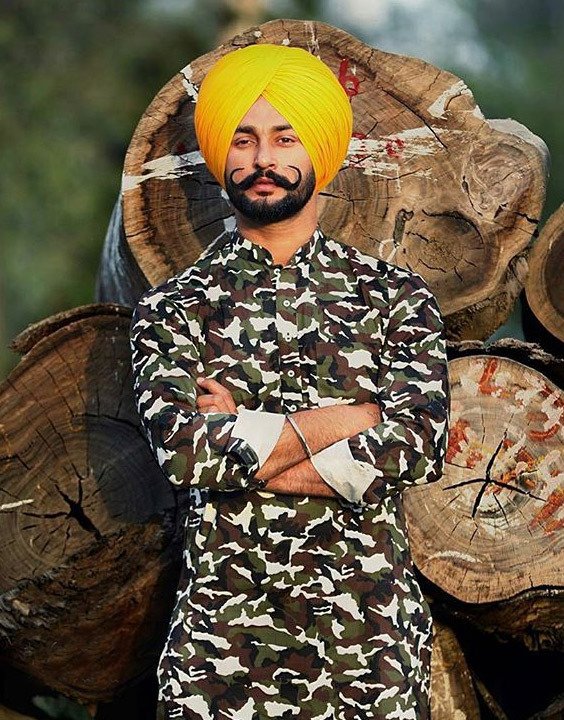 The Patiala shahi turban is predominant to the city of Patiala in Punjab and other adjoining cities. Again, Patiala was ruled by the Maharaj of Patiala, so he always wore this Patiala shahi turban. How to tie a Patiala shahi turban, and how is it different from a Punjabi turban you ask? The Patiala turban is basically tied by starting from one ear, taking the folded cloth across your head and down to the other side of your head. Then you take the cloth up from the other ear back to the side you started. That is what causes the pleats in the Patiala shahi turban. Again, how to tie patiala shahi turban perfectly will take some practice and patience.
Sikh turban – a symbol of equality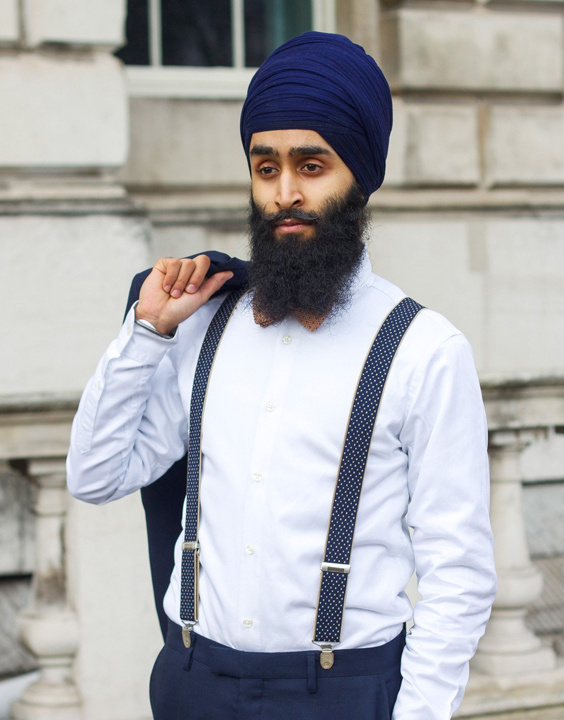 As mentioned earlier, the Sikh turban can be worn in many styles. The turban styles change depending on community, region and sect. The length and size of the Sikh turban also change with the community and region. The wearing of the Sikh turban was made an official policy by Guru Gobind Singh Ji. But, why Sikh wear turban? The reason Sikh people wear turbans is that the Sikh turban is a sign of their religion and culture. Also, the Sikh turban is a symbol of equality and promoting the Sikh identity. In some Sikh sects, even the women wear a Sikh turban. However, how to tie a turban for Sikh women is different from the men.
Maharashtrian turban to complete your wedding avatar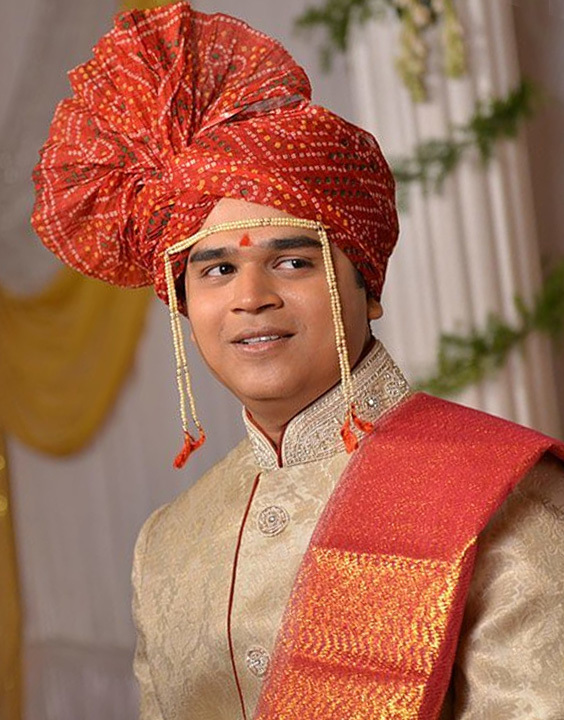 The turban meaning for every region and religion is different, even the turban styles vary. However, the Maharashtrian turban looks the same throughout Maharashtra. Essentially, the turban or safa that is worn at Hindu weddings is the Maharashtrian turban. The turban meaning at a wedding is for a way to cover the man's face the same a bride's face is covered with the veil.
How to wear turban? Turban combination with shirts
Now that you have read all about the turban meaning and how to tie a turban, let us talk about the different turban colour combinations. For a moment, think of a turban as an accessory. You will not wear a belt or shoes which do not match your outfit, similarly, you will with a turban colour matching with shirt or your overall outfit. So, how to wear a turban? A turban looks good at all formal and informal occasions, however Sikh men usually wear a turban at all times, be it for something casual or formal. Let's focus on the basic turban colors and how to wear turban which will compliment your outfit. The main thing to remember while finding the right turban colour for your outfit is that the turban should match your outfit well. If a turban clashes with the outfit or makes your outfit look dull then it is not the right one. Also, in summer it is best to choose light pastel colours like mint green, baby pink and sky blue. In winters, opt for darker colours like navy blue, olive green and maroon.
Black turban – the one for every outfit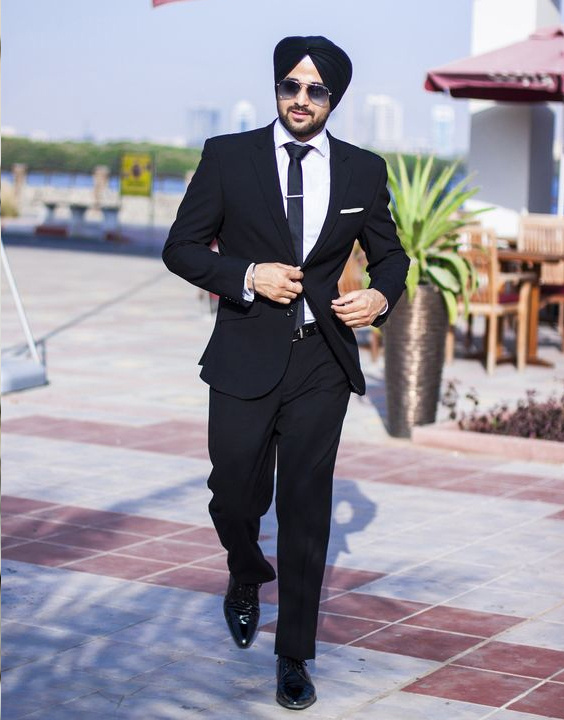 The black turban is one of the most versatile turban colours as it goes with pretty much any outfit. You can wear a black turban with something as basic as a white shirt with black pants, and it will always look classy. The black turban combination with shirts looks great, especially if the shirt is multi-coloured. In fact, this will look great with paisleys, stripes and even florals. If you are wearing a graphic or printed shirt or t-shirt, it is best to opt for a plain black turban. The black turban will look good with any colour shirt, t-shirt or kurta – hence making it one of the best and most wearable turban colours. Jassi gill in black turban is a pretty common sight, so we know it looks good!
Pink turban for the best summer vibes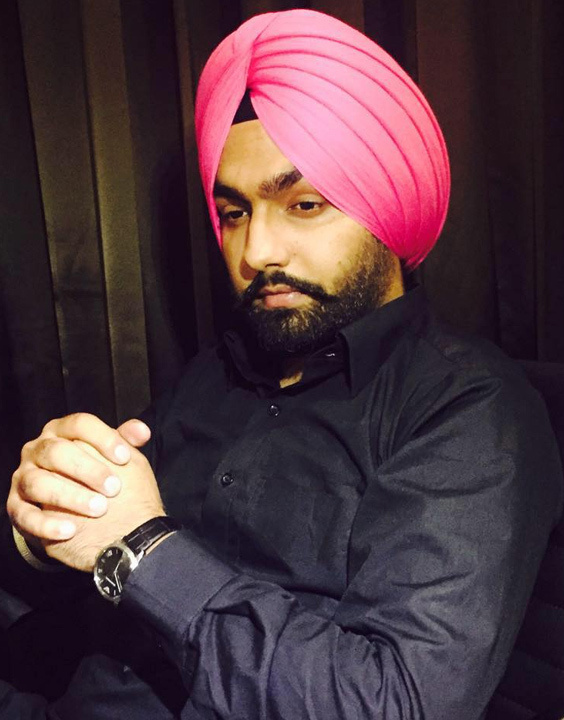 The pink turban colour matching with shirt is very common during summer time. Usually, the summer turban colour is baby pink – this can be paired with pretty much anything. The pink turban looks great when worn for a day wedding. The pink turban looks best when paired with a cream or beige kurta pajama or achkan. Also, a black kurta pajama with turban looks great when paired with a light pink turban. This turban colour is very versatile, so you will be sure to find it in any Sikh man's wardrobe! In fact, the pink turban Jaipur style which is basically like a 'safa', is very common during Hindu weddings. This is a common Diljit Dosanjh turban colour, making it a hot favourite.
Blue turban – the latest shade to sport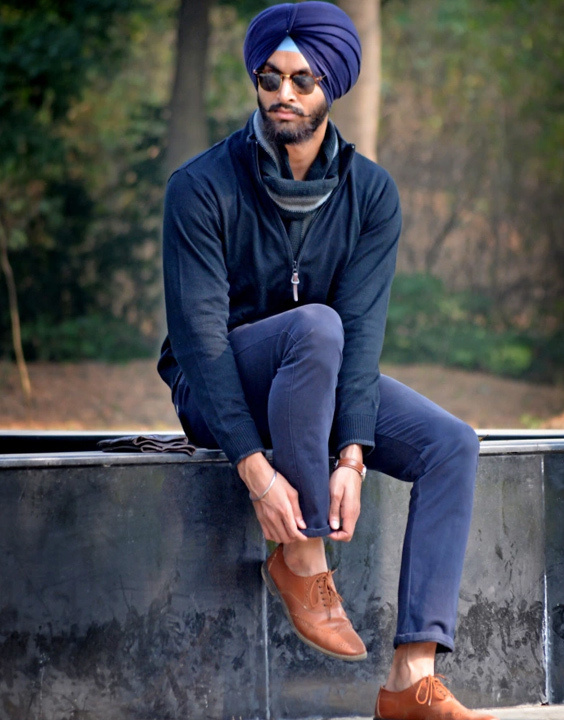 A light blue turban is one of the new turban colors for summer. Apart from the basic pastel shades in summer, the blue turban is becoming one of the best new turban colours. The blue turban colour combinations are infinite – the way blue jeans go with everything, so do blue turbans. Of all the summer turban colours, the blue turban is becoming very common. Usually, a royal blue turban is worn by a certain sect of Sikhs. They are allowed to wear only this turban and no other turban colors. A typical Tarsem Jassar turban is a bright shade of navy blue or royal blue, so be assured it is one of the upcoming new turban colours.
White turban for your official look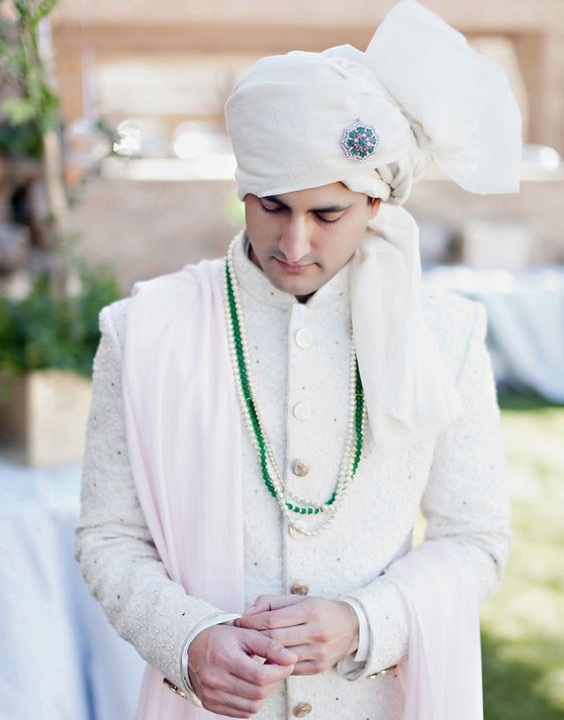 A white turban meaning is usually a saintly man, a man of God so to say. Many Sikh gurus are usually seen in white colours of turban. However, even many Indian lawyers wear white turbans in accordance with the dress code – white turban combination with shirts which are white and a black suit set. It is also worn in marriages as it is extremely elegant and gives a royal appeal.
Yellow turban – a fun colour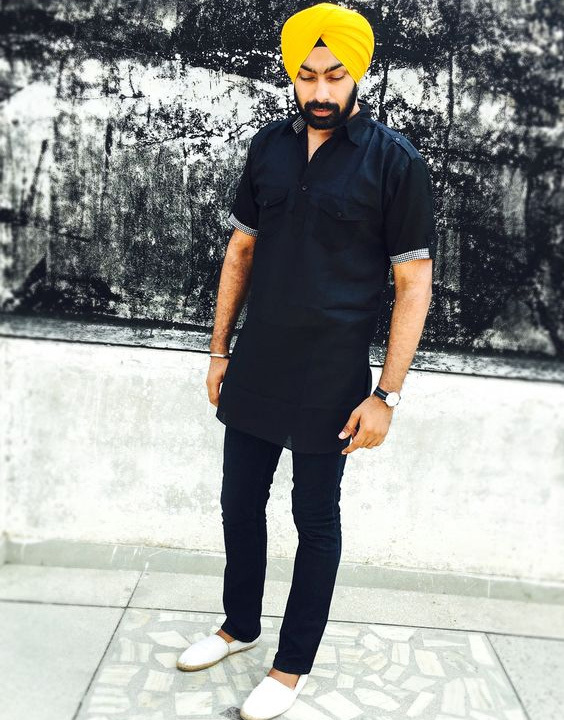 Another summer favourite is the yellow turban. The white kurta pajama with turban combination looks best when it is paired with a yellow turban. The most common turban colours of yellow are the lemon yellow and  bright yellow. Satinder Sartaj turban is bright yellow very often, so take some inspiration from him!
There are numerous turban styles that remain the same at the core showing us the diversity and unity that is present in our society. Wearing a turban gives you a unique look and helps bring out the individual in you. For someone looking for new outfit ideas that are traditional, a turban can be just the thing you are looking for.
Image credits: The copyrights of the images used in this post belong to their respective owners. The credits where known are specified under the image - if you're the owner of an image and want it removed, please contact us.