Know what's the easiest way to upgrade your wardrobe and brighten your everyday style? Well, the antidote is simple and vibrant – prints! If you need to adopt a style of fashion that helps you express your mood, personality and aesthetics in the most effectively communicative manner, printed outfits are a must-have for your wardrobe.
Prints have a long history, and several kinds are available in the market today, aided by the latest tech in textiles. From Diane Von Furstenberg's iconic graphics to Anita Dongre's classic Rajasthan inspired prints – there is no dearth of inspiration worldwide or closer to home when it comes to types of prints.
It can get a little confusing to figure out which kinds of prints you should go for if you are unsure of the personal aesthetic you would like to don in the first place.
We're here to assuage your style dilemmas with a list of this season's hottest and most unique print trends for every mood, color and aesthetic, along with some fashion hacks on how you can incorporate them into your wardrobe.
Read on, for a major style upgrade and get your print on!
1) Vintage Character Prints: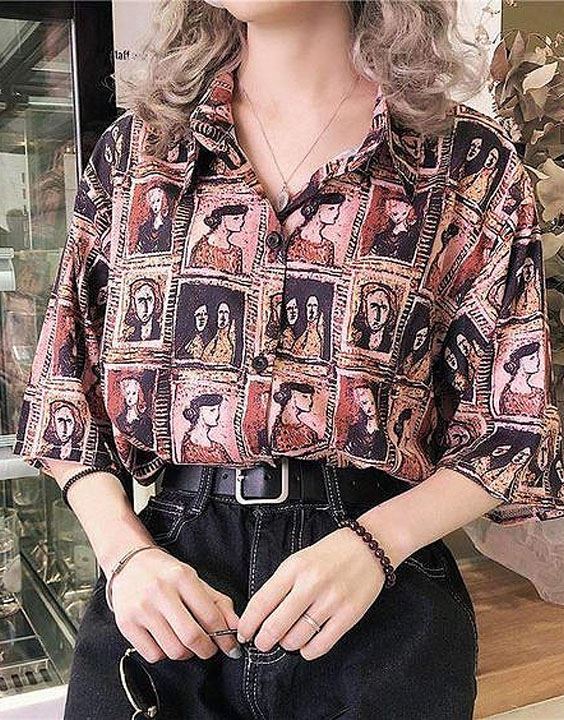 Vintage character prints refer to quirky graphics that depict vintage characters, portraits or scenes in a chic and illustrative format.
Unique, classic and a stand-out style, these types of prints are for those who are not afraid to make a statement with their sartorial fashion choices.
Vintage character prints are famous in vintage and second-hand stores, but they are also highly popular with Indian designers like Sabyasachi and Anamika Khanna, who often depict vintage and medieval scenes and characters in their aesthetically printed
garments.
Making for a truly iconic look and appeal, these prints are some of the more understated hidden gems in the fashion world.
In terms of style tips for different kinds of prints, vintage character prints carry an undeniably retro vibe and are perfect for an eccentric kind of aesthetic. Wear these types of prints in a shirt or top with a chic high-waisted bottom.
For men, you can opt for classic chinos that complement and match one of the major colors featured in your print. Classic accessories like a brown or black belt, oxfords or loafers, and a statement watch go very well with this aesthetic.
Mood Map: These prints exude an artistic, relaxed and eccentric vibe. If you are the kind of person who loves to live to the tune of your own beat and enjoys eclectic, artsy visuals – this one's for you!
2) Sleek Snake Prints: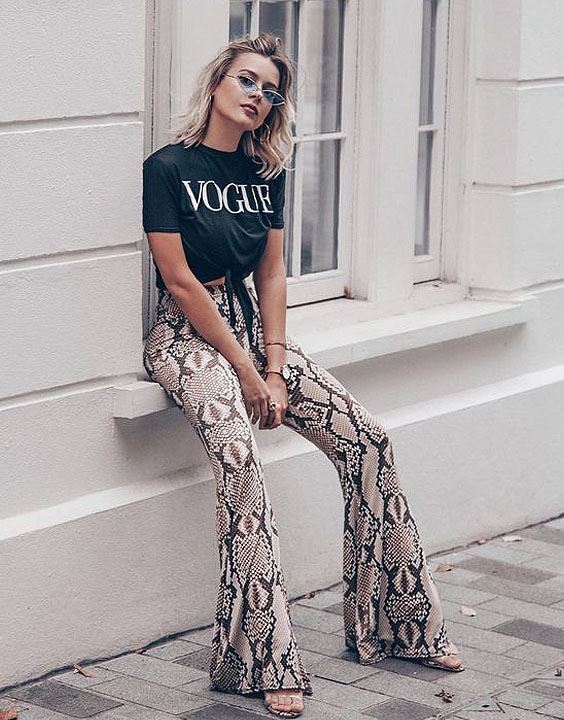 Of all the various kinds of animal prints, none are perhaps as classic and beloved as the snake print.
With the dawn of 2021 fashion, these types of prints are making a come-back in a major way. Chic, modern and understated – this is a fashion trend that you must include in your wardrobe if you enjoy a more editorial look.
Snake prints are often monochromatic in terms of their color distribution and essentially imitate the look and texture of a snake's scales.
Although this is an animal print and is highly popular for faux-leather type accessories, they are widely being used this season for entire head-to-toe outfits and separates in a more maximalist fashion.
A great way to accent a neutral and classic wardrobe is to include accessories with the snake print. However less traditionally, you can maintain the neutral aesthetic and still manage to go bold by wearing these types of prints in pants, skirts, dresses or blazers for a more stand-out appeal.
Mood Map: Chic, classic and understated – the classic snake print exudes a total fashionista and boss-babe flair. If you love to go bold with patterns, but not with color, this is the perfect choice for you.
3) Oversize Polka Prints: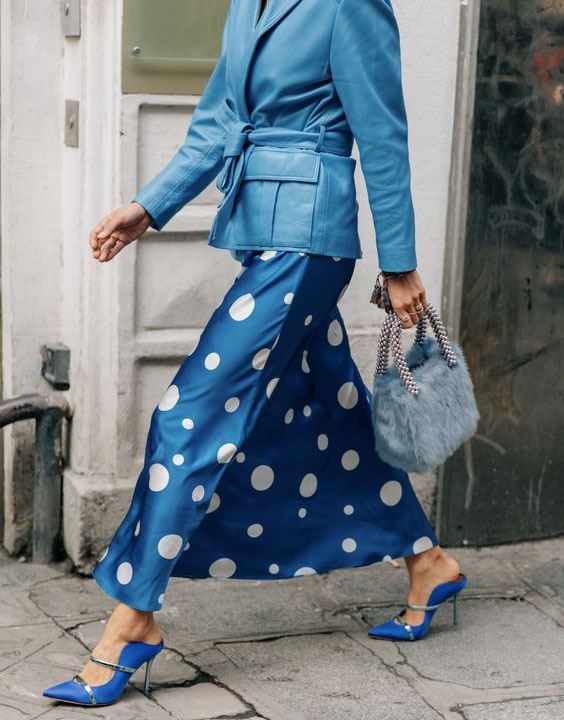 Move over small, even, old-fashioned polka – there's a new polka trend on the map: oversized and randomly placed! It's no secret that retro themes are coming back in big and unique ways in 2021.
The polka, while undeniably retro, is coming back in style in a new and improved avatar though, that befits modern fashion.
These types of prints are not your average polka. Oversized and randomly placed in terms of repetition of the dot, these prints are in style with a fashionable, yet retro appeal.
Dual toned, with one color appearing in the base of the print and another within the dots themselves, these are getting increasingly popular in chic jewel tones such as ruby, sapphire, emerald and turquoise.
Chic and statement-making, wear these polka prints as bottoms with solid top wear, or as tops with solid-colored bottoms.
A classic and timeless style, you can accent these with other neo-retro elements such as calf-length a-line skirts, high waisted paper-bag trousers, wrap-around shawl-collared jackets and oversize framed tortoiseshell eyewear.
Mood Map: These types of prints come with a quirky, decade inspired vibe. Retro-chic yet modern, they give off a charming, nonchalant and uber-stylish appeal. If you love expressing modernity with a side of tradition in your daily fashion, these are just what you need for an elevated look.
4) Newspaper Prints: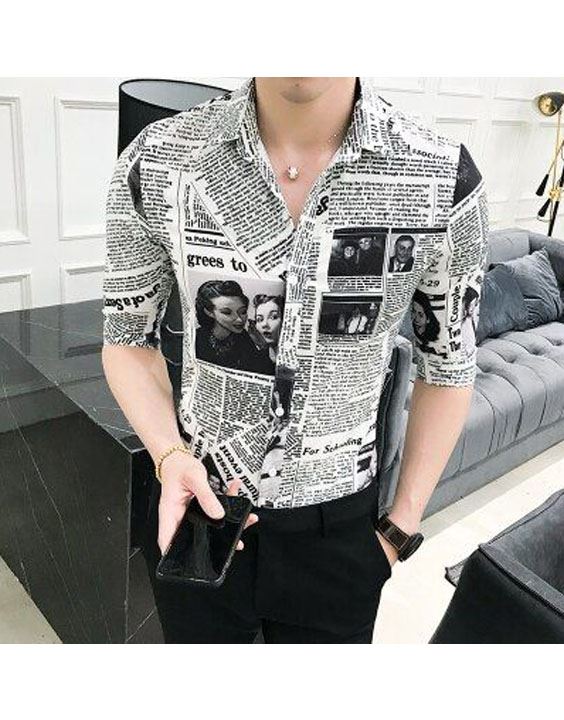 In an era full of headlines, there is no wonder that these prints are coming back in style. While newspapers themselves are now edging into obsolescence, newspaper prints for fashion and clothing are all the rage.
A quintessential 90s style – who can forget SJP's iconic newspaper print dress from early seasons of SATC – the newspaper print is making waves in the current season, especially in menswear fashion.
Featuring snippets of vintage news in the classic black and white text, these types of prints make for a truly unforgettable look.
Wear newspaper prints with achromatic separates and accessories – namely chic minimalistic pants, skirts, watches and footwear in black, white and greyscale hues to complement the busy, yet neutral color scheme of this print style.
Mood Map: Cool, sartorial and statement-making, the newspaper print is a mood all by itself. Slick and stand-out, go for this print only if you are not afraid to turn heads and be the center of attention for your unique style.
5) Modish Mosaic Prints: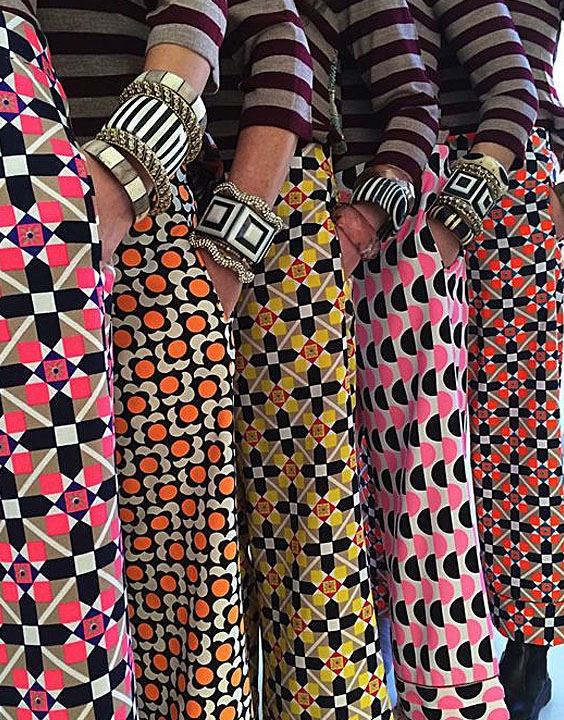 Are you a fan of bold, colorful fashion? Geometric, Morrocan-inspired prints and patterns fashion is all the rage this season and these are the perfect way to wear vibrant colors in an outfit. Featuring neatly stacked and tiled patterns in a variety of formats, these prints are vivacious, lively and the hottest types of prints for the year.
Bold and gregarious in appeal, mosaic prints have a defining geometric and linear quality. They form a very maximalist and artistic optical illusion and lend the wearer an undeniable stylistic flamboyance. In style with retro colors that evoke the nostalgia of the 60s Twiggy era, mosaic prints are hard to miss.
Types of dresses look extra chic and classic in these prints, but you can also tone down the vibrancy by wearing this trend as a printed scarf, bag or scrunchie.
If you are wearing this print in separates, you can opt for two similar but different mosaics and mix-match for a highly unique and editorial look.
Mood Map: These types of prints exude an artsy, retro and ultra peppy appeal. If you love mixing prints and curating high-fashion outfits for your wardrobe, you need to take this trend in stride this season!
6) Minimalistic Block Prints: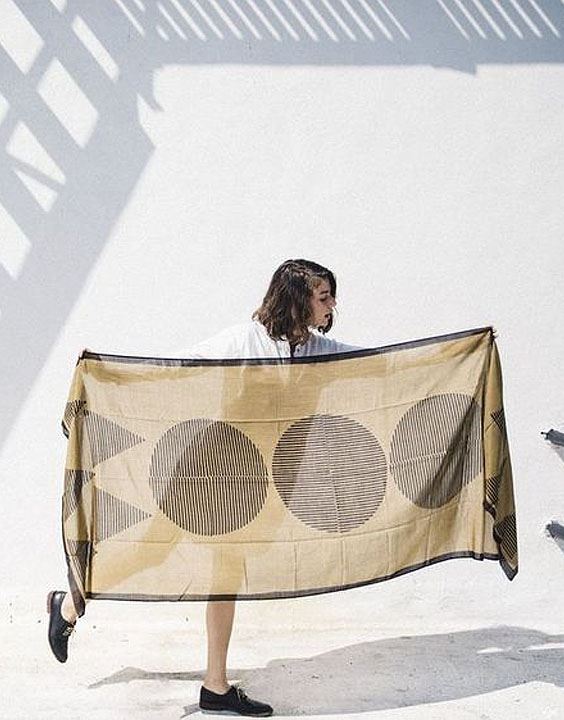 Here's a trend for all those who love desi-infused fashion! Hand block prints have been a rage for quite some time, but the style of fashion and prints they are available in this year has begun to change the landscape of Indian fashion.
Reflecting the minimalist movement of the new normal, handmade block prints have gotten super understated, crisp and minimalist-chic for this season.
Featuring simple motifs, either geometric or the outline of a simple floral, these types of prints are perfect for chic indo-western looks that fit right into the present fashion ethos.
Wear a minimalistic block printed scarf, stole or dupatta with a kurta and bottom in a simple, neutral solid hue. You can go bold with your color as well, but the key is to stay modern and minimal.
Chic, but understated jewellery and a pair of Kolhapuri chappals are the perfect companions to this printed aesthetic.
Mood Map: Sober, sophisticated and chic are the moods that come to mind when analyzing these types of prints in Indian fashion. If you are the sort of person who loves easy and simple fashion, with a dash of stylish and modish flair, this one fits right into your aesthetic.
7) Meditative Mandala Prints:
In 2021, the zen and meditative style of Mandala artwork has made its way to fashion's seasonal roster! A chic and unique trend for those who are adventurous and spiritual at heart, the mandala print trend is just what we need to escape into a chic zone.
Featuring intricate and stunning mandala motifs and art, these types of prints are a total vibe! Get into a relaxed zen mode, but stay quirky, stylish and artistic with your fashion with this magnanimous and detailed trend.
All the rage for printed t-shirts and shirts on every online shopping site, this one's a trend you don't want to miss!
Wear these prints in a black and white palette to reflect the chic line-work of actual mandala art. Plus, the neutral and achromatic hues help balance the busy nature of the print which is what makes this trend wearable in the first place.
Apart from all these designs, you can get your favorite design printed on our premium quality T-shirt, Bewakoof offers a customized T-shirt collection, where you can upload your design and we'll print it for you on our T-shirt.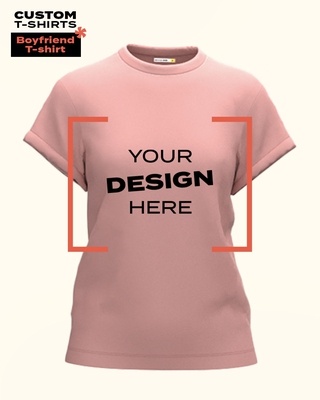 Mood Map: Spiritual and free-spirited, the mandala print is a trend for those who are nomadic at heart. Shaping up to be one of the top resort wear trends for 2021, these types of prints exude a relaxed and meditative vibe like no other.
Prints can bring life to your outfits and your wardrobe at large unmissable and are an important part of each fashion cycle, these can always be reinvented and integrated into your personal style in novel ways. Whether you wish to go bold or stay simple and understated, you can still be unique and chic with your choices.
So stand-out in bold mosaic prints or make a tongue-in-cheek statement with a newspaper printed shirt. Whichever it may be, ensure that you have a print in the mix if you would like to elevate your style and ace the fashion game every season.
We hope you found a trend from our list that fits your mood, personality and style! Take a look at what's in your wardrobe already and work on incorporating one of these stylish prints for an updated fashion quotient. Don't forget to check out our fashion app for stylish options on-the-go and casual wear essentials – see you in the next one!
Image credits: The copyrights of the images used in this post belong to their respective owners. The credits where known are specified under the image - if you're the owner of an image and want it removed, please contact us.