There's no denying that Holi this year won't be the same! From large gatherings, we're turning to smaller, niche groups who are all set to celebrate the festival of color with joy and excitement. But a post-pandemic world isn't necessarily the only change people are looking to make this year. Instead of wasting massive amounts of water and resources, playing with color pigments with harmful chemicals, and allowing mindless consumption of electricity; people are choosing to be more mindful this year with their choices and this list contains their Holi outfit ideas too.
With scores of natural color pigments available in the market and avoiding toys like plastic guns and squirters, this Holi is all set to be one of the most eco-friendly and joyous revelry we have seen in years. After all the things that truly matter when it comes to this vibrant festival are friendships, bonds with family, storytelling, good food, great music, and of course, ultra-stylish Holi dress and other outfit ideas! Not water balloons.
In keeping with the coolest vibe for 2022's Holi, we've curated a list of chic and stylish holi fashion for both men & women! Read on for 7 outfit ideas that are sure to make your festivities shine.
White Holi Outfit Ideas for Men & Women
1) Vibing In A Shirt Dress: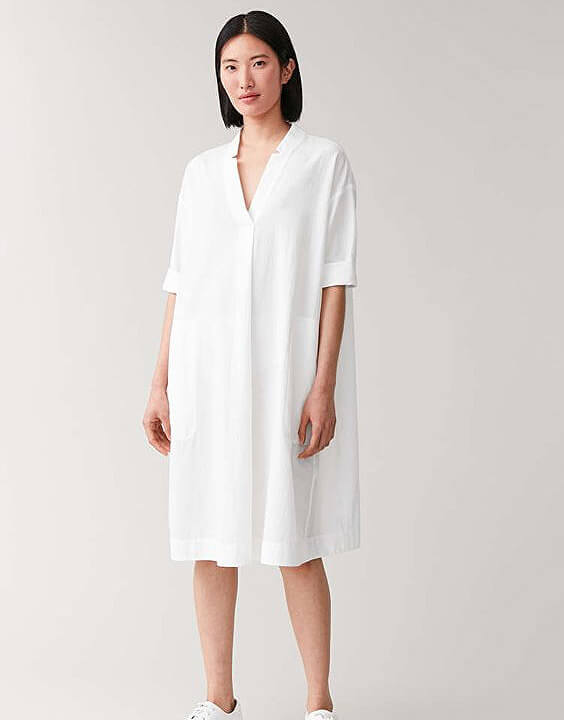 Are you looking to stay uber-chic in a cozy outfit while celebrating Holi indoors this year? We've got the perfect style solution for you! A striking oversized shirt dress will not only keep you easy and breezy through the festivities but will also have you looking crisp and sharp throughout.
Spending your Holi with colleagues this year? No worries! This is a Holi outfit that works to balance a slightly more formal appeal with a casual and airy vibe. You can go for the classic Holi color, white, or you can go pastel with this look to lend it a high-fashion feel.
Wear your shirt dress with:
A belt: Belt your white shirt dress up with a tie-up or brown belt to transform it into a stylish silhouette.
Sneakers: Style your white shirt dress with a pair of classic white sneakers to exude ultimate coolness.
Stud earrings: Add a chic pair of stud earrings in silver or white gold to give your outfit an element of elegance.
The Ethnic Touch: Want to kick the ethnic appeal of your Holi outfit up a notch? Add a pair of wide-legged palazzos that match your white shirt dress and a bindi to turn this outfit into a festive extravaganza!
2) Reveling In A Cotton Kurta: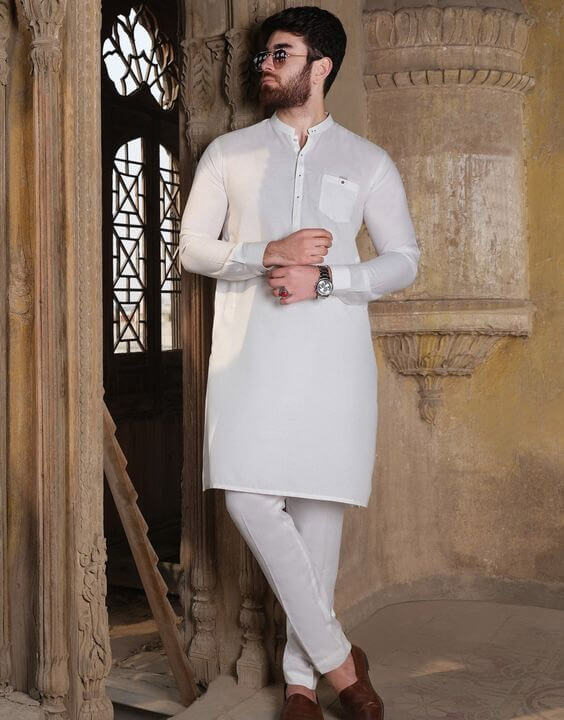 Occurring around the time when spring is transforming into summer-time, Holi is the best opportunity to relax and revel in a classic cotton kurta for men. Wear your white cotton kurta as a set, with a matching cotton churidar for maximum flair.
You can opt for a plain white fabric or a white one with a subtle texture or print instead. Elegant and undeniably desi-dapper in style, this is the kind of holi dress for men you can rock during normal summer days as well. Bring out the bhaang and splashes of gulal – this is a Holi outfit that is sure to make your celebrations. extra special.
Wear your kurta set with:
A water-proof watch: Heighten the suave appeal of your Holi outfit with a classic watch that is water-proof enough to handle the celebrations. Remove your watch and keep it in a safe place if it is not. Either way, a watch will add the right amount of panache to your outfit, especially if you are having an eco-friendly, no water-wastage Holi party!
A pair of juttis: Opt for a pair of wicker juttis or colorful ones, if you prefer, to add a touch of desi flamboyance.
Tinted Sunglasses: Exude ultimate style in colorful tinted sunnies for a magnetic look this Holi.
The Ethnic Touch: Take your ethnic flair to the maximum level by adding a colorful men's stole to your outfit. This Holi outfit is already quite ethnic and with the addition of a vibrant stole, you can be sure to get noticed in any gathering – big or small!
3) Stylish In A Sharara: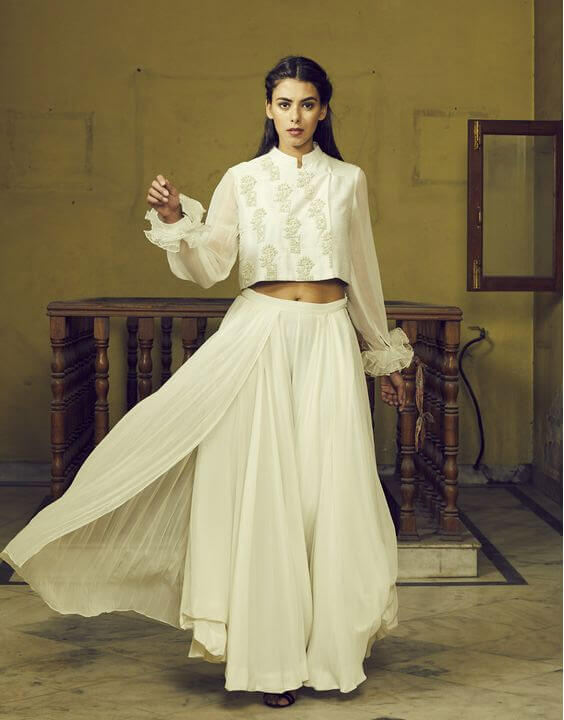 Want an OTT performative look for Holi that exudes an elegant flamboyance? Twirl in a chic sharara set! Instead of opting for a conventional sharara look, go for a sharara and crop-top combination that will keep you mobile and vivacious as you revel in colors and engage in the Holi frenzy. A voluminous sharara has the capacity to give you the most stylish and unmissable look at any Holi party! This is a must-try holi dress for women.
Wear your sharara set with:
Kolhapuri sandals: Wear a pair of classic kolhapuri sandals with your white-on-white sharara set for a chic and comfortable outfit.
Jhumka earrings: If you would like to go bold and oversize, add a pair of oversize hoop jhumkas to your Holi outfit. If you want to stay more practical and comfy, go for smaller, more inconspicuous jhumkas. Either way, a stunning silver or antique pair of jhumkas is sure to add a touch of glamour and panache to this look.
A white hair-tie: Be it a white ribbon woven through your braid or an oversize chanderi strip holding up a more flamboyant updo, accessorizing your hair with a white hair-tie will brighten up your look immensely.
The Ethnic Touch: Although this particular Holi dress is undeniably more ethnic than the others on this list, you can still take it to the next level desi-wise by adding a Jadau necklace to your look. Ensure you only wear it for the bonfire ceremony or after the color throwing festivities to avoid soiling such an heirloom piece – but, do try to add an element of luxury to your look at some point to elevate your Holi outfit to the next level.
4) Chilling In Chino Shorts: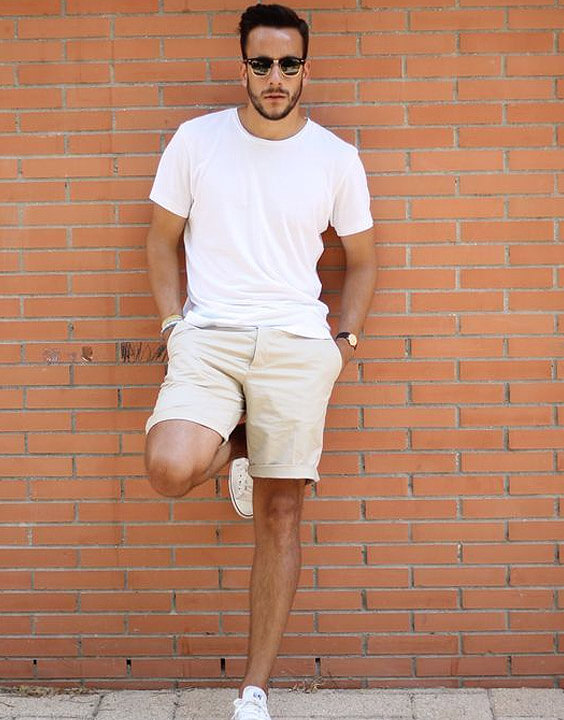 Need to keep things low-key but stylish this Holi? Go for a pair of uber-chic chino or khaki shorts and style it with a classic white t shirt for men to exude a too-cool-for-school vibe. If you are looking to keep a blank canvas for colorful Holi celebrations, then go for light-beige or white shorts. If you would like to inject a splash of color in your Holi clothing from the get-go, opt for shorts in a vibrant brick-red, stark green or wine color.
Wear your chino shorts with:
Converse/Tennis sneakers: These are the perfect way to add an element of comfort and casual swagger to your Holi outfit this year.
Wayfarer Sunglasses: Go for a pair of timeless wayfarers to keep your look dapper and classic all around.
A wrist band: You can also add a dash of color and fun by opting to wear a clip-on rubber wrist band for a stylish and youthful appeal.
The Ethnic Touch: The best way to add an ethnic touch to this ultra-western casual outfit idea, is to wear a bandana strip across your forehead in a stylish ethnic print. Pairing well with the nonchalance of your casual outfit, this is sure to add a subtle desi panache to your look. Tie-dye patterns tend to go well with Tshirts for men, so opt for a bandhani or shibori pattern to exude effortless style!
5) Chic In Kurta And Denims: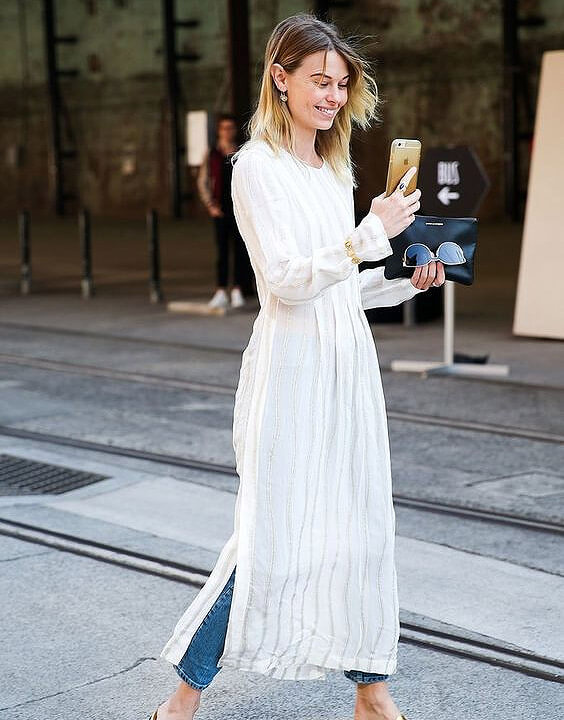 If you are looking for cotton dresses this Holi that mix desi style with a classic western touch – look no further! This is a Holi outfit that is classic, cozy and timeless. Wear a long white ladies kurti, in a straight or column silhouette, preferably with slits on the sides to exude elegance. Add a pair of chic skinny denim pants instead of a churidar to update this look and add an element of modernity. Effortless and stylish, you are sure to turn heads and make all the right statements with this look.
Wear your kurta and denims with:
Closed-toe Slippers: A stylish pair of closed-toe slippers in a vibrant hue is just what you need to elevate this outfit to the next level.
Aviator Sunglasses: Opt for the timeless aviator shape for your eyewear and keep your peepers cool and protected as you play Holi with an energetic zest!
Drop Earrings: Add a touch of sophistication to your look by wearing a stylish pair of drop-earrings with your white kurta and denims combo.
The Ethnic Touch: Go bold with ethnic style and add desi flamboyance to this Holi outfit with the addition of a colorful dupatta. You can opt for a heritage phulkari dupatta or one in crepe or georgette with a stylishly embellished border to give your outfit a hard-to-miss verve.
6) Feeling Suave In A Bandhgala: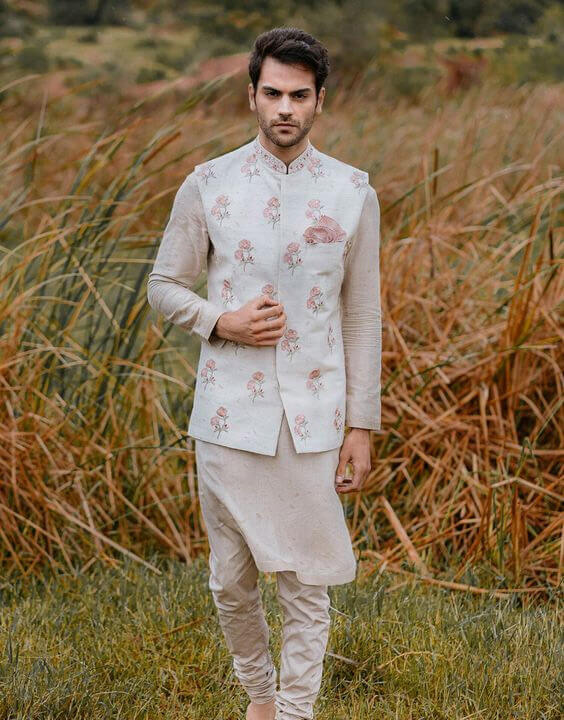 Are you on the lookout for a Holi style that's filled to the brim with panache and a luxe appeal? Go flamboyant and ethnic in a stylish bandhgala with a hand-block print or a minimal digital print and wear it over a classic kurta set in a light neutral tone to ace the style game during festivities. You simply can't go wrong with this ultra-stylish option!
Wear your Bandhgala with:
Loafers: Wear a chic pair of loafers to give a luxury appeal to your outfit.
A Statement Ring: Accessorize your outfit with a statement ring to elevate your ethnic style quotient this Holi.
The Ethnic Touch: A quintessentially ethnic outfit already, add an element of ultimate panache to this Holi outfit with a traditional turban or a pagdi. Ideal for big ceremonies and events, this is the one to go for if you would like to give a luxurious vibe to your look.
7) Making Waves In Biker Shorts: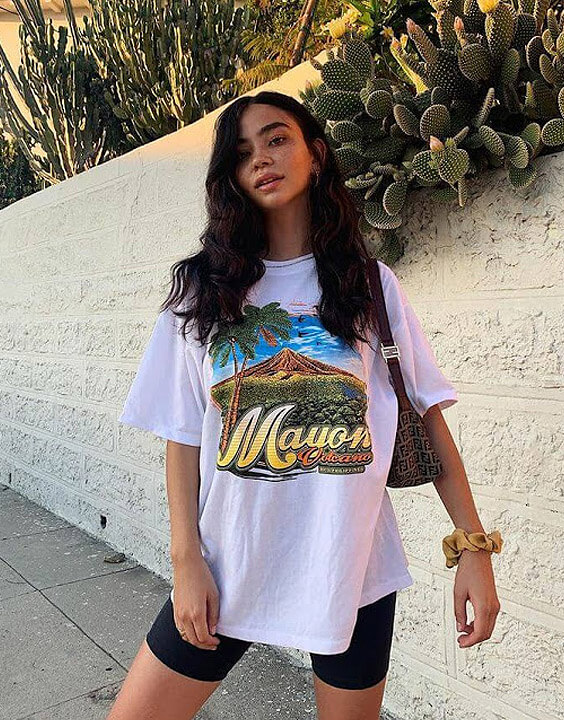 Want a chic, modern and stylish look for Holi that incorporates white t shirts for women? With the plethora of options available on any online shopping app, you can go for a chic and stylish oversized white tee and pair it up with a comfy and ultra-modern pair of biker shorts to give off an active and energetic vibe. This is a Holi outfit you can stay cozy in and engage in maximum play and frenzy. Perfect for a chill Holi party with your friends, flaunt this combo as a youthful holi dress for girl bosses and get your glow on!
High-Top Sneakers: Go for sleek high-top sneakers to exude an insta-ready vibe and make the best of this chic outfit idea.
Hoop Earrings: A pair of oversized hoop earrings are just what you need to add a touch of retro-chic to this simple but stylish outfit.
A Statement Scrunchie: Add on a statement scrunchie in a vibrant color to give your look a casual aura that's hard to miss.
The Ethnic Touch: For an ethnic touch, you can replace the biker shorts with a pair of patialas and go desi-casual like Geet from 'Jab We Met'! Cool and vivacious, channel her millennial vibe through this outfit idea, the ethnic way.
Holi is a celebration of unique style, color, and friendship – and we sure hope that you look chic as ever during your revelry this year and try some of the Holi outfit ideas suggested by us! What are your Holi plans this year? Play safe & stay vivacious – Toodles!
Check out Bewakoof's app for seamless online shopping in India – we have the options you need to make your Holi plans extra stylish.
Image credits: The copyrights of the images used in this post belong to their respective owners. The credits where known are specified under the image - if you're the owner of an image and want it removed, please contact us.