The relationship between men and suits is older than time! It's the kind that lasts forever and keeps renewing itself repeatedly. Trends may come and go, but the suit is eternal! While all sorts of clothing items keep doing the rounds on social media and storming the runways, suits are as classic as it gets and they don't need seasonal validation. When it comes to winning in boardrooms or winning your special lady's heart, you can definitely put your trust in a suit. The reasons for its fame are endless, but let's start with the most significant one; they signal the 'boy to man' transition rather beautifully, and it is definitely foolproof. You might think that only a black suit is gentleman-worthy, but even an iconic grey suit combination works like magic! Before we proceed to the ones worth giving a shot though, let's delve deeper into the quintessential suit that has left every man on earth spellbound – and the ladies wanting more.
History Of Suits
We're now in 2021, and suits are still as relevant as ever, provided they are perfectly tailored, sharp and of premium quality. No matter how difficult it may seem to find the right one for you, be rest assured that it's out there, in a luxe store, just waiting to get on your wardrobe!
But the two pieces go far beyond that, with 1900s England deserving of a lot of credit.
Did you know that 'suit' is actually derived from 'suivre' which is French for 'to follow'? Well, every man definitely followed suit when Beau Brummel of England replaced the heavily embellished and equally heavy fabrics of the French Court which were considered apt for men. Long boots, trousers and a coat that was in a neutral palette and was low on the embellishments except for the oversized buttons. The modern suit is far from Brummel's interpretation though.
For one, his suit combination wasn't in monotone but the ones today are made in the same color, top to bottom. This is not to say that any other color cannot be used, but it just means that typically, the same palette is followed throughout.
Secondly, the boots that fared well with the 19th century trousers, wouldn't look good with the sleek and pencil cut pants of today – so even the pairing has been replaced with dress shoes! We have to agree though, that he did lay the groundwork for what the suit looks like today.
The Victorian Era saw further simplified wardrobe classics and frock coats! They were much sleeker than the ones every man was accustomed to before that, so no wonder they gained so much popularity.
There was also the morning coat, the one with the tail that you must have spotted in a lot of period films. This elaborate black or grey suit combination is almost non-existent now when it comes to men! They might wear it for weddings in various cultures, but usually, it is unlikely.
The silhouettes now are much simpler, and since there is no bar on how far one's imagination can go, the creative gurus never fail to give us a twist on the time-trusted classic.
More years passed and the frock coat evolved into lounge suits; shorter in length and remained just as suave! The main difference? The trousers here were baggier! This wasn't a formal rendition, but quite the opposite – just like the name suggests. Not meant to be worn for important occasions, but meant to be worn while hanging out with fellow men!
The 20th century suit is the closest in resemblance to the one we know today. But that's only visually; the fabrics used were coarser and heavier, and quite thick too. Shirts for men weren't worn underneath. The finishing wasn't spot-on, and they broke the bank with their prices too! So, usually, you would only see high society men flaunting them in the Edwardian Era. Country suits though were more eclectic; they had more weaved patterns, the colors were earthy and more lively in nature. This is true for the suits today too, apart from the general black or grey suit combination styles we see.
How To Choose A Suit For Yourself
There are rules to most things in life, but we don't necessarily need to follow all of them to the T! When it comes to buying a suit though, on an online shopping app or in a brick & mortar store, the rules definitely need to be followed to ensure you don't just get the right fit, but also the right suit for YOU!
Here are a few very important things to keep in mind. Don't mess 'em up, because it costs a lot of money anyway! Bookmark these for later.
a) Only buy from trusted brands or designers.
Let's face it – suits may seem simple on the outside, but nailing the design and tailoring is no cakewalk! That's why it's important to get yours made from a reliable name in the industry. Someone who knows their way with the silhouette and specializes only in it, and also someone who's made a lot of them for a lot of men!
Even if you choose to take the ready-to-wear route for your grey suit combination, you're going to want to invest in a label that has hired experts to take note of your body type, occasion, and all other technical bits. Don't compromise on the fit and style just to save a few bucks! This is going to be a part of your closet forever – so choose wisely.
b) Pick your preferred fabric.
Ask for fabric swatches from whoever you're trusting your suit with. You can choose to trust their judgment, or make yours and get their opinion after you have felt each fabric. Some are more expensive than others, so keep your budget in mind. Also, you absolutely must consider where it is going to be worn the most, and what you need it for, along with the choice of shirt for grey suit!
With clothing, you have to get weather and occasion-specific. You can also opt for blends, which basically means more than one fabric in the mix. They aren't bad at all, and most men often opt for those. If authenticity and refinement are what you're seeking though, you might want to stay away from them.
c) Get an on-point fit!
Do away with those "This suit will fit me when I'm thinner/healthier" debates in your mind. You have to find a suit that fits you NOW, i.e. your current body type. Refrain from tucking your tummy in while measurements, or trying to squeeze into the trousers. A suit only looks good when it's the right fit. The shoulder, the waist, the chest, the thighs, everything comes into the picture and plays a huge role in how the suit will be perceived by your mirror and others.
8 Grey Suit Combination Ideas For You!
Is there anyone who isn't in love with the typical or atypical grey suit? Here's a comprehensive list of styling ideas for the closet classic!
1) Grey Suit With A Patterned Tie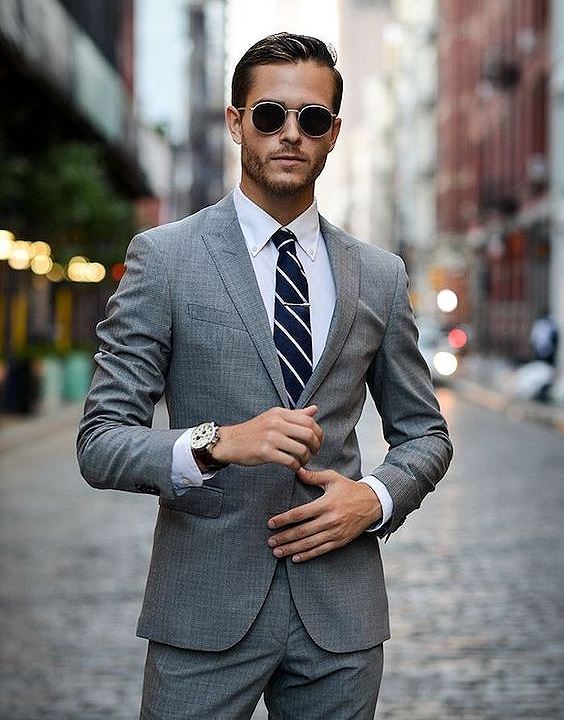 A lot of men tend to miss out on the simple fact that a tie is the ultimate gentleman-worthy addition to a suit! Meaning, if you're going to leave your shirt buttons open and enter a room in a suit, it better not be a formal setting. To amp up the style quotient on your grey suit, it's always a great idea to pair it with a patterned tie instead of a solid one. From satin to silk and also knitted slim ties, there's a lot at your disposal on any online shopping website! Stripes, florals, abstract prints or patterns are the most-coveted.
2) Grey Suit With A Turtleneck Sweater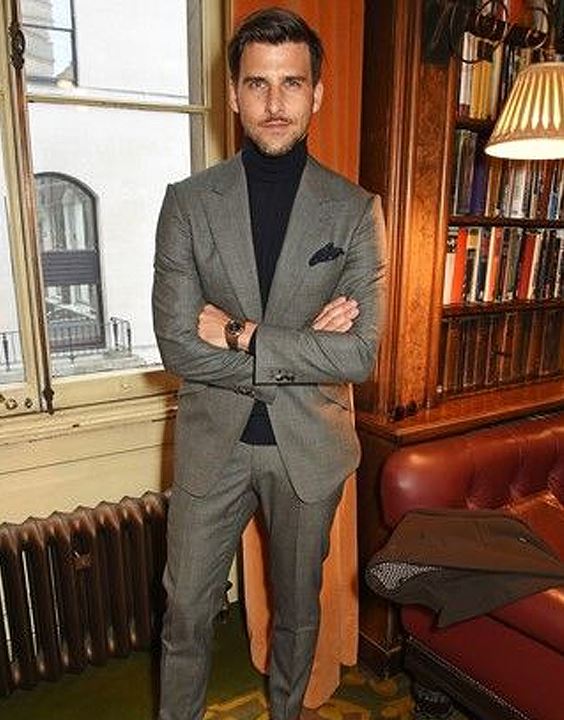 For date nights or for special occasions, a black turtleneck sweater underneath a grey suit is every bit dapper and trendsetting! It also makes for a great pairing for semi-formal occasions like cocktail functions or receptions with the right shoes and grey suit combination. Switch it up with accessories like bracelets or pocket squares if you feel a little more gentlemanly. You can also sport this outfit for the office and rest assured – everyone will be left admiring your taste immensely!
3) Grey Suit With White Shirt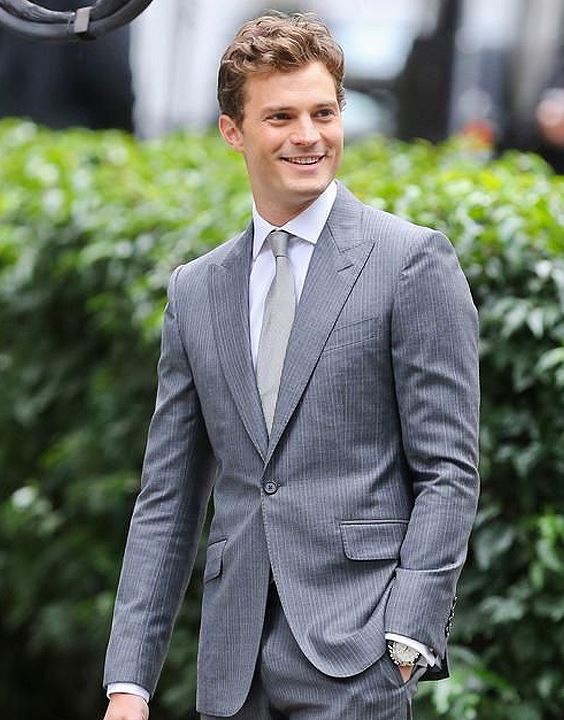 There is absolutely no scope for anything going wrong when two classics are put together! Grey suit styling with a white shirt is one of the best combinations, and also the easiest to carry for every body type and taste. You can ditch the tie if you'd lie, or wear a slim, sleek one to up your chances of being at the top of the style ladder! Make sure your white shirt is crisp and your suit is a slim fit – and you'll be good!
4) Grey Suit With White Shoes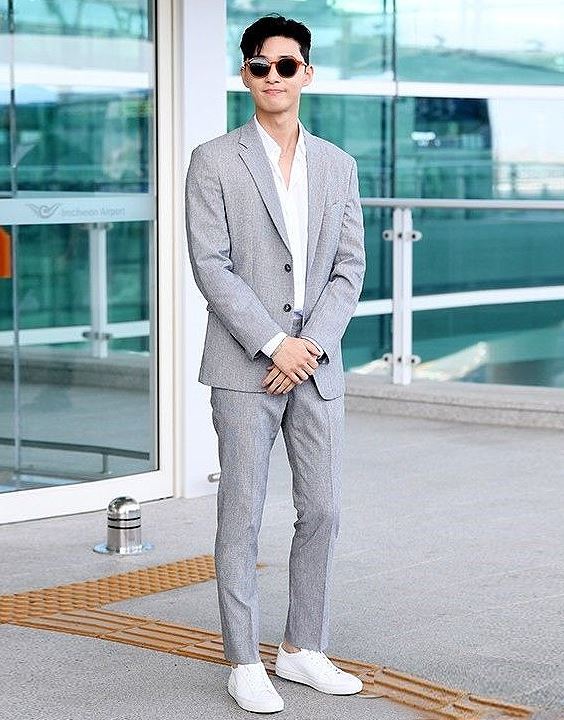 White sneakers practically go with everything, so it isn't a surprise that they can also play a significant role in a grey suit combination! Lace-up your sneakers that you usually tend to wear with casual outfits, and step out in style. Besides, this look can easily go from work to weekend, AM to PM, so it's worth a shot, right?
5) Grey Suit With Colourful Shirts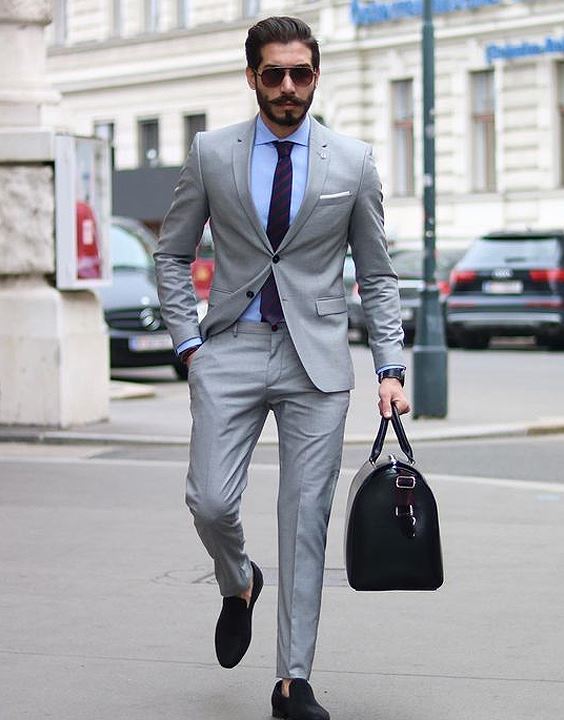 White isn't the only color that looks amazing with a grey suit! There are other hues that can be extremely head-turning if you get them right according to your skin color, features, and body type. For example, black might be too much of a contrast and not among the best color combinations for suits for extremely fair people. They'd fare well with white, or even darker greys depending on the tone of the suit. Darker skin tones can experiment with pastels as well as neutrals, but try staying away from pop colors. Grey suits don't exactly work like a black suit combination, so you have to give it some thought before putting it on and venturing out.
6) Grey Suit With Brown Shoes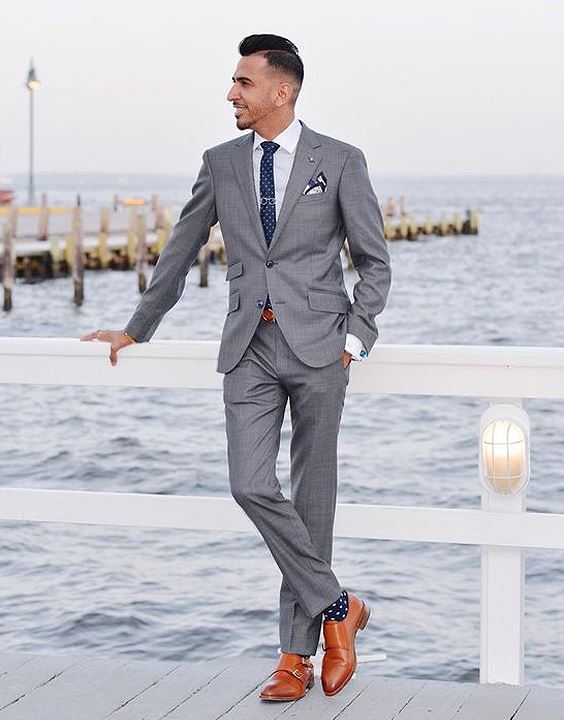 Brown shoes, whether they are loafers, Oxfords, or dress shoes, look stellar with grey suits! In fact, a grey suit black shirt + brown shoes #OOTD receives a nod of 'yes' time and again from the fashion police, so you can wear it endlessly! If you get your hands on (or into) a sleek watch too, nothing like it.
7) Grey Suit With A Vest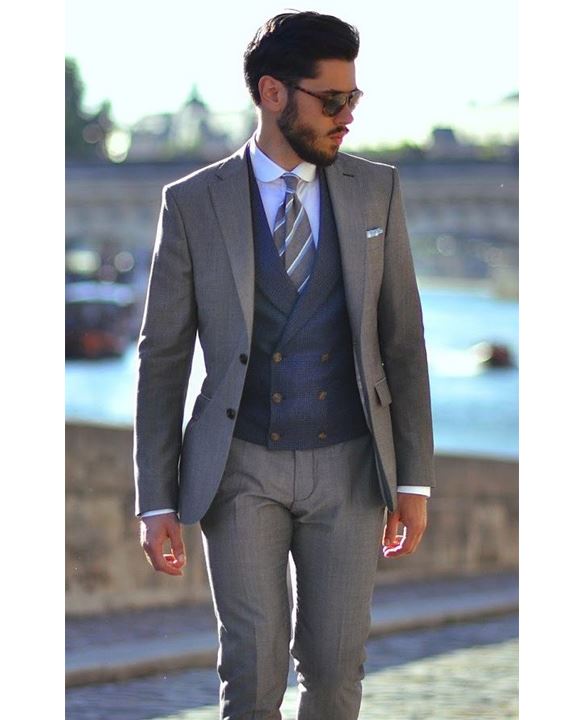 A vest is a more formal addition to the grey suit, and we'd suggest it for important boardroom meetings, formal functions, or wedding ceremonies. This grey suit combination makes you look more put together, thus allowing you to fit into a formal setting seamlessly. Vests, while available readily, should also be tailored along with your suit. If they're custom-made, you don't have to worry about making adjustments on them to align them with your grey suit and that takes away a lot of fuss!
8) Grey Suit With A T-shirt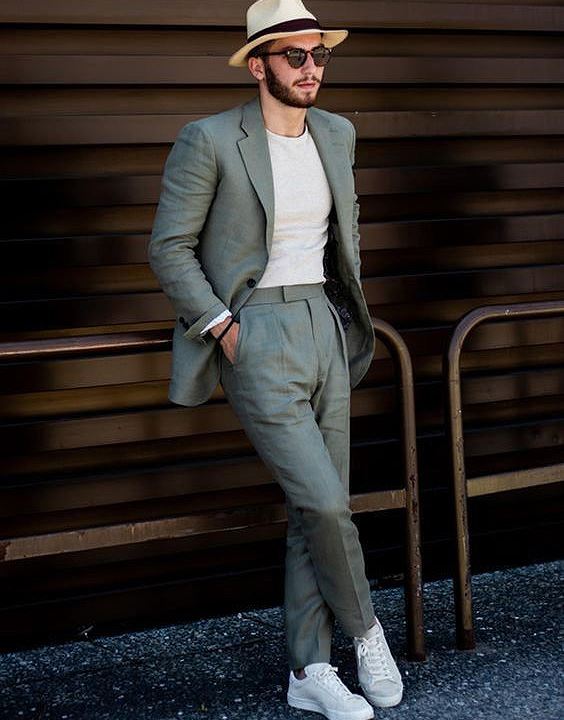 Our list would be incomplete without the mention of a grey suit with a t-shirt, mostly because it's one of the highest coveted styles among young men. Since this strikes the perfect balance between casual and formal, most men wear it for more than one occasion and the suit doesn't just sit in the back of their closet!
These are our favorite grey suit combination ideas, but you're free to form your own. There is no limit on creativity, but dress code is just as important – to consider where you're going, what you'll be doing and who you'll be meeting before getting to the styling part.
Image credits: The copyrights of the images used in this post belong to their respective owners. The credits where known are specified under the image - if you're the owner of an image and want it removed, please contact us.