A new dawn for the next normal, 2021 is all set to be a more celebratory and festive year than the last. The nature of festivities and having fun has changed in itself. Whether you are planning on celebrating with your family or have a small gathering, your on-point style can always be flaunted on social media! Today, you can find multiple options in stylish kurta designs for men on various shopping platforms
From occasion wear to more casual mens kurta designs, brands today have experimented with many innovative surfaces, silhouettes and drapes. The comfort, simplicity and panache of a kurta, is what makes this garment the perfect ceremonial option for men!
Kurta design for men come in a plethora of stunning embroidery and textile options. Heritage Indian surfaces and weaves are a great way to flaunt your desi vibes! It is, however, important to pick the right kurta that matches your personal taste and style. Whether you choose to casually don your kurta with jeans or with a pair of traditional churidars, we've got some uber-cool outfit options for you.
Read on, for 8 amazing outfit ideas to inspire your men's kurta style this season!
1) Suave Style In A Sherwani Kurta: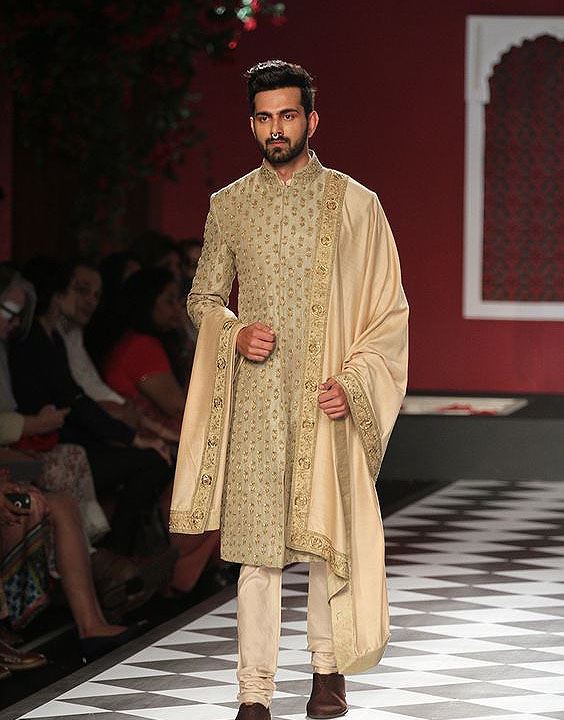 Want an ultra-sleek and stylish look for the festive season? Exude luxurious desi vibes in a sleek Sherwani kurta. Usually made from thicker fabric than any other type of kurta design for men, this is a style that is OTT and will have heads turning no matter where you go.
Available in a plethora of fabrics and usually sporting a sharp high-point shoulder, a Sherwani kurta is exactly what you need to make an uber-chic & dapper style statement.
Style a Sherwani kurta with:
A Pagdi, to give your look the flamboyant it needs for a big event like a wedding.
A traditional kurta to bring out the heritage feel of this kurta style.
A pair of Jodhpuri shoes.
A classic stole that is matched in style, fabric and embroidery with your kurta.
Style Fave: We love this type of men's kurta in chic and classic neutral hues for a stylish appeal. Opt for one in rosy beige, with a stitch-lines texture all over or in key areas to look like you've just stepped out of a Bollywood movie!
2) Chic Looks In A Chikankari Kurta: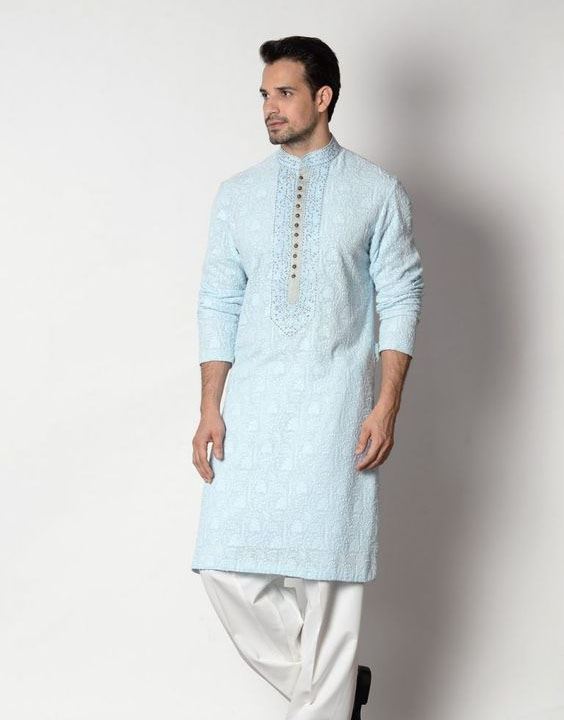 An underrated, but super elegant kurta design for men, a chikankari kurta is not just a hit in womenswear! If you would like to look classy and sober and have some fun with pastel or soft eggshell hues, this style is the one for you! The best kurta design for men to try if you would like a cozier yet chic ceremonial style in 2021, a chikankari kurta is just what you need. Featuring Lucknow's classic chikankari embroidery work, this style is heritage, elegant and suave.
Style a Chikankari kurta with:
A pair of juttis or lighter colored floater sandals.
A wider legged patiala or cotton pants. You can wear these with a pair of blue jeans as well.
A classic watch.
Style Fave: We love a stunning blush pink or icy pale blue color for a chikankari kurta! Add a dash of color to your men's wardrobe and flaunt your style in this heritage textile.
3) Niche Fashion In A Neon Kurta: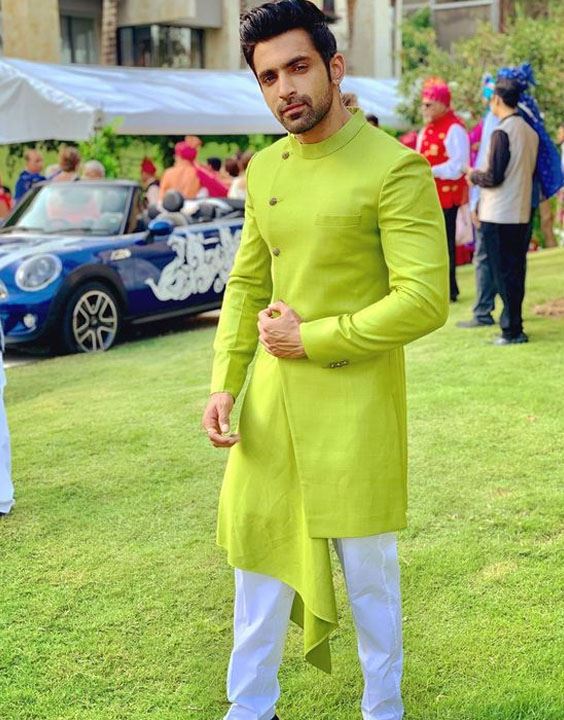 Want to stand out with your look at the next gathering you attend? Unconventionally chic, you can go bright with your outfit in this kurta design for men. Sporting bright neon hues is not for those who are looking to stay safe with their style but offer a bold and stylish option for those who love showing off their flair for fashion in more unorthodox sartorial choices.
You can opt for a bright green or pink neon color in a matka or khadi fabric kurta, to stay on point with the latest kurta design for men.
Style a Neon kurta with:
A pair of lightweight and contrasting cigarette pants in neutral or grayscale colors for a balanced appeal.
A brooch that helps you express your experimental approach to a traditional look.
A pair of Kolhapuri Chappals, or pointed juttis with a colorful pom-puff at the tip.
Style Fave: Go avant-garde with your neon look and take your style experimentation up a notch by opting for a neon kurta in an asymmetric or draped silhouette. Already a chic and unique kurta design for men, this added element will give you an uber-chic and high fashion appeal.
4) Adventurous OOTD In An Asymmetric Kurta: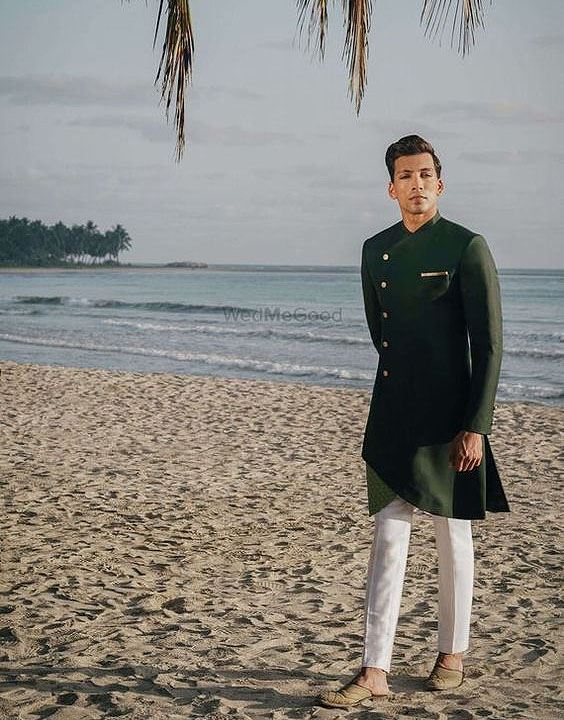 Here's a sleek and well-tailored style that you can rock from everything – a formal office event to a destination wedding – and stand out for your dapper sartorial choice. A well-constructed kurta with an asymmetrical hem is just what you need if you are looking to exude ultra-stylish vibes. Go for one that's made in a slightly thicker fabric, so that the asymmetry of the patterns hold up.
Style an Asymmetrical kurta with:
A classic watch that lends its timeless appeal to your modern-desi look.
A brooch in real gold or silver to up the high-end and luxurious appeal of your outfit.
A pair of Geometric eyewear, to add to the shape-defining elements in your kurta design for men.
Style Fave: Don't be afraid to experiment with color for this look. You can go the more safer route with neutrals and land up looking stylish, or you can ace the game in a vibrant, but put-together jewel-toned kurta set. Opt for deep wine, emerald, or even aquamarine hues to give off a feel that's both youthful and powerful at the same time.
5) Winsome Looks In A White Kurta: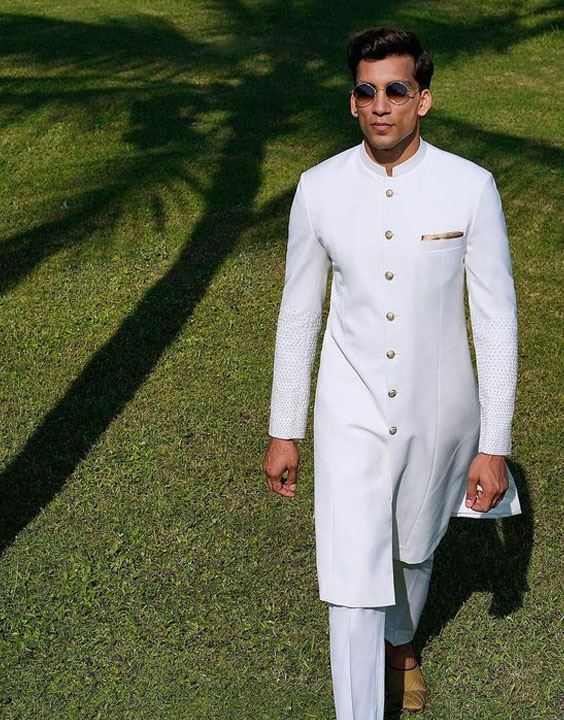 A new kurta design for men that is taking over the wedding and ceremonial fashion landscapes, white kurtas are all the rage this season! Cool, stylish and suave, a head-to-toe all white look makes a statement like no other. An ideal color for spring/summer, beat the heat at outdoor events with a sleek, straight, and crisp cotton or linen white kurta style!
Style a White kurta with:
Matching ankle-length tapered white trousers for a sleek appeal
To add a bit of contrast, you can go for a soft pastel hue for the bottoms for a subtle pop of color.
A pair of stylish aviator or classic wayfarer sunglasses to give yourself a sleek and stylish standout look.
Style Fave: Add gold accents like a pocket square or a classic watch to your all white kurta design for men if you would like to add a touch of glamour to your style. You can also do this by changing your buttons to gold, opting for gold-rimmed eyewear or wearing light gold juttis.
6) Suave Looks In A Short Kurta: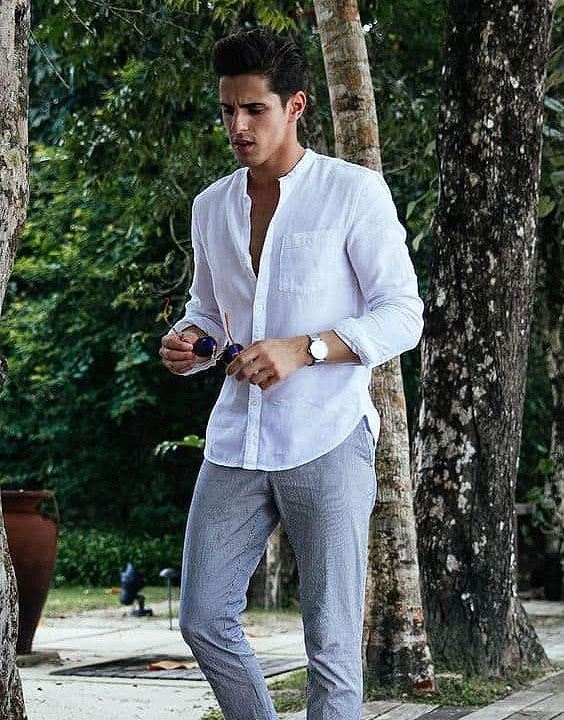 Here's another breezy kurta type for men who are obsessed with summer essentials! A short cotton kurta is certainly the fashion flavor of the season when it comes to impeccable spring-summer style. Most kurtas for men have an undeniably desi appeal, but this is a type where you can marry indo-western influences to curate an outfit that is modern and unique.
A short kurta, after all, has much of the same appeal as a traditional mens shirt – except that the kurta shirt has a softer Nehru collar and is usually made in fabrics like khadi, matka, linen, etc.
Style a Short kurta with:
Match the short length of your kurta by teaming it up with a pair of chino shorts or half pants.
Pair your short kurta look with slippers, floaters, sandals – anything that spells 'staycation'!
Go for sunglasses in colorful tints or eyeglasses with textured frames to give your kurta design for men an edge.
A straw hat, a digital watch or even a chain around your neck are some accessories you can play with for this outfit idea.
Style Fave: A short kurta provides a unique opportunity to add an element of interest to your smart-casual office wear. You can don a crisp white short kurta instead of a traditional white shirt & wear it with tapered trousers for a more formal appeal. You can even add on a blazer for a look that means business.
7) Magnificent Panache In A Mirror Kurta: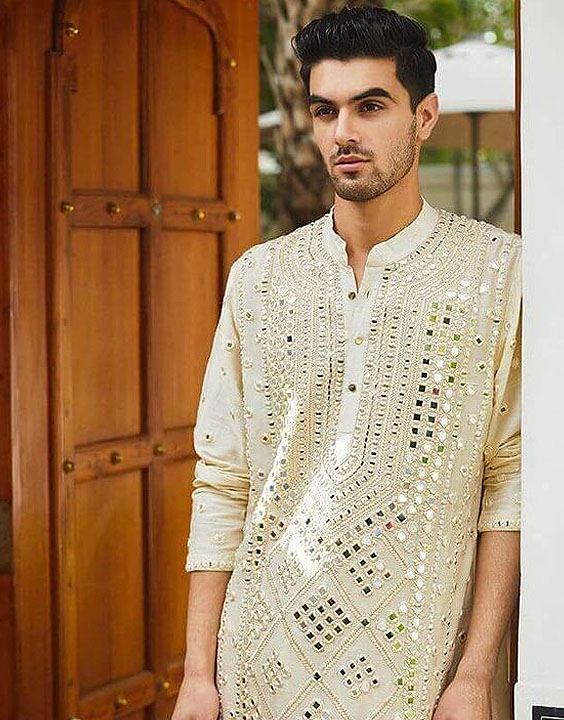 Are you on the lookout for kurta pajama styles for men that glitter and sparkle well into the night? Here's a quintessential desi party look for you! Opt for a kurta that features a glittering mirror embroidery to attract attention in all the right ways.
Since this look is already quite OTT, we suggest that you go for a set that is neutral in base and give the mirror embroidery a textured, tonal look with little to no contrast.
Style a Mirror kurta with:
A churidar that adds to the ultra-traditional and desi vibe of this kurta design for men.
Simple cotton or cashmere stole that matches the base of your kurta and is sans any embellishment so that the overall textures are balanced.
Gold or silver-rimmed sunglasses or eyeglasses.
A pair of brown or black Kolhapuri slippers that keep the look desi without overpowering the outfit's star, which is of course your glittering kurta!
Style Fave: In case you are attending a high-octane event like a wedding ceremony, add a neon pink or neon blue pagdi to your outfit to give it an added punch of color. Ensure that it is a simple pagdi, without any embellishments, but crafted in a stylish and luxe fabric such as Chanderi.
8) Dapper Dressing In A Draped Kurta: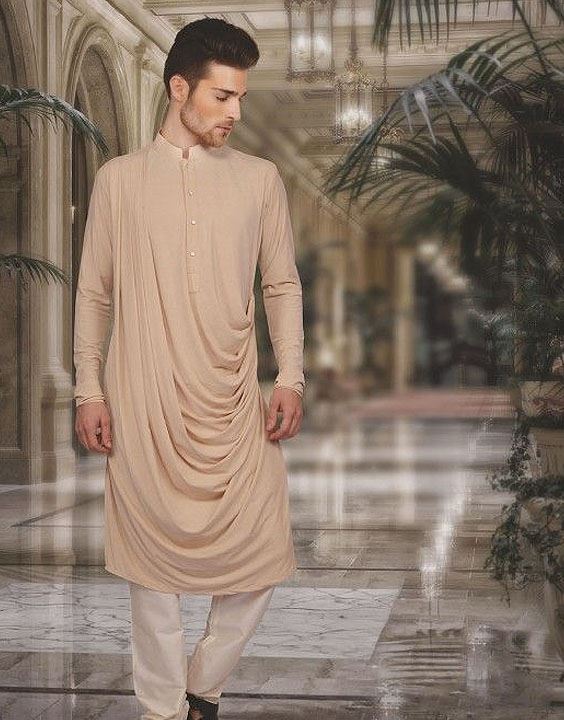 Popularised in the last decade by ace Indian menswear designers like Shantanu & Nikhil and Raghavendra Rathore, the draped kurta design for men has risen in popularity immensely and become more accessible thanks to more mass retailers.
The draped kurta style features a prominent fabric drape as a major style element. This can come in the form of pleats, cowls or even bias-cut panels in the patterns. A chic and elegant desi wear option for men, this one's an absolute winner in our books!
Style a Draped kurta with:
A pair of chic and crisp cigarette pants that end just below the ankles.
A stylish brooch and pocket square, that go well in terms of color and fabric with the rest of the kurta.
A stylish pair of oxford shoes, or loafers to balance the OTT look of the drape.
A heritage watch that makes a statement with its look and/or brand value.
Style Fave: Opt for a drape kurta with a cowl that turns up at the hem & goes all the way to the shoulder, ending in pleats. Then add a crisp and well-tailored bandhgala waistcoat on top. Voila! You have a ceremonial style that exudes unlimited panache and an undeniably high-fashion appeal.
We hope you enjoyed our options for stunning looks that incorporate a chic kurta design for men. Here's what we think – don't be afraid to blend out from the crowd and experiment once in a while, but always stay true to your point of comfort in style! Go on – elevate your desi style quotient to the next level this season and shop some quirky looking kurtas from various online shopping sites in India.
Image credits: The copyrights of the images used in this post belong to their respective owners. The credits where known are specified under the image - if you're the owner of an image and want it removed, please contact us.