Trekking and hiking have become the most cherished outdoor activities in the next normal for those who have been cooped up indoors without respite. Fresh air, sunshine, and physical activity are just the right kind of antidotes to wash away any lingering 2020 blues. Providing the much needed space and isolation to ensure safety during these turbulent times, hiking along your favorite trails is the best way to reconnect with nature this year. If you are however looking to create some stylish instagrammable moments along the way, you might want to consider how you style your trekking outfits!
There are so many options of trekking outfits for females to choose from in the casual and activewear range when it comes to selecting a chic look for your on-foot expedition. A few key things to remember when choosing what to wear on trekking and hiking journeys are:
Comfort, comfort, comfort. Comfort is key when picking your outfit as hiking is a very physical activity at the end of the day. From head-to-toe, only pick ultra-cozy components for your outfit – be it shoes, bottoms or headgear.
Consider the climate you are about to trek in. Your trekking outfits should support you in the outdoors and protect your body effectively. Trekking in a cold climate? You need a puffer jacket. Trekking in extreme heat? Consider sunglasses that provide optimum UV-Protection to keep the glare off your eyes. Trekking in rainy, wet conditions? A wind-cheater is in order.
Ensure that you optimize your outfit to suit the duration of your hike. If it's a long one, carry a change of clothing and all your basic essentials in a chic travel back-pack. If it's a short hike, consider carrying a messenger bag or a bum-bag to carry your essentials hands-free.
Whew! Now that we've got the basics out of the way, let's dive deep into ideas for 8 trekking outfits you are sure to love and wear regularly. Read on & climb that mountain in style!
8 trekking outfits for Women
1) The Army Brat Look: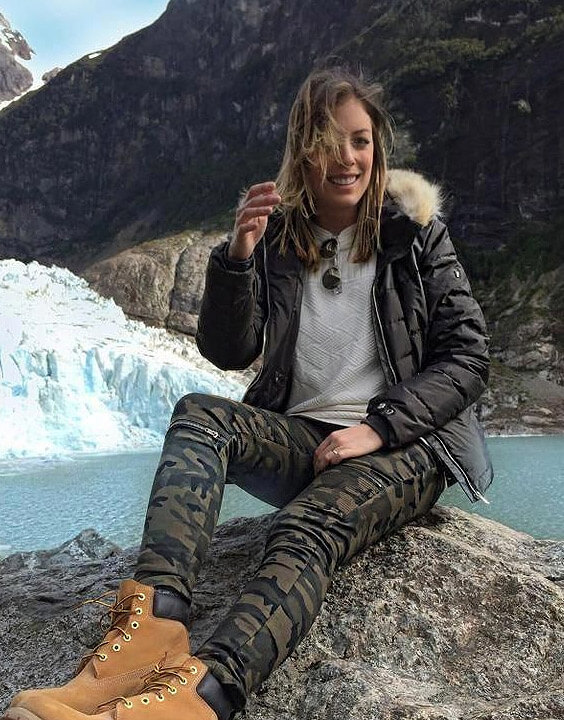 This is a fan-fave when it comes to those who are well versed in active casuals. An army printed separately can camouflage you in ultimate style! Be it t-shirts, jackets, or joggers for women, a camouflage printed fabric is the one to opt for if you would like that sleek, nonchalant army brat appeal. Always a classic look that's also ultra-easy to pull off, this one's an absolute winner!
Style File: One of the most low-key trekking outfits out there, this one needs just a white t-shirt, a baseball cap, and a windcheater that's effortlessly tied across the waist to look stylish as ever. Add on a pair of classic aviator sunnies, and you are ready to hit the ground running in no time! Pair this outfit with comfortable and hardy Woodlander boots and a black duffel bag to maximize its appeal.
2) The Wanderlust Look: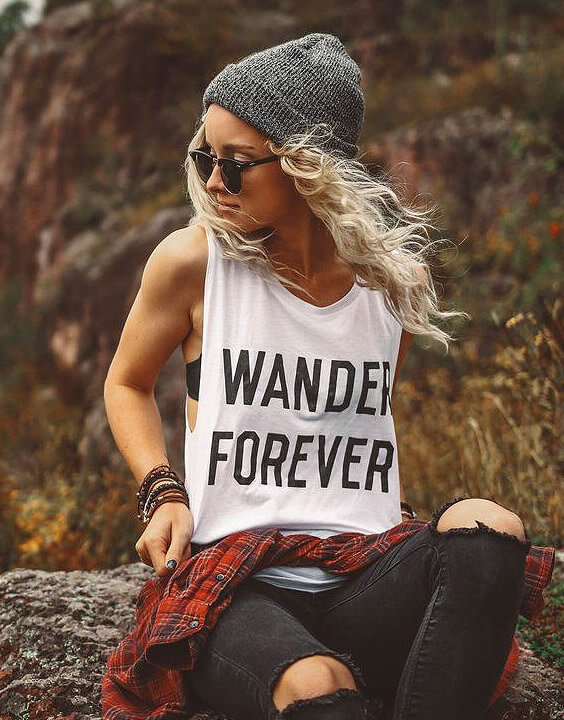 If your hiking expedition is brief and involves hanging around with friends more than strenuous physical activity, you can go for this stylish outfit idea in a heartbeat! While one-liner t-shirts for women are certainly popular, you can go for one-liner ganjis or loose racer-back vests instead.
Trekking outfits like this one don't need to be geared towards relatively as much movement as active hikes, so you can chill and flaunt your trendy style in ripped denim pants or jeggings, which are just like jeans but also functional as leggings for women. We would suggest going for jeggings instead, as they offer a comfortable stretch that will keep you going longer!
Style File: Take your trekking attire up a notch and infuse it with grunge by wearing a classic black pair of wayfarer sunglasses along with a knitted jersey beanie. The beanie, sunnies and ripped denim will come together to give you a chic, grungy and ultra-nostalgic look. Impress your friends and strut in style for your next hike-slash-hangout!
3) The Colour-Dash Look: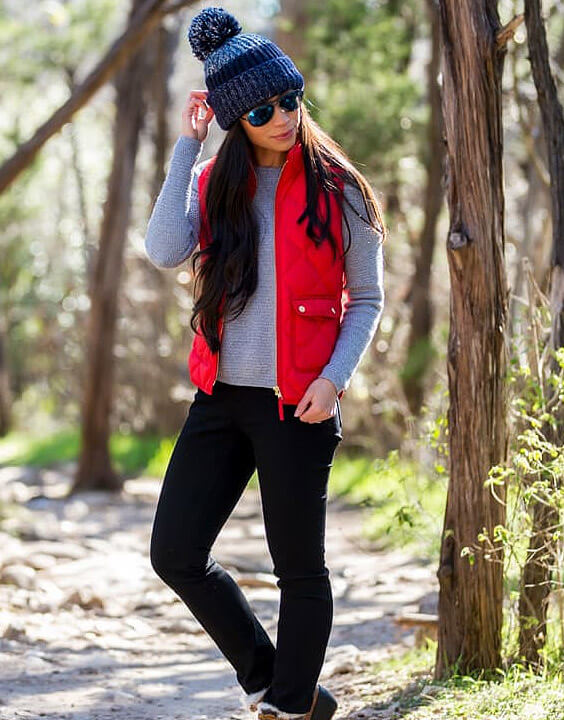 Trekking outfits don't always have to be grungy, earthy or monotonously utilitarian. Add some spice and a dash of color to your look by wearing your overcoat, jacket or windcheater in a bold, pop color that compliments your style perfectly. Be unafraid to experiment with color and style yourself with a couple of separates in complementary colors as you also simultaneously balance these with neutral separates.
Beware though – If you are trekking in a location that is filled with wildlife, you may be attracting unwanted attention from the animals that inhabit your surroundings. In that case, opt for richer, but more blendable colors like forest green, deep burnt orange, or wine.
Style File: Choose the colors of separates in your trekking outfits with careful consideration! Opt for an olive green beanie & pair it up with a burnt orange jumper and keep the rest of your outfit black or tan – you don't have to play matching-matching to look good. Display your flair for bolder trekking wear on your insta feed and you are sure to shine amid the stunning vistas and beautiful views!
4) The Eskimo-Chic Look: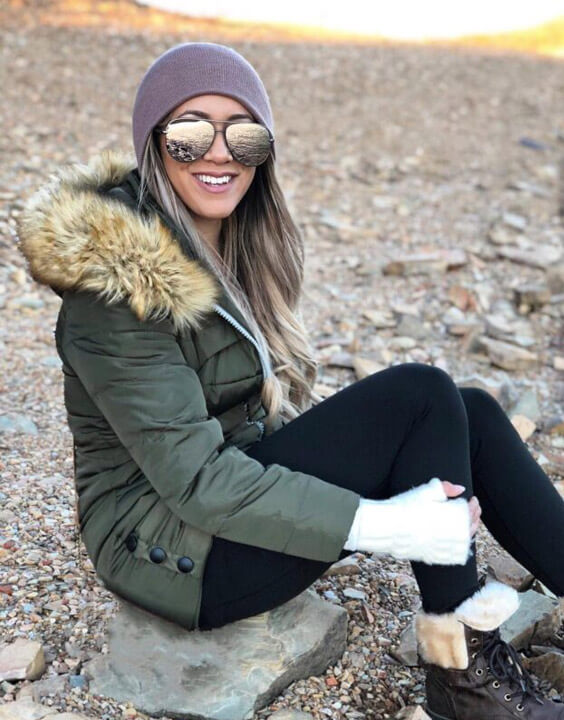 Did you colder climate peeps think we had nothing for you? Well, you're wrong! Even though spring has started, trekking at higher altitudes sometimes demands more protection from the chill and we are here to tell you about one of the best trekking outfits for such an occasion!
Wear outerwear like a puffer jacket with a faux fur-lined hood along with faux fur-lined sturdy military boots to give your look an instantly glamorous appeal while staying practical with your outfit! Go for a jacket in a chic olive green, black or gun-metal grey for a color palette that you will probably want to wear even after your hiking is done!
Remember to wear thermals under your joggers outfits to beat the chill and opt for thicker fabrics for your topwear, under your jacket, to ensure you stay snuggly!
One look at these casual shoes and you'll be hooked. They're durable, fashionable, and made to last.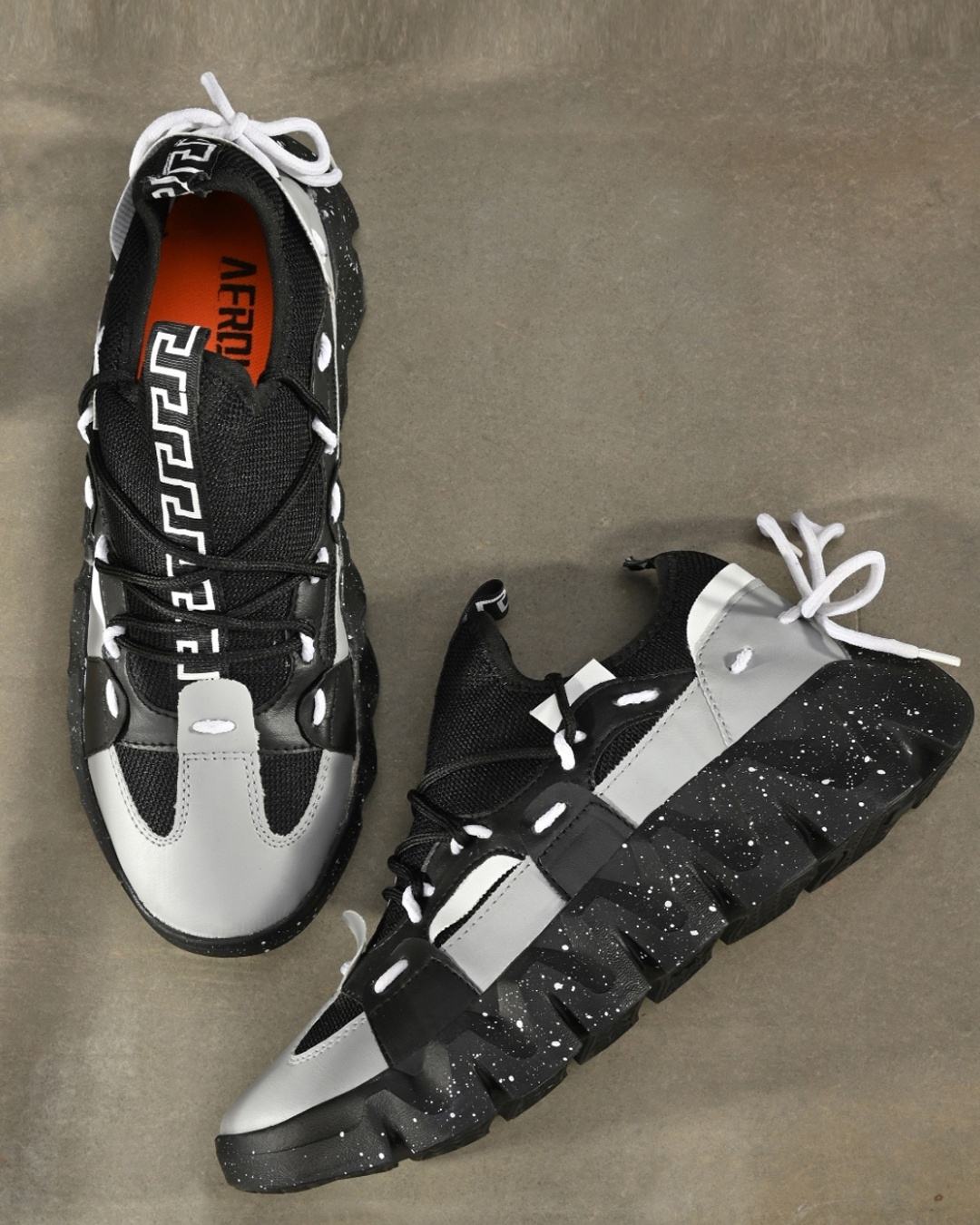 Style File: These styles of hiking outfits are the perfect opportunity to wear sunnies with mirror lenses as their reflective quality is not only perfect for cold days but also a style-statement with warmer garments. These sometimes tend to look too OTT and gaudy with more summery styling, but in trekking outfits that involve chic outerwear and sturdy boots, they are an absolute win!
5) The Preppy Plaid Look: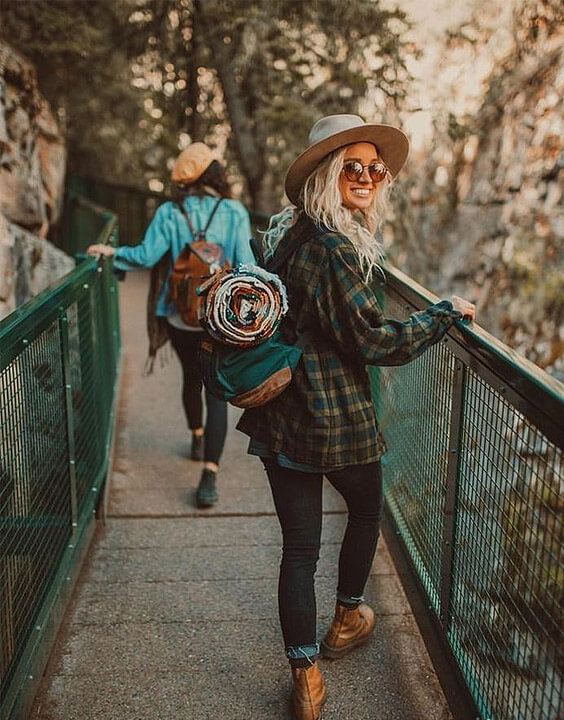 Reconnecting with your college-mates or your school gang for a trekking and camping experience? Well, back-to-school certainly has a new meaning in the new normal and we wouldn't blame you for wanting to look your absolute best! Opt for trekking outfits that incorporate a plaid print to impress your buddies with your chic and effortless style.
You can layer simple shorts and t-shirt outfit, or even an outfit that includes a hoodie for women, with a long, oversize plaid shirt. If you want to go even more classic & minimal, try a scarf or stole in a plaid print and snuggle under its stylish warmth as you tell stories over a bonfire!
Style File: A cool as cucumber trekking outfit for ladies, a plaid print is the surest way to add a dash of style to your hiking and camping adventures. However, ensure that the rest of the outfit is styled in tandem with the plaid print.
The print should be the star of this outfit idea and the rest should be kept low-key and minimal to exude an ultra-casual vibe. Go for plaids in mustard yellow, deep green, or classic black and white to ace this look.
6) The Royal Safari Look: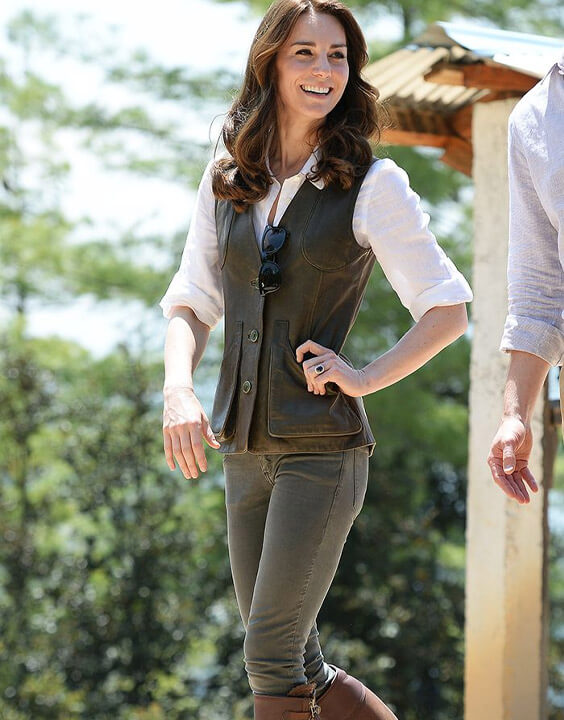 This is one of the styles of trekking outfits that never goes out of fashion! The safari look is chic, classy and might we add – royal – when it comes to the outdoors. Encompassing cozy linens and classic cargo fabrics, this is a must-have if you love glamping, trekking after a horse-back ride or simply showing off your impeccable style in the heart of mother nature.
Stylish, sleek and undeniably timeless, this look can be pulled off by pairing a simple loose white shirt or chemise with a pair of earthy-toned jeggings and a cargo waistcoat. Tailored, yet simple, strike a pose for the gram in this drool-worthy trekking outfit female fashion.
Style File: Go for the kill and pair this outfit with hunting boots and a water flask that's lined in leather. The earthy, outdoorsy vibe of trekking outfits such as these is pronounced with the addition of tan accessories that are layered with olive green and slated earthy tones.
Always keep your under-shirt or top white though, as it lends its formal style and appeal to this outfit. Carry a pair of antique binoculars around your neck or a pair of RayBan sunglasses to complete this stylish look.
7) The Camp Scene Look: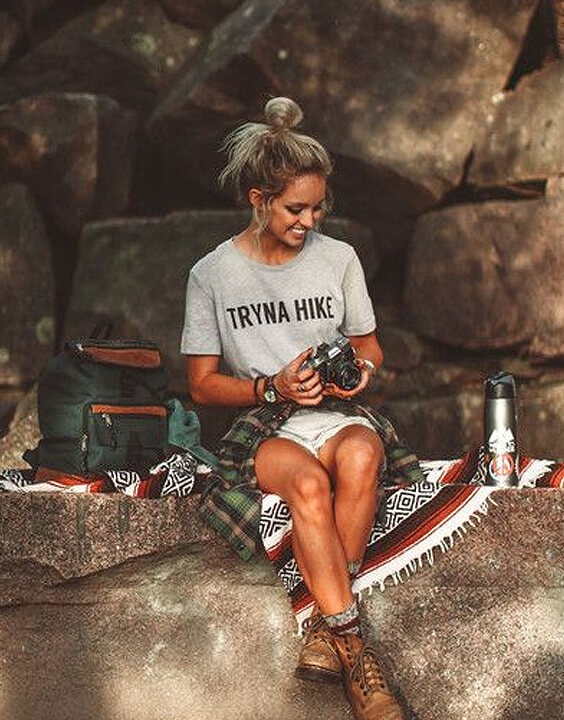 Want a chill camp outfit that goes perfectly with a relaxed messy bun? Look no further! Pick any graphic or one-liner printed t-shirt from the plethora of options available on online shopping websites and tuck it into a pair of white denim shorts!
Tie a jacket or an oversize shirt around your waist to ensure your shorts stay clean when you sit at an outdoorsy location – and voila! You've styled one of the comfiest and chicest trekking outfits ever. Want to kick it up a notch? Go for a backpack in a tan or olive green color to add that earthy vibe to your look.
Style File: If you would like to stylize this look a bit, look for one of those boho-inspired embroidered denim jackets for a stylishly protective layer! Teamed up with tan lace-up ankle boots and a pair of hoop earrings, your camping adventure will transform into a glamping experience in no time! This is the perfect look to flaunt around a group of friends and a guitar.
Get the best smartphone back covers for your Camping or Trekking. Protect your phone from scratches, dirt, and damage. Compatible with all phones including Apple, Samsung, and OnePlus.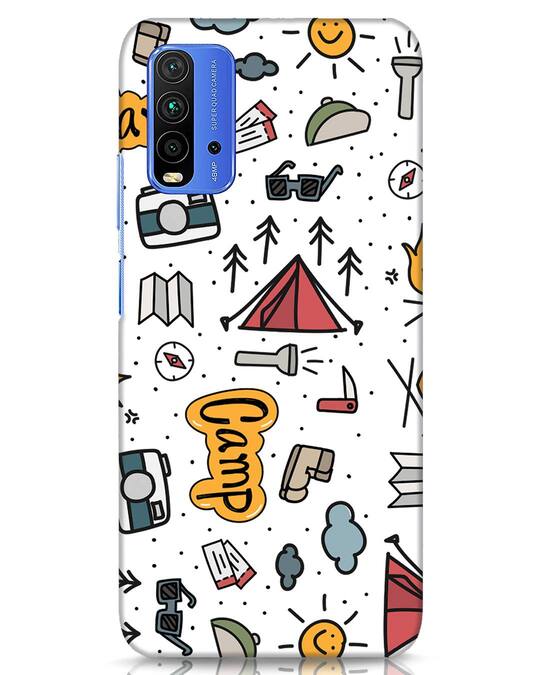 8) The Outdoor Explorer Look: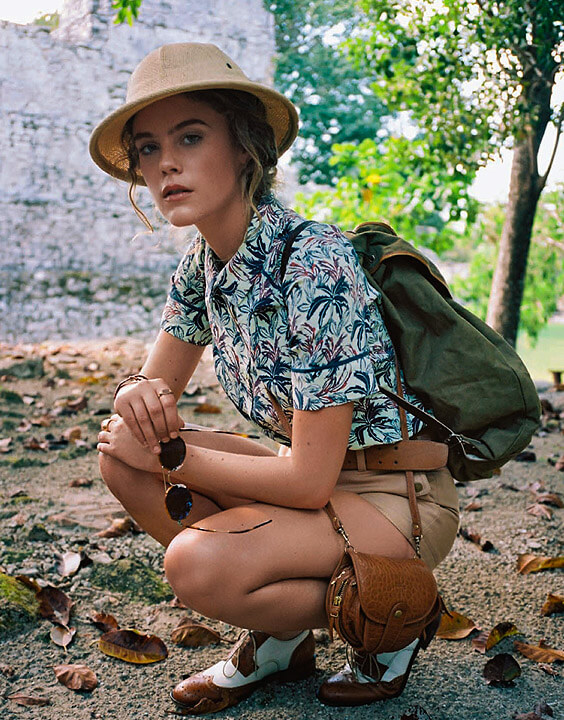 Want to channel Jane Goodall and explore the deep forests for glimpses of wildlife while remaining classically stylish with your look? This is one of the most unforgettable and curated trekking outfits and it is sure to elevate your wardrobe even when you aren't outdoors or in nature.
A tropical printed shirt and a pair of khaki shorts are a match made in heaven and these are exactly what you need to pull off this style idea! Look like you are right out of a vintage explorer documentary by pairing these up with a mini-messenger satchel, a pair of steel-rimmed sunglasses & a stylish straw hat. Buttoned up, yet outdoorsy? We're here to strike a pose in the best of two worlds!
Style File: Since this is definitely the most photogenic style on this list, don't be afraid to add a touch of gloss and tousle your hair in messy-chic locks under your hat. To lock in the high-fashion element, wear this outfit with a pair of soft brogues or oxford shoes, as long as you are comfortable. Why not look good when exploring nature? We're totally living for it!
Did you find an idea from our list that revolutionized the way you look at trekking outfits? Which one made the biggest impact on your style perception? With our easy-peasy shopping app, getting these looks should be a piece of cake. Whatever you choose, you are sure to glow thanks to the exercise and fresh breeze. Stay safe & happy trekking!
Image credits: The copyrights of the images used in this post belong to their respective owners. The credits where known are specified under the image - if you're the owner of an image and want it removed, please contact us.