It's summertime – which means it's also time to wave goodbye to winter layering and welcome more bare skin moments into our lives. It also means breezy, effortless clothing that keeps the moisture at bay and lets us go through our day with ease. Get out those tank tops, capes, shorts and loose-fitted trousers – along with your kurtas! Western wear is definitely fun, but this quintessential Indian silhouette is even better. It's stylish, versatile and never fails to stun! If you haven't built your kurta collection yet, allow us to guide you. We've rounded up 12 kurta designs as well as kurtis for your inner fashionista to own and rejoice, and also flaunt all through summer. The best part? You can save them for later too, without worrying about them going out of trend!
Read below, pick your favorites and start adding to your cart on online shopping fashion sites! Before we proceed though, let's quickly take a look at the difference between kurtas and kurtis, so that you can choose better.
Kurta vs. Kurti
Often, these two terms get interchanged and nobody realizes the difference until it is pointed out. While a kurta is long, and usually a below the knee silhouette, ladies kurti designs are shorter. The latter is picked by younger women more often, because they are easily paired with jeans, etc. Kurtas on the other hand are a favorite among mature women but are also preferred by younger ones. There is no doubt about the fact that both of them are just as trendsetting regardless of their length! So it's important to note what you're really looking for in terms of your lifestyle and taste before you make your purchase. You're allowed to love both equally, and they're both summer-ready so you've got nothing to worry about.
We're going to split the two and make it easier for you to browse through. Read on!
A) Kurta Designs
Personally, we love kurtas when we want to let our inner desi girl take center stage. Here are our go-to ones.
1) A-Line Kurtas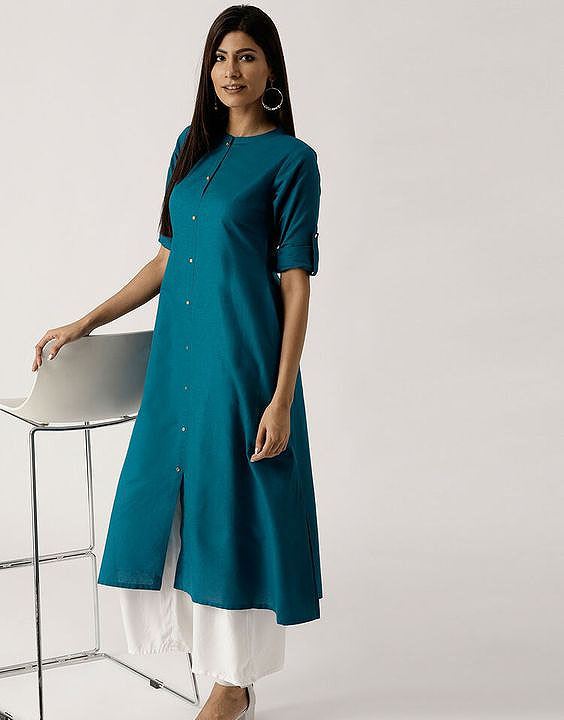 Just like the name suggests, A-Line Kurta designs for women visually form an 'A' from the waist down. They're more fitted at the top and tend to flare a little as they head south. The reason why they're so popular is that they're structured and make you look sharper than a lot of other kurta styles.
You can wear them to the office and you can wear them for festivities too! No one's going to bat an eye. While A-Line kurtas can also be found or made in shorter lengths, we can't help but love the longer version, preferably one that rests a few inches above the ankle.
Style Tip: A pair of leggings in the same color palette or a contrasting tone, along with jhumkas with this will make you look absolutely killer! Give it a shot.
2) Anarkali Kurtas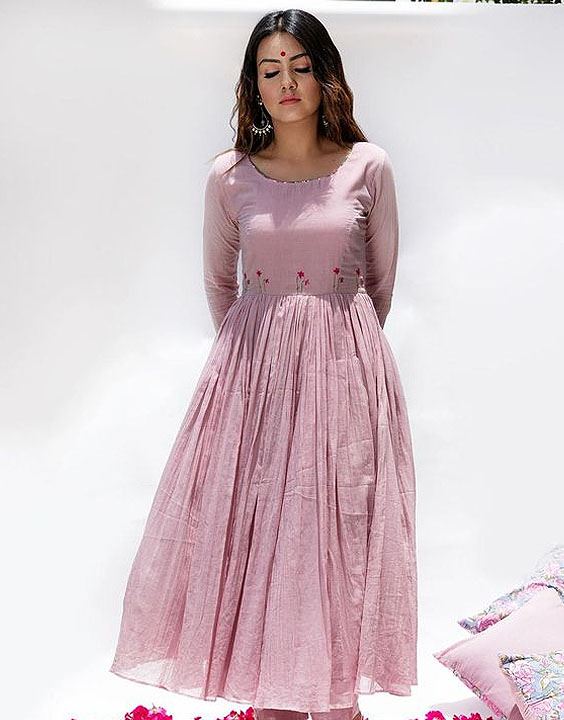 A timeless stunner and a staple for every Indian woman, Anarkali kurta designs have a reputation for being playful, versatile and also steeped in tradition. It's more towards the celebratory side though, so if you have a summer wedding coming up or a festive occasion where you need to be dressed to the nines, then this is what you need in your closet.
Anarkali kurtas are a little different from Anarkali suits though, they're more relaxed and easy and not heavily embroidered, but you do have the option to choose from printed pieces or embellished ones.
Style Tip: Add juttis to your #OOTD for an authentic Indian appeal! You can also add your favorite dangler earrings to the mix, or give in to the good old jhumka.
3) Long & Straight Kurtas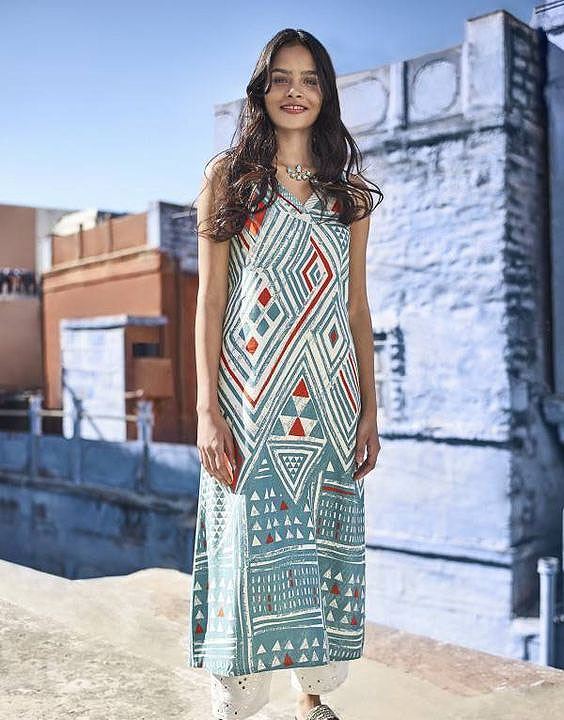 The easiest to style and carry among all the kurtas on our list, this one suits most body types without being fussy! It's also one of the most widely picked styles by office-going women, because it doesn't raise eyebrows in terms of dress code. There are several ways to flaunt long and straight kurtas, and each one can be tried for various occasions on your calendar. Trust us, you can't ever go wrong in these.
They're absolutely malfunction-proof, provided you find the right fit and fabric for yourself. Stiffer fabrics do better with this type of kurta designs so you might want to bear that in mind.
Style Tip: Pair it with straight-fit trousers and pointed-toe heels for a sharp and structured look that can be flaunted anywhere!
4) Floor-Sweeping Kurtas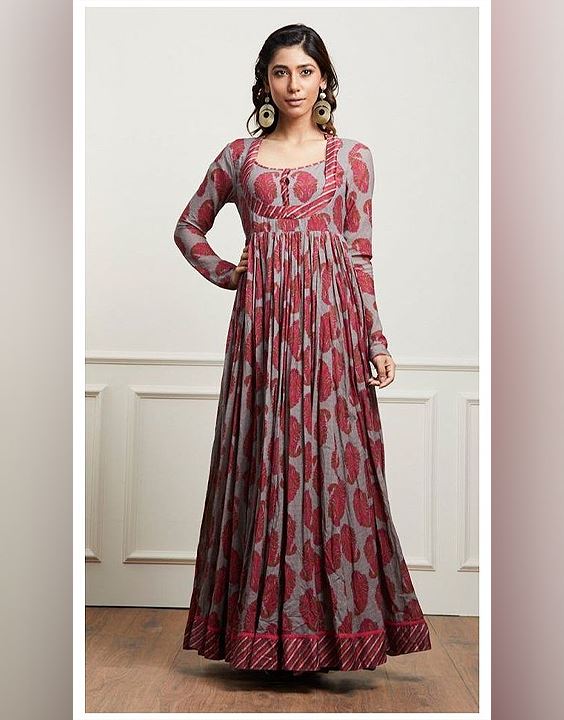 Is it a gown? Is it a kurta? Well, it can be both – or whatever you want it to look like! Floor-sweeping kurtas have risen to fame in the Bollywood industry due to their standout charm and easy-breezy nature. Besides, isn't it great when you don't really have to pair your kurta with bottom wear or spend time finding that perfect addition?
Floor-length kurtas have that luxurious vibe about them that sets them apart from the rest! The plain or lightly printed renditions can be sported for semi-casual occasions like very intimate celebrations, and the heavily embroidered or metallic toned ones can be worn for big fat Indian weddings this season!
Style Tip: We love pairing our floor-sweeping kurta with Kolhapuris and you can try this too.
5) Overlay Kurtas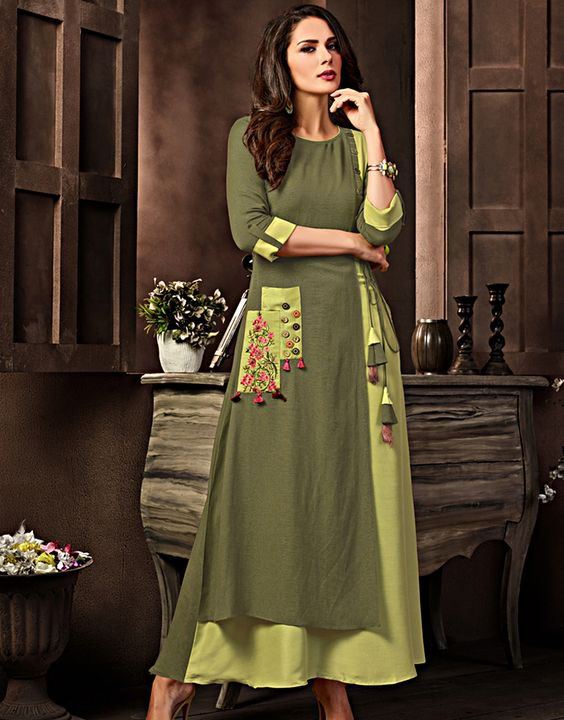 If you miss layering, you don't have to give it up, but just adapt to a different way of doing it this season. Summers demand lightweight fabrics and easy styles, so what's better than overlay kurta designs that don't just mix patterns and colors but also put you higher up on the style ladder? It has an inner with spaghetti straps, attached to the outer layer at the sleeve. The inner is made with a very light fabric, typically georgette. It's advisable to look for lighter colors and less stiff fabrics for this one to maximize comfort and style too.
Style Tip: Team up your overlay kurta with a pair of palazzos to complete the look!
6) Slit Kurtas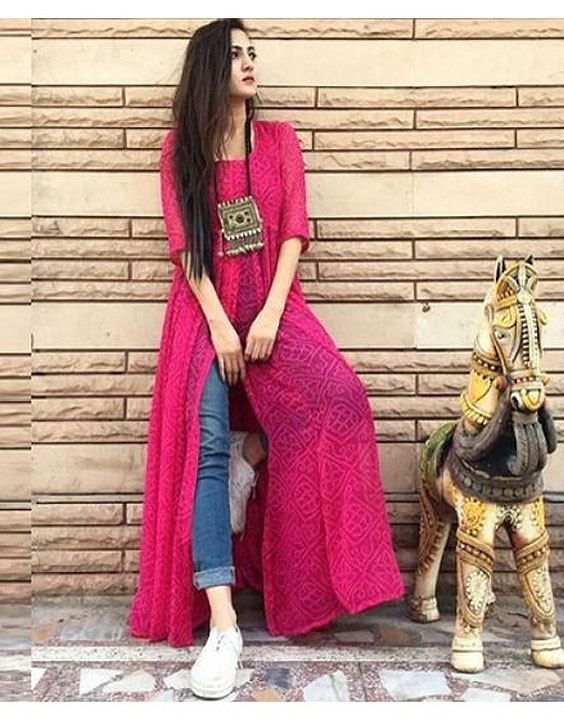 Playful and stunning all at once, slit kurtas are a hit among desi fashionistas for all the right reasons! Apart from allowing you to flaunt your well-picked bottom wear, they also allow you to let loose when the dress code isn't strict. Slits are anyway a summer favorite, and as opposed to slit dresses, here, it's alright if you don't shave your legs before wearing them.
From front slits to side slits, you can choose whatever your heart's calling is! They're all the rage among women of all ages, and we don't see the trend fading anytime soon. These kurta designs can be formal, and they can also be semi-casual. You can wear them with a skirt or flaunt them with palazzos!
Style Tip: For best effect, wear high heels and sashay into the room in your slit kurta!
Full of youthfulness and summery vibes, here are our most-loved types of Kurtis styles for the desi divas.
1) Denim Kurti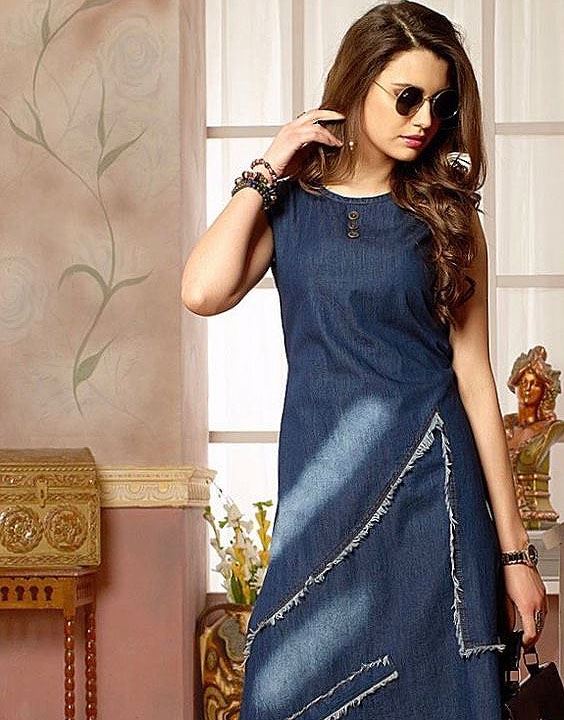 On days when you don't wish to wear jeans but would still prefer wearing denim, kurtis made with the same fabric and color are exactly what you need! If they don't have a slit at the side, even better – because then you can wear it as a dress too!
Denim was fused with kurtis by ace designers to bring together two unbeatable classics from the western and Indian world. Seems like it worked out better than they'd imagined since now they are everywhere. From the streets to the runways, various renditions of the denim kurta designs are making waves. Own one now and love it forever!
Style Tip: Wear your denim kurti as a dress if it doesn't have slits, or with a pair of denim shorts if it does. Finish with white sneakers!
2) Cold Shoulder Kurti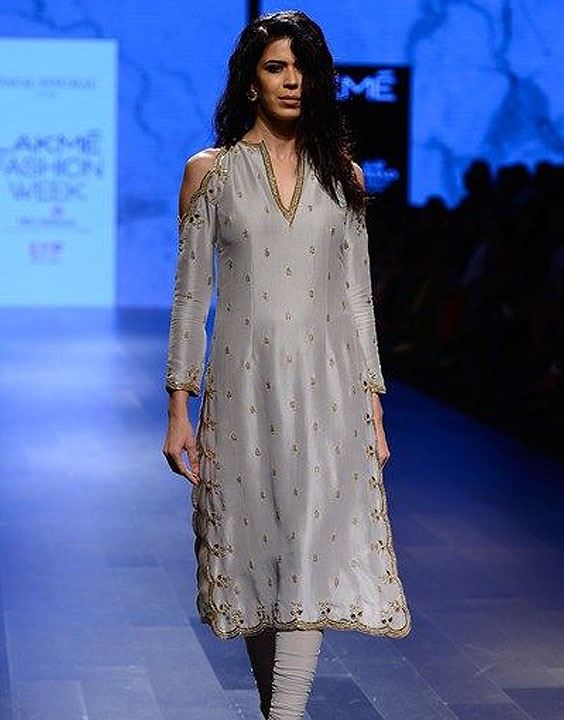 Haven't we all been absolutely in love with the cold shoulder top trend? Well, cold shoulder kurtis are even better! They're absolutely perfect for the modern day divas, and can be worn to college, for brunch, for casual hangouts and also for special occasions depending upon the design and chosen pairing.
Cold shoulder Kurti with jeans are a very common sight among young girls who are in touch with fashion trends and want nothing but to make a statement wherever they go! If you have always wanted to give them a try, the season is apt for it.
Style Tip: Keep the jewellery minimal so as to attract more attention to the cold shoulder detailing!
3) Peplum Kurti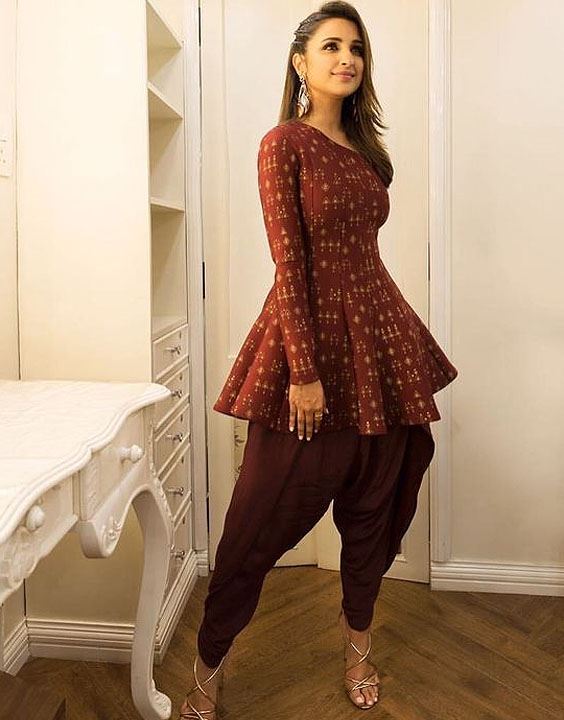 One of the top B-Town trends is the peplum kurti with dhoti! You must have spotted these kurta designs on summer runways in India or on your favorite celebrity at least once and must have wondered if you can carry it off. This is your cue to try it and see for yourself!
The trendsetting pairing is perfect for when you want to stand out in a crowd, and establish yourself as the style guru. There is no wrong or right with the peplum kurti and dhoti combination, but if you wish, you can also wear it with jeans or ankle-length leggings for a more casual and everyday approach.
Style Tip: According to us, chandbalis are a great addition to this #OOTD and so is a potli!
4) High-Low Kurti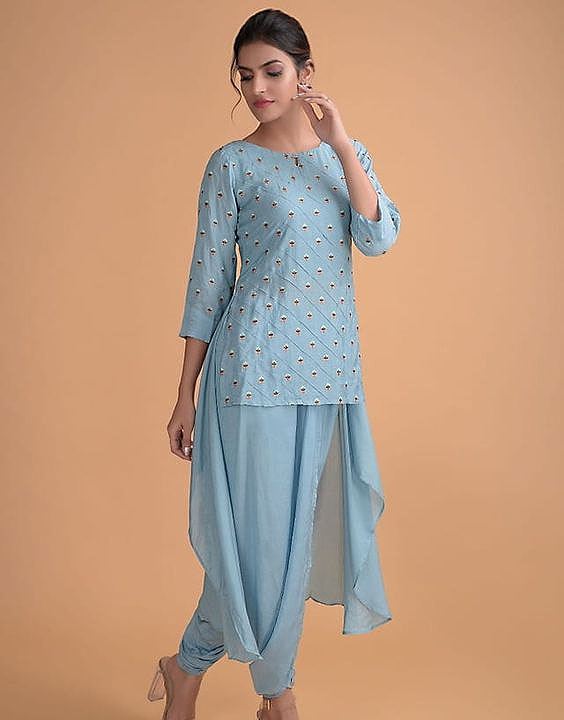 Short from the front and long at the back, high-low kurtis are a little extra work in terms of finding the right bottoms and accessories. A lot of women prefer to wear straight-fit trousers with these, and the youth usually sports them with a pair of distressed jeans. Some people even like wearing them with dhoti pants. To each its own!
But bear in mind that since this latest kurti design tends to add a little extra volume to your body, visually, the aim would be to make you look leaner. For this, always choose pants that aren't baggy – but comfort fits are a welcome addition.
Style Tip: Keep your body type in mind, and then pick the bottom wear. The safest choice is always pairing this kurti with skirt or jeans!
5) Asymmetrical Kurti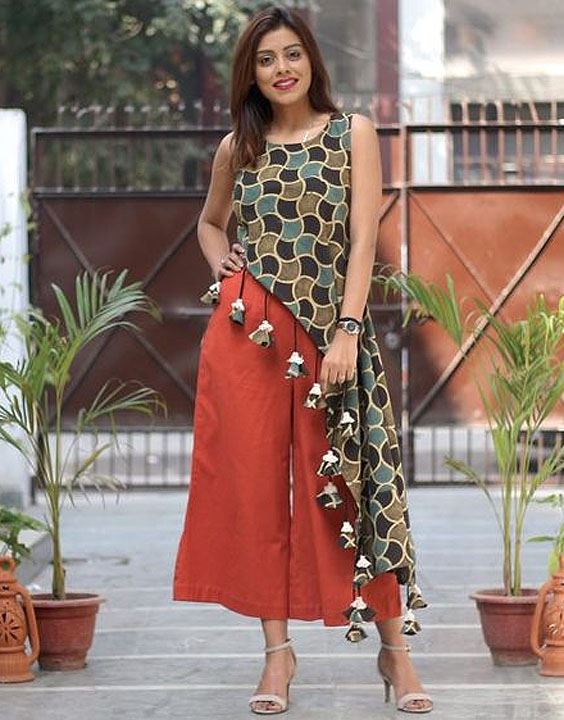 With a hem that is experimental and never uniform, asymmetrical kurtis are perfect for the ones who wish to take a fashion risk! The most challenging part about asymmetric kurtis can be getting the styling right – but what's life without a little task to crack!
These kurta designs are best known as 'fun & funky' and there's no limit on where you can wear them. Simpler ones can be flaunted in a casual setting and the dressier versions can be worn for festive and wedding occasions.
Style Tip: Make it all the more fun with oversized accessories like beaded necklaces or over-the-top earrings.
6) Sleeveless Kurti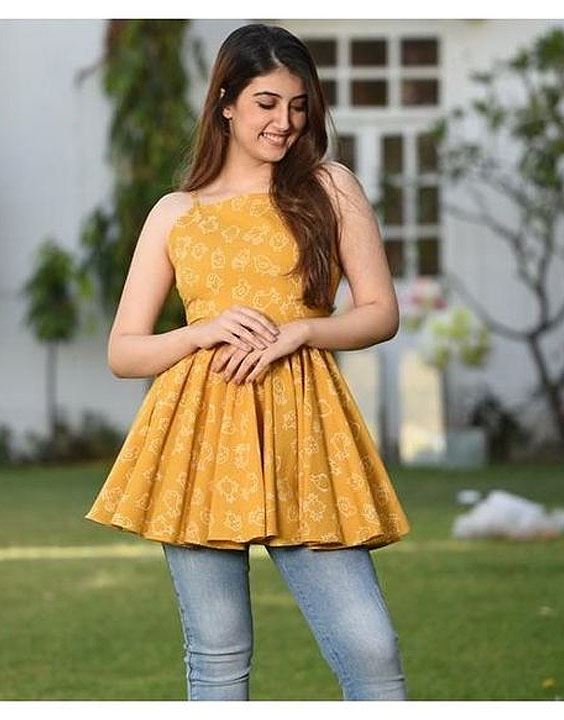 Bare skin moments in the sun are all we crave for after being hidden away in layers of clothing, thanks to cold weather. Sleeveless kurtis, just like sleeveless tops are a hit in our country. Before you step out in one though, don't forget to apply a generous amount of sunscreen.
The shorter, below the hip versions, are the ones that often make it from our wishlist to our wardrobe, but you can experiment with various lengths by shopping on a fashion app and see what works best.
Style Tip: A pair of hoops, skinny jeans, wedges and a sheer ethnic jacket will make for stellar additions to the sleeveless kurti.
That's all for now, but don't stop your own search for the perfect kurta designs in the ever-evolving Indian fashion scene. Chances are, you will stumble across something even better than the types we've listed.
Image credits: The copyrights of the images used in this post belong to their respective owners. The credits where known are specified under the image - if you're the owner of an image and want it removed, please contact us.