Women aren't the only ones who need a fully stacked shoe drawer (and more), but men too need to look at various types of shoes as the most important part of their outfit. You need to own kicks that match the events on your social calendar, and you need to stop depending on the same two pairs.
To make things easier for you, we've listed the different types of shoes and their uses. You NEED to own these without the sliver of a doubt if you want to move to the next level of your style game.
Boys, it's time to grill these into your brain and get out your credit cards to make a worthy fashion investment.
1) White Sneakers
It's not just Taylor Swift who comes back like a 90s trend but these types of shoes too have made a comeback like never before years!
From runways to the streets, there's no single place and no single wardrobe they aren't ruling. Although they're uber-stylish and put way up on the style ladder, a huge part of their success among fashionistas can be credited to their versatile nature.
It's not unknown to anyone that they can be paired with anything and still look just as good! Now, to further elaborate on these 'pairings', here are 3 of our favorite ways to don them – so take notes.
Our white sneakers are perfect for a casual and comfy summer style. They can give you an extra boost of confidence.
Don't miss out on our white sneaker.
You can never go wrong with blue dungarees, which again, are a retro trend. Pair them with a plain white tee and white sneakers for the ultimate 'cool guy' look. Finish with blue-tinted sunnies!
Get your favourite cotton shirt out of the closet, one that is not meant for work but for kicking back. Pair it with low hung trousers that are narrowed down, and leave only one side of the shirt tucked in. Finish with white sneakers.
For the most casual look of all, go with a baseball cap and a basic white t-shirt. Pair it with linen pants and white sneaks!
2) Coloured Sneakers
Yes, white sneakers for men tend to go with everything and that is their superpower. But, if you know how to ace your look with these types of shoes, i.e. coloured sneakers, well, you're the winner!
Making your chosen colour of sneakers work with your outfit is a trick not many can master. And since colour blocking is already a trend, coloured sneakers are the key element in getting it right and setting the bar high.
If you're wondering where to get started, read below for 3 ways of wearing colored sneakers with a regular outfit.
For a street-style inspired look, pair your coloured sneakers with a tracksuit of the same shade. To add some extra texture and oomph, carry a patterned bag with you. Our favourites are checks and chevron!
Whoever says black isn't a colour, we beg to differ. When in doubt, simply go for a black and grey combination. Match a pair of grey shorts with a black t-shirt and you'll be good to go. Throw some shade with a pair of dapper sunglasses!
You can also wear coloured sneakers with some retro inspo. Paired with a classic white t-shirt, skinny jeans and red kicks, your #OOTD can't go wrong. Tie a plaid shirt around your waist for extra glam!
3) Loafers
Don't we all want the types of shoes that don't have to be laced up or fussed about every time we have to go out? This is where loafers come in with their easy slip-on characteristic. All you need to worry about with loafers is making sure you get the right size for yourself.
Loafers can be worn to the office as well as to parties. Just like sneakers, loafers are versatile too but in a different context. While they can't be paired with everything in your closet, they can be flaunted for every occasion on your calendar from weddings to parties and also work!
Have a look at our Loafer – You'll never want to take them off
Below are some answers to the question 'how to wear loafers'.
Want to nail that airport look? Nothing better than a pair of loafers and a cylindrical duffle bag as a carry on luggage. Sport a monotone look with a slim fit shirt and pants in the same colour. Tuck it in for added sharpness.
For work, all you need to do is wear a button-down white shirt with your preferred colour of corduroy pants. Make sure they are slim fit. Finish the look with loafers. You can add glasses to appear more desirable in a nerdy way.
Play it cool with a denim jacket layered over a casual shirt. You can then go on and slip into dad jeans if you want, or tracks will do too. For footwear, choose loafers.
4) Trainers
Simply put, trainers are the types of shoes you train in. Whether it's some heavy lifting at the gym or a run in the outdoors, trainers help you do all of that while maintaining a strong foot grip and giving you some momentum. It's very important to pick the right ones for working out, lightweight being the key element.
Trainers aren't just limited to the mat though, you can also wear them for a casual hangout with your friends, a trip to the grocery store, or a road trip. Provided, you pick the most stylish ones! After all, you don't have to compromise on style when you're trying to keep it easy.
Read on to know how to spruce up your trainers!
Heading out with the gang? Making a road trip out of it? Don't forget the hat! Also, a pair of shorts and an easy shirt will do wonders for your look. Refrain from wearing anything too tight and always pick comfortable fits. Finish with trainers!
At the gym, match your outfit to your trainers. We always like a sleeveless t-shirt paired with straight-fit track pants! You can also choose to go with joggers made with absorbable or sweat-resistant material.
If you're just heading out for a morning run in your vicinity, it would be nice to let your skin breathe free. Wear a loose t-shirt, a pair of shorts and trainers and you're good to go!
5) Boots
Boots are for the ones who wish to add edginess to their look. They make an impression no matter who the wearer is, and it's on you to decide what kind of impression it's gonna be. Boots are THE shoes to own and have been for decades.
They were a huge part of the punk and grunge scenes, and now they're a huge part of every fashion-forward man or woman's life.
If you find the knee-length ones a little too much, then fret not; there are shorter ones which you can do too. Ankle boots establish you as the center of attention without overdoing it.
Here are 3 easy ways to style 'em up real nice!
A denim on denim look with boots is an all-time winner! Don a denim jacket over a plain black tee and pair it up with dark washed denim pants. Ensure the fit is crisp. Then, just slip into boots and lace them up. Don't forget the shades!
When you want to keep it casual, pair a crew neck tee with skinny jeans. Then, pick boots in a colour that is not black and preferably muted, like beige or olive green, and you are good to go.
You can even wear boots to work by layering a blazer over a crisp shirt and pencil trousers. Get a hat for the photo ops!
6) Flip Flops
Love sneakers? Well, you love flip flops more, and you know we're right. If there were ever extremely fuss-free types of shoes invented, flip flops have got to top the list. Yes, there are very limited places where wearing flip flops isn't a fashion faux pas, but the fact that they seamlessly fit into your downtime wardrobe deserves all the appreciation it can get.
Flip flops come in the most basic designs, as well as the most quirkiest prints too. They can range from simple patterns to fan favourites, elegant palettes to fun details; you're bound to be spoilt for choice!
We offer flip flops & slippers in various designs, patterns and colours, Check out the below slipper by Bewakoof: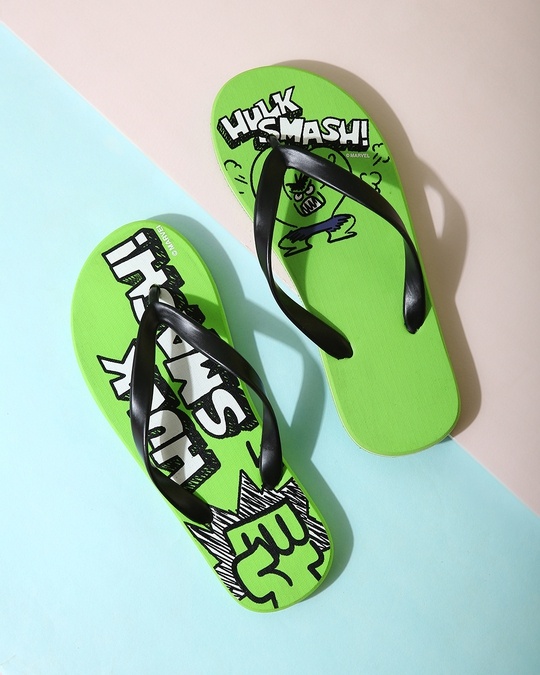 Styling flip flops isn't really a thing, but here's how we wear ours and you should too.
Playing volleyball by the beach or the pool? While it is best to do so barefoot, if you must wear slippers though, let them be flip flops accompanied by a sleeveless tee and shorts! Make 'em colourful, just to reflect your mood precisely.
Have a day full of running errands ahead of you? You have to stay at your comfortable best! Wear breezy trousers and a V-neck tee, along with flip flops.
If you're on a weekend getaway, why not give drawstring joggers, flip flops and a sweatshirt a chance while you sip on some cocktail? We promise it'll be relaxing and worth it.
7) Oxford Shoes
The gentleman's shoe as they call it, oxfords are an essential part of any man's wardrobe because they are one of the best formal shoes for suits. Apart from making an impression in the boardroom, you also ought to make one on the outside.
A great outfit along with your shining personality will aid you in this, and the right shoes will make you the star of your office. Another place you can wear oxford shoes with pride is at weddings.
But we're not gonna be exploring the bowtie and tux right now; let's take a look at the other ways one can style oxford shoes.
Switch things up for a cocktail party by going in smart formals. Meaning, wear a blazer but over a slim fit t-shirt tucked tightly into black skinny jeans. If the blazer has a pocket, put a folded satin pocket square in it. Finish with oxford shoes in black.
For the colder days and a nerdy appeal, slip into chinos in a darker shade and wear a sweater on top of a shirt. You can accessorize with a sleek watch and finish with oxfords.
Take a more fashion-forward route with ankle-length dress pants and heeled oxford shoes. Make sure they're super shiny, and that you wear a button-down shirt that is tucked into your pants.
8) Gumboots
The sole purpose of gumboots is to protect your feet during the rains and also prevent you from slipping on wet patches of the sidewalk or stepping into muddy puddles. But, gumboots are not just functional, they are fashionable too.
Seen storming the runways one too many times even during winter collection showcases, it's safe to say that gumboots are somewhat of a fashion statement now. It's also safe to say that these types of shoes are not just limited to the monsoon anymore and if you like them enough, you can flaunt them in any season.
Here's how.
Wear them to a road trip with a pair of comfortable fit trousers, a baseball cap and a biker jacket. Don't forget the backpack!
Gumboots, also known as Wellington boots are a great choice for the outdoors so you can see people sporting them to music festivals, camping trips, etc. You can too, with a polo tee and skinny jeans.
For the winter season, you can wear gumboots below your coat and get away with it! Wear a muffler for added warmth and style.
We've done the job of listing the different types of shoes, but you might not favor all of them. Find your go-to ones and roll with them, but don't forget the others. You're going to need 'em all!
Image credits: The copyrights of the images used in this post belong to their respective owners. The credits where known are specified under the image - if you're the owner of an image and want it removed, please contact us.