A chic and well-curated wardrobe is made of several key components. Styling with the right separates for the right occasion is paramount to developing a sleek personal style and a dapper fashion identity.
Furthermore, understanding how separates pair and work with other elements in your wardrobe can sort out several styling dilemmas!
Menswear, in general, has fewer separates than women's wear. However, these separates are versatile and come in several different styles and fashions.
One such separate is the men's vest. The vest has been an added layer in menswear and is known for adding undeniable panache to any look – be it formal or casual.
Today, we're deep-diving into different types of vests and sleek ways in which they can be styled. Read on for a classy update and ways in which you can amp-up your style quotient with 11 types of mens vests that are absolute essentials for a well-thought-out capsule closet!
1) The Denim Haze:
Denim is an eternal classic in fashion. No list of separates can be complete without a denim component. Upgrade your wardrobe with a quintessential denim vest that is sure to add casual and nonchalant pizzaz to your look.
Working wonderfully for many outdoor occasions – from a college day to a trekking expedition, these types of vests are an absolute must-have.
You can style it up with your joggers and hoodies, or you can dress it up by pairing it with other denim components for a monochromatic appeal. Either way, you can make a style statement in ultimate comfort with a chic denim vest.
Closet Companions: To curate a capsule wardrobe with a denim vest, opt for casual classics, such as hoodies, joggers, track pants, sneakers, and t-shirts. You can go more understated with your color choices, or go bold with graphic tees and neon hoodies. The style is yours, and the choice is yours too!
2) The Fur Tale:
Want to go ultra OTT in men's fashion? Opt for a dramatic faux-fur vest! Look like you've stepped off a runway or just been in the hottest music video of the season in these flamboyant types of vests.
Not for the faint-hearted, a faux-fur vest is an investment in self-expression through fashion.
These vests for men may not be the most versatile or wearable look of the lot, but they are sure to make your style stand out from the crowd.
Why 'faux' fur, you ask? Well that's because we think looking ultra-sleek, chic and dapper is super easy today with the plethora of faux options available in the market.
Closet Companions: You need some statement closet companions for this stand-out style of vests! These types of vests are best worn with a pair of equally dramatic sunglasses. Other additions to your capsule wardrobe can be skinny dark pants, ripped denim, distressed accessories and military boots.
3) The Number Quotient:
Move over solid toned ganjis – sleek and stylish numbered jersey vests are the next big thing in men's fashion! Numbered vests are a serious style essential – and perfect for chilling in the summer heat!
Upgrade your staycation and at-home style by donning the jersey vest of your favorite sports team and cheerlead them with style!
Usually loose, oversized and long, these are an ultra-cosy option for lounging around or going around the corner for some grocery shopping. However, with the right layering, and the right accessories, these types of vests can make for some truly sleek and classy outfits for all kinds of outings.
Closet Companions: Go sporty-chic with a numbered jersey and curate your capsule with some drool-worthy companions. Sunglasses, baseball caps, chic shorts and high-top sneakers are natural fits with these vests. Go with color and unusual hues to amp up the quirk in this style profile.
4) The Oversize Edit:
In today's anti-fit fashion movement, oversize clothing is the name of the game. Exuding nonchalant coolness and a chill vibe, oversize vests bring in a chic style factor to any wardrobe.
Fashion-forward and relaxed, these types of vests are sophisticated and super Instagram-worthy!
On a chilly winter day, stay cosy and chic in thick knitted oversized sweater vests. Go for oversize vests in thinner fabrics like jersey or cashmere for a relaxed feel. Either way, this one's a stylish addition to your menswear closet.
Closet Companions: Classic chinos, shirts for men, and oversize trousers are a great match for these vests. Oversize vests need minimal accessorising. A statement watch and a pair of sleek loafers or oxfords can do the trick beautifully.
5) The Tweed Number:
Dapper vibes abound with these sleek, structured and uber-stylish types of vests! Look like a boss in well-constructed vests in sleek tweed or suiting fabrics.
Often layered with blazers, these are the ultimate workwear classic.
Paired with chic workwear separates, these can also be mixed creatively with casual garments for an elevated smart-casual look. Often featuring pointed lapels and a single-breast, these lightweight vests are a great way to add panache to your look.
Closet Companions: Sleek trousers, linen shirts, watches and tie-up formal shoes are essentials that pair very well with this sleek look. Go for separates in subtly contrasting colors for a chic upgrade.
6) The Cargo Carry-On:
These types of vests are the go-to option if you are someone who enjoys and regularly engages with the great outdoors!
Ultra-utilitarian, a cargo vest is every adventurous man's must-have wardrobe essential. Perfect for travelling and great for those fishing expeditions, explore nature with ease in these!
Featuring a number of pockets, secure zippers and other hidden compartments, this is the vest for you if you are looking for something that's an easy blend of style and comfort.
Always constructed in a warm, yet lightweight and durable material, this is the kind of separate one must buy for the long-term.
Closet Companions: Ensure you have loads of denim, plaid and cozy cotton baniyans in your closet if you are getting these types of vets for yourself. Earthy colors like tan, chocolate and olive green are a natural fit for this capsule closet.
7) The Long Style:
Are you looking for different types of vests that are chic and classic enough to give you an ultra editorial look?
Well, the long style vest is the perfect option for you! Sleek and unusual, this one will have you looking like you stepped out of a fashion magazine's cover in no time.
We love the chic-ness and the fashion-forward appeal of the long vest. Go for ones that can pair up with both super casual and crisp, formal separates. Opt for ones that make you feel cool and like a superstar!
Closet Companions: Skinny pants, beanies, branded hoodies, high-tops or military boots, easy graphic tees, oversized shirts and interesting prints are some great closet companions to these types of vests.
8) The Camo Capsule:
It's pretty clear by now, that the camo trend is here to stay and has transcended to timelessness in casual fashion books.
A camouflage print exudes cool and outdoorsy vibes, without being dull or drab in anyway. The ways in which the camo trend is incorporated into men's vests is surely street style at its very best!
The ultimate champion of men's summer fashion, the camo vest is a treat for those who are obsessed with trends.
Interpreted in sporty and urbane ways, this is a must-have for those who love to don a chill, but stand-out style.
Closet Companions: These types of vests come in various formats, but they all universally pair well with denims and joggers. Go for wind-breaker styles to add some leg-room to your camo capsule wardrobe.
9) The Banian Zone
Indian menswear is no stranger to the quintessential banian! Lightweight, cosy and casual, types of banians are absolute summer essentials and come in a plethora of prints, colors and patterns in the market.
Just take your pick & carry on!
If you are looking for the perfect vest to accompany you on your travels, or to compliment your beach outfits, this one is tailor-made for you!
Featuring breathable fabrics like thin hosiery or cotton, there is nothing more cozy than these types of vests – except maybe a t-shirt!
Closet Companions: If you find yourself often zoning out in the wanderlust mode, you need a capsule wardrobe to fit in! Curate one around your cosy banians with additions like wicker hats, chappals, beach shorts and a pair of classic sunnies.
Now, you can even look for a customized vest with your own favorite quirky print on it, click on the below image to get your own customised vest. Check our customized tshirt collection.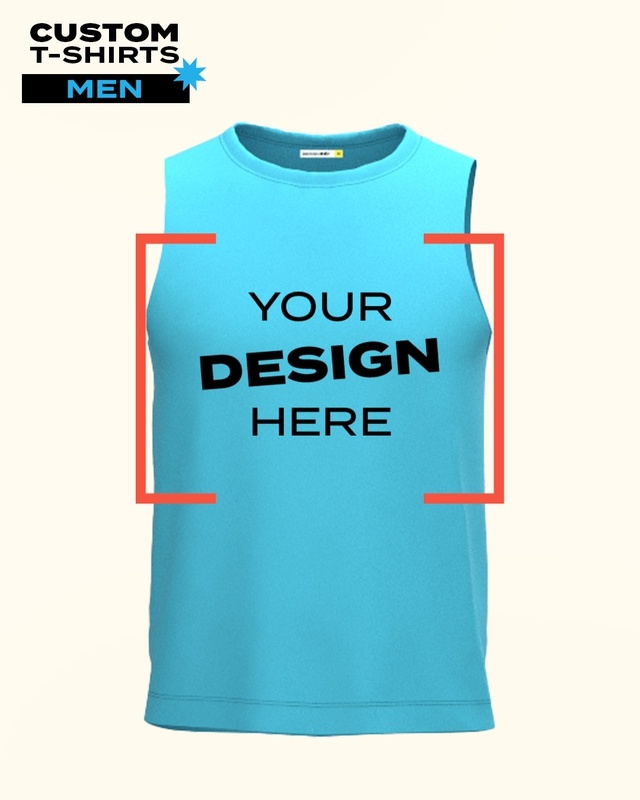 10) The Puffer Mode
A quintessential winter classic, puffer jackets provide warmth and style – all in one go!
A go-to separate for those who love long treks on the mountainside, this is a type of vest that elevates your wardrobe to another level.
Extremely cosy and insulated, a puffer vest will meet all your needs during chilly days and will compliment your winter closet.
These types of vests are best worn in hilly locations in the summertime and look chic and classic when layered with the right garments.
Closet Companions: Curate a classic winter closet with puffer vests. Style them with thick chinos, warm knits and luxurious scarves for a sleek and dapper appeal. We recommend classic colors like black, navy and white to elevate your wardrobe's color palette.
11) The Moto Attitude
Exude ultimate bad boy vibes in a motorcycle vest! A classic emo option, this is a style you need in your wardrobe if you are a fan of edgy and cinematic fashion.
Go for sleek faux-leather vests for a magnanimous appeal!
Rugged and macho, these types of vests are super durable, utilitarian and uber-stylish.
Always adding just the right amount of drama to your outfit, a moto vest is just what you need for a confident style upgrade. Wear these to add some spice to your look and stay prepared to rule the road!
Closet Companions: Dark denims, funky accessories, digital watches and leather carry-ons are the element you need to curate this capsule closet. Go for rugged, earthy tones mixed in with classic achromatic neutrals for a sleek and road-ready look.
We hope you enjoyed our lowdown on classic types of vests and the ways in which you can incorporate them into a well-curated wardrobe. Pick the vest that resonates with your personal style, and set the bar high for styling sleek and upgraded looks.
Still, looking for the vest that's perfect for you and your closet? Check out our handy fashion shopping app and find the one that fits your personal aesthetic seamlessly!
Image credits: The copyrights of the images used in this post belong to their respective owners. The credits where known are specified under the image - if you're the owner of an image and want it removed, please contact us.