Explore various answers to the question, 'how to wear a tie?'. A guide to creating an ensemble by matching shirt and tie. Also, a comprehensive guide on matching suits and ties. Wear them to the office or for formal occasions. You could look classy by referring to this guide. Read along for an extensive guide on formal wear.
It is a known fact that men have always been struggling when it comes to styling and creating coordinates with the limited options in the men's fashion world. Unlike most women, men actually prefer repeating their outfits on different occasions by making slight changes in the ensembles. For instance, changing the shirt and tie paired previously.
Making a conscious decision of 'what to pair with which one?' could be one of the most important questions. Whereas, on the other hand, there are instances where an overload of choices complicates the process of decision-making. Despite all these challenges, the icons like George Clooney, Elon Musk and Leonardo DiCaprio have proved that men do take styling seriously.
Not to forget, the pressure of standing out in the crowd whilst having not many options in the men's section of daily wear has never stopped any man from being dapper in their respective work fields. Let's admit being dapper isn't a child's play for sure.
We don't blame men or the limited options for common appearances. Neither do we define sartorial look as luxury brand apparel. We believe it is all a play of matching the right coordinates. But coordinating different colours and patterns can be a difficult task. It takes years to master the technique of 'how to wear a tie' and 'how to tie a tie' rightly.
By the time you ace it, you find the next challenge waiting right in front of you- the challenge of coordinating the right suit and tie that complement each other. The colour game is much like science where each colour, as well as pattern, are like a chemical and you combine them to form a new formula – a formula that can either make an enduring impression or land you into embarrassment. Although there are some basic guidelines to let you play on the safer side and help you avoid creating fashion disasters, you can wear the most outlandish wardrobe by sporting a trendy t-shirt with your favourite pair of denims. But the challenge escalates when it comes to formal wear game.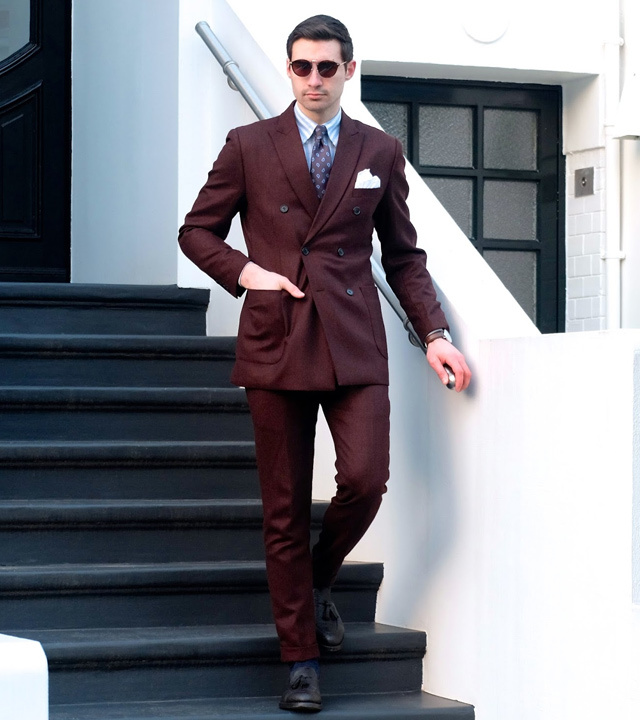 Here are some of the classic suit and tie combinations to keep your dressing game on point and make you stand-out from the rest of the lot in your office. The first one is Solid on solid, can also be called as the classic combination. It is easy to wear and works best for every fashion trait. Here, two solid shades are combined which creates a balance. Then comes solid on pattern or vice versa. The best idea is to alternate both styles for a look. This could be a little tricky as striking a harmony between a shade and a pattern needs a keen eye for aesthetics and a whole lot of confidence to carry it. The last one is Pattern on Pattern. This combination is more like Basquiat's canvas. Different patterns are collated in a manner in which they stand out individually while creating a delightful appearance as a whole. The most important component of formal clothing is a tie. Once you learn to match your tie rightly rest of the components of your ensemble fall into place effortlessly.
Let's break down the theory of how to wear a tie with some of the common apparels in every man's wardrobe.
Suit and Tie outfit ideas for a dapper look
A suit is that classic item of men's wardrobe that can't be avoided by any man no matter to which work field he belongs. And in the ocean of tall suited-booted men, the most difficult task is to stand out with your individual style. In such a case, knowing how to wear a tie or how to wear a bowtie can help you slay in style.
Making Blue Suit Tie Combinations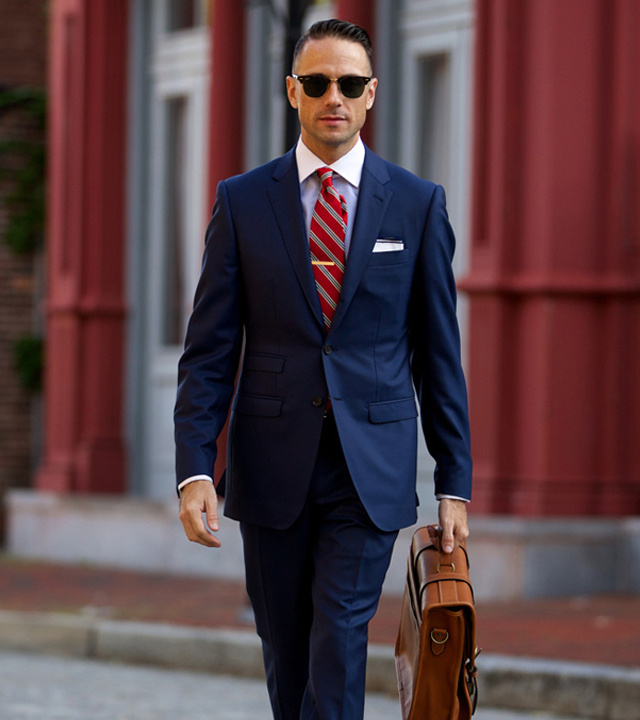 Blue is a cool shade that carries a formal appearance whilst exuding positive vibes. The navy blue suit shirt tie combinations remind us of Mondays. To play it trendy on such boring Monday you can pair it with an accent color. For example, wearing a navy blue suit and red tie. To keep the look muted you can play around by pairing a blue suit tie combination with tie sporting shades of same color family.
Black Suit and Tie styling ideas, a classic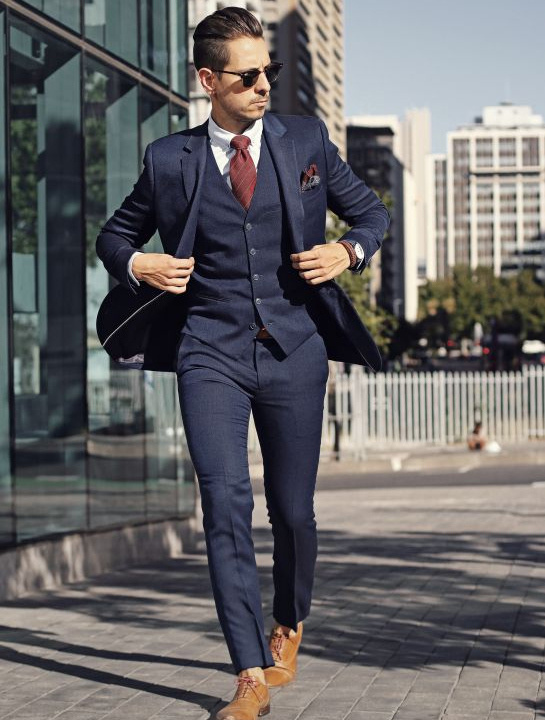 A black suit is the big daddy of men's fashion – a classic apparel and dress code at some of the elite events. Figuring out the best suit and tie combination could be a task because of the commonality of this color. The common combination found is a black suit-white shirt-red tie outfit. Following the monochromatic color scheme, it is the best advice to complement the look with a matching tie sporting a solid shade of same color family or a black and white pattern. To add a dash of mystery to your appearance pair the same combination with an accent-coloured tie, for instance, a black suit with a blue tie.
Grey Suit, Shirt, Tie combination for a vintage look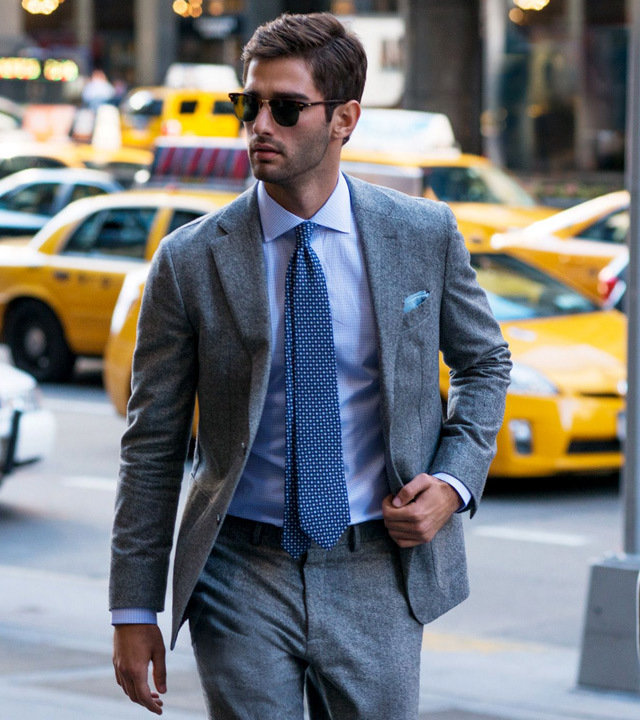 A compilation of vintage charm and modern-day flamboyant vibe, a charcoal grey shirt is a must-have. A charcoal grey suit shirt tie combination can be aced with a navy blue tie and light blue shirt tie combination. To create an elegant dark grey suit shirt tie combination pair it with a matching grey tie. Finding a tie for grey suit can work wonders to make a statement with your outfit. This outfit works best for a client meeting as this colour makes you look sharp and edgy.
Styling Shirt and Tie for a semi-formal look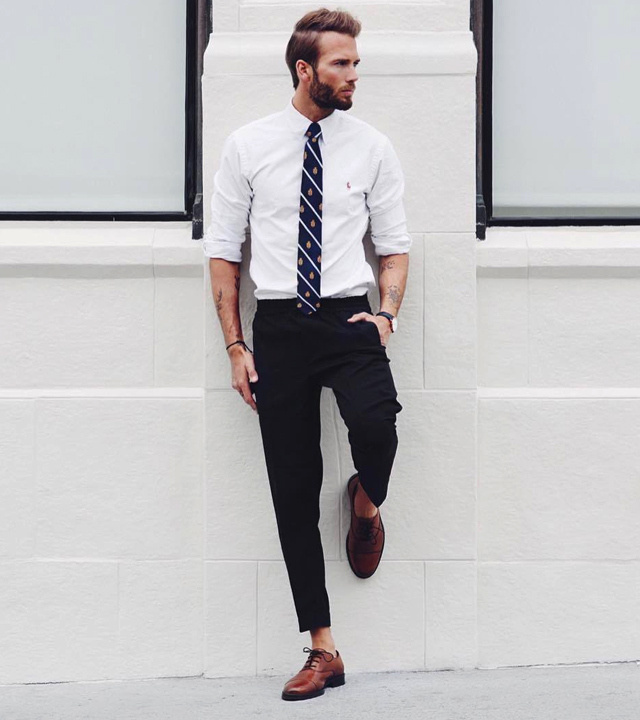 Shirts are the heart of men's fashion and to complement it with a right colored tie is the most crucial part. Taking into consideration the different approach of shirts depending on their pattern, textile and color design; the key to pull off a dapper appearance is to decide the purpose of the occasion and plan your look accordingly. One shirt can be styled in various ways to give different appearances and figuring out how to wear a tie with a shirt could make you a fashion icon. The secret element to do so is choosing a right tie.
Blue Shirt and Tie combination to fight the blues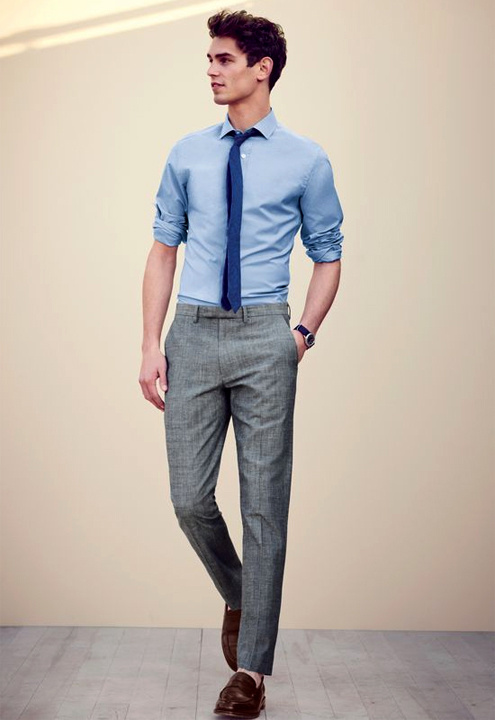 At times when you want to go for a subtle look, light blue shirt and tie combinations work wonder. Pair a blue shirt and tie in the shade of blue. In case you want to create a striking appearance to match with your flamboyant personality, opt for a maroon or a mustard yellow tie sporting a dainty print all-over.
A classic pair of White Shirt with Tie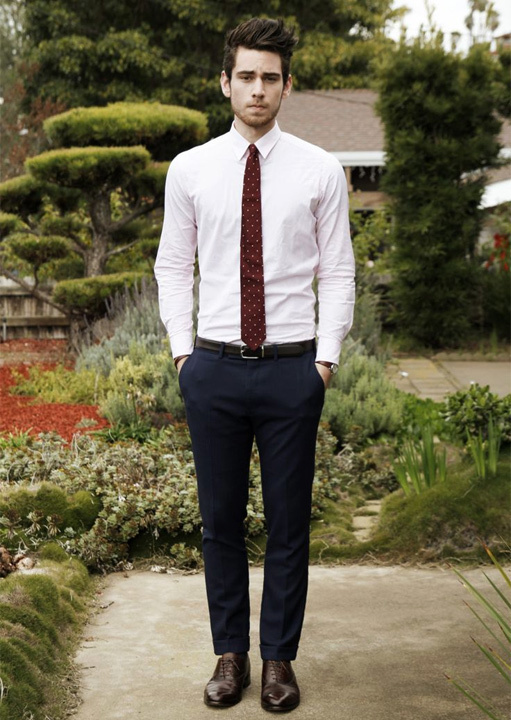 Deceptive and classic, a white shirt with tie is iconic apparel. Be it a meeting at office or party, a plain white shirt and tie combination can bring out the best in your appearance. Although, it goes with almost and literally everything it is advised to pair a white shirt with black tie for a dandy appearance. To add a dash of flamboyance and confidence, you can pair a white shirt with red tie. A white shirt and tie combination will make your life easier because you could pair it with any suit and you will look good. This looks amazing for a wedding or a meeting.
A vibrant Pink Shirt combination with Tie outfit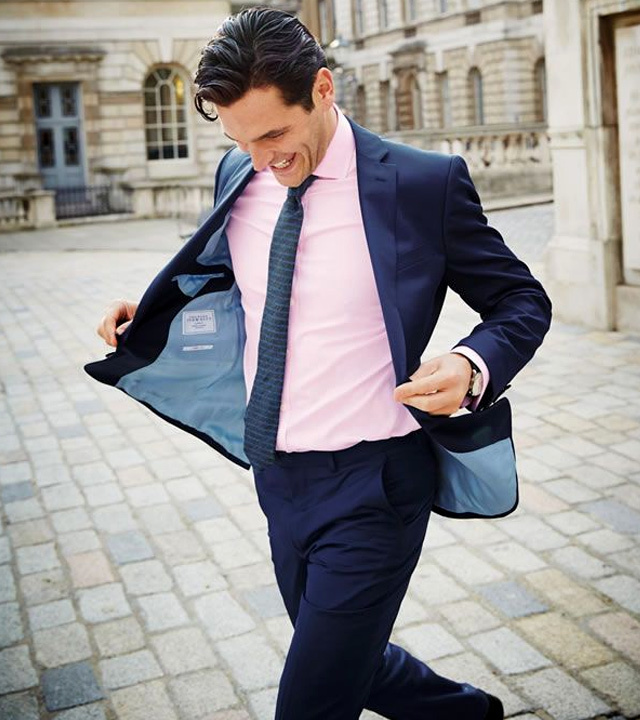 A pink shirt is one of the popular ones found in men's closet. Pink shirt combination with ties creates complimenting appearance. You can create a subdued look using a pink shirt with tie combination and for a zesty look; you can pair it with a purple tie.  This could help you look dapper for a semi formal event.The light colour compliments the vibrant purple to balance the contrast in your outfit. This enhances the charm in your outfit.
How to wear a Bowtie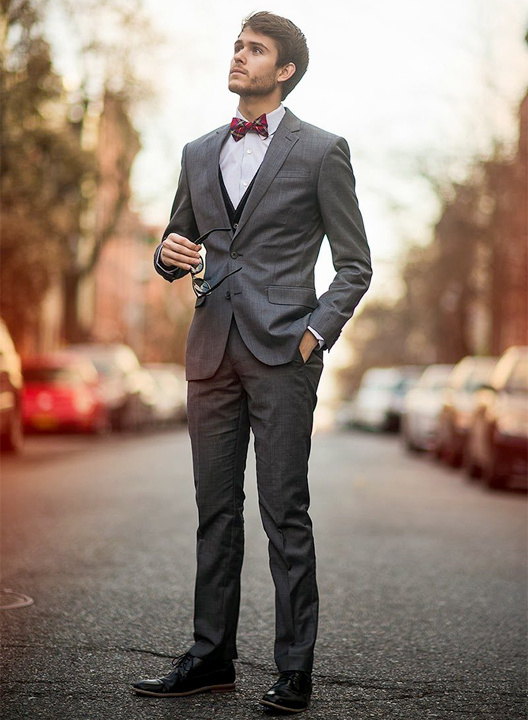 This guideline will help you get a fair idea of pairing a tie with different types of shirts. In case if you are wondering 'how to wear a bowtie?' instead of a tie, it too applies the same logic as above examples and creates some trendy shirt and bow-tie combinations.
You can experiment following the above-mentioned examples for pairing a bow-tie with suit. As Oscar Wilde has said, "A well-tied tie is the first serious step in life". We say choosing a right tie is the second.
Image credits: The copyrights of the images used in this post belong to their respective owners. The credits where known are specified under the image - if you're the owner of an image and want it removed, please contact us.