Comfort that equals a warm cup of chai on a rainy day. Ease of movement and function like no other. Endless option for styling, accessorizing, and aesthetic posturing on the gram. Oversized T-shirts outfit ideas encompass them all.
The very definition of 'casual-chic', oversize boyfriend t-shirts are exactly what you need to stay comfort-oriented while slaying every #ootd trend like the boss you are. Classic, size-inclusive, and available everywhere in a plethora of styles; wearing XXXL t-shirts or t-shirts 3 times larger than your actual size, is the ultimate millennial and gen-z statement.
So, how does one go about building a wardrobe around this ultra-cozy essential and style it in unique and fashionable ways? Well, we've got quite the list for you. Read through some of our fave comfort zones within the oversized t-shirts trend, and discover styling tips and tricks that will help you build a formidably chic collection of supersize Ts.
P.S: Watch out for recommendations from our online store underneath each of our style ideas, to help you make them your own with just the click of a button – enjoy!
Oversized T-Shirts Outfit Ideas –
1) The Hyper-graphic Zone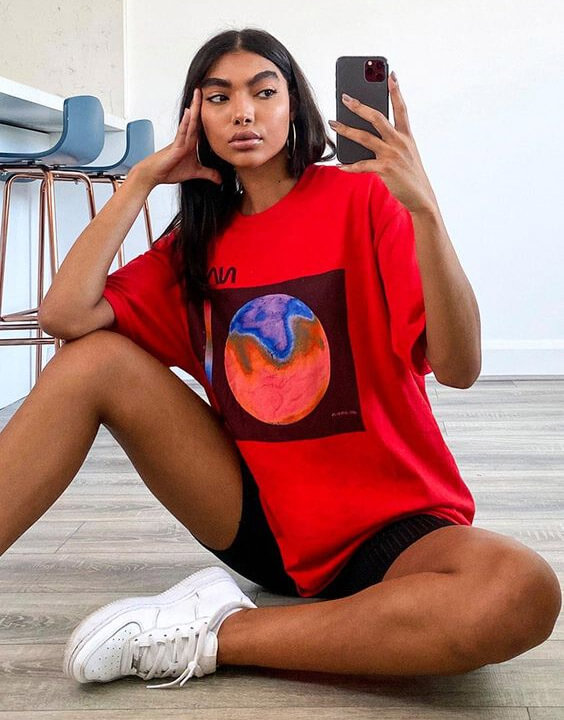 There's just no denying it. It's the era of graphic tees. From YouTuber merch to social media memes, the digital age has played a huge role in propagating this beloved fashion movement. Thanks to graphic art and digital prints becoming increasingly accessible, there is a graphic t shirt out there to suit every persona and style sensibility.
Oversized graphic tees are an enduring trend on social media feeds and look great when styled with other casualwear classics, such as light blue denims. Tuck them in, and belt it all up for a good measure, to seal in that artsy charm.
An opportunity to play with colors and visual patterns, exude your coolness by pairing your XXXL t-shirts in fun graphic prints that express your personality. Love Sci-Fi? Say that with your T-shirt. Love Vintage photography? You're sure to find an oversize style with a retro print on the internet.
Bewakoofiyaan: Get funky with our too-cool-for-school graphic printed boyfriend tees. Dress it up oversize-style.
2) The Cinched & Belted Zone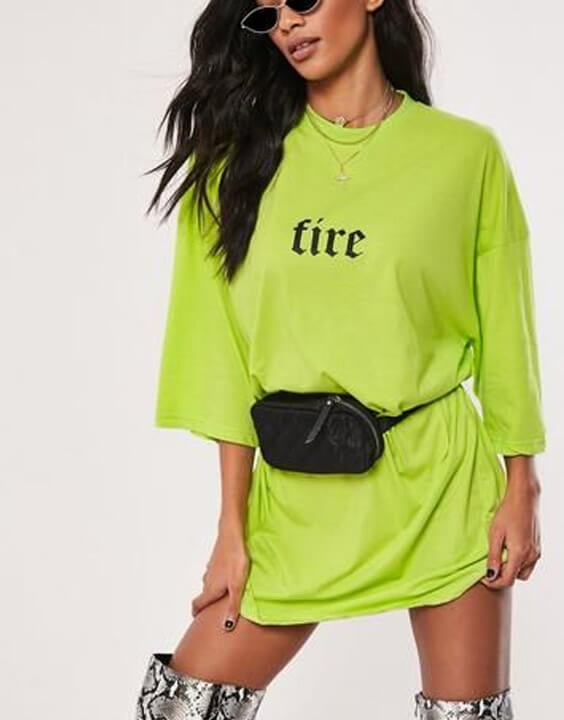 Ahem. The most fun thing about oversized tees is how LARGE they are. If you can also find one that's long enough, well – it's good enough to be a t-shirt dress! Cinching an oversize t-shirt dress is the surest way to ensure you look uber-stylish while staying relaxed and cozy.
Cinch in your favorite oversize t shirt dress with a strappy, adjustable belt in a matching color to conquer that chic, minimalist appeal. Pair this combo with boots and a cross-body bag if you're feeling a little extra. Casual and clean – there's a style charmer.
A combination of sunnies, an oversized t-shirt and a chic bum-bag used to cinch your tee in place of a belt, is quite the #ootd. It's all you need for an extra fierce oversized t-shirt lewk with minimal effort and fuss.
P.S: Don't forget that face mask. Also, the bum bag can carry your phone AND a bottle of sanitizer. Stay safe and sound – we love y'all!
Bewakoofiyaan: Need a t-shirt long enough to be a dress? We've got you covered – just remember to size-up for the oversized appeal. Check out our t-shirt dresses now, thank us later.
3) The Minimalist Zone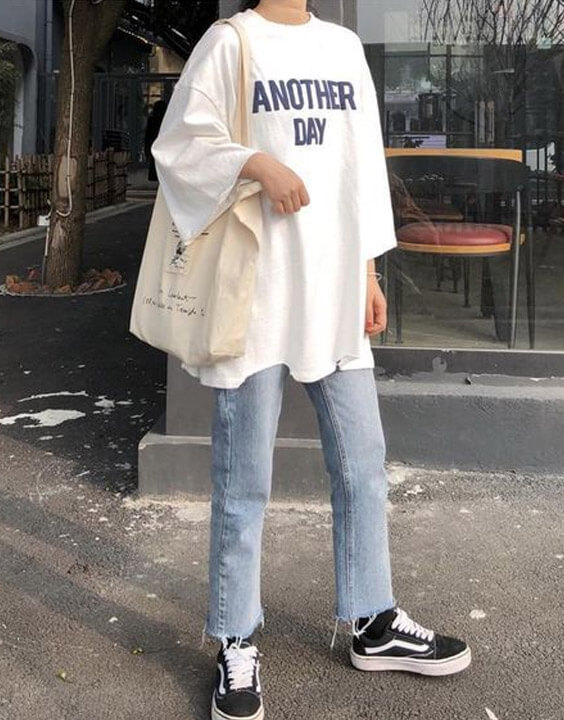 If 2020 has taught us anything, it's the value of minimalism. So many of us are now realizing that we can survive with just two pairs of jeans and a handful of tees. Including an oversized version into your minimalist aesthetic, is just what your 2020 wardrobe needs.
Go for sleek, calming neutral colors when picking your oversized minimalist t-shirt. Also, keep accessories and add-ons minimal – obviously.
An oversize t shirt with a simple one-liner expressing that minimalist vibe, a pair of vintage-wash denims, classic but durable sneakers and an eco-friendly shopping bag, are the right ingredients for channeling a minimalist subculture into the oversize t-shirts trend.
Bewakoofiyaan: Here's one of our neutral colored boyfriend t-shirt to your minimalist rescue.
4) The Layered Zone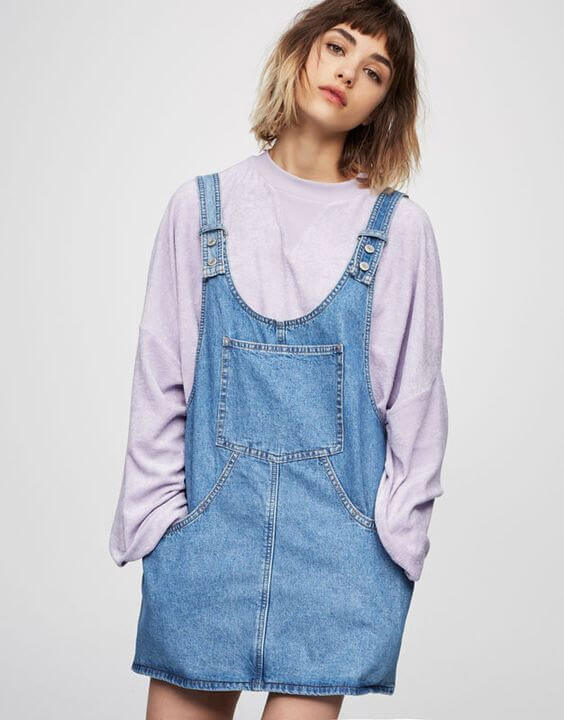 When it comes to oversized t-shirts, layering is the name of the game for a unique and spectacular casual style. Combining the comfort of XXXL t-shirts with the high-end appeal of garments otherwise considered more 'formal', you can put together a stunning hybrid look that is sure to be a standout!
Wear your oversized t-shirt under a loose, slinky slip dress with spaghetti straps for a one-of-a-kind look. Style this combination with a pair of sneakers for a nonchalantly stylish allure.
XXXL t-shirts or ones that are at least 2-3 sizes up, provide all the room you need for top-wear layering. Nail this styling trend by layering your oversize tee over a shirt and belt it all in with a pair of statement trousers.
Another way to take the layered look to the next level is by teaming an oversize tee with denim overalls. Go for pant-style overalls or a skirt patterned one – either way, this is the epitome of casual-chic streetwear style.
Bewakoofiyaan: Ladies, go supersize with these stylish menswear full-sleeved t-shirts and layer them with the above options for an unforgettable casual look.
5) The Shorts Zone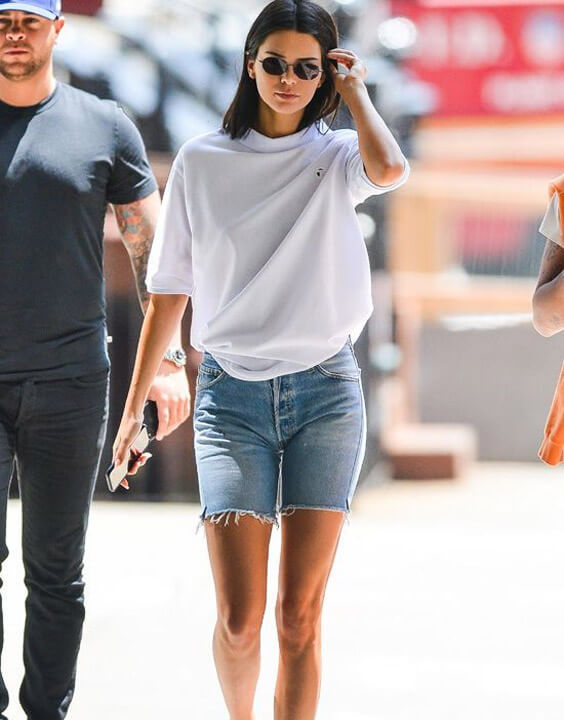 T-shirts and shorts are an ever-enduring pair – like Tom & Jerry. Or movies and popcorn. They just go together seamlessly. Cozy, effortless and the perfect option for 2020 lounging, this one's a casual classic.
Popularized by the mega-influence of the Kardashian clan, oversized t-shirts with biker shorts, is the newest wrinkle in the casual wear realm. A sleeker version of the t-shirt and shorts combination, without compromising on functionality, this outfit idea will give you wings.
However, the most timeless type of shorts are denim and cargo shorts. When paired with graphic tees, they are a powerful combo. Style these with high-top sneakers and chic sunglasses for an out-and-about look.
Bewakoofiyaan: Want a tough, but casual look in army green? Check out these cargo shorts. Style them up with woodland boots for a good measure.
6) The Workwear Zone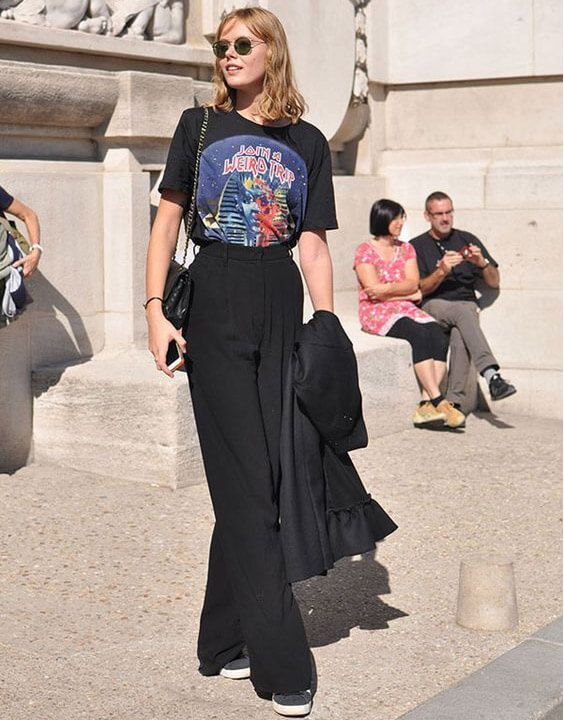 This year has been nothing short of revolutionary for workwear. The t-shirt has finally creeped its way onto this particular fashion roster. Working your oversized t-shirts into your workwear needs only one companion – a classic pair of trousers.
When styled with quintessentially workwear accessories like a messenger bag and pointed-toe shoes; an oversized t-shirt tucked into a pair of crisp trousers can make quite the workwear statement.
Picking the right colors are key to conquering this look. Stay in the neutral and achromatic zone to get it right. Tan, beige, blacks and whites are the way to go. Try not to go for extremely over-the-top printed t shirts for women, unless you are wearing a blazer.
Bewakoofiyaan: We've got just the right neutral color blocked boyfriend t-shirt to get you going. All you need to do is tuck it into a pair of well fitted black trousers!
You can look for quirky printed t-shirts, or even get your favorite print printed on our classic premium quality t-shirts. Check out our customized t-shirts collection by clicking the below image.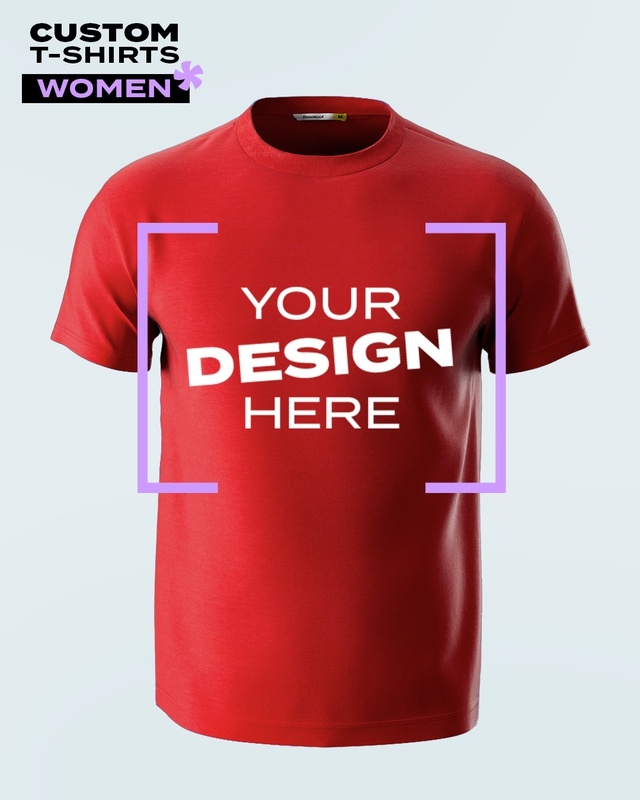 7) The Punk Zone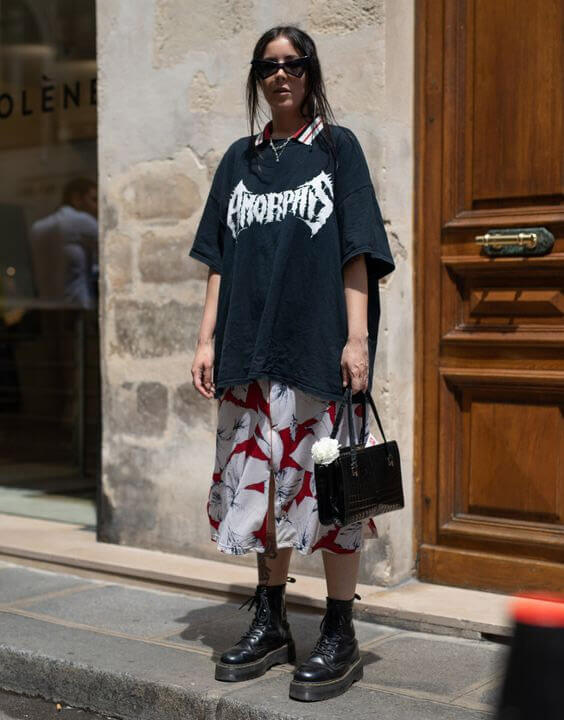 Fair warning: this trend is not for the light-hearted. Oversized t-shirts have had a long standing stake in the punk-rock subculture, and they can help you look as grungy as hell. Literally.
Intrigued? Layer your favorite oversize band t-shirt over a printed dress (preferably in grungy colors like reds, blacks, olive, greys, and dull whites). Add platform boots or lace-up military style boots to pile on the grunge. Messy hair and red lipstick is a must.
A more low-key way to keep things punk would be to pair your oversize printed t-shirts for women with artfully ripped denim. Wear sunglasses with sharp edges, a dark lipstick, and some unique junk jewellery – et voila! You have a watered-down but super-cool punk-rock look.
Bewakoofiyaan: Need a graphic tee with enough grunge for this style? Look no further than this peace, gun & flower printed boyfriend t-shirt.
8) The Pleated Zone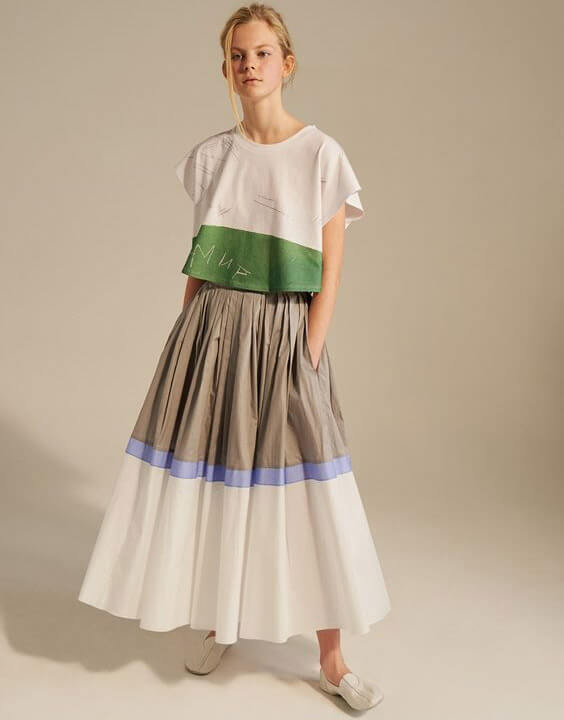 Looking for a more feminine, but unique alternative to style your boyfriend t shirts and oversize graphic tees? Enter: The pleated skirt. Chic, unapologetically girly and sure to make you look stunning, a pleated skirt is a welcome respite to the overtly casual vibe of the oversized tee.
Tucked in, or tucked out – this style has a vibe so playful & nonchalant, that you may find yourself skipping through the day. Go monotone, metallic, or simply layer these two separates – little can go wrong with such a dynamic combo.
A cropped version over a fuller pleated skirt can be the casualwear embodiment of a desi lehenga look for 2020's stay-at-home Diwali. Pick coordinating colors with the right accessories and you are sure to set a new standard for staycation festivities.
Bewakoofiyaan: Tuck in & belt up – this beige boyfriend t-shirt is sure to pair well with any pleated skirt.
9) The Mini-skirt Zone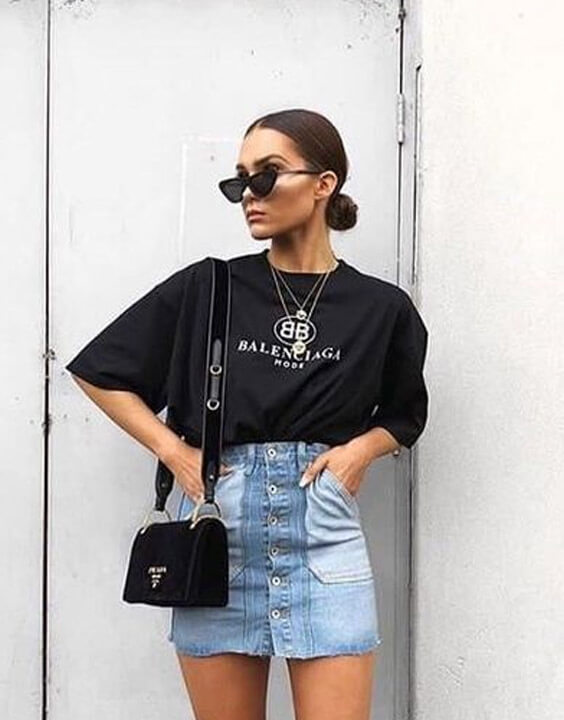 We love the 90s miniskirt. Regardless, let's be honest. The only way to wear one in 2020 and still look stylish is to pair it with oversized t-shirts. A total glam and city-girl vibe, this outfit idea is for all the shorties who love shorter styles.
A denim mini is the easiest way to style this look. Just like denim shorts, this is a classic combo. Pair these up with a crossbody bag, high-top sneakers, sunnies and a messy bun for an uber-chic casual look.
Any mini-skirt outfit can however look a little outdated and tawdry if not worn in the right colors and with the right separates. Rock a dark-colored mini skirt with a plain, casual and utterly neutral oversized tee. Each of these separates is sure to balance the other out with their appeal. The extreme casual-ness of the t-shirt will help the mini-skirt look just the right amount of low-key glam.
Bewakoofiyaan: We love this island-blue boyfriend t-shirt for its ability to blend in with any neutral bottom – especially a denim mini.
10) The Cropped Out Zone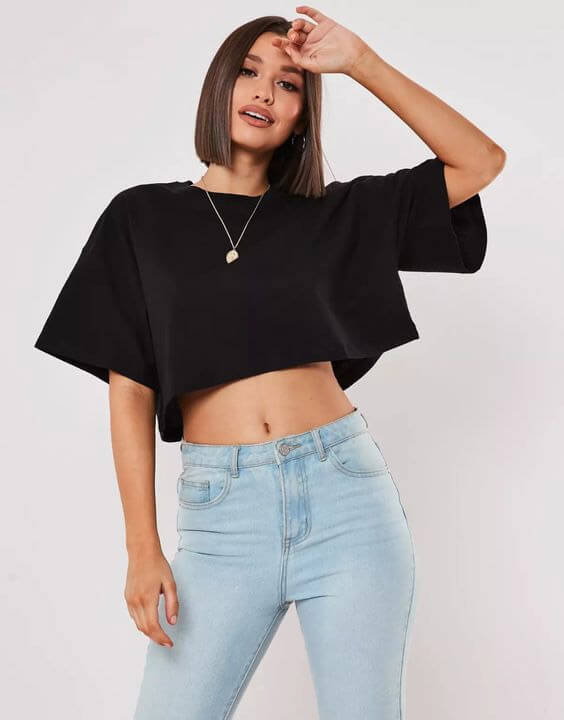 A great way to wear your super loose XXXL t-shirts if you find them too overwhelming is to crop them. You can buy cropped tees in sizes that are 2-3 times larger for you, or you can easily make them with a piece of chalk, and a pair of scissors. Either way, we're stans of this version for its effortless look and appeal.
Simple, casual and chic – make a cropped statement with this outfit idea! Pair it up with minimal jewellery, denims, high waisted trousers, or even calf-length skirts. These types of oversize t-shirts look great with all kinds of bottoms.
Pick a bright cropped oversize tee and pair it with trousers for a look that's ready to paint the town. Booties, sneakers, satchels and totes make for great accompaniments to this style. Trust us, there isn't a more chilled out style.
Bewakoofiyaan: Go at least 3 sizes up on our range of crop tops to nail this look!
Oversized t-shirts are everyone's comfort zone. Across ages, genders, style aesthetics and sizes, this is the one garment that stays steady in its appeal. We hope you love the recommendations from our online store and do your best to make these awesome style ideas your own!
Image credits: The copyrights of the images used in this post belong to their respective owners. The credits where known are specified under the image - if you're the owner of an image and want it removed, please contact us.