Durga Puja is one of those grand celebrations that hold a lot of sentimental and cultural value. What to wear in durga puja? is a heavy question, given that Durga Puja is just around the corner. With this blog we aim to find the perfect durga puja dress for you, taking inspiration from our beloved bollywood celebrities.
Choosing an outfit for any occasion is super difficult but choosing 'the right outfit' for something as grand and culturally significant as Durga Puja is a 'dilemma of another proportion'.
We understand,with the many outfit options available it's not easy to pick the one perfect to your taste but do you even have to worry when you've got us? Absolutely not!
Just stick around and let us help you out! Be a 'local fashion icon' taking inspiration from our compilation of celebrity styles.
Traditional outfits that could be your potential durga puja dress-
1.Rule like Alia in the evergreen ANARKALI Style!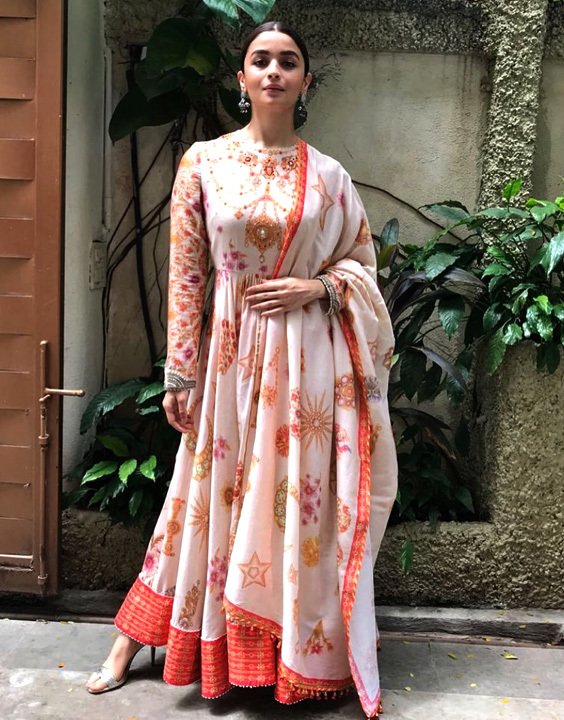 There are times we find ourselves fangirling over the graceful flow of beautiful Anarkali suits, what great opportunity to flaunt one at a durga puja pandal.
A pink anarkali suit with minimal, silver or golden embroidery can be a nice way of amping on those festive feels.
Delicate and modern print anarkali suits like this one sported by Alia can be a perfect outfit this durga puja. Hair tied in a bun or braid, keeping mind of the october heat would make for the most practical durga puja hairstyle.
2.  Ethnic skirt with top- love the ethnic vibe!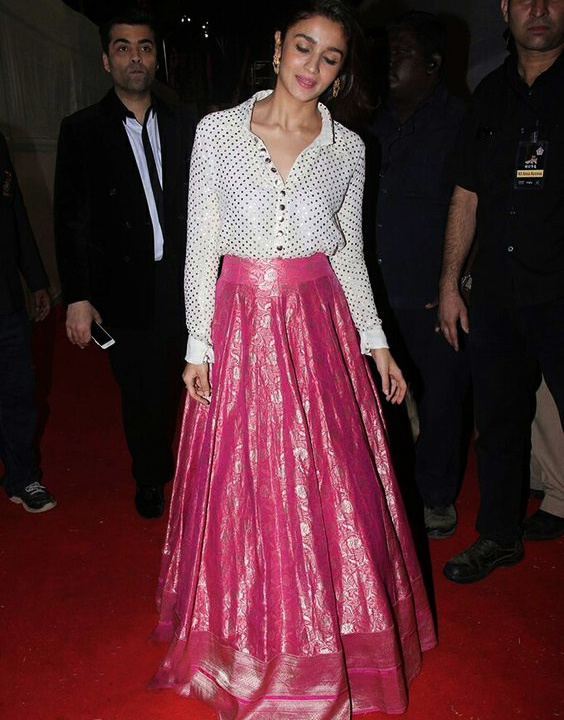 Taking inspiration from another Alia hit!
You'll see many beauties from B-town and perhaps your town too, wearing this fusion outfit for various occasions.
We think this fusion ensemble fits the mood and need of this navratri season. It's comfortable, festive and charming, making it a great choice for durga pooja. Wearing ethnic jewellery like jhumkas and baalis would be a great idea.
This combination is going to be the durga puja fashion trend 2018. We wouldn't want you to miss out.  
3. Regal like Lolo in a festive LEHENGA CHOLI!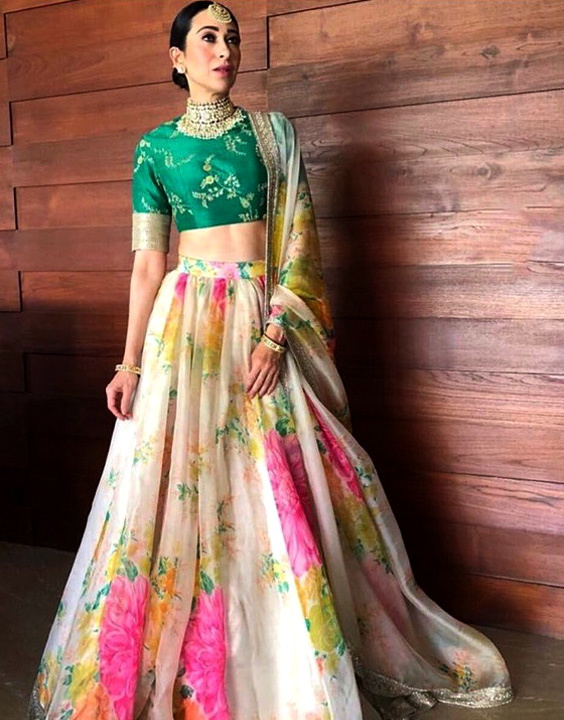 We are living for this Karisma ensemble. It's everything that a festive look should be, also it's another plus that it's free of any OTT embroidery, patchwork and busy prints. It's colourful and refreshing. We suggest a similar contemporary lehenga choli set for you too.
Accessorise with chunky silver jewellery or a classic pearl set and there you have a great look!!
4. Be 'Bomb.com' like Sona in LAL PAR SAREE – Flaunt the bengali traditional look!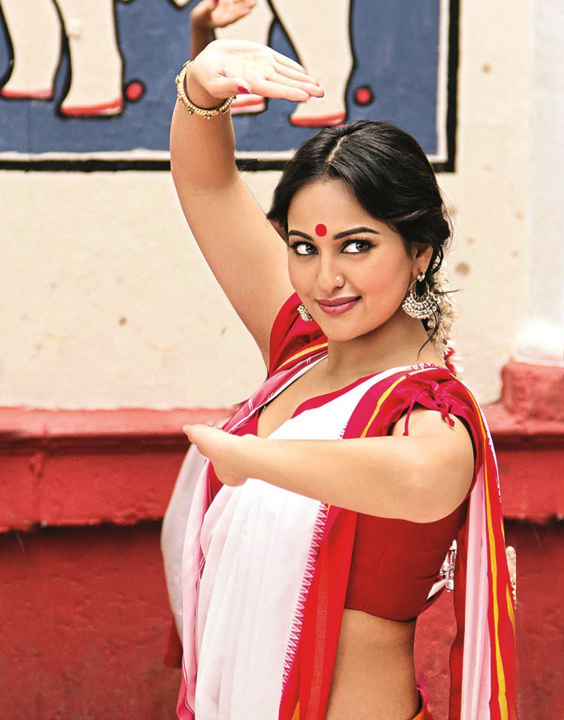 You can't deny the grace and intriguing beauty of this simple white saree with red borders. Lal par saree, a  bengali traditional dress is every bong woman's favourite, tbh we see the appeal in this one especially in the bengali dressing style as worn by Sonakshi here. This saree suits well on all body types and gives one a very womanly look.
Lal par saree is 'the' outfit for Durga puja 2018!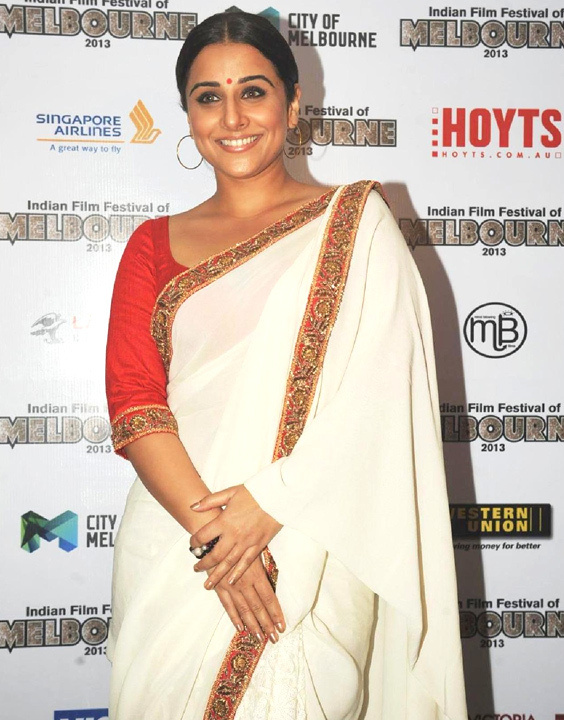 If this bengali traditional dress is not a favourite with you, then perhaps a contemporary variation of the same could do the trick for you. Forget the bengali drape and compliment the modern saree by draping it the casual way.
Let Vidya Balan flaunting this modern variation be your style inspo! An important add-on, btw! Choose the right kind of Bengali make up for durga puja to compliment this look.
5. Shine like Bebo in a shimmery SHARARA!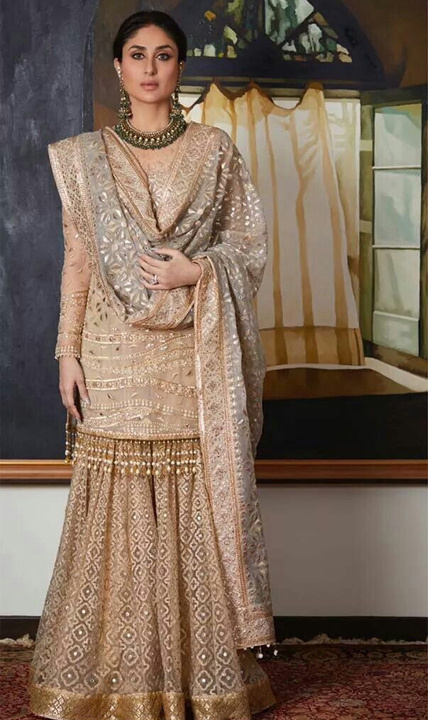 Sharara suit is great for you if you're the kind who likes to have enough room to move. This one is our personal favourite, we love how the sharara pants form the skirt illusion towards the bottom.
Why a sharara should be your choice of outfit, you ask?
-One, it's comfortable. You know how hot the durga puja pandal can get!
-Two, shararas have an old world flair to them which is irresistibly charming!
A sharara piece in colours like beige, cream, pink, red would work beautifully for a day puja and if you want to oomph your look for the night you can go all out with rich, dark colours like royal blue, olive green, black or maroon. Also for the night don't be scared to try on a 'Shimmery Sharara'.
END NOTE:
We think we've given you enough outfit ideas to experiment and establish your signature look, this durga puja.
Remember 'COMFORTABLE and CHARMING' is key to a knock-out look!
Happy Durga Puja, fashionistas!
Image credits: The copyrights of the images used in this post belong to their respective owners. The credits where known are specified under the image - if you're the owner of an image and want it removed, please contact us.