Who doesn't love Bollywood Hindi Action movies? Be it India or overseas, Bollywood & its movie stars have their own identity and fan base. Hindi Cinema covers a multitude of genres, romantic stories ruling the heart of it. Having said that, one thing that most Bollywood directors seem to love is the concept of a beautiful "Damsel in Distress" and these damsels definitely need rescuing. Like we all know, to be rescued every damsel needs her own knight in shining armour and what do knights do? They fight a bunch of villains right? Well, not exactly when it's Bollywood that we're talking about. I mean yes, they fight villains but no Bollywood film is ever complete without drama, romance, some more drama, a lot of cheesy songs, at least one item number but most importantly, it has to have buckets full of action scenes!
So here we are, discussing the most sought-after genre of Bollywood that involves a lot of frantic chases, beatings, physical fights, violence, heavy dialogues and a lot of aggression. Everything that you shouldn't be even thinking of doing in real life.
Also, a friendly disclaimer- Hindi action movies are mostly meant for entertainment & their ideas should be confined only within the four walls of cinema halls that we watch them in.
List of Bollywood Hindi Action Movies-
1) Dhoom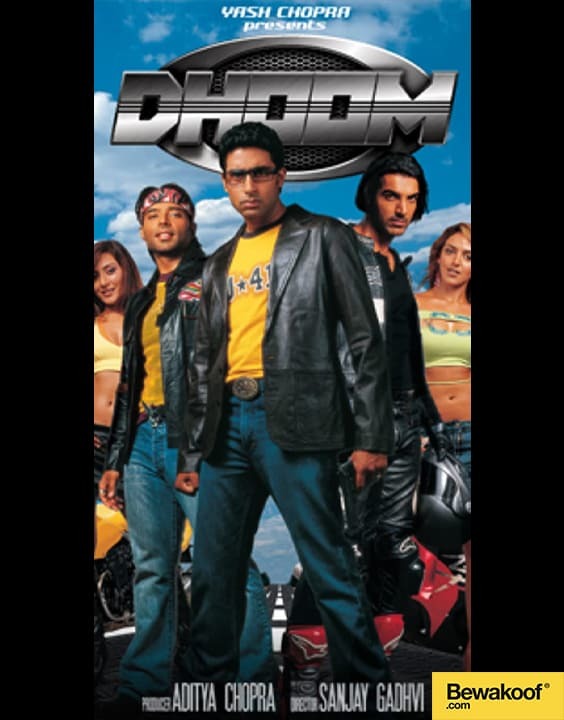 This movie needs no introduction. Dhoom Macha le, Dhoom Macha le Dhoom! This song was the Indian youth anthem once upon a time.
The Dhoom franchise is popular for more reasons than one. All installments have been blockbuster hits. Filled with a lot of intense action, thriller, romance, drama, A league of actors as cops and thieves, engaging plot of run and chase, this movie had all the components of making it to the millionaire's club! With a budget of $42 million for 3 films, the Dhoom franchise made a collection of $177 million for 3 films.
The antagonists deserve more praise than the protagonists in this movie. It wouldn't be wrong to say that this movie changed the Bollywood action movies scenario altogether with its refreshing storyline!
2) Singham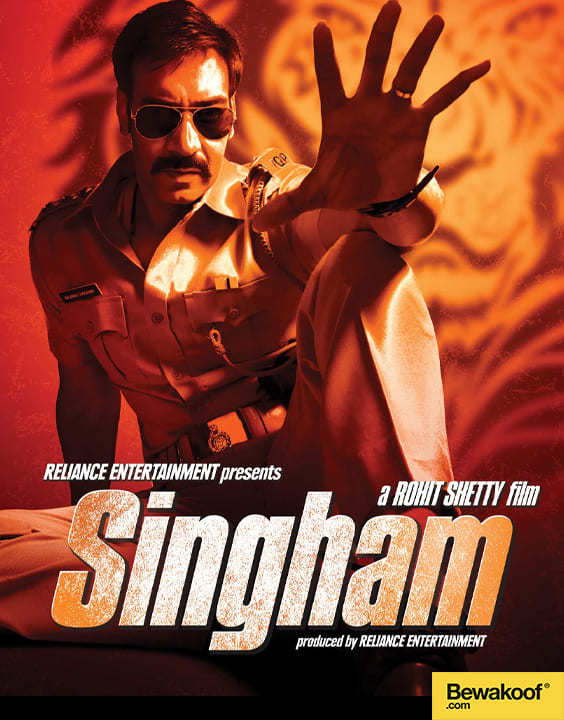 This film pretty much established Ajay Devgn as an action hero of the mighty Hindi action movies. It was certainly a turning point in Ajay's career. With a budget of $40 million, this movie made a whopping $1.57 billion. Not to forget the dialogues and the songs that took this film to newer heights. No one's averted from the fact that Rohit Shetty films are popular for their car flying and car crushing scenes. Add a versatile hero, a superb villain and ultimate direction to that, Singham being the byproduct you get. It wouldn't be wrong to say that this movie was a treat for the general Hindi action movies loving public.
3) Uri – The Surgical Strike
This is a new Hindi Action movie that has been rated a glorious 8.2/10 by IMDB, this one makes it to the IMDB's must-watch movies list. Not many action latest Bollywood movies have made it to the above 8 list of IMDB. So what makes this one special? Remember the dialogue, "how's the josh"? It instantly reminds one of this movie and of course of the dreamy, ever so gorgeous Vicky Kaushal. With 97% of viewers liking this movie, it sure had to have some substance.
Right from the plot to the highly charged action scenes between Major Vihaan Singh Shergill (played by Vicky Kaushal) and the militants had the audience hooked onto their seats. Based on true events of retaliation and a surgical strike against the militants by the Indian army, this movie sure had some sentimental value as well.
4) Mardaani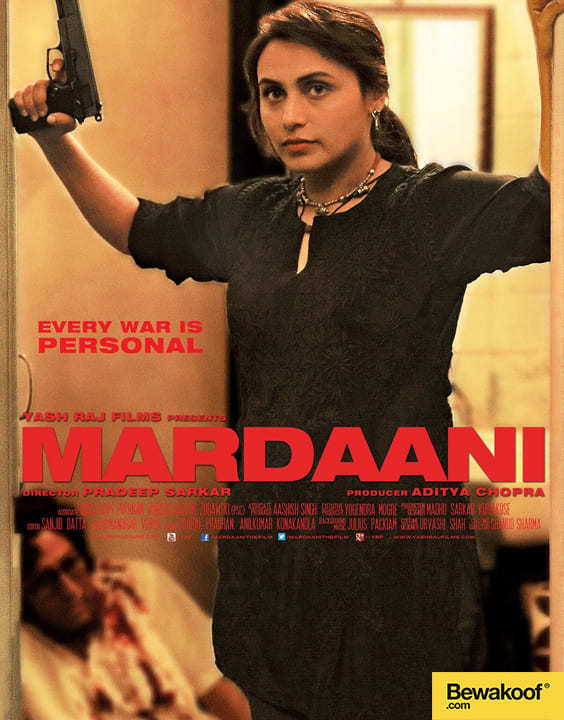 Not all Hindi movies are led by men. We have our own female heroes in Hindi Action Movies too just like we do in real life. We saw Rani Mukherjee in a leading role as a cop named Shivani Roy in Mardaani. Her commendable acting skills made her role look effortlessly brave & powerful. It takes immense courage to uncover and nab child trafficking cartels and she does that courageously in this power-packed film. Right from dealing with these traffickers to chasing and nabbing them, she does it all fearlessly.
5) Bandit Queen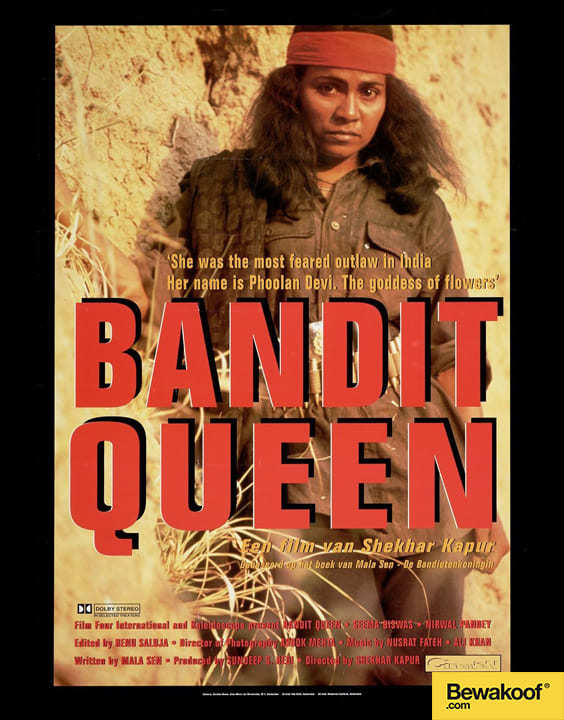 A movie far ahead of its time led to it getting banned in society. Our audience perhaps wasn't as ready and seasoned as it is now to accept a woman lead in Hindi action movies. Also, the plot in itself is quite gruesome. Based on a real-life story, this movie was a cinematic adaptation of the events that happened in the life of Phoolan Devi.
If you didn't already know, Phoolan Devi belonged to a lower caste and was subjected to major atrocities like most rural lower caste women had to endure back in the day. She was not just discriminated against based on her caste but also raped multiple times.
However, a change in fate led her to become one of the most powerful and feared leaders of the gang of bandits. She was popularly known as the Bandit Queen. Hence this movie with the same name. Soon after its release, the movie was censored by the Censor board for its violent content. Seema Biswas who played the role of Phoolan Devi rose to prominence and won the National Film Award for Best Actress for this movie directed by Shekhar Kapur.
6) Dabangg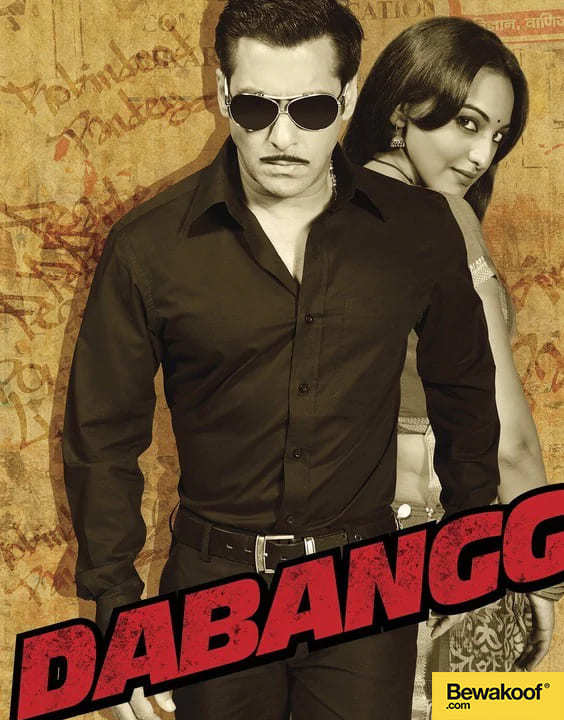 If the Khans rule Bollywood, Salman undoubtedly rules the Hindi action movies arena. Most action movies being dished out are produced under his banner. It all started after Dabbang gained immense popularity and made close to 3 billion dollars at the box office. It essayed the story of a small-time cop in UP named Chulbul Pandey played by Salman Khan, his own way of fighting against corruption and the roadblocks he faces created by Chhedi Singh played by Sonu Sood in a negative role.
The movie gained popularity because of its violently comical dialogues and action scenes. If there's anyone who can manage action and comedy together, it has to be Salman.
7) Sholay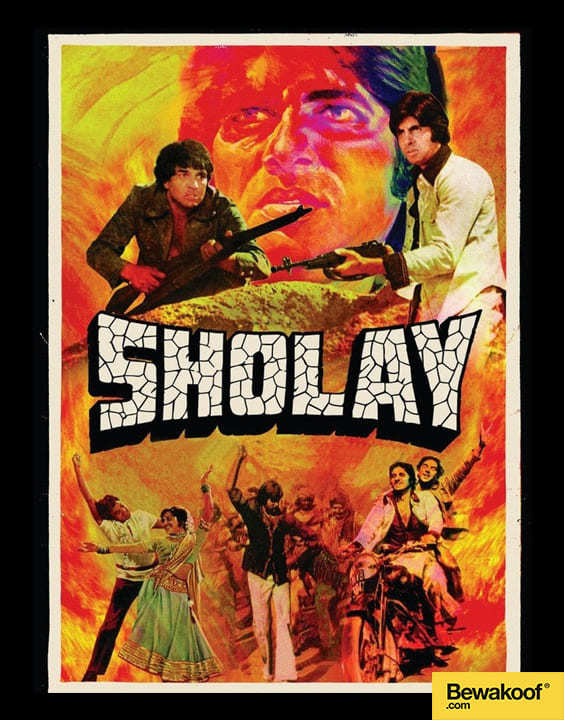 One of the cult classics from the Hindi Action Movies collection, Sholay!
Rated 8.2/10 by IMDB & 92% by rotten tomatoes, this one had to feature on the list.
Be it Amitabh and Dharmendra as Jai & Veeru or Hema Malini as Basanti, this movie was not just packed with iconic action scenes but also had all the other elements like romance, drama, comedy, a good story, and A-listers in leading roles, dream girl as its' heroine and a super-villainy villain Gabbar. With all those elements, this one was very clearly set out for success.
The storyline itself is pretty simple. It revolves around Jai and Veeru who are hired by Thakur – an ex-policeman who has no hands to nab the notorious goon Gabbar. Jai and Veeru are set out to catch Gabbar who's created unrest in the village of Ramgarh.
8) Satya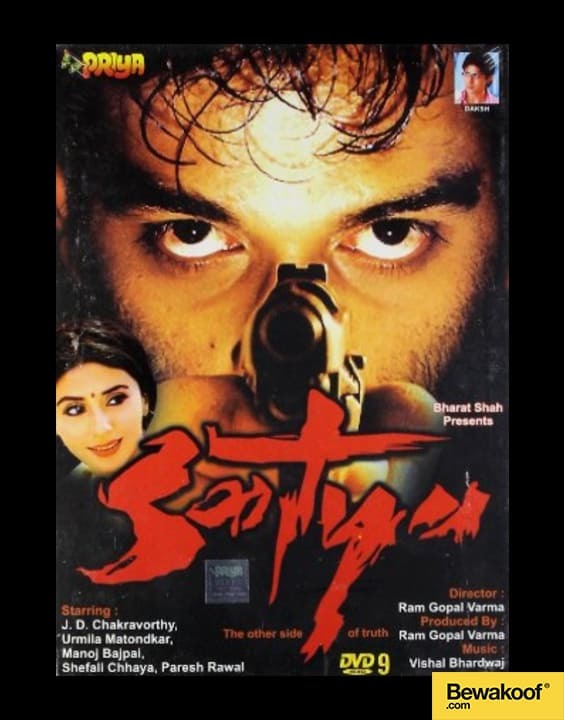 If you don't remember this movie by its name, you're sure to remember it by the song "Goli Maar Bheje Mein" or Kallu Mama, or Bhiku Mhatre or the protagonist itself, Satya.
Yet another classic from the past, this one was released in the late 90s. Rated 8.2 by IMDB & 90% on rotten tomatoes this is by far one of the most exemplary Hindi action movies. Satya movie was directed by Ram Gopal Varma, written by Anurag Kashyap and enacted by J. D. Chakravarthy.
This one saw quite a few powerful performances. Popular in the South, JD gave a power-packed performance in this movie. From grilling shooting scenes to beating up goons to nabbing the real culprit, this movie was revolutionary in terms of drama, action & everything in between.
9) Ghajini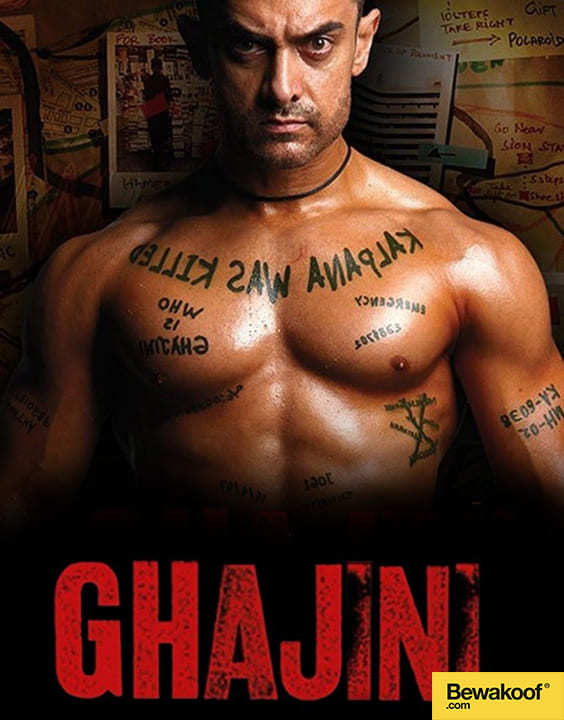 Your first idea about this movie may not necessarily be an action movie. It's basically a story of true love and loss that leads to a lot of violence and action scenes. Sanjay Singhania (Aamir Khan) who happens to be a big-shot business tycoon falls in love with a common girl (Asin) who eventually gets killed. Although Sanjay is a business tycoon, he suffers from short-term memory loss issues which makes it difficult for him to lead a normal life.
Taking the help of cues and tattoos that he surrounds himself with and covers his body with, he sets out on a journey to find his lover's killer named Ghajini whose name he tries very hard to remember. It turns into one of those enthralling Hindi action movies when Sanjay and Ghajini come face to face!
10) Ab Tak Chhappan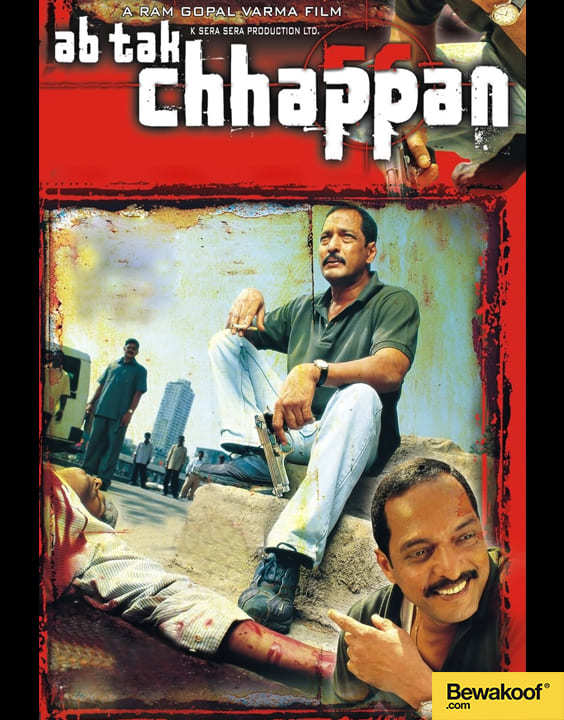 With Nana Patekar in the main lead as Sadhu, the righteous cop popular for his number of encounters, this movie focuses on how Sadhu tries his level best to eradicate the underworld from our country. Being a righteous cop leads him to face rivalry not just from the opposition but also from within his team. As a result, things start going awry personally and professionally.
Despite losing his wife and his job both, he still continues his drive for the eradication of crime. If you are someone who loves watching movies that are full of action scenes, then this crime-action movie should be on your "to watch" list.
11) Vaastav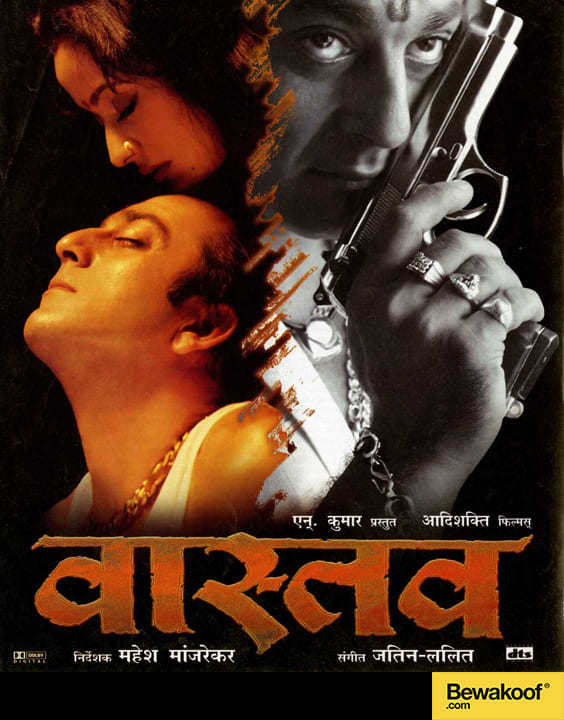 This is one of those Hindi Action Movies that you just can't get out of your head. It's the one that sticks around. Starring Sanjay Dutt as Raghu the main lead, this masterpiece was written and directed by Mahesh Manjrekar. Released in 1999, every 90s kid is bound to have some memories related to this movie. The Uber popular dialogue "50 tola, 50" comes from this movie.
The storyline, the action scenes and the climax of the movie is what made this movie so engaging. From Raghu, his friend and his brother trying to simply earn a living through their pav bhaji stall to them converting into criminals from the underworld through chance killings, this movie depicts the story of Raghu grippingly! Rated 8/10 by IMDB and 95% on rotten tomatoes, this one undoubtedly is one of the best movies dished out by Bollywood.
So which is the best action movie in Bollywood? Well, if someone were to ask you that question, you'll quickly have your answer ready. The above 11 movies definitely deserve a spot in your watch list. Follow our movie suggestions from our Bollywood action movies list to find out what we are talking about! Although a lot of people from the newer generations may not be aware of some of these movies, once you watch them, you'll be thanking us for the suggestion. So have fun while you're at it.
Related Articles-
Image credits: The copyrights of the images used in this post belong to their respective owners. The credits where known are specified under the image - if you're the owner of an image and want it removed, please contact us.