Pleasant monsoon weather, a hot cuppa, a mystery novel, and a warm, snuggly quilt. That's how life looked for a 90's kid. We would read Famous Five, Sherlock Holmes, Nancy Drew all day long and drive our parents crazy. Not much has changed over the years. Mystery novels have been replaced by mystery movies and if you are Bollywood buffs like us, Bollywood mystery movies have taken precedence. When a movie is packed with masala, drama, and action, mystery acts like an added bonus. And who are we to deny this cherry on the top? The thrill of finally understanding the plot, the motives, and uncovering the suspense is unparalleled. Truth be told some of these movies will require extra effort and attention on your part or you may end up watching them twice just to understand the real plot!
If you have formed your own team and enacted episodes of CID like us, this list of top mystery movies in Hindi for you. 
List of Best Hindi Bollywood Mystery Movies – 
1) Gumnaam, 1965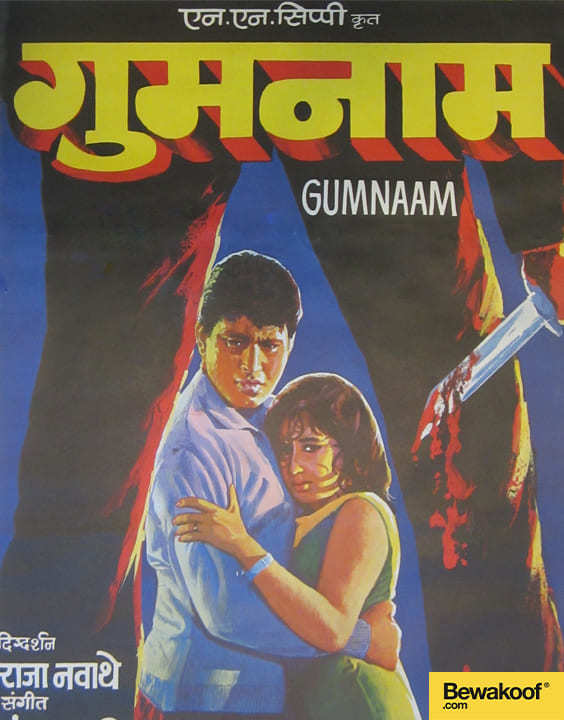 Watch it on: Amazon Prime Video
Cast: Mehmood, Nanda, Manoj Kumar & Pran 
Many Agatha Christie stories have been adapted on the big screen, but none better than the 1965 Hindi mystery movie Gumnaam. The movie is loosely based on Christie's And Then There Were None. Seven people are mysteriously stranded on an unknown island. One by one they start disappearing. Each tries to blame the other which leads to tons of confusion. Oh, and remember the famous song Gumnaam Hai Koi that we would sing to scare our friends? It belongs to this movie. This Bollywood mystery movie will always keep you on the edge of your seat! 
2) Gupt, 1997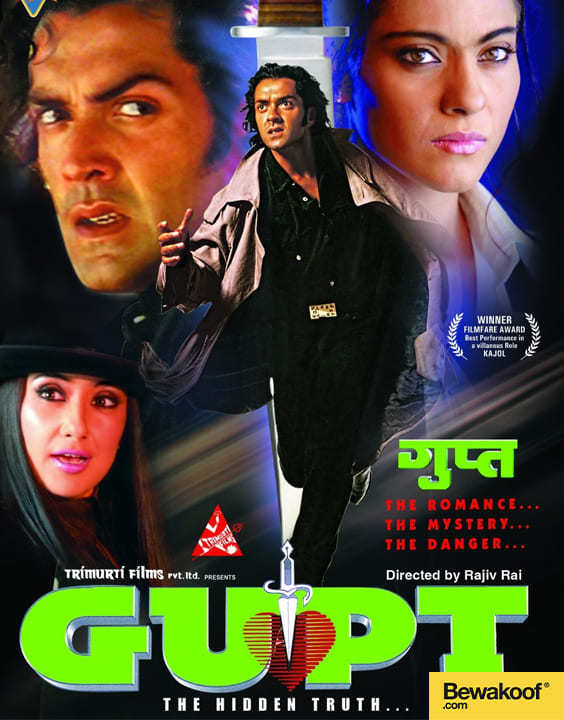 Watch it on: Zee5
Cast: Bobby Deol, Manisha Koirala, Kajol & Prem Chopra 
Bollywood showcases the best love stories on screen. Add some passion, revenge and thrill to it and you have a blockbuster murder mystery movie in Hindi. Gupt isn't a basic hoe jilted love story. It includes a love triangle, some murders and a killer on the loose. Rajiv is wrongly framed for killing his step father. He escapes from jail and vows to find the real killer. Unfortunately for Rajiv, he doesn't like what he finds! Gupt has a major twist in tow which makes it a pretty good Bollywood mystery movie. 
3) Manorama Six Feet Under, 2007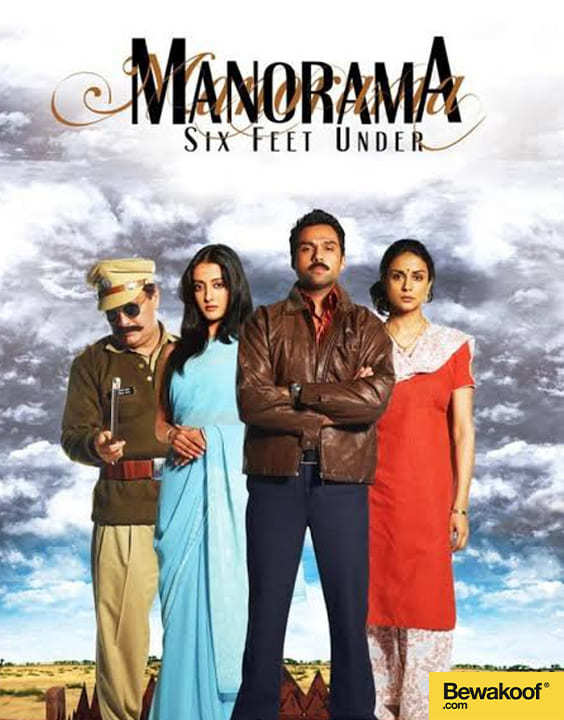 Watch it on: Netflix
Cast: Sarika, Abhay Deol, Gul Panag & Raima Sen
If someone were to ask us which is the number 1 thriller movie in India, we would say Manorama Six Feet Under without any hesitation. Manorama Six Feet Under is the most underrated crime thriller of Bollywood. It is directed by Navdeep Singh of NH10 fame and talks about one of the most sensitive issues. Satyaveer Singh Randhawa is a public works engineer and a closeted writer. Irrigation minister P. P Rathore's wife Manoram approaches Satyaveer and bribes him to take photos of her husband with his lover. One thing leads to another and accidentally Satyaveer discovers a horrifying truth. Manorama Six Feet Under was definitely ahead of its time which makes it a must watch mystery suspense movie of Bollywood.
4) Kahaani, 2012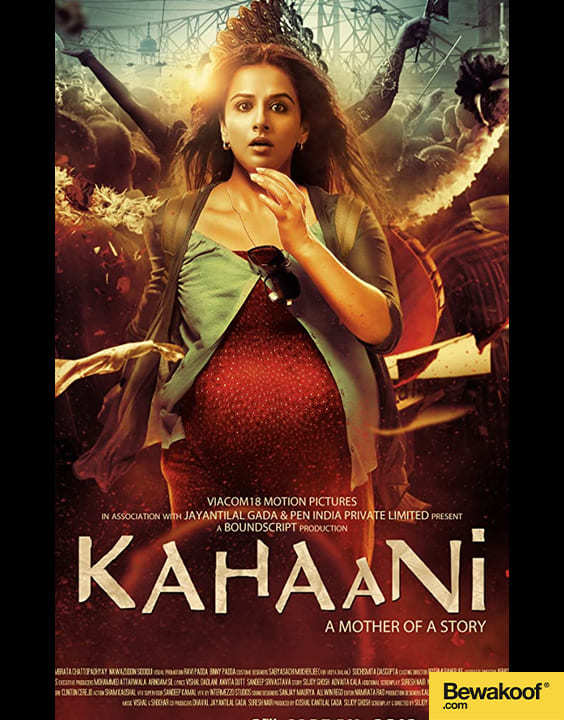 Watch it on: Netflix
Cast: Vidya Balan, Parambrata Chatterjee, Nawazuddin Siddiqui & Indraneil Sengupta
Kahaani is undoubtedly one of the best mystery movies of Bollywood. Vidya Balan portrays the role of a pregnant woman, Vidya Bagchi who has come to Kolkata to look for her missing husband. A friendly police officer Satyaki Sinha decided to help her in her pursuit. Vidya claims her husband was in Kolkata on official assignment for National Data Centre before he went missing. The head of human resources at NDC informs her that her husband's description matches with a former employee Milan Damji. The story finally unfolds after a wild goose chase. One simply cannot miss this Bollywood mystery movie!
5) Ugly, 2014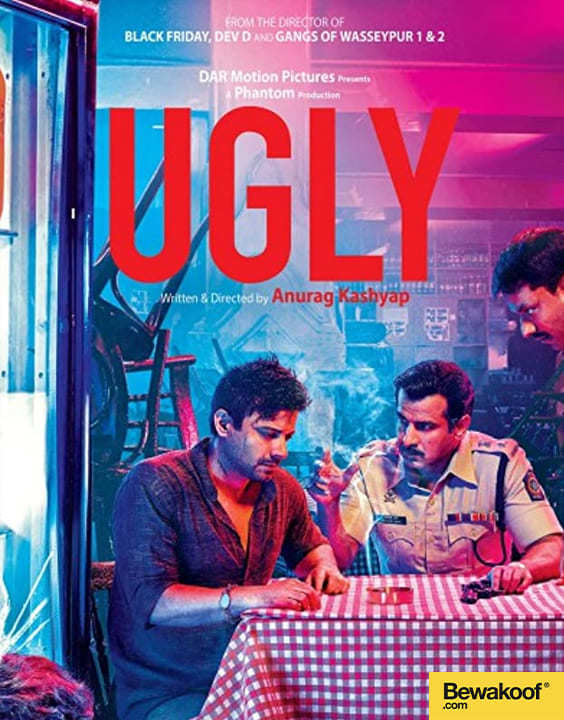 Watch it on: Amazon Prime Video & Disney+ Hotstar
Cast: Ronit Roy, Rahul Bhat, Tejaswini Kolhapure & Girish Kulkarni 
Considered to be a hidden gem, Ugly is a brilliant Bollywood mystery movie by Anurag Kashyap. Negligent and vain, Rahul leaves his daughter Kali in the car while he goes to meet a casting director. Kali is approached by a mask seller and the very next moment she goes missing and her whereabouts can't be traced. One by one her mother, her aunt, her stepfather and her father's friend are exposed. Anurag Kashyap has used the storyline of a young girl's kidnapping to reveal the 'ugly' side of both Mumbai and its residents. It's gripping and heartbreaking at the same time. 
6) Talaash, 2012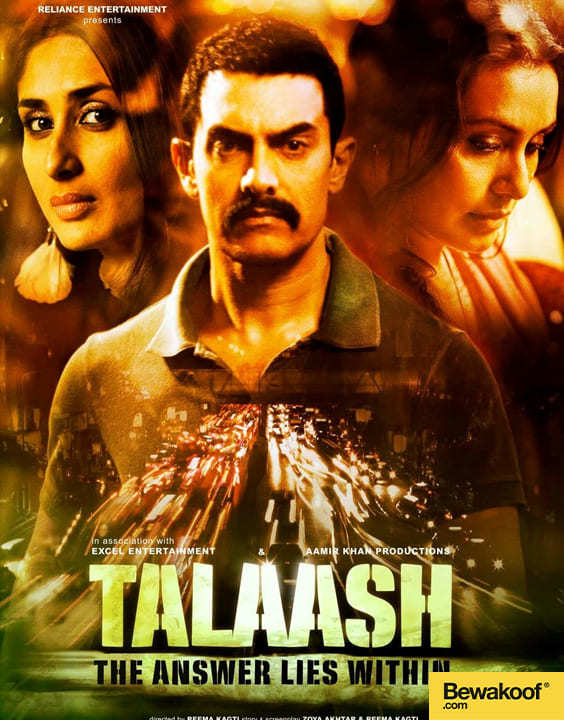 Watch it on: Netflix
Cast: Aamir Khan, Kareena Kapoor, Rani Mukherjee & Nawazuddin Siddiqui 
Who doesn't love a good crime thriller? It's a bonus when the thriller stars Aamir Khan, Rani Mukherjee, Kareena Kapoor, and Nawazuddin Siddiqui. Talash is a neo noir Bollywood mystery movie that also explores the supernatural. Late at night actor Armaan Kapoor swerves his car on a deserted road in order to avoid something but ends up driving into the sea. Inspector Surjan Singh is appointed to investigate the accident. While he tries to maintain his composure throughout the investigation, Surjan is suffering from insomnia due to a personal loss. With the help of an escort named Rosie, Surjan finally solves the case and also deals with his personal trauma. 
7) Ek Hasina Thi, 2004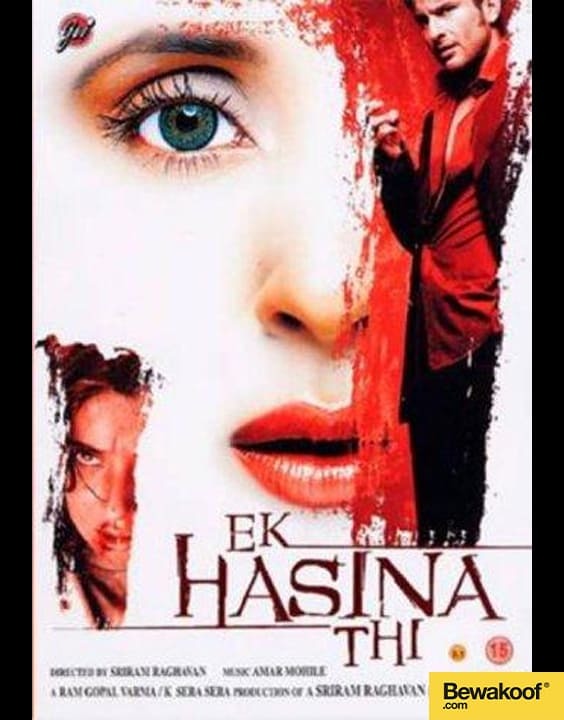 Watch it on: Amazon Prime Video
Cast: Urmila Matondkar, Saif Ali Khan, Seema Biswas & Aditya Srivastava
Ek Hasina Thi is a smart and vindictive movie that tells us the tale of an innocent woman who is framed for the crimes of her lover. Sarika falls for the affluent and charming Karan. Karan asks Sarika to look after a suitcase for his friend. The suitcase contains illegal firearms and Sarika is arrested for the same. She soon realises of Karan's ploy and promises to avenge herself. She goes through a 360 degree transformation and makes Karan pay for his crimes in the most brutal manner ever. Ek Hasina Thi deserves a spot in your suspense mystery movies Bollywood list. 
8) Drishyam, 2015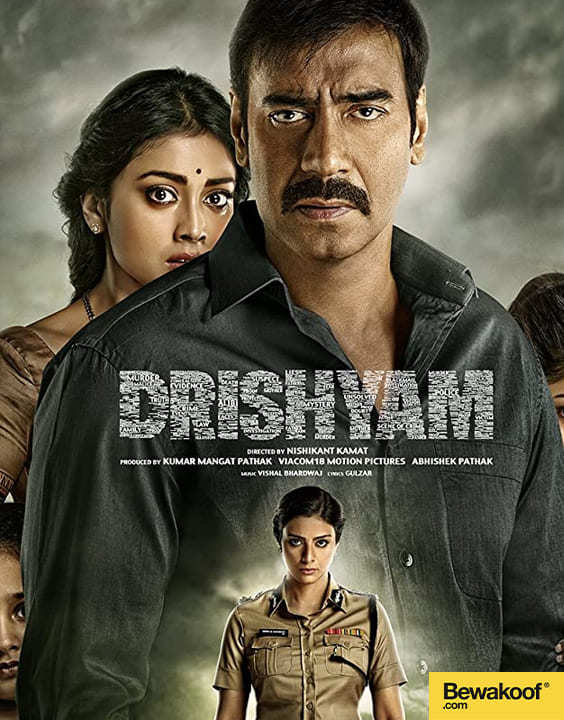 Watch it on: Disney+ Hotstar
Cast: Ajay Devgn, Tabu, Shriya Saran & Ishita Dutta
Directed by the late Nishikant Kamat, Drishyam revolves around a family that is trying to cover up a murder. Vijay Salgaonkar is a local businessman and runs a cable TV service in Goa. He has two daughters aged 18 and 12. His elder daughter Anju is being sexually harassed by her classmate Sameer. Anju accidentally ends up killing Sameer during a scuffle. The family goes till great lengths to cover up the murder. Sameer also happens to be the son of Inspector General of Goa Police. The movie ends on a bittersweet note and relays on the power of a family. 
9) Khakee, 2004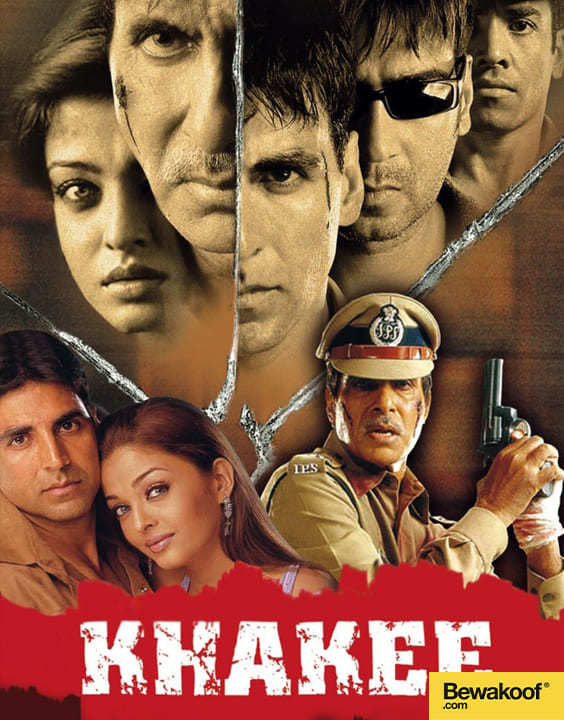 Watch it on: Amazon Prime Video
Cast: Amitabh Bachchan, Akshay Kumar, Ajay Devgn & Aishwarya Rai
Action, drama, A-grade cast and some confusion makes Khakee a must watch Bollywood mystery movie. The movie starts with a routine mission to escort a terrorist that goes awry. A new team is formed to go on a suicide mission of sorts – DCP Anant Shrivastav who treats this as his last chance to prove his worth, senior inspector Shekhar Verma- street smart but corrupted to the core and rookie sub inspector Ashwin Gupte who soon realises the difference between training and the real ground force and two constables to accompany them. From Chandigarh to Mumbai the team faces many hardships and a surprising chain of events unfurls. 
10) Race, 2008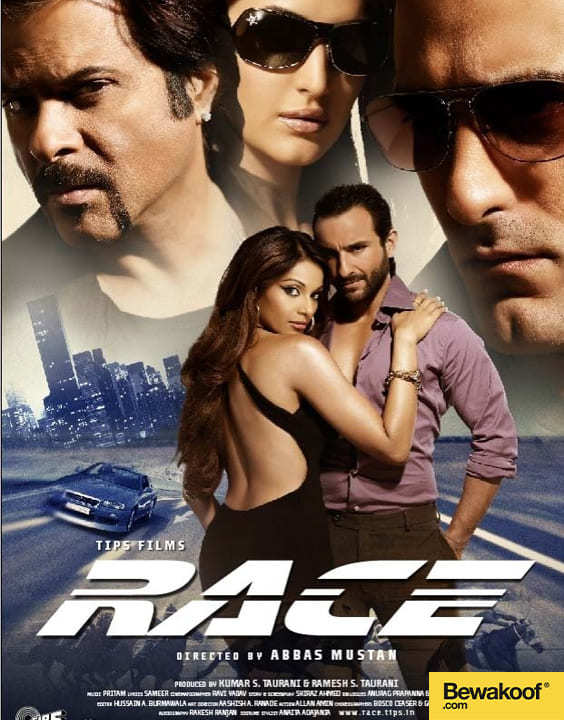 Watch it on: Netflix
Cast: Saif Ali Khan, Katrina Kaif, Akshay Khanna, Bipasha Basu & Anil Kapoor
Race has the right amounts of masala, thrill and of course, over the top physics defying scenes. Brothers Ranvir and Rajiv always seem to be at loggerheads with each other. Ranvir is a business tycoon and owns a horse racing company. His younger brother Rajiv mooches off his money. They constantly make plans to kill each other in order to siphon off the insurance money. While you will love Race, we advice to completely steer clear from Race 2 and Race 3. Advice issued in public interest! 
11) Detective Byomkesh Bakshi, 2015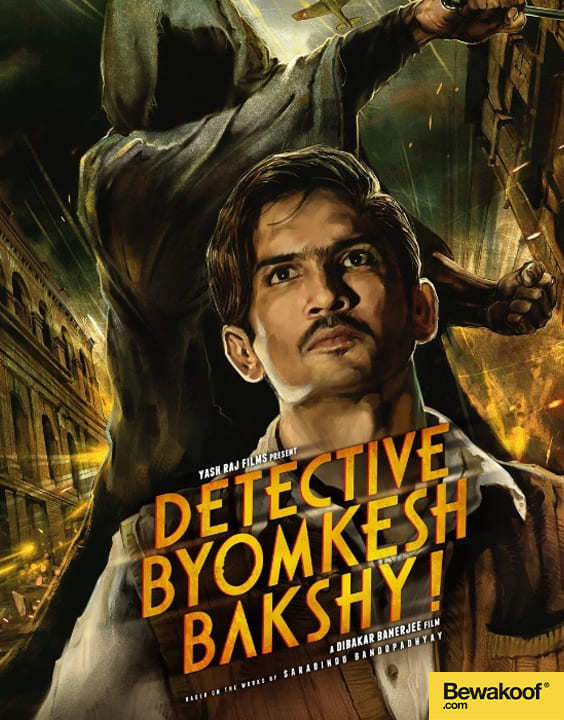 Watch it on: Amazon Prime Video 
Cast: Sushant Singh Rajput, Anand Tiwari, Neeraj Kabi, Swastika Mukherjee & Divya Menon
The OG Indian Sherlock, Byomkesh Bakshi is the famous Bengali detective penned down by acclaimed writer Sharadindu Bandyopadhay. Bakshi is obsessed with finding the truth and never leaves a mystery unsolved. The movie adaptation focuses on fresh out of college Bakshi who is approached by a chemist to look for his missing father. In his quest for the missing man, Bakshi makes friends, manages to find time for some love and even uncovers a bigger web of drug peddlers in Calcutta. Set in pre-Independence Calcutta, Detective Byomkesh Bakshi has a rustic charm to it. Late Sushant Singh Rajput plays the titular role and does justice to the great detective.
12) Khamosh, 1986
Watch it on: YouTube
Cast: Amol Palekar, Shabana Azmi, Naseeruddin Shah, Soni Razdhan & Pankaj Kapoor
Khamosh is often considered to be one of the best thrillers of Hindi cinema. It's no surprise considering Vidhu Vinod Chopra made this Bollywood mystery movie. The movie is about a movie being shot in the picturesque valleys of Kashmir. In one of the scenes Soni Razdhan is supposed to commit suicide but on the day of the shoot she is actually found hanging, exactly the way it was written in the movie. The circumstances that lead to the suicide seem fishy and it is declared as a murder. Unfortunately a few more people were murdered after Soni Razdhan's funeral. The truth is finally revealed but in a topsy turvy manner. We guarantee you one thing, this classic whodunit will make you appreciate Vidhu Vinod Chopra even more! 
13) Khoj, 1989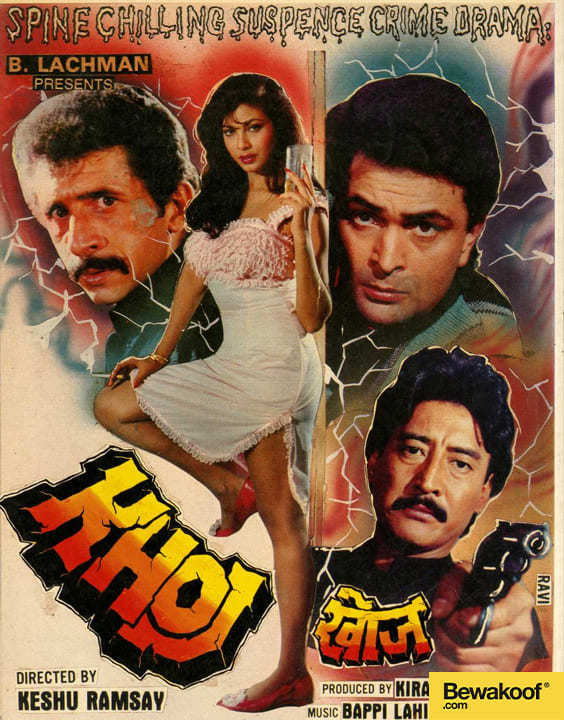 Watch it on: YouTube
Cast: Rishi Kapoor, Naseeruddin Shah, Kimi Katkar & Denny Denzongpa
Ravi is on a business-cum-romantic holiday with his wife Anita in Nepal. On returning from a business conference he realises Anita is missing. He lodges a police complaint but the following events drive him to depths of despair. A woman identifies herself as Anita but Ravi refuses to accept her as his wife. He stands his ground and tries to prove that this woman is an imposter. Unfortunately for Ravi, everyone around him including their veterinarian and laundry man recognise this woman as Anita. If you want to know whether he exposes the woman or not, we suggest you watch the movie right now! 
When you get bored of watching CID, Crime Patrol or Savdhaan India feel free to fire some popcorn and binge watch some true blue mystery movies. You may or may not turn into Sherlock Holmes after you watch these movies, but we assure you you'll be a certified Bollywood mystery movies expert! Let us know about your favourite thriller in the comments below. 
Related Articles-
Image credits: The copyrights of the images used in this post belong to their respective owners. The credits where known are specified under the image - if you're the owner of an image and want it removed, please contact us.