Whether you're a kitchen enthusiast or not, in today's time, you're sure to be a fan of aesthetically pleasing objects and frames. And one thing that everyone is paying extra attention to nowadays is the variety of kitchenware. From funky cups and mugs to pretty plates and bowls, our feed is filled with the best of products. We decided to share the top 10 dinner set brands in India with you.
With most people confined to their homes, you'll see influencers posting about their mealtime regularly. And thanks to the superb effort they make, their dinners look so appetizing. One such day, we got thinking about the warm, cheerful, loud yet stylish designs that have been introduced to us.
And, there couldn't have been a better time. With us entering the second half of the year, we're ready to bring on all the festivals! Diwali, Dussehra, New Year etc, are all around the corner and it's time to get our festivities in order.
There is no doubt that how you present your food will make you win or lose half the battle. A good dinner set is one of the easiest ways to grab affection from your guests.
A good dinner set will not only set the mood but will also add to the whole ambience and uplift everyone's mood and instantly make the food appetizing. Imagine going to an expensive restaurant but being served on old plates. Disappointing, right? With the best dinner set brands, you can be assured to earn some brownie points and win hearts.
So, what are you waiting for? Let the memorable preparations begin and start reading about
The Best 10  Dinner Set Brands in India
1. La Opala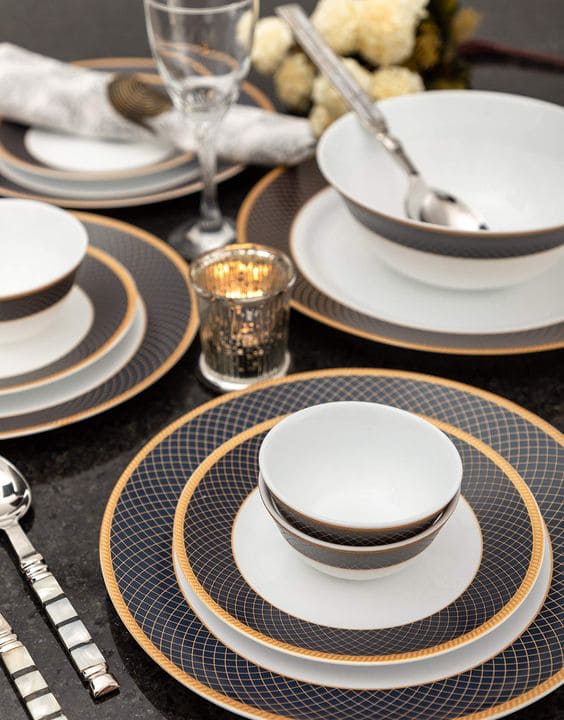 Started in 1987, La Opala is an Indian brand that pioneered in opal glass technology in India and soon became the first exporter of opal glass tableware. With a combination of artistry, finesse and perfection, this brand is at the top of our list. Their designs are perfect if you like a touch of India to all your products. It is safe to say that minimalist designs and excellent quality are two of the most attractive facts of La Opala.
Indulging in delicacies in these designer plates will be a memorable time. Choose from a variety of designs and colours for your home. One of the best dinner set brands in India, La Opala is here to steal the show. Make joyful memories with this dishwasher and microwave-safe set!
2. Borosil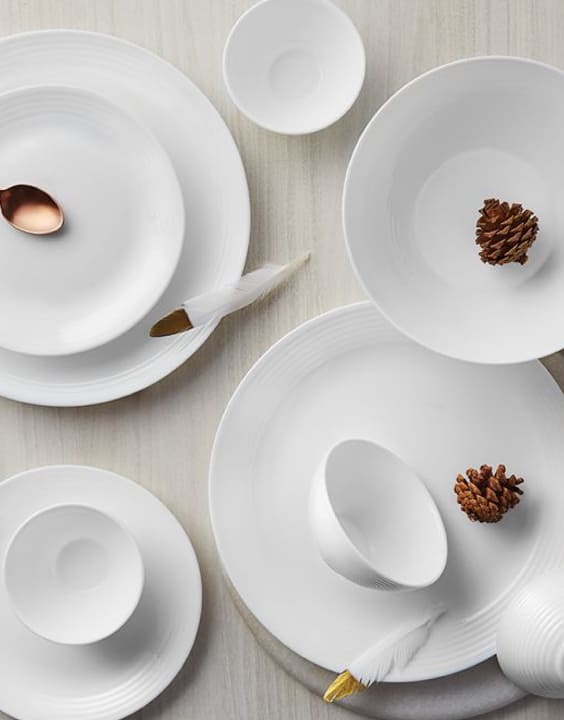 If we're noting a list of the best dinner set brands in India, the list can never be complete without Borosil! One of the most trusted and bought brands, Borosil was established back in 1962. Bringing home a Borosil is bringing home elegance. Their dinner sets are a piece of enchantment for every table that will spread love and beauty all around. Handcrafted with details, these dinner sets are not only strong and durable but are also scratch-resistant. So, no need to worry about the cutlery leaving a mark on these beauties.
Bold, elegant and millennial, Borosil's variety is vast. If you are trying to take a step in the environment-friendly direction, Borosil is the ideal choice as they prefer to use 100% vegetarian products for manufacturing these sets. Do check if it is made from bone ash-free material, that's the one!
 3. Clay Craft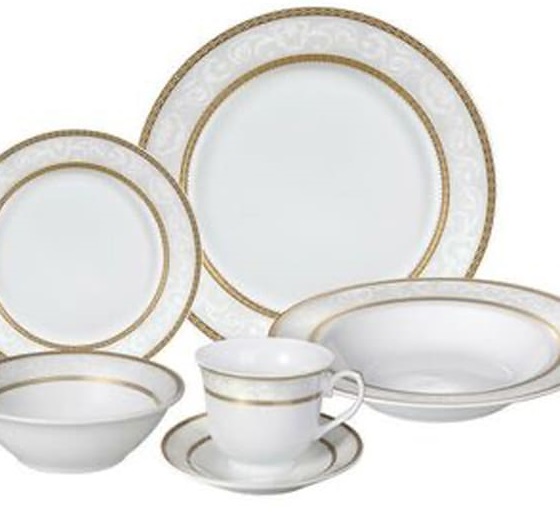 Another popular name in the industry is Clay Craft. Started in 1994, Clay Craft offers a range of ceramic tableware with high whiteness, translucency and strength. Their products are super hard glazed, making them highly chip-resistant and durable. Not just that, they are microwave and oven safe, dishwasher safe, and free of any lead and cadmium.
Solid coloured or printed with minimalist design, their dinner sets are a sight to behold. They are handcrafted to perfection and hand-painted to match your taste and elegance. Their most popular selling set is the 38-piece dinner set with cold content which costs ₹10,000. 
Welcome your guests to the warm, fragrant and beautiful vibes of your house with one of the amazing dinner set brands in India. Serving your food in this set will not only soothe the eyes but making the meal a truly fun time. For the lasting impression, choose Clay Craft.
4. Indian Art Villa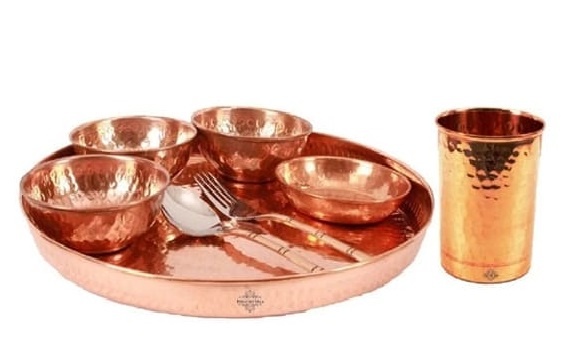 Many of you may not have heard about this brand as much but trust us, it is one that you should know about! Indian Art Villa was launched in 2012 with the thought of creating awareness about the numerous health benefits of copper. Naturally, this makes Indian Art Villa one of the best brands in India to offer a complete pure copper dinner set. Going up to 63 pieces a set, which includes a jug, spoons, serving spoons, bowls etc they have curved, hammered the classic patterns.
A dinner set for an individual or for the family, they have something for everyone. The set with a minimum number of pieces is the 6-piece set that starts at ₹2000. But that's not all. Within this category, they also have the Maharaja style full moon tray plate with 7 serving bowls or the multi-cuisine dinner thali set that is quite unique. If you're a fan of living life, king size, this is your cue to get one of your own dinner sets from the OG of royal dining.
5. Cello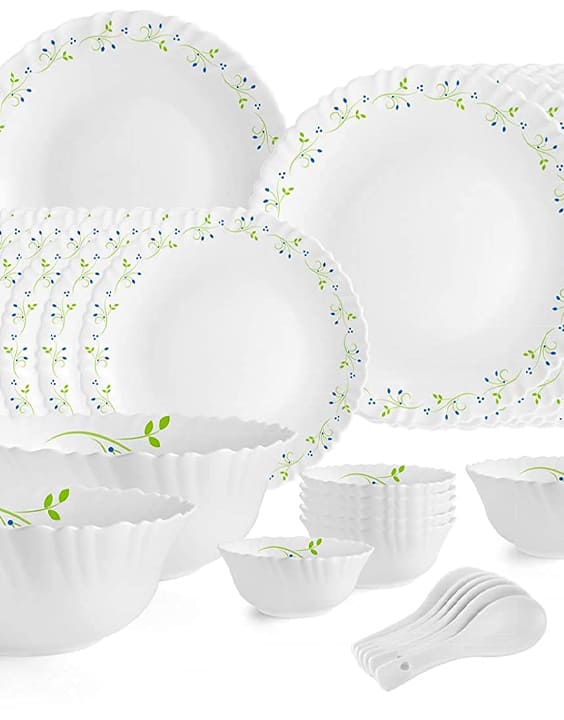 Cello doesn't really need any sort of introduction. You may have seen this brand name on various products – pens, lunch boxes, bottles, etc. It is quite popular in an Indian household. It is safe to say that Cello is one of the leading brands in this market. What began as a footwear and bangle manufacturing company is not one of the pioneers of stylish and affordable lifestyles in the country.
If we have to talk about dinner sets, Cello is one of the best dinner set brands in India. Cello offers quite a variety, even within its dinner set category but its most popular collection is the Tropical Lagoon which comes in 18, 20, 27 and 35 pieces. The 18-piece set is available from as low as ₹1600. Make your dinners joyful and memorable with the dinner set best brand.
6. Eagleware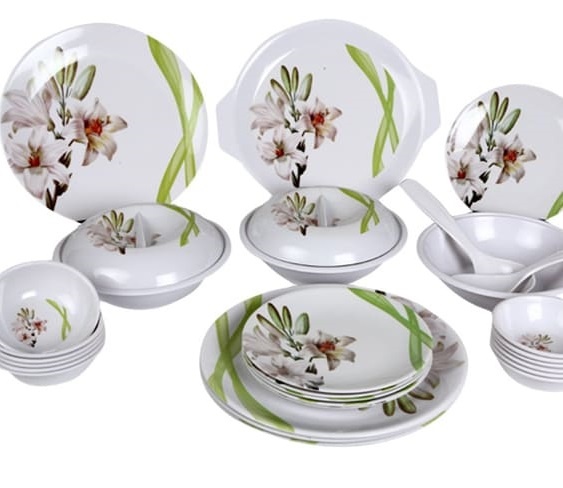 Eagleware is another household brand that has been winning hearts for a long, long time. For more than a decade, they have been the pioneer of delivering quality kitchenware. They are proud to count themselves amongst one of the handfuls of brands to manufacture commercial cookware lines in the United States. Eagleware products are a beautiful amalgamation of superior construction and design.
One of their most selling products is the variety of melamine dinner sets that Eagleware has to offer. Floral printed with different colours, the dinner sets begin at ₹1300. The set is made of melamine and thus is break-resistant, dishwasher safe and hygienic.
One of the commendable aspects of Eagleware is that the colour of the products will not fade, thus, you can be assured of your dinner set looking as good as new, every time! Safe, beautiful and easy to clean, the Eagleware melamine set is one to own and to gift to your loved ones.
7. Signoraware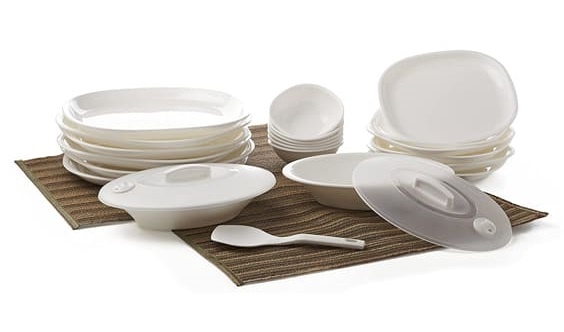 From bottles to kitchen tools to cleaning aid, Signoraware houses it all. Their range of kitchen products are worth every penny. Signoraware definitely deserves a place in the 10 dinner set brands in India as it offers top-quality products that will take your heart away. These square and round designer plates start from the 21-piece set that costs ₹1335.
Their products are all microwave safe, dishwasher safe, unbreakable, and made from virgin plastic only. You'll not only find these with different designs but also some bold, interesting colours. You take one look at them and you instantly feel at ease. The modern patterns are mesmerizing and add a touch of sophistication to the dinner table. Not many of you may know but Signoraware's products are 100% Food Grade material.
8. Larah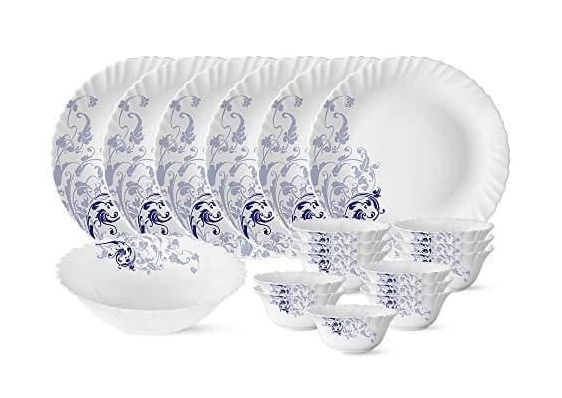 Engineered and built by Borosil, their Larah collection is made up of opal ware, making the whole range extra strong and mesmerizing. Because of its opacity, it is also called opal glass and is extremely hygienic and safe to use. We already know how absolutely dependable Borosil products are. So, if Larah is one of their creations, you know you don't need to worry about the quality or finish of these products.
Larah dinner sets are lightweight, easy to clean, durable and scratch-resistant. 100 percent vegetarian, free from bone ash, Larah is also break-resistant, making it an ideal choice for everyday use. Look forward to a delicious meal time with toughened glass and a mirror finish. They are the perfect example of beauty with functionality that will bring out the elegance in you. With the numerous designs, colours and options it offers, we're sure you'll find something that perfectly matches your home décor.
9. Corelle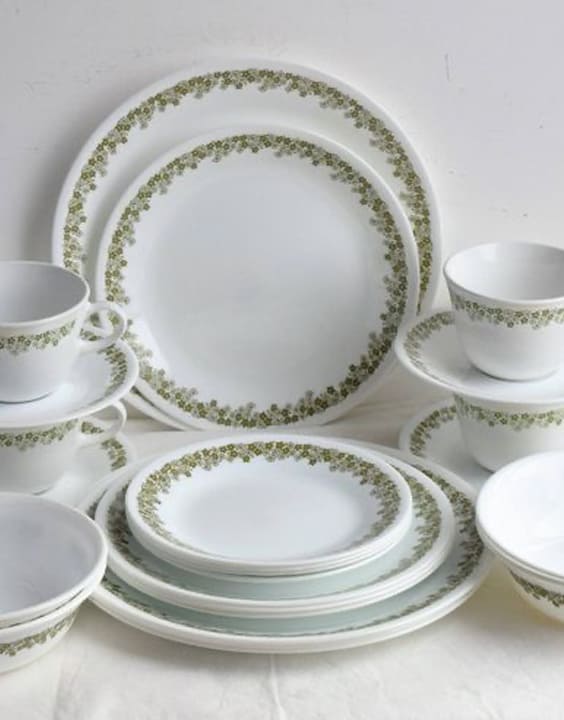 Headquartered in Illinois, Corelle is one of the leading brands in the kitchenware sector, in the world and India. With brands like Corningware, Pyrex, Visions, Baker's Secret, etc, under their wing, Corelle's products are made keeping in mind the latest technology and the ever-evolving customers' needs. And with these factors in place, it is safe to say that each of their products is unique and timeless. With the aim of meeting the lifestyle of the modern home, Corelle offers a wide range of dinner sets for urban women.
They are a unique three-layer sandwich glass material known for its durability. Stain-resistant, freezer safe, chip-resistant, lightweight, and break-resistant, Corelle is a dream come true. The brand assures of strong patterns and colours. With a Corelle set, it's time to exude sophistication and redefine your style. Add a touch of grace and class to your dinner table with a dinner set that will be the talk of the night. Affordable yet attractive, Corelle dinner sets are waiting to be yours.
10. Joy Home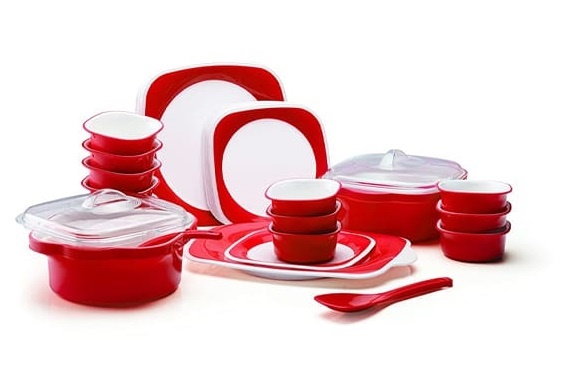 Available in all kinds of colours, Joy Home offers products made up of virgin reinforced polypropylene, a 100% safe and food-grade plastic material. Their products are durable and are safe to use in a microwave. To add to that, these products are lightweight making them absolutely easy to use. They are designed to fit into your way of living.
Functional, stylish and always ready for a party, Joy Home dinner sets are synonymous to versatility. Casual or fun, these dinner sets are apt for all kinds of occasions. Your table speaks a lot about your style and taste so make sure you're giving out the right message with the Joy Home dinner set.
Bring home a dinner set that will steal your heart and the show from the above list of Best Dinner Set Brands in India. Because nothing leaves a long-lasting impression like a delicious dinner and a mesmerizing dinner set. Get your hands on your favourite brands and products with the best online shopping in India, Bewakoof. Your one-click fashion app and online support, waiting for you to start shopping! 
Related Articles- 
Image credits: The copyrights of the images used in this post belong to their respective owners. The credits where known are specified under the image - if you're the owner of an image and want it removed, please contact us.