Delicate, bold and sensual. Our humble lace has come a long way. A handmade fabric with traces in Italy, lace's history is quite disputed. There are roughly 9 types of laces with bobbin, macrame, cutwork and machine-made being the most popular ones. Okay, fine fine history lesson is over. Lace has been seen as a mark of sophistication, nobility and sensuality. Nowadays from your underwear to your dresses, everything has lace! 
Lace pattern dress have gained much popularity over the years. It is also the most common fabric to make wedding gowns. You may not be a bride, hun but you definitely need a lace pattern dress or two in your wardrobe! Lace dresses give you a sense of being delicate yet strong at the same time. Yes, they are feminine and we love them that way! Are these questions still running on your mind?
What are the trending lace pattern dress?
Is lace dress in trend?
Being the experts of online shopping in India, we curated a list of alluring 12 lace dresses that will clear all your doubts. Scroll and bookmark as you go! 
1) Pencil Lace Dress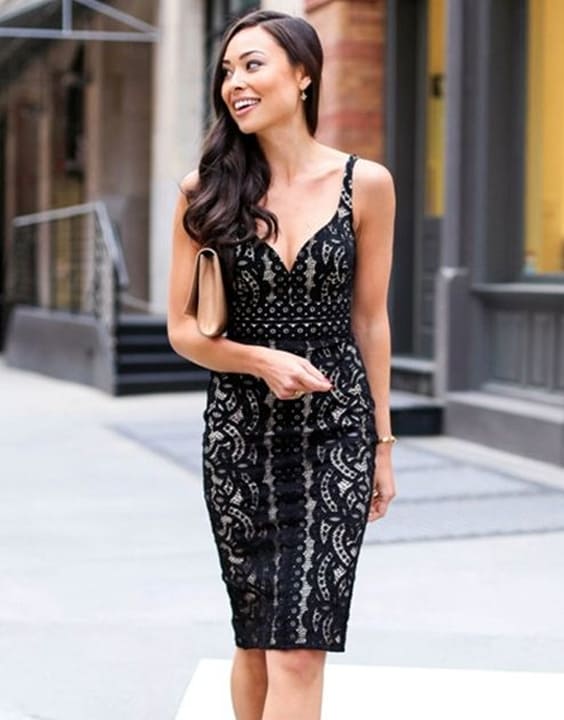 Is there anything sexier than a pencil dress? Um, yeah a pencil lace pattern dress! A gorgeous person like you deserves a gorgeous dress like this. Don't worry about your body shape or type. Everyone looks flawless in a pencil dress! If the dress has a plunging neckline and is bodycon, opt for a plunging, strapless bra and seamless underwear or a thong. As far as our guesses go, this dress is going to become your favorite option when you want to go for a crazy bar crawl with the girls or to a sophisticated dinner with the fam.
Complete The Look: Pencil heels, diamond danglers and nude lipstick. Oh, even a brick red lip shade will look good. Scarves and stoles will be the cherry on the top. Let your hair loose or tie it in a french braid. Perfecto!
2) Guipure Lace Dress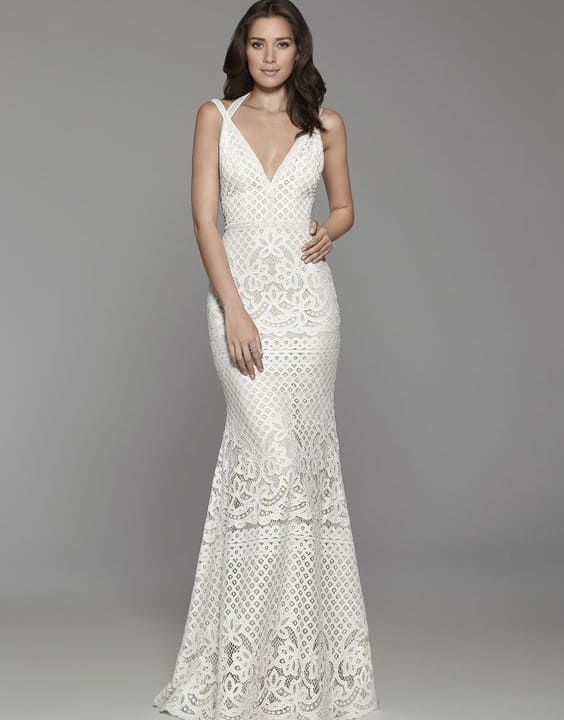 Stitched on the net, Guipure lace is a firm Venetian lace that has been in vogue for ages. Motifs are stitched closely together to merge into a bigger design. Guipure lace dress pattern for ladies is ideal for every occasion – specially weddings! It looks elegant and gives you a sense of royalty. The above-pictured lace dress design is so swoony! Why don't you wear it to your bestie's bridal shower (don't wear a white gown to her shower please!) or to the next-door neighbour's wedding reception? All eyes will be on you, we swear! 
Complete The Look: Block heels, a bling ring and statement stud earrings. Go easy on the makeup, the dress will do all the talking! 
3) Chic Sheer Lace Dress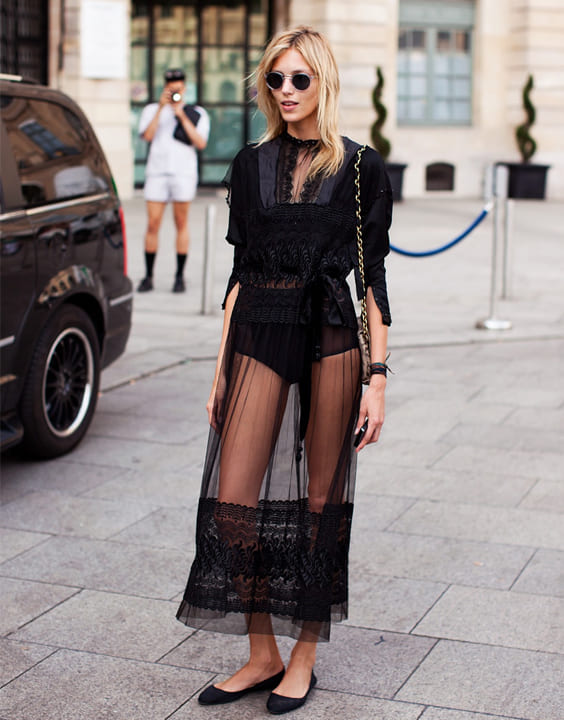 All ze sexy mamas in the house, this one's for you! A completely transparent or see-through dress with lace accents. Believe it or not, this tulle or sheer dress is dubbed as 'street style'. Ahem, maybe not the streets of India. Jokes apart, this lovely sexy number definitely deserves a chance! If you notice closely there is lace work on the bodice and the end of the dress. Stylists say you can also pair it with a long black skirt (yes, underneath the dress!) If you are worried about your underwear, make sure the shade is the same as your dress. If you are uncomfortable, you can slip in a cotton/silk short dress and then wear a sheer lace dress. 
Complete The Look: Tulle lace dresses are ultra-modern and sophisticated. To keep up with the tone set by the dress, don't go overboard with the accessories. No loud colours, no soft pastels either. Keep it neutral – preferably black and cream. May we suggest black triangular sunglasses and statement stud earrings? Not to forget a sophisticated sling bag! 
4) Backless Lace Dress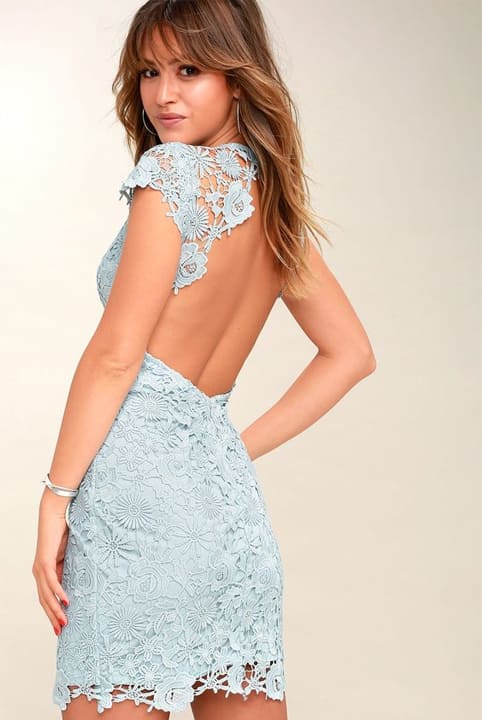 If there is one constant thing about fashion, it is the backless dress/fashion tops. Make a bold choice by opting for a backless lace pattern dress. It is sexy and you are going to rock it, girl! You can wear nipple stickers/a stick-on bra or a backless bra with transparent straps under this dress. Wear this dress to a beach party, a breakfast date, or to the mall.
Complete The Look: Comfy white sneakers (the chunkier the better), silver hoops, nude makeup and a dainty bracelet. Let your hair lose (literally and figuratively) when you wear a backless lace dress! 
5) Lace Trim Cami Dress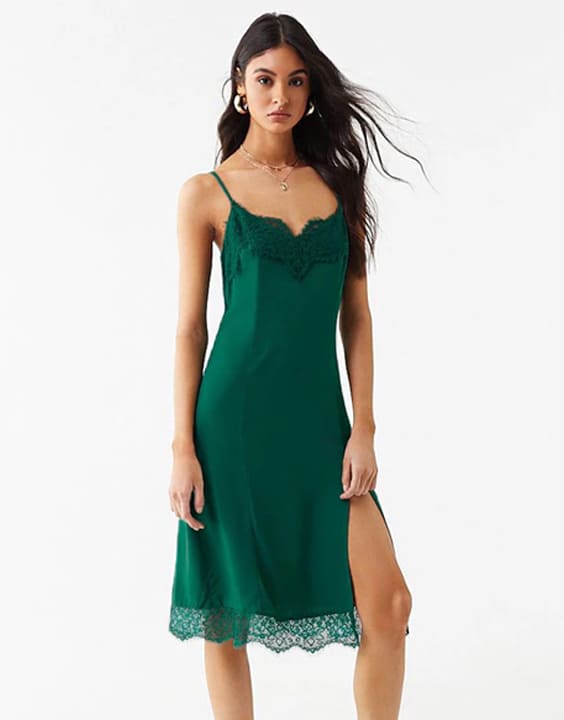 A knee-length cami dress with scalloped lace trims and a semi-plunging v-neckline. Ooh, la la! Who knew a lace trim cami dress would be gorgeous? The side split gives it the extra oomph. Did you notice the 'eyelash' detail on the lace? Wow, right? When you are not in the mood to be covered in lace, go for a dress that has lace trims like this one. Dark colours like emerald and navy blue look best on such dresses. A tube or strapless bra is preferred for a camisole dress. 
Complete The Look: Accessorize with a dainty rose gold watch on the wrist, statement hoops and layered necklaces. Nude or cream clutch and wedges will perfectly blend with dark coloured camisole lace dresses. 
6) Off-Shoulder Lace Dress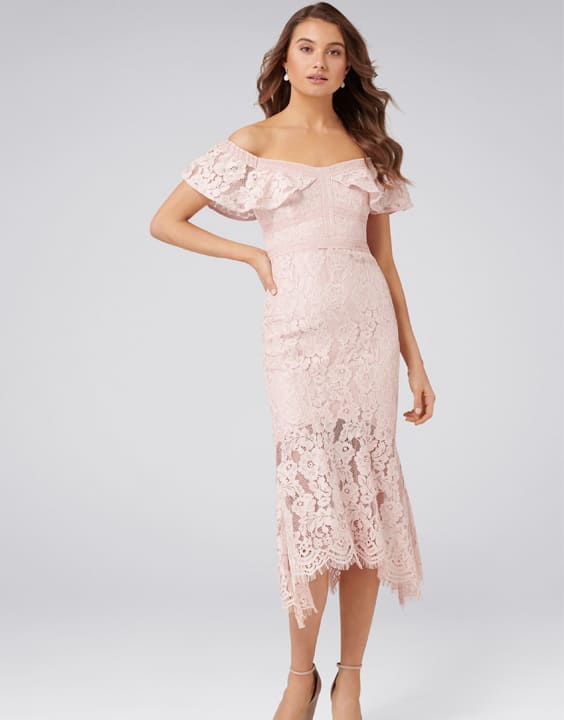 When in doubt, go for an off-shoulder lace dress! Like this one by Forever New. The pale pink shade with off shoulder neck and overlapping short sleeves makes for an ideal outfit. It has a midi sheath underneath which makes it quite unique. The lace accents that run along the breasts and waist add to the chic factor. This outfit is perfect for brunches, pool parties, product launches and whatnot! 
Complete The Look: Strappy stilettos or high heels, statement accessories like a huggies/pearl drops, a delicate necklace and a dainty watch. A pink lip shade or lip gloss would look good as well! We suggest you wear only mascara instead of eyeliner and eyeshadow. Keep it simple, silly! 
7) Halter Neck Lace Dress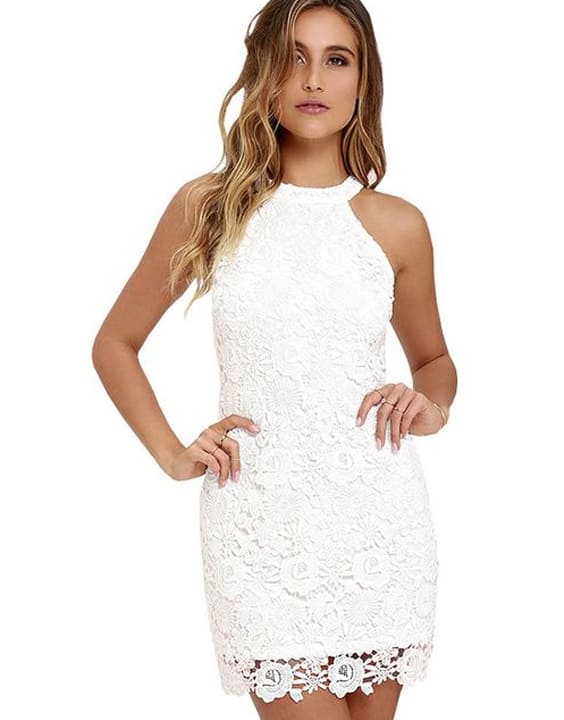 Halter necks were a rage in the early 2000's. Almost every college girl was spotted in one. The stylish neck pattern is now back in fashion. A halter neck lace dress style will quickly become your go-to option every time you are heading out. It is not only voguish but also comfortable. Both fit and flare and bodycon suits a halter neck lace pattern dress. No wonder men are envious of the choices and styles we have in women's clothing! 
Complete The Look: Pinkish lip shade or a lip gloss, nude pumps and big diamond studs. Add a clutch and you're ready for the day! 
8) Contemporary Lace Dress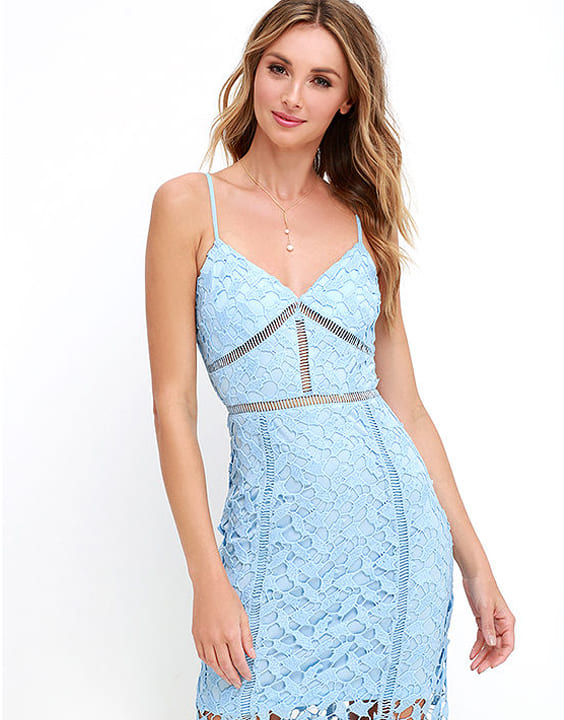 A contemporary lace pattern dress such as this one is sure to make heads turn! A fitted triangle bodice with accents running along the waist and underneath the breast, a midi sheath skirt completely covered in lace. What's not to love? Take it from us, you need a contemporary lace dress in your wardrobe. It's essential! You can wear it to parties, even to the office, brunches, you name it. 
Complete The Look: A white formal jacket ( for office meetings), a dainty necklace, diamond studs and a delicate bracelet. A no makeup-makeup look will go perfectly with this dress. 
9) Chantilly Lace Dress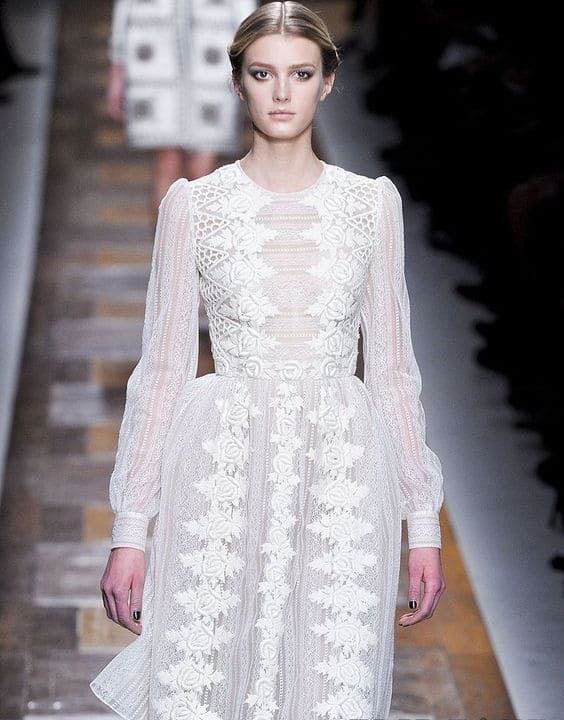 Chantilly lace is easily one of the most famous lace patterns to exist. Originating from Chantilly, France this lace pattern dates back to the 18th century. A silk lace pattern dress with chantilly adorned all over it makes for a gorgeous evening outfit. We love this Valentino-designed lace dress pattern for ladies. The pale cream colour with button fastening cuffs and floral embroidery make it look vintage yet stylish. You may just feel like a runway girl in this one! 
Complete The Look: Pumps all the way for chantilly lace! Big pearl hoops, bold red lipstick, dramatic eye makeup and maybe a choker necklace. Carry a statement clutch and you're ready for the paparazzi! 
10) One Shoulder Lace Dress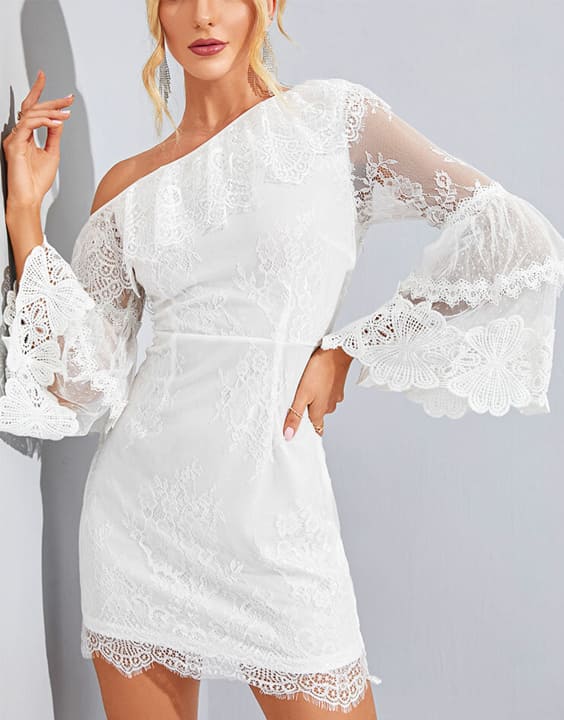 There are a plethora of options when it comes to women's dresses, but none like tini tiny lace dresses. Date night with boo? That off-shoulder lace dress from your wardrobe says hi! Yep, an off-shoulder lace pattern dress is the outfit for your date night. Brownie points if the dress has flared sleeves. 
Complete The Look: Hoops or pearl danglers would look fantastic. Avoid wearing a necklace as the off-shoulder pattern itself spells drama. Red or hot pink heels (to walk over boo if they annoy you) and a chic sling bag. Dramatic eyes, nude lips and just a smidge of blush. Your boo will be drooling all over you! 
11) Fit and Flare Lace Dress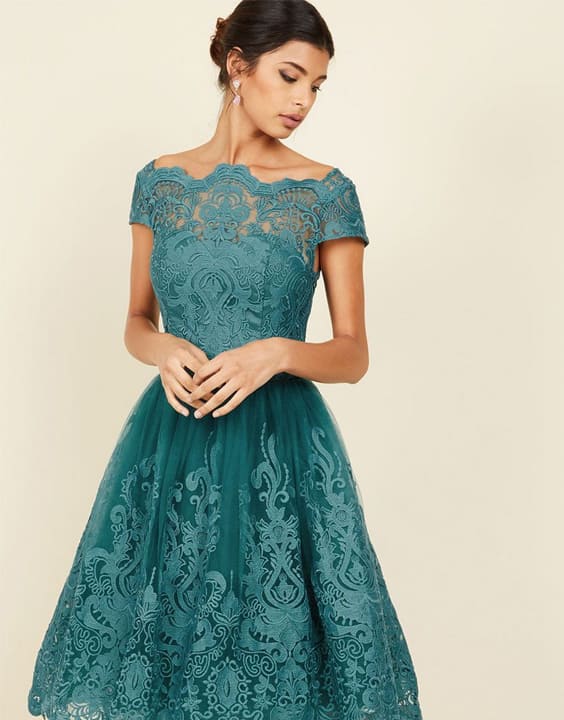 Fit and flare dress never go out of style. Add some pretty lace to it and you've got yourself an unbeatable lace pattern dress! Dark-colored fit and flare dresses look better as they accentuate your body (yes your body is lovely and deserves to be flaunted even if you think it is unworthy. We love you and we love your body!)
You can grace a cocktail party, a soiree or your ex's wedding in this stunning dress. 
Complete The Look: Tie your hair in a bun like this lady here. Adorn your ears with danglers or Huggies. Nude lipstick for the win! Pair the dress with wedges or block heels and a studded clutch.
12) Crochet Lace Dress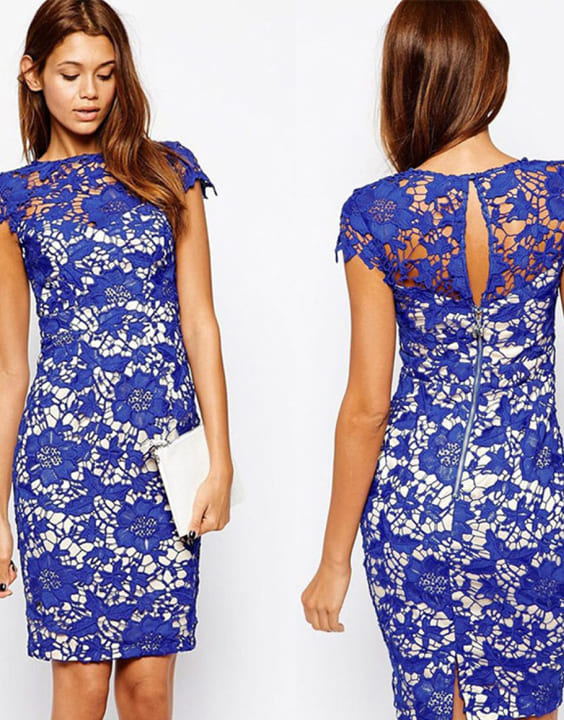 Never thought we'd hear the words together but yes, crochet lace is a thing! Quick refresher – crochet is a type of stitching and lace is a type of fabric. Crochet lace dresses are not as popular as the others in this list but they are worth a shoutout. The crochet lace design comes with a midi sheath dress. The crochet lace is woven by hand by artisans. Mehnat ka fal meetha hai ji!
Complete The Look: The dress itself speaks volumes. You can pair it with a hand-held clutch, strappy pumps, danglers and modest rings. 
Madam, aap convince ho gaye ki hum aur bataye? Lace pattern dresses are the talk of the tinsel town and soon the rest of the country will follow. Why don't you become one of the first ones to don a lace dress so that the others can follow you! Don't forget to check our online shopping app in your bid to be the next fashion influencer! And yes, you are going to look fab in that lace dress. Pinky promise! 
Latest Articles- 
Image credits: The copyrights of the images used in this post belong to their respective owners. The credits where known are specified under the image - if you're the owner of an image and want it removed, please contact us.