I'm sure all the fashionistas out there know how to wear a denim jacket. However, the bigger question is, "Do you know what to wear with denim jackets?" No biggie, really! Read on to solve your query and know about the 4 tips to dress with denim jacket. Go ahead and rock the denim style!
A denim jacket is a classic piece that's been in fashion since a very long time. And the beauty to dress with denim jacket is that it will retain its integrity for years to come. Also, they are a great piece for transitioning between seasons and therefore the perfect layering jacket. The denim jacket started as a way of reusing old jeans, and from these casual beginnings, we have a very casual item. However, the denim jacket is a staple piece that has more to offer than casual wear. The cool thing when you dress with denim jacket is that you can pair it with almost everything. Denim jacket outfits are classic, timeless pieces that will always be in fashion. If you're a woman and you've already got a jean jacket hanging in your closet, and you think denim jacket style are only as a winter item or a utilitarian item, then we're here to show you that denim jackets for women outfits is actually a stylish building block you can use to create a fashion statement, including ones that work for dressier occasions. So you might be wondering how to wear denim jackets? Let's start off with a quick and easy tutorial about what to wear with denim jacket.
How to Wear Denim Jackets- Fashion Tips For Women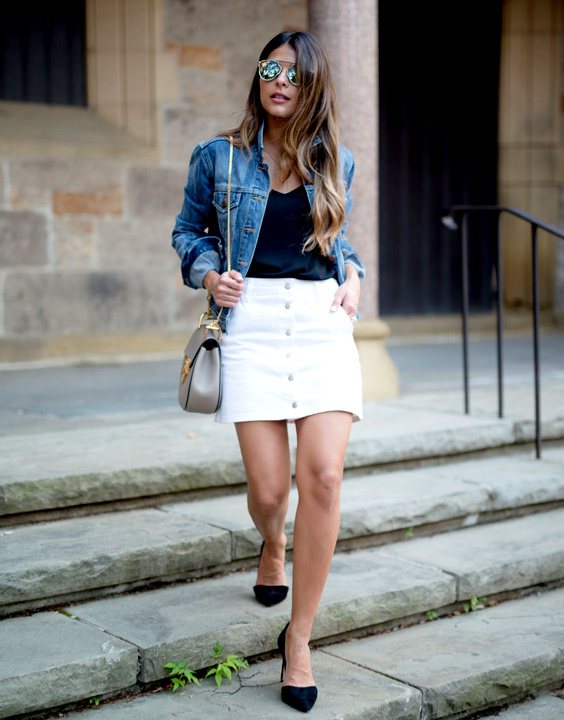 If you search for how to wear denim jackets on the internet, we're sure you'll find hundreds of options to choose from. In terms of cuts, fit, embellishments, stretch ability, there are many varieties available. The most basic of them all, the blue jean jacket is every woman's best friend. Its versatility is unmatched and is the best in the denim style. Available in countless washes, at every price point, and in all sizes, there's no reason a woman shouldn't own one.
You can pair your denim jacket outfit with flared skirts, with your dresses, pants, and shorts. You can also create a denim on denim look which is totally trending in denim style right now!
Style your dress with Denim Jacket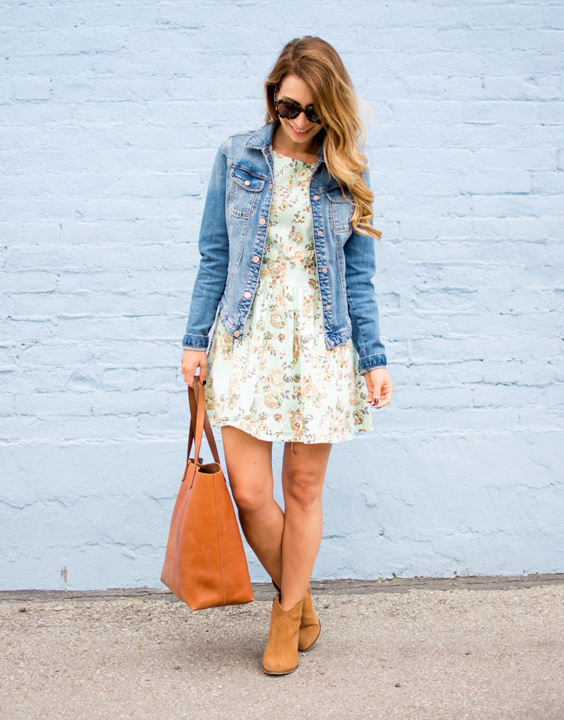 You can achieve a stylish and relaxed feel when you pair a dress with a denim jacket. You can flaunt your style by pairing an oversized blue or a black denim jacket with your favorite floral dress outfit . Wondering about the jackets to wear with dresses? A vintage-inspired, patchwork blue jean jacket in a faded wash looks effortlessly cool over a cotton mini-dress. A blue denim jacket also gives an exquisite look when paired with a white dress. It's also a great way to cover up when you're moving from the hot outdoors into air-conditioned spaces.
A white denim jacket paired with a black dress goes hand in hand and gives an ultimate chic look. Black denim jacket when paired with a red dress would give an extremely bold look and would be a perfect fit for your date night. Also, if you want to give off that can't-be-bothered vibe, wear your blue denim jacket in a one-shoulder style with your favorite floral dress.
Short Denim Jacket- trendiest of all!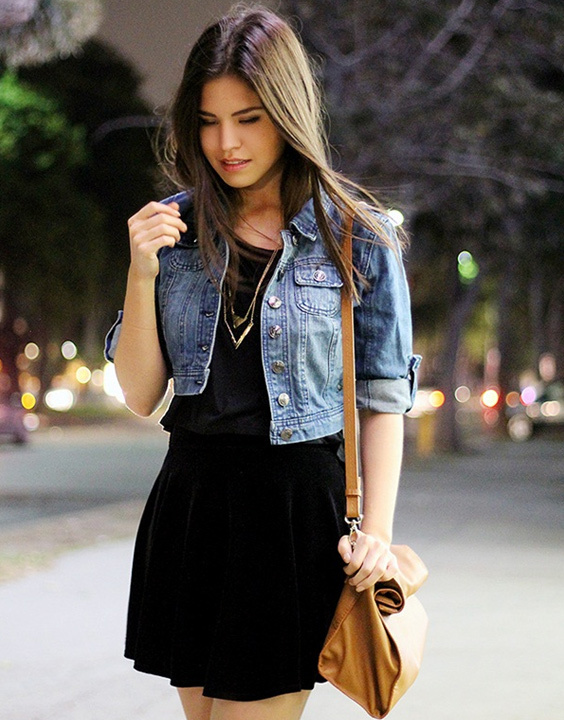 The short denim jacket style is one of the most popular and trendiest summer jackets. It gives your outfit a fresh and light look! It also exudes boldness and confidence when paired correctly with right kind of outfits. What's really great about a short denim jacket is that it shows off your top or sweater underneath it and compliments it as well. A perfect layering option is to style your jacket over dresses and skirt. For an uber-cool look, try out something different, try out a short denim jacket style. Grab a pair of baggy high-waisted jeans and pair it with a blue denim jacket for a stylish summer vibe. Not to mention, our favorite style a cropped denim jacket outfit is with a lingerie-inspired black silk dress. Further, the boyfriend trucker-style jacket is a great wardrobe staple, for creating a relaxed look when layered over jeans or long skirts.
What to Wear with Denim Jacket? Breaking It Down For You!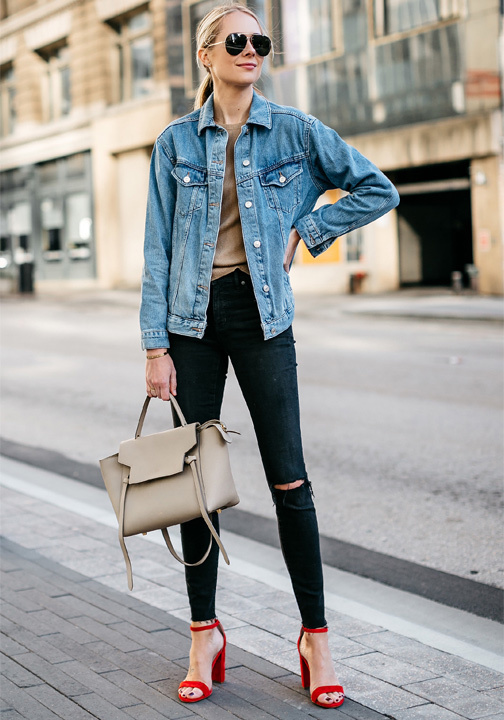 Our most favorite among denim jacket for women's outfits is to pair it with an oversized top, wide leg pants or a skirt and chunky platform heels or cool sneakers. It creates an old school vibe with a modern twist! Like your jeans, a blue denim jacket pairs well with any color. You can also try teaming a hot trend – tulle skirt with a crop top and a denim jacket. Also, check out how well a denim jacket style goes with jeans and tops.
Denim Shirt and Black Jeans- Celebrate the Classy You!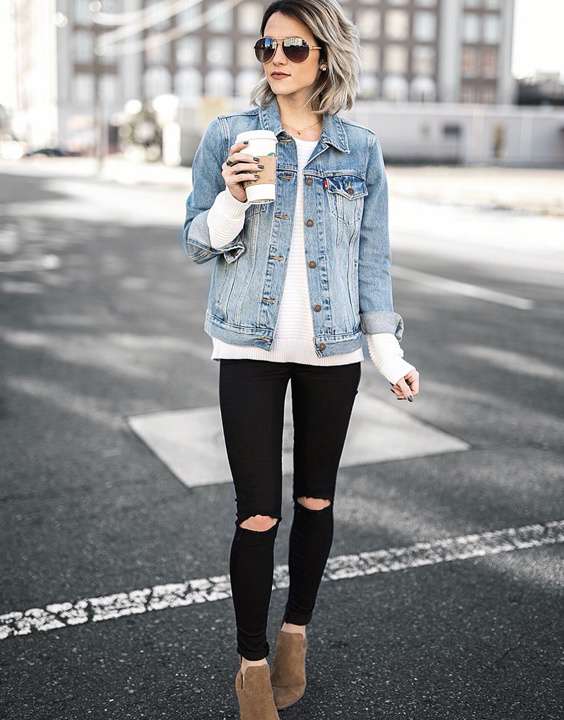 Reach for a black jeans with jacket for a trendy and easy going look. You can easily create an outfit for lunch with friends at the weekend by teaming a blue jeans and jacket. Also, you can create a party look just by pairing your denim jacket with a black ripped or a clean looking jeans and add stilettos to the look. You can experiment with the colors of your heels. While styling black jeans with black heels is the most basic way, you can also try color blocking techniques, or team the whole look with nude pumps for a dressier look. For a more casual look, pair the outfit with sneakers. You can also try out an embellished or patchwork denim jacket for a trendy look.
Black Top and Blue Jeans – The winner combination!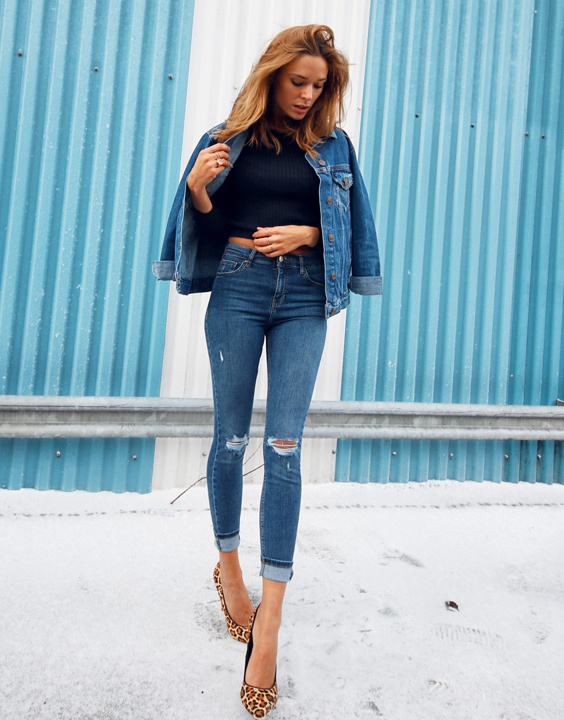 Pairing a black top and blue jeans looks totally chic. You can take this combo to a casual outing, to the office, to weekend brunches. If you're into creating experimental looks, put on a black top and blue jeans combo and create a denim-on-denim look.
The denim-on-denim look is extremely popular amongst the millennials and all the youngsters and it is a hot trend for the season. If you're more reserved, pull out a black denim jacket or a grey denim jacket and add it to your look.
Ripped detailing jackets could also be used for an edgy-cool look. For a more dressed up look, you can try out a denim jacket outfit with sequins, pearls, or embroidered detailing. One big no-no in terms of ripped denim jacket style is, never wear them with a pair of ripped jeans. It gives out a total messy look that you wouldn't want.
To conclude, it can take a little hunting to find what to wear with denim jacket. But once you find it you have an outfit that works like wonders. Let us know if you know of any more ways of how to wear denim jackets to rock the denim style. Hope you liked the article!
Image credits: The copyrights of the images used in this post belong to their respective owners. The credits where known are specified under the image - if you're the owner of an image and want it removed, please contact us.